Welcome to our ultimate guide to shower bench ideas including a variety of design styles for your bathroom.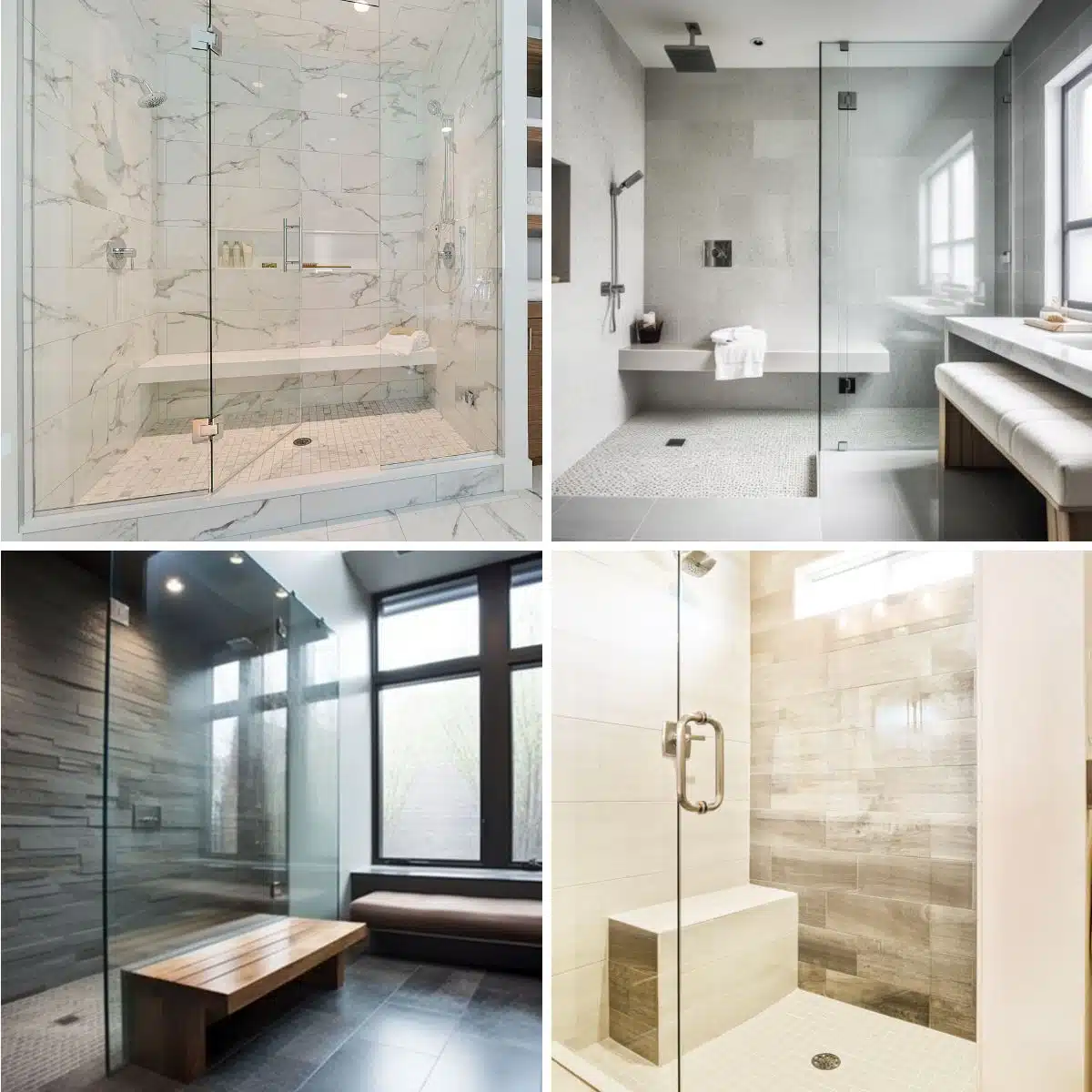 A shower bench can come in a variety of designs such as a built-in bench, folding seat or a portable teak stool to add more functionality to your bathroom space. Shower seats can provide a place to shave your legs in comfort, help to keep toiletries in reach or offer a place to sit and rejuvenate.
It has become quite trendy these days to have a shower with a built-in bench. Unlike most trends, shower benches actually have more functional benefits, than aesthetics. Adding a bench increases safety in your shower area. This is especially beneficial to people with disabilities and to the elderly, as it decreases the chances of them accidentally slipping in the shower area.
If that is not particularly a concern for you, a shower bench also helps ensure you get a more thorough shower session. Hard to reach areas such as your legs and your feet will be easier to wash properly if you have a bench to sit on. Not to mention, it also decreases the chance of you slipping in the shower.
If you want to install or add your own shower bench, consider these factors:
Who will use the bench? Do they have special needs or mobility issues? What is the average height of its user/s?
Area of application – how much space do you have and what's the layout of your shower area.
By considering the above factors, you will be guided on your decision for appropriate shower bench sizing. If none of the users have any mobility issues, and are all adults, a standard sitting height of 15″ to 19″ will work well, depending on the average height of its users.
It is best to try it yourself to see which is more comfortable.However, if you have kids / small children, try to keep it low enough for them to safely go down.
Generally, a seat height of 18″ would be comfortable for most, according to ADA standards. For the seat depth, it is also best to keep it between the ADA standard bench depth, between 18″ to 24″. Again, consider the body size and stature of the users when determining the depth of the bench.
Built-in Shower Bench Ideas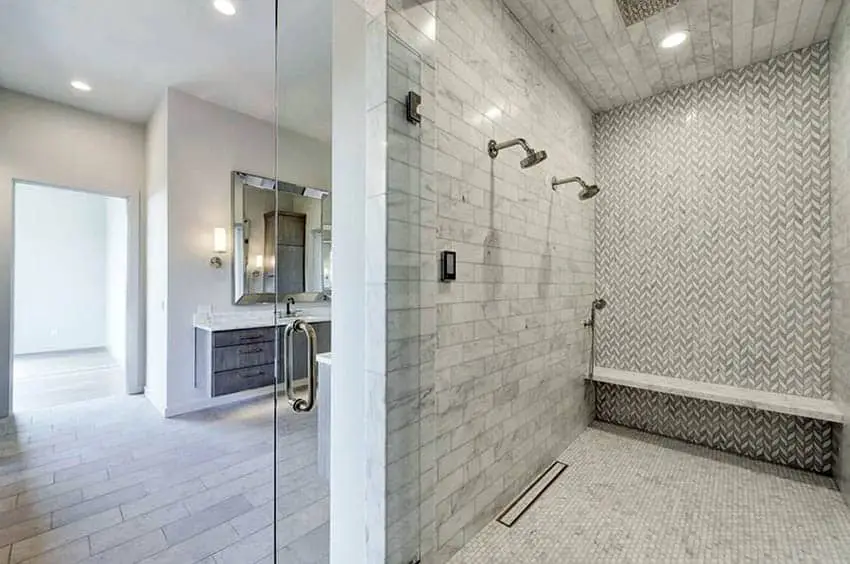 Depending on the size of your shower, there are many different types of shower seat styles to choose from.
Tiled Shower Bench – The easiest and the most common. This is easy to construct with concrete, especially if you haven't tiled your shower area yet. This is also the choice of those who want to keep their benches "incognito".
Marble/Stone Shower Bench – Similar to the tiled shower bench, this type is best installed before you finish tiling the shower area. The only difference between them is the material used.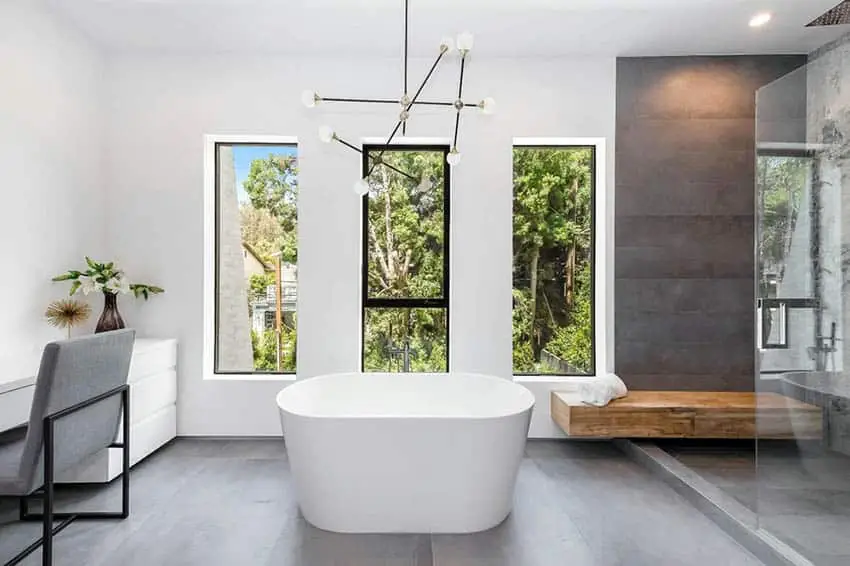 Floating Shower Bench – A faux "cantilever" is made using concrete, and then clad with tiles or natural stones to create a floating effect. This is best if you want your shower bench to look sleek and light.
Wall-mounted Shower Bench – If you already have tiles installed, then perhaps a store-bought or a custom wall-mount shower bench would work better. If you are a bit short on space, this would also work well, as you can purchase a folding type shower bench.
Freestanding Shower Bench – This category includes wooden and plastic shower chairs and benches you can put in your shower area, as well as specialized shower chairs for PWDs.
Tile Bench Ideas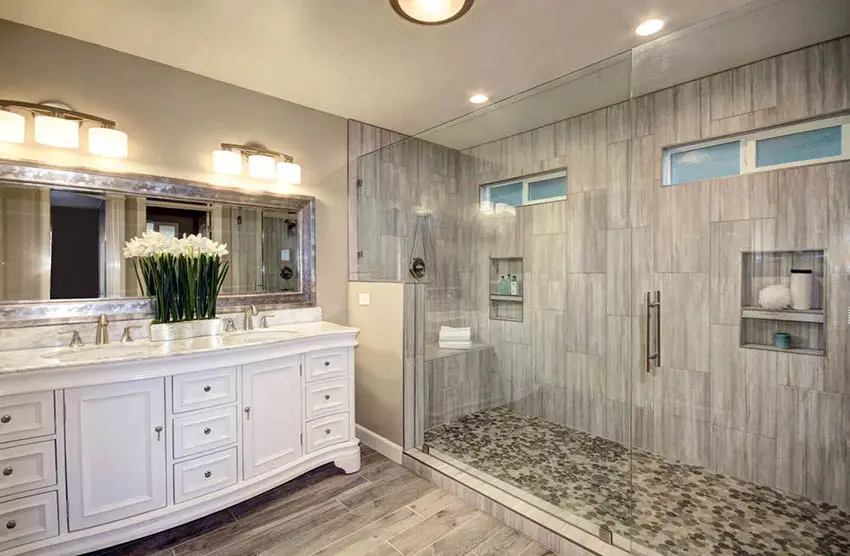 This tiled shower bench is placed where the shower head wall is, which is a bit an unusual location for shower benches, but also makes sense considering the length of the shower cubicle. The tiles used on the bench matches the walls, making it look clean and seamless.
There are many benefits of built-in shower benches made from tile such as being durable, low cost, low maintenance and stylish.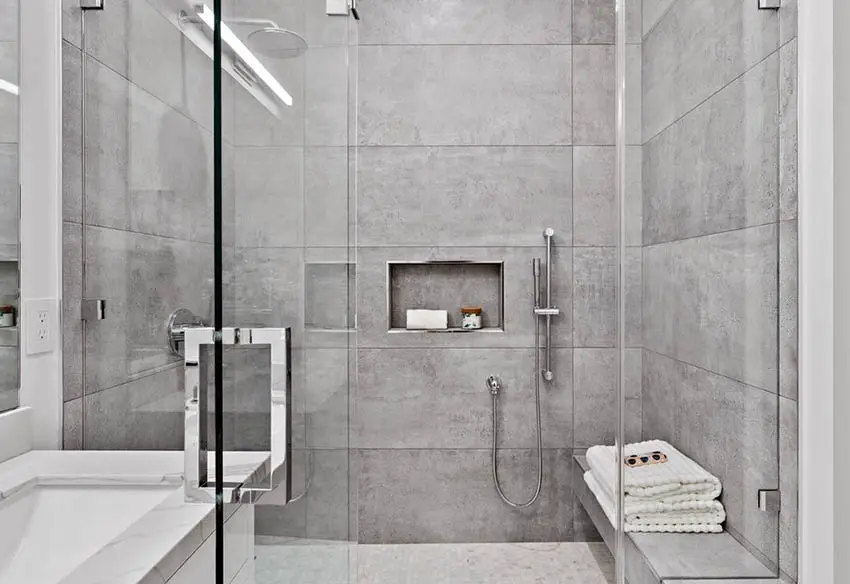 This shower room is a bit more proportionate in size. The almost square layout allows enough room for the tiled cantilever shower bench on one side. Because it's a bit away from the main shower head, a lower, telephone shower was installed beside the bench for ease of access.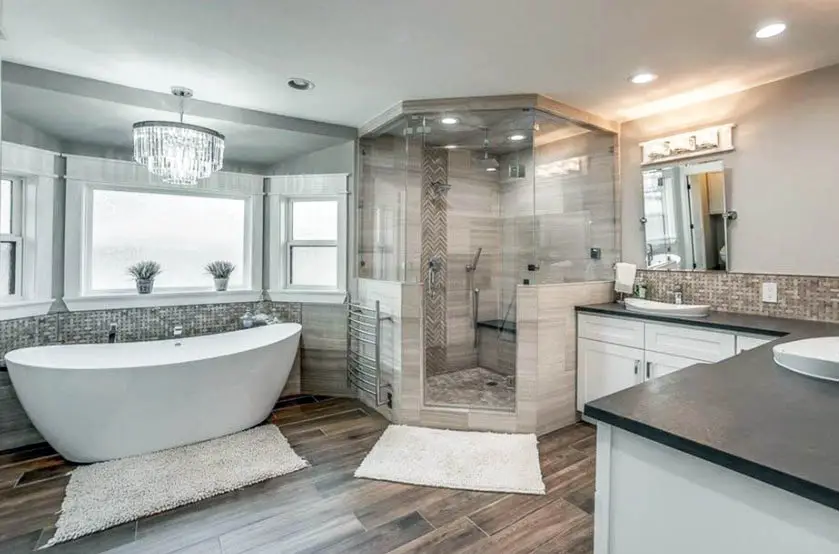 To match the glamorous look of the bathroom, the shower bench used in the small corner shower room is not only clad with tiles that matches the walls, but it is topped with a black granite to match the vanity counter. This creates a very cohesive look for the space overall.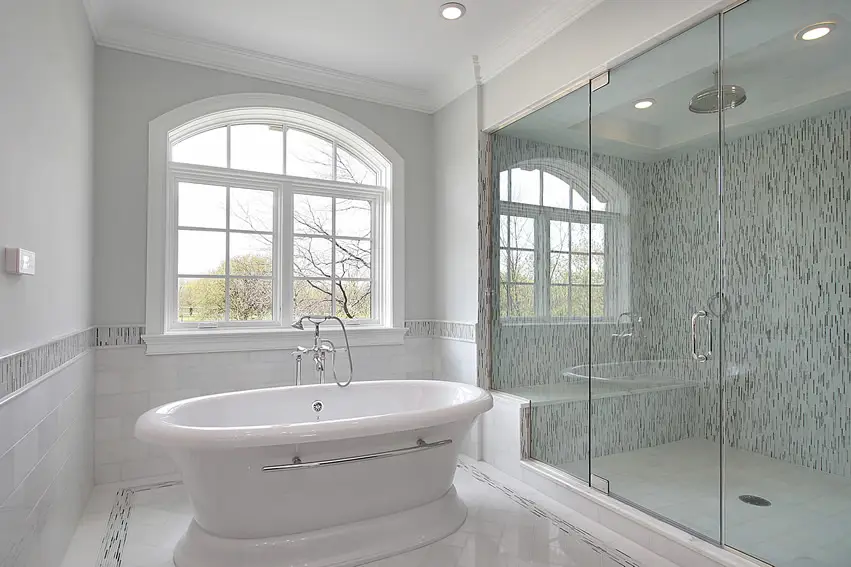 This is another example of a tiled shower bench with a stone top. This shower is large and spacious, so the shower bench is also very deep and allows enough room for larger body statures.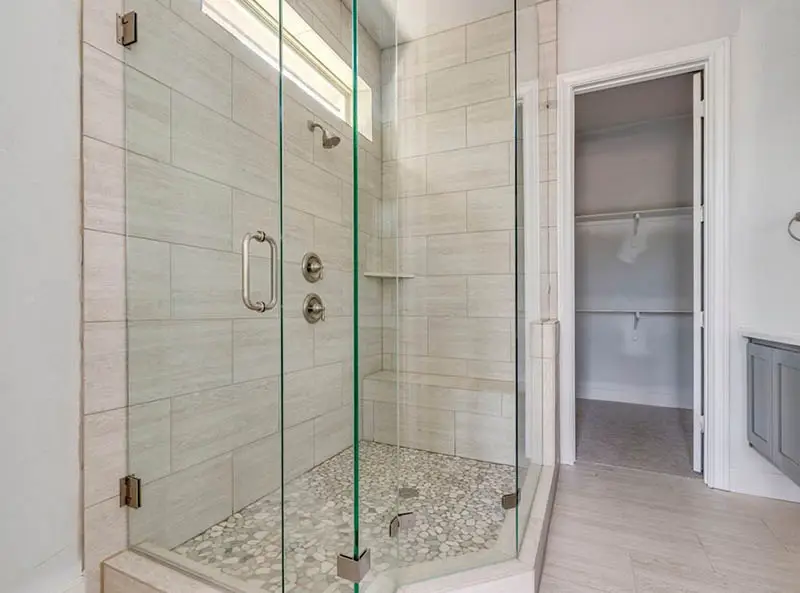 Since this shower is on the smaller side, the shower bench was tiled to that it camouflages as a ledge on the wall. Using tile for your shower bench ideas can create a seamless effect looks appealing and doesn't draw attention to the bench itself.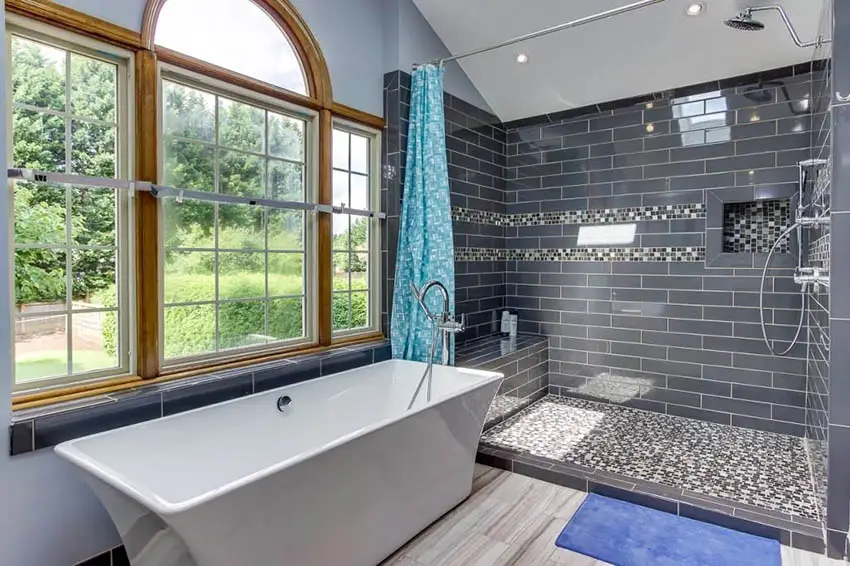 This tiled shower bench uses dark ceramic tiles instead of the usual light colored tiles, giving it a unique, contemporary appeal.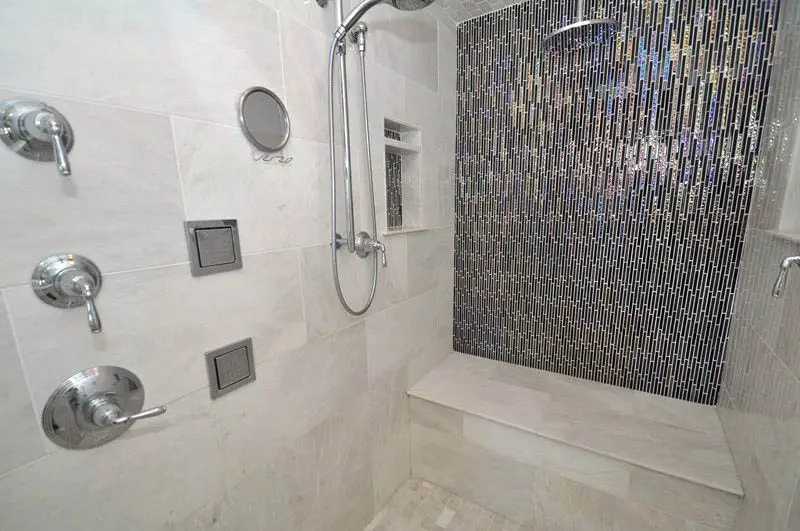 Instead of a fully matching combination of tiles, this walk in shower room adds a wall with accent mosaic tiles to create a focal point in the small space – of which is the wall where the shower bench is built against. The shower bench has its own ceiling-mounted rain-shower head, making it convenience to wash up, even when sitting.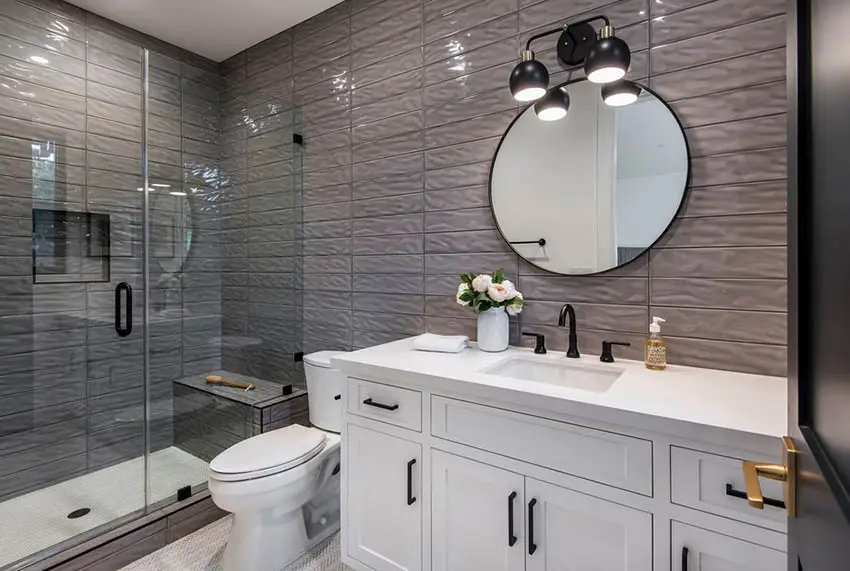 The walls of this bathroom uses gray textured tiles all throughout – even the small shower bench is clad with the same tiles. But because of the light-colored floor tiles, the bold contrast between the two colors makes each other stand out on its own.
Marble Bench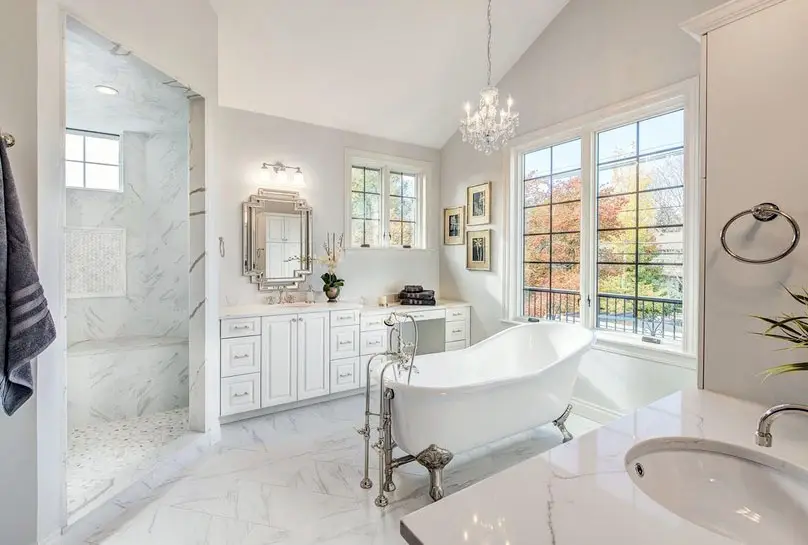 This marble-topped shower bench seamlessly blends onto the wall of this corner shower room, as it uses the same marble tiles as the walls. This creates a clean and seamless look in this elegant bathroom.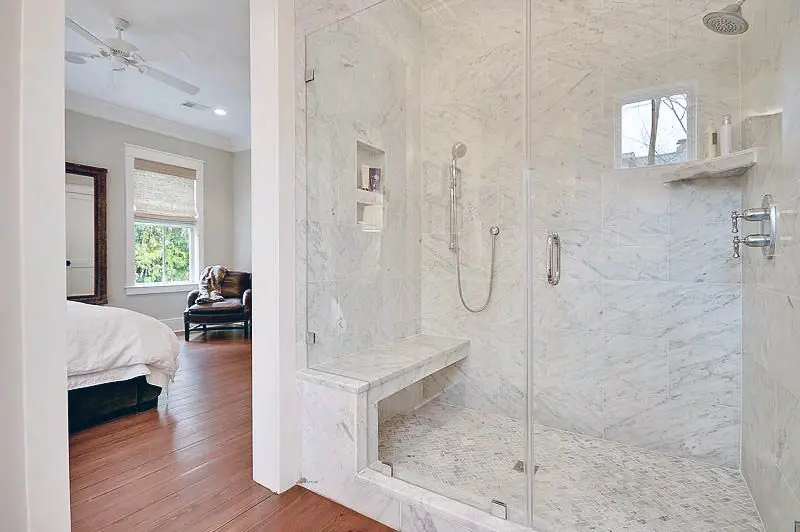 Similar to the previous example, this marble shower design uses the same marble tiles for its bench and walls. But instead of a full concrete slab, it goes of a slimmer, cantilever look that makes the small shower still feel spacious despite its size.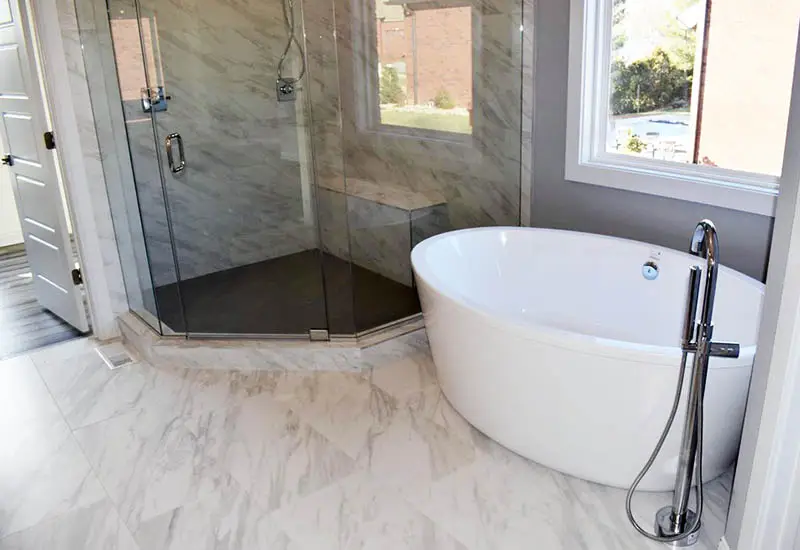 The marble tiles used in this corner bench shower room really stands out because of the dark black granite tiles used on its floor. Bench ideas that can utilize a window room are especially beneficial for a serene spa like feel if you have the privacy to accommodate its design.
Corner Bench
Those who are a bit short on space in the shower areas, or those who simply don't want the shower bench to occupy too much space, corner shower benches is a good option. See some examples below: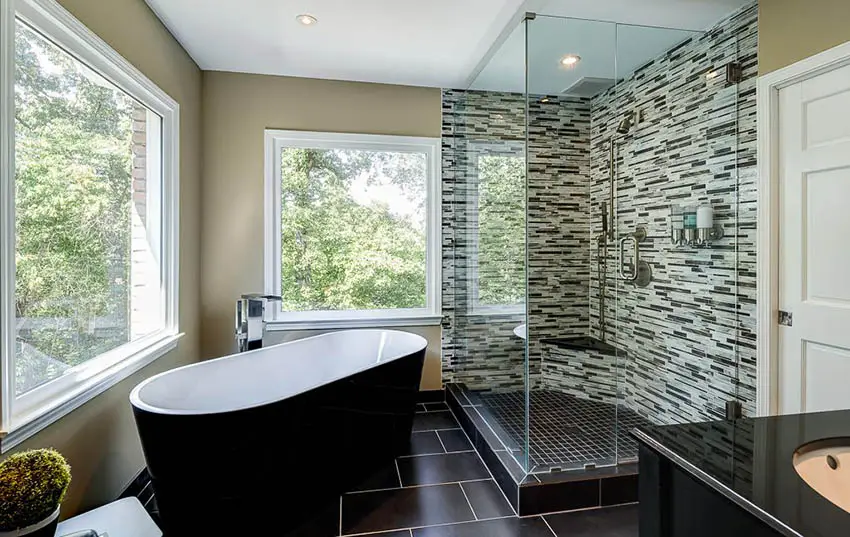 With matching mosaic tiles and black granite top, this corner shower bench stays low-key, while providing you a convenient, small sit-down area during your shower. The small corner bench can also double as a storage shelf.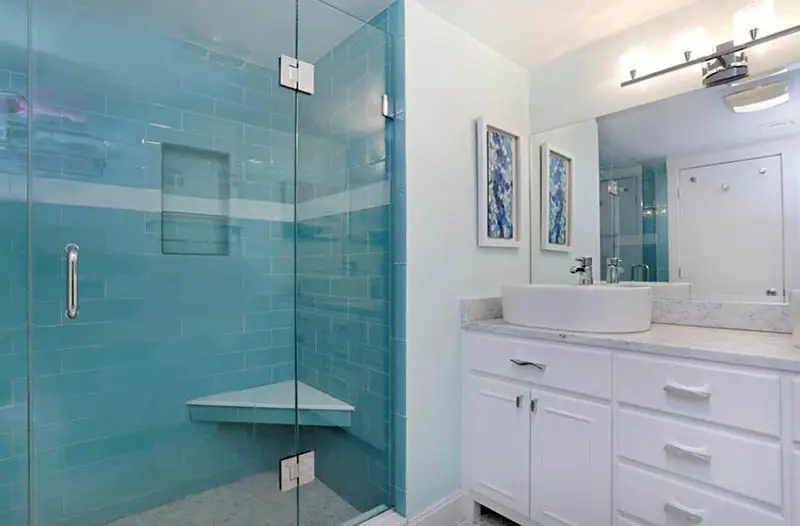 Bold turquoise wall tiles are used both on the walls and the cantilever corner shower bench of this small shower room. A white solid surface was also used on top of it for a smoother finish.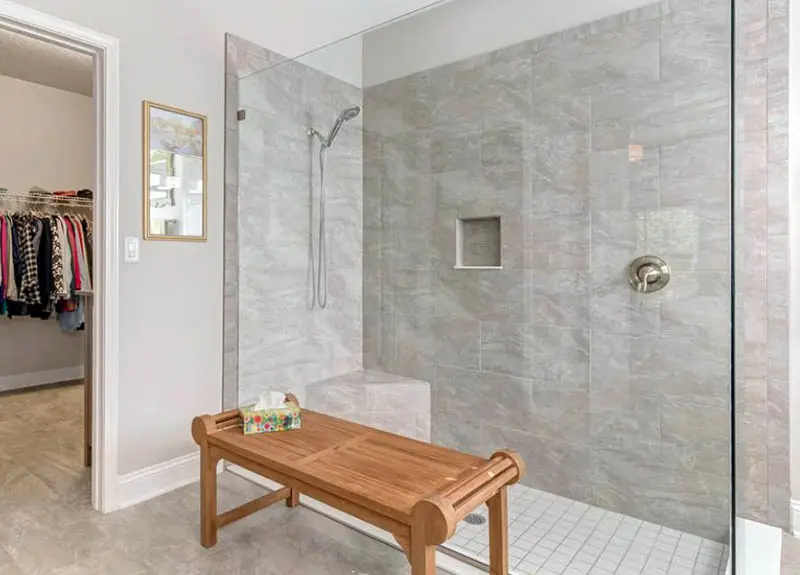 To keep a clean and seamless contemporary look, this shower room blends in its corner bench with the wall tiles by using the same material and a very narrow grouting. A shower head positioned next to the shower seat is helpful for those who want to sit while bathing.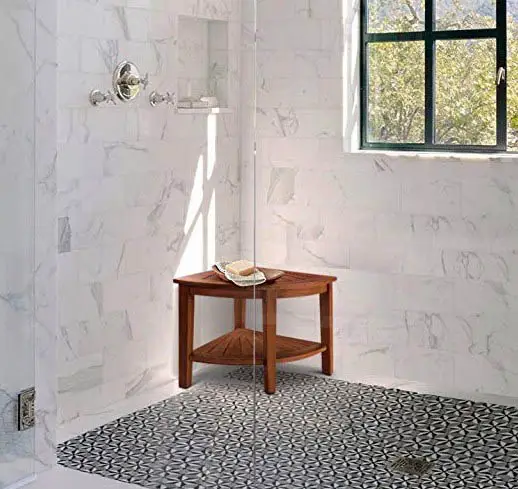 See this teak wood corner bench at Amazon
If you're short on space and you don't want to have to construct or re-tile, a freestanding wooden shower seat would be the best choice. Not only is it more affordable, they're also lightweight and movable so you can easily remove it if you don't need it.
Granite Bench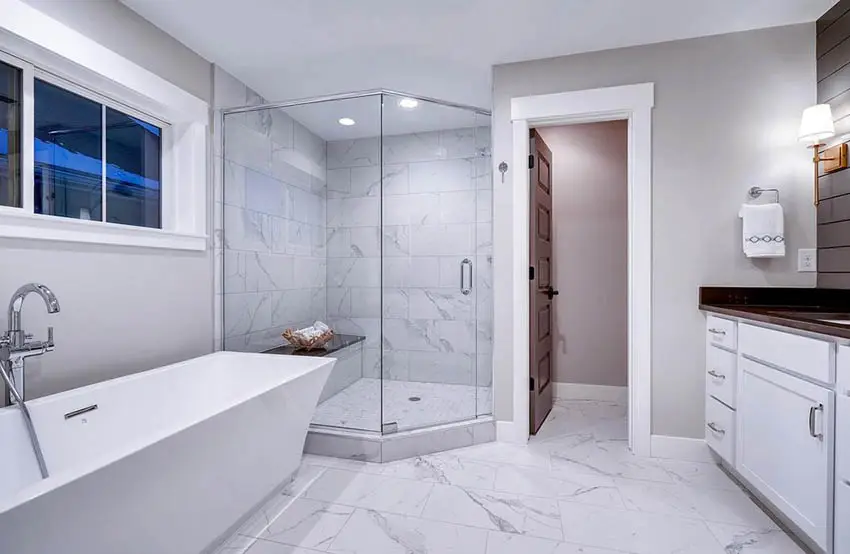 The use of black granite top on the shower bench not only adds a nice contrast to the finishes, but also makes it the focal point of the space.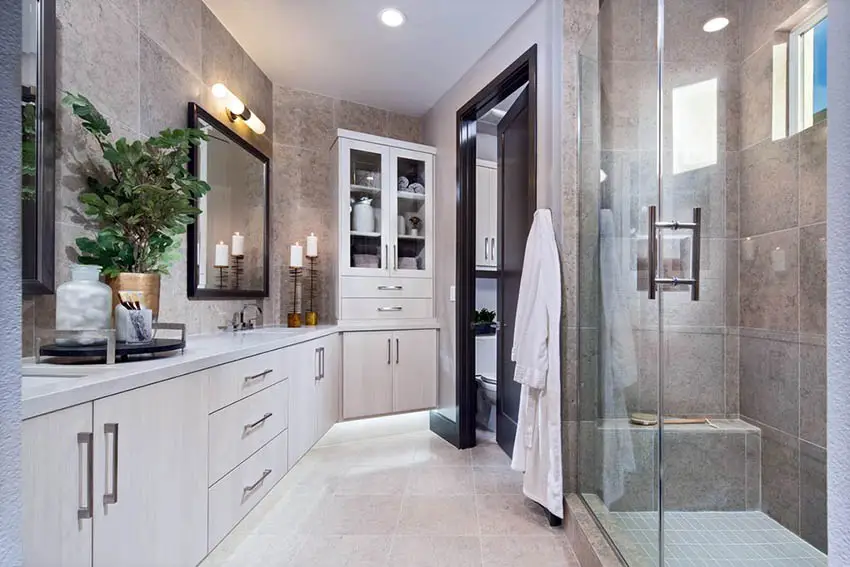 Since the tiles used for the walls and floor of this shower area is textured, a granite top was added on the shower bench for a smoother, more comfortable surface.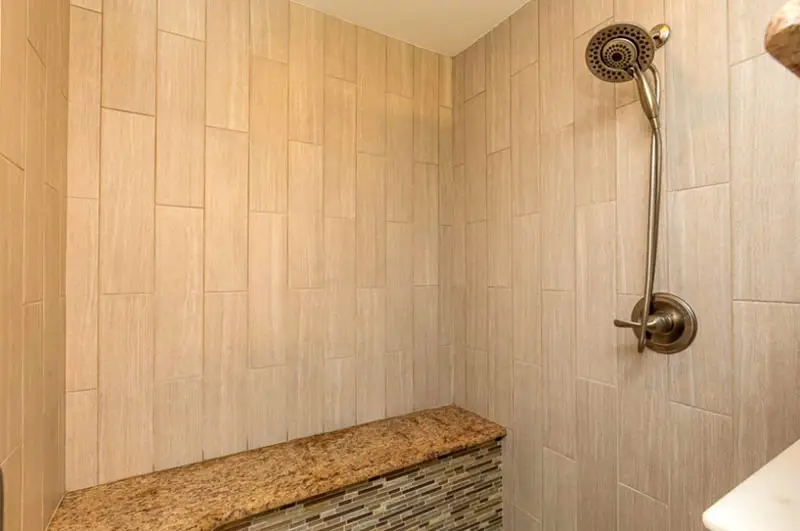 Mosaic tiles and any small sized tiles are usually not an idea to use on shower bench seats because the texture can be uncomfortable and the grouting is a nightmare to clean.
If your existing wall tiles are smaller, you can simply add a granite top on the shower bench seat. Not only will it make it more comfortable, but it will also look more elegant and is definitely easier to clean.
Quartz Bench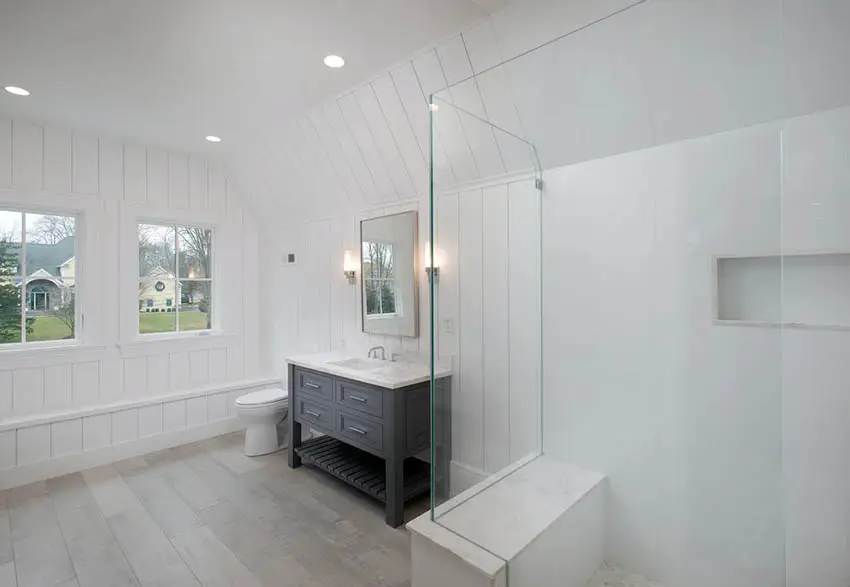 This shower bench topped with white quartz functions not only as a bench, but also as a base support for the glass partitions of the shower area.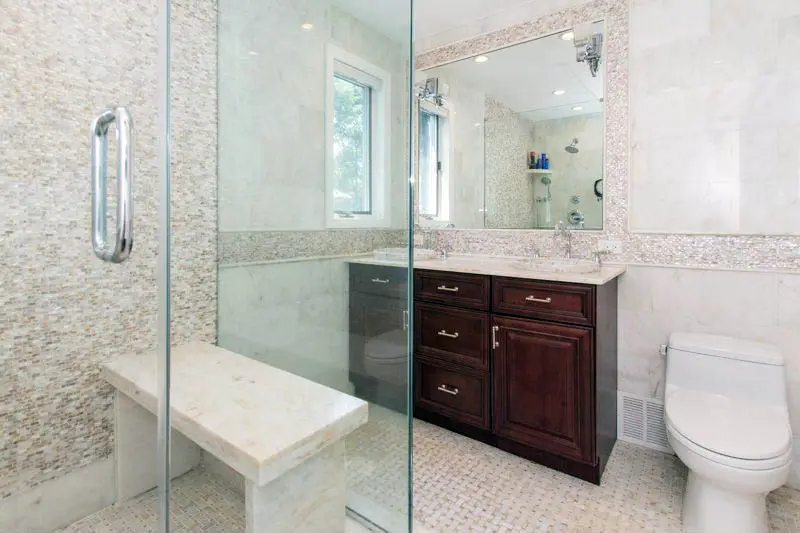 Already have tiles and partitions installed? No problem. You can still easily install a solid quartz shower bench like this example. Only one side of the bench is flushed and attached on the wall, while quartz legs on both ends help support the whole bench.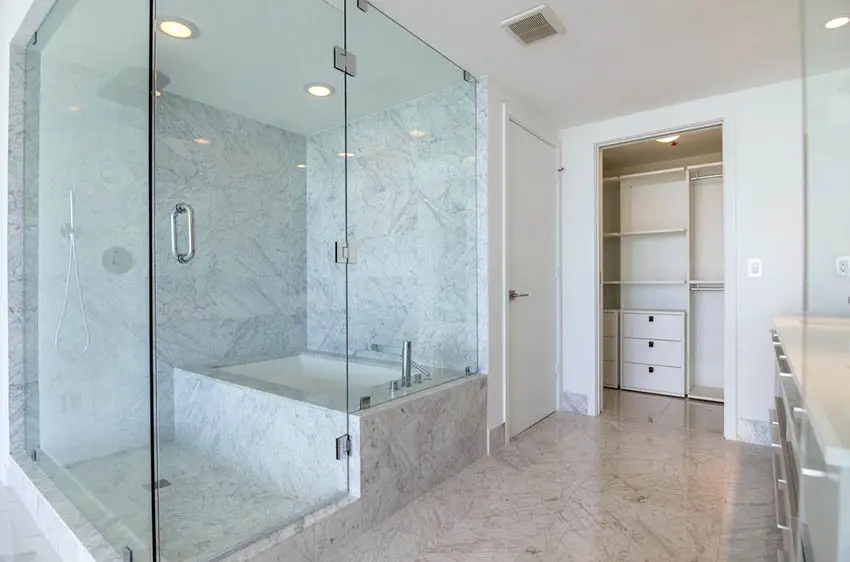 If you have a combined bathtub and shower area, you can maintain a clean and modern look by using an inset, built-in bathtub. Clad the area around the tub with quartz or any material of your choice, and it can also double function as a shower bench if it is right beside the shower area like in this example.
Walk in Shower With Bench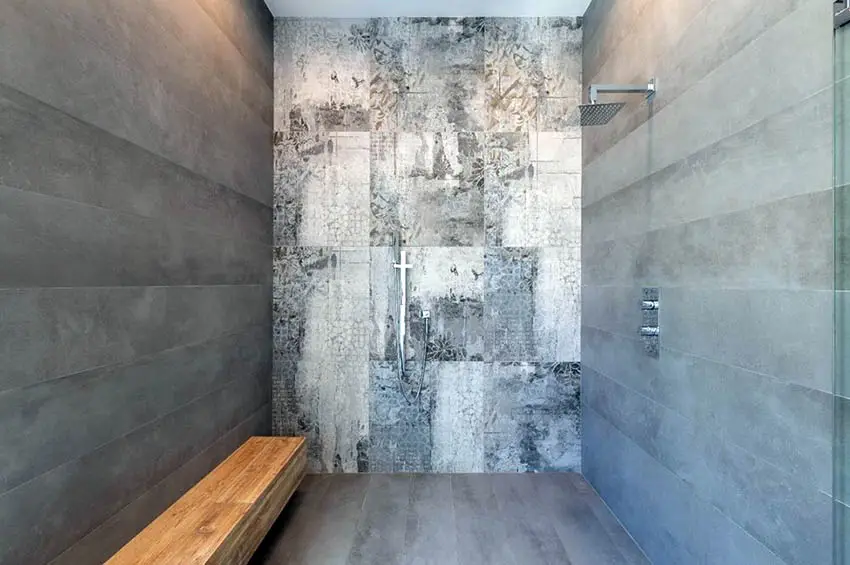 This gorgeous industrial-style shower area has a rustic charm to it, thanks to the use of wood tiles on its cantilever shower bench.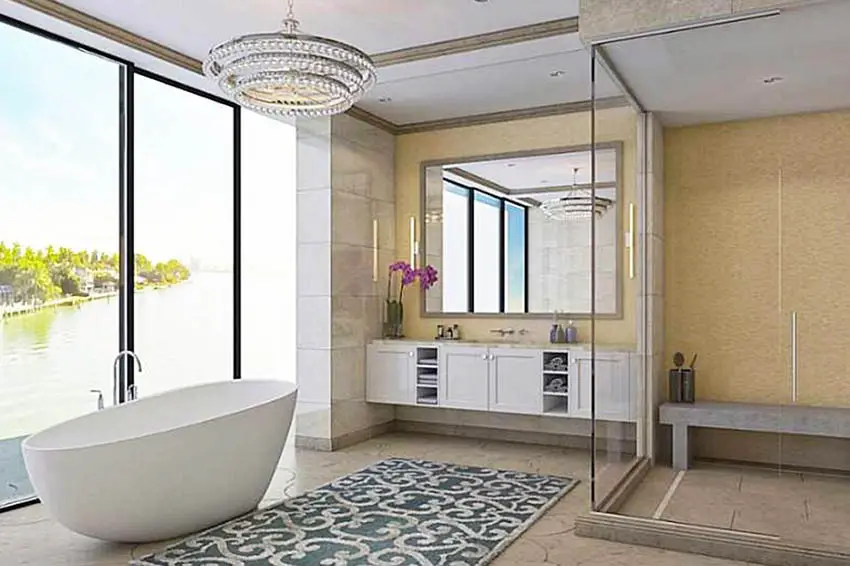 For transitional bathroom style, it's a little easier to integrate the shower bench to the design. In this case, a freestanding bench made of solid stone was placed in the shower area to serve as the shower bench. The large stone bench is sturdy, and because of its weight, you'll be rest assured that it will stay in place inside the shower.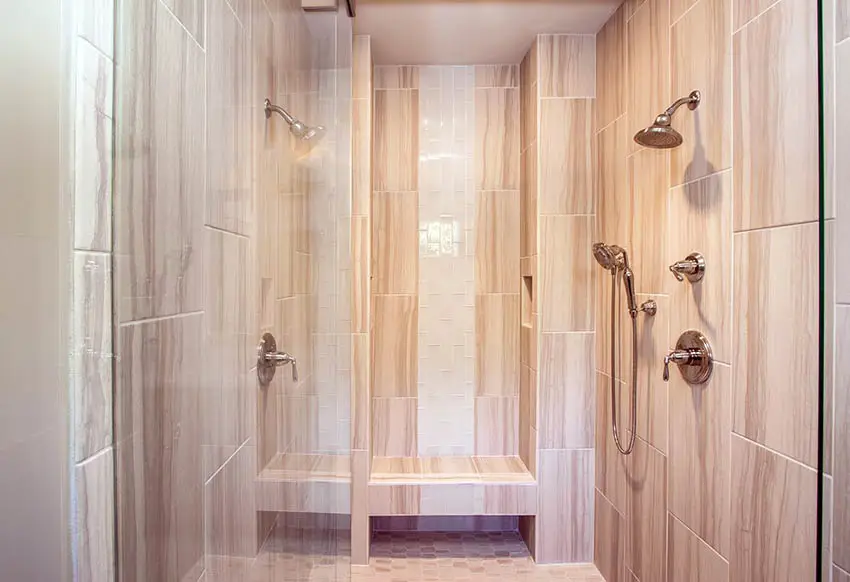 A multi-function luxury walk-in shower bench like this example really makes the area the focal point of the shower by adding glass accent tiles in the middle. The added recessed shelves is also a nice design touch.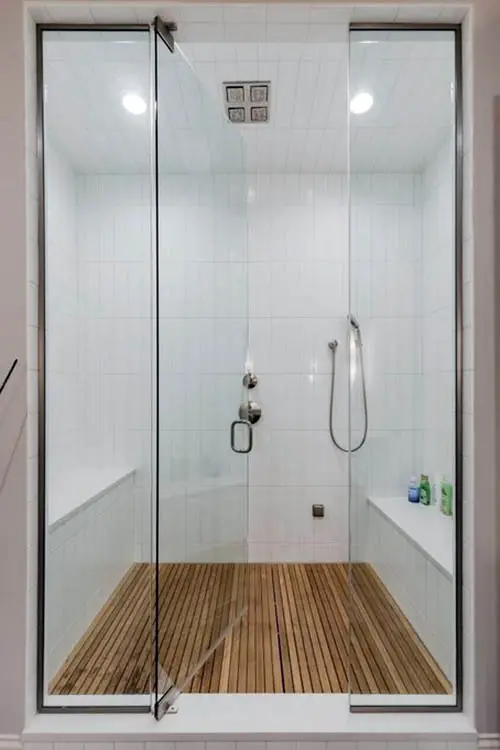 The contrast of the wood deck flooring with the sparkling white tiles creates a simple, yet stunning look for this walk-in shower.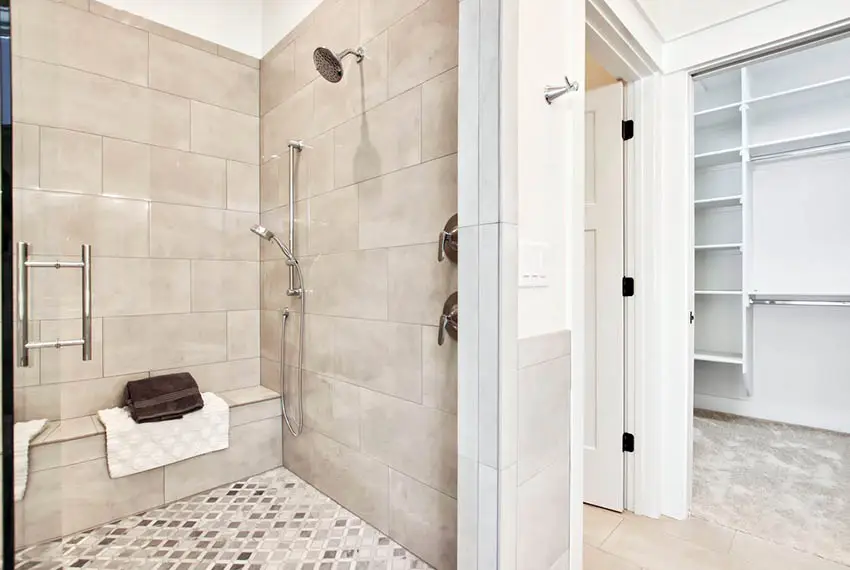 A fully enclosed walk-in shower with a built-in tiled bench. This small shower space has a classic elegant appeal with two types of sprayers.
Floating Bench
Floating shower benches, or cantilever shower benches, are great for smaller and tighter spaces as they look less bulky. Here are some excellent examples: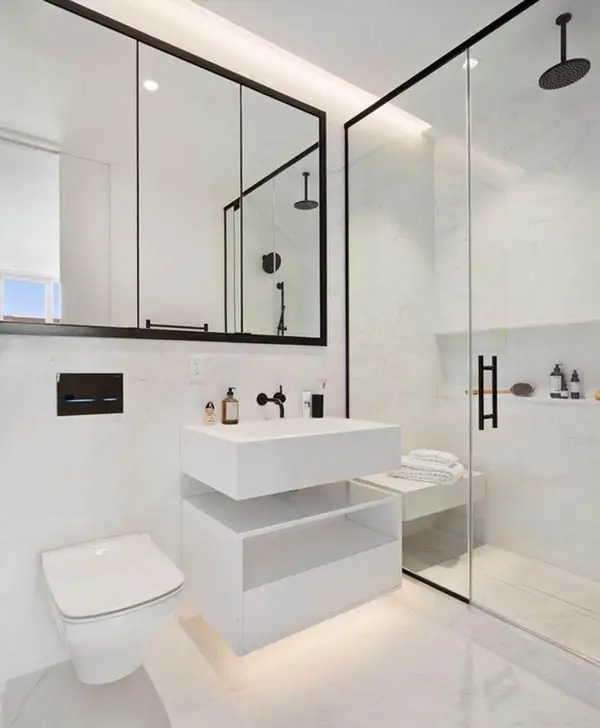 Since the bathroom shower design is narrow, installing a floating shower bench attached on the wall on only two sides is possible. The narrow width ensures it is sturdy enough to hold weight, and to compensate, more depth is added on this shower bench.
A telephone showerhead was conveniently installed right beside the floating shower bench with quartz top. These types of applications make shower easier for people with limited movement (PWD's, elderly, etc). This also is a great spot for quick cleaning, such as cleaning dirt off your feet or legs.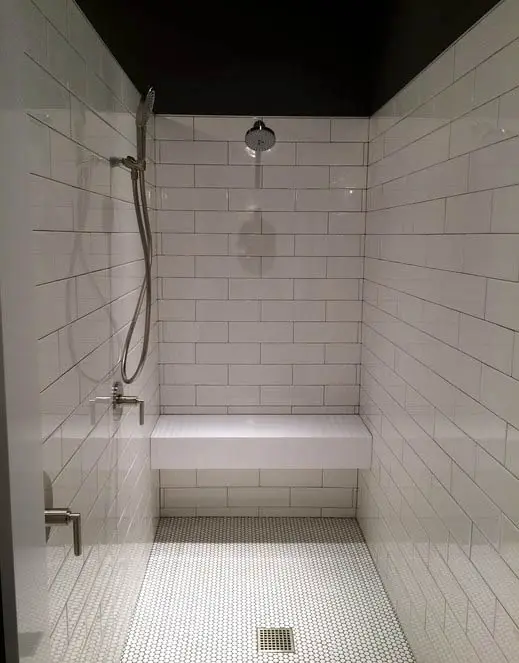 Seamlessly blending into the walls, this floating shower bench functions as a bench and a small ledge for your toiletries.
Since the bench was placed under the shower head, the area is kept relatively dry most of the time, and because this small shower area has no space for a wall-hung towel rack, you can also place your towels and clothes on the bench to keep them dry.
Modern Bench
Modern bathrooms usually have a clean, sleek look, with streamlined silhouettes, combined with stainless steel elements. If you think shower benches look "old school", below are some examples on integrating shower benches into modern bathroom designs: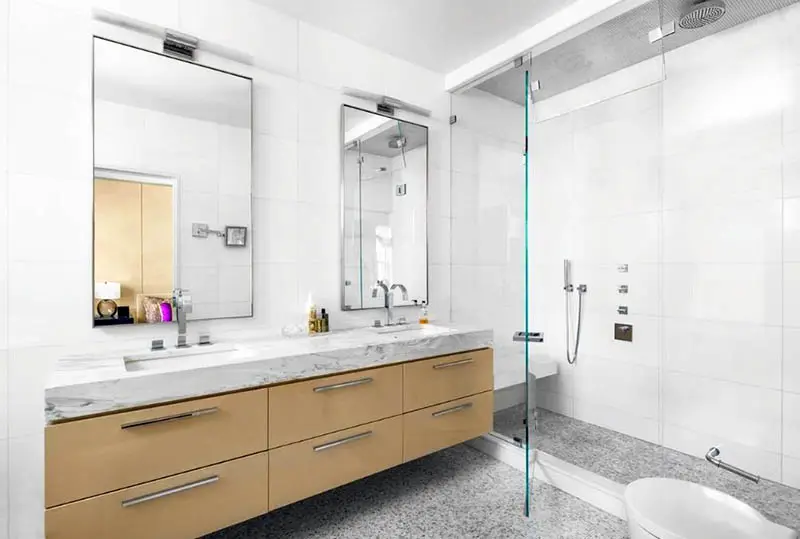 Simplicity is the key in this modern bathroom. It features white ceramic tiles all over the walls, combined with gray terrazzo floors for added texture and pattern.
A floating shower bench was installed in the shower area, and was clad in the same tiles used on the wall, making it look well-camouflaged.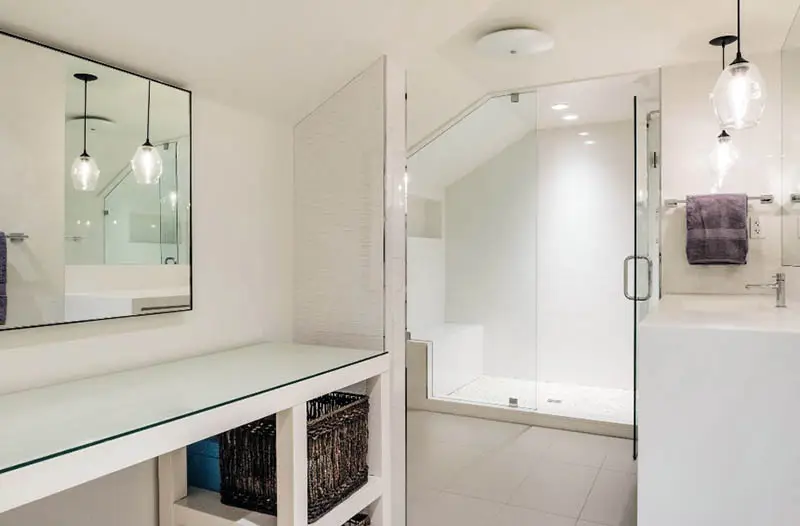 Sometimes, the best way to hide is in plain sight – and this modern all-white bathroom demonstrates how to do it right. Following the unique shape of the walls, the shower bench blends in as if it was actually part of the architectural detail of the shower area. A large glass shower door meets with a glass partition to complete this streamlined design.
Built-into the low partition of the shower, this quartz-topped shower bench becomes the focal point of the shower area.
Wall Mounted Bench
Some of the best shower bench ideas are those that are versatile such as a wall mounted design that folds up when not in use.
The smallest walk-in shower designs start at 30″ by 30″. The International Residential Code (ICCsafe source) mandates that showers are at least 900 square inches or 30″ by 30″ to safely add a built-in shower seat.
If you have a shower that is this size or larger but not large enough to comfortably accommodate a regular sized bench a folding model may work for your space.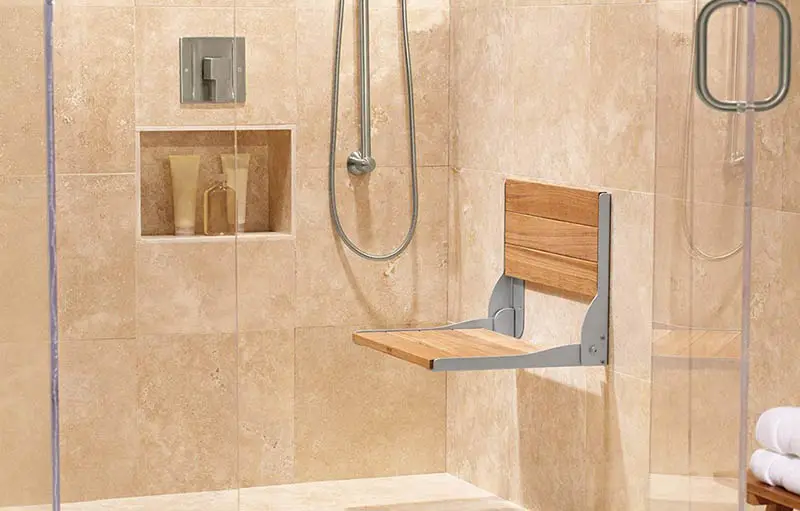 See this teak wood folding shower bench at Amazon
An even more space-saving option for shower benches would be wall-mounted shower benches. These can be bought in stores or online, and can easily be installed in existing shower rooms, as long as there is a wall to attach to. These benches are low-profile and can be folded, so you can easily stow them away when not in use.
Folding Bench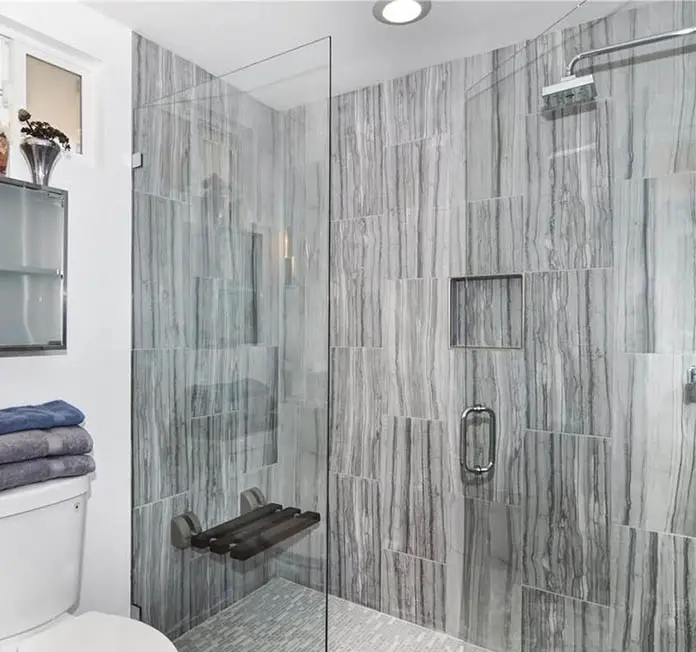 Attached on the wall, this folding shower bench is a combination of stainless steel metal framing and teak wood. This can be folded so that it doesn't occupy space when not in use.
Portable Bench
Portable shower benches are those which you can basically move around easily. You can put them in and remove them as quickly. They are usually made from various kinds of wood (Teak being the most popular), as well as bamboo, plastics and metal, or a combination.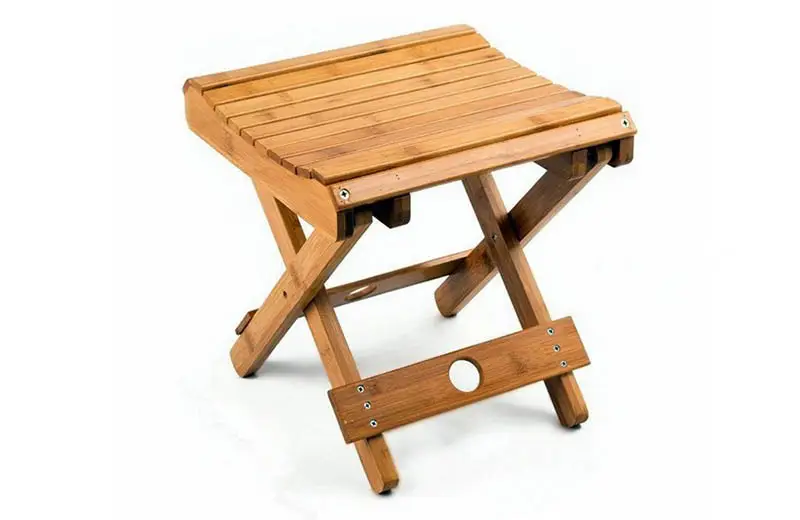 See this bamboo folding bench at Amazon
Bamboo is a new popular material used in outdoor furniture. This folding shower stool is made from bamboo ply, which are basically flattened sheets of bamboo. Bamboo is also known for its excellent weather resistance, so getting it wet is not an issue.
Medical Bench
See this medical shower bench at Amazon
A medical shower chair is helpful for the elderly, those with injuries or limited mobility. The four legged design provides a stable platform for sitting and personal grooming in the bathtub or shower. The aluminum frame helps prevent corrosion and a curved seat help offer additional comfort.
Wood Bench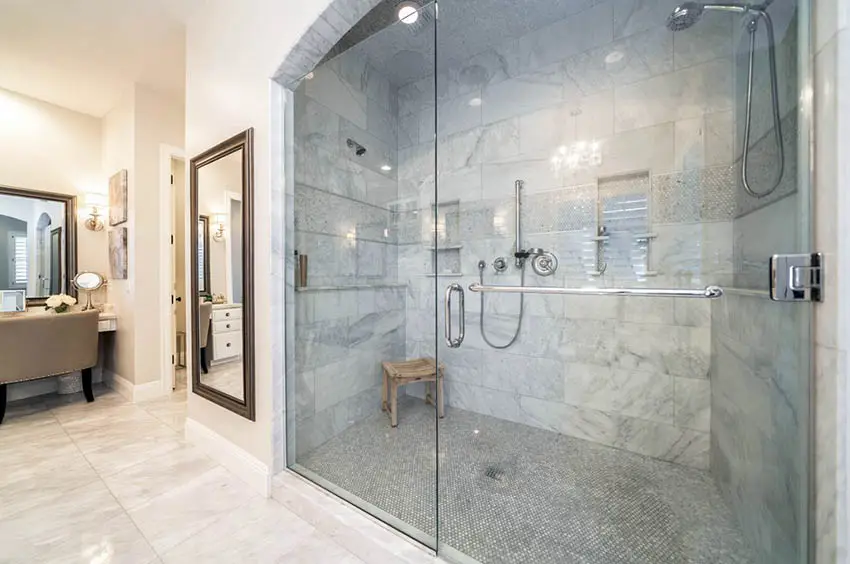 Perhaps the most traditional shower bench is a wooden shower stool which have been used back in the days as well. They are light, affordable and can easily be moved around as needed. Just make sure the legs have the appropriate grippers so it doesn't slip on floor!
Wood Shower Bench Outside the Shower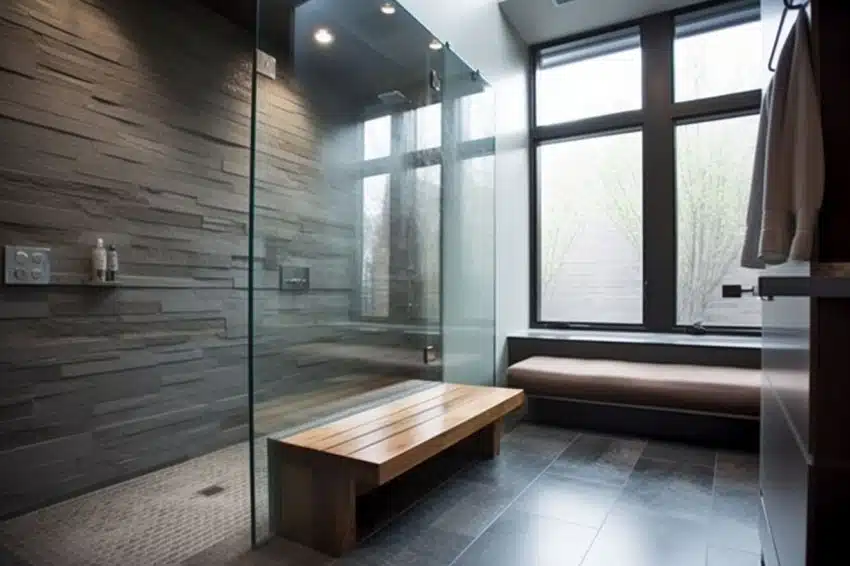 Many shower bench ideas opt to use a bench outside the shower to prevent moisture from damaging the wood surfaces. They can help those with children or limited mobility to sit while undressing or dressing. They can also help keep your clean towels or clothing off of the floor.
Teak Bench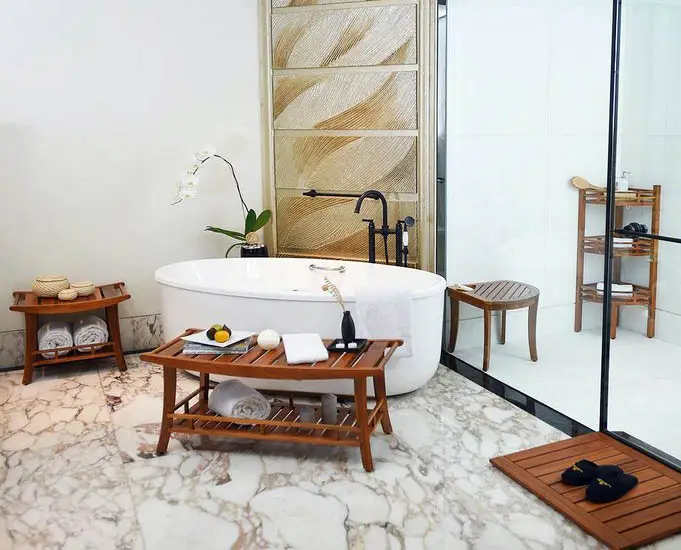 See this wood shower bench at Amazon
Teak is a popular material for outdoor furniture and decking, because of its excellent weather resistance. Teak has a natural oil that helps repel water, warping, or cracking.
Teakwood is quite hard, shrinks very little in seasoning, and possesses great physical strength. – Sculpture in Wood, Jack C. Rich
This example shows various variations of solid teak shower benches – a teak shower stool, shower bench and a corner shower stool as well. A teak corner shower stool is perfect if you have a small shower space, but in need of that "sit down" area in your shower.
What are your favorite shower bench ideas? Let us know what your favorites are or any questions we missed in the comments below.