Here's our guide to swimming pool waterfalls showcasing custom designs and ideas for your home's backyard.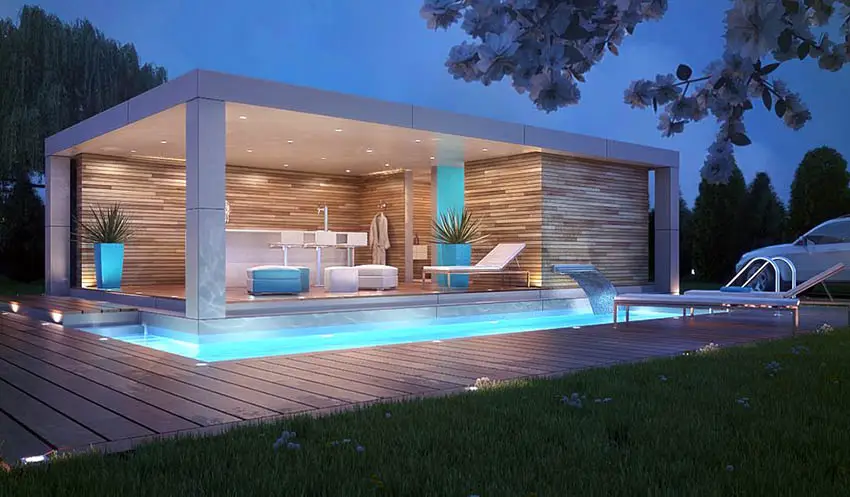 Pools, by itself, instantly upgrade both the value & the aesthetics of a property. Adding any type of waterfall feature to your pools can make it even more appealing. They definitely add an aesthetic upgrade to any basic pool no matter the size. Waterfall features are definitely a sensory experience – the sound it makes, it's beauty & motion, the feel of the water and it's ripples. It all comes together to create a focal point in your home.
Some simple things to considering when designing your pool are:
Budget
Architectural style of the house / building
Proportion & layout
For the Chinese & other Feng Shui believers, pools, when well designed and well-placed, could bring in wealth energy to your home. If water is kept still, however, it traps energy so it is recommended to keep the pool flowing to help circulate positive chi. One of the ways to achieve that is by adding waterfalls. Not only does it look good & keep the water flowing, but the sound of the water makes the space feel more lively and at the same time, relaxing.
Swimming Pool with Artificial Waterfall Designs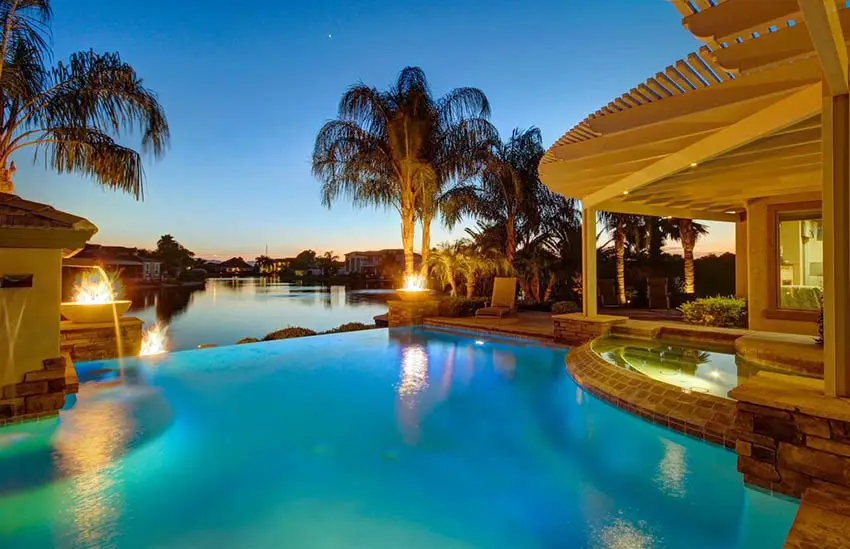 There are many types of pool waterfalls. But we can break it down into these categories:
Rock/Natural waterfalls – this type mimics naturally-occuring waterfalls, as it uses elements & materials that closely resemble real falls. This can be made from natural materials, artificial materials, or a combination of both. Custom-made rock waterfalls can cost anywhere from $1,000 to $10,000 (excluding installation cost) on average, and up $30,000 or higher for larger and more complicated designs. Pre-made DIY waterfall kits can also be bought for $450 up to around $3,500.
Cascade / Sheet waterfalls – these are usually installed on walls or accent walls beside pools, using a narrow horizontal water spout, creating a thin, straight stream of water. If you want a more modern pool design, then this type would be more appropriate than the natural waterfalls. A professionally-installed cascading falls would range from $250 to $5,000, depending on size and design complexity.
Water wall – unlike sheer waterfalls where the water flows outward from the wall, water walls flows along the walls (or sometimes, glass and other materials) and flows into the pool. This produces a gorgeous yet subtle water feature perfect for modern designs. The cost average would be around the same as cascade waterfalls.
Water curtain – water curtains usually use spouts that resemble an oversized faucet. It produces straight, curtain-like streams, and are usually placed on the sides of the pool, allowing you to use it to engulf your head in water
Rainfall curtain – this type produces a wall of water droplets mimicking real rain. These are often installed on horizontal beams or pipes placed above the pool.
Water spouts / scupper / sconces (decorative) – these are also attached on a wall, but instead of long horizontal spouts, it uses normal sized spouts in a variety of shapes and sizes. These are inexpensive and relatively easy to install.
Spillovers – usually found on multi-level pools. An inground pool (that has a higher elevation) would continuously spill-over the lower pool through a spout or a small indent, then pumped back into the elevated area. These are often applied on attached kiddie pools, spa or jacuzzi pools.
Vase Fountain / Water Bowl – instead of using spouts or wall openings, this type uses large ceramic or concrete bowls placed on an elevated area, in which the water spills from the bowl and into the pool.
Rock/Column Fountain – this is actually similar to a water wall, but instead of a wall, rocks or concrete columns area used. The water spills out from a small opening at the topmost portion of the rock and engulfs the rock / column.
There are many other types of water features you can add to your pool design, and it will all depend on the look you're going for, and of course, the budget.
Some other common popular features on pools are:
Deck Jet or Fountain Spitter – this is installed on the deck area and shoots a thin arc of water to the pool. This is very common and relatively inexpensive
Slides – kids and adults both love water slides. There are many custom and ready-made options you can find.
Jets and Bubblers – this water feature shoots out water from inside the pool.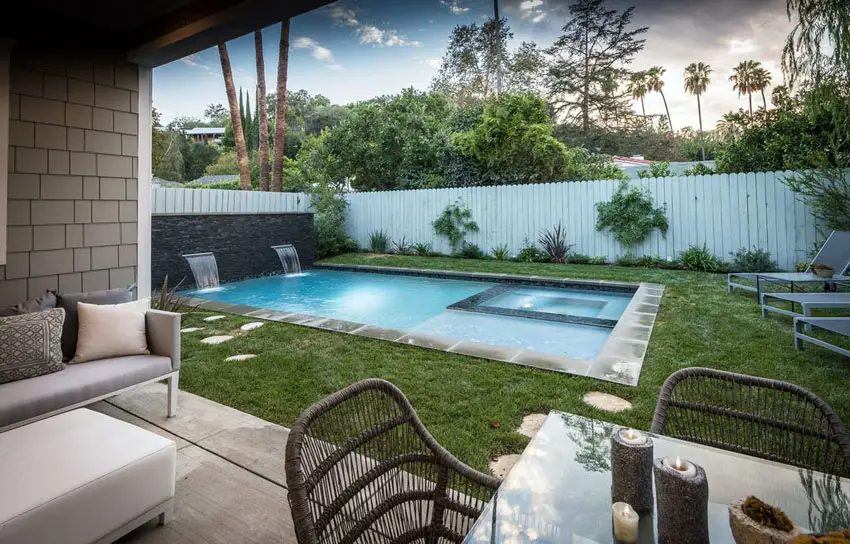 For this small backyard pool area, not only does the small sheetfalls serve as a decorative element, but it also adds more privacy to the space because of the high retaining wall blocking the view of the pool from behind the fence. Black slate tile finish gives it a sleek & modern look that matches the overall feel of the space.
Pool Waterfall Kits
If you think adding waterfalls to your pool is too expensive, there are already many waterfall kits available on the market. These DIY kits are prefabricated waterfalls with a complete set of materials and manuals, so you can easily install them on your own, at half the price of custom waterfalls. On average, waterfall kits could cost around $500 to $3,500, depending on size and design. Here are some of the common types of waterfalls with kits you can find on the market:
Rock waterfalls
Fountain waterfall
Cascading falls
Vase fountains
Retaining wall waterfalls
If you have a certain design on your mind which is not common on complete waterfall kits, and you have access to materials, time, knowledge and skills to DIY your waterfalls, then you can instead buy kits that only includes pumps and other basic machines and materials you need to achieve your dream pool waterfalls.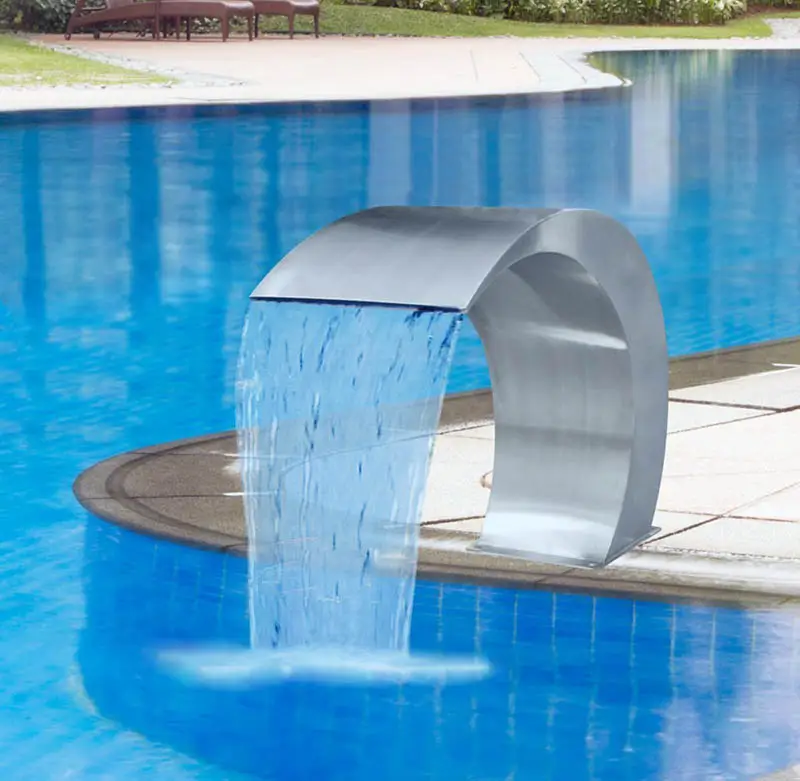 Swimming pool waterfall spout – See at Amazon
This is a stainless steel water curtain spout attached on the pool deck, with a very simple and clean modern design. You can simple install a few of these around your pool and it will instantly give it more life.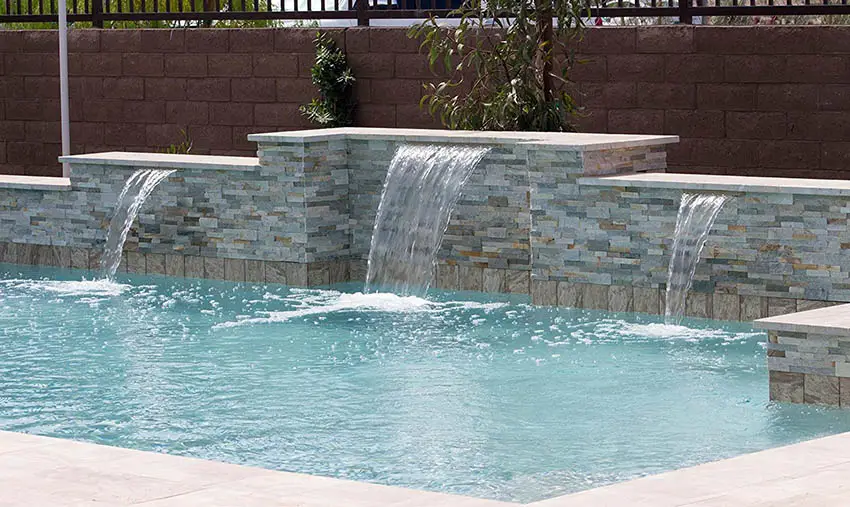 DIY Pool Sheet Waterfall – See at Amazon
This is an example of sheet waterfalls installed on a low wall at the edge of the pool. It creates a nice and clean sheet of water that seems to gush out from inside the wall because of the very low profile spout it uses. This type of waterfalls can be custom-made, DIY, or even bought as a kit. This is perfect for simpler pool designs and for smaller spaces.
DIY Pool Waterfalls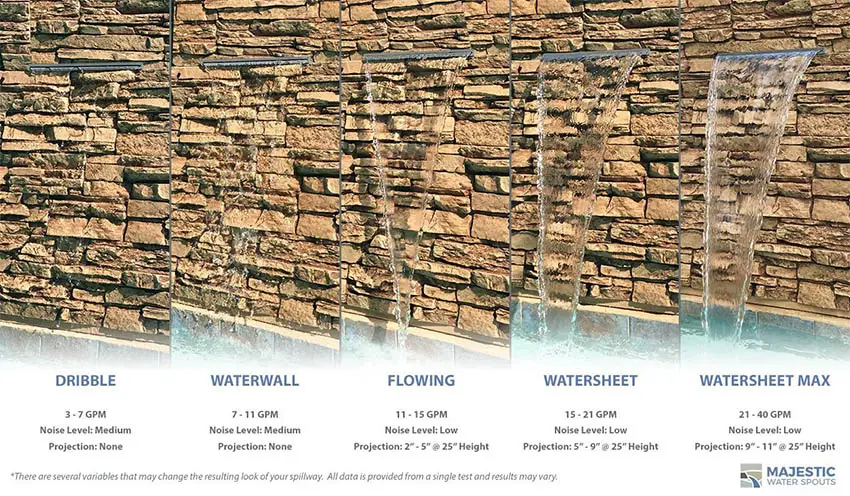 Here's an illustration of the popular types of waterfall flows one can choose, from a gentle trickle to a cascading watersheet. Prefab waterfalls for pools come in an assortment of designs to compliment your backyard style whether it be rustic or modern.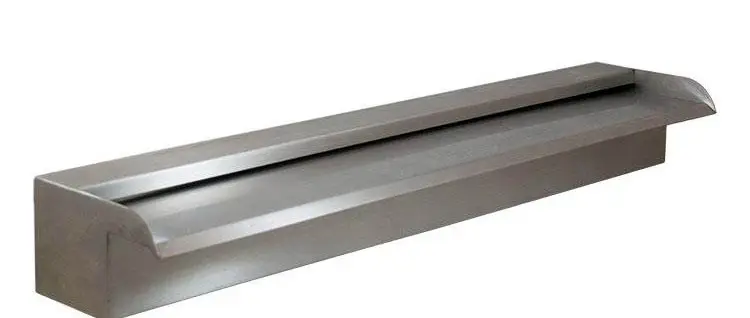 Stainless steel waterfall spillway – See at Wayfair
The image above shows how the spout used for sheet waterfalls usually look. They are commonly made of stainless steel and area inset on walls. Most of them are designed in a way that makes them almost invisible once installed. The type of waterfall it creates would depend on the waterpump setting you choose.
Adding a waterfall to a pool will consist of creating a solid base and modifying the structure to accommodate the spillway spout. Some of the most popular structures used for a waterfall base include tile for a traditional style, stacked stone for a contemporary design or loose river rock for a more natural look.
Pools with Waterfall Design Ideas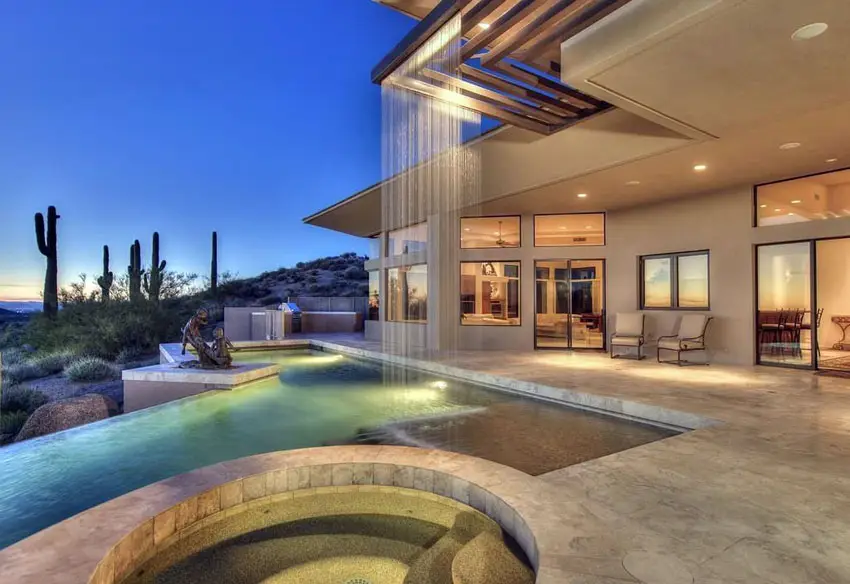 This is a great application example of a rainfall curtain. Typical rainfall curtains would entail an additional "arc" structure placed above the pool, which can consume space and sometimes ruin the overall design. For this example, however, the feature was installed on an architectural element (in this case, decorative tubular metal eaves), resulting in a more visually amazing outcome.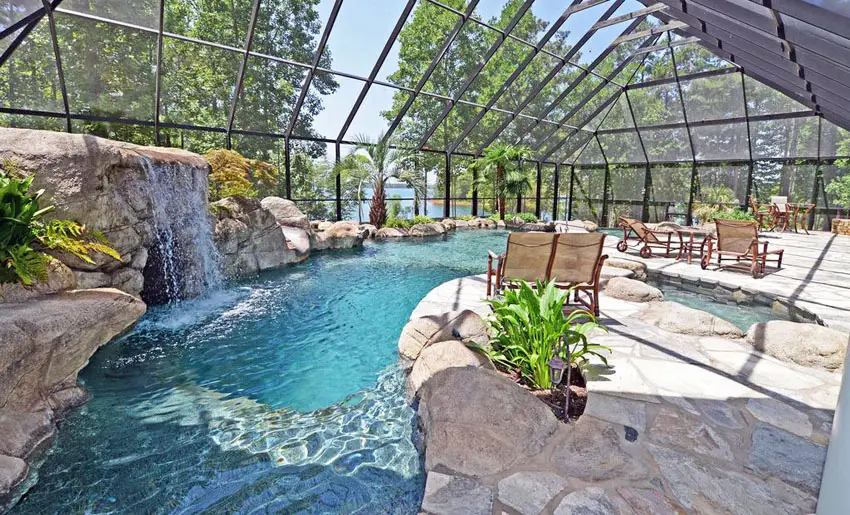 What other water feature looks best with natural lagoon swimming pools, than a rock waterfall? A simple rock waterfall installation, along with added ferns and plants gives more dimension and personality to the design.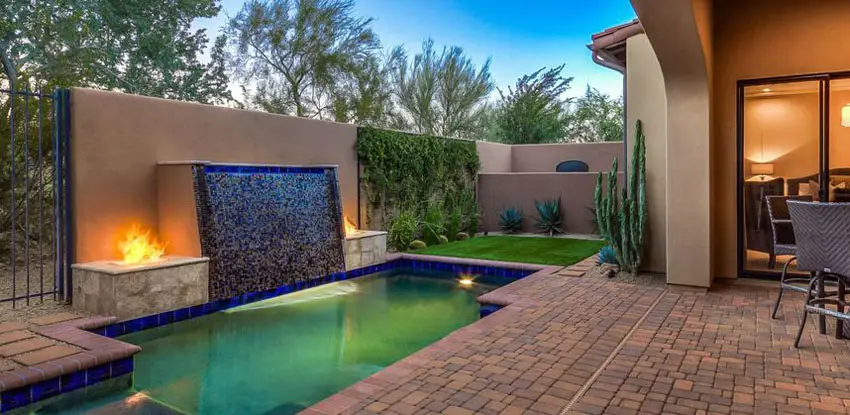 Since there isn't much space available in this backyard, a simple sheet waterfall feature was attached on the property wall, making it very subtle yet elegant water feature.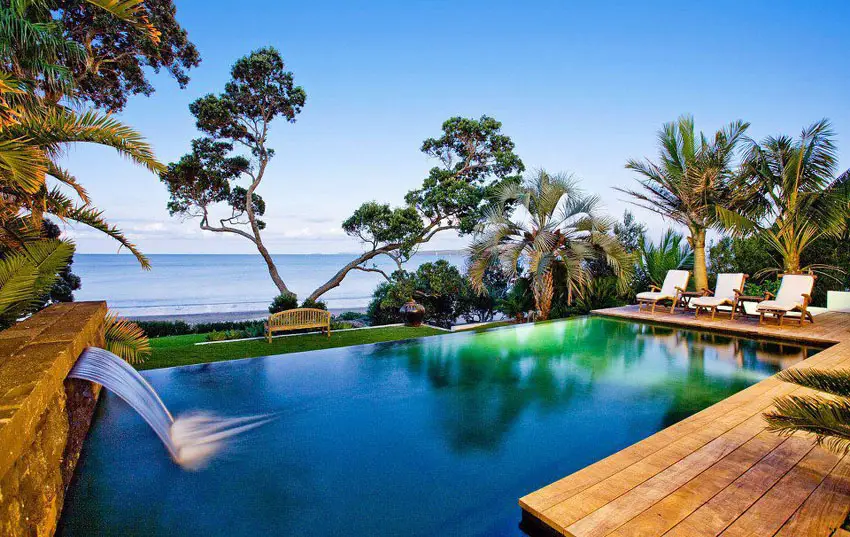 Sheetfalls definitely match the rectilinear simplicity of infinity pools such as this example. The constant flow of the falls help add more movement and life to the seemingly still water of the pool.
If you're not into massive waterfalls installations or high-walled waterfalls, this is a great way to incorporate sheet falls into your pool design. This small sheetwall falls is only a little higher than the deck and was fixed with 3 horizontal spout. The top of the waterfall feature has a flat tiled surface which can also double as a platform for diving. Behind the water feature sits a wood pergola and outdoor fireplace creating the perfect spot for relaxing.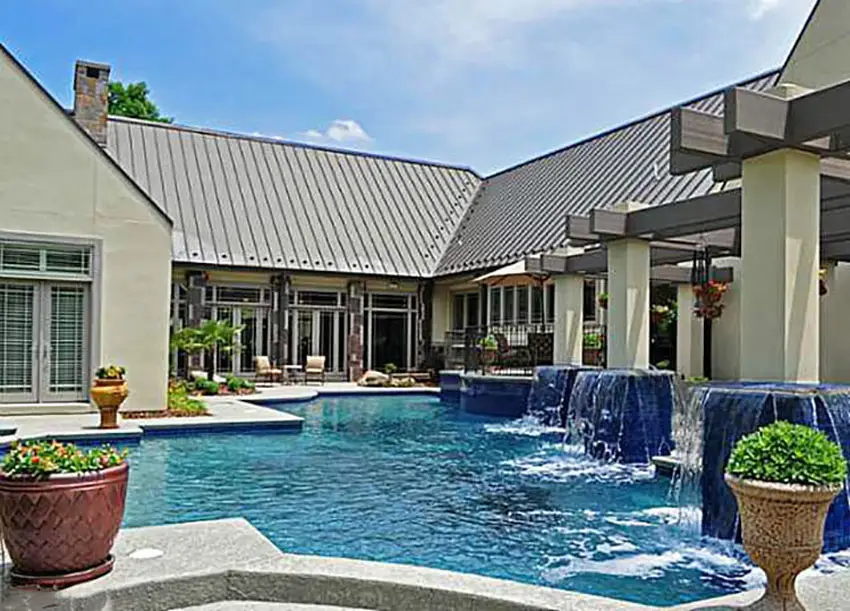 This irregularly-shaped pool has a series of column fountains in which water overflows onto its four sides. The columns appear to be grand pedestals that has risen from the pool, giving it a grand effect, especially at night when lit.
Inground Pool Design with Waterfalls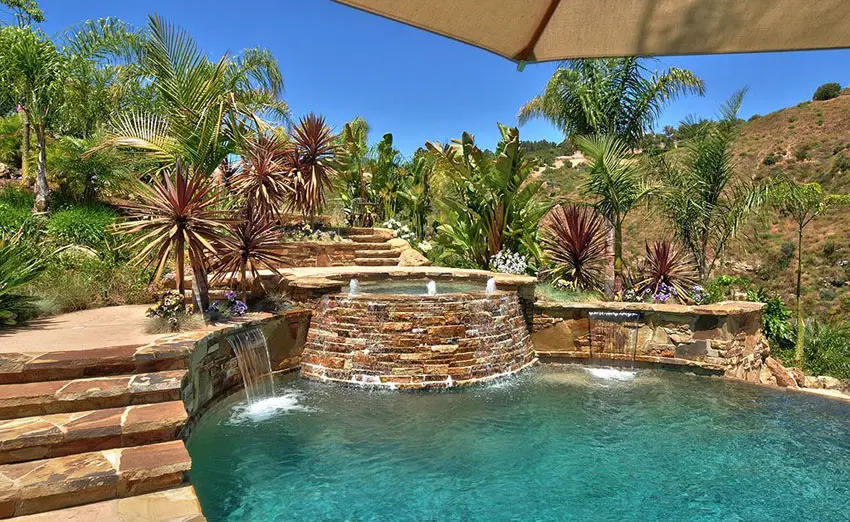 With a Mediterranean design inspiration, this pool combines the best aspects of modern & classical design style to create a unique look. It uses natural stones & tiles to create the waterfall structure (which also serves as a walkway), but the stones used are already cut flat to give a more streamlined silhouette. At the end of the elevated "walkway" is a small round pool/spa pool that has 3 deck sprays on its edges, which eventually trickles down to the tilted mini pool wall. The sides of the elevated walkway also has recessed-mounted horizontal spouts for variety.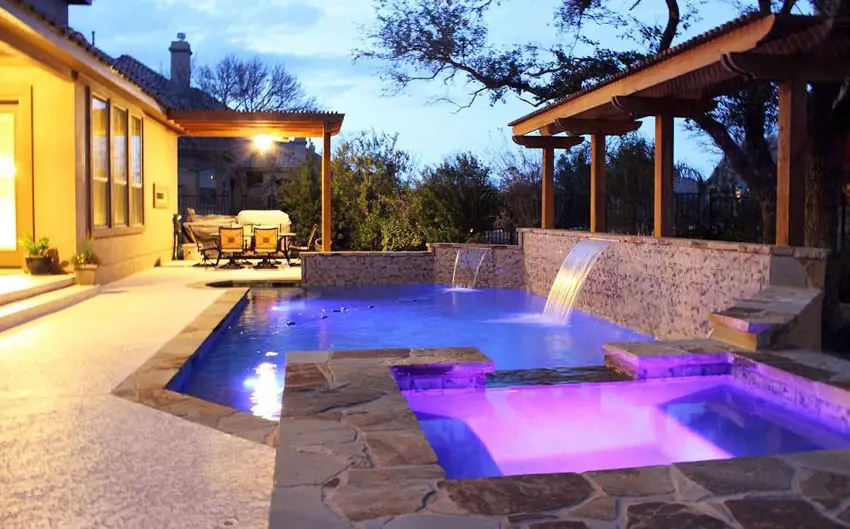 This is a combination of a spillover falls and sheetwall falls. The walls built around 2 sides of the pool area not only house the pipes for the falls, but also act as a non-obstructive partition for privacy.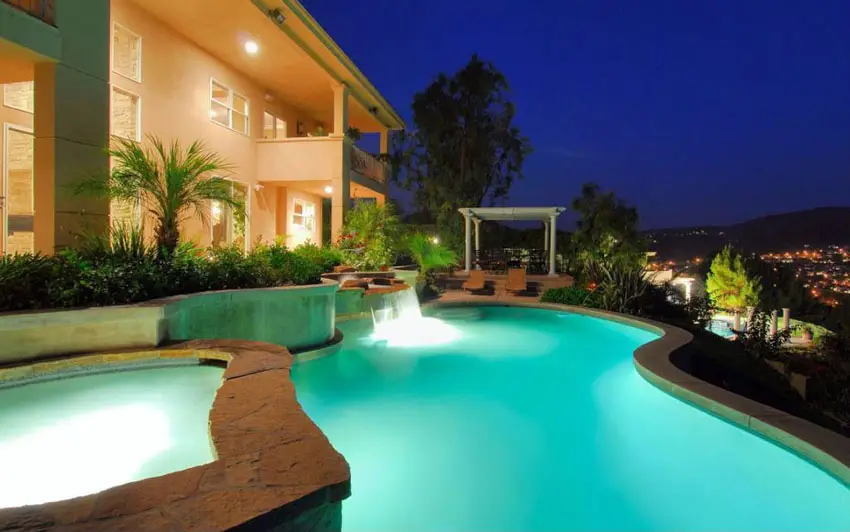 Another Mediterranean-inspired pool, this design leans toward a cleaner, sleeker look. The waterfall feature is a simple spillover from the mini spa pool, and is further accentuated with pool lighting.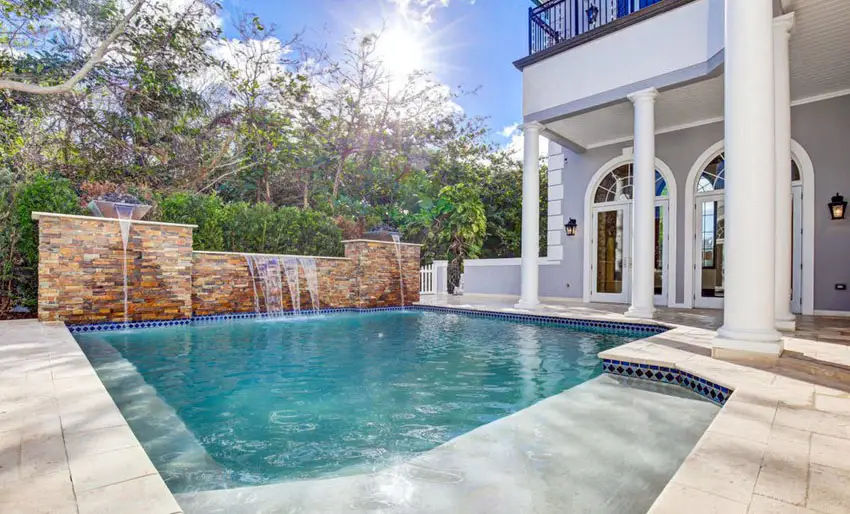 The choice of water feature for this pool is based on its classical-inspired architectural design. Two walls with a vase fountain attached on top stand on each side of a slightly lower wall with very discreet horizontal spouts. The spouts were installed side by side so that it creates a wider sheet of water flowing into the pool.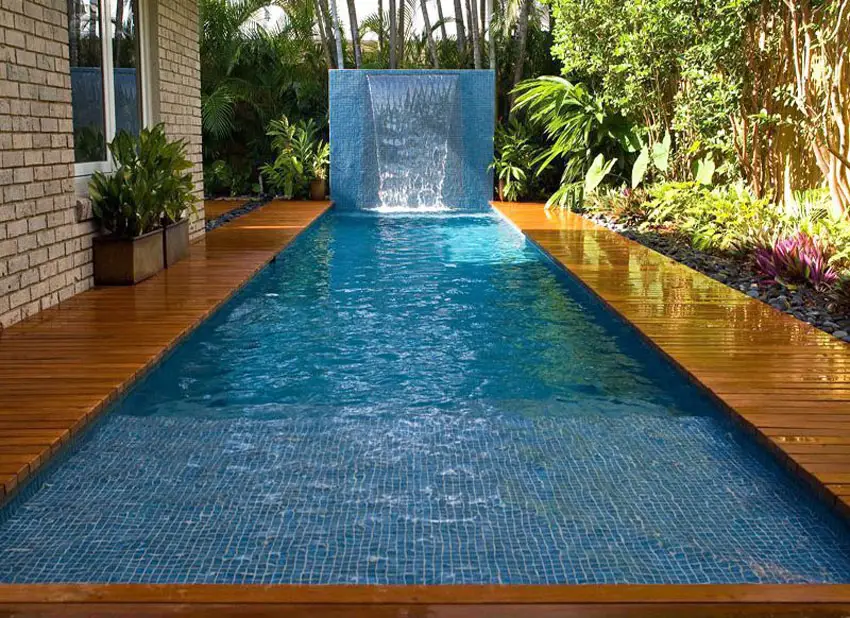 The small sheet waterfalls installed here enhances and matches with the modern, slim & sleek design of this pool. The soft cascade of the sheet of water helps break the stiff look which is a common tendency in modern designs.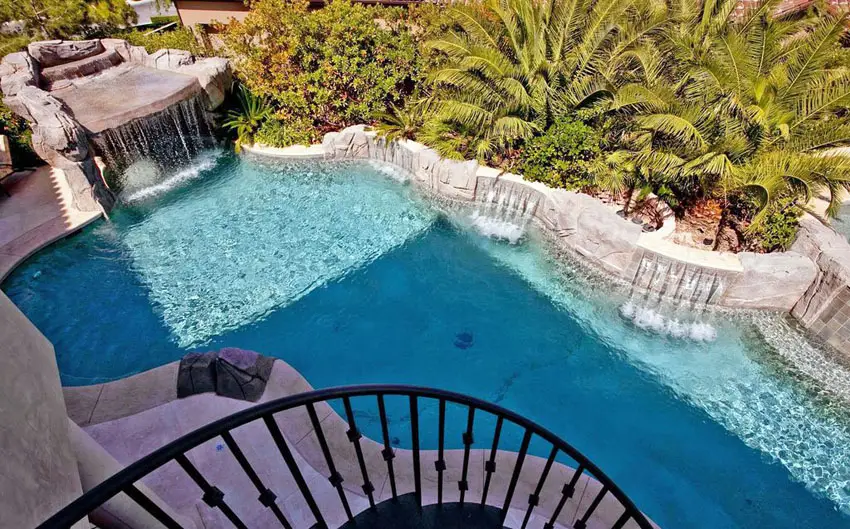 Concrete is the main material of choice in this pool design. The deck and pool wall has a smooth gray concrete finish, giving it a unique look. The curvy pool has a massive waterfall on one end, still made from concrete, and designed to create a giant ledge over the pool which can also serve as a small reprieve from the sun. The higher walls were also decorated with a series of wall spouts & sheetfall wall spouts.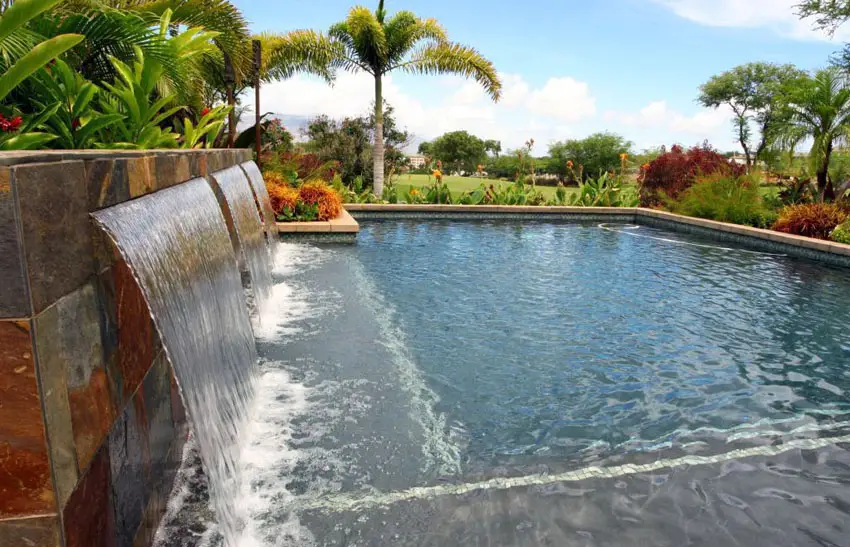 The spout for this sheetfalls was tilted downwards to create a sharper-looking water sheet.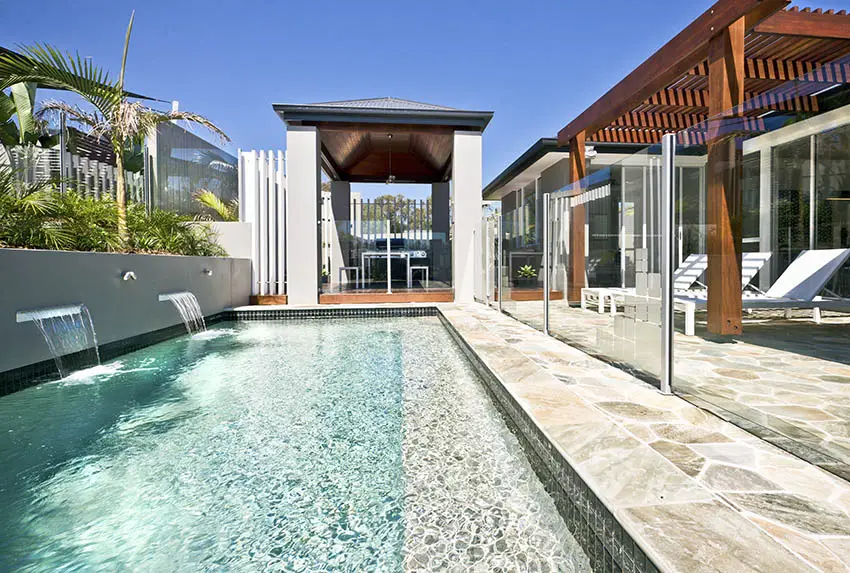 Instead of a recessed-mounted sheet waterfall spout, a surface-mounted stainless steel spout was used in this modern pool design. A large Asian style pool cabana provides a place to escape the sun for outdoor dining while the wood pergola is perfect for relaxation.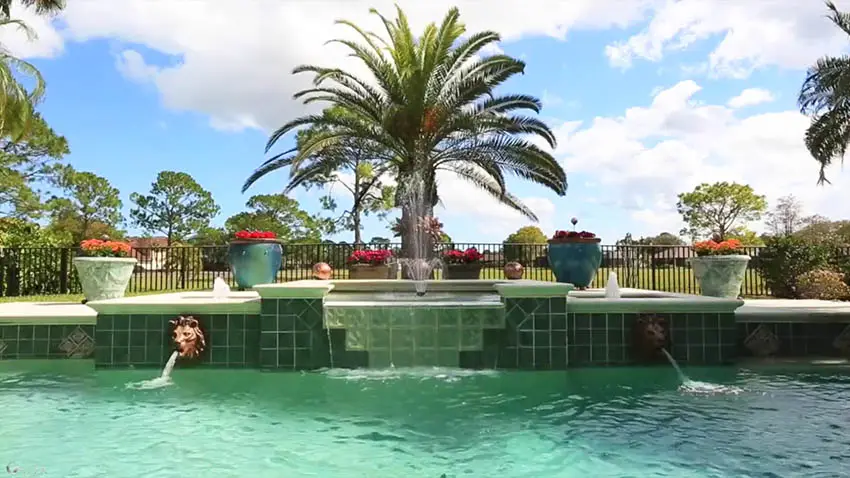 Matching the Mediterranean theme of the garden, this pool goes for more subtle and simple water features. A slightly elevated spa pool with a spillover was placed in between two wall spouts with lion's head scones, for a very balanced and symmetrical look.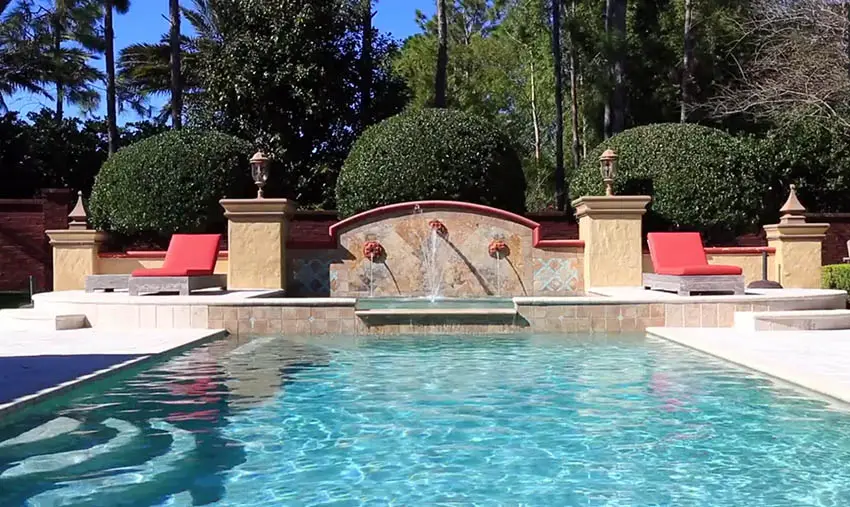 This is a Middle-eastern inspired pool design. It is reminiscent of grand mirror-like fountains like the Taj Mahal, but instead of a building, you see a mini pool spillover and an arched retaining wall with three wall spouts with floral sconces.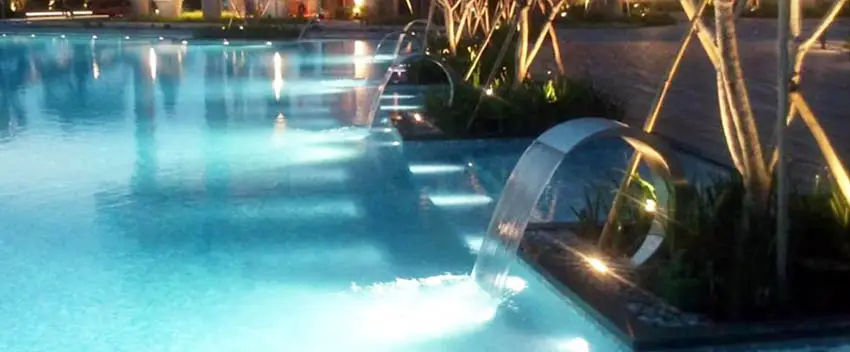 Four swan-like water-curtain spots seems to camouflage itself with the garden plants. Because this type of waterfalls requires less digging and hole-making, water-curtain spout would be one of the easiest way to incorporate waterfalls.
Pools with Slides and Waterfalls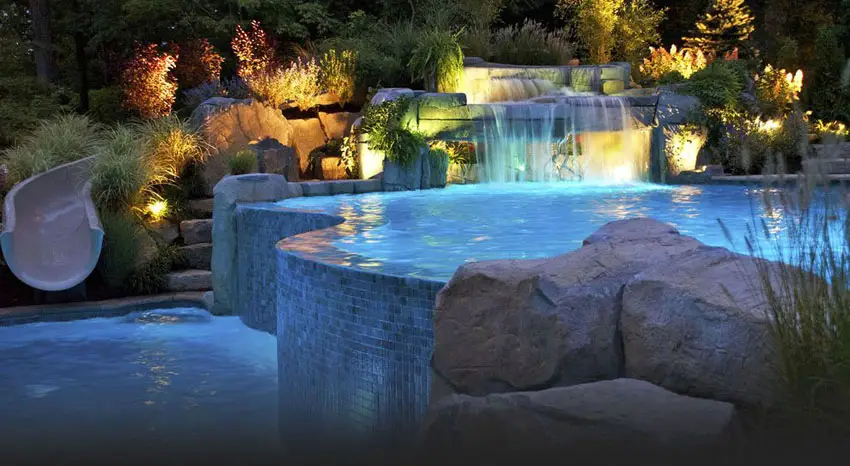 A multi-level pool is the best base for cascading spillover waterfalls. This example has both a spillover ledge (for a sheetfall effect) and an infinity pool / waterwall spillover. The addition of landscaping and natural rocks around the pool area further enhance the ambiance of the pool.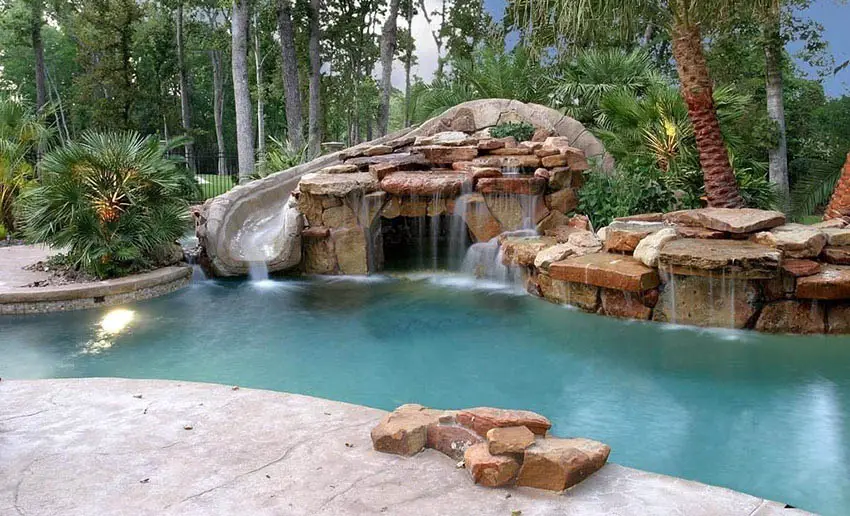 This tropical lagoon pool has a wide variety of water features. A large decorative rock wall showcases an assortment of waterfalls with a small grotto, while a waterslide winds through the rocks creating a fun environment for kids and teens alike.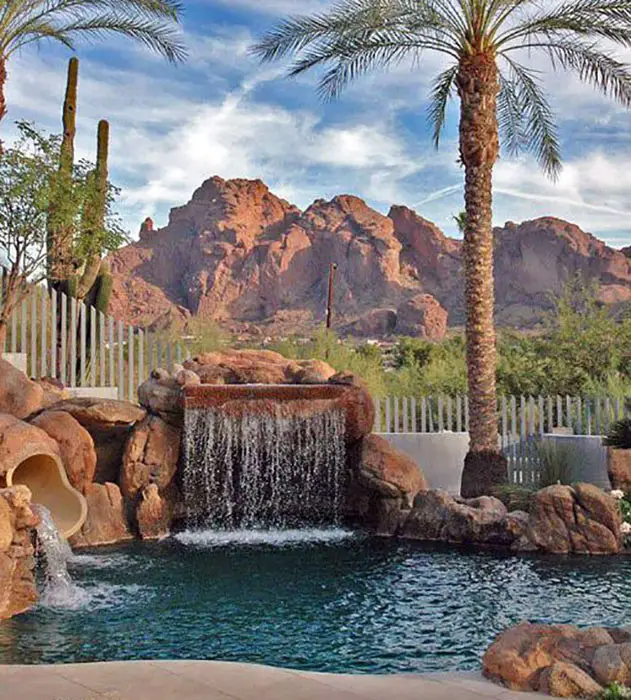 Matching the red rocky mountain background, this rock waterfalls makes sure it uses similar color of materials/finishes to the mountain so that it blends in well into the surroundings. The topmost rock was smoothed out to almost flat, creating a clean, sheet-like water flow. The addition of a tunnel slide hidden behind the faux rocks also adds a fun and novelty element to the pool area.
Pool Rock Waterfalls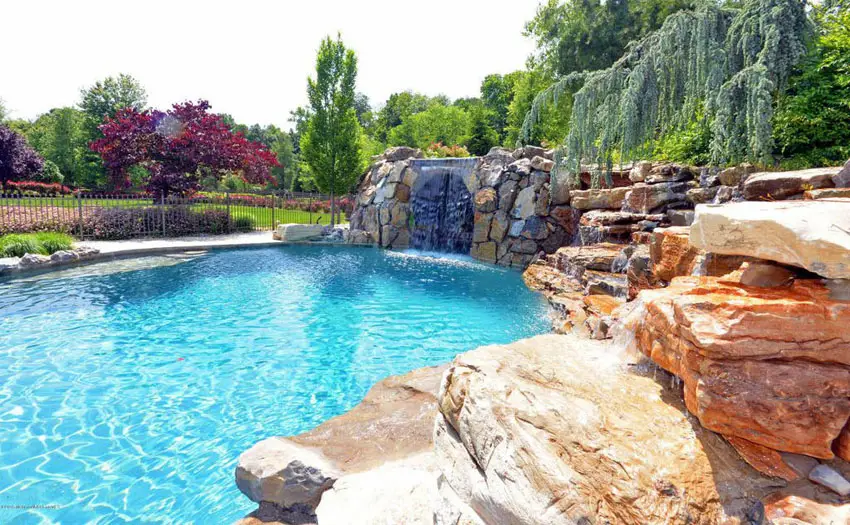 This is a great example of a well-executed rock falls. Instead of having only one cascade where the water flows down, the water seems to fall along the long span of rock arrangements in varying amounts of water flow. At the topmost area has the strongest flow, and a man-made cave tunnel opening is right under the falls, making the water act as a "curtain entry" to the tunnel.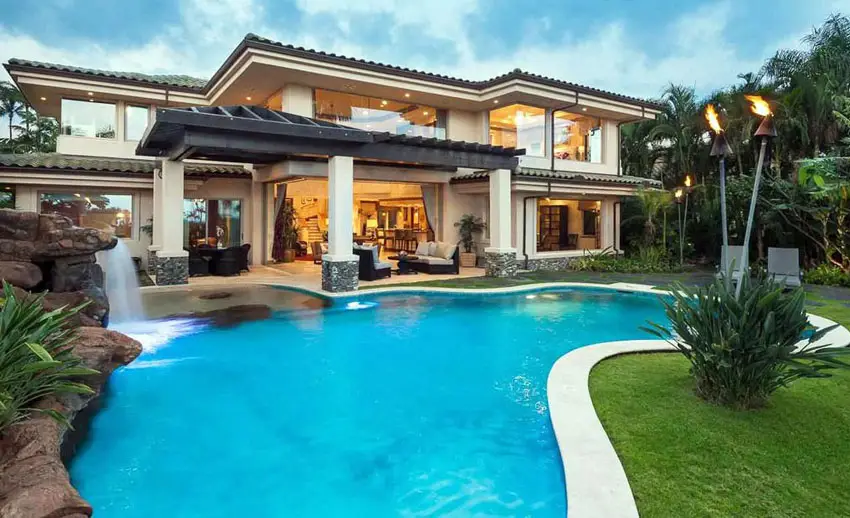 The ragged look and informal shape of the rock waterfalls gives a nice contrast against the clean silhouette of the pool and the architecture. The sudden change of color and texture gives the design a better over-all balance & depth.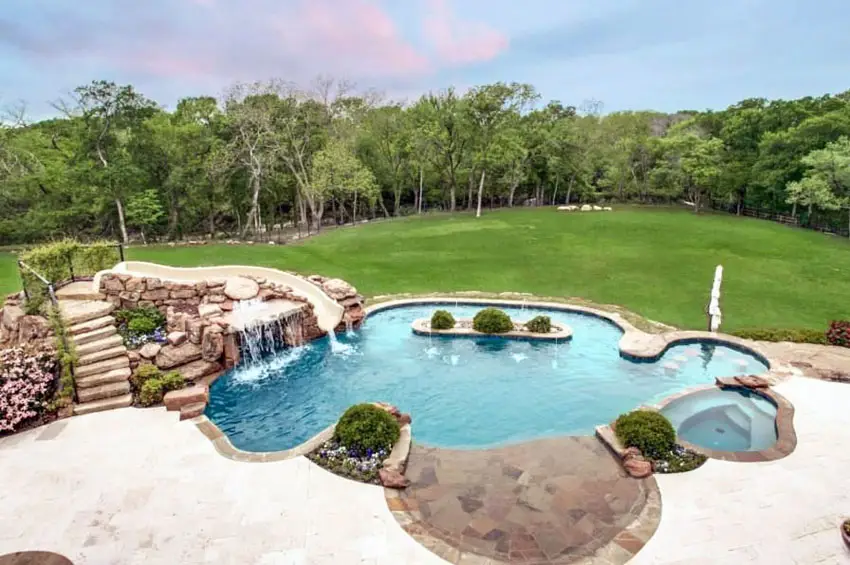 Can't decide between rock waterfalls & pool slide? Why not combine both like this example? The waterfalls was constructed using large pieces of natural stones set on a concrete base. A concrete slide was created to run on the left side behind the waterfalls.
Most pool waterfalls would have the water fall into the pool, but this example lets the water spillover from the main pool to a small lower pool which can serve as a footbath or simply a decorative element.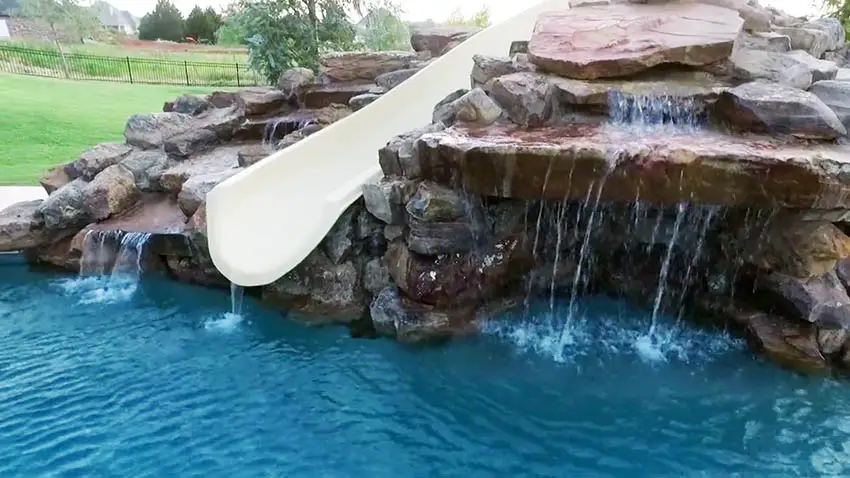 A small slide was placed in between two cascading rock waterfalls. This uses natural rocks which has been slightly sculpted & fixed together into the desired formation.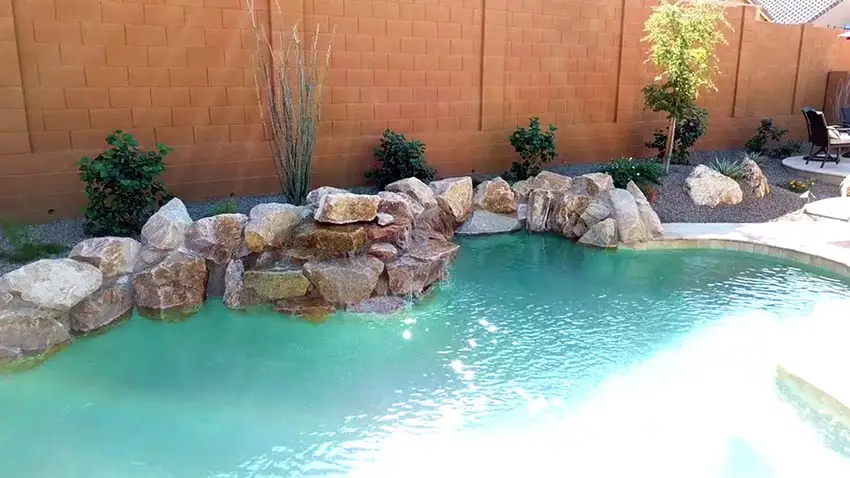 Using natural rocks, a low and subtle formation was arranged yo create a mini rock waterfall on the wide edges of the pool.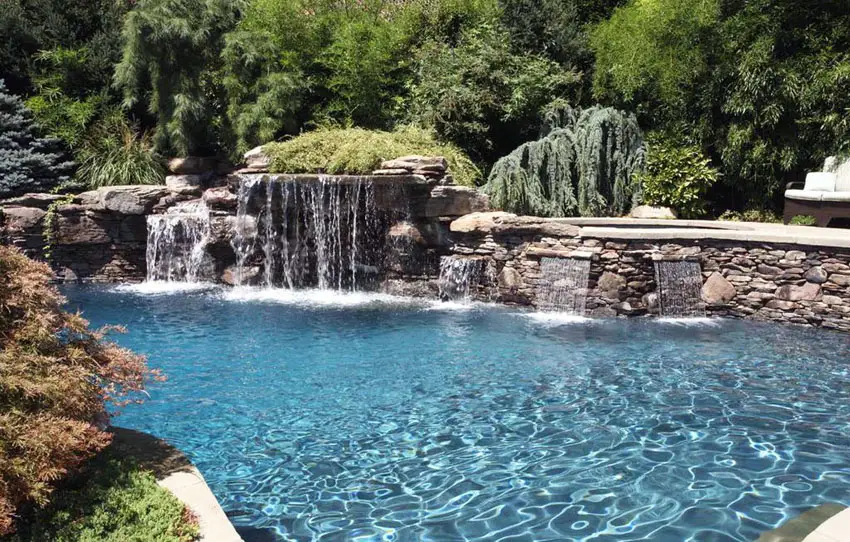 Combining both rock waterfalls and sheetfalls using horizontal spouts can also create a very interesting outcome. One area has 2 waterfalls which uses an almost flat top surface to create a wide water trickle. Beside it is a slightly elevated mini pool/spa pool, and on its sides, horizontal spouts were installed, keeping the water in circulation.
Artificial Rock Water Fountain for Pools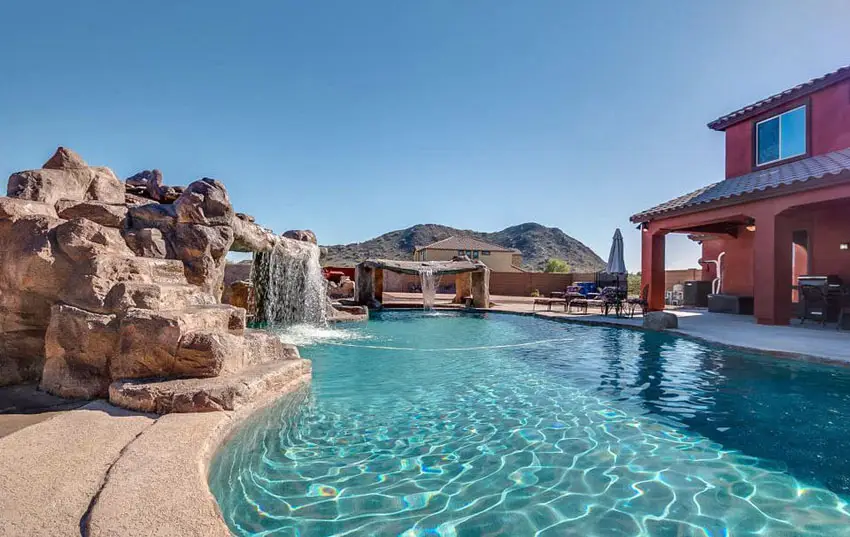 This is a rather ambitious and massive natural rock waterfalls. Instead of a cascade of rocks, it creates a beam-like structure from the faux rocks. The effect is similar to a rainfall curtain, but has a more "random" trickle of water.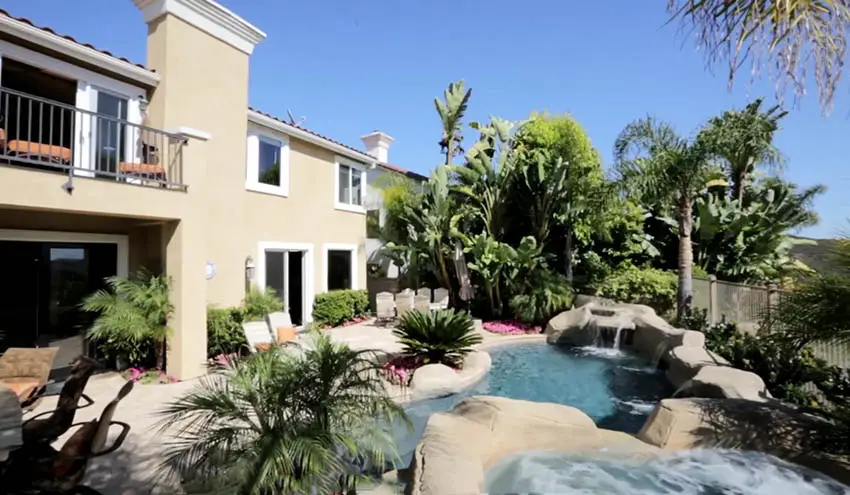 Excellent landscape design help set the overall feel and look of the pool area. It creates faux stones using concrete molded into irregular shapes. This features two upper mini pools on opposing ends, both with a spillover lip/indent.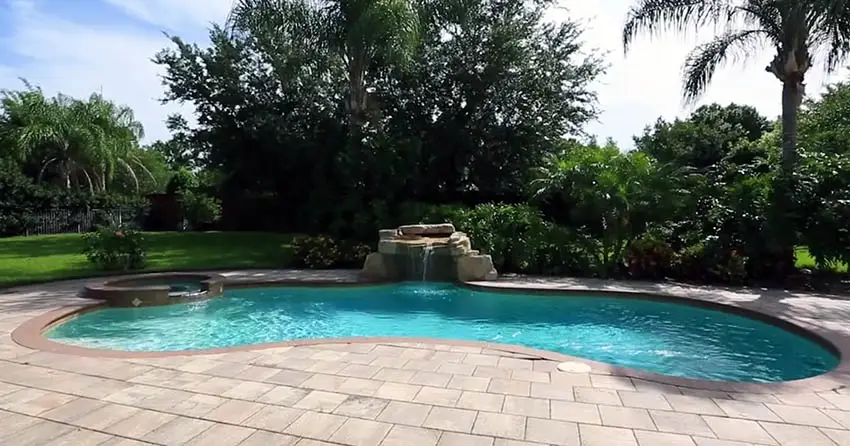 You don't always need to have a big & grand rock waterfall. A small rock waterfall kit can create a basic rock waterfall installation like in this example.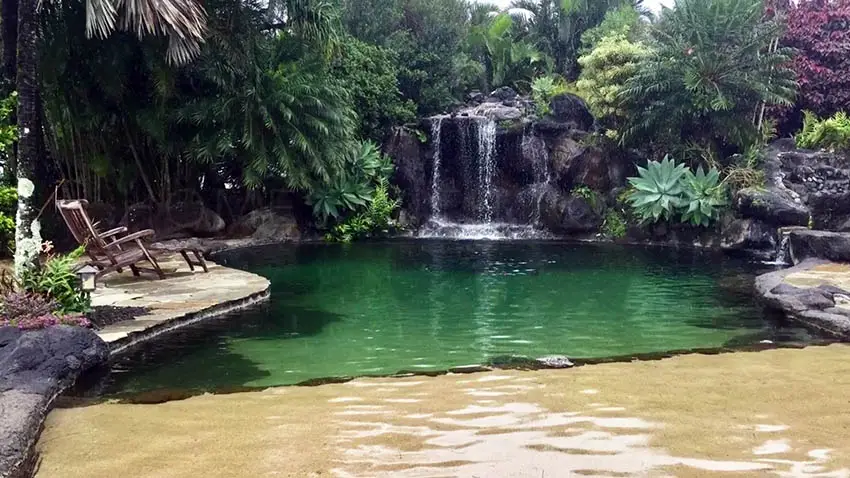 The excellent landscape design definitely helps enhance the overall look of this lagoon pool. For large lagoon pools a waterfall helps keep the water flowing & moving, avoiding stagnant water which can be a potential breeding ground for mosquitoes. This pool design features plants densely arranged in way that looks wild & natural. The plant seems to frame the high rock waterfalls which uses dark-colored stones to give it even more depth.