Here's our marble pool deck design guide including pros and cons and popular types of marble styles.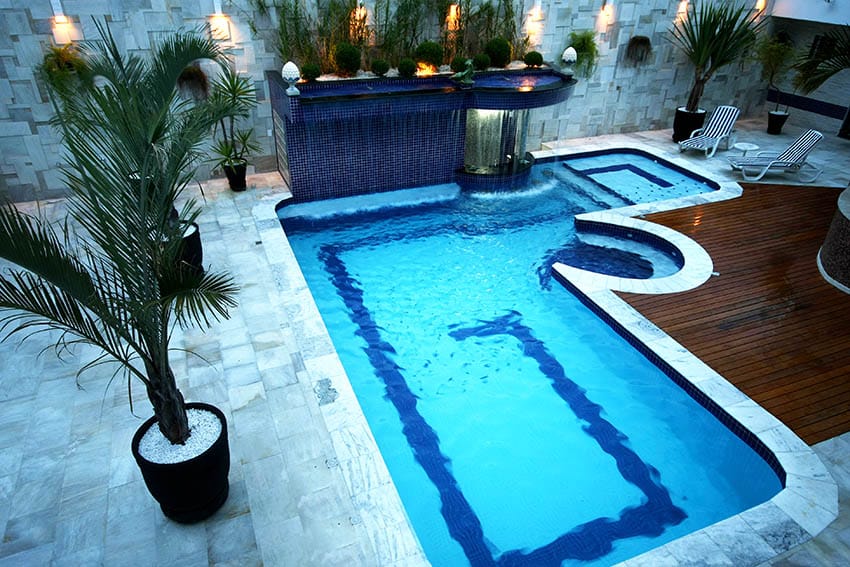 As the temperature rises, it's the perfect time to hop into the pool. However, it's important to make sure that your pool has the right pool deck to offer an eye-catching way to make sure your pool fits into your landscape and that you have a nice place to dry off and hang out around the pool.
If you want a touch of modern elegance to your pool, a marble pool deck has plenty of benefits. In this guide, we'll break down everything you need to know about marble pool decks so that you can make the best choice for your taste and landscape.
Marble Pool Deck Pros and Cons
There are pros and cons to any materials that you might use as a pool deck or otherwise around your home. That's why we're going to break down the best and the worst of marble pool decks to help you make the best decision for your home.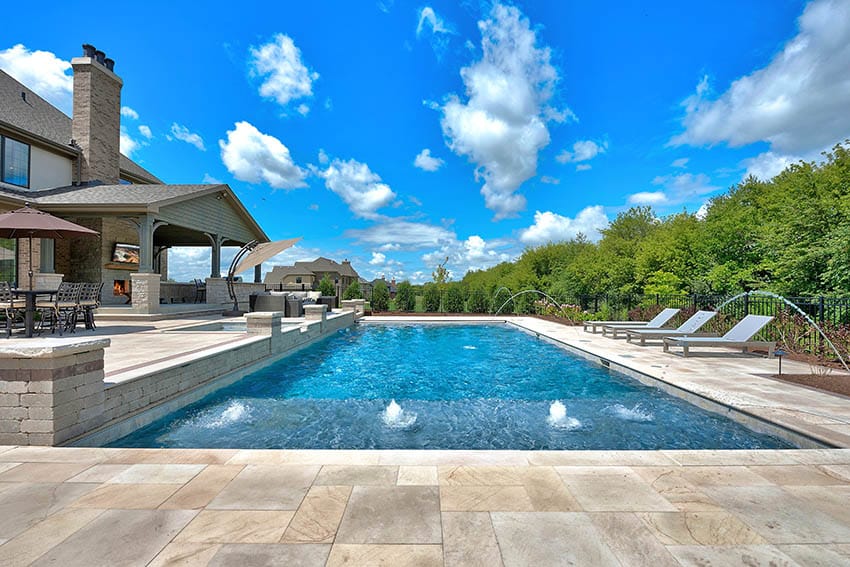 Marble Pool Deck Pros
Beautiful stone material – For one, you can rely on marble for a bit of natural beauty around your pool. Plus, as we've already looked at, there are a variety of ways that you can use marble to match your personal style.
Range of marble colors – A marble pool deck is available in a variety of stone colors. You can find marble in colors such as shades of brown, cream and silver.
Cool surface to walk on – The good news is that marble stays fairly cool as well. This means that even when you're enjoying a dip in the pool during the hottest part of the day, you won't have to worry as much about hurting your feet on a hot pool deck.
Durable & weather resistant – Marble is also highly sought after because it's a durable material. Another great part of using marble is that it's weather-resistant which means that you won't see damage from use outside over the years.
Increase home property value – Finally, having a pool already boosts your property value but using marble as a pool deck tends to add property value as well. In all, it can be a gain in property value compared to other pool deck materials.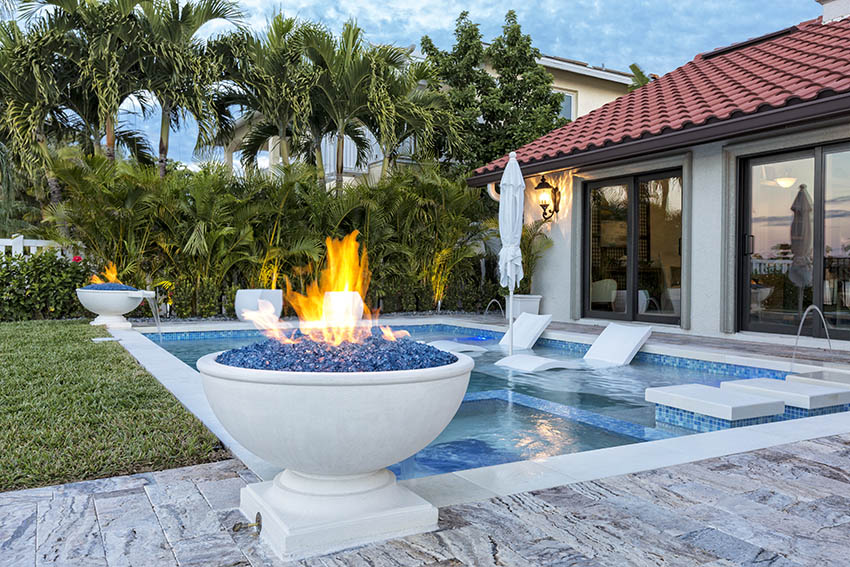 Marble Pool Deck Cons
Of course, not everything about marble can be positive. Like any other material, there are a few drawbacks to marble. These are the major cons of marble that you should know about.
Slippery when wet – As it directly relates to pool decks, you'll want to be careful that marble can get slippery when wet. This means that as you splash water onto the marble from the pool or even track damp footprints when you get out of the pool, it can cause your pool deck to get slippery. So, you'll want to be careful about this especially with running children around.
High cost material – Another con of marble actually relates to the last pro we brought up. As a luxury item, marble can increase your property value but it comes at a higher cost than some other material options. Luckily, the good news is that the added property value can help mitigate this upfront cost.
Marble can stain – To a lesser extent, you'll want to beware of staining your marble pool deck since it is a porous material. For a pool deck, this isn't usually a problem but if you host pool parties with food and drinks, for example, it's a good idea to try to avoid spills and clean up any directly after they happen.
Sandblasted Marble Pool Deck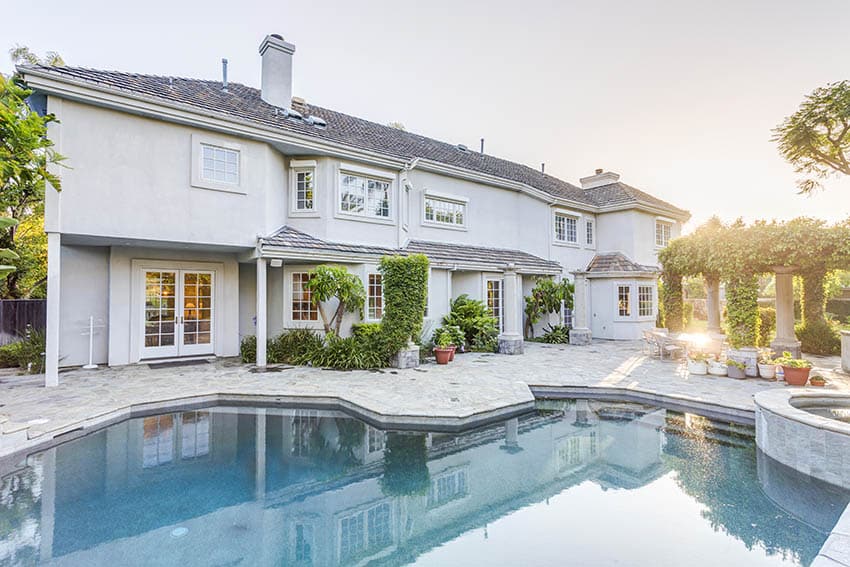 Sandblasted marble is finished to have a slightly rough, uneven surface. By sandblasting the marble, it creates an irregular finish, ensuring that the texture is completely unique.
This is an especially clever choice when you're worried about how slippery marble can get which can be a hazard when it comes to a pool deck.
For sandblasting the surface, the texture it creates helps to add traction to the pool deck. This way, it isn't quite as slick when it's wet as marble with a completely smooth pool finish.
It's worth noting that while this will add traction and texture to the marble, it isn't so textured that it will be uncomfortable to walk on. See more types of pool finishes here.
Marble Pool Pavers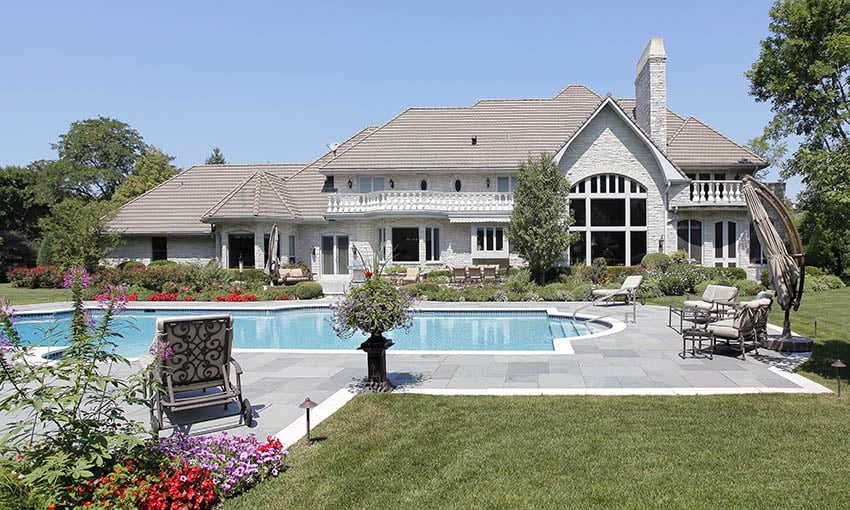 Pavers are individual units of a material laid out like tiles or bricks. This means that instead of a single, smooth slab of marble, these marble pool pavers are organized as you want them and that fits into the space.
You can use marble pool pavers to create a pattern that adds to the aesthetic beauty of the design just as much as the appearance of the marble you use. This is true even if you decide that a traditional tile pattern is the best choice for your space.
When it comes down to the individual finish of the marble pavers, you have a lot of options. For instance, you can use marble pavers with a sandblasted finish to reduce how slippery the surface of the pool deck gets when wet.
White Marble Pool Deck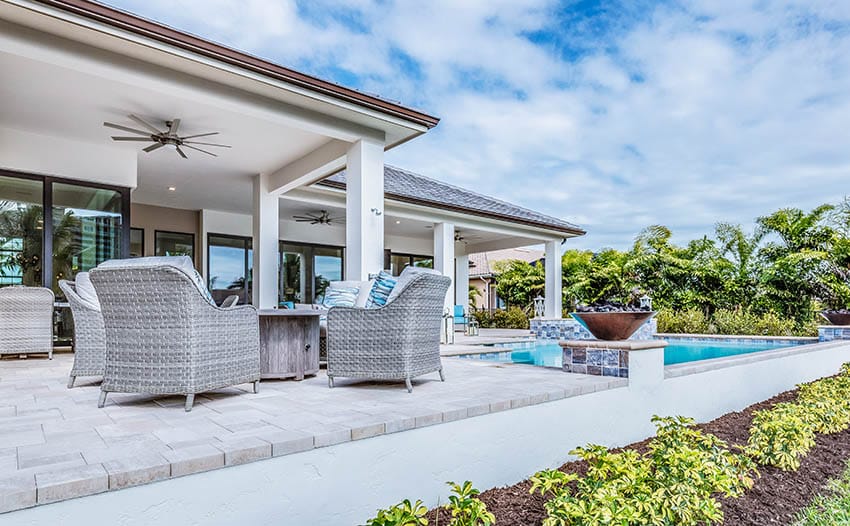 White marble is often used in modern design as it's sleek and simple. It's often associated with luxury since it has a neutral but elegant touch.
However, white marble still often has a one-of-a-kind appearance thanks to the natural veins in the stone. This sets every slab of marble apart from the next.
Marble or Travertine for Pool Deck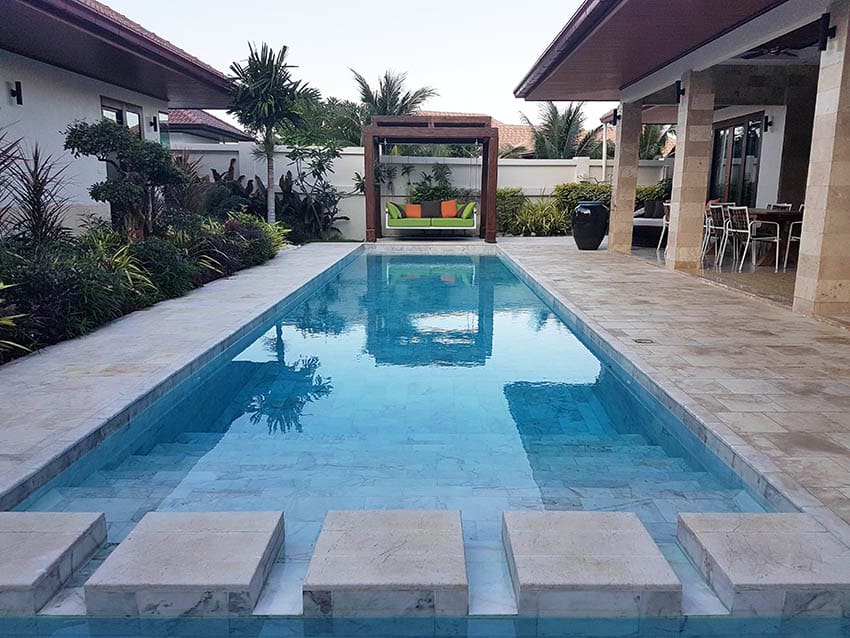 Travertine is a little different from marble. It comes from limestone and is a frequent choice when it comes to pool decks. This is true for a few reasons.
For one, since travertine absorbs water quickly, it's a good choice for a pool deck since it won't stay wet. Because of this, it has the advantage of being non-slippery. On top of that, travertine is less expensive than marble is, making it a good choice for any homeowner who is on a budget.
However, it lacks some of the benefits of marble as well. For one, while it's less expensive upfront, this also means that it won't elevate the property value the same way marble will. Marble also has the additional benefit of giving your pool a luxurious touch.
In the end, every homeowner has unique needs that are answered in different ways. Yet, if you're interested in a long-term investment over short-term savings, marble is a classic choice.
For more designs visit our gallery to see more natural stone pool decks.