Here we share our built-in shower bench pros and cons guide including what is, its advantages and disadvantages, the ideal dimensions, and the best material to use.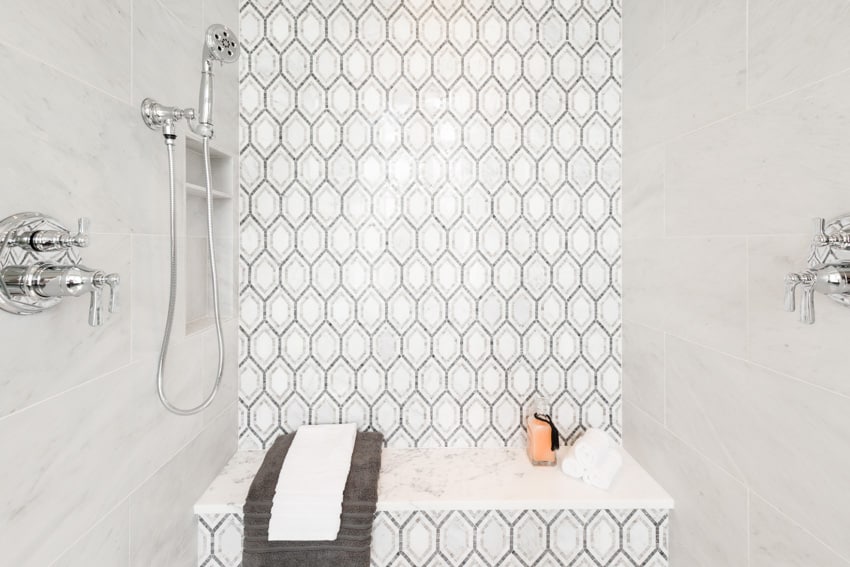 All at once elegant, functional, and safe, the built-in shower bench is a good choice when it comes to adding a sitting feature in their showers. This humble seat can immensely improve your bathroom experience and even make your shower enclosure much safer to use.
Let's talk about this fascinating addition to your bathroom – the pros and cons, recommended dimensions, and materials, so you can make an informed decision before installing one.
Built-in Shower Bench Pros and Cons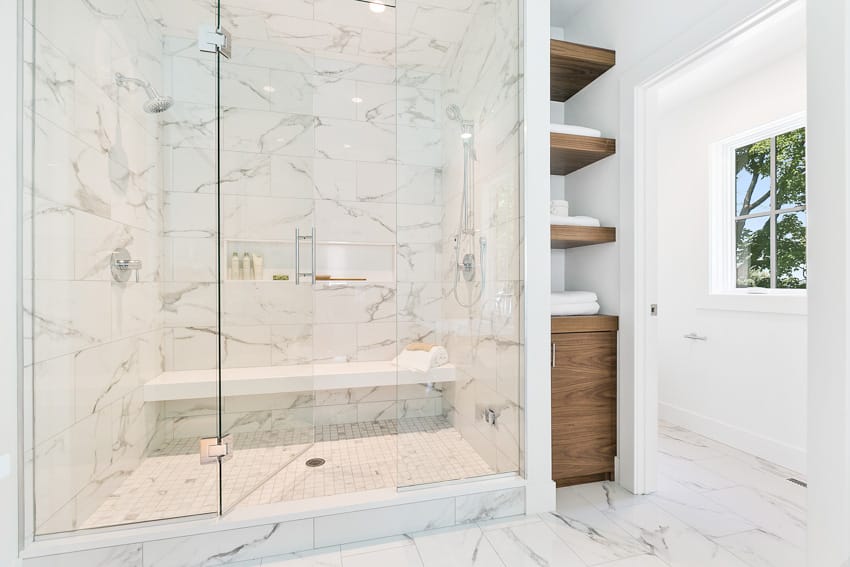 If you're building your new home or renovating your bathroom, a built-in shower bench is an excellent feature to add. Built-in shower benches are most regarded for durability and practicality, as well as allowing customization and a sophisticated appearance.
However, your space allocation and configuration of the shower room will actually determine if this seating type is the best choice for you.
What Is a Built-in Shower Bench?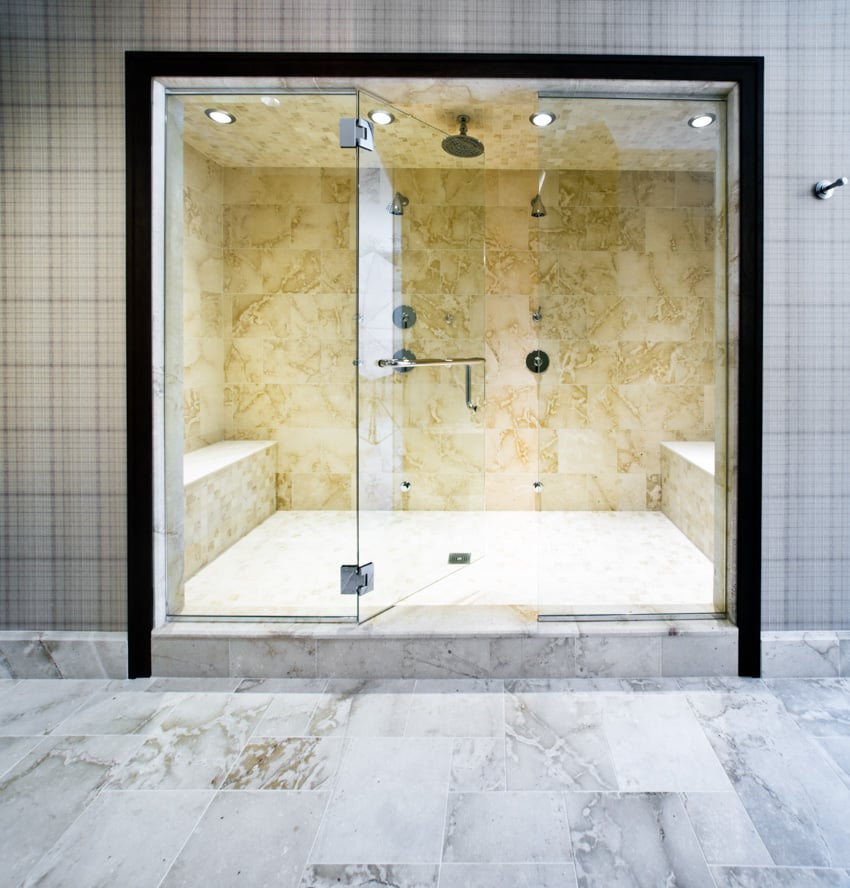 A built-in shower bench is a seat that is installed inside the shower where people can sit down during their baths.
Unlike other shower seats, such as a floating bench, a fold-down bench, or a portable shower chair, this particular seating style is permanently framed into the shower floor and wall. It is not open underneath but is instead a solid block custom-made to fit in the shower during construction.
This bench can span the entire width of a shower room or enclosure and provide more seating space. It is usually finished with waterproof material, such as tile or marble for durability, easy maintenance, and aesthetic reasons.
The Pros of a Built-in Shower Bench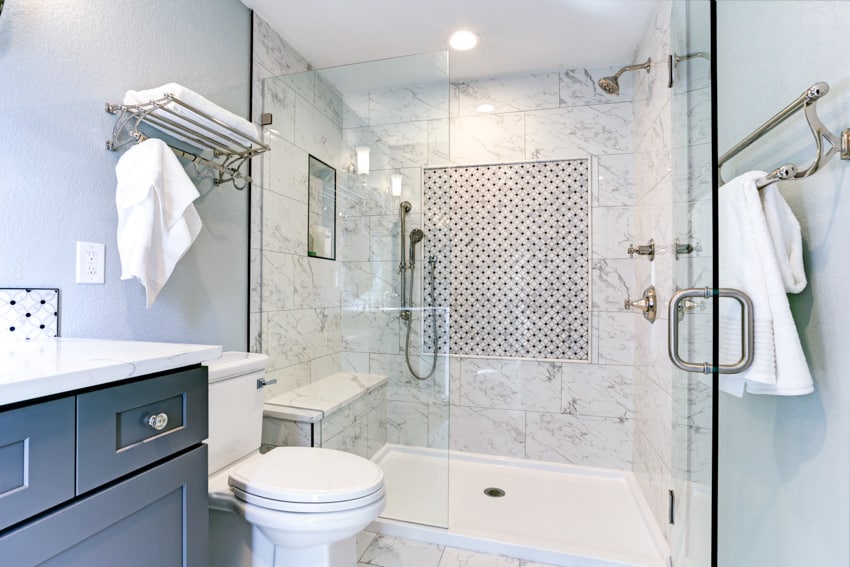 There are several advantages to having a shower bench in your bathroom – from function to indulgence. Hence, here are some of the best reasons to have one in your shower.
Those who take home interiors seriously will find the most design flexibility with built-in shower benches. From the name itself, built-in benches are constructed at the same time as the shower room.
So during the planning stages, you can choose to have a curved design, a linear one, or any other shape that your shower space allows.
Read more about our guide on different shower bench ideas here.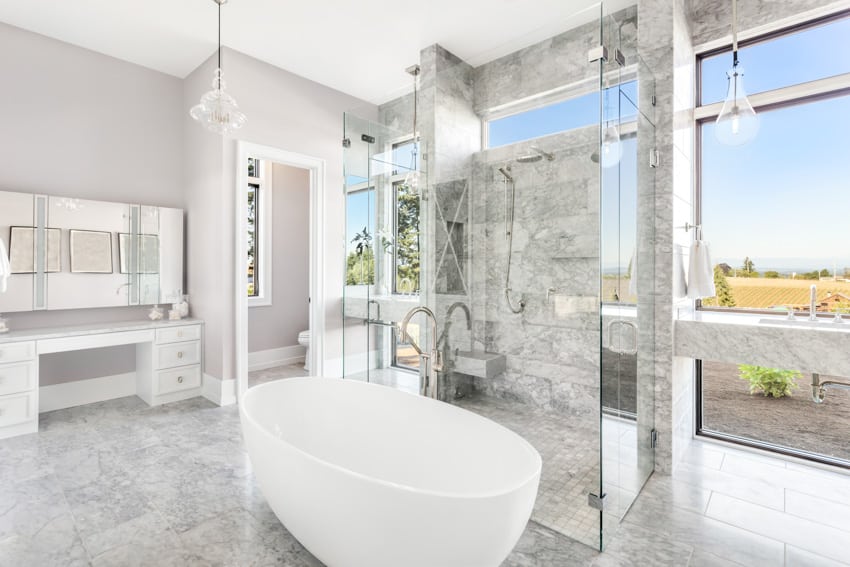 Built-in shower benches are considered non-movable members made during the construction stage. These built-in seats are reinforced underneath.
Some of the materials used are brick, wood, or concrete. It is then covered with tiles or stone to hide its structural frame.
Hence, this makes built-in benches the sturdiest and most hard-wearing among shower seating types.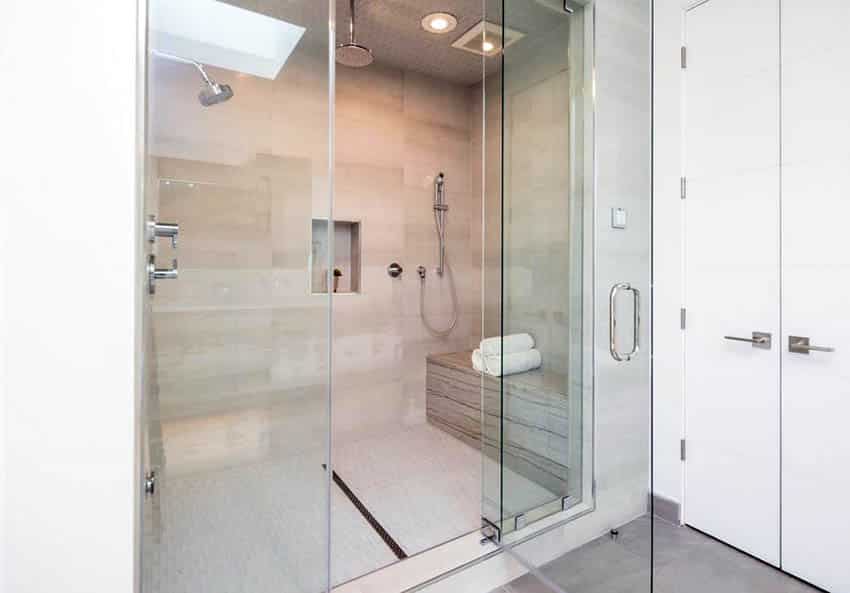 You can design your built-in shower bench to run the whole width of your shower enclosure. This allows more space to sit on and do other activities in the bath, such as women shaving their legs.
Others find it convenient to put shower accessories on, while some designs can even hide a cabinet underneath for additional storage. Its comfortable seating capacity allows you to relax in the bath, as well.
Furthermore, long, hot showers have proven health benefits, and a reliable shower bench will help you achieve them.
Safety and Accessibility Feature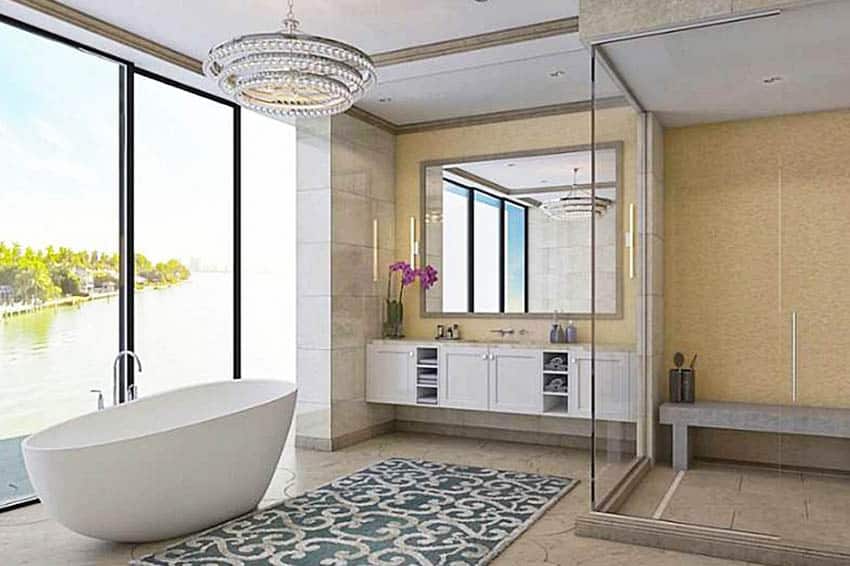 A built-in shower bench is also an accessibility design feature. The elderly, individuals with mobility issues, and those with injuries can use the bench for safety.
If possible, you can add a safety handrail to further assist these users, as well.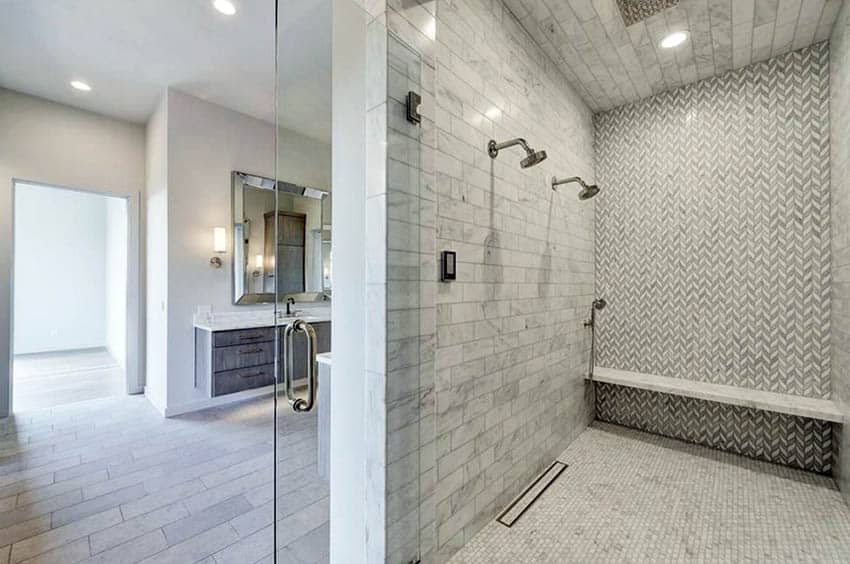 Built-in shower benches have a luxurious appeal you can liken to a spa. They are part of the whole shower room design concept. In this way, they likely have a similar or complementary finish as the walls or floor.
The whole shower unit appears cohesive and elegant with built-in benches, unlike fold-on benches that look almost an afterthought. Read more about the different design ideas for luxury walk-in showers here.
The Cons of a Built-in Shower Bench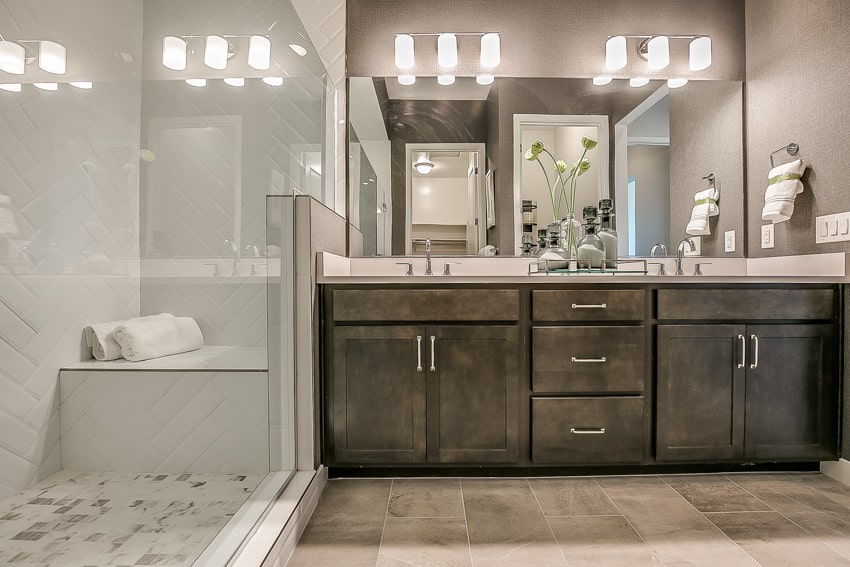 Now that you know all the conveniences of a built-in shower bench, it is also important to note a few drawbacks.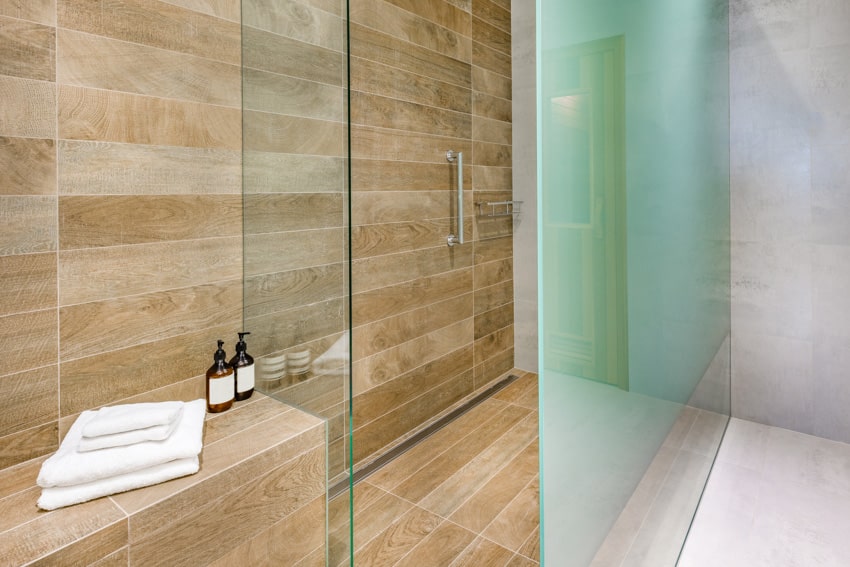 Built-in benches can take up greater space in your shower room than other seating types. It may add some sitting room but compromise standing room for small shower spaces.
If the space allotted for your shower room is not too sizable, you may risk blocking the entrance or making the space too tight.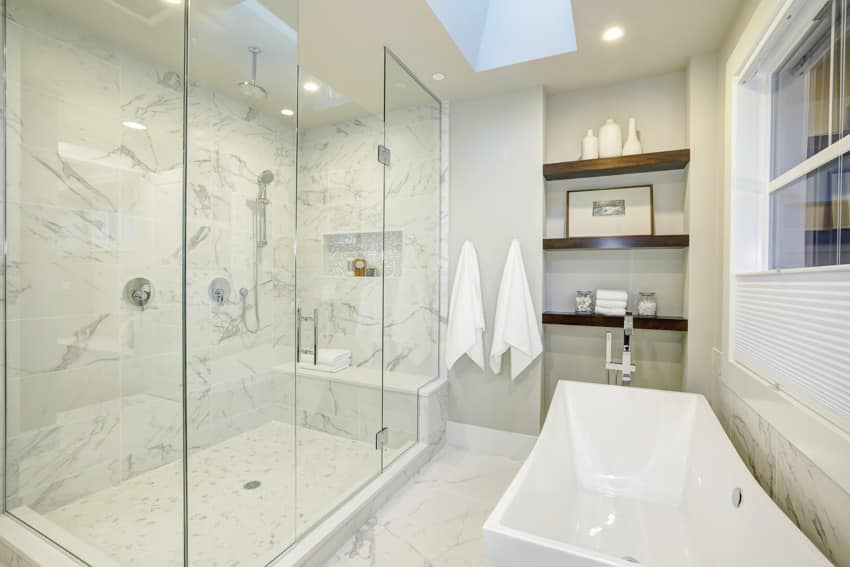 You can only customize a built-in shower bench when you are building your new home or doing a renovation. They are best installed at the same time as the whole bathroom.
So if you already have an existing shower, it won't be easy to suddenly add a built-in bench. Besides taking a significant amount of work, you'll find it won't blend as well as it should.
Built-in Shower Bench Dimensions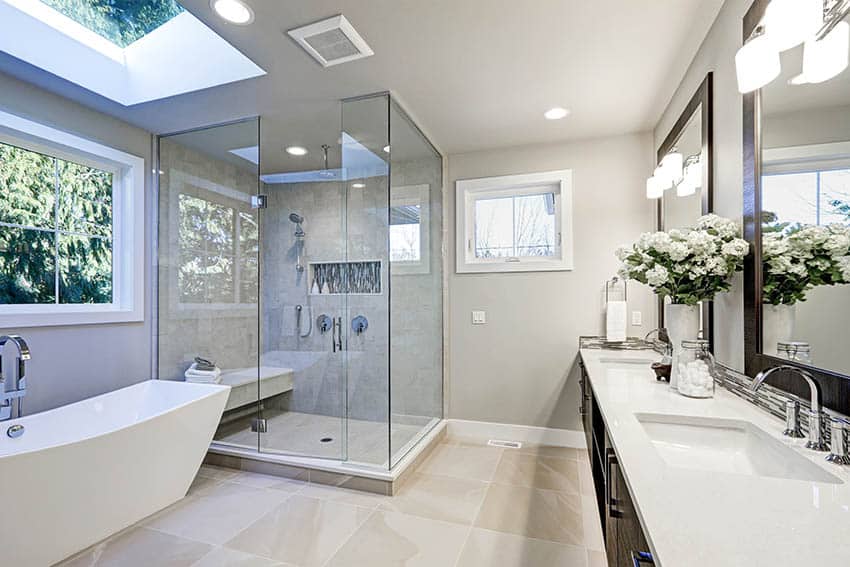 If you've weighed the built-in shower bench pros and cons, it's time to find out how wide, deep, and high it should be.
The most ideal size would, of course, depend on the user. You should find it large enough to sit comfortably but leave enough standing room.
Between 17 and 19 inches, as recommended by the Americans with Disabilities Act (ADA).
There is no minimum requirement as per the ADA, but the industry standard is at least 14 inches wide.
The depth is more important than the width since it will affect your posture. A good measurement is between 15 and 16 inches.
Read more about different shower sizes and bathroom dimensions here.
Shower Pan with Built-in Bench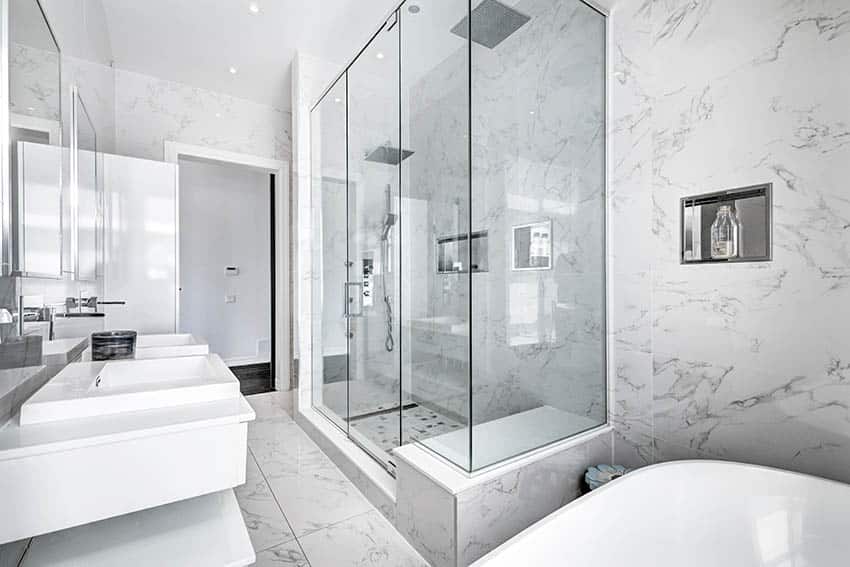 Another way to incorporate a shower bench into your bathroom is by having it built-in with the shower pan. This is a good strategy for those with narrower spaces but still want the luxury of a shower seat.
You can either custom-build your shower base with a bench or find a ready-made shower base with a bench in home stores. However, both options still need to be planned and installed with the rest of the shower room for a more seamless appearance.
Best Material for Shower Bench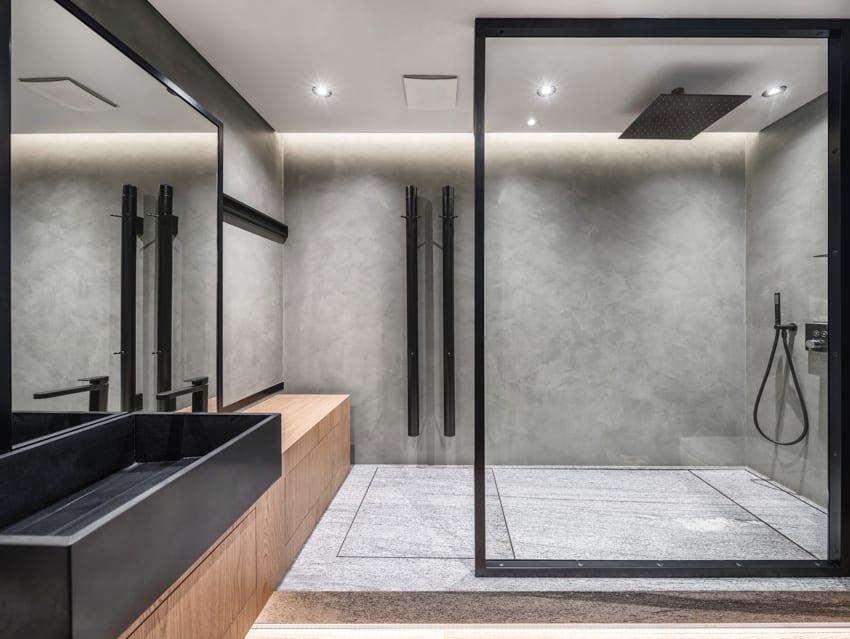 Your shower bench's material will affect its durability, appearance, and comfort. Teak, the type of wood typically used in outdoor showers, is a popular choice for its durability and moisture-resistant properties. See examples of teak shower floors on this page.

If you're after a more stylish look, a marble finish is the way to go. It tolerates humidity very well but tends to be cold during the shower. Stones like quartz and granite are also strong and low-maintenance materials.
If you find stones a bit expensive, you can opt for tiles instead. These materials easily blend with your shower's floor and walls, making your overall shower enclosure pleasing to look at.
See more related content at our article about the different types of bathroom showers on this page.