The 15 best tips on how to build an outdoor kitchen on a budget which is a perfect source for your home improvement needs and kitchen ideas.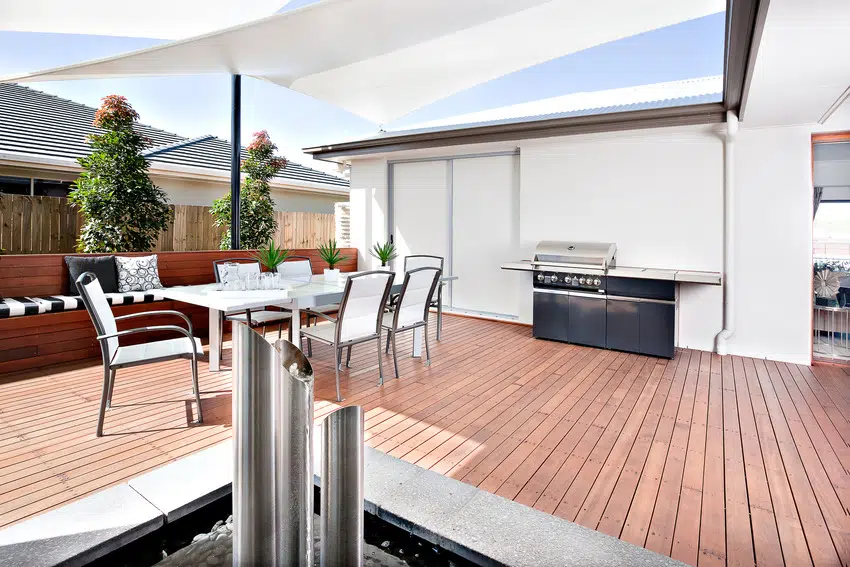 An indoor kitchen isn't just a sacred space where food is cooked, savored, and prepared. In reality, it's also a place where friends and family can get together to enjoy each other's company.
If you have the extra space and budget for it, you might want to consider building an outdoor kitchen which is a great spot to equally indulge in the most sumptuous food and bask in the warmth of nature and great company.
Moreover, an outdoor kitchen adds value to your home. However, if you still have qualms about the potential cost of adding one to your home, don't hesitate any longer since an outdoor kitchen on a budget might just be the perfect solution for you.
How To Build An Outdoor Kitchen On A Budget
Here are a few tips to build an affordable outdoor kitchen, without sacrificing its functionality and aesthetic value.
Build Next to the House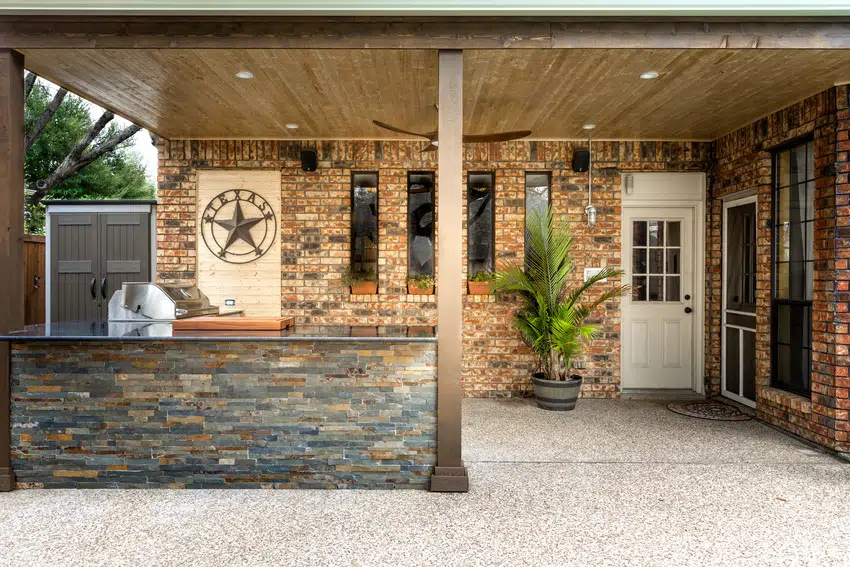 Firstly, building your outdoor kitchen next to your house is generally more convenient. The closer your indoor kitchen is to your outdoor kitchen, the more time you will save on food preparation.
Secondly, you don't have to build additional infrastructure. When you build your outdoor kitchen close to your home, your house will automatically provide it with a natural, built-in shelter. You can use the walls of your house to shelter your outdoor kitchen from the wind and the sun.
Depending on your home's roof, you might also want to consider extending the roof overhang or simply attach a modern pergola, big awning, or some other structure instead of building a separate roof for your outdoor kitchen.
Because you don't need to construct as much covering (walls and roofing) for your outdoor kitchen if built next to the house, you should be able to save as little as $300 to $20,000 percent, depending on the size of the area.
Another way to save on the costs of an outdoor kitchen by building next to the house is, by utilizing existing floor space. If you already have a deck or porch outside your home, you can build your kitchen on that existing surface to save you having to add flooring.
A deck, for example, costs about $4,200 to $9,800 to install. Concrete or brick pavers on the area for flooring will cost around $1,400 to $4,200.
If you already have an existing deck or patio or even a small paved area near your home, it will be cheaper to build upon that area or extend it, rather than constructing an entire separate patch of flooring for an outdoor kitchen.
Avoid Installing Utility Lines
If you want to build an outdoor kitchen on a budget, you need to avoid installing long utility lines.
Installing plumbing costs an average of $350 to $1700, while electrical installations would be around $450 to $750. Meanwhile, gas lines cost about $400 for 20".
The shorter your utility lines are, the less they will cost, which will be a great help if you want to build an outdoor kitchen budget.
This is another reason you should place your outdoor kitchen as close as possible to your home. You can connect to your home's existing utility lines easily, using less material and labor.
Use a Propane Grill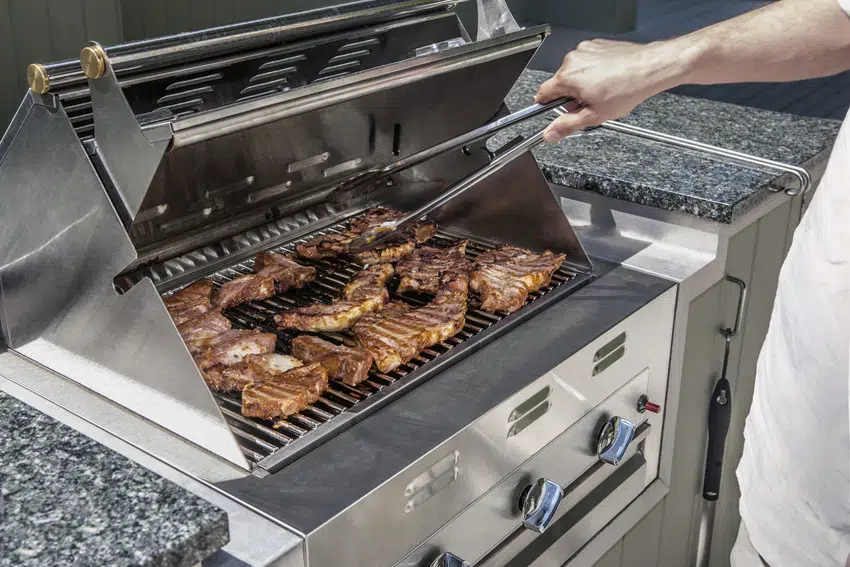 If you want to build an outdoor kitchen on a budget, consider using a propane grill as an alternative to a gas grill. Propane grills operate using propane tanks, which basically saves you from gas line installation expenses should you prefer a gas grill.
If you use a gas grill, you're going to need to run gas lines. Most areas require structures with gas lines to have both a permit for the lines and have it installed by a professional.
A 20' line could cost you about $1,000. A propane grill saves you from thinking about this and will save you money as well.
Use a Portable Cart Instead of Building a Bigger Outdoor Kitchen
Countertops are essential to any kitchen, including an outdoor kitchen, but they can needlessly add to your budget allocation.
Instead, you might like to consider an outdoor kitchen cart as an alternative to your durable kitchen countertop to provide you with both workspace and storage space at a much lower price.
It's also more convenient since you can just move the cart wherever and whenever you please, while also freeing up more floor space.
What's more, you can use a portable kitchen cart to transport items from your home to your outdoor kitchen more easily. See more types of outdoor kitchen countertops here.

Use Low-Priced Finishes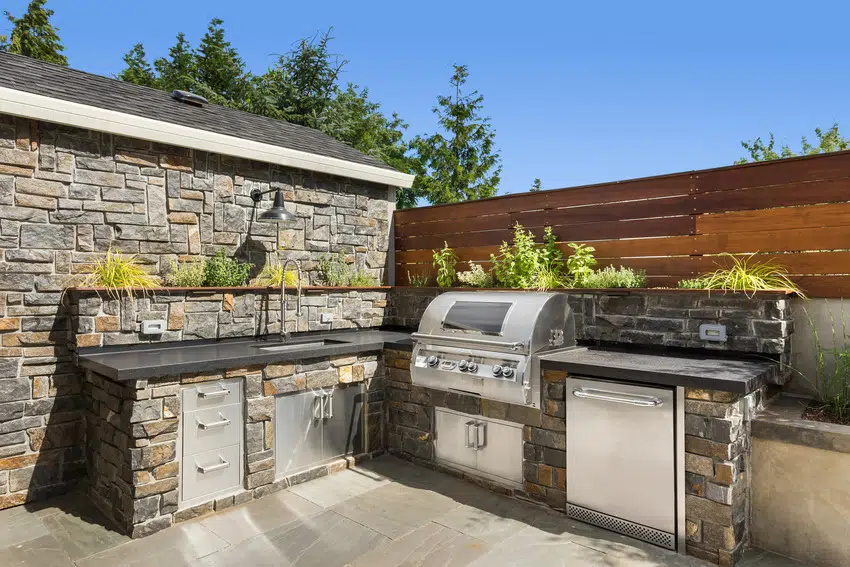 Using affordable finishes for your outdoor kitchen can help you save money in the long run. While stone finishes are popular and durable, they can be really expensive.
One of the best alternatives to stone is stucco. Stucco is durable and attractive, which comes in a variety of colors and textures.
Furthermore, stucco does go well with a broad range of home design styles and only costs around $3 to $6 per square foot.
Choose Appliances that Multi-Task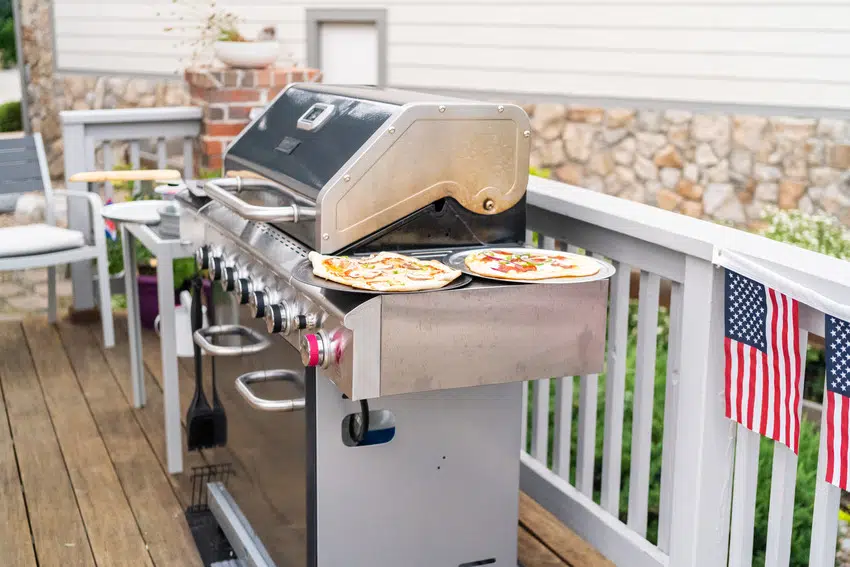 Opt for multi-functional appliances for your outdoor kitchen. Consequently, this will allow you to reduce the number of appliances in your space, which will then lessen your power consumption and likewise reduce the number of utility lines you will need to install.
Moreover, if you've decided to design a kitchen with fewer appliances, you could also save big on construction costs. You won't have to construct and pay for extra counter space or floor space to accommodate those appliances.
Choose a Lower Cost Countertop Material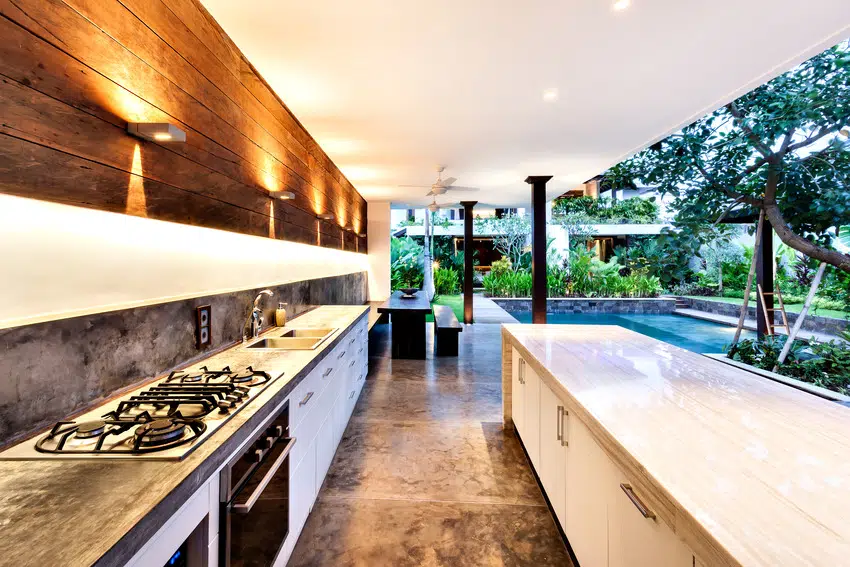 Another good way to build an outdoor kitchen on a budget is to choose a cheap countertop material.
Take note that "lower-cost" or "cheap" doesn't have to mean unattractive or breakable, as one of the most beautiful, durable, and affordable countertop materials that work well in an outdoor kitchen is ceramic tile.
Ceramic tile is a great alternative to stone tile, which comes in a variety of attractive colors and patterns that you can get at a relatively low price.
Granite costs about $45 per square foot, while outdoor-rated tile will cost about $10 per square foot. You can even get ceramic tiles with a granite look, but at a price that's around 75% lower.
A good choice for a DIY project is a concrete outdoor kitchen countertop. These can be very inexpensive to build compared to many other types of counter surfaces.
Buy a Pre-Owned Prefab Outdoor Kitchen
To build an outdoor kitchen on a budget, consider a prefab outdoor kitchen. A prefab kitchen can be made for you according to your preference and will be then delivered to your area.
Following that, you'll just need to install the kitchen in your area, with or without the help of a professional installer.
Meanwhile, you can get a prefab outdoor kitchen in a variety of styles and models. Depending on the type of prefab outdoor kitchen you prefer, it can cost as low as $2,000 to around $30,000.
However, to save more on an outdoor kitchen, you can also opt for a preowned prefab outdoor kitchen. You can find preowned prefabs for about 50% less than the price of a brand-new one.
Avoid House Permits if Possible
Before you start your outdoor kitchen project, make sure to check out the rules regarding these structures in your municipality. Codes may vary from town to town so you should check with your building council about the specific rules and regulations.
You might be able to shave some money off the cost in the fees and permits that you will need if, for example, you build your outdoor kitchen at a certain point along your property line. Knowing the fire safety regulations are also important as you can then shop around for ways to meet those regulations cost-effectively.
Avoid Extra Appliances
If your outdoor kitchen is relatively close to your indoor kitchen, you can save both space and money since you're also closer to essential kitchen appliances like a fridge.
Installing a separate, outdoor fridge will cost you about $2,000 to $3,000, depending on the model of the fridge. Also, there would also be the matter of utility lines.
To build an outdoor kitchen on a budget, only buy essential small kitchen appliances if you can. If you don't see yourself needing a blender, microwave, oven or other appliance in your outdoor kitchen, omit them and bring your budget down.
Don't Install a Sink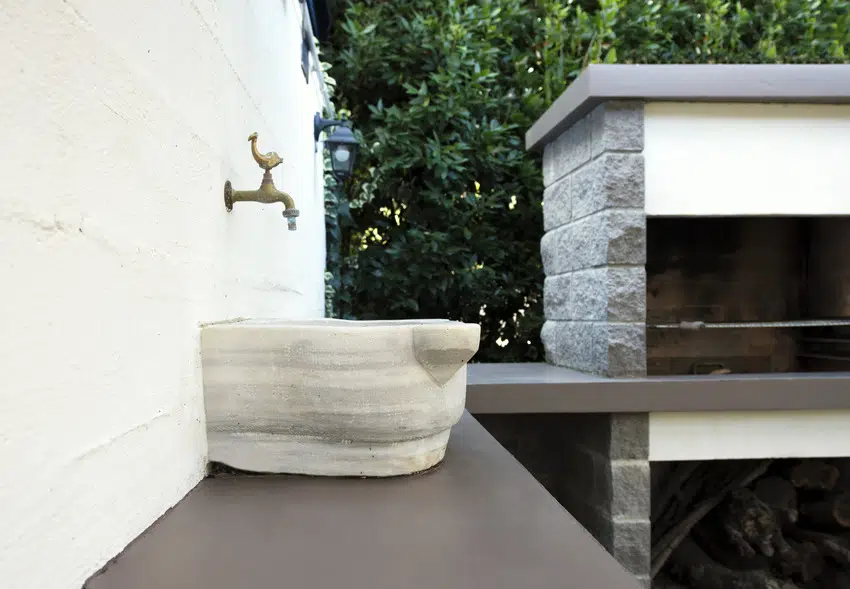 A sink is another kitchen feature you might want to consider omitting from your outdoor kitchen. If you don't install a sink, not only do you not have to pay for it, you also won't have to pay for additional maintenance like plumbing, for instance.
A sink will cost about $300, while plumbing will cost about $1,700.
Use a Lower Priced Shade, Umbrella, or Canopy Rather than a Structure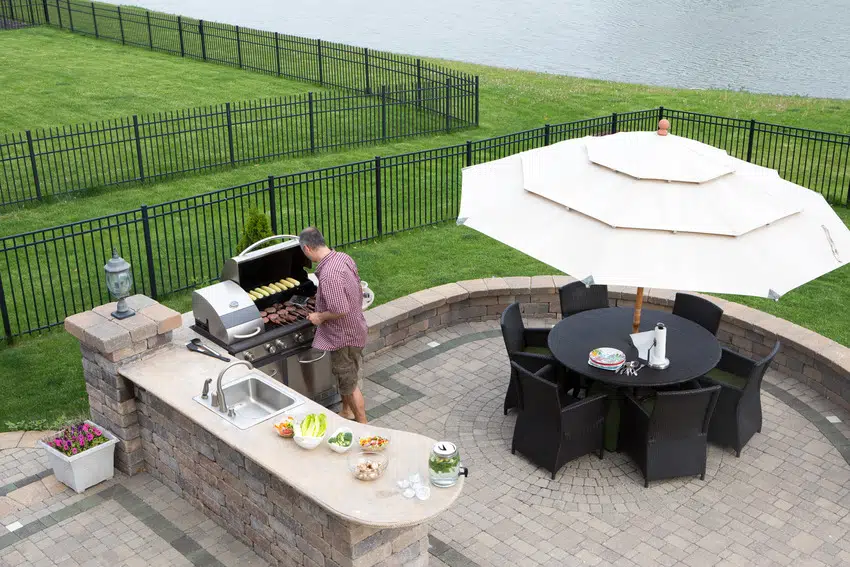 Covering your outdoor kitchen is necessary, but it can also be expensive. As we mentioned, one reason to build an outdoor kitchen next to your home is to take advantage of existing structures such as patio, roofs, pergolas, or even your roof overhang to cover your kitchen.
However, if you want to save big, you may consider just using a shade, big umbrella, or canopy to protect your outdoor kitchen from any outside elements.
A well-placed umbrella or sail shade can provide you with significant coverage, all the while being cost-effective. It's also much cheaper to attach an awning or canopy to your roof and extend it over your outdoor kitchen rather than actually constructing a roof extension.
Use Task Lighting
The more fixtures you buy or install, the bigger you will spend on lighting. This includes the fixtures themselves as well as lines to connect them to the electrical grid.
You can limit the amount of lighting you need by using task lighting. Carefully make a plan and design for your outdoor kitchen so that you have task lighting strategically illuminating the areas where light is most essential.
Begin Building in the Off-Grilling Season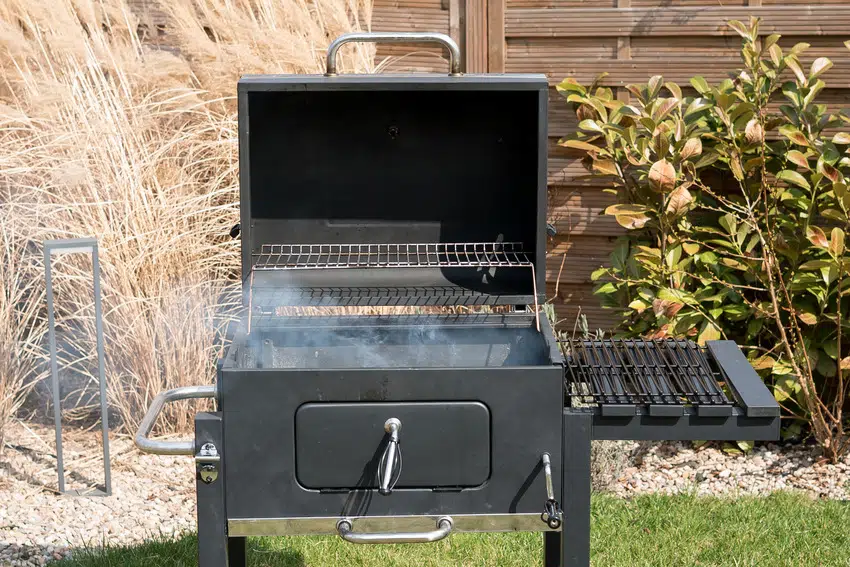 During the grilling season, it could be harder to find a good, budget-friendly contractor. The rule of thumb for any construction project is, a contractor will probably offer a lower labor quote in the off-season, or when they don't have as much to do.
The off-season for building an outdoor kitchen would be the off-grilling season. If you start your building project in the autumn or the winter, you could get lower quotes from contractors. This could be 5% or 10% lower than what they would quote during the "busy" grilling season.
Get Several Contractor Bids
If you are looking to hire a contractor for your outdoor kitchen, make sure that you gather several contractor bids before making a final decision.
A general contractor should cost about $1,500 to $6,000. One way to find a contractor who might fit your budget allocation is to request bids from contractors from not just your area, but also from neighboring areas.
Depending on the area where your contractor operates, they could offer higher or lower prices for your outdoor kitchen project.
For more related content see our article about outdoor kitchen must haves here.