In this outdoor fireplace with pizza oven guide you'll see the different backyard designs, cost, DIY building process, the best kits, and tips on how to build.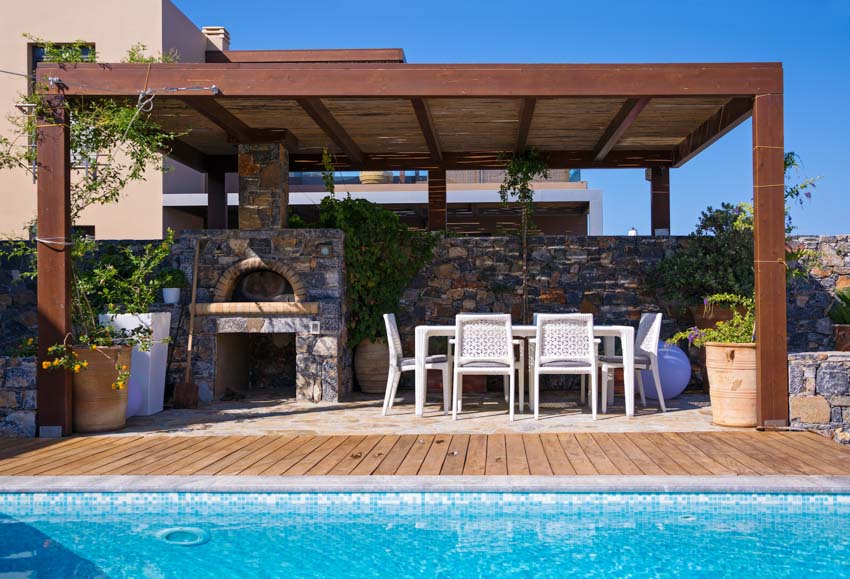 If there are two things in the world that can easily bring people together, it would have to be fireplaces and pizza. This is why outdoor fireplaces with pizza ovens are two for two.
Outdoor fireplaces with pizza ovens have become quite popular these days. Honestly, it really isn't all that hard to see why. For starters, what they bring in is a conduit to provide an easy and quick way for you to be able to produce some pizza with wood-fired flavor right from the comforts of your very own backyard.
They can turn out to offer the same conveniences that a classic grill can but they're just so much more versatile. They can cook all types of food and more than that, they can handle really high temperatures as well. This isn't something that a lot of classic grills have the luxury of providing.
Another thing about outdoor fireplaces with pizza oven is that they don't require the use of electricity or gas to cook food or to turn it on. What this means is that you will be able to cook your pizza even during the event of a power outage.
This means that you don't ever have to worry about problems cooking your food for when problems hit the power grid or for when a thunderstorm hits. Not only are they economical, but they can also be quite surprisingly efficient.
You can cook more than just one pizza at a time and you can even cook other foods alongside it. This results in faster cooking time and healthier and better-tasting food as well at the end of the day.
Outdoor Fireplace With Pizza Oven Design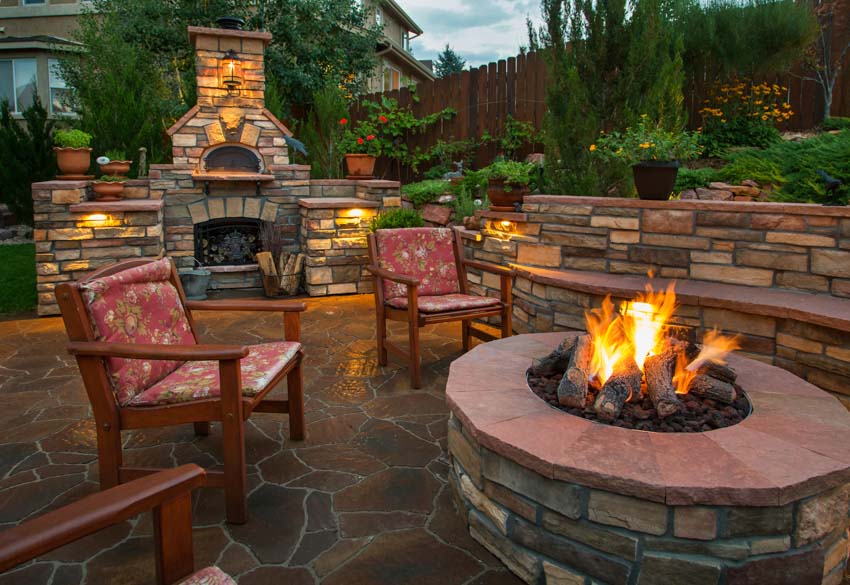 Here we share the different designs of outdoor fireplaces with a pizza oven.
Basic Outdoor Fireplace Design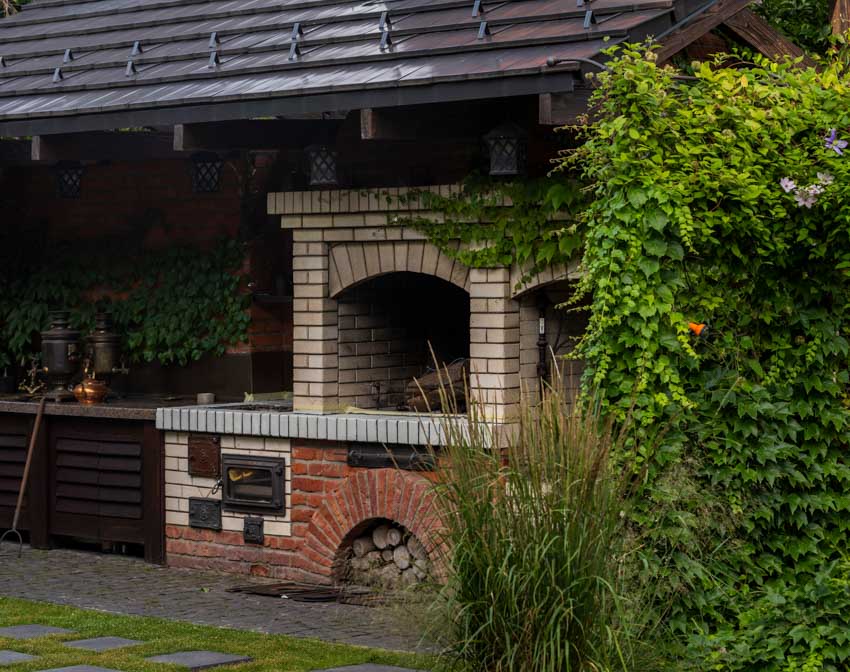 What we mean by this is the most common design for an outdoor fireplace with pizza oven design available on the market right now. It's basically a wood-fired pizza oven that as a barbecue setup. So you see, the word basic doesn't quite give it justice. This is the dream setup for a patio layout.
The only downside to this though is that it can take up a lot of space. If you have a lot of backyard essentials in your outdoor area, then this may turn out to be a bit of a challenge for you. The rest of the other design types are based on the material that the outdoor fireplace is actually made from.
Metal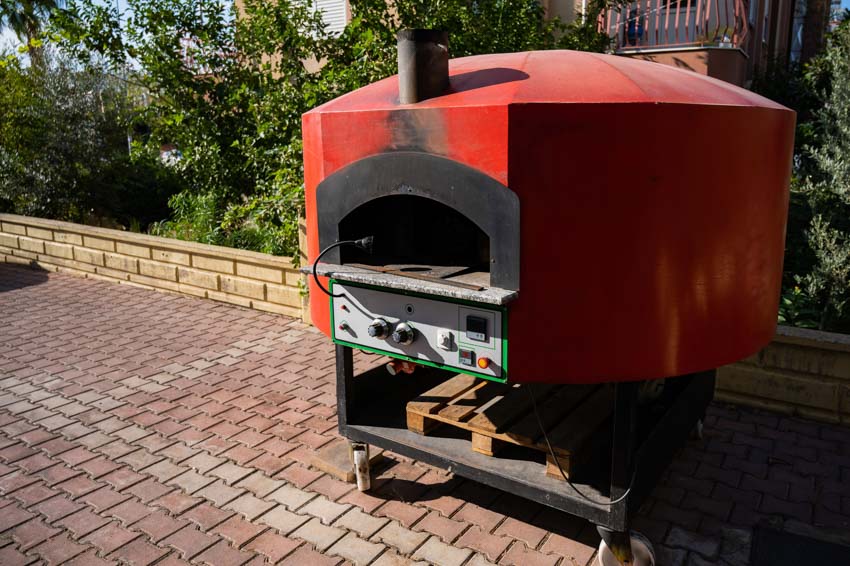 A metal outdoor fireplace with a pizza oven is one of the easiest solutions you can ever come up with. If you don't have that much time or space for planning and construction, you can easily remedy the situation by buying a metal outdoor fireplace equipped with a pizza oven.
These fireplaces/ovens are ready-made, store-bought, and can be conveniently shipped right to your front door. They're easy enough to install if you're a bit equipped with handyman skills but if you aren't, a skilled builder can make pretty easy work out of it.
This type of fireplace/oven is great for plenty of reasons. For starters, it's very budget-friendly. If you happen to be a bit cramped on space, this can work well for you as well as metal fireplaces/pizza ovens don't really take up that much space. Read more about outdoor fireplace sizes here.

Lastly, they're portable. You can easily move your metal fireplace/pizza oven around or even take it with you while out on trips with friends and family.
There are a few drawbacks, though. They can be quite small so this means that you can only cook a certain amount of food at a time. They can easily get incredibly hot so you need to be careful when you're around the oven.
Most of these metal ovens come insulated with brick and cement but you can't be too careful when handling the heat. Also, since they come premade, you don't really have a lot of options when it comes to the looks and the actual design.
Brick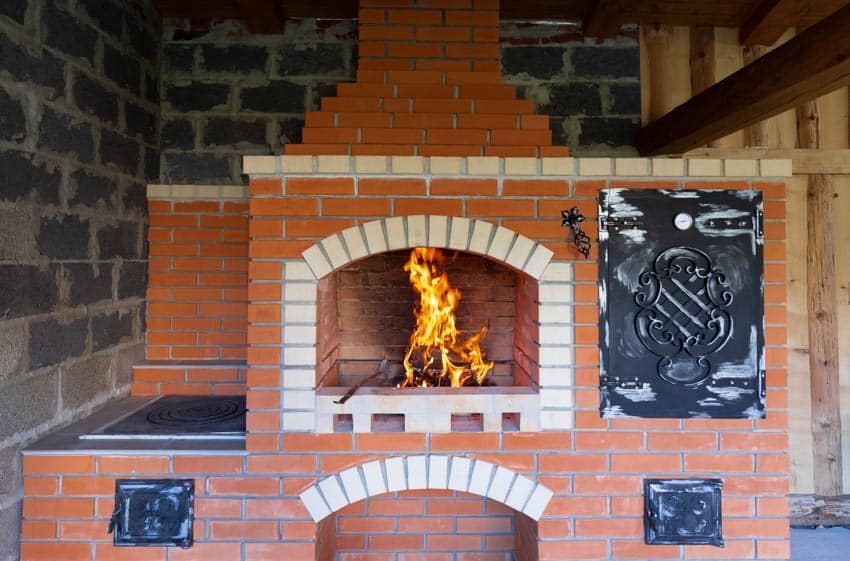 It's fair to say that having an outdoor fireplace with a pizza oven made out of brick can be a very cool contraption to have in your backyard. If you've been wanting to build your own from scratch, brick is a great material and design for you to opt for.
Aside from the fact that brick offers up a specific appeal and aesthetic, it is also a material that provides pretty great insulation. When you come to think about it, if you happen to have a chimney at home, then there's a pretty good chance that it's even made out of brick.
Unlike metal ovens which can cause burns and the like, brick fireplaces and ovens are pretty cool to the touch, especially on the outside. Still, it's safe for you to err on the side of caution when the fireplace/oven is turned on.
Brick is great because when building your fireplace/oven, you can conveniently marry design alongside function. Having the space where you put your wood kindling is key in making your design practical. You can easily add in more wood to feed into the fire and it will be separately functioning from the pizza oven, making it fairly safe to use.
In terms of its design greatness, a brick fireplace and pizza oven is also aimed to not shrink from greatness at all. It is oftentimes highlighted with a rustic wood stack beside it and a classic and beautiful-looking arch at the top.
The other side usually has a prep counter, specifically designed for making pizzas. It's usually best when paired up with a classic wooden table for extra prep space and for other food items you can place on top of it.
Stone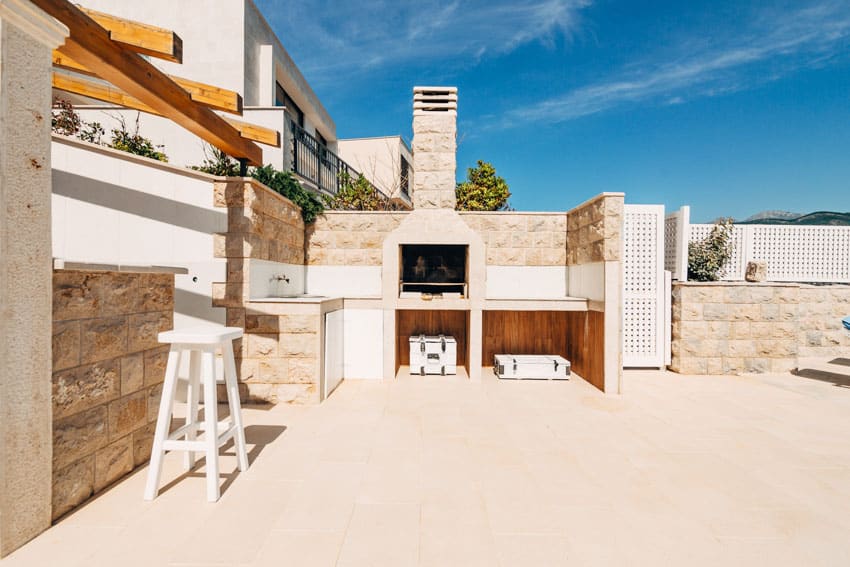 An outdoor fireplace and pizza oven made out of stone make for a very unique look. You will have something that looks like it can easily be plucked right out of the pages of a storybook. It is usually characterized by a rounded design, wooden supports, and a nice red brick chimney.
Most of the fireplaces/ovens with this type of design are actually a mixture of cement and stone. This is where the appeal of the design actually comes from as most stones don't come looking symmetrical.
You end up with a fireplace/oven that doesn't look rigid. It also oftentimes comes with a rounded or domed design. This is very helpful when it comes to circulating heat evenly, producing an even bake for your pizza and other food items.
Cement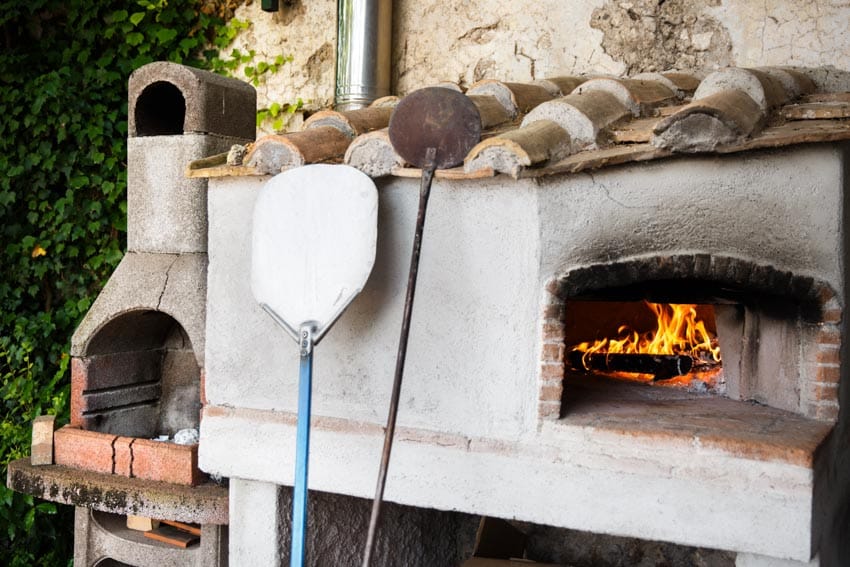 And of course, who can cancel out cement outdoor fireplaces and oven pizzas? These ovens usually come in a rounded or domed design. This makes for really even heat distribution. This is one of the coolest ovens you can ever come up with.
You can customize the slopes and even the colors. This is something that you can take and make as completely your own. There's usually a metal chimney that sticks out of the domed top. This will allow the smoke and the heat to escape.
The base of a cement outdoor fireplace/oven is oftentimes made out of bricks. This makes it very economical so if you're running on a tight budget, then this is definitely the way to go. Make sure that it comes with pizza sticks as well so that you can easily grab your pizzas and other food items without ever using your hands.
Can I Use My Outdoor Fireplace As A Pizza Oven?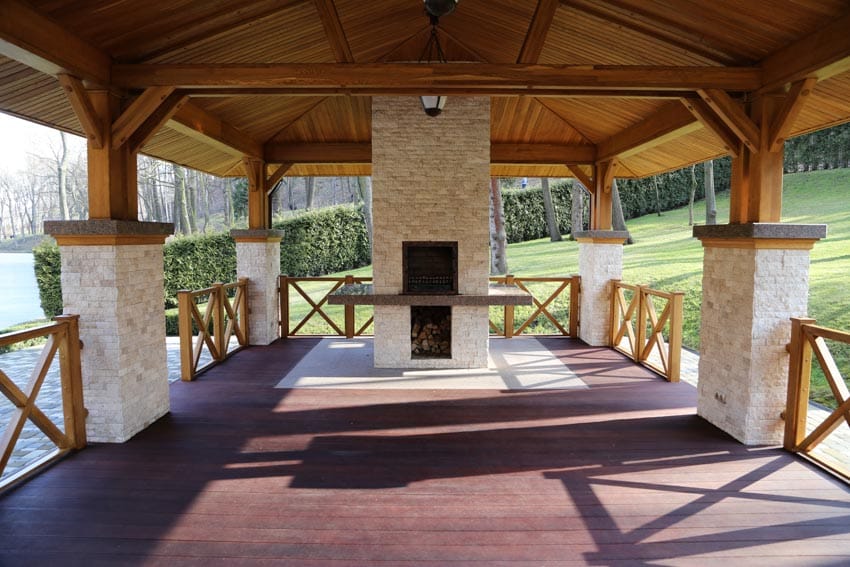 Yes! Absolutely! The heat is usually concentrated so you might want to make sure that you keep an eye on your food at all times. Usually, it takes sliding that pizza right in, laying it on a hot stone inside your fireplace, and letting it bake for a few minutes or so.
Then, turn it over a few times before you take the pizza out. And voila! You've got pizza that has its crust well done with bubbly cheese cooked to perfection on top.
In addition to getting your pizza perfectly cooked, you can also cook a variety of other foods on your outdoor fireplace. Add in a wood-burning stove and you've really got something that's good enough for a party.
Cost Of Outdoor Fireplace With Pizza Oven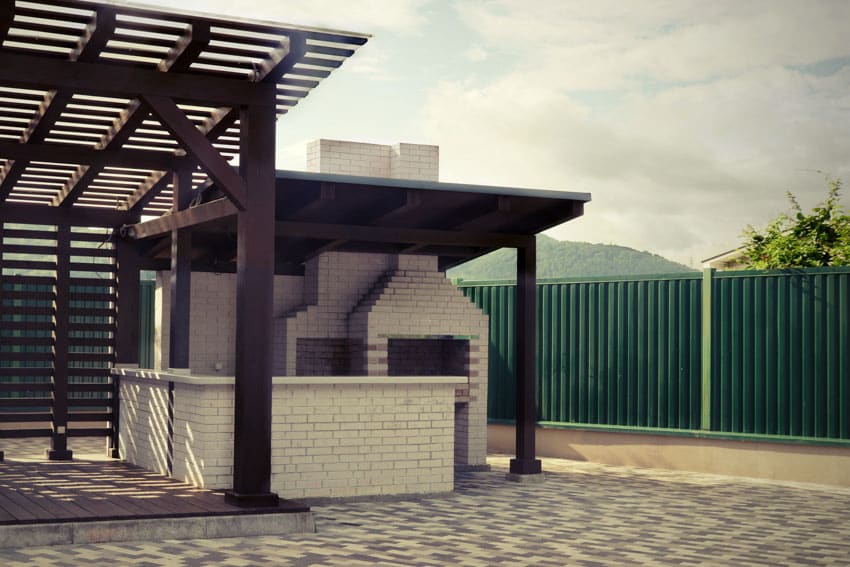 The budget always needs to be considered where there's an outdoor fireplace with pizza oven involved. Everything is customizable and will depend on the amenities and features that you might possibly think about adding to your outdoor fireplace with pizza oven.
If you're entertaining custom-built outdoor fireplace ideas, you have to allot a budget of around $3000 or higher than that. Any additional features will add on to that initial cost as well, depending on the area that you're in. if you want something that's so much larger than that, then the prices could easily go higher.
A modular or prefab model though can cost you something that's considerably less. The starting cost of a store-bought outdoor fireplace with oven pizza can be as low as $1500.
If you want specific aesthetics such as classic or contemporary designs for your fireplace/oven, allot a budget of $2000 or so and it will fetch you a decent enough contraption already.
DIY Outdoor Fireplace With Pizza Oven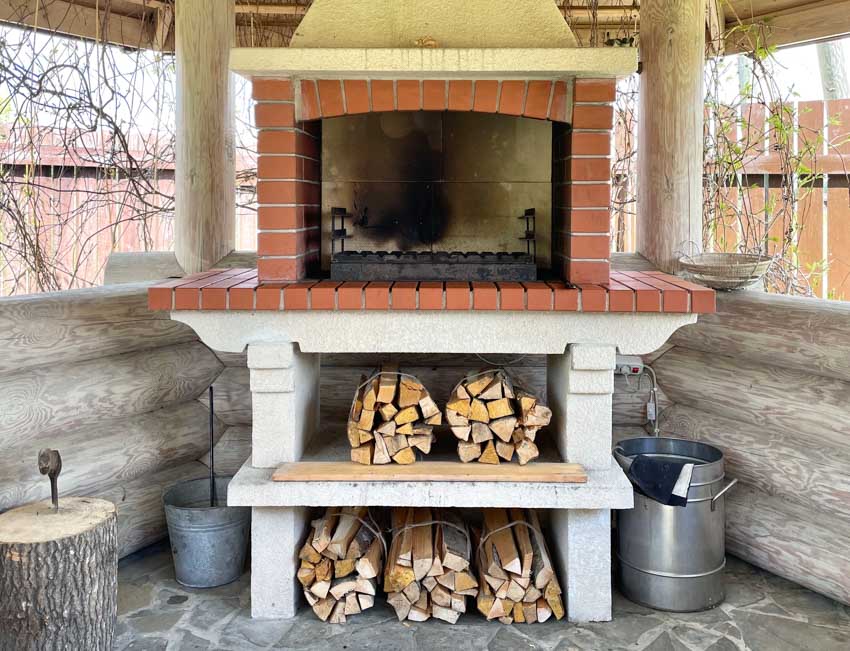 A DIY outdoor fireplace with a pizza oven is a great DIY project you can take on for your backyard space. If you have a little bit of space to play around with, this is a great addition to your layout.
It might take a little bit of work and a whole lot of patience but at the end of it all, it's fairly safe to say that this is one of the best DIY projects you could ever do.
They're a great way for you to enjoy the outdoors while you're entertaining friends and family that you're having over. They can be built in plenty of configurations and design types but this one is fairly easy to build.
Here's what you will need to build a DIY outdoor fireplace with pizza oven:

Bricks: The size of your chimney and how big you want your outdoor fireplace with pizza oven will be will dictate how many bricks you'll actually need. You also have the prerogative to use other materials such as stone or cement blocks. It all depends on what you prefer.
Metal lath: This is a type of metal mesh. It will provide support to help keep your bricks in place until they dry.
Mortar mix: You will need this to help keep your bricks together with the mortar.
Trowel: This is for the mixing and the application of mortar.
Bricklayer's hammer: This is for breaking up larger pieces of stones and bricks that you need for contouring.
Long metal rod: This is for clearing the chimney out when you're done. A broom handle will work nicely for you if you don't have a metal rod handy.
For protection:
• Goggles
• Gloves
• Ear plugs
• Dust mask
• Ear muffs
Other things you might need:
• Level
• Spade
• Rubber mallet
• Chisel
• Wheelbarrow
• Bucket
Outdoor Fireplace Kits With Pizza Oven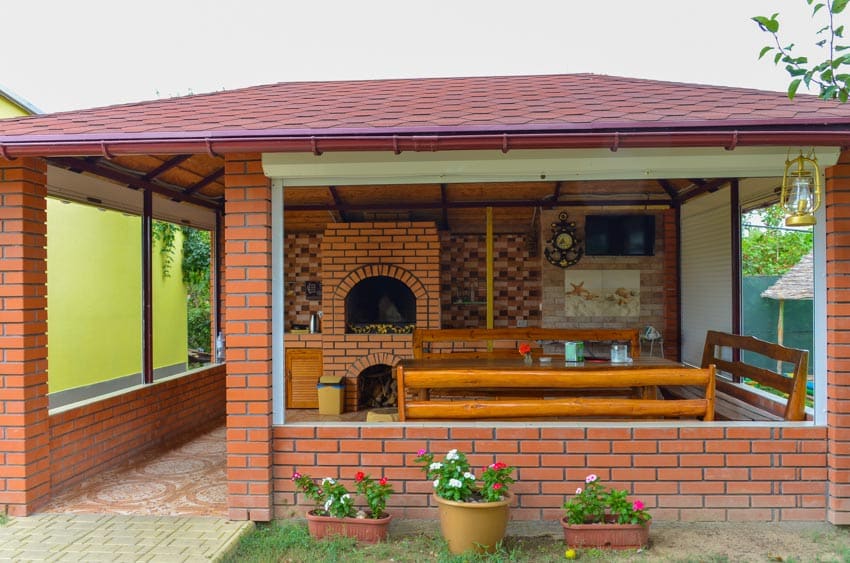 If you don't have the patience to build one out yourself nor the resources to get something custom built, you can buy an outdoor fireplace kit with pizza oven. It's ready-made, it can be shipped right to your doorstep, and it can be pretty easy to install. Here are some of the best kits on the market right now.
Necessories Grand Fireplace
• It includes all of the elements you need for a complete fireplace.
• It comes on pallets and as separate blocks. You can easily move the parts around with a wheelbarrow.
• It comes with a step-by-step manual. You can put this together like a puzzle.
Round Grove Kiva Fireplace With Pizza Oven
• It's finished right upon delivery and based on the material of your choice.
• There's no need to build the structure out as it's shipped ready for use and as a whole unit.
• Specially built in the United States and with guaranteed quality and warranty.
Temp-Cast Fireplace With Pizza Oven
• Has a unique masonry heater design that provides radiant heat for prolonged periods of time
• Offers efficient wood-burning technology that can get a fire running for a period of 12 to 24 hours running on pure wood.
• Can be installed with refractory mortar and can be built onside due to its interlocking features.
How To Build An Outdoor Fireplace With Pizza Oven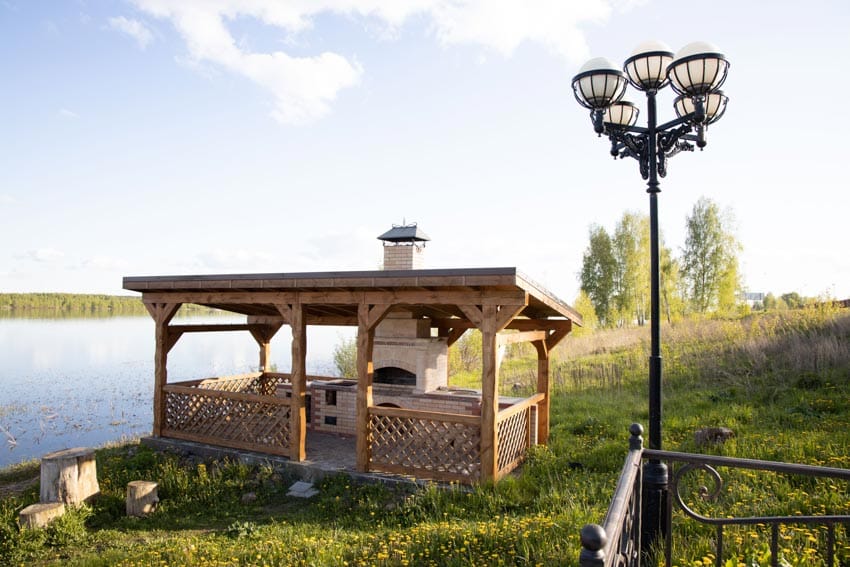 Here we share the steps on how to build an outdoor fireplace with pizza oven:
1. Dig up a hole using a shovel: Make sure that the outdoor fireplace dimensions are deep and wide enough to accommodate all of your equipment.
2. Start building your foundation with the use of cinder blocks: Each block needs to be level with the rest of the others on the first layer or your fireplace/oven will end up being unstable. Using your level for this will come in handy.
3. Once your foundation is done, it's time to put your metal frame on top of it: This will serve as the frame for your oven.
4. Add some more layers of blocks or stones on top of the metal frame: These pieces need to be much smaller than the ones you used to lay out for your foundation. Make it a point to evenly space it out in between them for ventilation.
5. Arrange them into a circle: Now, for the actual oven building. Take some more of your cinder blocks and arrange them in a circle. Make sure that they are level with each other. This will serve as your base for the oven.
6. Using more cinder blocks, build up two walls around this circle you've mapped out: All throughout the way, make sure that the blocks are level amongst each other as much as possible.
7. The roof: Using more cinder blocks, build up the roof of your oven. Use some metal lath or mesh to help hold the blocks up. You need to make sure that your roof is securely fastened so that it isn't blown away during strong winds.
How Far Should An Outdoor Pizza Oven Be From The House?
10 feet away from any structures and flammables and at least 5 feet away from a sitting area. If this amount of clearance isn't possible for you, you will need to make sure that you have additional precautions set out in order for you to ensure that you reduce any possible fire risks.
Do You Need Planning Permission For An Outdoor Pizza Oven?
No, you do not. Unless your outdoor fireplace with pizza oven is attached to any structures such as a garage, your home, or a second dwelling, then there will never be a need for you to get a building code of compliance for it.
To be on the side of safety though, it always helps for you to check in with your local council just to make sure that your outdoor fireplace won't have any implications with the district planning.
Does An Outdoor Pizza Oven Need A Chimney?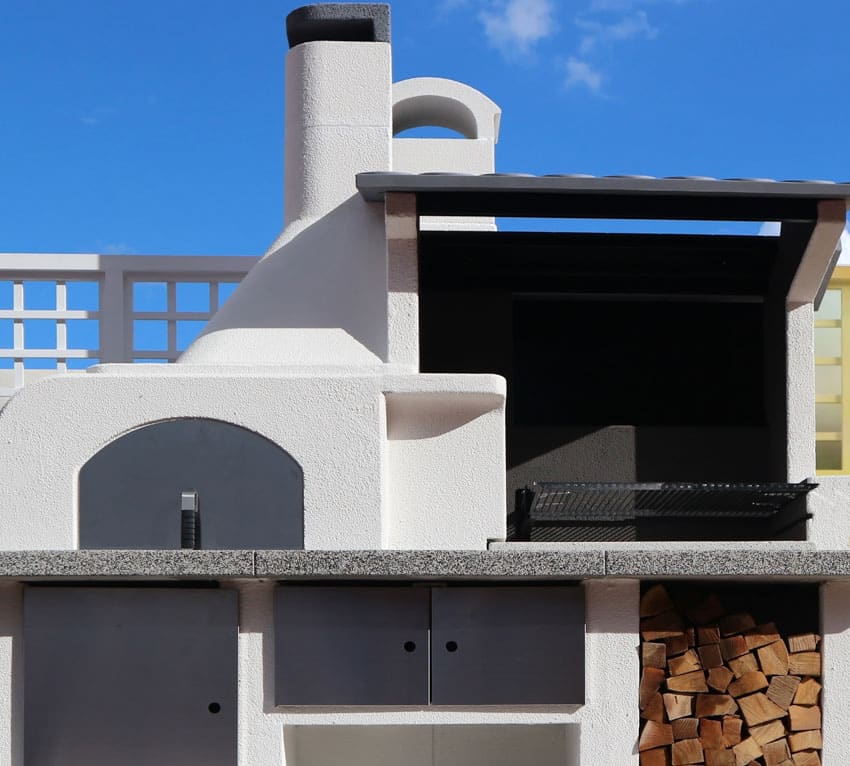 Technically speaking, an outdoor pizza oven will definitely work even with a vent or chimney missing. However, it will function more efficiently if it comes with an open ventilation system.
This will definitely improve the airflow significantly and will help keep the smoke away from the person operating the oven.
See more related content in our article about the best outdoor kitchen must haves on this page.