Here are the different types of porches including how much they cost, their comparisons to a patio, and the cheapest porch options for your home.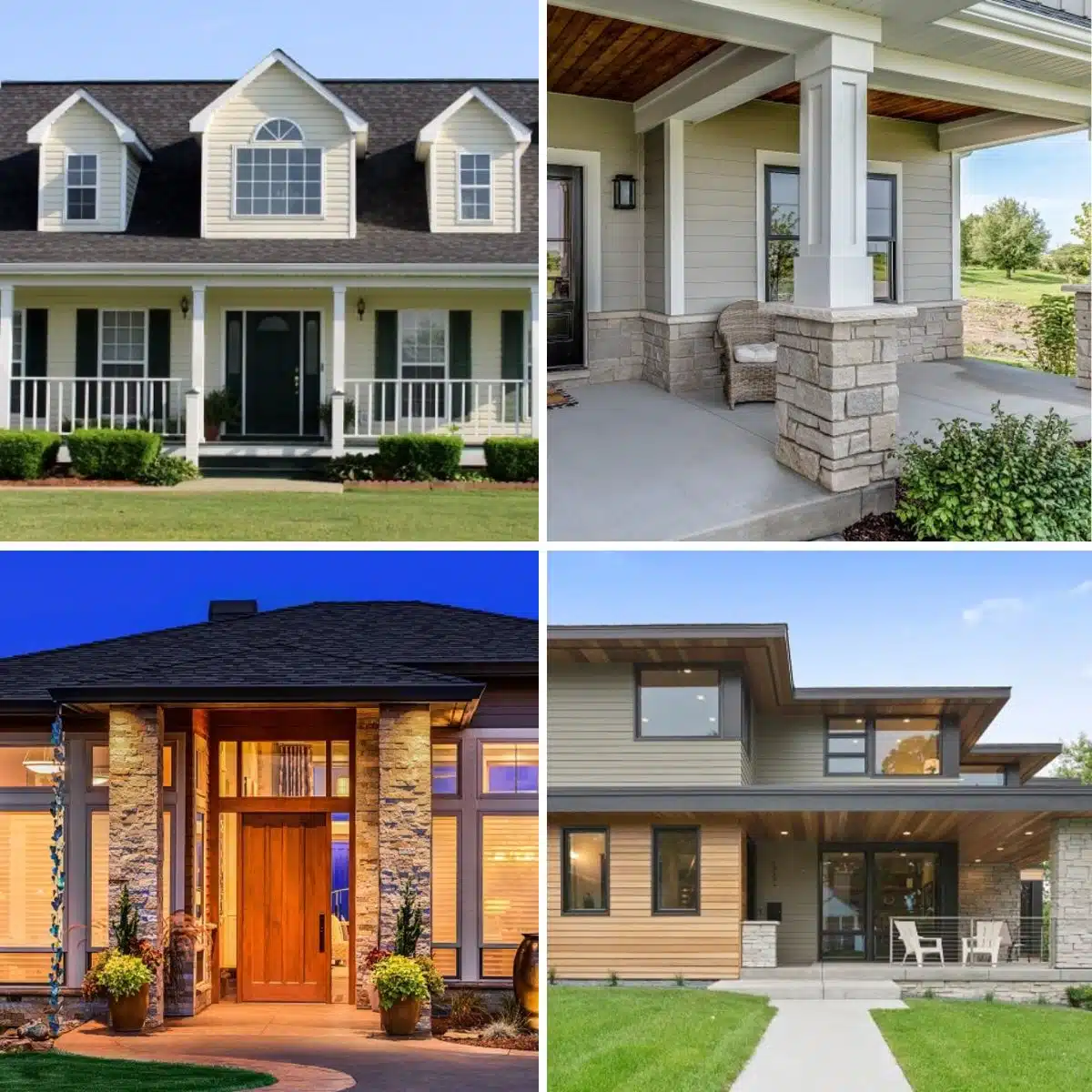 Front porches have become an essential aspect of most buildings for generations. Because of its elegance and minimalism, the architecture has always conveyed a feeling of comfort and pleasure. Although other features and sections of the house receive more attention and persistent modification in home designs and styles, the porch has never fallen out of fashion.
Moreover, the porch is the very first thing guests notice as they approach your home. It creates an ambiance for your residence. There is a huge spectrum of porches available, ranging from small and simple to wrap-around porches, each with something distinctive to offer.
Therefore, it is critical to understand the various types of porches so you can end up making the most of this beautiful and practical area. We managed to create a thorough guide for the most common porch layouts to help you in understanding the various types of porches. Without further ado, let's get started.
Quicklook: Different Porch Types
• Front Porch
• Open Porch
• Covered Porch
• Screened Porch
• Enclosed Porch
• Wrap Around Porch
• Multi-Season Room
• Farmer's Porch
• Gable Style Porch
• Back Porch
• Detached Porch
• Rain Porch
• Front Deck
• Front Patio
• Veranda
• Portico
• Loggia
• Lanai
• Arizona Room
• Bungalow Porch
What Is a Porch?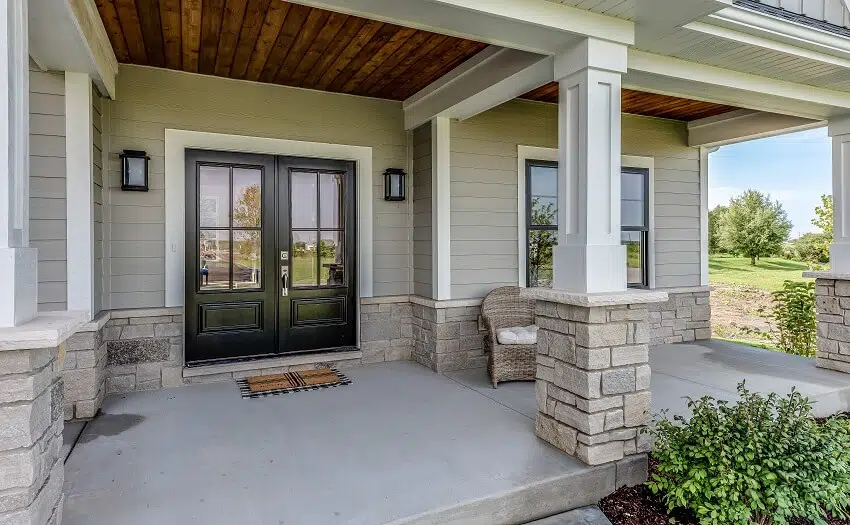 A porch is a construction that extends from the main section of your house to make an accommodation coverage that is connected to the front entrance. It is a feature that can be added to your home plan to make it much more functional. It also increases the resale value of your home.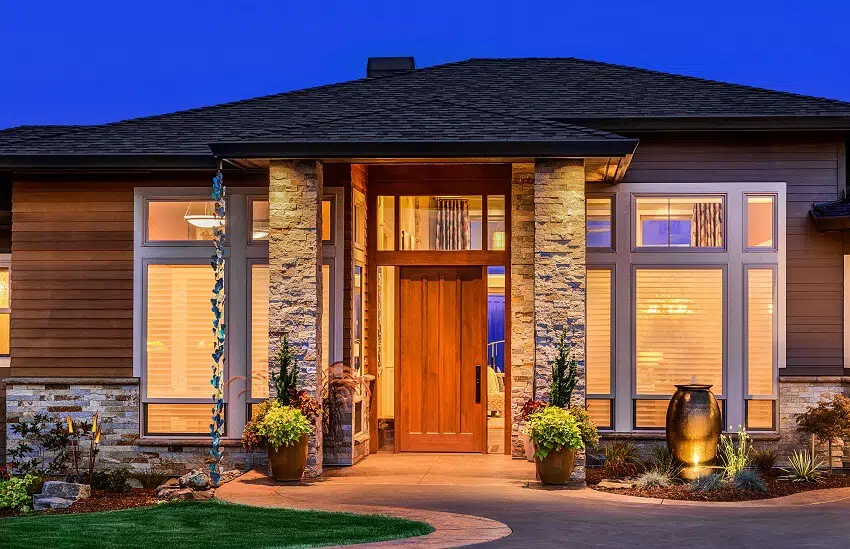 Basically, a porch generally has open sides and provides a convenient transition from the inside to the outside. It is, however, more than just a covered front door. It is a design element that can be placed on both sides of the home, wrapped around the overall architecture, or in one corner.
Furthermore, their primary purpose is to provide shelter for individuals entering the house when it is raining or simply to offer an area to enjoy the outdoor space from the front of the residence.
Front Porch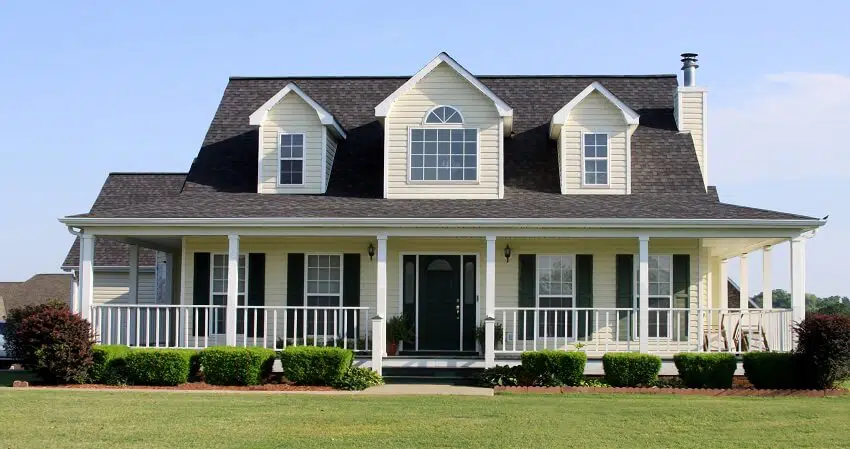 A front porch connects straightforwardly to the front door. It can be quite small, with a few steps leading up to the door and a medium-sized slab of concrete. There is sufficient space to incorporate some decorative touches without any unnecessary design elements or obstructions.
The decorative aspects are used to enhance the aesthetic value of the space. This area can be filled with seats or plants. Aside from that, you can incorporate architectural elements into a front porch including tall columns, a specially designed ceiling shape, and finish, and a customized roof design.
A critical element in porch construction is maintaining the building envelope where the roof meets the house. – Green Building: Principles and Practices in Residential Construction, Abe Kruger and Carl Seville
The overall appearance of a front porch is quite simple, but it will add a beneficial ambiance to your home's opening. However, if you appreciate outdoor porch space, this is not the front porch for you. Fortunately, it is a cost-effective option due to the use of less material in its construction project.
Open Porch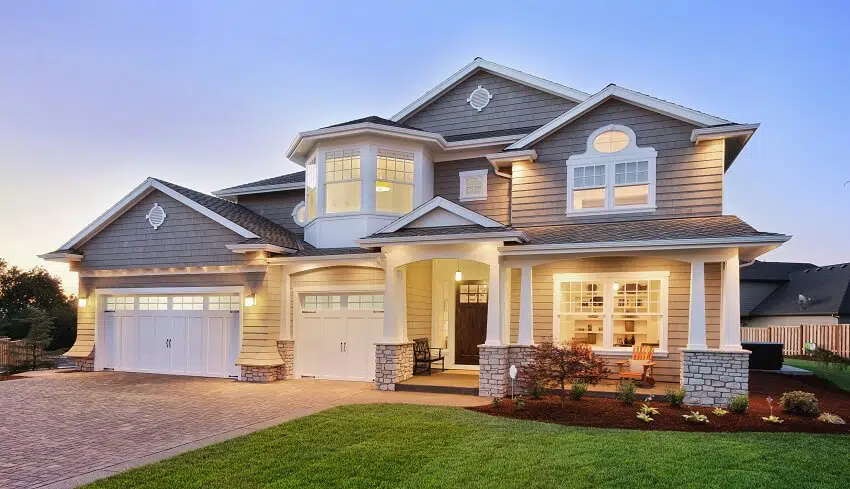 An open porch is another type of porch that has no screens or other forms of enclosure. It is an elevated configuration with a concrete block or wooden deck, an overhead roof, and open support systems. An open porch feels more like an external unit than interior space.
Another reason why this type of porch is considered an outdoor space is that it lacks sidewalls. The roofing material is held up by the porch columns. You can embrace the cool air and drench in the natural surroundings here.
In a warm environment, the temperature inside this shed is reduced by 10 to 15 degrees particularly in comparison to the outside air. Although an open porch is undoubtedly airy, consider the fact that it provides less privacy.
Covered Porch
Covered porches are among the most popular types of porches. It normally comes with a roof and often sidewalls to establish an outdoor living space that acts as an attachment to the home. Covered porches are intended to shield your overhead without interfering with your affiliation to nature.
Moreover, covered porches are ideal for property owners who desire to savor the open air without compromising their protection from rain, hail, blinding sunlight, and other harmful outdoor elements.
There has been a thriving market among house owners for appealing outdoor areas that help in increasing convenience and satisfaction. Whether you want to delight visitors or splurge a relaxing night outside, attaching a covered porch can improve your living space, make your home appear more spacious, and enhance the aesthetic appeal of your primary residence.
Screened Porch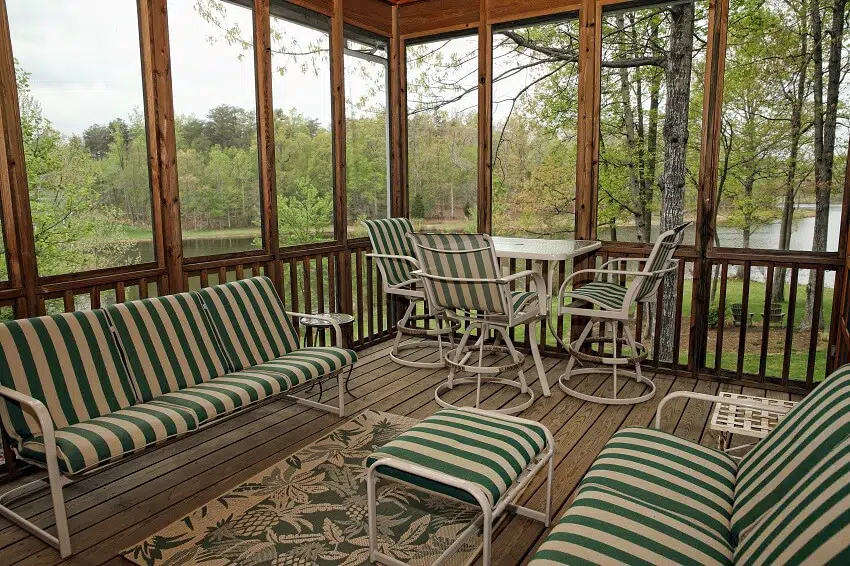 A screened porch is a kind of porch with a roof and screens to give four-season outdoor living satisfaction. Air can freely circulate throughout the space while insects and other rodents are kept at bay. If you want to increase the size of your living space, this is a great way to do so.
Screened porches are popular because they provide additional protection from harmful elements, pests, and other annoying insects. Screened porches are frequently used for outdoor dining rooms.
Outdoor fireplaces are frequently included, as well as electrical provisions for televisions, lights, heating devices, and electric fans. Homeowners frequently include a corresponding grill deck, which expands the functionality of a screened porch as an outdoor dining location.
This type of porch can come in a variety of sizes; the size is entirely up to you. Unfortunately, if you value an unobstructed view, a screened porch might not be the best choice for you.
Enclosed Porch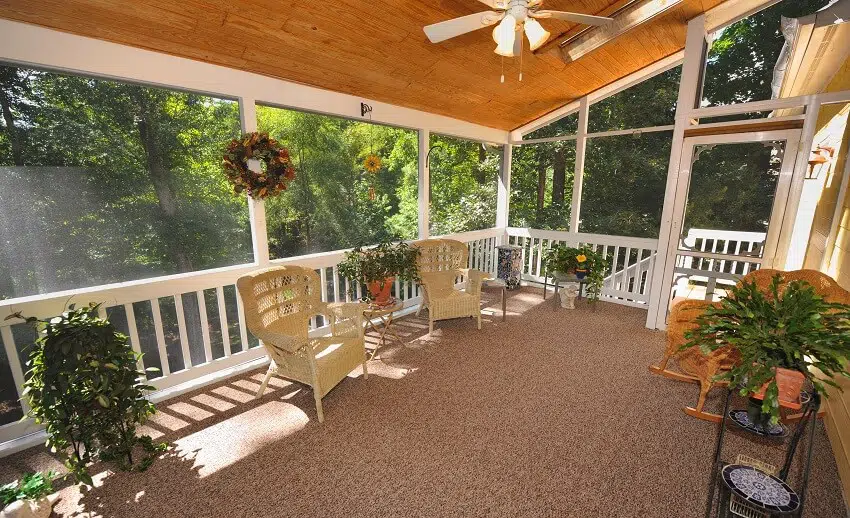 The enclosed porch does have panels that can be replaced and adjusted for the different seasons. For example, your porch will have glass panes in the winter, comparable to a sunroom, and screen panels throughout the summer, fall, and spring, or whenever the weather is sunnier. You can also disengage all of the panels for clearer and brighter sight.
In addition, enclosed porches can end up making your home appear similar to other modern homes. It will all look a lot better if you choose ones with masterful design features that complement the visual elements in your home.
Many property owners would choose to have it screened just to enhance security. This can help provide an extra protection barrier between yourself and any unknown visitors.

If you select an enclosed porch, you must ensure your chosen materials are long-lasting. Construction firms usually recommend redwood and cedar due to their sturdiness and remarkable advantages. Pressure-treated wood has insect resistance as well as anti-rot properties. See our gallery of enclosed patio designs here.

Wrap Around Porch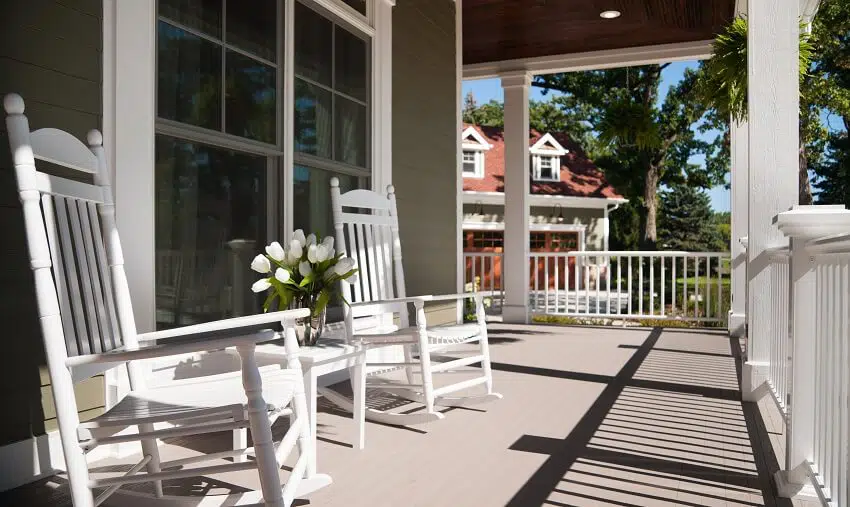 A wrap-around porch does exactly what its name implies: it wraps around the house. This can wrap completely around or just over a portion of it. This sizable and spacious porch design makes it ideal for relaxing outdoors. A wrap-around porch makes it easy to establish various areas, each one suitable for a specific outdoor activity.
You can find a shaded location on the porch at any time of day, making them an excellent choice for apartment buildings. Because of their large surface area, wrap-around porches could be more costly.
If you love to read books and other publications, you can designate a space on a wrap-around porch for this purpose. A gazebo, for example, can be incorporated in one corner. It will improve the architectural aspect and allow you to spend quality time with your family.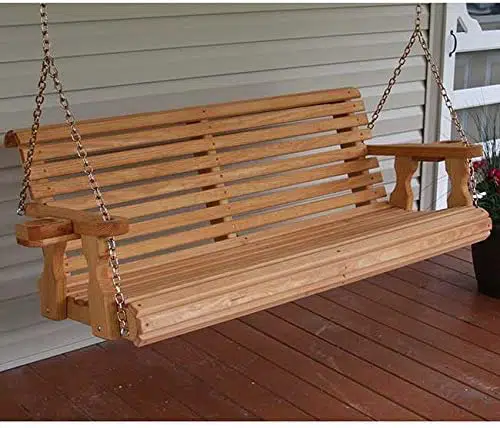 See this Treated Porch Swing with Cupholders at Amazon [sponsored link]
Furthermore, this type of porch can accommodate outdoor furniture including a porch swing, rocking chair, barstools, tables, etc. You can also install a ceiling fan in it. Wrap-around porches are prevalent since they allow homeowners to spend more time outside.
Multi-Season Room
A multi-season room is a glass-enclosed porch or sunroom design that provides stunning floor-to-ceiling views of the outdoors. These four-season rooms with porch roofs and frames are thermally constructed so that the room can be heated and chilled all year, making it an ultimate extension of your residence.
Furthermore, a multi-season room gives you and your family extra capacity to gather and relax whenever you want while maximizing your gorgeous outdoor views. On a summertime day, you can cherish the sun from the convenience of your own porch, without feeling the heat or dealing with stubborn insects.
One of the primary advantages of installing a multi-season room in your residence is its versatility. Whether it's sunny, raining, or snowing outside, you can experience pleasure from the coziness of your own home. A multi-season room, as opposed to traditional sunrooms or home extensions, is usually less expensive and takes minimal time to build.
Aside from that, multi-season rooms contribute square footage to your home, offering you more living space to enjoy and the extra advantage of boosting the value and curb appeal of your residence. Read more about turning a porch into a room here.

Farmer's Porch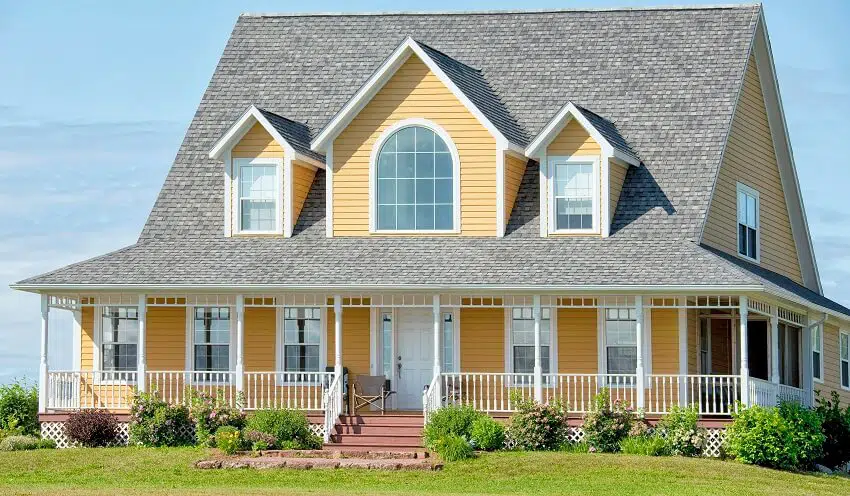 A farmer's porch, as the title indicates, is common in a farmhouse-style home. It is an enclosed deck that's facing the road to nicely welcome visitors.
This porch has strong support beams and custom railings. For maximum aesthetic value, the farmer's porch spans the width of the front of the house. This porch can be either elevated or ground-level.
There is enough room for a large group to congregate and unwind together. The vast scale of this type of porch may necessitate additional time for maintenance.
Aside from providing rain protection and a lovely place to sit and relax, these porches will give your home a classic look and ambiance. There are several types of farmer's porches, including:
• Ground Level Farmer's Porch. Like the preceding type of farmer's porch, this one has a covered deck and durable posts. They can, however, only have one step instead of a full set of stairs.
Porch swings, rockers, and comfy patio furniture, as seen on most farmers' porches, are prevalent in this style.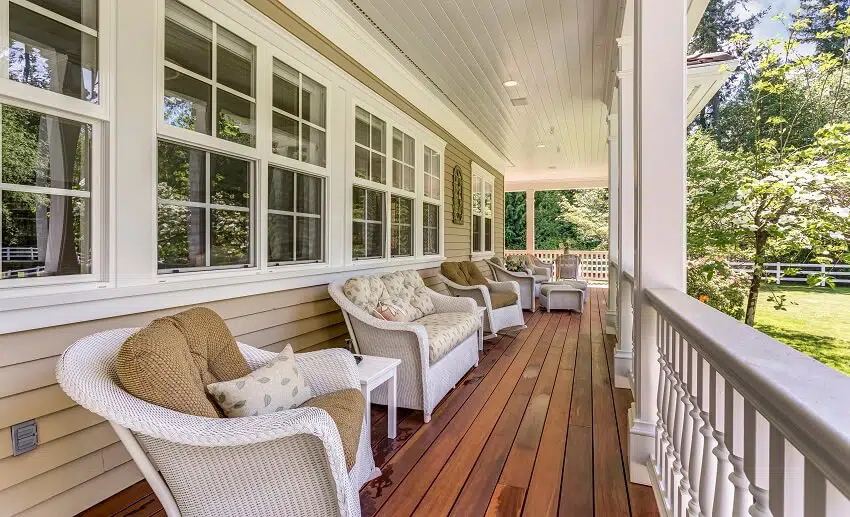 • Southern-Style Farmer's Porch. Similar to a conventional farmer's porch, these porches have a country vibe, but they are normally arrayed and intricate. They are frequently supported by colonnades, as opposed to the smaller, less elaborate supports seen further north or long columns.
• Elevated Farmer's Porch. The building's exterior is encircled by a typical farmer's porch. It can be elevated or lowered to the ground, and it has a wide, open staircase that leads to the deck.
Elevated farmer's porches are commonly adorned with ornate posts and sturdy railings. To give the framework a more professional finish, they commonly use white lattice beneath it.
Gable Style Porch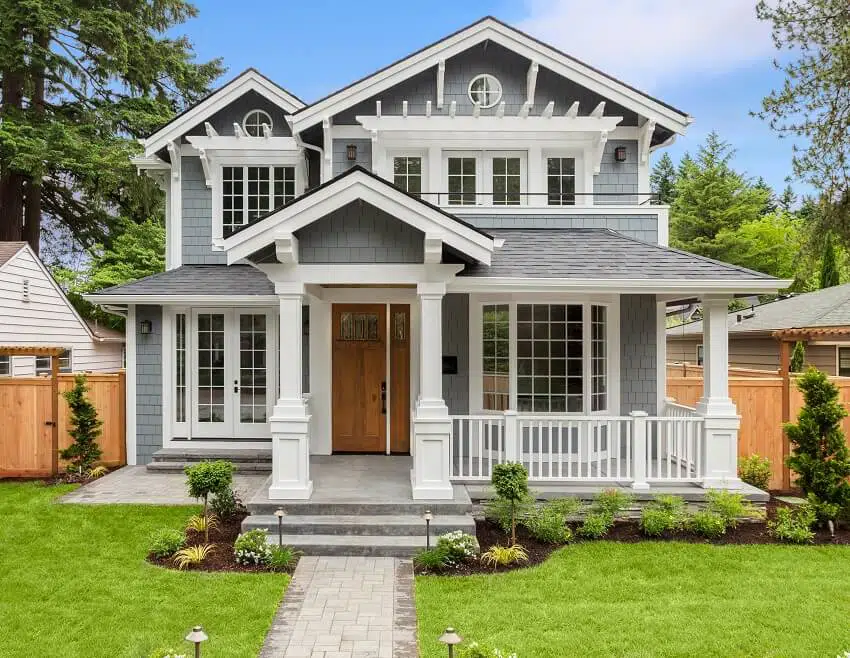 A gable-style porch settles at the upper side of a stepped path that leads to a house's entry; these several steps have a landing before entering the doorway. The roof of such a porch is ridged, double-pitched, and gable-style.
The gable roof that covers this porch is a triangle-shaped roof that directs down the middle of the enclosure along the ridge. The sides are slanted at a specific pitch to shield snow and water.
Gable roofs typically overhang the enclosure's walls across all sides, necessitating the use of soffits and fascia. Gable roofs are well-known shapes that complement a wide range of house styles.
Back Porch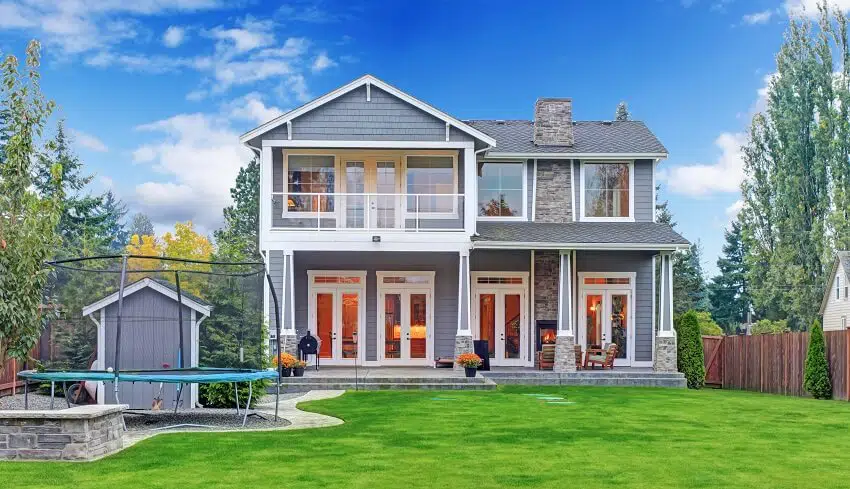 A back porch does exist at the back of the house. It's similar to a porch in the front of the house but on the opposite side of the house. The back porch is an enclosed area that protrudes beyond the back door. It typically lacks windows and has open sides.
A back porch offers great privacy. Hence, this would be a great option if you want to settle outside without being bothered by bystanders. To make it more appealing, you can incorporate decorative aspects. Chairs or other seating structures can also be used.
Detached Porch
A detached porch is a distinct feature of the house. It is usually attached to the house by a walking path, which could be pavers, gravel, or a wooden passageway. The detached porch comes in a variety of styles and functionality options, allowing you to create your ideal vision.
The detached porch could be glass-enclosed, screened-in, open-air, or any good mix of the three. Because it is an independent structure from the house, the costs may be higher.
Detached porches are prevalent for large backyards or pools, where the roof housing will provide protection and comfort beyond the limits of your home.
Outdoor fireplaces, built-in outdoor kitchens, illumination and ceiling fans, and radiant heating are examples of amenities that may be found in a detached porch.
Rain Porch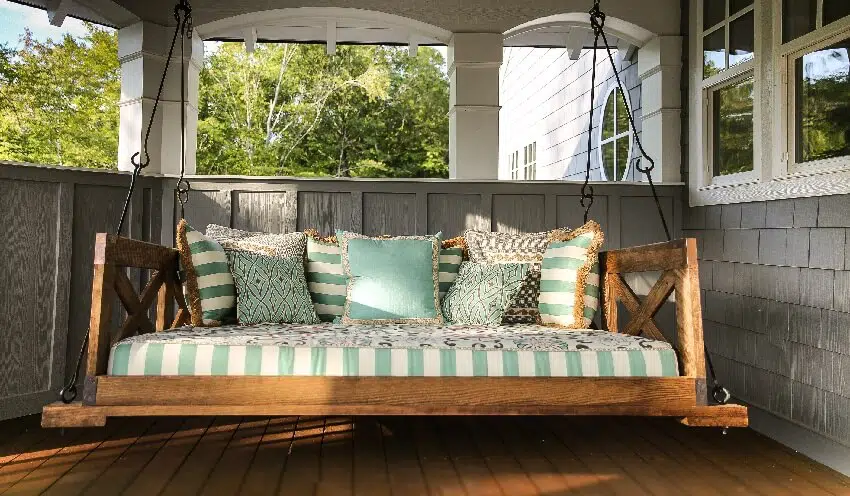 A rain porch has an extension of the roof that looks like an awning and keeps the downpours out, allowing you to enjoy the moment on your porch during rainfalls without getting soaked. The roof extension slopes down at an angle to protect the porch from rain and wind.
The roof extends a few feet (3 to 6 feet) far beyond the porch floor for maximum coverage. For proper air circulation, the ceiling is also perforated. The rain porch is distinguished by a roof that stretches beyond the corner of the porch deck.
Furthermore, it is supported by freestanding espouses that ascend directly from floor level instead of the porch deck's ground. This shields the porch deck from the outdoor elements while also keeping it well-shaded from the sunlight most of the time.
Front Deck
A front deck, as the name implies, is attached directly to the front door and serves as the primary entrance to a home. Moreover, the front deck is a structure typically made out of wood and located next to the house.
When people think of a deck, they envision the framework at the back of the house. On the other hand, a deck can be located anywhere else on the property.
Front Patio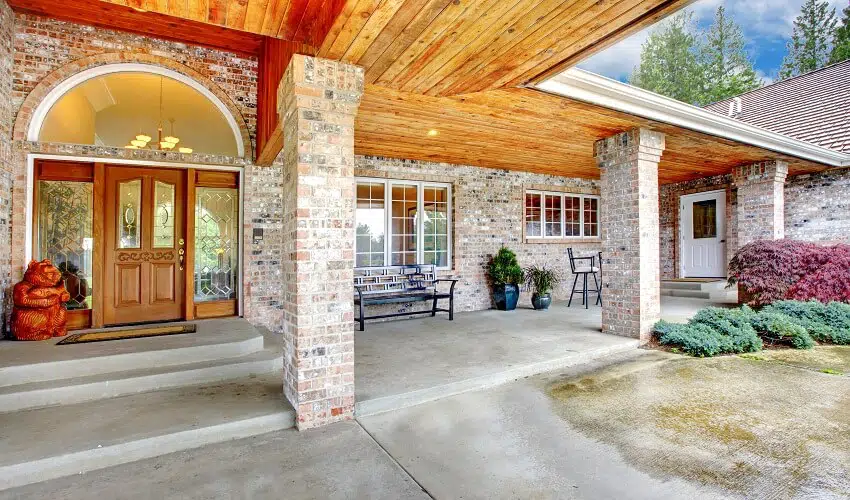 A front patio is a construction connected to your house's outside, often forming a covered entryway. It is a small sheltered zone at a house's entrance. It has a roof and, occasionally, it also has sidewalls. But compared to porches, a front patio is relatively smaller.
Veranda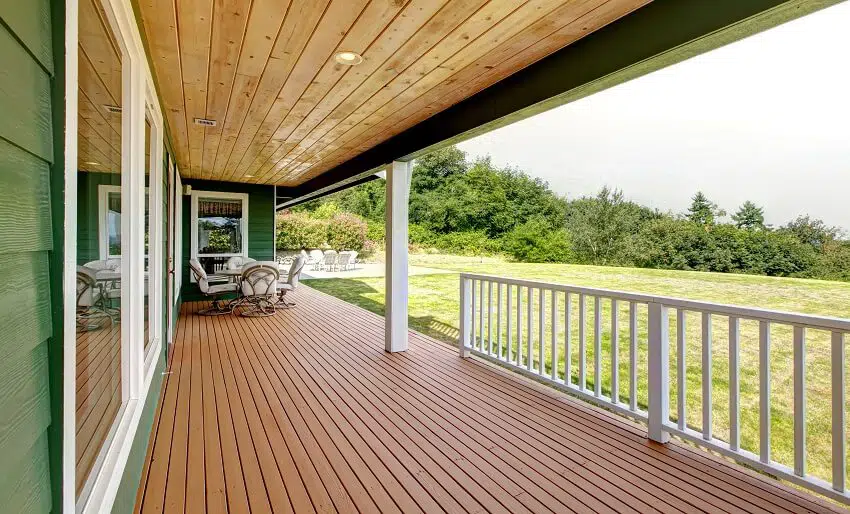 A veranda is a roofed open-air porch or framework extending across a house's front and sides. A railing is frequently used to contain a veranda. Aside from that, a veranda is primarily leveled with the home's ground level. Its ample space is ideal for outdoor recreation and leisure.
In a veranda, there are no screens or windows to keep the elements out. It is rarely elevated. Their railings and posts may be ornately designed and detailed, particularly if they are attached to a bigger and aged home.
Portico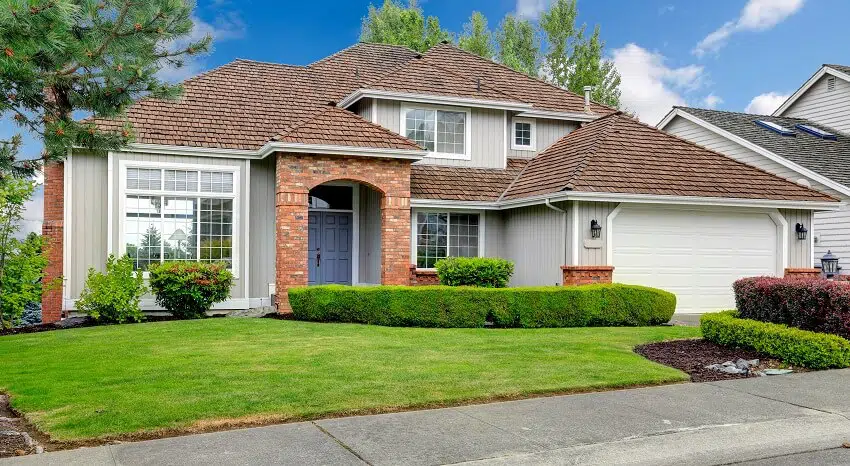 A portico is a covered porch that usually leads to a house's front door. A few columns reinforce the roof. Porticos seamlessly contribute elegance and appeal to the exterior of your home. You can even have different types of porticos depending on your personal preferences.
A portico can be as small or as tall as you want it to be. Porticos are not customarily intended for outdoor living or amusement. A simplified front entrance portico design can highlight your home's best features. Porticos can be combined with design structures like columns, a unique ceiling form and finish, and a distinctive roof layout.
Loggia
A loggia is an exterior corridor with a completely covered roof and an open external wall to the elements. It runs along at least one side of the house. Ornamental arches or columns are commonly used to reinforce the loggia. It is an excellent way to extend your living space outside.
A loggia is a very exquisite way to improve the exterior of your home. Loggias can be located in palaces and other splendid buildings all over the world. Thus, it is unquestionably a statement architectural component. The loggia runs parallel to at least one side of the house and is designed in the shape of a corridor.
Lanai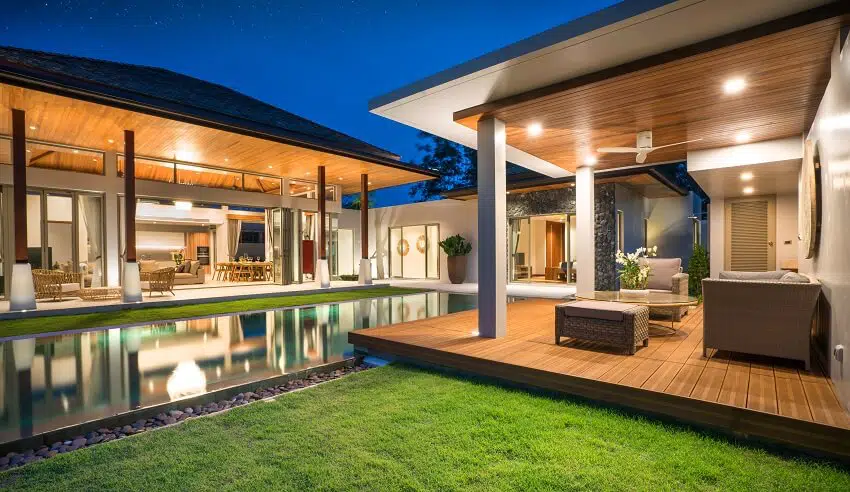 Lanai porches originally came in Hawaii and have spread to other warm climate areas. A lanai is comparable to a porch, but it frequently opens up into larger living spaces. The lanai is covered with a roof, but it has more than one open wall to the components. Lanais allow you to enjoy outdoor living year-round.
You can screen lanais or cover them in panels, whether glass or plastic, to control the interior temperature.
Arizona Room
An Arizona room is a semi-outdoor space that is common in Arizona residences. They function as an extra attachment of the house with easy access from other interior living spaces such as the kitchen or family room. The rooms usually have massive windows that can be fully opened.
You can cool off in this room without having to rely solely on the home's air conditioning system. Because the room is contained, you can put fancier furniture inside of it.
Bungalow Porch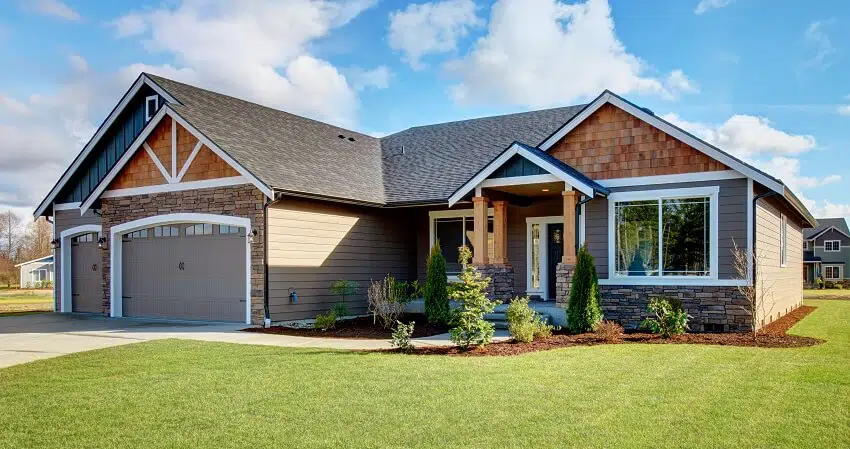 In Florida, bungalow porches are popular, and they provide a front space that is accessible to the yard, enabling you to enlarge your living room. Such porches are usually characterized by extra large wood, masonry, or brick columns or pedestals.
The most well-known flooring alternatives for bungalow porches are oak, asphalt, and ceramic. Bungalow porches are customarily furnished with rustic furniture as an extension of the living area.
A roof or a pergola typically tops the bungalow porch. However, some newly developed styles combine the two to provide the perfect mix. The house roof is typically supported by thick columns and is positioned underneath a gable facing the street. Tapered wooden posts atop sturdy brick or stone pedestals are the most common types of supports.
What Is The Difference Between a Patio And a Porch?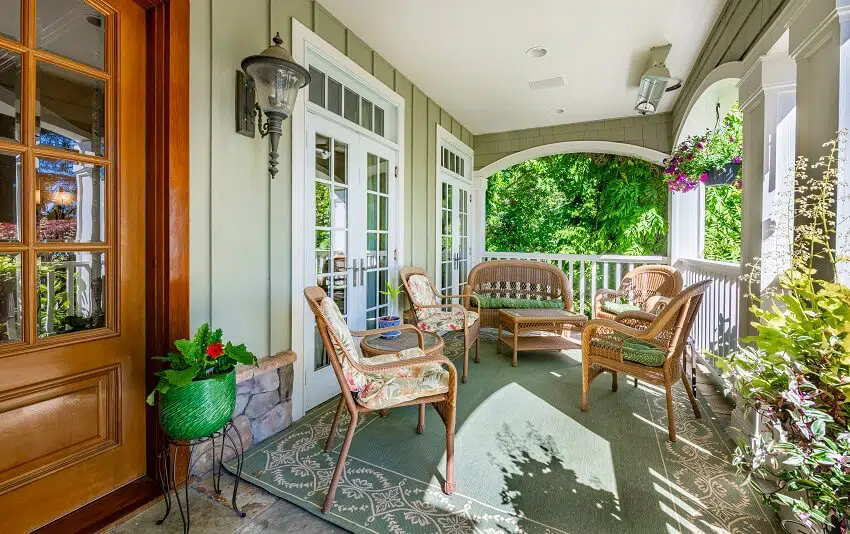 A porch and a patio are two types of residential additions that differ in a few aspects:
In Terms of Attachment
A patio is an exposed, detached component of landscape architecture that is usually placed at ground level in the rear end of a house, whereas a porch is a connected component that is level with the front of the house.
In Terms of Shared Elements
Patios are not incorporated into the home's design or structure. Unlike porches, they are not required to share flooring, paint color, or other interior design features.
In Terms of Covering
A patio is generally an asphalt surface with no covering, whereas a porch is often attached to a house's exterior wall and is covered by a roof.
Read more about the difference between a porch, patio, deck, balcony & veranda here.
How Much Should a Porch Cost?
A 200-square-foot covered front porch typically costs between $4,600 and $22,000, or $11,000 on average. You can expect to pay between $23 and $110 per square foot. The overall process includes steps, posts, flooring, railing, roofing, and other components.
Aside from that, this usually includes material costs ranging from $11 to $70 per square foot and labor expenses ranging from $12 to $40 per square foot.
Is Adding a Porch Worth It?
Here are a few reasons why adding a front porch is worth it:
It Provides You More Space
The addition of outdoor spaces to your home, such as patios, decks, and porches, increases the amount of space available for the style of living you prefer.
When entertaining, you could provide a comfortable space for your visitors. You can have private outdoor areas to unwind and enjoy the nice weather. Plus, since you have more living space, home buyers would find it very appealing.
Can Help You Save Money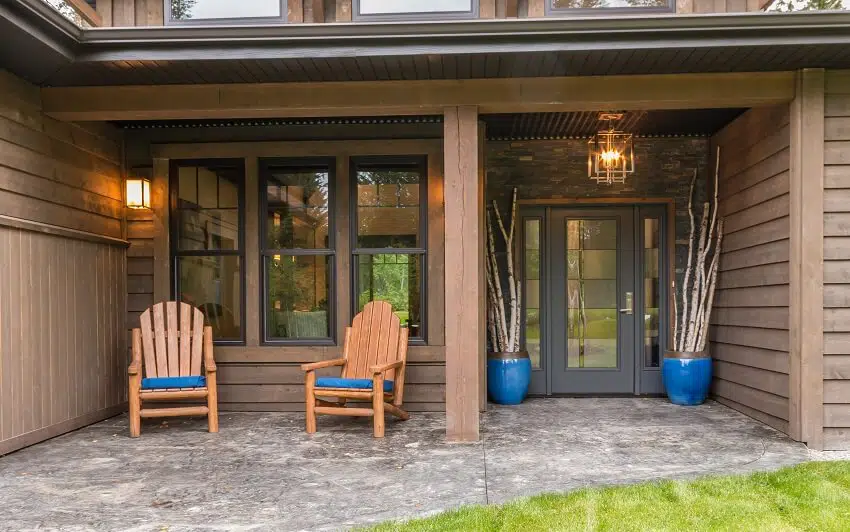 Adding porches is an inexpensive way to add charm to your home. These outdoor spaces generally do not necessitate homeowners investing in drywall, carpeting, tile, pipework, insulation, or other comparable features that would make incorporating a new room expensive.
Porches are not generally considered living space, so they do not multiply your taxable square footage or increase your tax liabilities. Since home buyers appreciate pleasant outdoor spaces, adding a porch to your home can increase its perceived quality if you intend to sell it over time.
It Adds a Beautiful Vibe
Nothing beats a well-kept exterior to increase curb appeal and increase your satisfaction with your home's elegance.
Outdoor home renovation developments can add a beautiful central focus to welcome visitors, an appealing design and appearance that helps make your home stand out.
It can also create a satisfying place to contribute and add your own sense of fashion, add character and broaden the design preferences to the exterior of your home and also the interior.
What Is the Cheapest Type of Porch?
A standard brick porch normally costs not more than $10 per square foot on average, whereas standard concrete might cost as little as $5 per square foot. These two porch materials and structures are the cheapest options.
What Types of Houses Have Porches?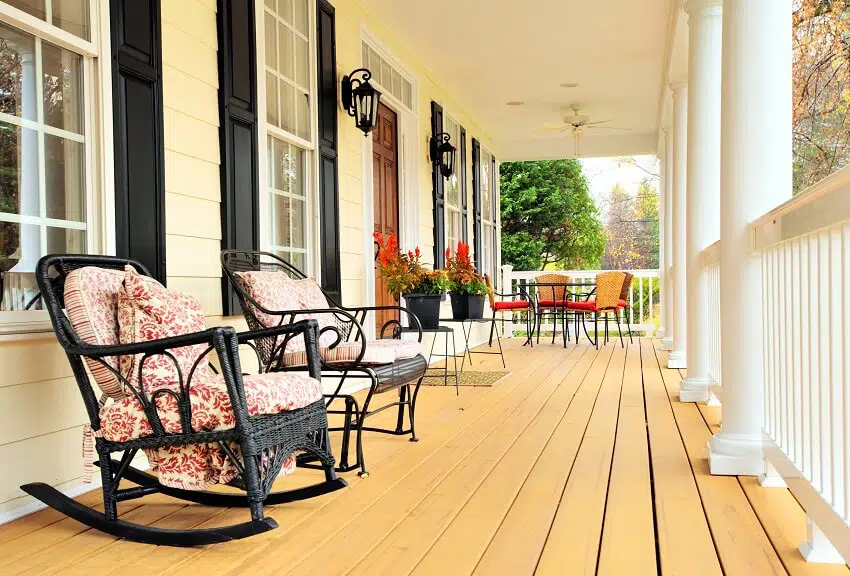 Farmhouses, colonial, Victorian, Spanish, Queen Anne, ranch, and bungalows are some of the types of houses that have porches. However, almost all house types can have porches, it will just depend on their overall construction.
What Are Small Porches Called?
The word portico comes from Italian and refers to a small porch. A portico is a type of porch that leads to a house's entryway or can be extended as a colonnade with a roof configuration over a passageway upheld by columns and could be enclosed by walls.
This concept was popular in Ancient Greece and has significantly affected many cultures, including the majority of Western cultures.
The columns are the most important aspect of porticos. Porticos are also typically smaller in size than porches. In a nutshell, you can call small porches "Porticos".
Visit our guide on the most popular types of patios for more related content.