Guide to porch enclosures for winter including the different techniques to consider, corresponding costs, and how to winterize your porch.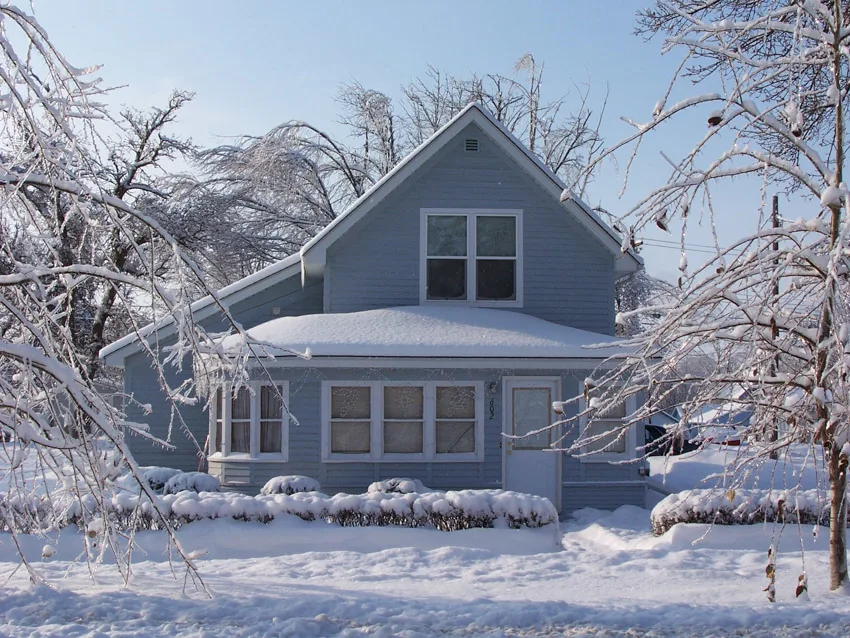 When summer turns to fall and the temperatures begin to drop significantly, you may assume that you need to clean up your porch and set it down for the winter season.
However, that isn't the main solution for that. You enclose your porch for the winter in a variety of different techniques, which allows you to cherish your exterior space in all seasons!
Keep in mind that enclosing your porch is a temporary solution. They may be unraveled in the summer and used in the winter.
Alternatively, you may leave them up for over a year and slide them upwards and downwards as needed to get a little fresh air and close the panels if it's raining as the rainwater could leak into the porch.
So how then, can you enclose your porch during the winter season? What methods can you implement? Let us talk about it in this article.
How Do You Winterproof a Porch?
There are several techniques on how you can prepare your porch enclosures for winter. These approaches are based on the concept that your porch already has a roof. Try applying these materials:
• Insulated Curtains
• Dropdown Panels
• Clear Vinyl Sheet
• Premade Panels
Let's take a closer look at each of the materials you may utilize to winterproof your porch now that we've identified them. Some are more intricate than others, and each provides your porch with a distinct aesthetic.
As you read on, you'll receive all of the details, as well as solutions to any further concerns you may have.
Insulated Curtains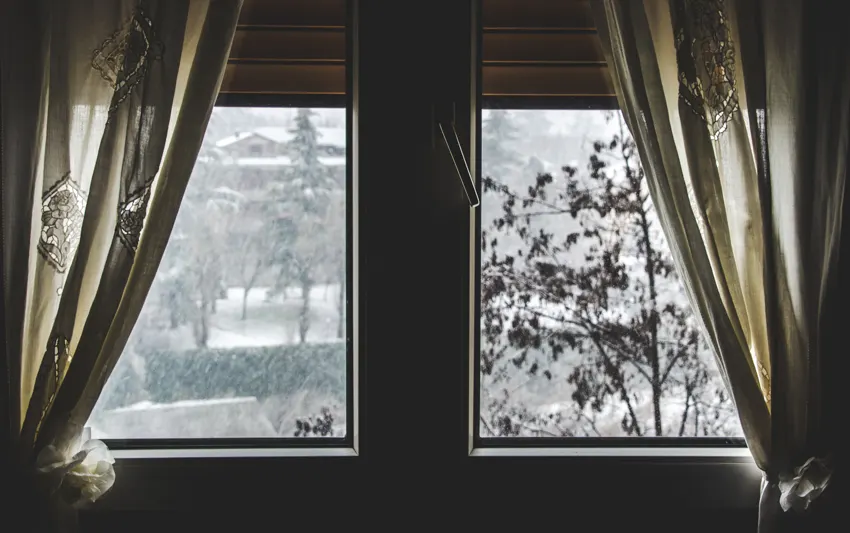 Insulated curtains that are designed for outdoor usage are one of the simplest ways to prepare your porch enclosures for winter.
These curtains are a good option since they're available in a range of colors and designs, so you'll be able to pick something that could complement your décor.
They're also readily adjustable, so if you wish to spend more time outside on an unusually mild winter morning, all you have to do is pull back the insulated curtains to adjust the openings of your porch.
Ceiling curtain rod brackets are the greatest option for installing your insulated curtains. Depending on wherever you need the curtains to install, you may hang them from the porch roof's borders or into the ceiling beams. After that, the curtains are hung on a conventional curtain rod.
The only disadvantage of closing off your porch with curtains is that you probably wouldn't see what's happening outside. Conventional curtains will obscure a beautiful view if you have one.
Dropdown Panels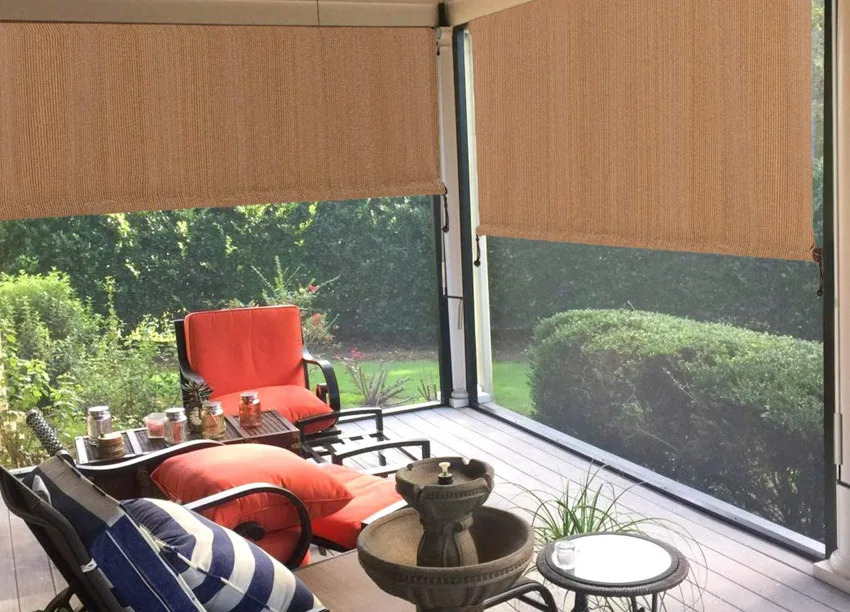 See these porch roller shades at Amazon [sponsored link]
Dropdown panels are generally pre-installed fabric or vinyl panels that stay on your porch throughout the year. You may easily release them to conceal the holes during excessively hot or cold seasons.
This is a really convenient practical choice once placed because it does not need to be removed during the summer.
The majority of these dropdown panels feature necessary installation components. These items are made of lightweight materials and are designed for individuals seeking shade throughout the summertime.
Because they are not directly linked to your porch rails, they may allow little cold air to circulate through them. They will, however, prevent the air and some coldness in the wintertime.
Nevertheless, dropdown panels, the same as insulated curtains, will obstruct your view of the outside, so take that into consideration when selecting your preferred type of enclosure for your porch.
Clear Vinyl Sheets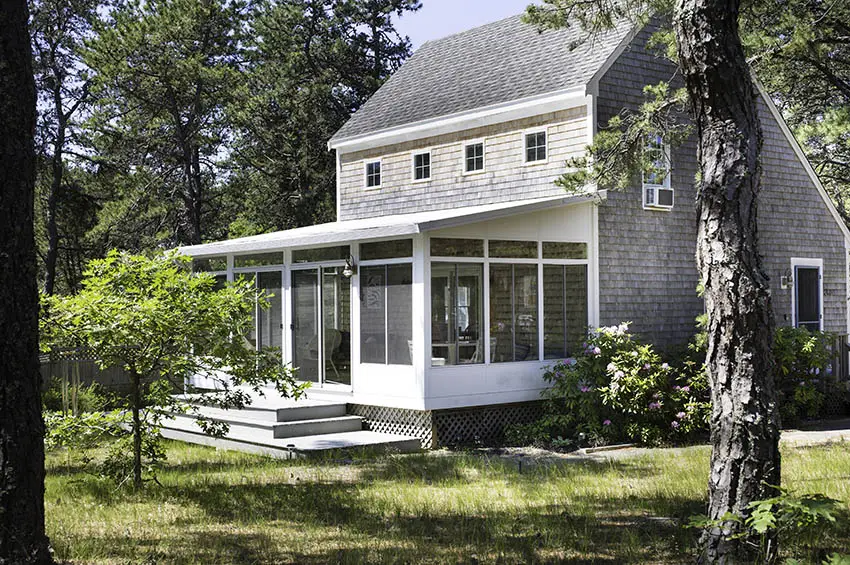 If you currently own a clear porch construction, clear vinyl would be an incredible alternative. It generally comes in plastic sheets or rolls that can be trimmed and sized to fit your porch openings. Clear vinyl is the most cost-effective option to insulate your porch during the wintertime.
Another wonderful part about choosing transparent or clear vinyl for your porch is that you could always appreciate the scenery while still shielding a lot of the chilly breeze.
Furthermore, allowing sunshine to flow in will help your room heat up throughout the day. You'll be all set if you install an efficient heater on your porch.
To implement this technique, you'll need a stapling device to secure the measured clear vinyl sheets to your porch and a measuring tape to verify the sheets are in their right measurements.
Premade Panels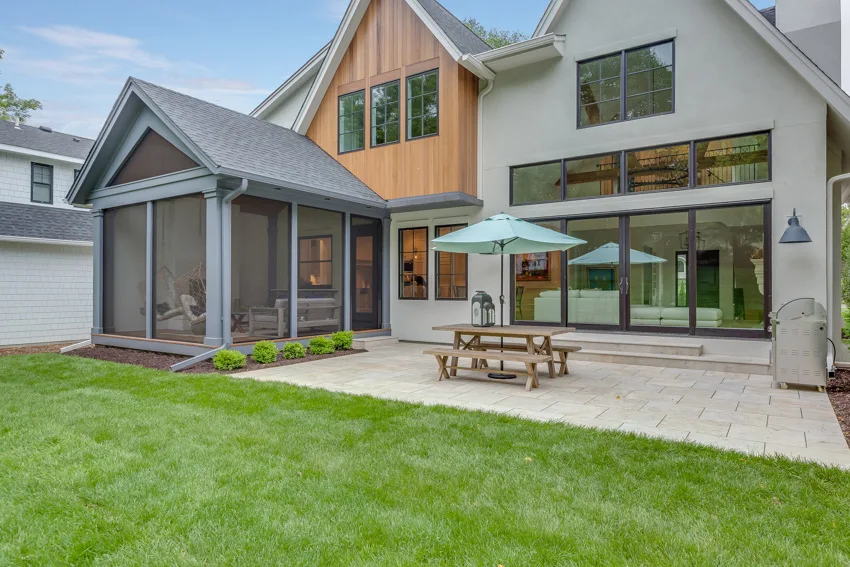 You could insulate and close off your porch with a variety of prefabricated panels, also known as premade panels. To maintain the edges and grommet edges for hanging, the majority of these panels are manufactured with vinyl and a fabric lining.
These provide benefits comparable to the transparent vinyl sheets, but without the need for a staple gun, which is a bonus.
In comparison to merely applying vinyl sheets, these panels are pre-measured and quicker to apply. However, the cost is much pricier for those who want to prepare their porch enclosures for winter.
DIY Wood Frames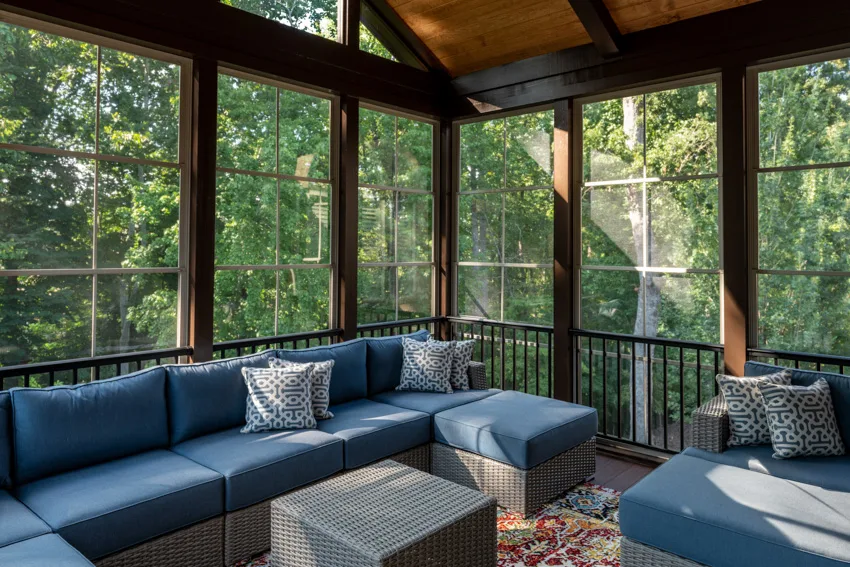 To partially enclose your porch, you may use DIY wood frames.
By integrating single wood-framed panels as the construction components and connecting those panels to your porch, you will indeed achieve neater and more high-quality results.
You may make as many or as few wood panels as you want. You may build the panels even if you're not on the site and just bring them to your porch to assemble and attach them. You can even utilize the porch flooring as a workspace.
How Much Does a Porch Enclosure Cost?
There are several factors that affect the cost of occasionally turning a porch into a room.
Provided you already have a framework and are utilizing vinyl sheets, you may complete the job for cheaper than $100 as a DIY project, considering you need to purchase a measuring tape and a stapling gun device.
If you add in installation equipment such as the curtains themselves, and their respective rods, buying insulated curtains to enclose the porch might cost you around $200 to $450.
However, if your porch doesn't already have an existing roof or railings, you're looking at a substantial investment, maybe in the thousands of dollars, which may be approximately $1,500 to $3,000.
How Do You Winterize a Porch?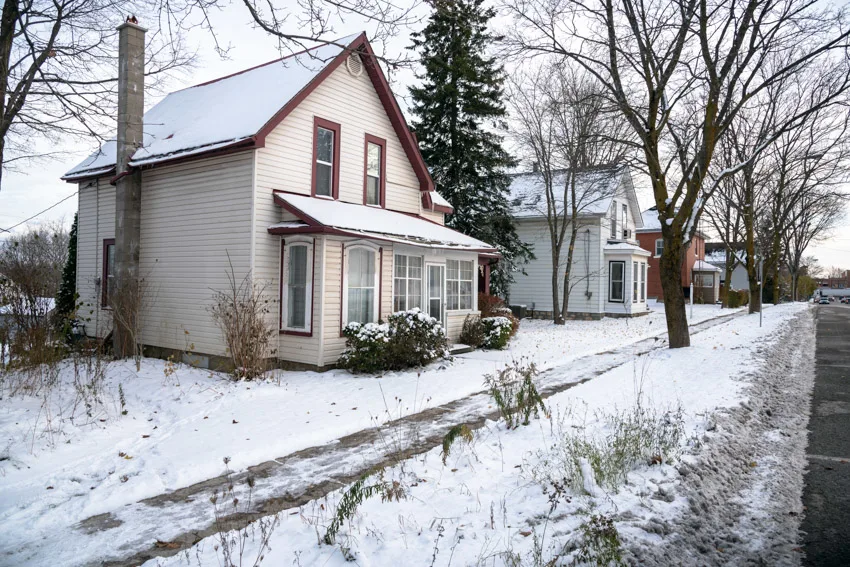 If a porch is screened in already, you may winterize it by covering the screens with transparent plastic vinyl. During the winter, you may even make panels out of plastic sheets to cover your screens.
Plenty of reliable and trustworthy online sites detail how to make a window box that will integrate seamlessly within your screened panels and keep the outdoor pollutants out.
Also, anything that could be impacted by exceedingly low temperatures, such as glass, which enlarges and compresses with the temperature, should be stowed away.
See more related content in our article about the difference between porch, patio, deck, balcony & veranda on this page.