Welcome to our polished concrete patio design guide including what it is, cost and its differences vs stained concrete patios.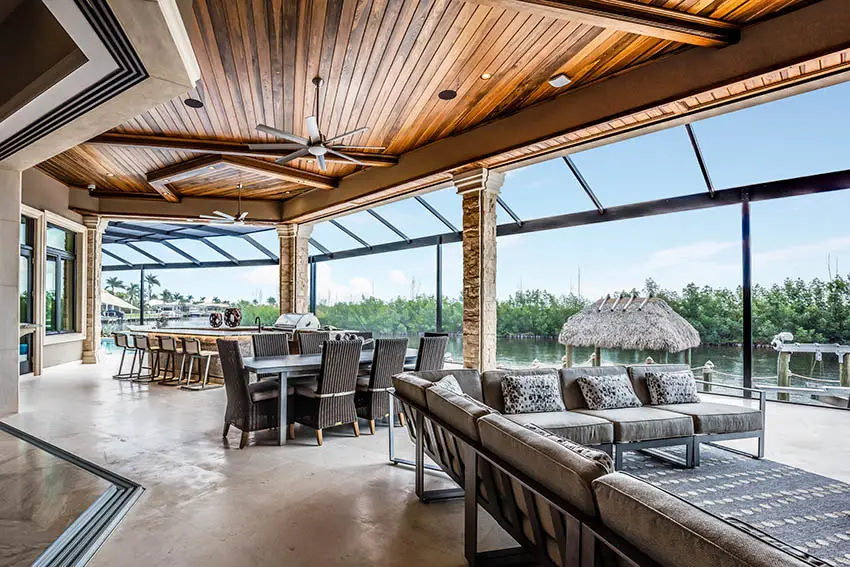 A polished concrete patio brings your outdoor living into a whole new level that is so easy to maintain and resists visible wear more than other conventional patio materials.
Moreover, a polished concrete patio can actually be a low-slip surface when applied with a resistant coating even when wet, making it a safe flooring surface for your outdoor areas.
What Is a Polished Concrete Finish?
A polished concrete finish is when a concrete floor either an existing or newly cured concrete slab has been mechanically ground, honed, and polished systematically to achieve the desired appearance.
The unique process can produce matte, satin, and gloss finish using fine grits of diamond abrasives. Generally, a concrete slab is grounded using 50 grit to 400 grit metal bonded diamond depending on the desired sheen.
A chemical hardener is also applied to densify the concrete surface to improve durability and wearability while creating a non-skid surface. Then, polished with a 100 to 200 grit resin – bond diamond. The surface is continuously polished and buffed to achieve the surface quality required.
The process of polishing concrete floors makes the surface more durable, almost 10 times harder from its unpolished form. This makes it a cost-effective flooring surface favored for both commercial and industrial uses.
Aside from the option of having a non-slip grit coat, the polished concrete finish comes with attractive design options to suit your outdoor needs.
There are a variety of concrete patio finishes you can add depending on the design you want. You can add flair to your outdoor patio with scored designs, borders, bands, and radial lines. You may add different colors to these attractive patterns as well.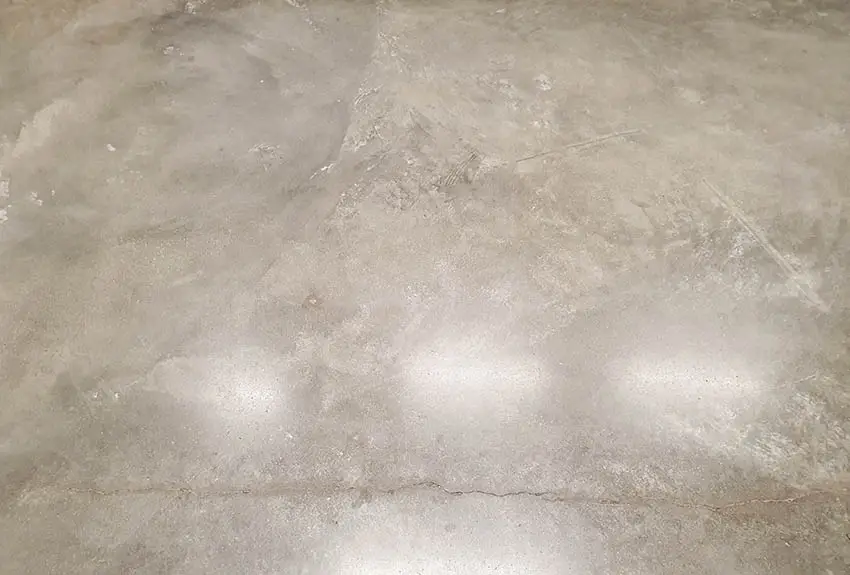 Polished Concrete Advantages

Better Slip Resistance
Easy Maintenance
Resistant to Staining
Organic Look
Clean Appearance
Good Aesthetics
Reduced Costs
Sustainable
Polished Concrete Patio Cost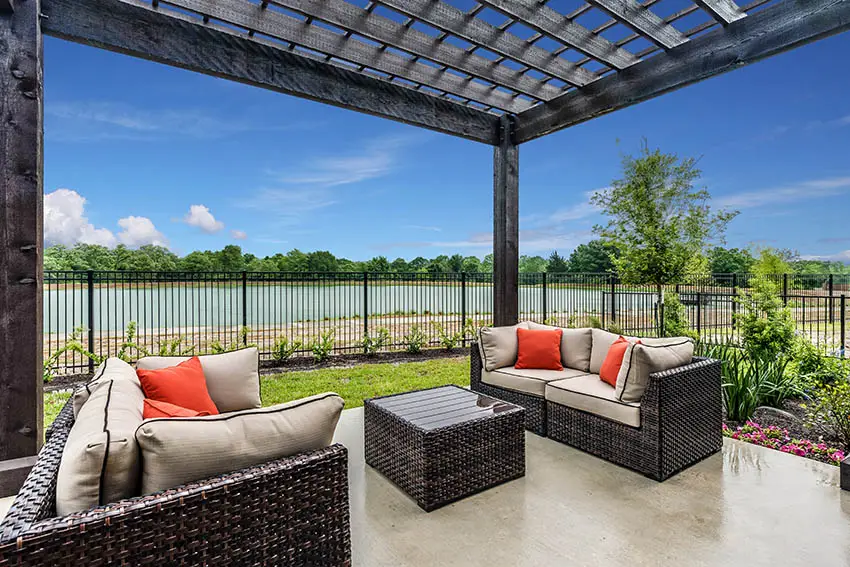 The timeless and modern-looking polished concrete patio does have a wide cost range depending on the features you want to add to your outdoor patio.
Although it can be labor-intensive, concrete polished concrete overall is a cost-effective patio material as you do not have to reseal your surface periodically. Plus, it is very low maintenance flooring.
The price range for the polished concrete floor can cost from $3 to $12 that is for a 3,000-grit finish and applied with impregnating sealer. Meanwhile, tile can cost around $11 to $22, natural stone on the other hand can cost around $20 to $50 plus.
Polished Concrete Cost Per Square Foot
Economical $3 to $12– Typically has a moderate shine, one layer, and color stain with minimal surface preparation.
Mid-range $5 to $8– Has a glossier finish, two-color stains, basic scoring pattern with extensive surface preparation.
High-End $8 to $12– With staining details, multiple colors, and elaborate designs with multiple colors prepared extensively with grinding and surface preparation. Creating a polished exposed aggregate patio design can also add to the cost.
Differences Between Stained and Polished Concrete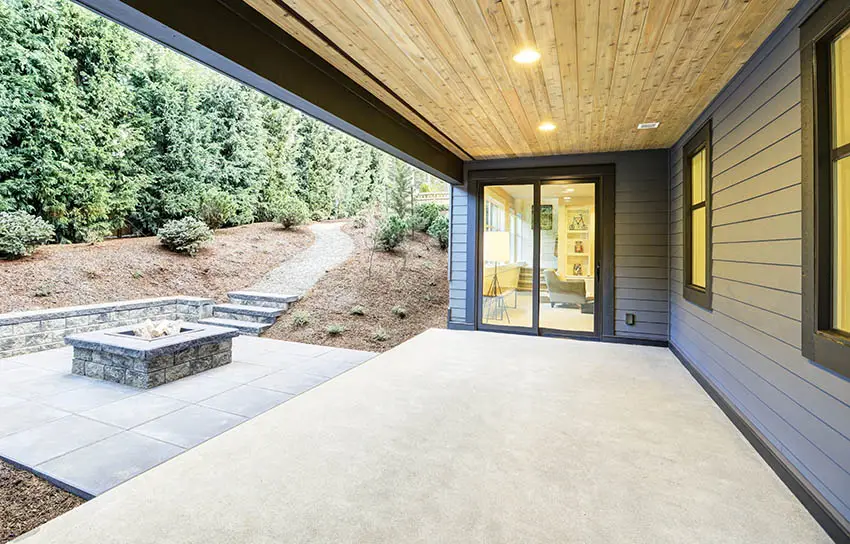 Choosing between stained or polished concrete? The two are very much similar in terms of their durability, appearance, and maintenance.
The primary differences between the two types of flooring is their appearance and cost. Stained concrete has a stain coating to get its highly reflective appearance while polished concrete is smoothed and polished. In addition, the cost of polished concrete can be more expensive compared to stained.
| | | |
| --- | --- | --- |
| Comparison Chart: | Stained Concrete | Polished Concrete |
| Colors | Custom Colors | Custom Colors |
| Installation Cost | Less Expensive | More Expensive & Labor Intensive |
| Water Resistant | Yes | Yes |
| Maintenance | Needs to Be Resealed 1 to 2 Times Per Year | Protective Sealer Should Be Applied Every 2 to 10 Years |
| Cleaning | Broom/Mop or Mild Cleaning Products | Broom/Mop or Mild Cleaning Products |
| Best For Outdoors | Must Use Outdoor Stains | Floors with a High Polish May be Slippery |
| Durability | Durable But It Can Be Scratched, Worn & Faded, Especially in High Traffic Areas. | More Durable Than Stained Concrete |
What Is Stained Concrete?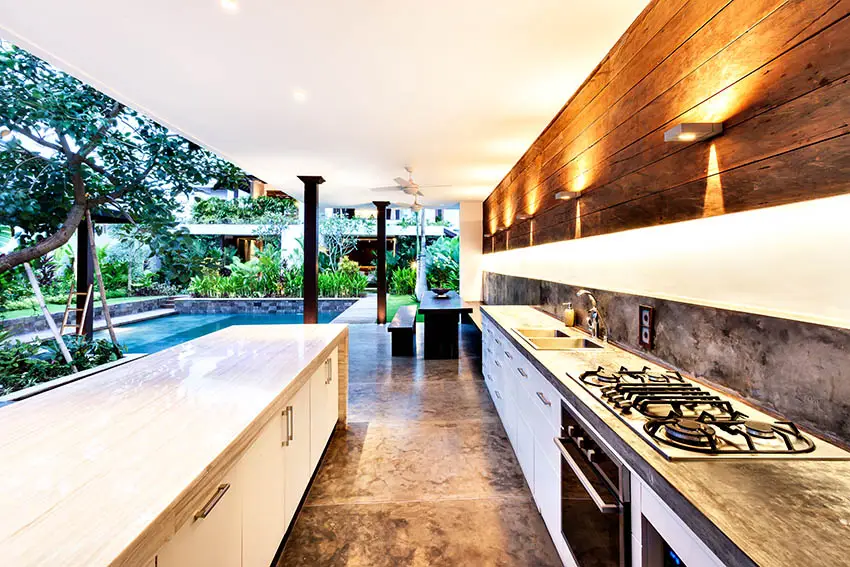 Concrete staining is a common technique for infusing a concrete surface with colors that will remain luminous and vibrant for many years to come.
The selection of designs is numerous, almost infinite, as you or the person doing the job can be creative with the design. You can choose just to stain it naturally or use a stencil to form the desired pattern.
There are many techniques for achieving unique results, so you don't have to worry about implementing a design you want for your floors.
Stained concrete can even simulate polished marble, natural stone, or even stained wood. The vitality of colors can be modified by adjusting the stain solution.
Concrete stain designs last for a very long time even in areas where there is heavy foot traffic. With durability as a factor, the design does require minimal maintenance, if any, saving the business owner money down the road.
Stained concrete, unfortunately, does not share the same vitality, it is prone to scratching, especially in traffic areas. The colors and coatings are also prone to fading.
Between stained concrete and polished concrete, the latter is still the superior type of flooring because of an extensive installation process. The former also requires some more maintenance in comparison with the latter.
For those looking for another alternative, a stamped concrete patio may be appealing. This style often combines a polished stained concrete look with the design imprint of your choice.
Are Polished Concrete Patio Floors Slippery When Wet?
The fast and easy answer is, generally no, polished concrete is not more slippery than other types of concrete surfaces. In fact when compared with epoxy surfaces a polished concrete floor is generally much less slippery.
For a more in-depth look, using a pendulum tester is recommend instead of relying on the ANSI A137.1/A326.3 testing method. With this method it is concluded that polished concrete can be slippery when wet, but is generally safe when kept dry.
The ANSI test does provide a comparison between surfaces but the probability that a person will slip or not on the polished surface material cannot be predicted.
Factors that can play out on how slippery a polished concrete patio when wet is the foot traffic received, wear, contaminants, maintenance, and manufacturers recommendations. Therefore, the best method to avoid any incidents is to apply an anti-slip conditioner or coating.
How long Do Polished Concrete Patios Last?
Polished concrete is usually guaranteed to last at least 20 years but can easily last a lifetime with proper care and maintenance.
Stained concrete floors, may require some yearly maintenance, particularly with sealing and rewaxing. But the stained concrete floors can last for a hundred years. Neglecting or poor sealing may cause the stains to fade, especially in high-traffic areas.
Is a Polished Concrete Floor Right for You?
A polished concrete floor is a sensible choice especially if you want affordable and low-maintenance patio flooring. Though bear in mind that it is a hard and cold surface to walk on. But other than these, switching to polished concrete floors from the traditional wooden deck or tiles can brighten up your outdoor living creating a modern and elegant look.
Compared to other types of patio floors, polished concrete floors are easier to install compared to tiles or stone paving, the sleek surface also means you don't have to worry about yellowing or weathering grout lines. We have a more in-depth comparison of pavers vs concrete patios here.
What's more is that there is minimal maintenance needed, and the surface can always look pristine just after some thorough cleaning.
If you're planning it as a DIY project, it is recommended that installing a polished concrete floor on your patio should be done by professionals.
The work involved in surface preparation, expensive equipment, and the lack of knowledge on the design options are reasons why a DIY polished concrete floor is not a practical endeavor.
Another alternative to a polished concrete patio is an epoxy patio design which offers many similar characteristics.