Here's our enclosed toilet room dimensions guide including standard, minimum and ADA toilet room sizes for your bathroom design & renovations.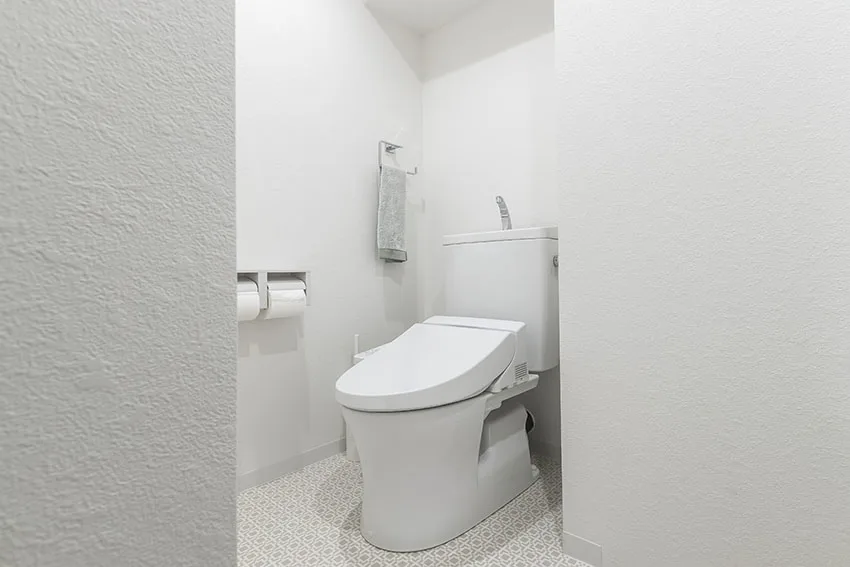 One of the most typical home renovation projects is the renovation of the bathroom. It's usually a small enough room that it could be renovated easily and can give you so much satisfaction once it's renovated. A bathroom renovation is also one of the few things that can see a return on investment when you go to sell your home.
This article will walk you through different considerations for toilet room layout and dimensions. At the same time, it will also touch on additional building codes and ADA considerations to ensure that your toilet room is accessible for everyone.
Standard Toilet Room Size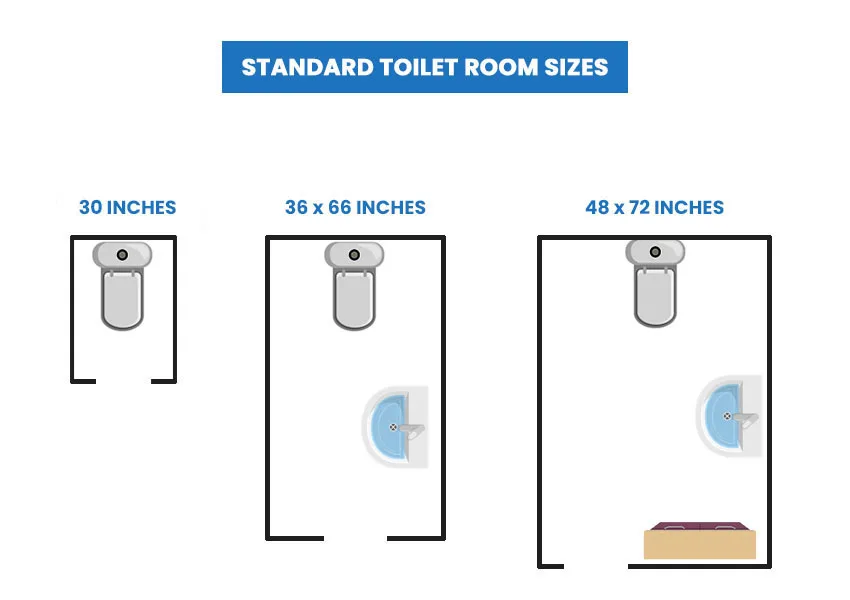 Before your renovations begin, there are a few things to consider, especially the dimensions and size, because a big part of deciding for the measure will determine how safe and how accessible your toilet room will be.
Although advice from your contractor or interior decorator is advised for the best practices, meticulous and precise measuring would be enough when venturing in this renovation on your own.
Toilet room sizes will depend on your need, but the standard toilet rooms measure 30 inches or 69 to 76 centimeters in depth. It is at least 30 inches or 51 centimeters wide, and it will have a depth of 21 to 31 inches or 53 to 76 centimeters.
There are also bigger toilet rooms set by the National Kitchen and Bath Association at 36 by 66 inches or 91 by 168 centimeters and lavish ones to include a sink or even added shelving units that could extend to 48 by 72 inches or 122 by 183 centimeters. See standard bathroom sink sizes here.

Minimum Toilet Room Size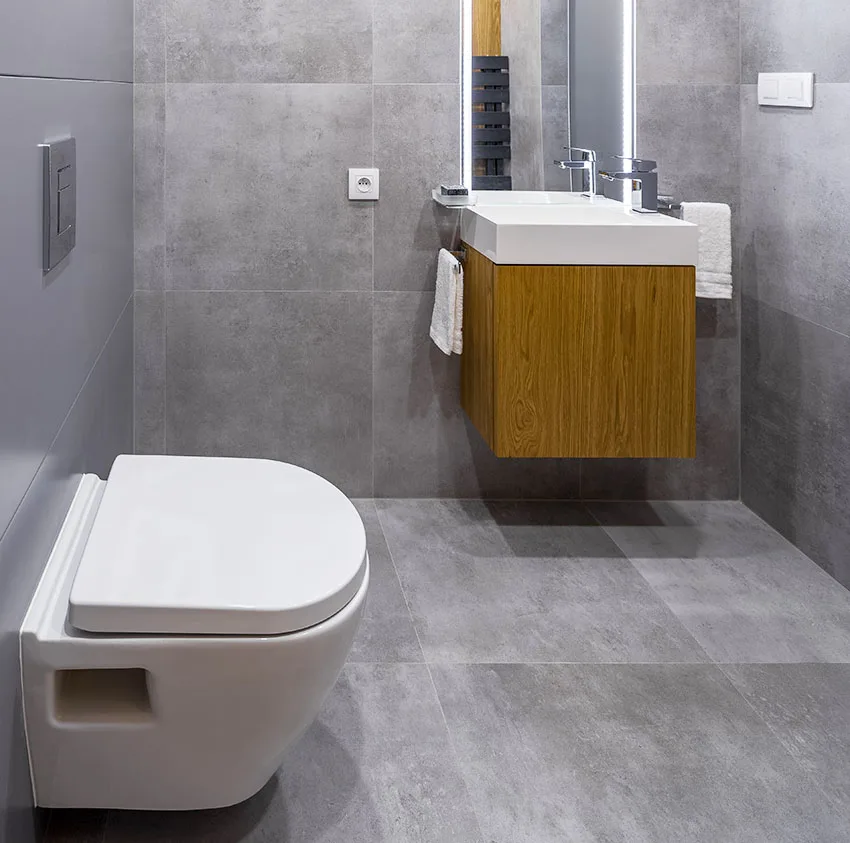 A toilet room separates the toilet from other bathroom fixtures like the shower or the bathtub. Allotting space in the toilet room is essential for functionality and comfort.
Even if you have a problem with space, having a separate chamber for your toilet will make your whole bathroom seem larger than it really is and gives users the pleasure of privacy.
The minimum bathroom size as mandated by the International Residential Code or IRC is a toilet room with a dimension of 30 by 60 inches or 76 by 152 centimeters.
This size is not too small to feel claustrophobic, but it is also not too big to take up needed real estate in your bathroom. Here is an overview of some of the essential dimensions necessary for a toilet room.
First, there should be at least 15 inches or 38 centimeters of space between both sides of the toilet and any obstruction, whether a cabinet or the wall. 4 inches or 10 centimeters of space is needed between the wall and the tail end of your lavatory. Last is considering the area in front of your toilet.
For the free space in front of your toilet, building codes mandated to leave at least a minimum of 21 inches or 53 centimeters for easy access. See more bathroom remodel ideas on this page.

How Wide Should a Toilet Space Be?
Now that you have a view of the room dimension itself, it's time to discuss the toilet space requirement. For your toilet area, make sure that there's a floor space of 30 inches or 76 centimeters at the least.
You can go bigger than this if you want to, especially if there is an inclusion of a sink in a horizontal layout toilet room. You should also leave a space of 30 inches or 76 centimeters between every toilet fixture like a cabinet.
How Much Space Do You Need For a Toilet?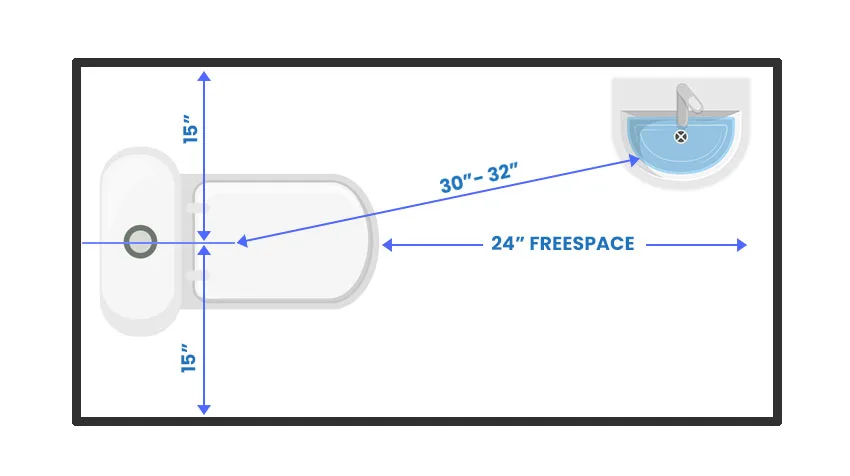 Designing or remodeling a toilet room is more than deciding where to position the toilet itself. It is also more than selecting the tiling, the cabinetry, or the light fixtures.
The most important thing to consider is the layout since mandated building codes and requirements dictate how big your toilet room should be. Your toilet room layout should literally be legal.
There are three main measurements to consider between the waste pipe and both the back and sidewalls. First is the back wall clearance or the measure of the back wall, which could range between 10 to 14 inches or 25 to 36 centimeters depending on the model and brand of your toilet.
The second point of consideration is the distance of the sides which should be at least 15 inches or 38 centimeters. If the walls are exposed, see that it would measure to be 15 5/8 inches, with the extra 5/8 being the waterproof drywall.
The third point goes hand in hand; there are 24 inches or 61 centimeters of free space adjacent to the toilet and at least 30 to 32 inches or 76 to 81 centimeters of distance from the toilet's center line to any fixture like the sink or a cabinet.
ADA Toilet Room Dimensions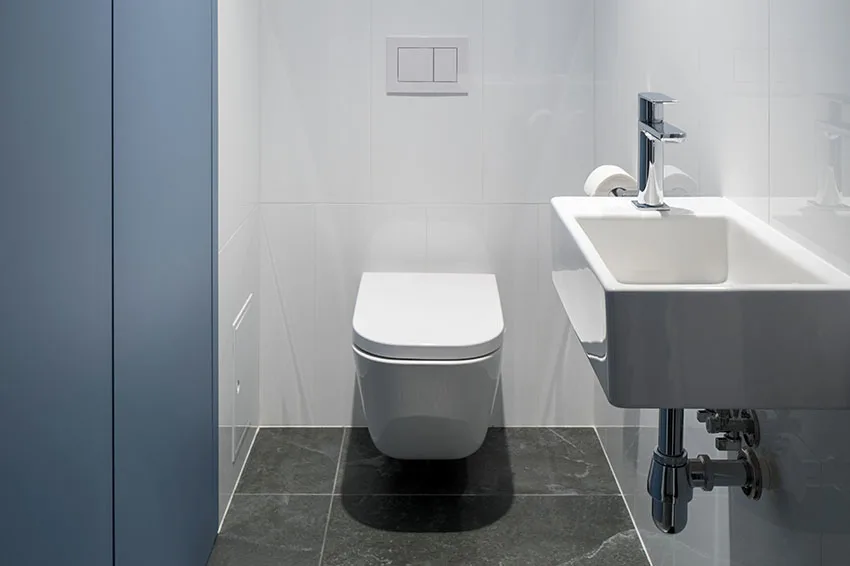 The least expensive thing to do to ensure that your toilet room is up to the Americans with Disabilities Act is to consult the guidelines itself. To make it easier for you, here are the key dimensions you need to take note of.
For a toilet with a shower, ADA requires the minimum size of 54 square feet, while that would decrease to 37.5 square feet if a shower is not included.
For both, you would need to allow a minimum of 60 inches 152 centimeters in diameter for turning space if the person utilizing the lavatory is using a wheelchair. This space will allow for an easy 180-degree turn.
For the toilet, make sure that the toilet is installed with a maximum space of 16 to 18 inches or 41 to 46 centimeters away from the side wall and not an inch more.
This space is measured from the middle part of the toilet to the connecting sidewall. This will allow the toilet user to easily hold onto the grab bars installed on that particular side of the wall.
Toilet Room Dimensions with Pocket Door
A 36 by 72 inches or 91 by 183 centimeters would be perfect for a toilet room with a pocket door. Keep the toilet on one side with enough space to account for the different building codes requirements. This size would also allow for a full swing door if you wanted to.
For more related content visit our bathtub sizes guide here.