In this wet bar backsplash ideas guide we share the different material options using tile, quartz, wood, brick, mirror, and unique home bar backsplash designs.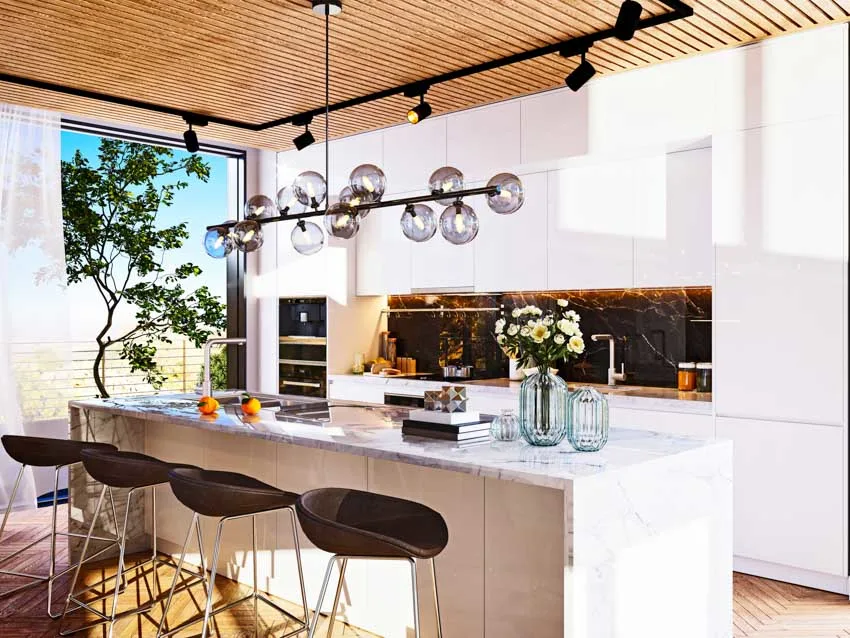 If you want to spruce up your wet bar, installing a backsplash is a good option to consider. A wet bar backsplash can be made from wood, tiles, quartz, natural stone and other strong materials with a variety of designs and styles.
Many of the types of backsplash materials found work equally well for countertops. If you are looking for ideas to apply to your home bar, here are some examples for inspiration.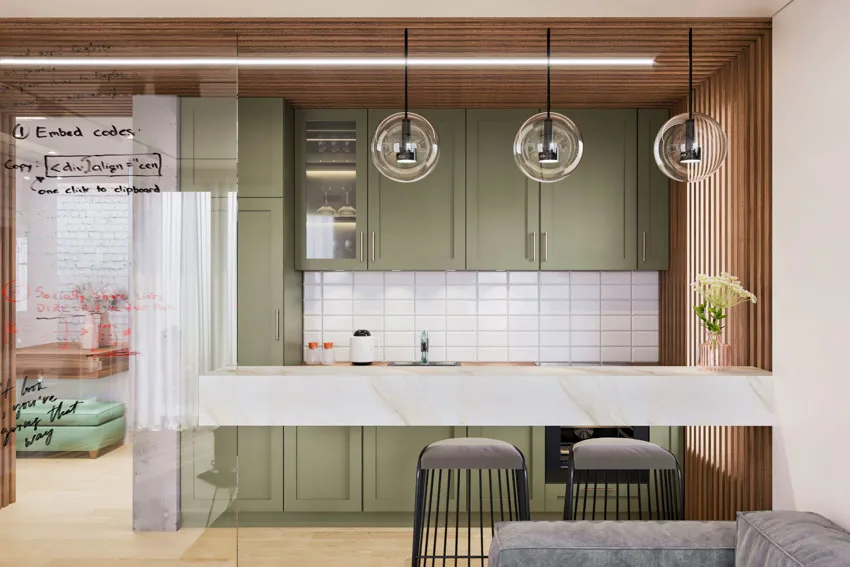 In this open concept design, the white wet bar backsplash is made from porcelain tiles and supported by a quartz countertop.
Both the countertop and backsplash are white and offer a clean look to the kitchen, which easily match the olive green cabinets. Wine glasses are easily accessible from the hanging cabinets above the backsplash.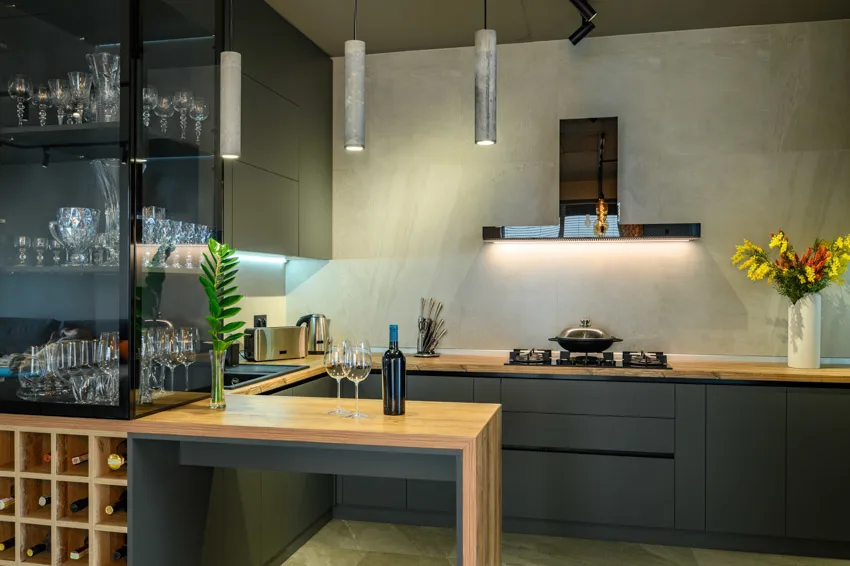 This luxury loft features a modern dark gray kitchen with a wet bar backsplash and a wooden crate where wines are kept orderly yet accessible anytime needed.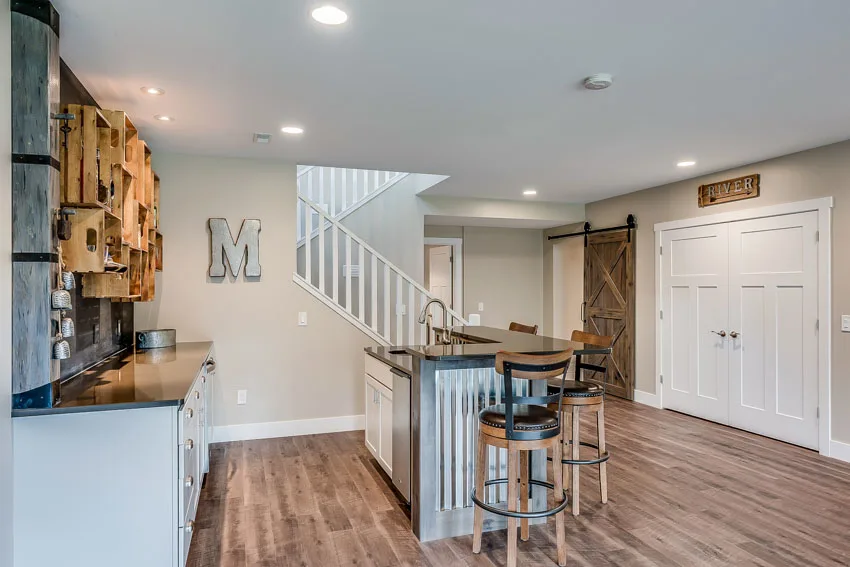 This luxurious wet bar backsplash features a wooden hanging shelf that houses liquor and glasses for easy access.
The backsplash is in a dark gray stained wood color that looks good with the wooden flooring and corrugated steel siding bar design. It also matches the kitchen's black quartz countertop.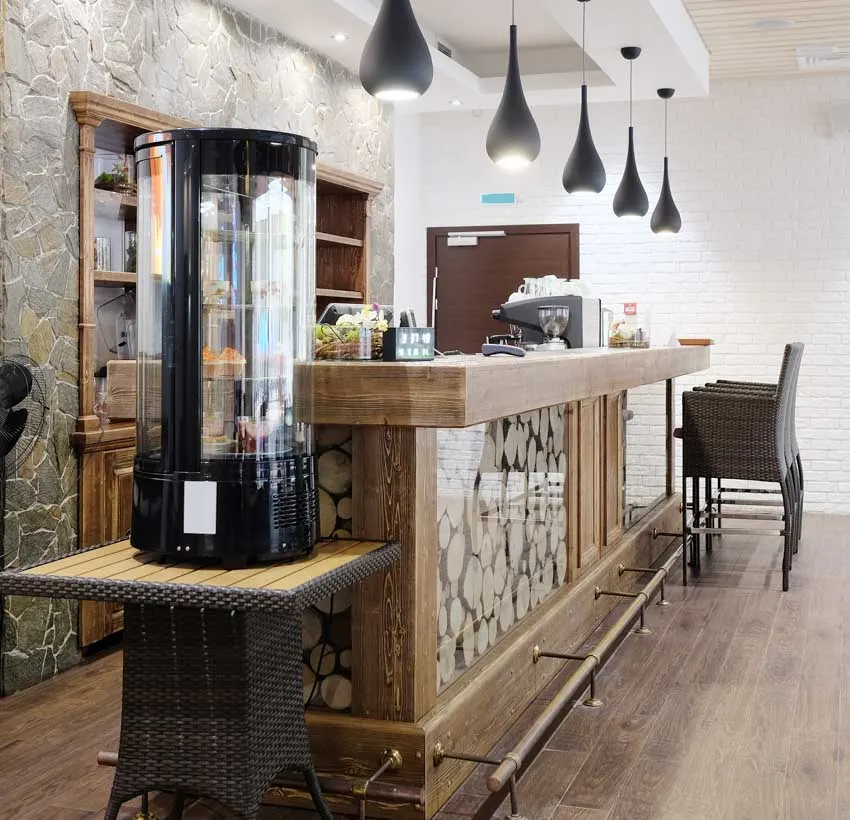 This luxurious wet bar backsplash is made of faux stone surround, including a large wood cabinet that stretches from the floor up to almost the ceiling. The large dark brown wooden cabinet houses liquor and wine glasses that act as a storage.
This minimalist kitchenette features a simple wet bar backsplash, where the 4″ backsplash is made from granite and the bar is contained in the small round tray where the liquor, glasses, and ice are organized.
Tile Backsplash
Tile is affordable and convenient to use as a backsplash. Backsplash tile is often made from ceramic or porcelain. It is an affordable and durable solution for backsplash that is available in many different styles. If you want to install a tile backsplash in your own kitchen, here are several inspirations to imitate if you want.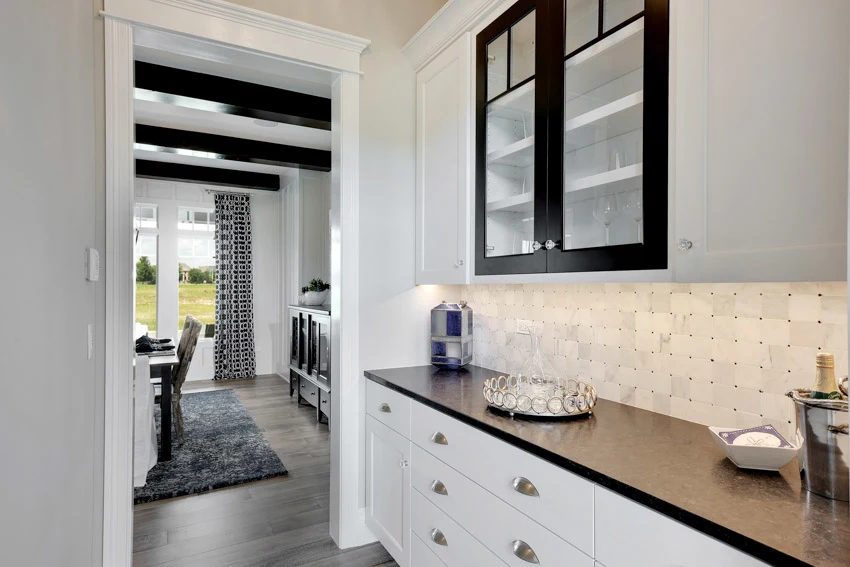 This white kitchen has a modern look that's supported by its white cabinets and black accents. The tile backsplash has white and gray colors that match the white cabinets where the wine glasses are clearly seen.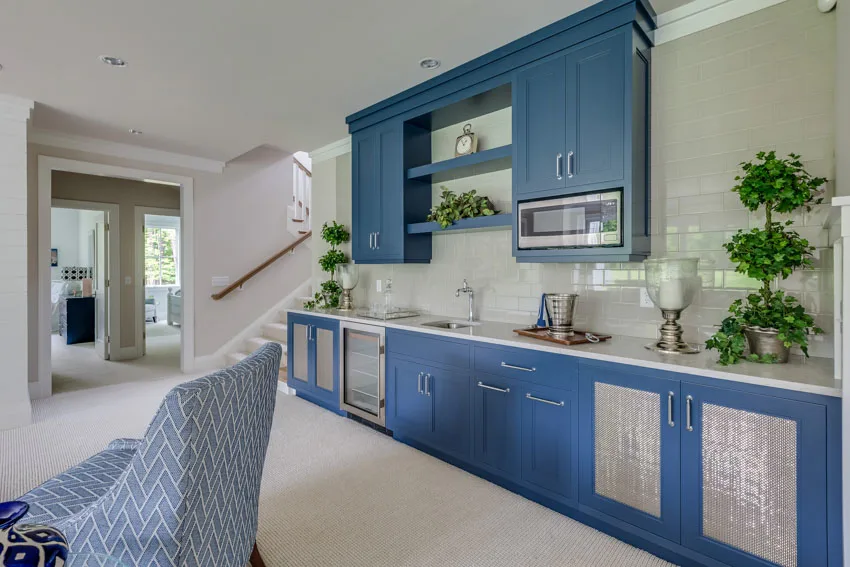 This cool and refreshing kitchen has a blue and white concept that applies even to its wet bar backsplash. It has a white tile backsplash that runs as long as the countertop and a blue hanging cabinet where the drink is easy to access.
This elegant wet bar backsplash sports a diamond-pattern tile backsplash and a wooden hanging kitchen cabinet. Wine glasses are kept neatly hanging upside down in the cabinet, along with the wines in their own little pockets.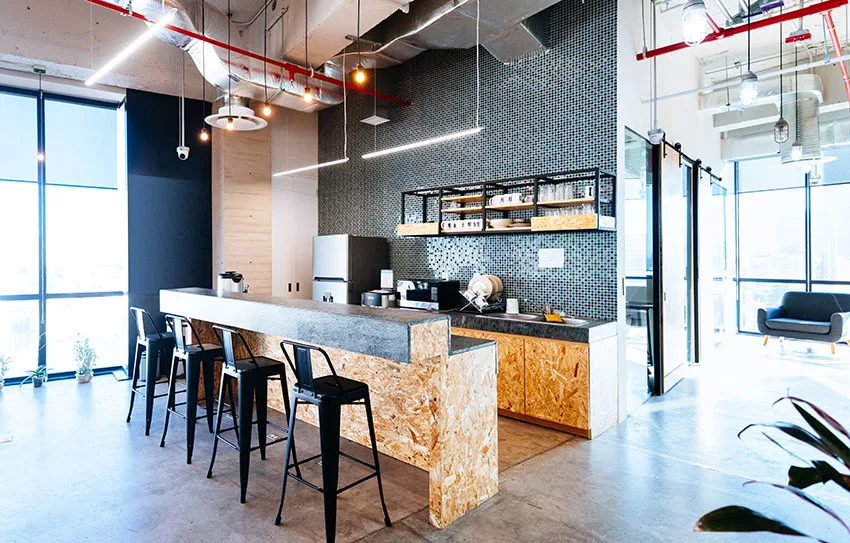 This office space is equipped with a rustic plywood wet bar with a mosaic tile backsplash wall. The large wall of mosaics acts as an accent wall design providing visual interest and an interesting backdrop.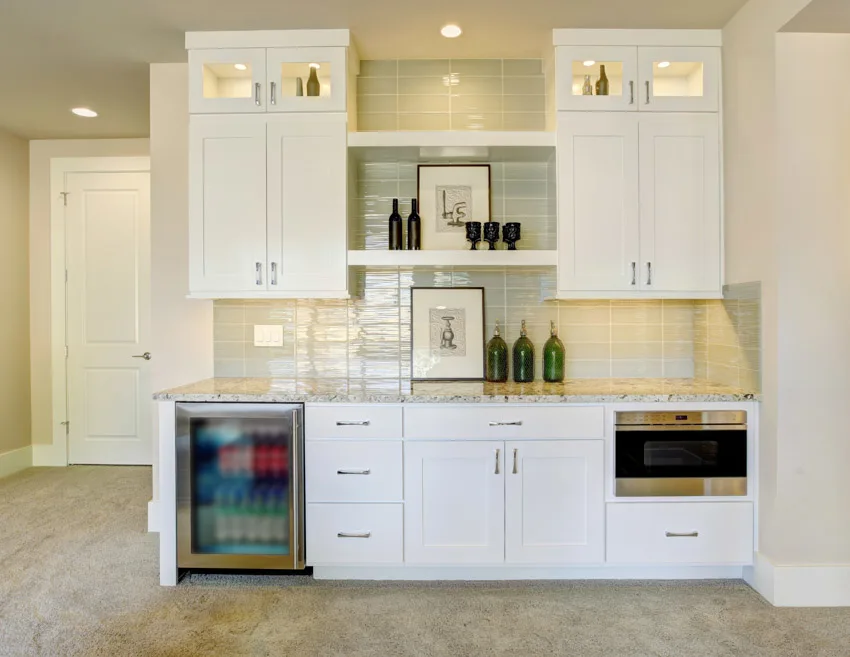 The wet bar backsplash made from porcelain in this white kitchen has tile backsplash and white cabinets where liquor and glasses are displayed neatly on the hanging cabinet and a glass door beverage fridge located below the granite countertop.
The wet bar backsplash in this chic space features a glass subway tile kitchen backsplash and a wet bar nook in the hanging shelf located in the middle of the white cabinets.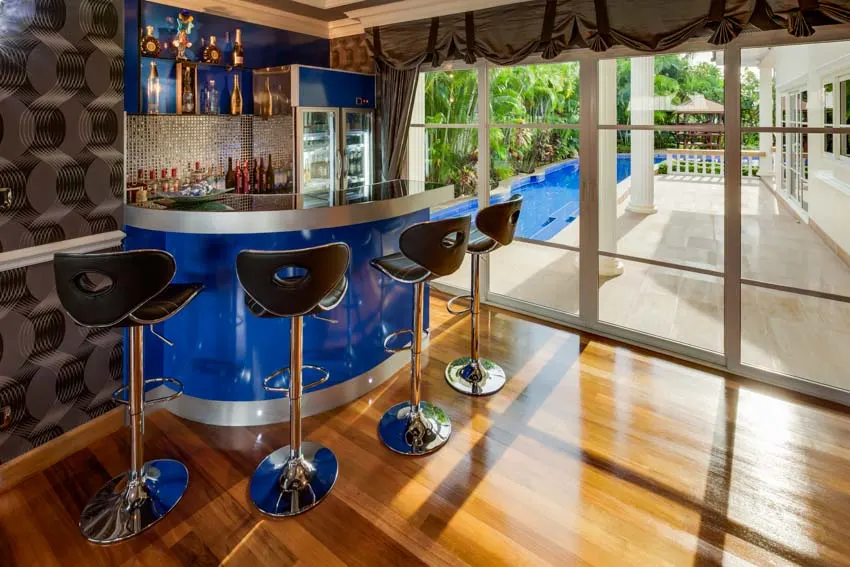 This flashy wet bar backsplash sports a tiled backsplash and a counter full of liquor and glasses you can use for a good time. The blue countertop and shelves stand out due to their bright blue color.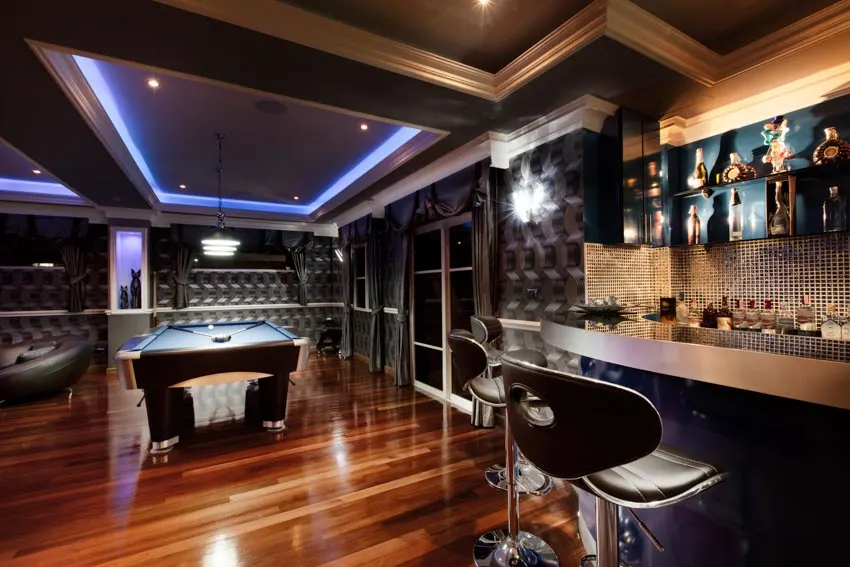 This modern man cave design wet bar has a tile backsplash and a black hanging shelf filled with bottles of liquor displayed with the hanging light that emphasizes them.
In addition to that, the black square mosaic tiled backsplash also adds texture to the entire look.
Quartz Backsplash
Quartz is another material usually used to create a sturdy backsplash. It is actually an engineered material that is generally made from 93% quartz mineral aggregates combined with 7% resins, polymers, pigmentation and fillers. This combination creates a beautiful backsplash material that resembles real natural stone. See our gallery of quartz kitchen backsplash ideas here.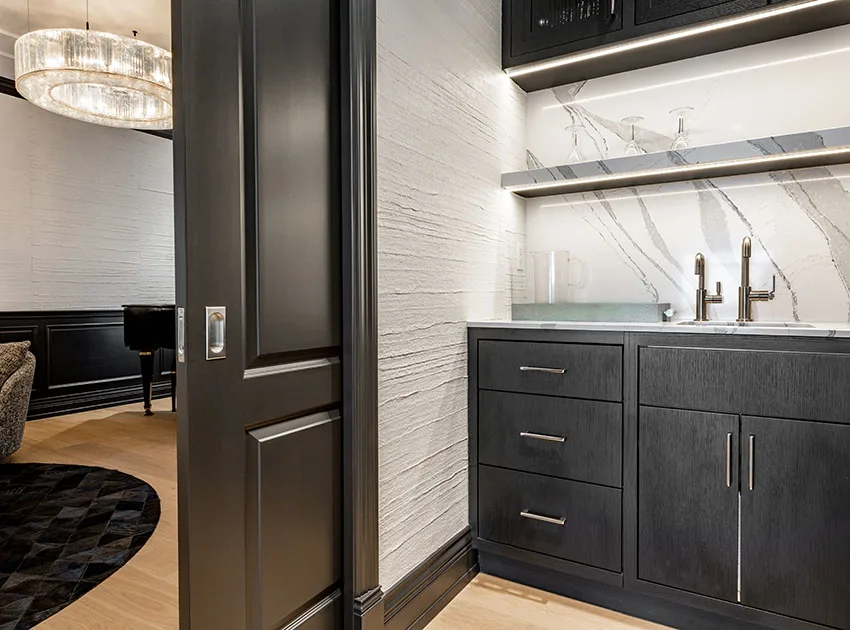 This hallway wet bar features a beautiful quartz backsplash wall and countertops above dark cabinetry and light wood flooring. A sliding pocket door separates the home bar from the living room creating a discrete area for mixing drinks and meal preparation.
Glass Backsplash
A glass backsplash is a good material to use since it is sanitary, durable and stain resistant. They offer different shades of color to match practically any style of cabinet or design style. the lack or grout or seams make them easy to clean and maintain.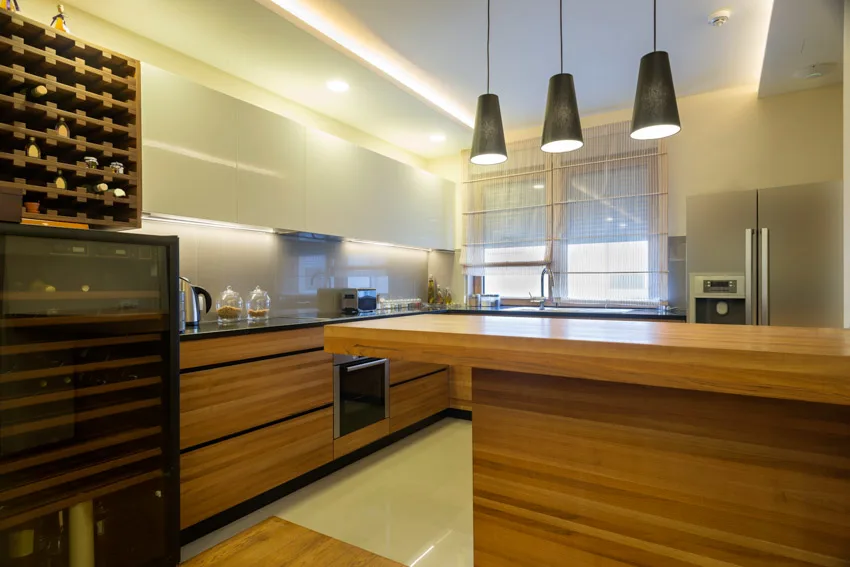 The glass backsplash kitchen looks wonderful surrounded by all the wooden elements, from countertops to bamboo cabinets. Bottles are kept neatly in their own wine cooler storage near the countertops and hanging cabinets.
Wood Backsplash
Wood is a flexible and affordable material that can be used in renovation, from countertops to backsplash. Here are some wood backsplash ideas you can try for your home.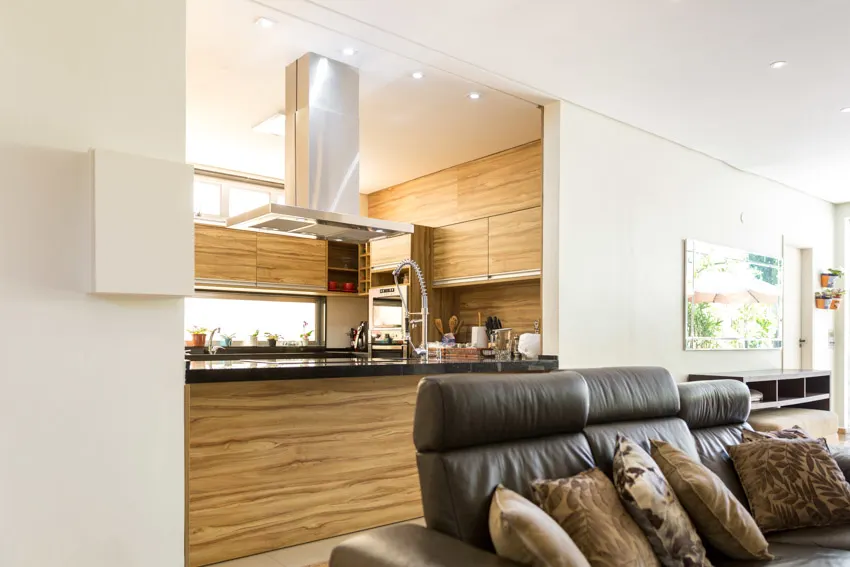 This wet bar backsplash is made from wood, from its countertops to its hanging cabinets. Its light brown color makes the interior look homey and clean.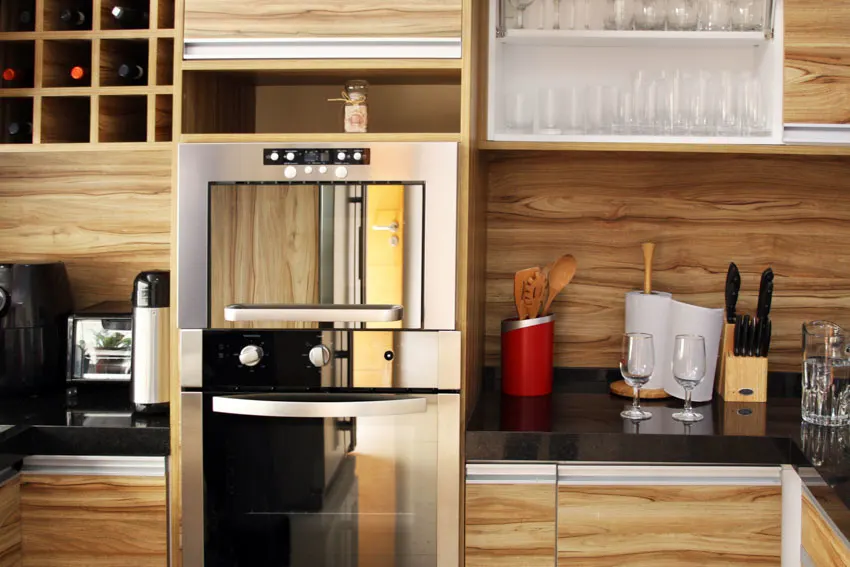 This wooden kitchen has a wooden wet bar backsplash that matches all of the kitchen cabinets. Wines and glasses are arranged neatly on the hanging cabinets in their own respective places.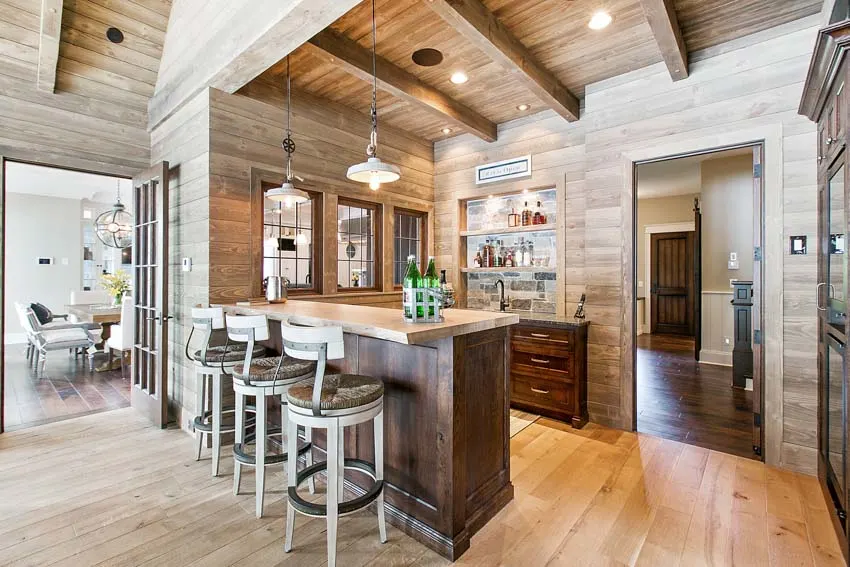 This luxurious wet bar backsplash is made from wood and has an organized shelf installed for liquor keep. The entire bar matches the wooden theme of the entire room, from the flooring to the walls and the ceiling.
The huge space screams luxury but the use of wood and the stools somehow showcase a rustic and a more homey appeal.
Dark Shade Bar Backsplash
A dark-colored shade for a bar backsplash gives it a certain mysterious appeal that looks in-theme and perfect for the room. Here is an idea of a dark shade bar backsplash you can do for your home.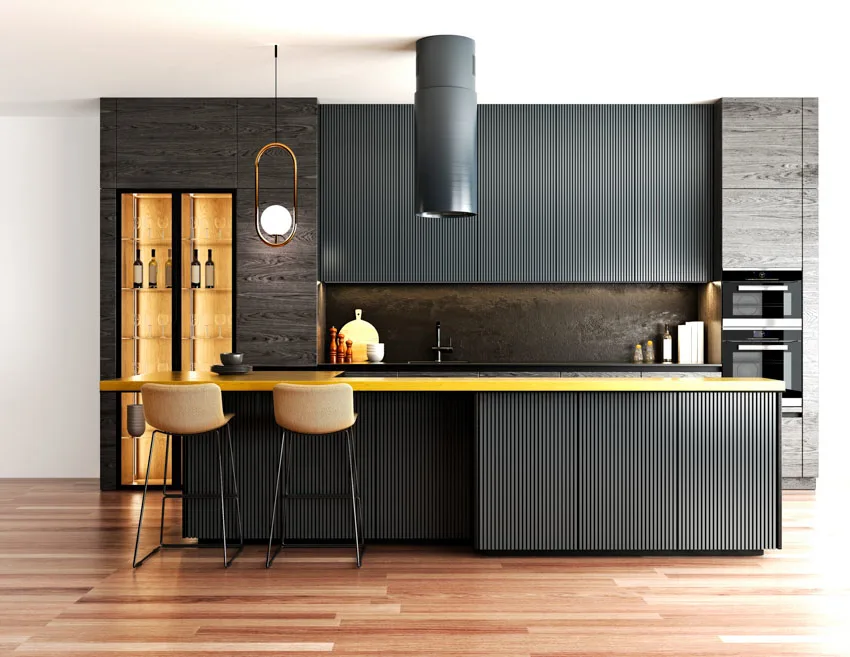 This all-black bar shows a dark shade wet bar countertop that's a bit lighter than the standard black color.
It matches the look of the entire bar and the liquor bottles look elegant in the black cabinet with glass doors and yellow lighting that emphasizes the bottles.
Brick-style Bar Backsplash
Bricks are materials that offer this rustic elegance to any room. Interested in this material for your bar?
Here are ideas that can serve as your inspiration to build a brick-style bar backsplash (Even if you don't use authentic bricks).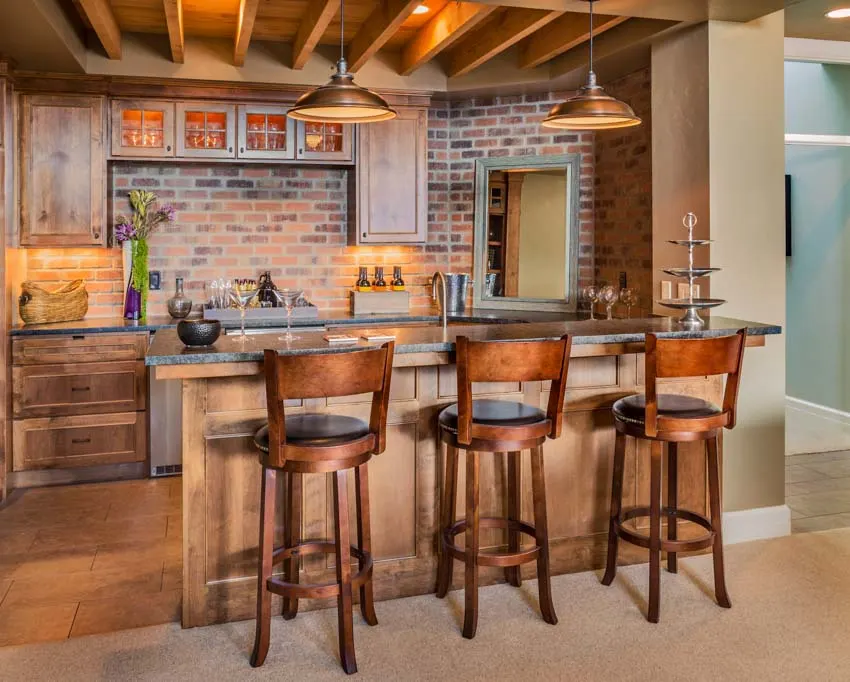 This brick-style wet bar backsplash matches the color of the wooden countertop, cabinets, drawers, and chairs. The brown color of the bricks (and all elements all around it) offer a more rustic feel to the area.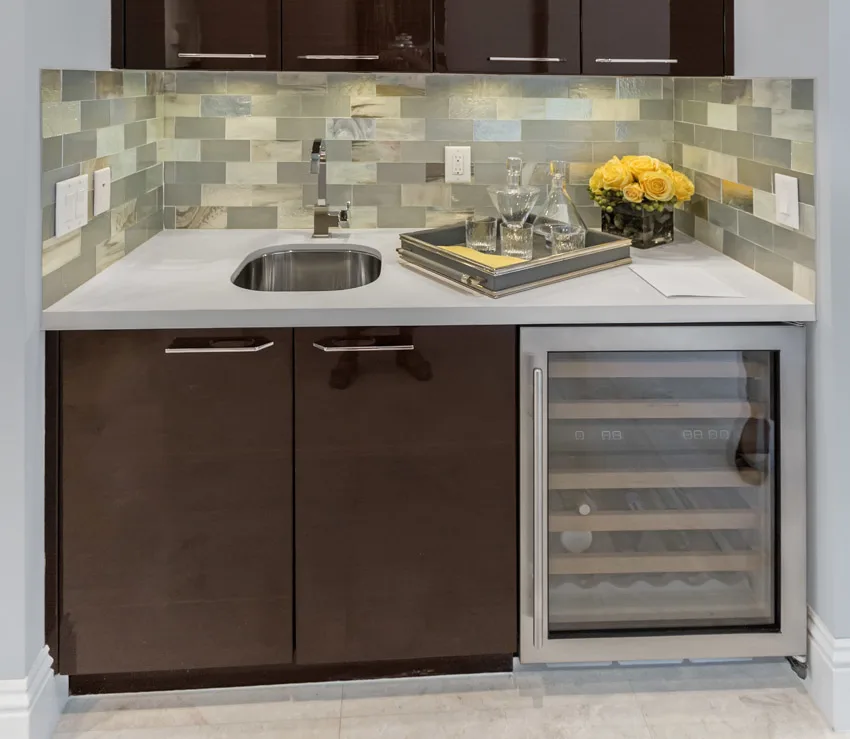 The brick-style wet bar backsplash has a light color that contrasts with the cabinets but matches seamlessly with the white countertop.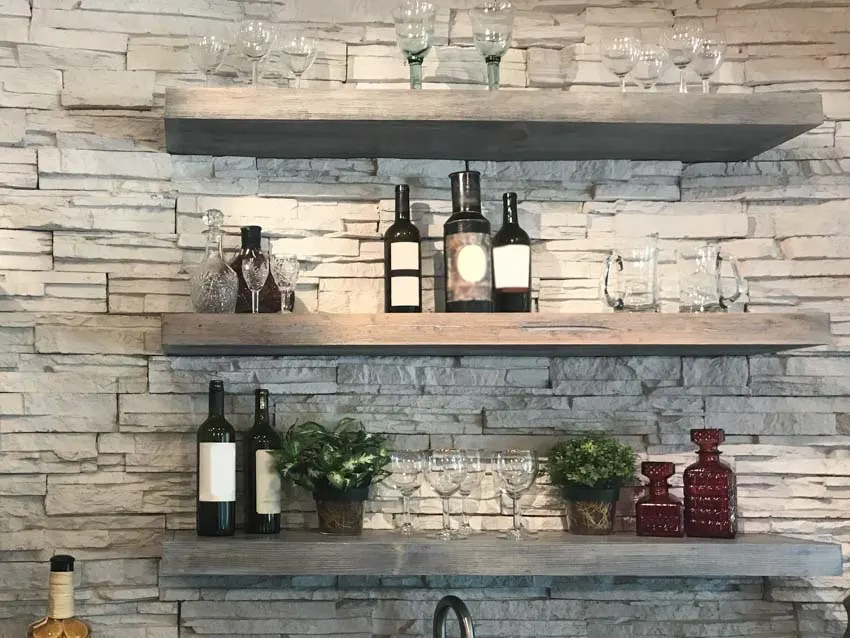 This bar backsplash has a brick-style design with a color and material that match the hanging shelves attached to it, where the glasses and liquor bottles are displayed neatly and creatively, along with the small indoor plants.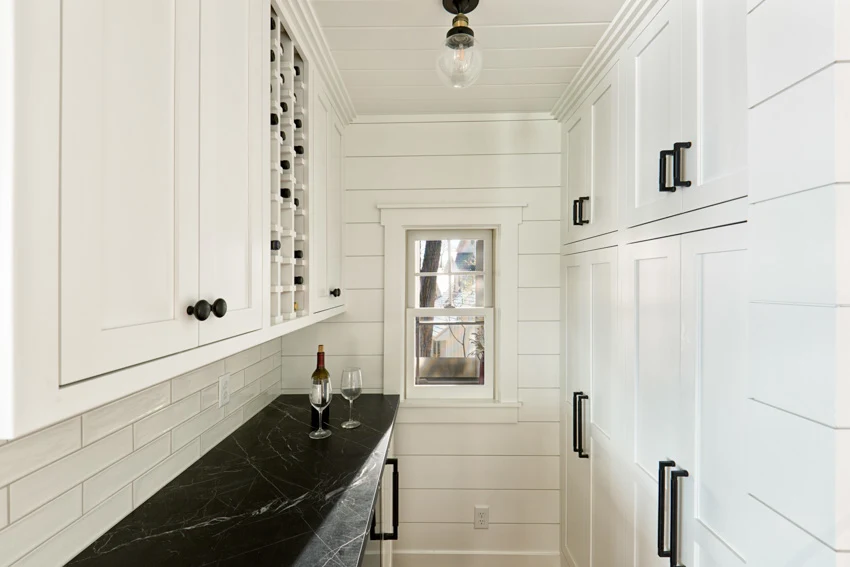 This black and white kitchen pantry with bar has a white brick-style backsplash and it features a wine storage cabinet, a black solid countertop, and storage.
Wet Bar With Mirror Backsplash
Going for a mirror backsplash for your wet bar is something unique and new. If you want an idea of how you can apply it to your home, here are some examples to try out.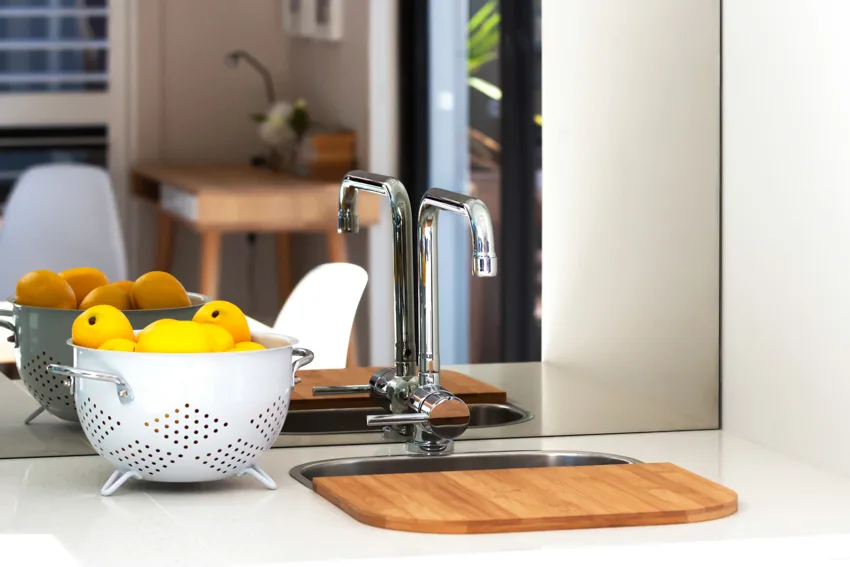 This simple mirror backsplash fits perfectly in this minimalist stainless kitchen with its kitchen sink and faucet. It is complete with a bowl of lemons and a chopping board.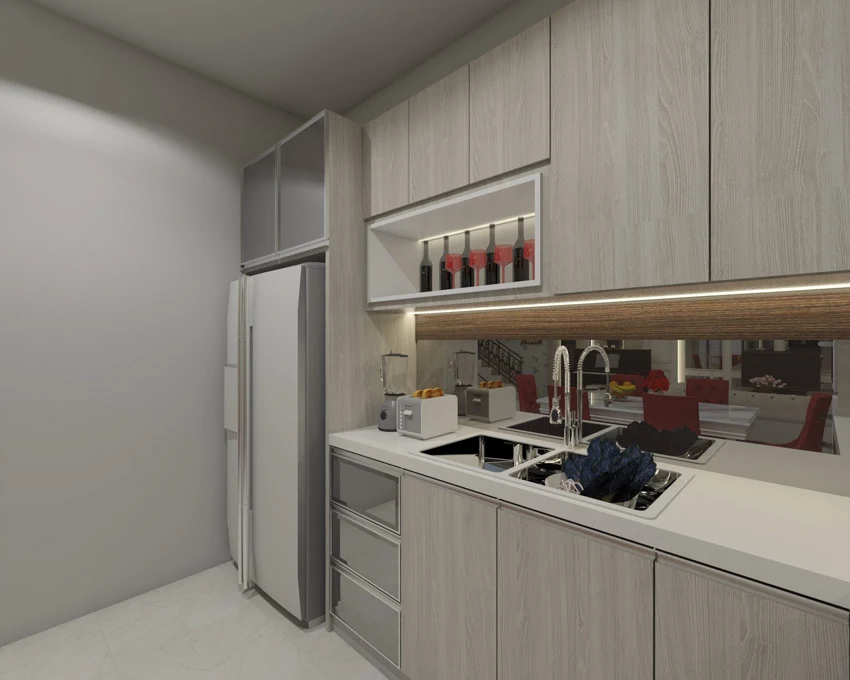 This minimalist kitchen is designed with a wooden cabinet and white solid surface countertops. It also has a gray wet bar mirror backsplash that makes the kitchen more interesting, as well as its lighting decor for more appeal.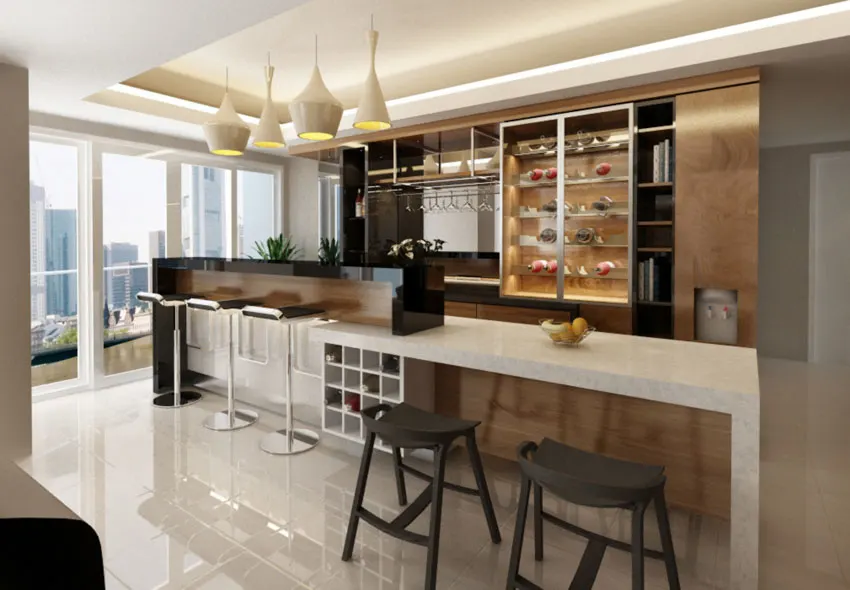 This modern kitchen has a minibar interior design with a mirror wet bar backsplash that adds to the modern look of the room. The backsplash matches the glass doors of the hanging cabinets installed in the kitchen.
Unique Bar Backsplash
If you are looking for something unique for your kitchen, you can get as creative as you can. If want to have it easier, here are ideas for a unique bar backsplash.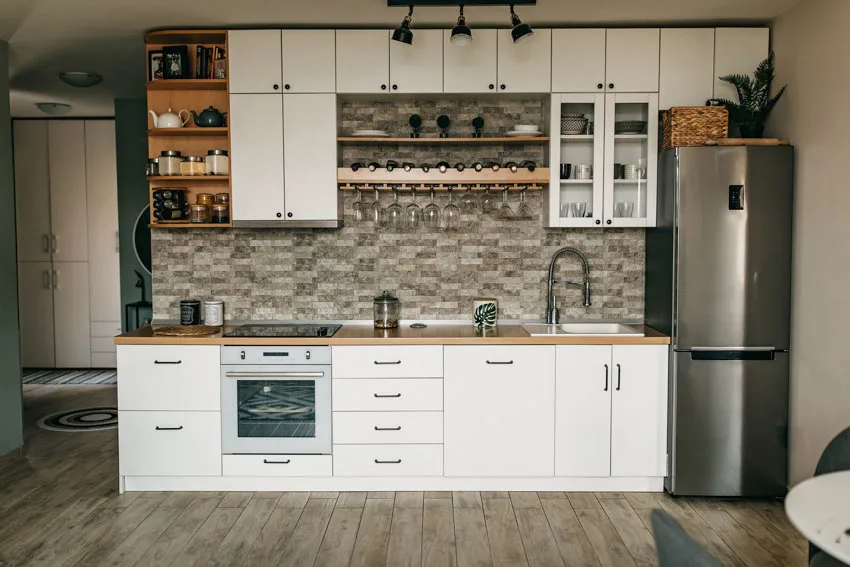 This domestic kitchen has an elegant wet bar backsplash bordered by white wooden cabinets and drawers. Wine glasses are arranged upside down in the middle part of the hanging cabinet, both for easier access and display.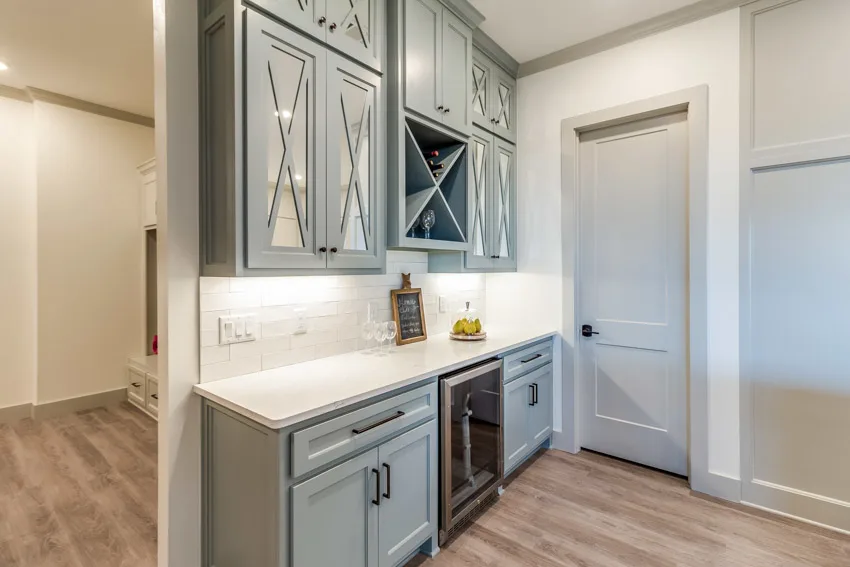 This simple kitchenette has an elegant white wavy tile backsplash and a hanging gray cabinet where the wine glasses and liquor are kept. The gray cabinets have a modern design with a color that matches the kitchen's base cabinets and doors.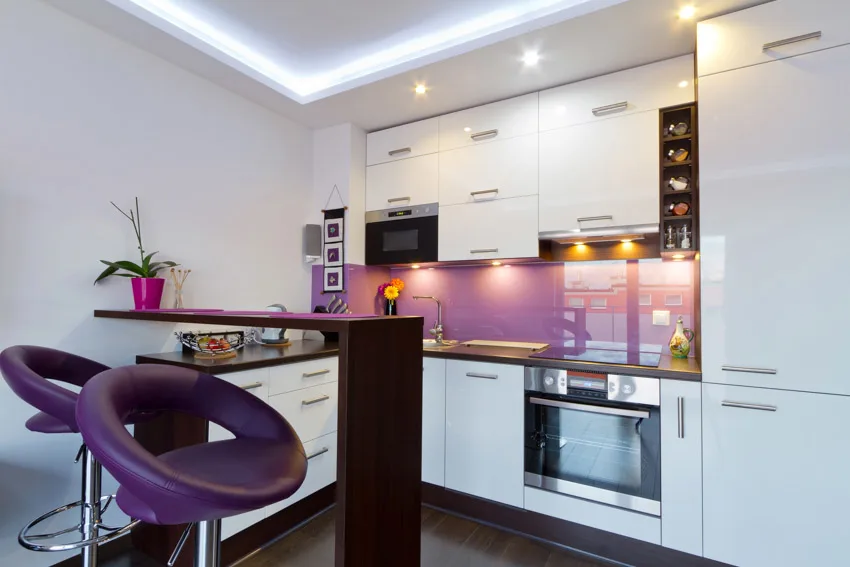 If you want some colors in your wet bar, try out this purple backsplash and match it with white kitchen cabinets and drawers.
The purple backsplash also matches the purple stools on the black countertop, giving the room more character and sweet touch.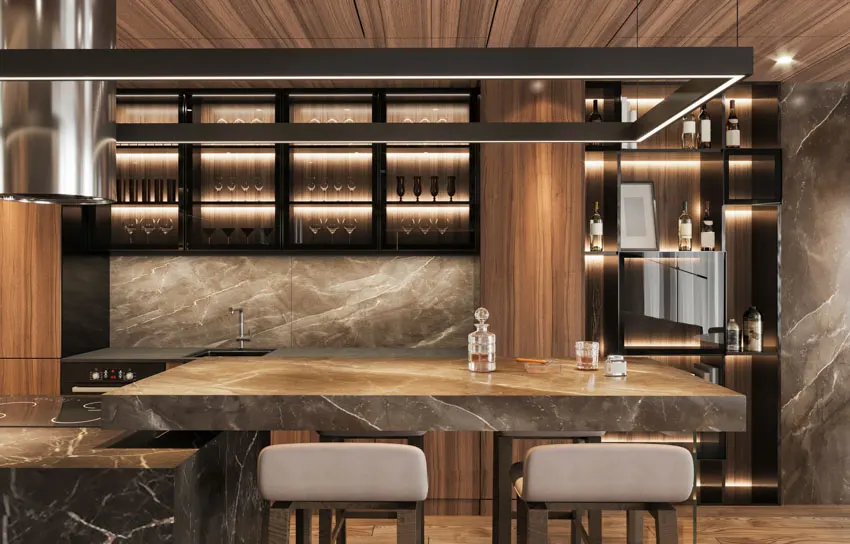 This luxury kitchen showcases an elegant interior that includes a wooden ceiling, parquet floor, kitchen countertops, black hanging cabinets with glass doors, shelves, and marble tables and backsplash.
The light color of the marble material contrasts with the black color of the cabinets and shelves, where the liquor bottles are out on display.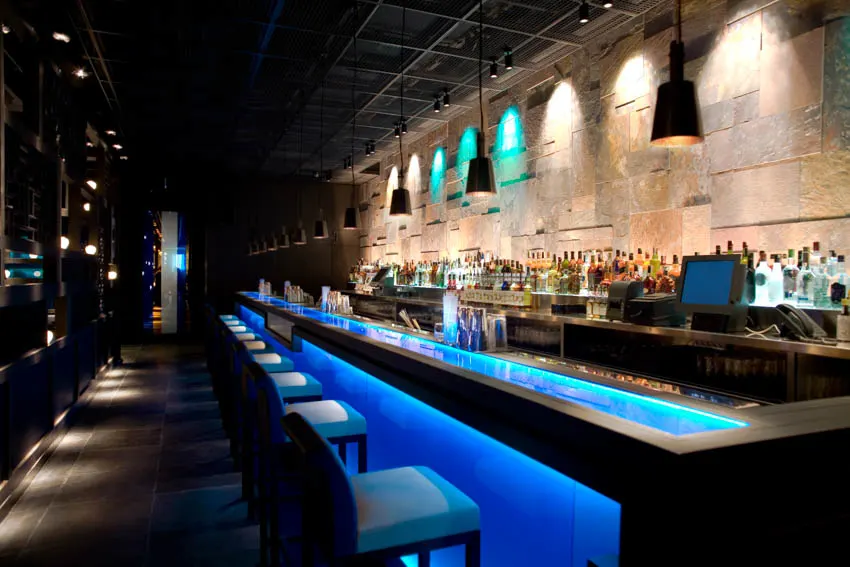 This modern and extravagant bar features a stone backsplash that stands out due to the creative lighting all over the wet bar.
All bottles are neatly organized out in the open on top of the countertops and the handing lights emphasize them. The blue lighting in the countertops also stands out.
​​See more related content in our article about backsplash to ceiling on this page.