Here's our guide to kitchen mirror backsplash pros and cons including popular types to help find the best design for your home.

When looking to change the appearance and enhance the value of a home, a mirror backsplash in the kitchen is a smart choice at the top of any home improvement list.
As a way to add new personality, style, and energy to one of the most important rooms in the house, mirror backsplash is a creative and enhancing addition.
Design types of mirror backsplash range from traditional to the more modern and cutting edge. However, when choosing a kitchen mirror backsplash, consider the design theme of the kitchen so the backsplash adds to rather than detracts from the appearance of the kitchen.
What is Mirror Tile Backsplash?
Kitchen backsplash has its humble beginning as a practical way to control stovetop spills and splashes making clean up afterward easier.
The original backsplashes covered only the wall behind cooking surfaces such as stoves and ovens. Backsplashes were often no more than 4-inches tall and made of materials such as various tiles, brick, or stone. See examples of 4 inch backsplash here.
Over time, backsplashes expanded to cover more kitchen surface areas including walls and cabinets. With the expansion, more thought was put into the look of the kitchen as well as the types of backsplash materials.
Mirror tile backsplash was introduced in the '70s and combines the benefits of splash control and surface material that adds light and dimension to the look of a kitchen.
Mirror backsplash is not the typical mirror product you find in a bathroom. It has a bit of a tint, either smoky or silvery, to give it character.
Mirror tile backsplash is often a safety glass treated and toughened to withstand heat from stoves and ovens. If broken, the mirror tiles crumble into small pieces instead of turning into sharp, jagged shards.
Modern mirror tile often also comes as a peel and stick backsplash that can make it easier to install.
Types of Mirror Tile Backsplash for the Kitchen
There are several types of mirror backsplash designs for homeowners to choose from. Depending upon the choice of style and design selected, a mirror backsplash can change the look of the kitchen and open up the space. Here are some of the most popular backsplash choices today.
Antique Mirror Tile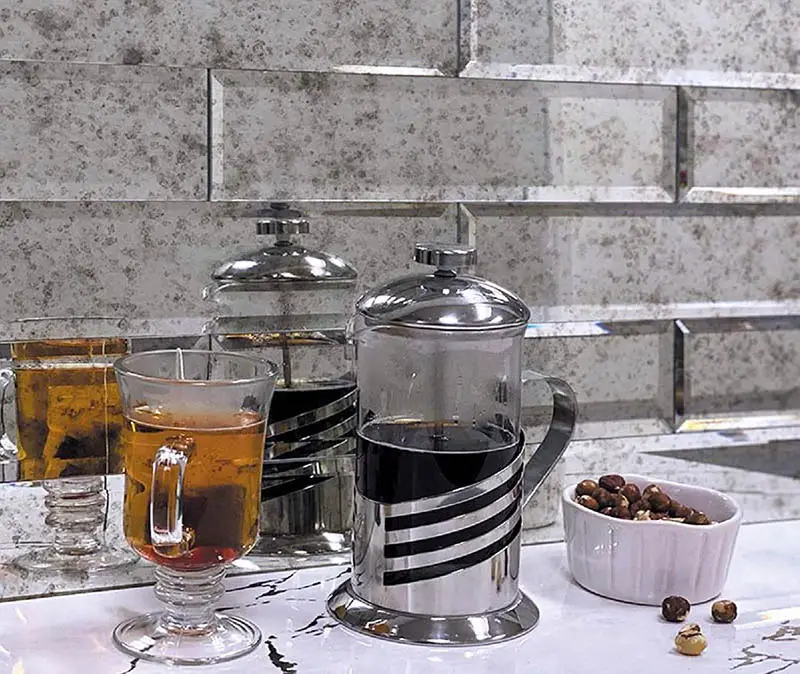 A design made with a treated mirror tile that is aged to look antique with vintage character. This creates a subtle and subdued look that reflects less light for a classic or traditional room feel.
Diagonal Mirror Tile
Another popular and classic look is to place mirror tile panels diagonally to create the backsplash. Small or large-sized tile gives additional options on the design and looks depending upon the shape and surface area of the kitchen.
Mosaic Mirror Tile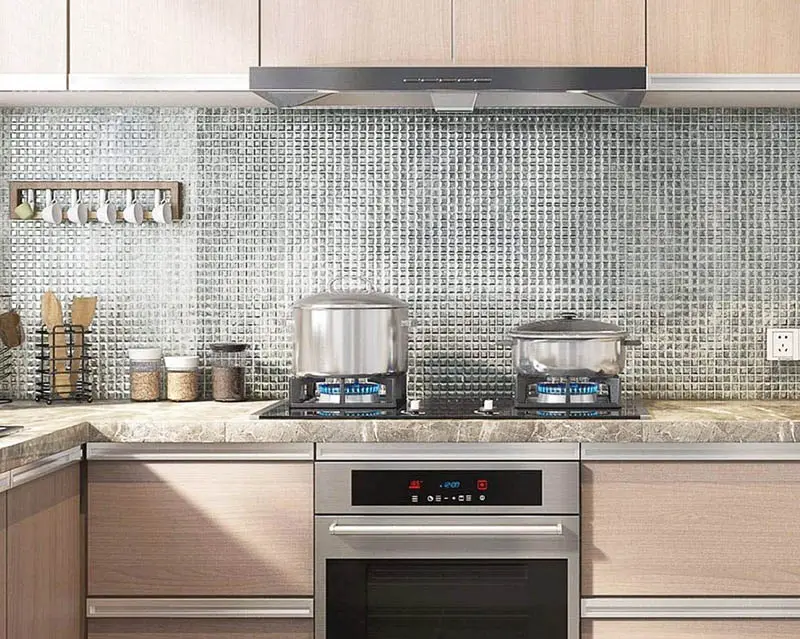 A mosaic design takes advantage of small mirror tiles that create an intense and complex backsplash expression. This type of backsplash combines tile design and placement for a modern look.
Subway Mirror Tile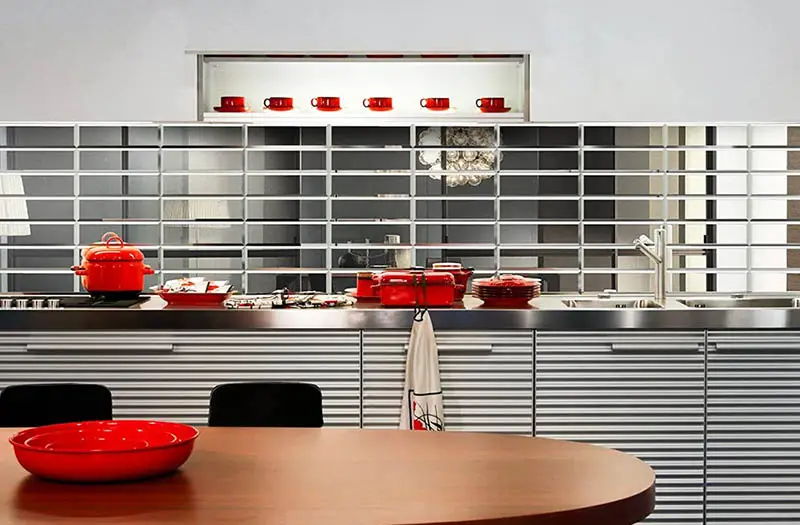 A subway mirror tile, with its rectangle shape and beveled edges, attracts and draws attention focused on the unique design and display of the backsplash. See more types of subway tile kitchen backsplash here.
The desired design goal ultimately determines what type of mirror tile backsplash best serves the look of the kitchen. You may also consider metal kitchen backsplash for its reflectivity.
Kitchen Mirror Tile Backsplash Pros
While there are many choices to consider in backsplash materials, mirror tile backsplash remains a top choice by design professionals and do-it-yourself homeowners for many reasons.
• Mirror tile reflection enhances the perceived size of a kitchen while showcasing kitchen fixtures and appliances
• Mirror tile increases the amount of reflected light and visibility from fixtures and natural light
• Mirror tile highlights splash and stain visibility for easier cleanup
• It works as a protective surface that is resistant to spills, stains, and dirt
• Installing a kitchen tile backsplash is an easy do-it-yourself home project
Kitchen Mirror Tile Backsplash Cons
Mirror tile reflects everything and could cause the look to be chaotic. There are other cons to mirror tile backsplash.
• Surface splashes and spills become more visible and obvious and can be reflected
• Tile not properly installed can lead to moisture weakening the tile adhesive and falling off
• Depending on the design, mirror tile backsplash may require sacrificing counter space
• Kitchen mirror backsplash is less resistant to bangs, scrapes, and sharp edges
• Kitchen mirror tile backsplash requires regular cleaning to maintain its look
Using mirror tile backsplash in a kitchen is gaining popularity but may look different once it's installed.
When planning to use mirror tile for backsplash in a kitchen, it's helpful to consider the size of the kitchen, how much light it gets, and if the counters have numerous appliances and cooking items on them.
Coming back into style, mirror tile backsplash is a great refresher for any kitchen. Visit this page to see more pictures of kitchen backsplash designs.