Here's our guide to the popular types of sunrooms including conservatory, enclosed porches, solariums, and more for your home improvement design needs and ideas.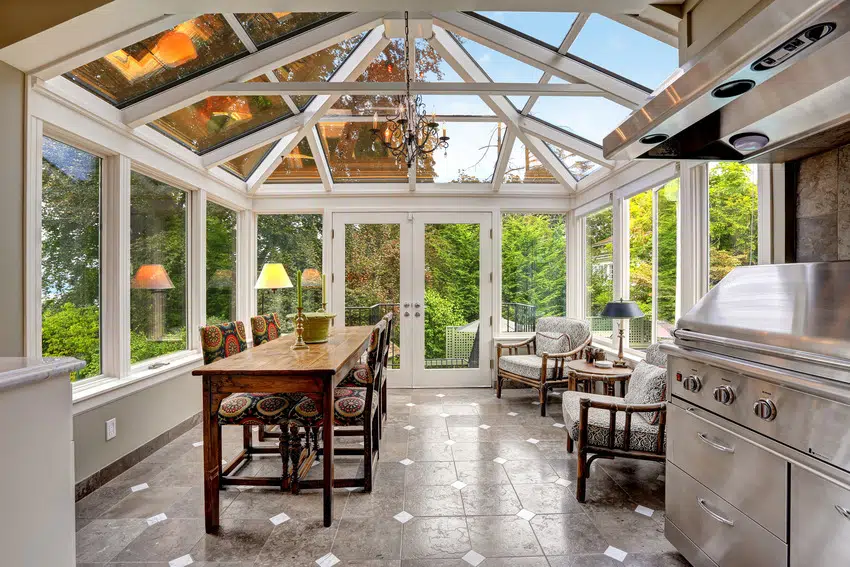 A sunroom is essentially an energy-efficient enclosed space in the house that's designed to bring in optimal sunlight, with an obstructed view of the beautiful outdoor landscape.
Sunrooms are also known as a solarium, a conservatory, a patio enclosure, a porch enclosure, and so on. It's one of the smartest home renovation projects you could ever take on.
Let's take a look at the different types of sunrooms for your home improvement needs and ideas.
Conservatory
Conservatories add an old-world charm and appeal to the home. It's usually made of glass or polycarbonate roofs and panels.
It would also be ideal if your conservatory is segmented from the rest of the house. A great way to achieve this is by building the conservatory in your garden to provide a link between your home and the outdoors.
The presence of a conservatory in the home can also drastically increase its value in the real estate market.
Gable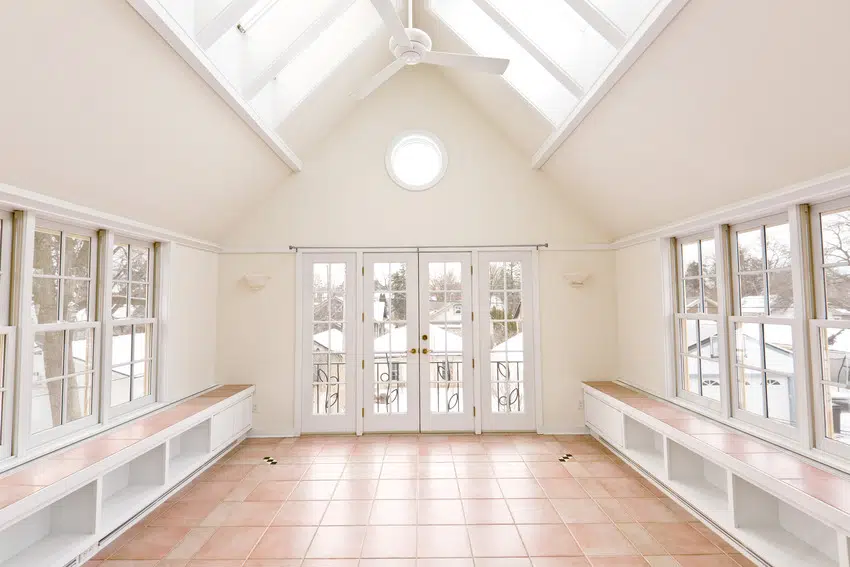 This type of sunroom takes its name mainly from its architectural style, which consists of a roof system that has a beam in the middle of the roof.
These roofs are typically sloped downward to make way for proper drainage in the event of snow and rain. They're also easily recognizable because of the pitched roof that forms an A-frame.
They're quite popular because they blend into most home interiors exceptionally well. You can also easily remove debris and eliminate water from a gable roof.
On top of that, they're timeless. If you're interested in getting a cathedral-type ceiling that has the feeling of vaulted space, then a gable sunroom is perfect for you.
Shed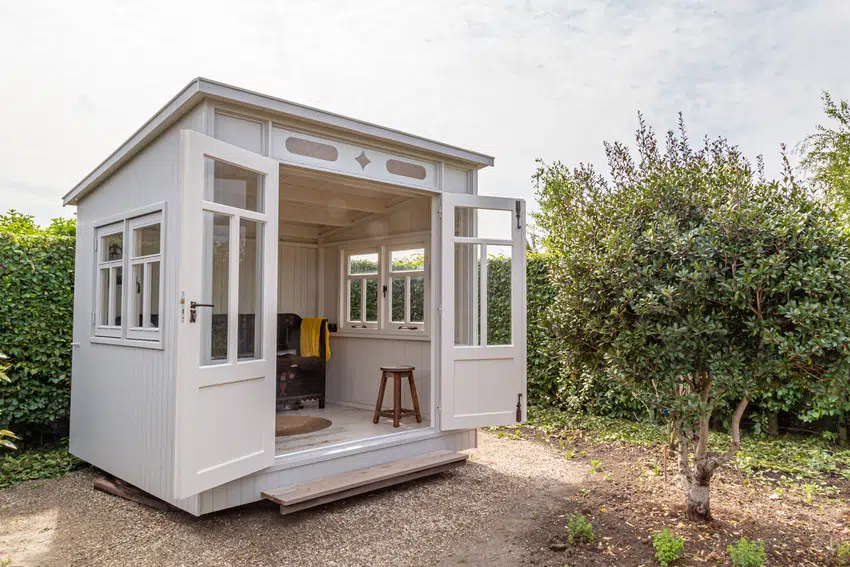 A shed-type sunroom has a roof system that's installed in a single pitch on one slope. It usually slopes away from an existing wall of the home structure, allowing proper drainage. Check out our article on the best shed design software here.
This type of sunroom is perfect for bungalow homes or homes that have fairly low existing rooflines.
Enclosed Porches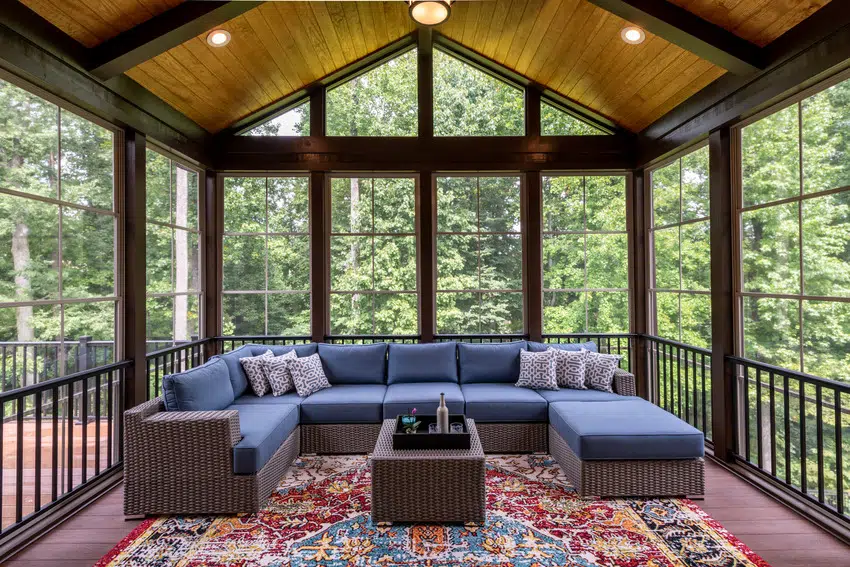 As the name suggests, an enclosed porch is basically a porch that has been constructed with certain enclosures where it can double as a sunroom. This space is usually connected to the main house's structure.
Sunrooms are typically separate structures from the house, unlike porches which are normally considered as extensions of the home. Enclosed porches basically have the best of both worlds.
Screen Rooms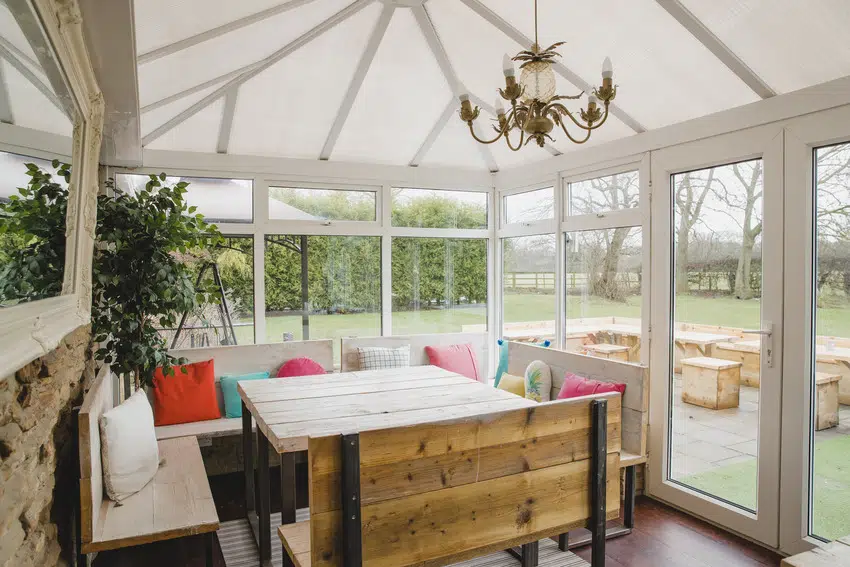 This is the perfect combination of a screened porch and a sunroom. While a sunroom is typically made of glass roofs and enclosures, a screen room uses movable screened enclosures instead.
If you happen to live in an area that tends to get humid in the summer and want to get some fresh air while also keeping the bugs away, consider screen rooms.
It's perfect when you want to enjoy the usual benefits of a sunroom while also relishing the occasional summer breeze when you feel like it.
Three Season Rooms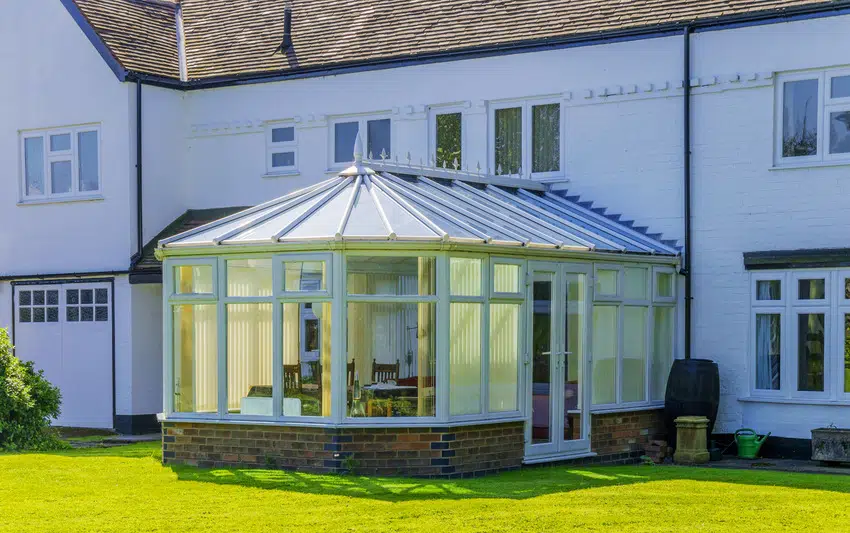 A three season room is an entirely separate room that's fully attached to the main house's structure.
They're usually recognized for their floor-to-ceiling windows and doors to fully enjoy the change of seasons—excluding winter—from the comfort of the room. Read more about our guide on the various types of windows here.
Why is winter excluded? This is because three season sunrooms are mainly built without insulation, so it's essentially incompatible with the coldest season of the year.
Four Season Rooms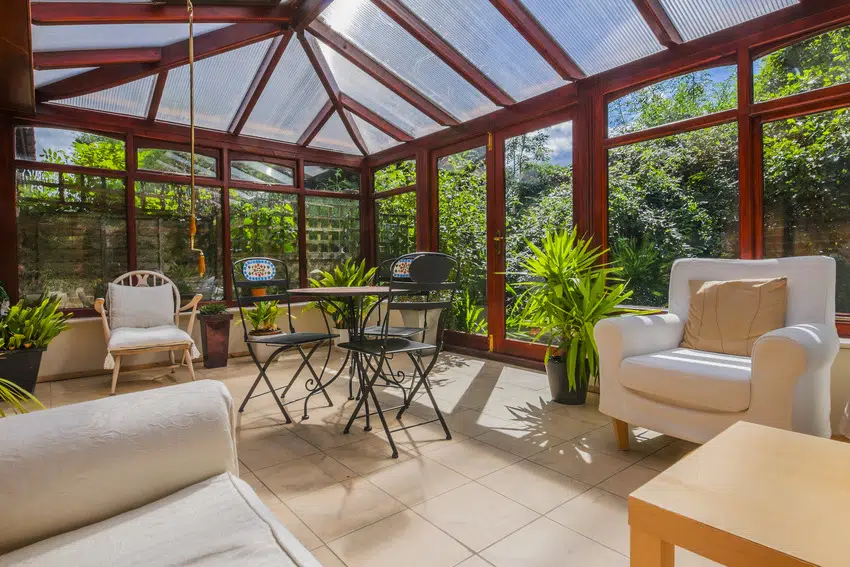 As opposed to a three season room, a four season room lets you savor the beauty of the changing seasons all year round.
But like a three season room, it's also constructed with floor-to-ceiling glass materials, allowing you an expansive view of the outdoors.
It's usually made of materials that have been thermally engineered, meaning it can withstand extreme heat or cold throughout the year.
It holds an advantage over traditional sunrooms because of its excellent insulation properties. You can remain fresh and cool in the scorching heat of summer days and stay comfortably warm during the cold winter months. See more pictures of four season sunrooms here.

Traditional Sunroom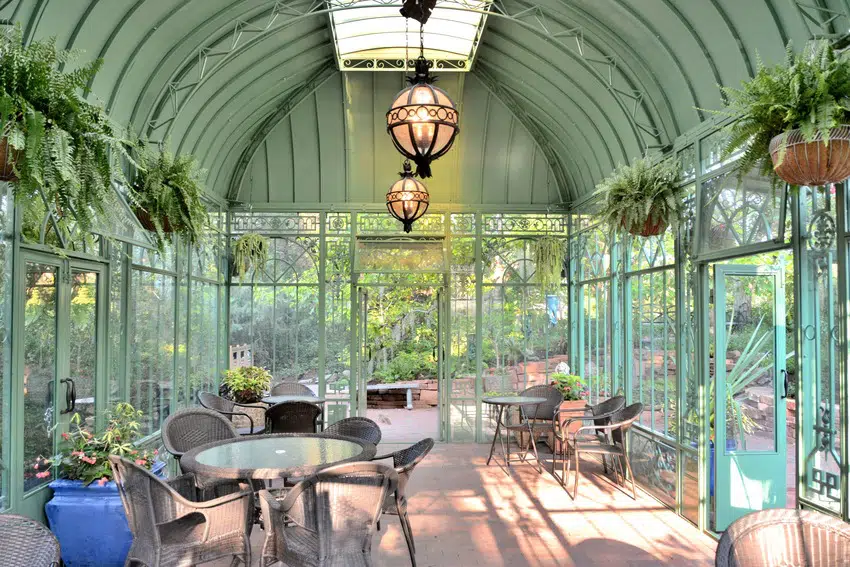 A traditional sunroom is in essence a multipurpose space. It's usually constructed in an area of the house that's exposed to direct sunlight.
In simple terms, it's a living space enclosed with glass that serves as an extension of the home. Although remodels could mean that you're just attaching it to a side of the house, it still has access to the rest of the building from the inside.
These types often have sunroom flooring that continues through from the main house along with other finishes to create a cohesive design.
The best way of defining a traditional sunroom is that it lets you bring the outdoors and the beauty of nature into the room, making you feel like a part of it.
Solarium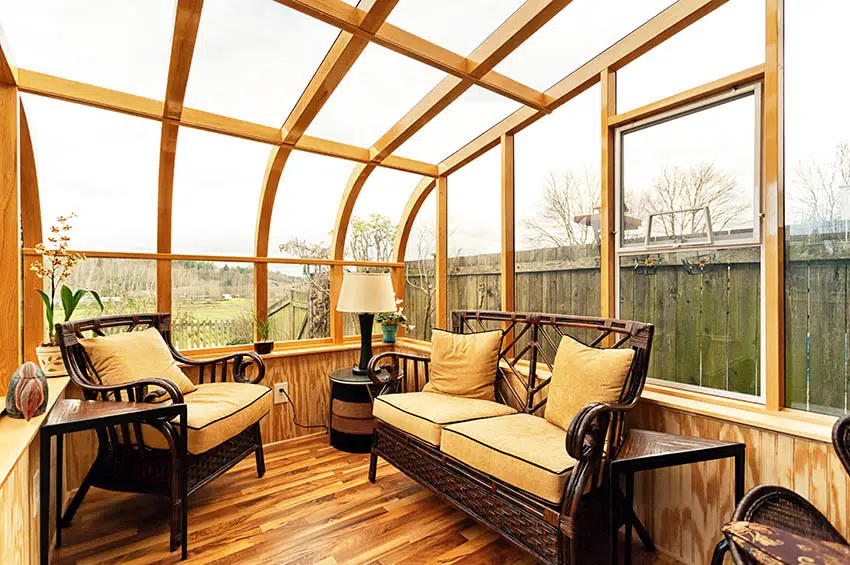 A solarium is made entirely of glass—from walls to roofs—compared to the other types of sunrooms that are just partially made of the same material.
They can either have a pointed or curved edging on the roof. However, it's quite distinctive because the edges of the roofs and walls come together seamlessly, which is rather similar to how a bubble-enclosed submarine looks like.
The roof of a solarium can either be gabled or single-sloped. Either way, it maximizes the use of glass materials efficiently by offering an extensive view of the outdoors.
Sunroom Roof Types
There are two main types of sunroom roofs: gabled and single-sloped.
Gable roof
It's a classic roof look that's most commonly used to build sunrooms. It has two slopes that are typically angled at 40% on each side of the roof, making snow and rain easily roll off of it.
This kind of roof also features vaulted ceilings, maximizing its ventilation properties.
Single-sloped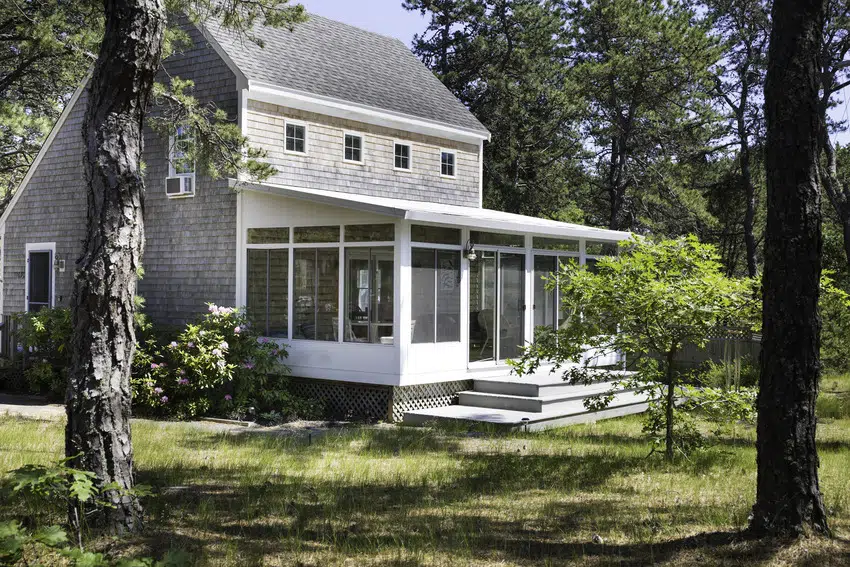 This is commonly seen in sunrooms that have been recent additions to the home. It requires an easy construction process that only uses fewer materials compared to the other types of sunroom designs.
It's also steeply sloped but in a single direction, allowing for excellent drainage.

What Is A Category 2 Sunroom?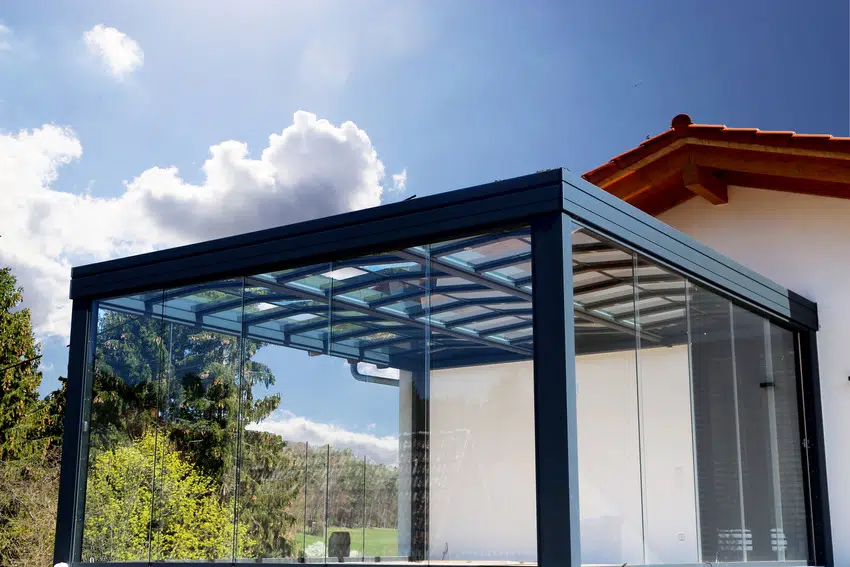 These types of sunrooms have enclosed walls and roofs. Depending on your material of choice, a category 2 room can be made of either glass or high-quality plastic.
Category 2 sunrooms typically have acrylic windows that stand up really well against the elements.
How Do I Choose A Sunroom?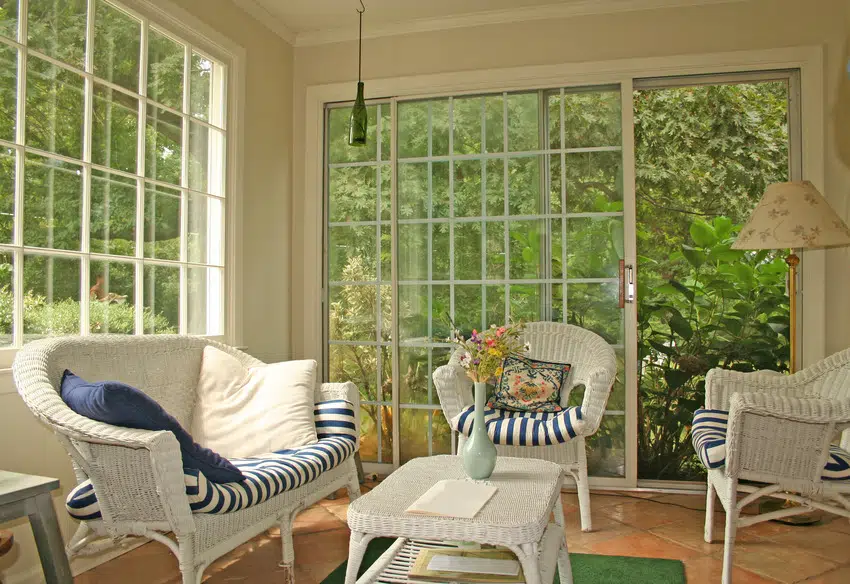 Choosing a sunroom is a matter of personal preference but there are also a lot of important factors that you'd need to consider, including the following:
Budget. Deciding on the best sunroom will ultimately depend on your budget. With a clear budget, it will be easier for you to decide on the materials that you can use and the sunroom features that you can include or do without.
Purpose. What kind of use do you have in mind for the sunroom? This will also be your guide on the furniture and other decorative pieces you can add to the space. See our gallery of sunroom ideas here.

Design. A sunroom is a major addition to the home that could alter the house's overall look and structural design. Consider what architectural style your home has and whether it is something you would like your sunroom to contrast or blend in with.
Outdoor views. Always pick out an area that offers the best view of your outdoor space. Otherwise, it would totally defeat the purpose of building a sunroom in the first place.
What are your favorite types of sunrooms? Let us know what you like best in the comments below. For more related ideas for painting your room, check out our guide to sunroom colors.