In this natural stone bathtub design guide you will see what it is, different materials used, carving process, cost, and how well a stone bathtub retains heat.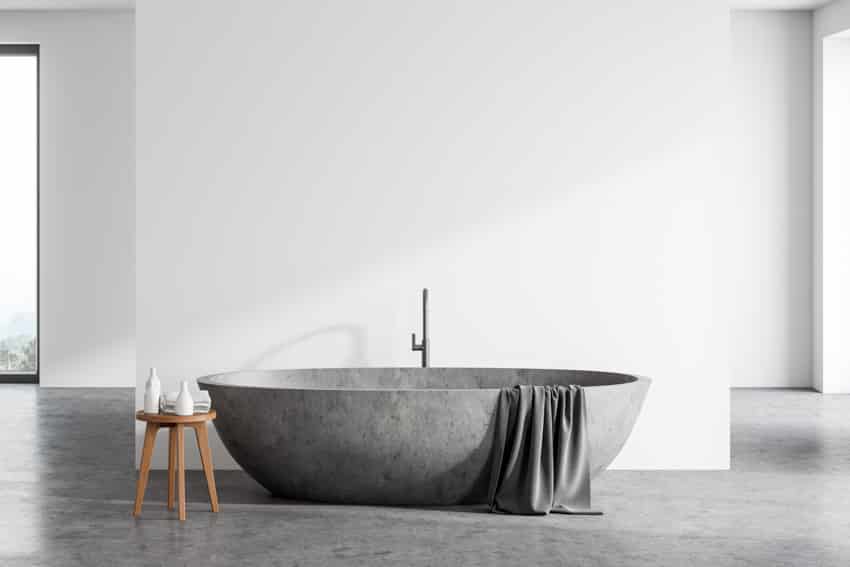 There's just something about a stone bathtub that screams luxury. This is something that a lot of homeowners tend to veer towards. Stone tubs look great and unique. They can turn out to make a statement all on their own and be the centerpiece in any bathroom.
If you're keen on getting a focal point for your bathroom space, a natural stone bathtub just might be the thing for you. You can be rest assured that they can complement just about any bathroom décor that you can possibly have.
You can have a bathroom that looks rustic or modern. A natural stone bathtub is bound to be an addition that can easily add to the overall natural appeal of your bathroom at home.
What Is A Natural Stone Bathtub?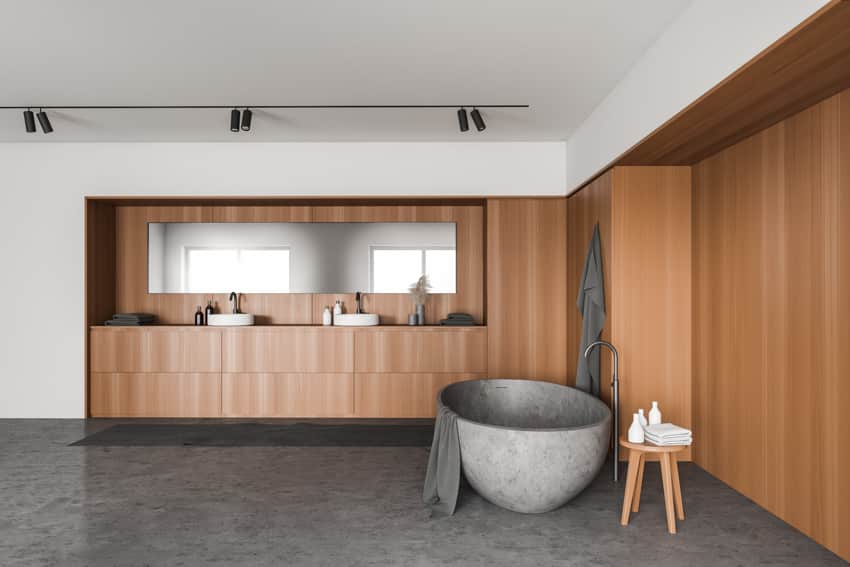 For starters, as the name suggests a natural stone bathtub is made of stone. More often than not, it is hand-carved out of a natural stone block. It typically has a polished surface and can come up with a really amazing look.
Its aesthetics is unlike any other type of bathtub in the market nowadays. The common types of natural stone these luxury bathtubs are made of are typically granite, marble, onyx, or travertine.
Stone Bathtub Materials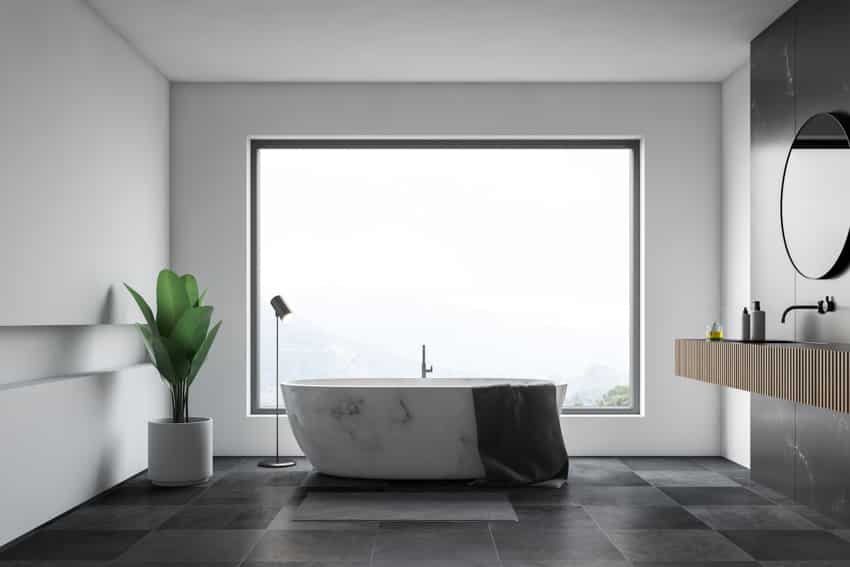 There really is no material that's comparable to natural stone. It is one of the best materials any bathtub can be made out of. Natural stone bathtubs have a special feel to them and it comes as no surprise why a lot of homeowners are opting for them these days.
Stone bathtubs can offer a wide variety of designs that are sleek, curvy, and impeccable attention to detail. More than that, natural stone combined with durable resins result in really solid substrates that are unlike any other.
Here are the different stone bathtub materials you ought to be acquainted with if you happen to be out in the market for one. They each have their own strengths and weaknesses. We'll attempt to cover everything as much as we can in this article.
Sandstone: Sandstone is a type of sedimentary rock that's mostly made out of quartz and sand grains. This stone is typically either brown in yellow in color. Usually, a sandstone bathtub is a solid block of natural sandstone that's been hand-carved into the shape of a bathtub.
Sandstone offers natural patterns that are quite beautiful and unique. This is the main reason why sandstone has been a favorite artisanal building material especially for huge focal pieces such as statues and ornamental fountains even all the way back in ancient times.
Granted, they aren't as sturdy or as durable as their marble or granite counterparts but they can still last for decades as they happen to be carved out from one main block of stone.
Sandstone is also relatively soft which means it can acquire scratches and stains over the years. One way to counter this is to hand-polish its surface for repairs and seal it with a stone sealant.
Marble: When learning how to choose the best bathtub made of natural stone, one of the preferred materials is marble.
This rock is highly dense and non-porous, making it extremely water-resistant. So despite being exposed to water all the time, marble bathtubs can actually last for a very long time.
Marble also happens to be a favorite material used for the construction of fountains, statues, and even bathrooms. As a matter of fact, it's been said that the historic Roman baths we've been reading about are actually made out of marble.
It has a wide variety of natural patterns and colors. Making a tub out of marble would result to having a show-stopping piece that's bound to give your bathroom an extra sense of elegance and luxury.
Since they come in a lot of colors, you can definitely easily pair them up with whatever your bathroom theme or décor might turn out to be.
Marble can come in a lot of different finishes from polished to matte, to honed, and even to chiseled surfaces. It really all boils down to a matter of what your preferences are or what look you're trying to achieve for your bathroom spaces at home.
Granite: Granite bathtubs are typically carved out from a solid block of granite stone. Granite is also one of the top materials for bathrooms and stone bathtubs in general.
It's a type of stone that's basically considered as indestructible and because of its origins or how it's been formed, it's known to be a really effective natural heat preserver.
What's really great about granite is that it can be designed and customized into whatever size or shape you might fancy for your bathroom. The surface can be customized as well, whether you want to go for something honed, matte, polished, chiseled, and so on.
In terms of density, it's considered to be much denser and harder than marble. This is why granite can be commonly seen in both outdoor spas and indoor bathrooms.
The only downside of having a granite bathtub is that compared to its other natural stone counterparts, it doesn't have a wide range of patterns and colors. Granite is typically monochromatic or has two colors, at best. Still, if you're into minimalism, this is something that you can actually play up to your advantage.
Rose quartz: This natural stone is found in a lot of deposits all over the world. Most of the rose quartz being sold today is actually mined out of South Africa, Brazil, Madagascar, and India.
However, it's worth noting that rose quartz is so decorative that it's actually more commonly seen in jewelry, beads, and other small decorations that are usually being worn by a person.
Rose quartz has been known for its emotional and healing qualities. It has been said to maintain the Egyptian goddess Isis' beauty and youth. It also symbolizes love in the Chinese culture and is oftentimes given out as a token of it.
A solid rose quartz bathtub that's carved out of a big block is extremely costly and very rare. Rose quartz bathtubs can range at 20,000 USD or higher, depending on the quality and rarity of the specific rose quartz material it's made out of.
But when put inside a bathroom, it can make all the difference in the world and may well be worth its steep cost.
Carved Stone Bathtub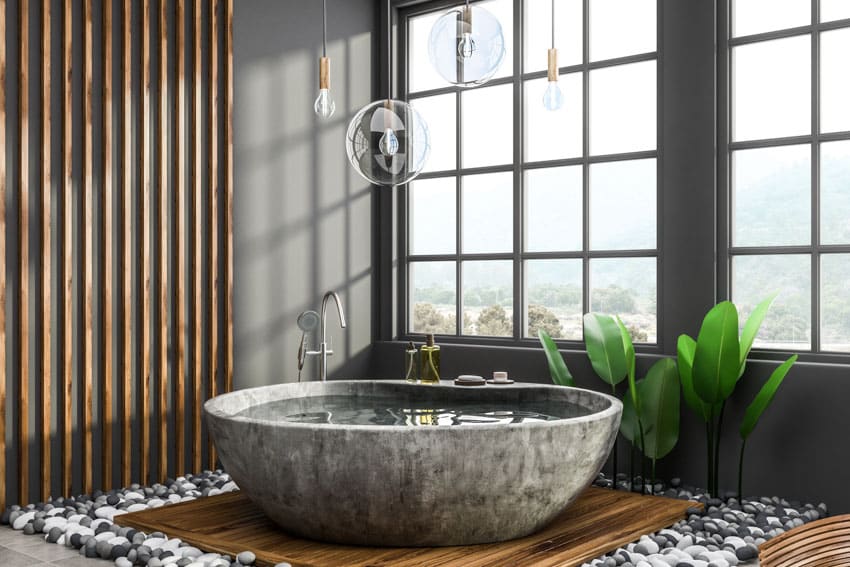 The process of making a carved stone bathtub is long and laborious. It comes as no surprise why they can usually come with a high price.
Still, this is something well worth considering to have in the bathroom as it can really elevate the sense of elegance and luxury brought on by your space just by having a carved stone bathtub in it.
There's typically a process that comes along with the manufacturing of a stone bathtub. It's usually custom made which means that you can't just walk into a store, point at a stone bathtub, and walk out with one. It usually needs to be pre-ordered and customized.
You will need to start off by picking your favorite shape and color. Then you would need to talk to your local stone expert to confirm the availability of the raw material of your choice for the stone bathtub that's to be carved out. Some of the common materials are sandstone, marble, granite, onyx, and so on.
Once you've decided on the kind of natural stone you'd like to use, the manufacturers will then work on cutting down a single block of stone to a working size.
This is according to the specific bathtub dimensions that you've previously indicated. In most cases, the stone block will need to be imported from mines coming from other countries.
The mined block of stone will now be transported to a working factory where it will be refined and further shaped into the tub of your choice.
A stone saw and a wide assortment of hand tools such as chisels and the like will be used in the shaping of the outside stone. The same tools will also be used to hollow out the center of the bathtub.
The next phase is the use of sanders and grinders. These tools will be smoothing the tub out once the initial rough shape has been formed.
Depending on the finish of your choice, the bathtub will be further sanded out and polished or in some cases, even sealed with layers of resin or sealant to further preserve and lengthen its life span. Read more about stone resin bathtubs here.

How Much Does A Stone Bathtub Cost?
A natural stone bathtub isn't for the weak of heart nor is it for the uncommitted. It comes with a hefty price tag ranging from $5,000 all the way up to $15,000 or even higher depending on the type of natural stone being used.
Things such as the rarity of the material, the manufacturing process it needs to go through with, importation costs, carting, and taxes; also need to be considered and thrown into the mix.
But after all, has been said and done, a pricey stone bathtub can turn out to be well worth it if you can actually afford the costs that come along with it. It's incomparable in terms of aesthetics or design and can just bring your bathroom space to a whole new level.
Do Stone Bathtubs Retain Heat?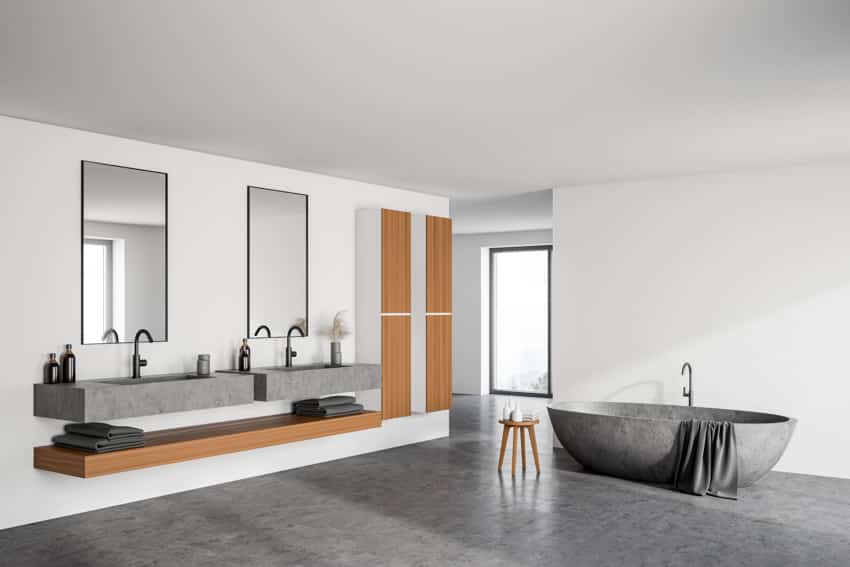 Stone bathtubs are known to naturally retain heat. This is one of their biggest selling points, after their obvious aesthetic value.
What this means is that if you happen to be fortunate enough to be able to afford to invest in a stone bathtub, you will get to enjoy much longer hot baths without ever running the hot water tap several times at any given time. The solid stone tub stops heat from escaping.
You will be able to spend a much longer period of time lounging around in the bath without ever worrying about additional heating or unnecessary water wastage.
Natural stone bathtubs are also considered as a once-in-a-lifetime purchase. It is built to last you for an entire lifetime. It isn't the type of material that's prone to cracking or splitting.
In the event that there are tiny incidents in the bathroom, the tubs can be easily repaired. Damages, in general, can be quite rare though for as long as you take care of your stone bathtub the right way. Keep it clean all the time and you get a much longer life span in return.
It is also important to note that not all bathrooms are suitable enough to have a stone bathtub in them. These tubs can be a bit on the heavy side. You need to really make sure that you consult your home builders and architects before you head out and make a purchase. Read more about bathroom remodel ideas here.

Stone bathtubs are more suitable for bathrooms in the ground floor but they can also be installed upstairs for as long as the flooring is strong enough to take it the moment that the bathtub takes on some water.
Again, at the end of the day, they don't come cheap. However, what you're really paying for here is the quality of the design as well as the experience of having a natural stone bathtub.
You will also end up saving money because of its natural insulating properties. This can add value to your home. Bathrooms are oftentimes redesigned to boost the resale value of the home.
See more related content in our article about acrylic vs fiberglass tub on this page.