Here's our rocking chair dimensions guide including different types such as traditional, glider and swivel and children's rocking chair sizes and how to measure this style of chair.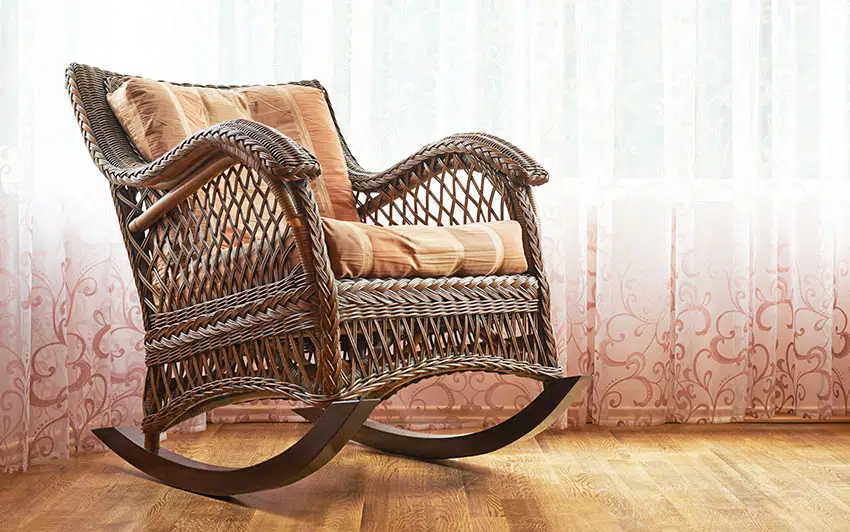 When you think about rocking chairs, you picture something like this: on Sunday, rocking a chair on your house's porch at dawn. Or, if you are a parent, you think about using a rocker to rock your baby back to sleep.
Here, you will learn about 101's of rocking chair basics to guide you towards finding the perfect chair both in dimensions and style. Let's get to it!
Standard Rocking Chair Dimensions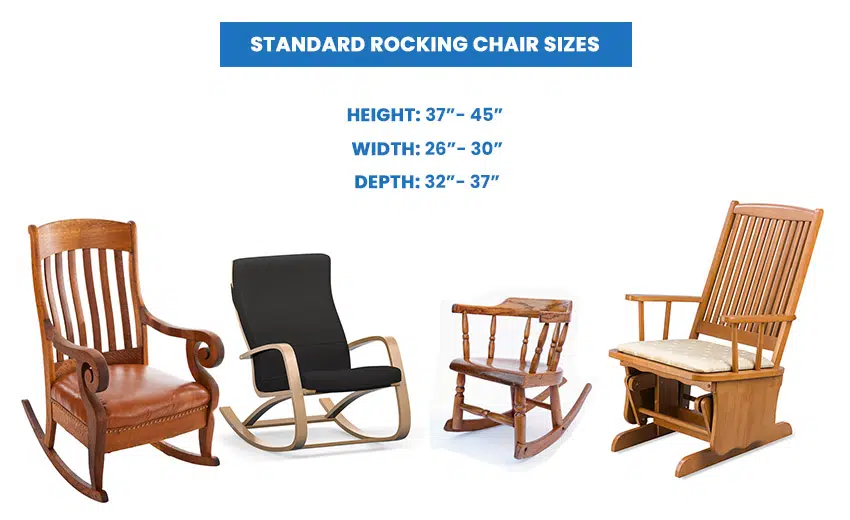 Once you start your hunt, you will discover that there are a variety of size ranges out there, and you may be overwhelmed, and that's where this article will come in.
However, the traditional rocking chairs measure 37 to 45 inches or 94 to 114 centimeters tall, 26-30 inches or 66 to 76 centimeters in width, while their depths are generally 32 to 37 inches or 81 to 94 centimeters.
What Height is a Rocking Chair?
You will find rocking chairs in all varieties of colors and styles. Whatever your interior design is, chances are there is a perfect rocking chair out there that will fit your needs. At the same time, aside from looks, sizes will vary widely across all styles.
The standard height of a rocking chair, on average, will range from 37 to 45 inches or 94 to 114 centimeters. Height is one of the most necessary factors to consider since height will be relative to the user since it is dependent on one's height.
People who are shorter would want a lower seat height, and if you are taller, it would be best to find a rocking chair with higher seats. This will ensure maximum comfort for the rocking chair's user.
How Do You Measure The Seat Height of a Rocking Chair?
One would think that measuring a rocking chair's height is simply measuring from top to bottom to know the overall chair height, but there is more to that than it really is. Aside from the overall height, there are three more measurements to consider for the perfect rocking chair seat height. Here are they:
• For maximum lumbar support to avoid lower back pains, one needs to measure from where the seat ends to the top of a rocking chair's head.
• A buyer needs to measure the depth of the rocking chair's seat to make sure that the seat is fully supporting both their bottom and legs. To do that, measure from the back of one's bottom to the underside of one's knees when sitting.
• The last measurement to consider will measure from the seat to the bottom of the rockers to make sure that your legs and feet are not hanging, your lower limbs are leveled to the floor, and that your feet are also flat on the floor.
How Long Should Rockers Be On a Rocking Chair?
If you are a person with advanced woodworking skills, an excellent project for you is building a sturdy rocking chair that could be passed from generation to generation.
Generally, there is no fixed measurement or size to a rocker for a rocking chair. Many measurements are provided in order to measure a single rocker, like the rocker's curve or its overall length.
The size of the rockers on a rocking chair will be dependent on the size and the style of a rocking. There is no set of predetermined sizes for a rocker.
However, children's rocking chairs would average 27 inches or 69 centimeters, while adult rocking chairs can have a rocker size of 35 to 45 inches or 90 centimeters to 114 centimeters. These sizes can lessen or increase as you decide on a rocking chair size.
Children's Rocking Chair Dimensions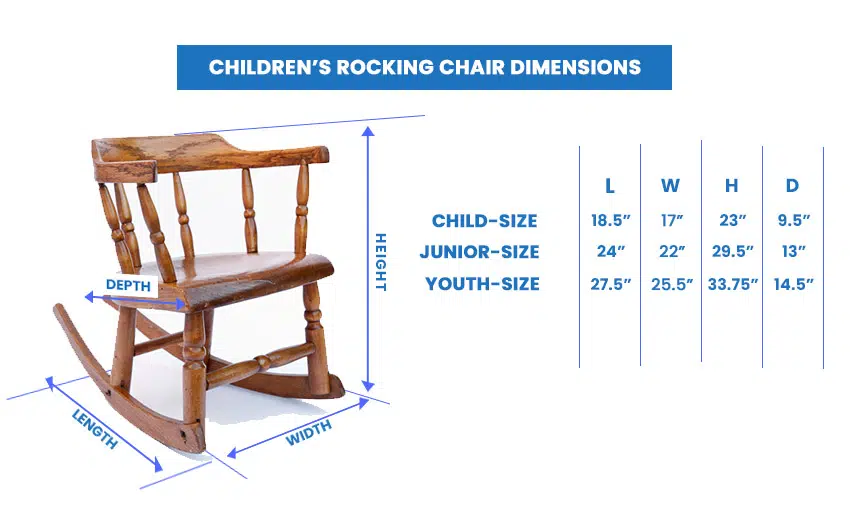 Children's rocking chairs come in three sizes: child, junior, and youth. Although there is a predetermined standard to children's rocking chair sizes, they could still vary depending on the brand and manufacturers carrying them.
The smallest tiny tots rocking chair is the child-size. Child-sized rocking chairs have widths of 17 inches or 43 centimeters, 18.5 inches or 47 centimeters in length, and a height of 23 inches or 59 centimeters. This size has a depth of 9.5 inches or 24 centimeters.
For junior rocking chairs, they measure to have a width of 22 inches or 56 centimeters, 24 inches or 61 centimeters in length, and a height of 29.5 inches or 75 centimeters. The depth for a junior rocking chair is 13 inches or 33 centimeters.
The most oversized children's rocking chairs are the youth-size rocking chairs. They have 25.5 inches or 65 centimeters for the width and a length of 27.5 inches or 70 centimeters.
The height size will average at 33.75 inches or 86 centimeters, while the depth is generally 14.5 inches or 37 centimeters from side to side.
Standard Size Rocking Chair Cushions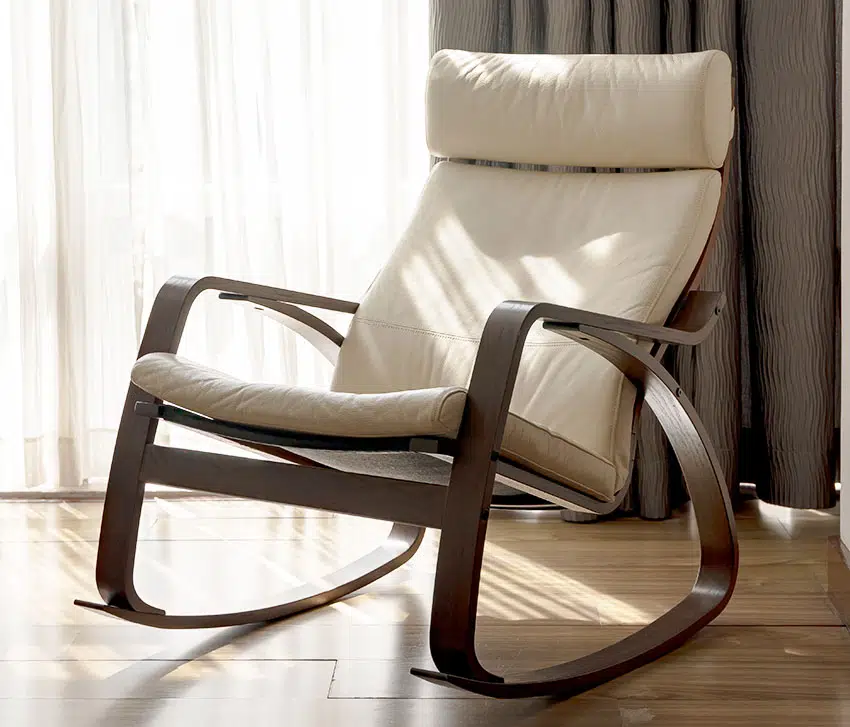 The standard size will depend on what style your rocking chair is, so in order to present you with a comprehensive compendium of measurements; we will consider the different types of rocking chairs commonly purchased for homes.
The traditional rocking chairs measure 37 to 45 inches or 94 to 114 centimeters tall, 26-30 inches or 66 to 76 centimeters in width, while their depths are generally 32 to 37 inches or 81 to 94 centimeters.
Glider rocking chairs are characterized by the flat plane in which the mechanism to rock is framed. Gliders are usually 26 inches or 66 centimeters long, 25 inches or 64 centimeters wide, a height of 40 inches or 102 centimeters, and a seat depth of 18 inches or 46 centimeters.
If rocking chairs only rocks forward and backward, swivel chairs can rock side to side, and the spring in these seats is what makes the wide range of motion possible.
For a swivel rocker chair, their most standard dimensions are 23 inches or 58 centimeters in width, a height of 40 inches or 102 centimeters, and a chair depth of 20 by 25 inches or 51 by 64 centimeters.
How Much Space Does a Rocking Chair Need?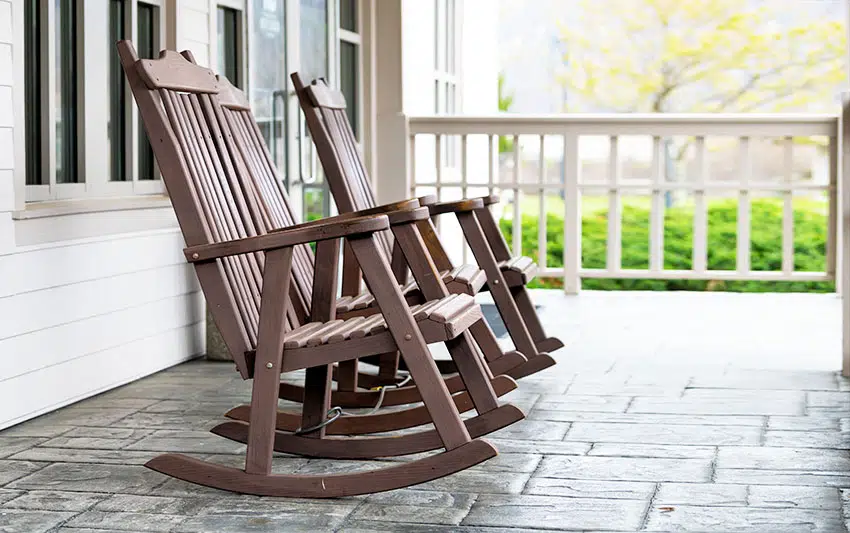 Ensure that the rocking chair also has a space to rock forward and backward without hitting anything. A patio or indoor area that's 10 square feet in size will be enough space for a single rocking chair depending on its type and size.
See our list of patio furniture layout tools for more help determining how many you can fit into your space. The recommended distance among multiple rocking chairs, whatever type they are, should at least be 2 to 3 feet apart.
Visit our types of chairs buying guide for more related content like this.