Here we share the most popular shower curtain sizes for showers & tubs, how to get the proper measurements and where to hang the curtain rod.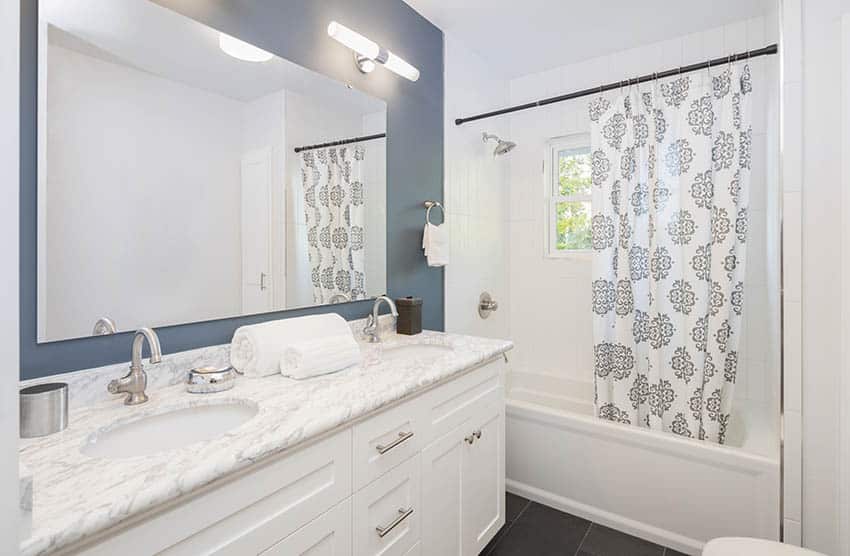 Finding the right shower curtain means more than finding one that matches your decor. If the shower curtain is incorrectly sized, you'll have problems ranging from aesthetics to coverage and even issues related to moisture build-up.
The good news is that finding the right shower curtain size for your bathroom isn't difficult. These easy tips will help you find the right shower curtain sizes for your bathroom with no problem.
Standard Shower Curtain Size
Shower curtains come in a variety of sizes just like many other items in your home. However, there are some standard sizes that most tubs and shower designs accommodate.
Even still, it's important to make sure that you measure your own tub or shower to check the size shower curtain that you need before assuming a standard shower curtain will fit your needs.
Sizes that are considered "standard" for shower curtains are based on standard-sized tubs and showers. This includes covering a 60" tub properly.
In addition, it includes up to 12" so that when the curtain is closed, it isn't pulled tight. Rather, it offers the appearance of folds even when the curtain is completely shut across the tub. These measurements include the following:
● 70" x 70"
● 70" x 72"
● 72" x 72" – Most Popular Standard Size
As for tub style, these measurements work best for the average in-set tub. These won't necessarily work for a freestanding tub that needs a curtain to wrap all the way around it. We'll take a look at how to account for these shower and tub styles later.
For walk in showers you will most likely need an extra long curtain. These are generally around 78″ in length.
What Size Shower Curtain Do You Need?
The shower curtain you'll need depends heavily on the size of your tub or shower. However, the measurements of the dimensions of your shower will not exactly match the measurements of your shower curtain. Instead, there are a couple of factors that you'll want to take into account.
In the following sections, we'll discuss how to use the measurements from various tub and shower types and even go over a handy table to help you find the shower curtain size that you need.
How to Measure Shower Curtain Sizes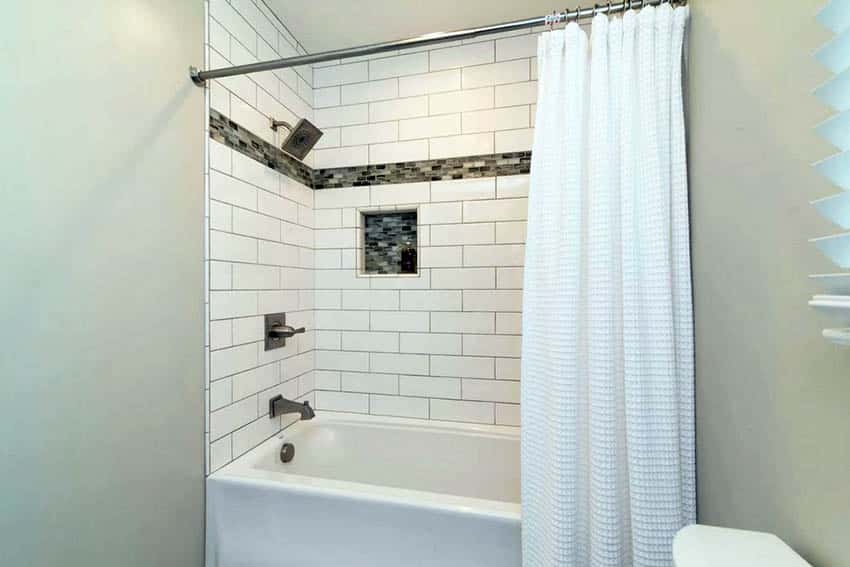 When you're measuring the width for shower curtain sizes, you'll want to start by measuring the width of your shower from wall to wall.
As we mentioned earlier, you don't want to purchase a shower curtain that reaches wall to wall when pulled taut.
Instead, you want to add 12" to the measurement you took so the shower curtain has enough space to create folds even if the curtain is fully closed. This is the appearance that most homeowners prefer and it's much easier to fully cover the shower when you have this fail safe of an extra foot of fabric.
Measuring height is a little different because you don't want to measure from the ceiling to the floor. You also don't want to leave a lot of extra space because you don't want the shower curtain to drape onto the floor or, even worse, pool at the bottom. This invites moisture-related problems such as mold and mildew.
Instead, take a measurement from the curtain rod to the floor. To ensure that the shower curtain doesn't drape onto the floor and account for the rings that you'll hang the shower curtain off of, subtract about 10" from your initial measurement.
Measuring Shower Curtain Size for a Freestanding Shower/Tub
Freestanding tubs and shower stalls are slightly different to measure for than a standard tub or shower. Yet, they aren't difficult to measure for either.
Typically, you want to use the same measurements for the height of the shower curtain. After all, you still don't want the shower curtain to hang onto the floor or for the curtain to be too short for the tub.
Adjusting the width is easy to do. Instead of measuring from one wall to another, you instead want to measure around the exposed sides of the tub or stall that your shower curtain will cover.
Don't forget – you still want to add an extra 12" to the length of your shower curtain so that the curtain is large enough to still fold nicely when it's pulled shut and fits the tub or stall completely.
Shower Curtain Size Chart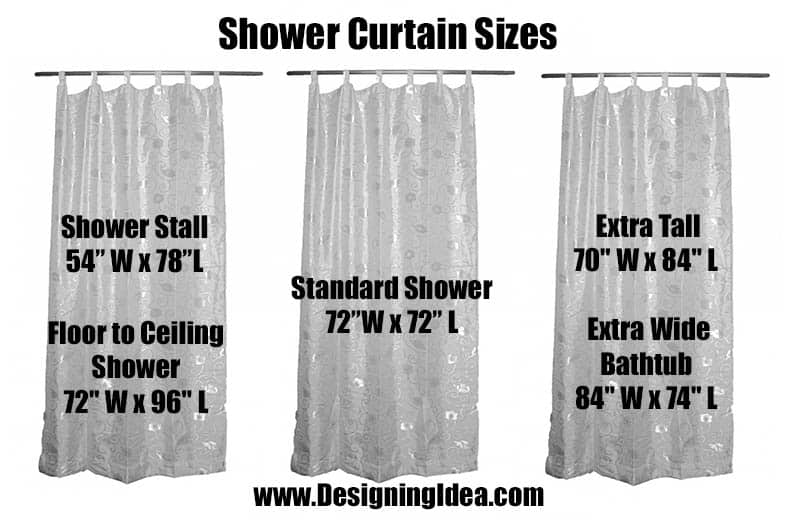 Since the formula for finding your shower curtain size proportional to the measurement from your tub is so easy, it's easy to create an estimation for you.
You'll still want to make sure to double-check your tub or shower stall measurements but you can use this table to make your job a little easier in the long run.
Measurements are Width by Length:
72" x 72" – Most Popular Standard Shower Size
84″ x 74″ – Extra Wide Bathtub
54″ x 78″ Shower Stall
70″ x 84″ Extra Tall
72″ x 96″ Floor to Ceiling Shower
What Size Is An Extra Long Shower Curtain
An extra long shower curtain most often measures 70″ by 84″. This is also the same measurement for an extra tall shower curtain. Other sizes for an extra long are 72″ by 84″.
Extra long shower liners can measure 144″ by 72″, which provide more material to keep water from going where its not wanted.
Where to Hang a Shower Curtain Rod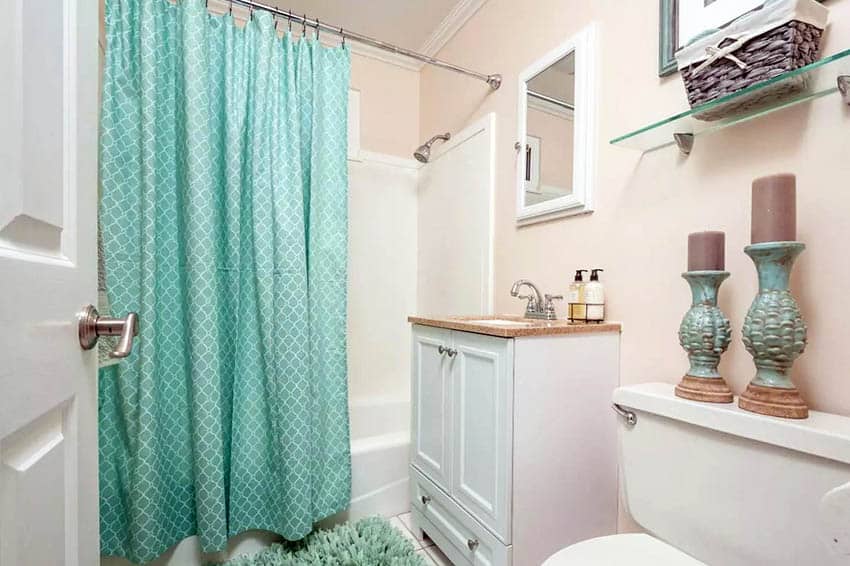 If you don't know where to hang your curtain rod, the instructions we've given for finding the height of your shower curtain might be more than a little confusing.
Luckily, there is a way to find out where to hang your shower curtain rod if you already know your shower curtain's length.
Start with the length of the shower curtain you want to hang. Remember, you don't want this curtain to hang at a height that it will drag or pool on the floor.
As such, you'll want to account for this by adding an extra 2" onto the pre-existing height of the shower curtain. Then, measure the size of the hooks you'll be using to see how far down from the curtain rod the shower curtain will hang.
When you add these three measurements together, you have the height of your shower rod. In short, the equation looks like this:
2" + [Shower curtain length] + [Hook size] = [Shower rod height]
For example, if you have a 70" to 72" tall shower curtain, your shower curtain rod height will likely sit at around 75" to 77".
When you're choosing a shower curtain, you shouldn't just consider the design of the curtain. Even the most beautiful curtain will look off in a bathroom if it isn't sized to fit your tub or shower. You can use the tips we've looked at here to ensure you choose a shower curtain that's correctly sized for your bathroom.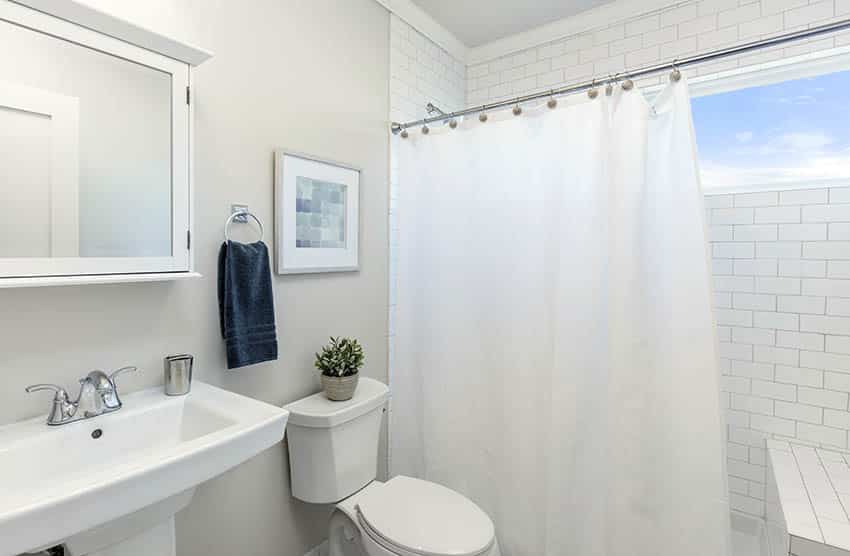 ---
How to Choose a Shower Curtain
We asked interior designer Danielle Porter, her best tips for choosing a shower curtain for a bathroom design and here's her thoughts:
When it comes to the details of a space, particularly the more functional necessities, it's all too easy to forgo function for the sake of form or vice versa. To avoid this common mistake, aim for balance. There's always a way to design a solution that is both beautiful and serves its purpose well.
In your bathroom, finding just the right shower curtain can be a detail that pulls the entire space together just right. Aside from some paint or changing out accessories, it's also one of the most effective ways to give your bathroom an impactful makeover without breaking the budget!
Always start with size – that way, when you find a look you love, you'll be sure it's the right fit. Standard shower curtains are sized to accommodate a standard 60" wide tub or shower.
The three most common sizes are; 70" x 70", 70" x 72", or 72" x 72". You will find manufacturers that make oversized or "luxury" shower curtains that are larger as well, though, they may be harder to come by.
If you have the standard 60" tub, the standard size is excellent and will give you the most design flexibility. To determine the correct length, measure from the shower curtain rod down (don't forget to account for your hanging hardware) and aim to have a 4" minimum of overlap with your tub – but longer (6-8") is preferred and usually seen as more high end.
If you have an atypical shower or tub size, the best way to determine curtain width is to measure the width and add twelve inches. This will allow you to cover the span nicely, without being too taut, while getting those nice, gentle folds in the curtain that always look so elegant. When in doubt – custom size is always an option.
When it comes to hanging hardware, some curtains have hardware integrated (think metal circles at the top, like your window curtains), but you can also find some beautiful decorative hanging hardware in a variety of colors and styles to support your design aesthetic – we always recommend selecting any decorative hardware alongside your shower curtain to ensure they are cohesive.
Once your size is narrowed down, it's time to consider the material of your shower curtain. Traditionally, shower curtains come in various materials, including cotton blend/decorative, microfiber, polyester, or vinyl – listed of course, in my subjective descending order of quality – but each has a place and a purpose.
Vinyl curtains can be a great option as they're cost-effective, you don't need a shower liner with them, and they are a one-stop shop that's easily cleanable and will last for years. The polyester blend options are nice because they have a softer touch, you can still get away with a liner, and they feel a bit elevated from their vinyl counterparts.
Microfiber shower curtains are soft to the touch and offer an elevated aesthetic. They should be used in well-ventilated bathrooms as they take moisture from the air and the ventilation will help them stay dry.
Cotton-blend and decorative shower curtains are typically the preferred options among designers and homeowners alike. These curtains, like microfiber, are machine cleanable, should be used with a shower liner, and come in a variety of materials, textures, patterns, and colors that will help tie together the aesthetic of your bathroom with little effort.
Remember – the shower curtain, though primarily a functional piece in your bathroom, can do a lot for the beauty of the space. Consider your options and select your curtain alongside the floor and wall tiles, plumbing fixtures, flooring, and cabinet material to ensure that you have a cohesive look. At the end of the day, everything should work together and create one clean look in your space.
---
If you would like to upgrade the look of your bathroom you may also consider installing shower doors. For more related information check out our article on shower doors here.