Here are the laminate flooring vs linoleum comparisons including their pros and cons, price, and some details on linoleum and vinyl differences.

One of the main snags homeowners come across when they update their flooring at home is that they don't actually know the difference between linoleum and laminate flooring.
Sure, there seems to be major distinctions but when other terms such as vinyl, LVT, and laminate tiles are thrown into the mix; it all gets kind of confusing. Understandably, you are not alone.
Read on down below for an a guide that's easy to understand that will help you differentiate between the two. This includes what their pricing ranges are, what pros and cons they come along with, how to tell the difference between them, and most importantly; which is the better flooring option to consider.
What's The Difference Between Laminate And Linoleum
To understand the difference between laminate and linoleum, we first need to understand what each of them actually is and what their main characteristics are.
Linoleum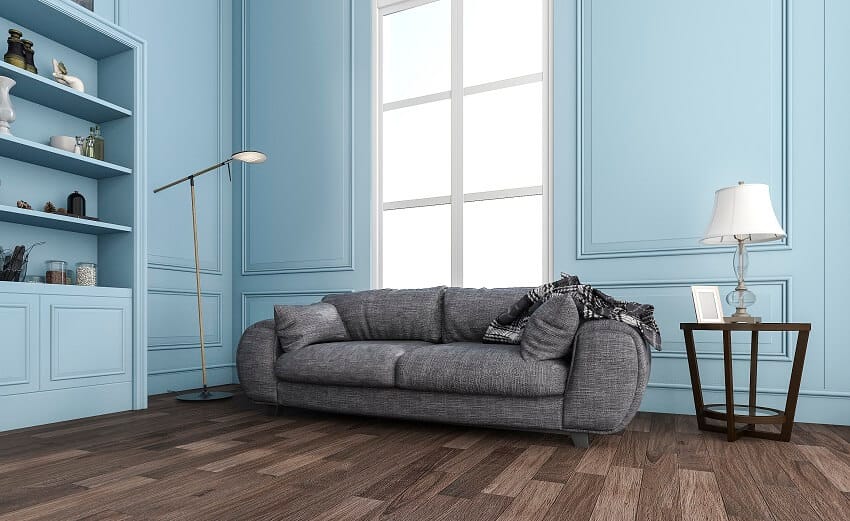 Linoleum is basically a composite flooring material that are naturally derived such as wood flour, cork dust, pine resin, solidified linseed oil, among other various substances.
This flooring material peaked in popularity back in the 1900s and was one of the top and most commonly seen flooring options all the way until the 1940s.
After that era though, linoleum has since stepped aside for something similar but something ultimately more affordable and easier to manufacture: vinyl. Check out our guide on how to clean linoleum floors for more related article.
Laminate
Laminate is another type of composite flooring that's actually pretty similar to hardwood. It has been said that laminate is the perfect marriage between the best engineered wood flooring you can buy and traditional linoleum.
Laminate flooring materials are typically comprised of three layers of materials: a fiberboard or plywood base, an aesthetic image layer, and a hard and smooth plasticate layer that's typically scratchproof.
Laminates are often the best hardwood floor substitutes because they mimic the look and feel of actual hardwood floors more realistically, way even better than LVT ever could.
This material was invented back in the 70s and it's still being mass manufactured up until this day. Understandably, laminate can at times get a bad rap because of their plastic composition.
However, over the years and with technological innovation, they have become more and more difficult to distinguish from real hardwood in the past few years.
If you want to create a floor design that's as gorgeous as actual hardwood floors, laminate is an attractive and affordable option to go for. For as far as fake wood floors are concerned, laminates really are the best options to check out.
Linoleum Flooring Vs Laminate Price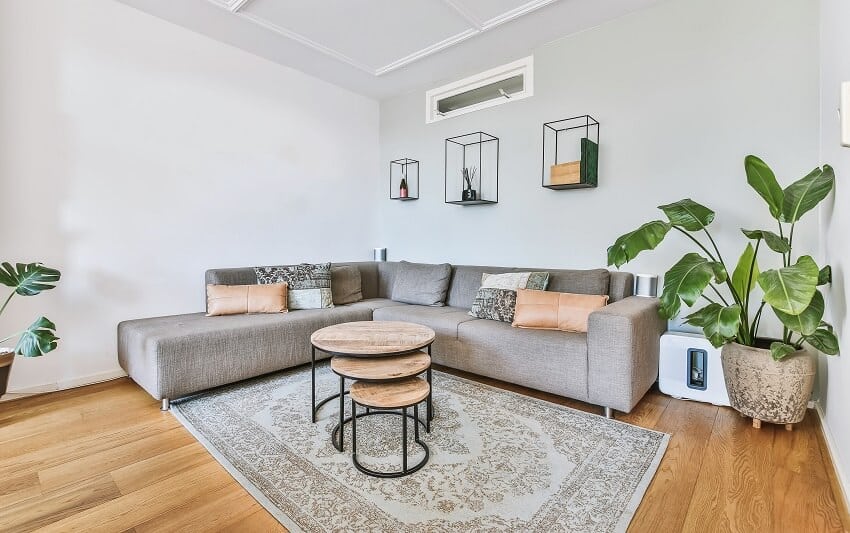 Both linoleum and laminate flooring are affordable options to explore so you definitely won't go wrong with any of them if you would like to opt for a quick flooring upgrade on a budget. Interestingly, they both almost cost the same.
The average cost for linoleum and laminate flooring per square meter starts out at $2. However, if you would like to explore styles that are more luxurious or that go beyond the usual or typical designs; that's when the price variances can start to kick in.
Premium laminates can be at $5.25 per square meter and upwards whereas linoleum can end up costing at around $7 or upwards on the premium end.
Which Is Better Linoleum Or Laminate Flooring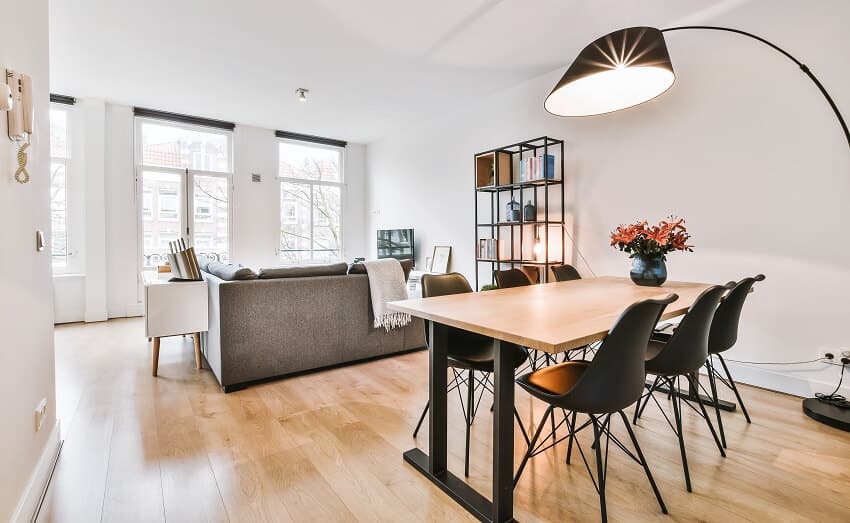 To better understand which is better: linoleum or laminate flooring; it would be best to have a side-by-side comparison of their pros and cons.
Linoleum Pros and Cons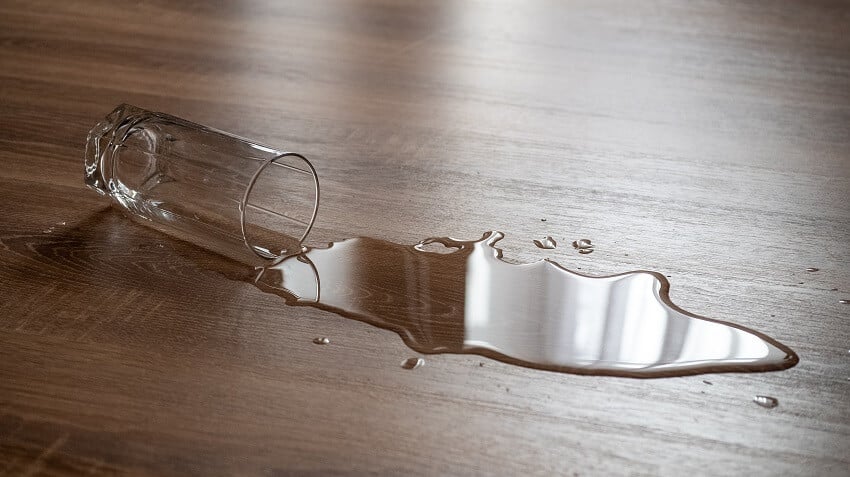 Pros:
• It's eco-friendly and biodegradable.
• It comes in a wide variety of designs, textures, colors and sizes and can mimic real-world materials remarkably well while at the same time being able to stand well with great subfloors.
• Linoleum feels softer on the feet compared to laminate flooring because of its natural composition.
• Linoleum is also more affordable because it's been around for a long time and its manufacturing is easily accessible.
Cons:
• Linoleum isn't completely waterproof because of its organic composition.
• They may be a bit difficult to acquire a wide range of designs in linoleum as the material has been largely replaced by vinyl over the years.
• Linoleum is a little more difficult to install compared to laminate as laminate can stand on its own whereas linoleum needs to be glued to a subfloor layer in order for it to actually work best. It needs to be installed to a very smooth subfloor or else it'll be prone to warping and getting dislodged.
Laminate Pros and Cons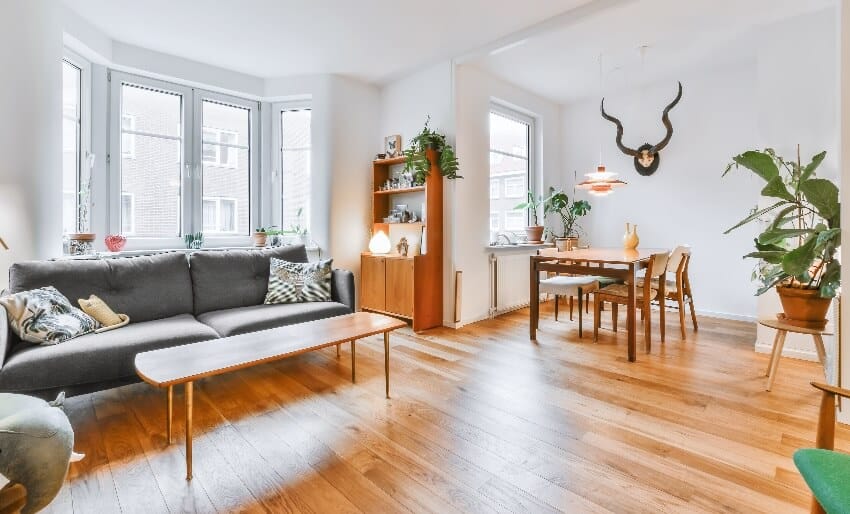 Pros:
• Laminate floors can withstand wear and tear. They're scratch resistant so if you happen to have little kids and pets around the house, they can stand up extremely well on their own.
• Laminates are experts when it comes to hardwood floor imitation. As a matter of fact, a lot of hardwood floor manufacturers also manufacture laminates.
• Laminates are inexpensive so if you're planning on a flooring upgrade, you can definitely get it done even if you happen to be a bit on a budget.
• Laminate can be embossed or textured to appear and feel like actual real wood because it's something that's typically thicker than linoleum or vinyl.
Cons:
• They aren't as budget friendly as their linoleum counterparts.
• Laminate can be vulnerable to water damage once the top layer has shown some wear and tear.
• It can't be refinished. This means that even if it copies the look and feel of real wood, it can't really hold up against actual wood.
• Laminate floors are brittle and not that easy on the feet when you walk on them. You can throw in some rugs or carpets for added softness but it can be a bit of a hassle. Learn more about laminate flooring pros and cons here.
Vinyl Vs Linoleum How To Tell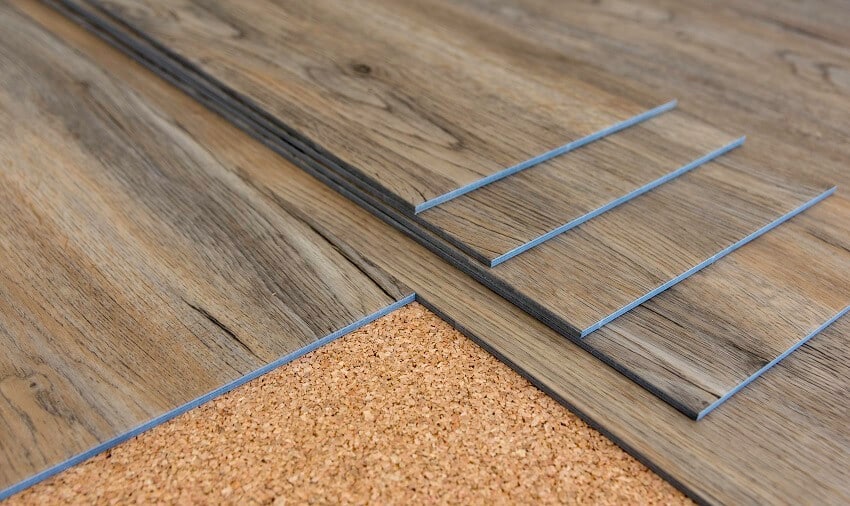 So what's the difference between linoleum and vinyl? Similar to linoleum, vinyl is also made out of a composite material but it's just that they aren't naturally derived because vinyl's main component is PVC or plastic.
Vinyl gained popularity from the 1950s and onwards. Up to this day, vinyl continues to be one of the most popular and lucrative business sector in the flooring industry.
The common confusion is that nowadays, linoleum is interchangeably used with vinyl. The two get tossed around together but ultimately, vinyl has technically replaced linoleum in most, if not all, home applications.
The reality, however, is that they are 2 different types of flooring options. Linoleum is biodegradable whereas vinyl isn't. Linoleum has taken a bit of a backseat but it's slowly making a comeback especially with the current preference for eco-friendlier options for home upgrades and construction.
Then comes LVT, or luxury vinyl tile. This is considered as one of the best types of vinyl flooring out there and usually goes with other names such as LVP (luxury vinyl plank), WPC (wood plastic composite), or just luxury vinyl.
Every manufacturer may call it something different, depending on how they would like to spin it from a marketing and branding standpoint.
LVT is a material that's made out of vinyl planks that are rigid and are oftentimes designed to mimic other types of flooring such as wood and the like. They're always marketed and sold as click-together and puzzle-type pieces which makes them incredibly easy to install and put together.
On top of that, their plastic composition makes them naturally rot resistant and incredibly durable. You may also check laminate vs vinyl flooring here.
The Conclusion?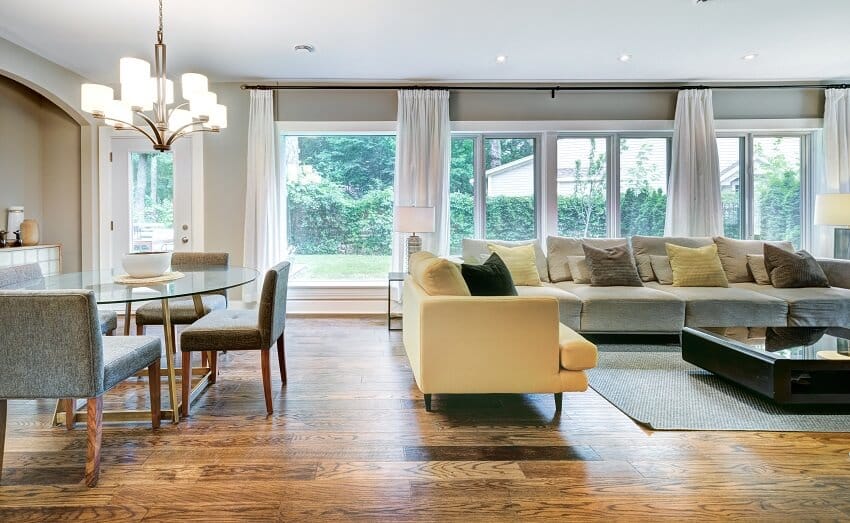 So it all boils down to this: which is better or best? Here's the rundown so far.
If you're after ease of installation, and cheaper costs, laminate floors are definitely the way to go. They look nice, and are usually peel and stick with little to no prep work needed on the bare floors.
If you're in a hurry to upgrade the look of your floors at home, it' even something that you can opt to get done yourself or with nothing more than some adhesive and an adhesive brush while you're at it.
On the other hand, if you're after the comfort of the floors as well as of how much carbon footprint you're also leaving on the environment while you're at it; linoleum floors may be far better options to consider at the end of the day. Linoleum is eco-friendly and has a certain appeal of quality to it and it isn't as flashy as vinyl.
It really all depends on what you want to prioritize the most for your floors. Again, if it's achieving the "look" without the hassle of high costs and difficult installation, it should be laminate floors through and through.
On the other hand, if you're all about simplicity, basic comfort, and being aware of the environment; then linoleum should be your best bet.
For more flooring ideas visit our guide on types of flooring materials for interior design here.