Welcome to our gallery of modern driveway gates including wood, glass and metal design ideas.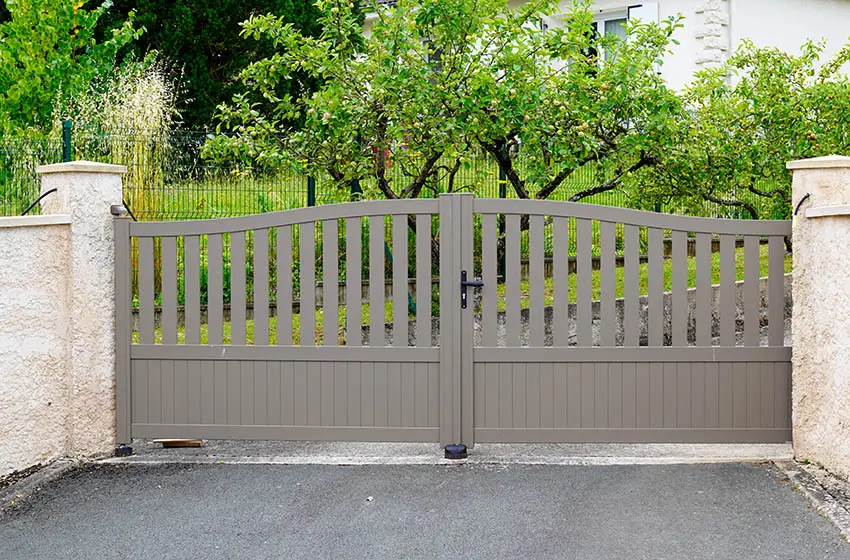 They say it is important for people to make good first impressions. Similarly, if the outside of your home is attractive, it will also make a good first impression. Having a great driveway gate design is a good way to set a theme to your home, or simply impress.
Aside from aesthetic reasons, driveway gates are, of course, a very functional part of the home as it adds another layer of security to your home, and helps clearly define your property. For those with pets in their home, fencing off their property and adding a nice driveway gate are best, so pets can utilize the outdoor spaces safely.
With modern materials and manufacturing techniques, anything is possible to do with your driveway gates. The best driveway gate design should complement the property and its surroundings.
Additionally, it should also fit your needs and lifestyle. Always consider your personal needs when choosing your design, as it will greatly affect its practicality.
For example, if you're petite, a manually-opened massive driveway gate will be impractical. If you have a small space, accordion or sliding-type gates would probably suit your space better. There's no one-size-fits-all solution, so assess your needs first before settling on something.
Types of Modern Driveway Gate Materials
Modern driveway gates come in many different materials, finishes, and combinations. Here are the materials popularly used:
Steel – the most common material for gates, and has been used many years ago. Steel can be molded into different shapes and forms, so whether you want to do a modern design or a more classic one, steel can get the job done
Stainless Steel – a little bit expensive initially, but will help you save on maintenance costs. High-quality stainless steel will not tarnish or get rusty even in extreme weather conditions, so you will not have to repaint it all the time
Wood – wood is also a popular choice for driveway gates. In modern applications, wood is usually used for decorative purposes, rather than structural purposes. Wood and steel are usually combined, creating an interesting contrast of colors and textures.
Glass – not as commonly used as the other materials mentioned, but glass can also be used for your driveway gates for a more posh, ultra-modern look.
Visit this page for other types of driveway gate ideas.
Modern Driveway Gate Ideas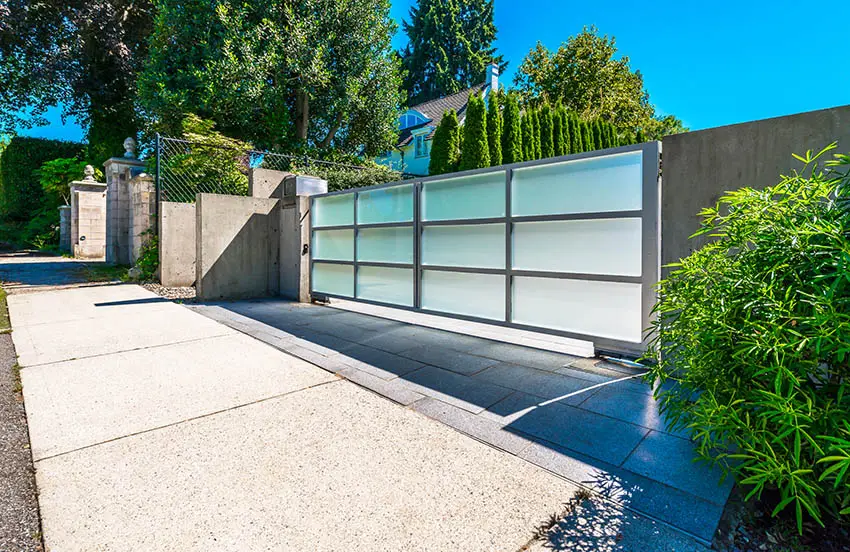 The combination of steel and glass for this modern driveway gate design is a nod to the modern look of the raw concrete wall fencing. These three materials together are very common in contemporary homes and buildings.
The exposed aggregate driveway leads to poured concrete in different sized rectangles.
Modern Wood Driveway Gates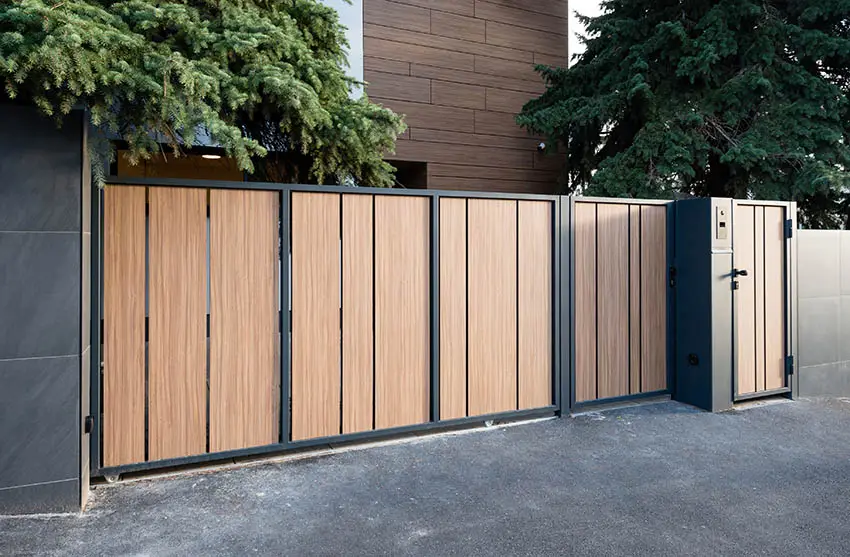 Wood and steel combinations for driveway gate design have recently been really popular. The wood panels give more dimension to the gate, and also adds a bit of warmth.
This design utilizes a variety of wood panel widths, adding vertical patterns to the gate design. This gate also features a heavy-duty sliding mechanism, making it practical if you have small spaces. The addition of the pedestrian gate entry also makes it convenient.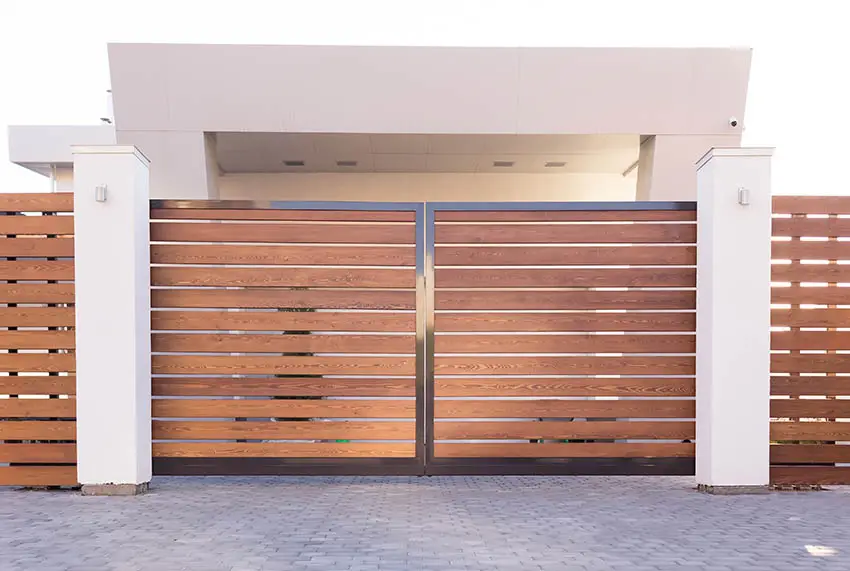 The use of horizontal wood slats on the driveway gate design adds continuity to the design of the fencing. This gate uses stainless-steel frames with solid wood slats that match the material used for the wooden fence.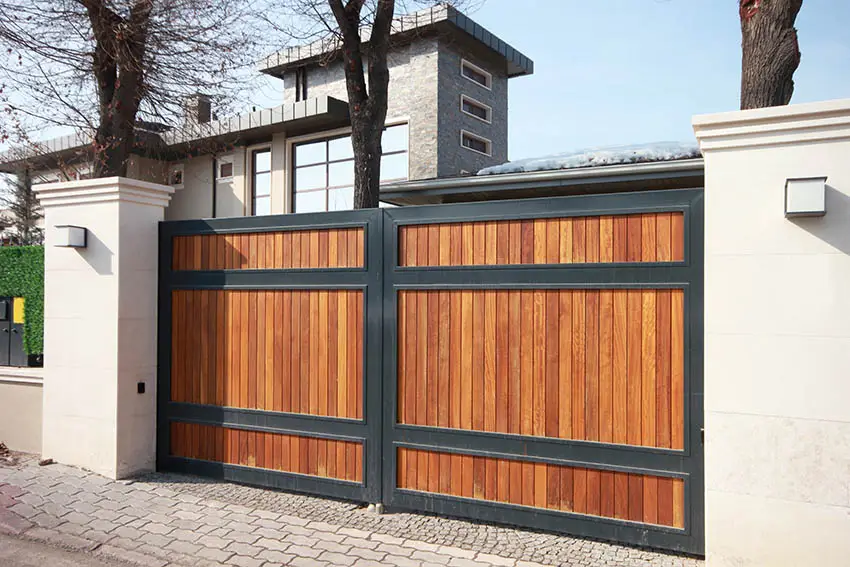 This is an excellent example of an industrial-style driveway gate. It has the classic combination of black-painted metal framing and vertical wood slats for the center panel, giving your property more privacy.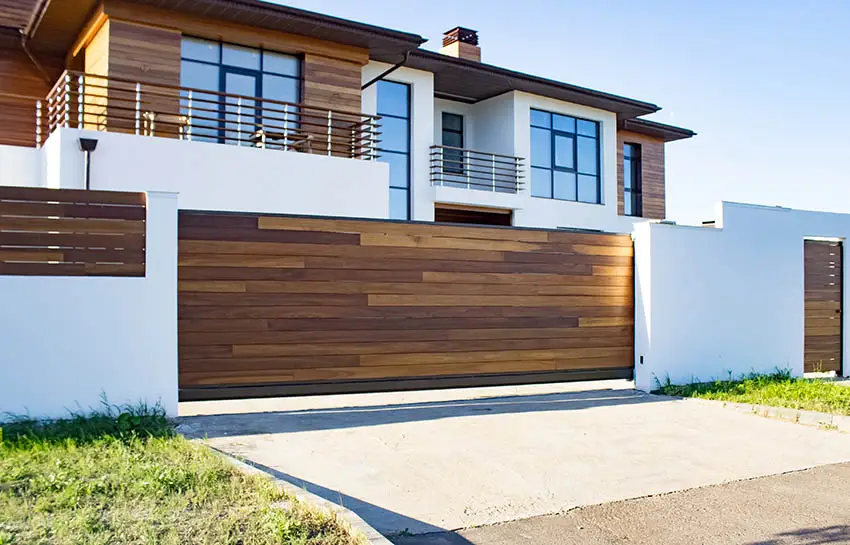 This gorgeous modern gate design really brings together the look of the whole property. You will see that this is a well-thought-of design, made to complement the look of the house's exterior.
The massive garage gate has a floating design – the metal framing is all clad with wood, while the sliding mechanisms are fixed on the concrete fence wall, allowing the gate to go without the bottom wheels.
It also provides a pedestrian entry so you don't have to open the massive driveway gate when you enter the property.The rough concrete driveway finish is low maintenance and a good option for a variety of climates.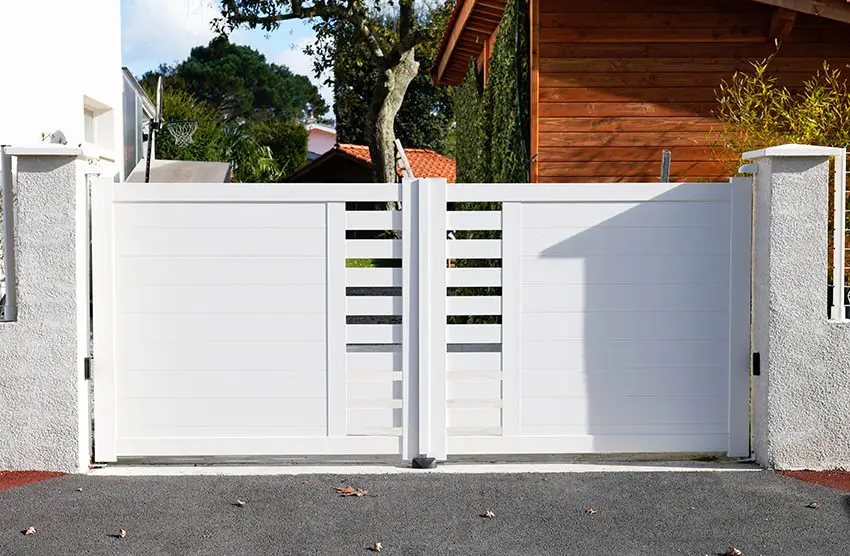 Sometimes, all we need is a basic white-painted wooden driveway gate. This design is a simple all-wood construction with a swingout design. Because this gate is low and a bit small, it will be easy to open and close this gate without difficulty.
Modern Metal Driveway Gates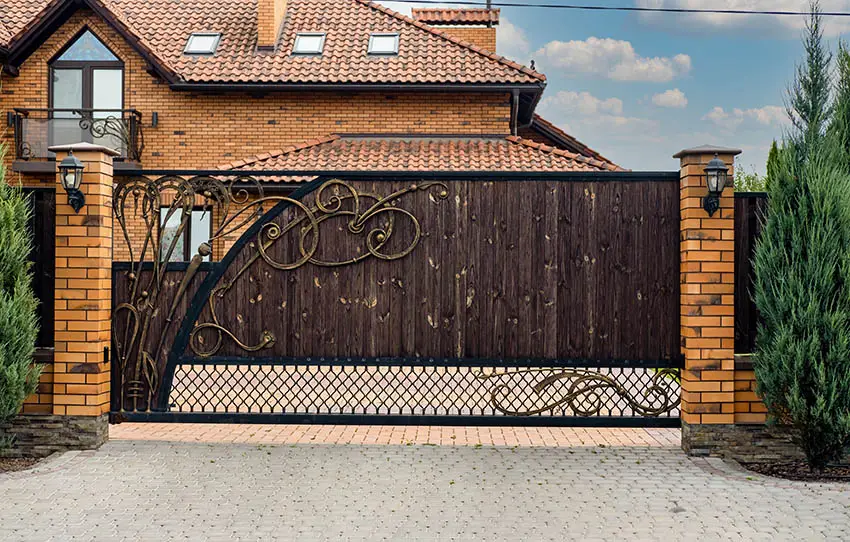 If you want a more whimsical, art-deco look, this design is a good example. Black metal, combined with dark-stained wood, metal mesh, and sculptural swoosh designs finished in antiqued gold definitely gives a nod to the classic style of the house, and blends well with the overall theme of the property.
A glimpse of the brick paver driveway that runs up to the house is possible through the decorative gate chain fencing.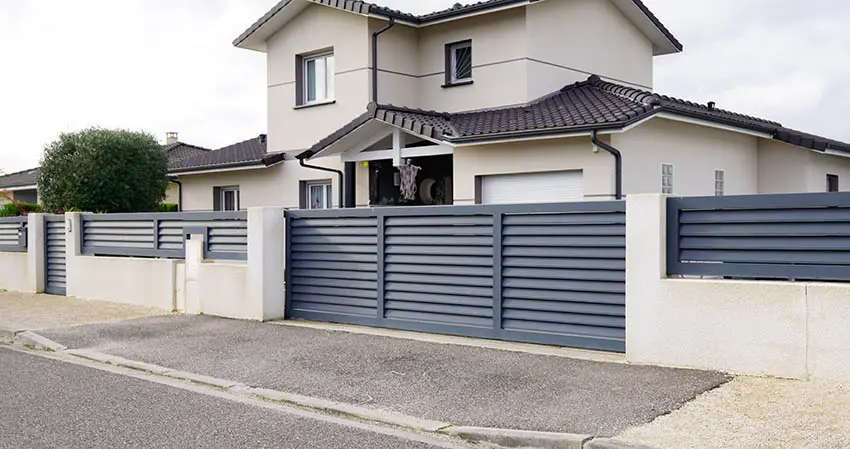 If you want privacy, but at the same time, don't want to completely block off the sunlight and airflow, using grated slats instead of fixed flat panels solves that.
The space behind your gate will practically be invisible from the outside but still allows light and air to flow into the property.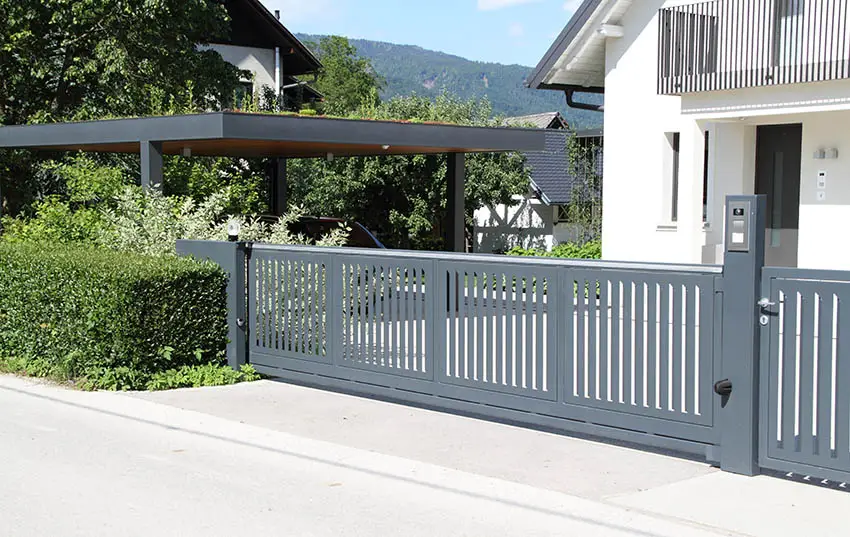 What this driveway gate lacks in height, it makes it up with its width. This low garage gate design uses all-steel construction with a cool grey paint finish the complements the color of the garage awning.
You will also notice that its vertical metal slat design complements the vertical slats used on the balcony railings, to create a cohesive look.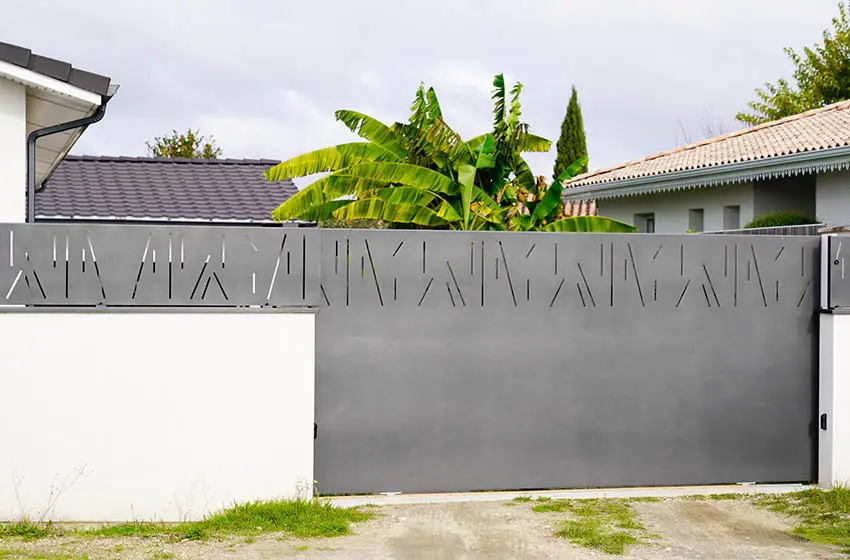 This is a gorgeous perforated steel sliding driveway gate. The design makes clever use of the perforated metal panels and adds that up to the concrete fencing. The design makes the gate look like a solid piece along with the fence. A basic gravel driveway is an inexpensive and low maintenance option.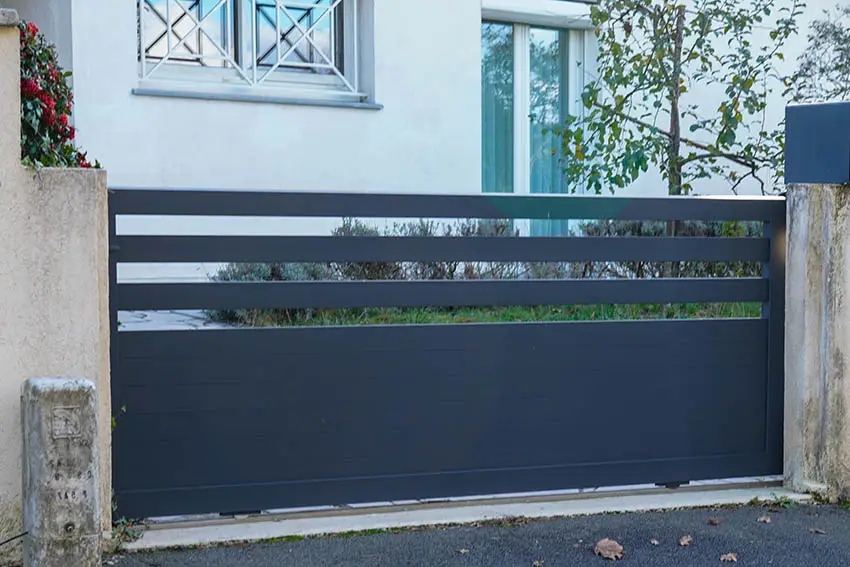 For small garages and yards, a sliding mechanism would allow you to create a large driveway opening, without obstructing the pedestrian area. The low height of this small sliding driveway gate makes it look less intimidating and homier.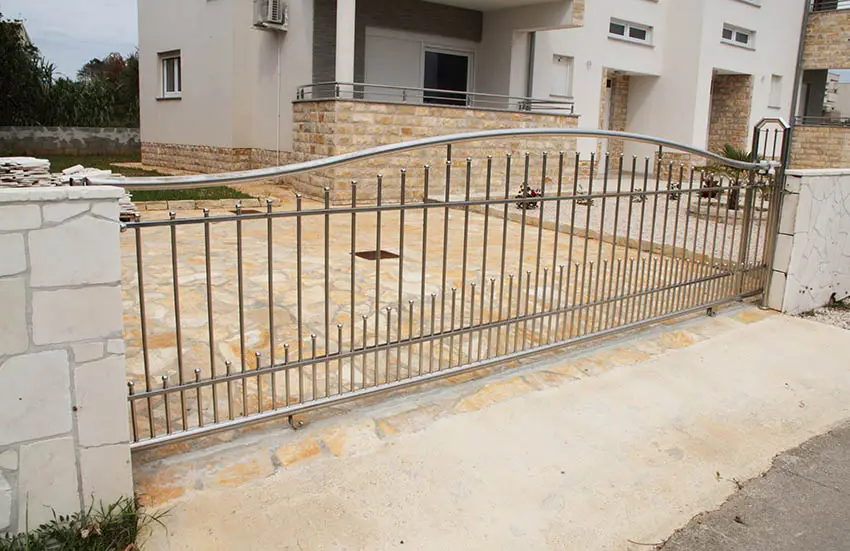 If you don't want to block the facade of your home at all, use thinner metal bars instead of wide pieces to give it a more "open" and airy feel.
This driveway gate uses all stainless steel for the frames and the vertical metal tubes that adds both function and design. Because the tubes used at the center is thin, it maintains an open, airy feel to the property.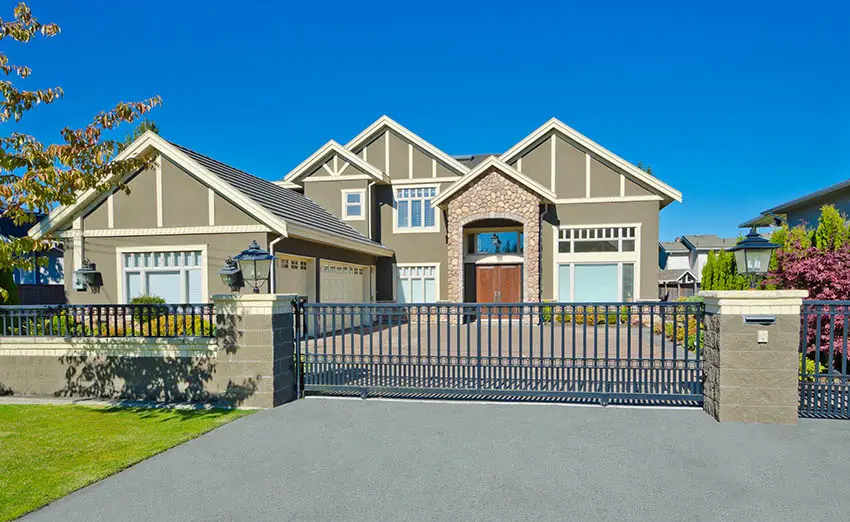 If you don't like the look of stainless steel gates, you can use ordinary steel, and paint it to the color you want. This steel gate with classic tracery accent patterns complements the classic lamp posts used on the fencing, and overall makes the whole design look cohesive.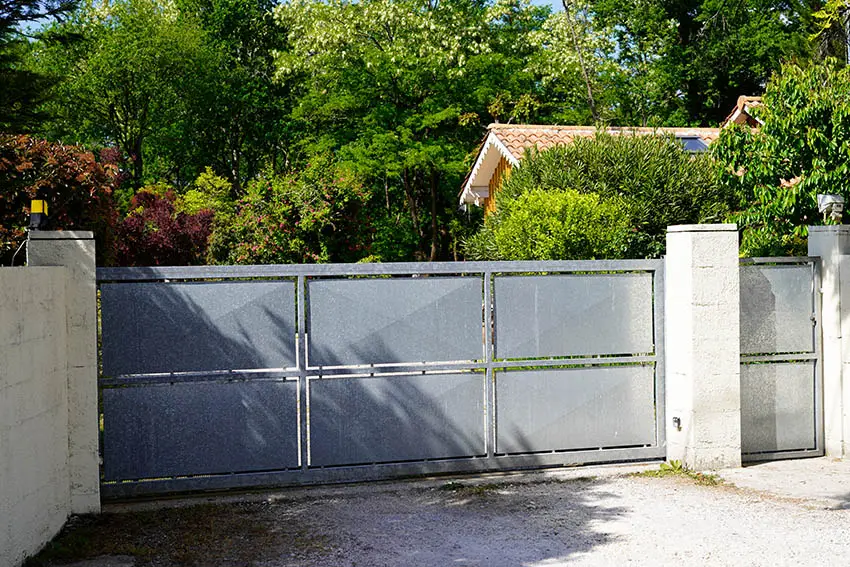 If privacy and security is your main concern, using metal panels is the best solution, as opposed to horizontal slats. Not only does it cover up the property almost completely, but it also is harder to climb over due to the lack of areas to step on.
For more related content see our gallery about the types of driveways.