See our playroom storage ideas including tips on how to organize kids' toys in a playroom, small and cheap storage recommendations and options on how to store large toys.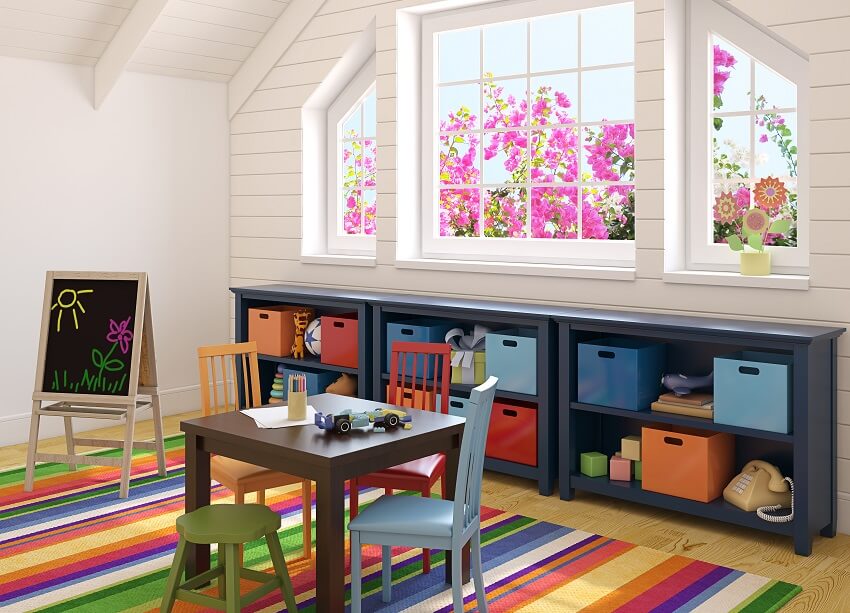 Designing the playroom for your child can be challenging not just because you have to make sure that it's a safe space but you need to have enough storage for all your child's toys.
Let's face it, clutter and mess will be an everyday scene in the playroom. But you need to have enough storage to keep all clutter in the right place once playtime is over.
With all the mess around you, how would you fit all your child's toys in their respective storage? You need to at least have a systemic way to organize the playroom. If you don't have one yet, start creating one.
How To Organize A Playroom
Before you start organizing the playroom, bear in mind that you don't need to go for the minimalist approach. The playroom is a safe space for your child to play around and participate in different activities. So there is definitely going to be a mess. Here are some simple tips for organizing a playroom.
Use Bins & Baskets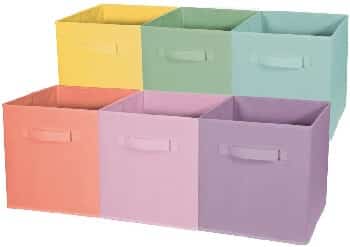 See this basket bin at Amazon [sponsored link]
While you can never avoid a mess in the playroom, using bins, baskets, and drawers can be helpful in storing toys and all other materials used for the kid's activities. And you can use bins and baskets to style the playroom in colors and designs that you want to use.
These storage elements are excellent for storing smaller items so as not to create clutter in the playroom. They will also be the perfect place to hide away toys that are rarely used and played with. Bins and baskets are very accessible too so kids can easily access them when needed.
Don't Forget to Make Labels and Keep Them Simple
Label every container you put inside the playroom, not really for your kids but so that organizing can be easier for you. Labeled containers can make it easier for you to pull out the needed toys for the planned activity of the day.
Keep your labels simple. Save all the styles and designs to colors and patterns but keep the labels simple and more understandable.
And while labeling containers can be helpful, make sure to not label ALL containers you have so that you can still use them for other purposes when they are not needed in the playroom.
Integrate Activities with the Playroom's Cleanup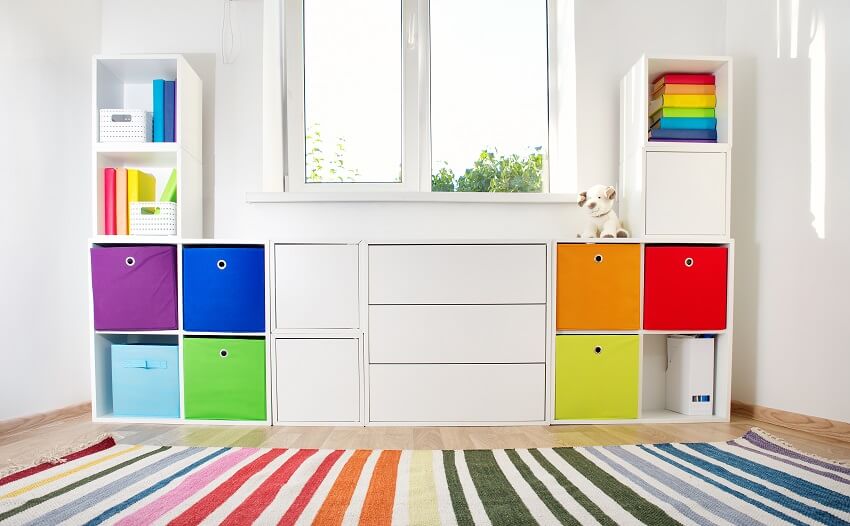 Picking up and hovering when your child's playing is a big no-no. Save the cleanup for at the end of the activity or at the end of the day's playtime. One of the most creative strategies you can do for the cleanup is to integrate it as the last activity of your child during his/her playtime.
One way to make cleanup fun and more engaging is to have a match game. You can color-code containers and assign them with a group of corresponding toys.
At the end of playtime, ask your child to place the toys in their corresponding bins. This will make cleanup more fun for your child and easier for you.
How To Organize Kids Toys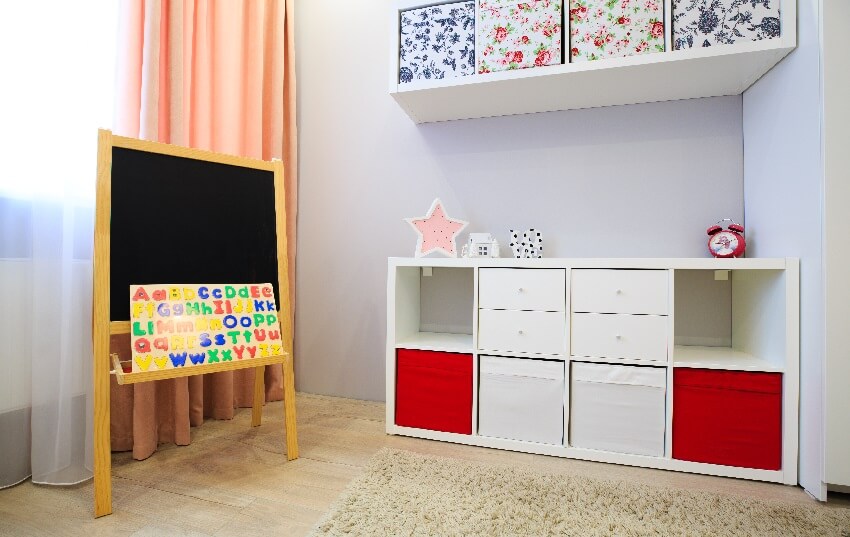 Organizing kids' toys can be challenging if you don't have any starting point. Group the toys you have in the playroom and place them together. This is more than just to have a more organized room but also so that you will find the toys you need much easier.
You can use storage spaces for the toys, including floating shelves and kid-friendly drawers. The key is to make sure that they are kid-proof and that you won't have to worry about any accident while in the playroom.
In using the toys, consider toy rotation, which means that when you purchase toys, do not give them all at once to your child. You can store them away inside bins labeled as new and simply bring them up once the old toys are put away.
Don't worry about old toys though since you can always take them out of the storage and reuse them if your kid is looking for them.
Finally, declutter toys that just serve as dust gatherers. If your kid is no longer playing with a specific toy, store it away. Yes, you don't need to throw them out! Just keep them in a container until your kid looks for them again to play with them.
How To Store Large Toys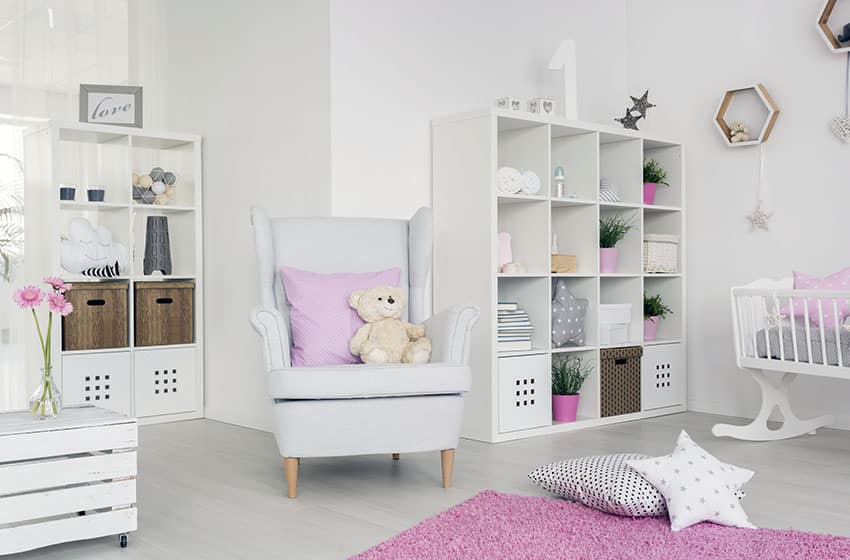 Large toys can be an issue especially if you have a small playroom. You can just place it out in the open just because you don't know how you can store it. Here are some options you can consider:
Desk Storage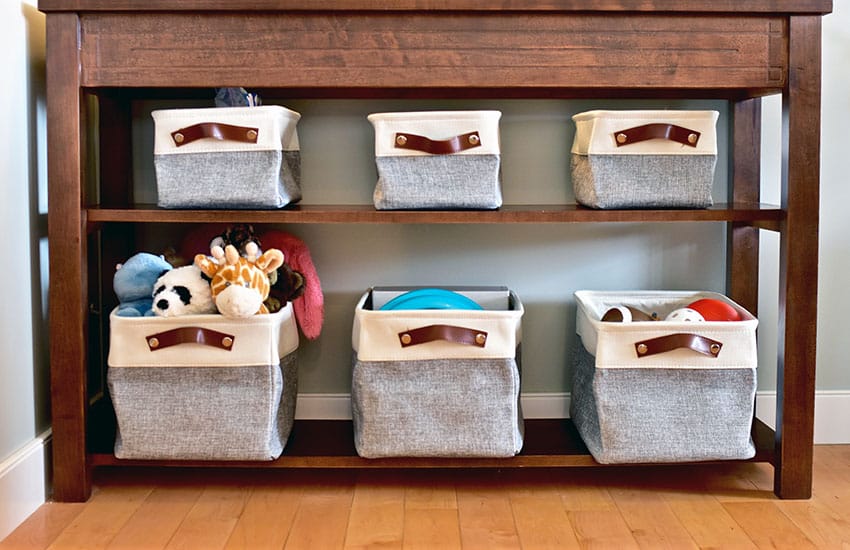 Desk storage can be a practical and creative way to store your large toys. While usually used for educational materials, you can always store large toys in your desk storage especially if it has enough space to accommodate them.
Ottoman Storage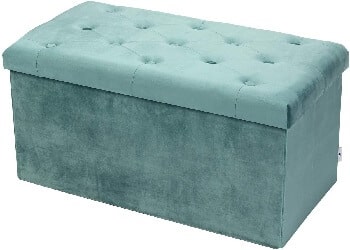 See this ottoman storage at Amazon [sponsored link]
Ottoman storage is another location you can keep your large toys. Similar to desk storage, it is creatively functional since it has two purposes- one for storage and another for a seat.
Built-in Bins & Cubbies
When it comes to large toys, "large" can be relative. If you can't find bombs and containers that can keep your kid's large toys, why not just build one? If you have enough space and can do a bit of a DIY, create built-in bins and cubbies that can accommodate the large toys.
Playroom Toy Storage Ideas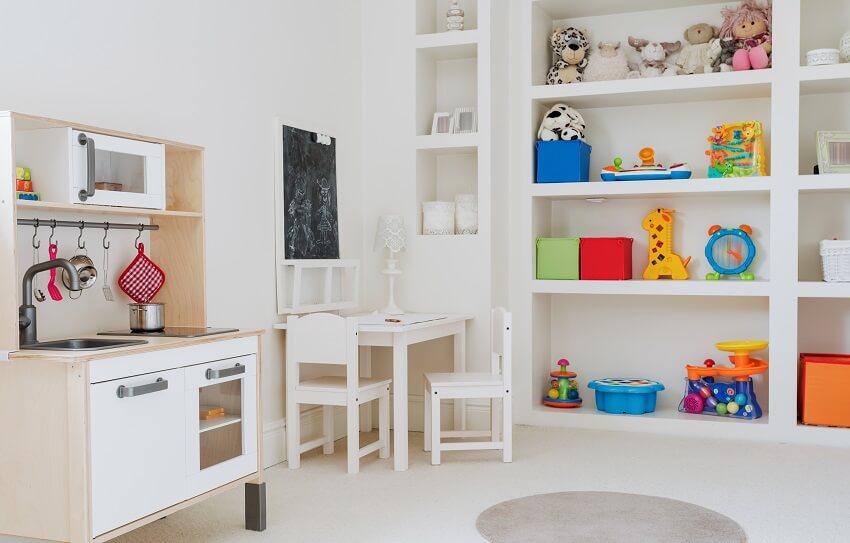 Are you still having a hard time coming up with playroom toy storage ideas to use? Yes, having kids can be exhausting, and even creating the perfect playroom for them can take you out.
If you're still looking for playroom toy storage ideas to consider. Here are some functional ones to check out. You can also check out our guide on some creative toy storage ideas for living rooms here.
Multipurpose Pieces of Furniture
Pieces of furniture that can also be used for storage are great for any type of room, even in a playroom. From an oversized desk where you can store large toys to a discreet ottoman that arts and crafts materials, these pieces of furniture are awesome toy storage for your kids' playroom.
For Books: Floating Shelves and Cubbies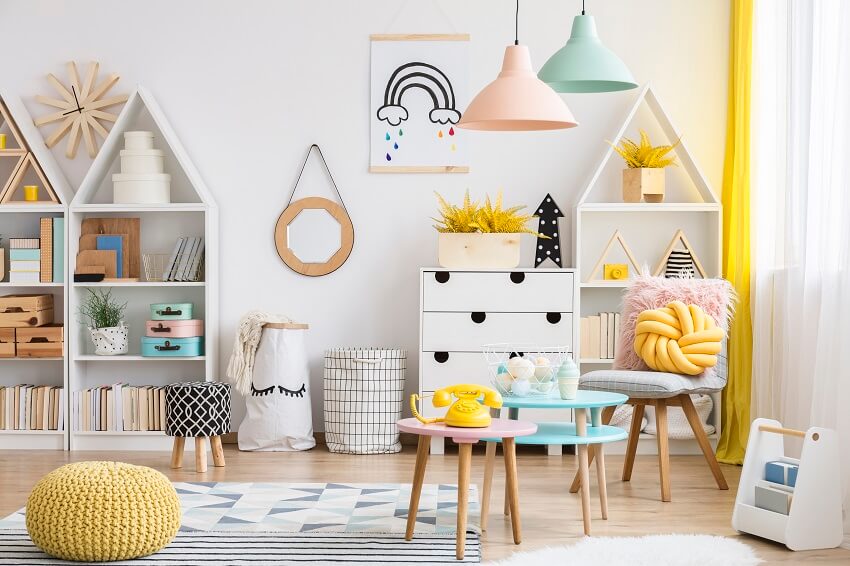 To organize your children's books in the playroom, there are two great options you can consider. You can choose floating shelves that can save space and organize your book collection excellently at the same time. You can also try out large cubbies to add storage to more than just books but also toys.
Woven Baskets
Baskets are incredibly versatile storage and woven ones have this classic appeal adding aesthetics to the playroom. This chic and stylish storage space can keep every type of toy your kid may have. –
Small Playroom Storage Ideas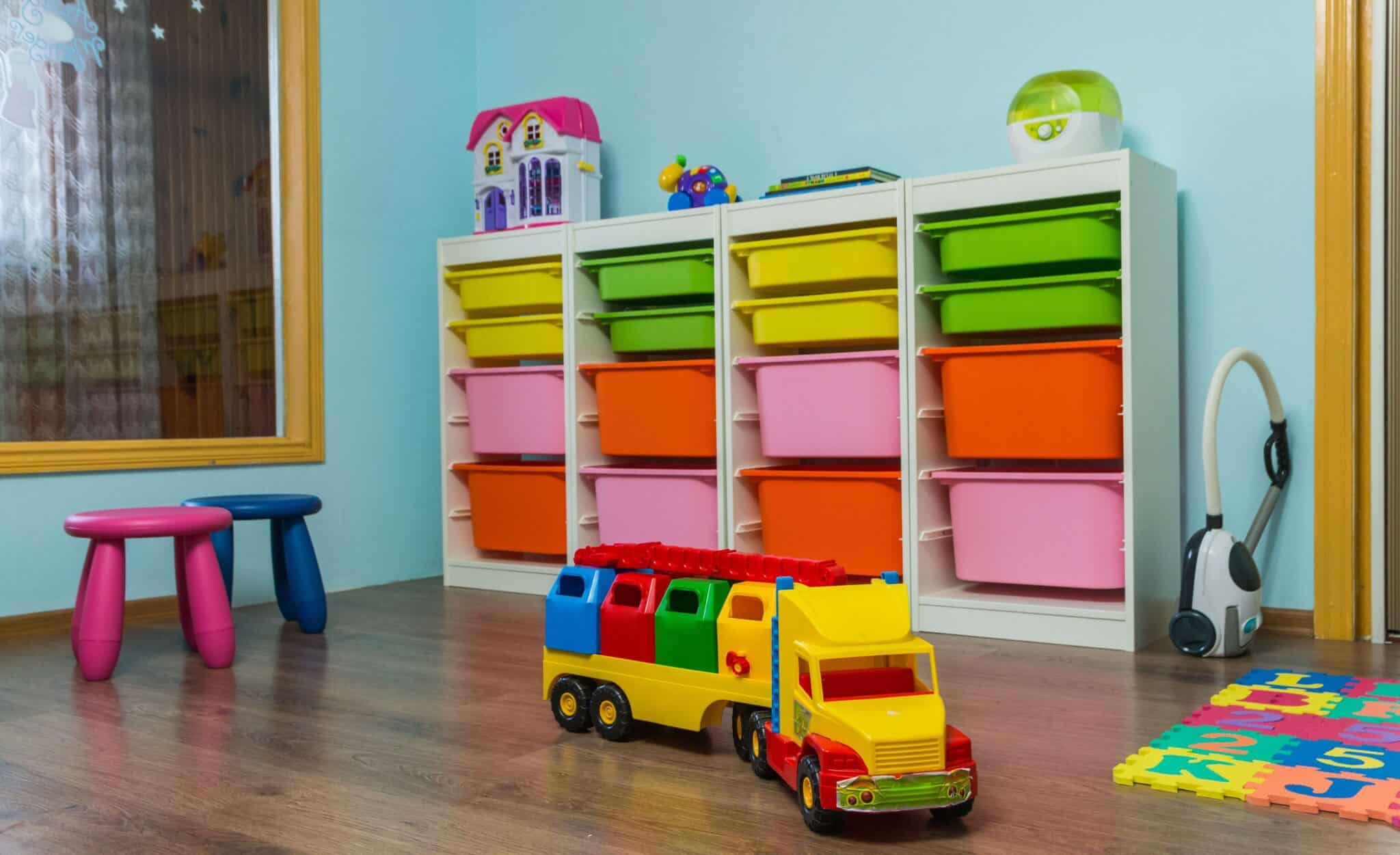 If you have a small playroom at home though and would require more consideration with the storage you choose for the playroom, here are some ideas to take note of.
Hanging Wall Storage
Hanging wall storage can always provide more floor space in a room. In the case of the playroom, more floor space means your kid gets to play around more.
And you also get to control the toys your kid will play with since they can be out of reach until you give it to them. Here are some options you can check out.
• Hanging metal baskets
• Mounted wood cabinet
• Floating shelves
Sliding Bins
Another safe-saving storage you can install in your kid's playroom is a sliding bin. Install sliding wooden and opaque plastic bins that can save space since they can easily slide in and out. And the storage can also be enough to accommodate large toys.
Pegboards Toy Storage
You can also mount pegboards on the playroom's walls for additional toy storage. It will be a great addition to the room's aesthetic and won't take up floor space just for the extra storage. Check out more storage ideas for small rooms here.
Cheap Playroom Storage Ideas
Besides considering the space your kid's playroom has, you would also need to take into account the budget you have for the project. If you have a tight budget, here are some ideas you can apply to the playroom.
Double Purpose: Use Toys as Decor
Besides choosing multifunctional pieces of furniture (which can definitely save you money!), you can also use toys and display them as decor to spruce up the playroom. You can pick out colorful toys or those ones that somehow click with the playroom's style and vibe.
DIY Built-in Storage
Another way you can save money in sprucing up your kid's playroom is by choosing to DIY. If you have time and you know a bit about customizing and DIY-ing furniture and decor, you might want to use that skill in your favor.
DIY the playroom's decor however way you want and integrate your own personality, as well as your kid's, in designing the room.
Visit our playroom paint colors guide and our gallery of amazing craft room ideas for more related articles.