See cheap ways to cover walls, including different methods such as curtains, peel and stick wallpaper, print fabrics, wall panels, mirrors, and other DIY decorative ideas.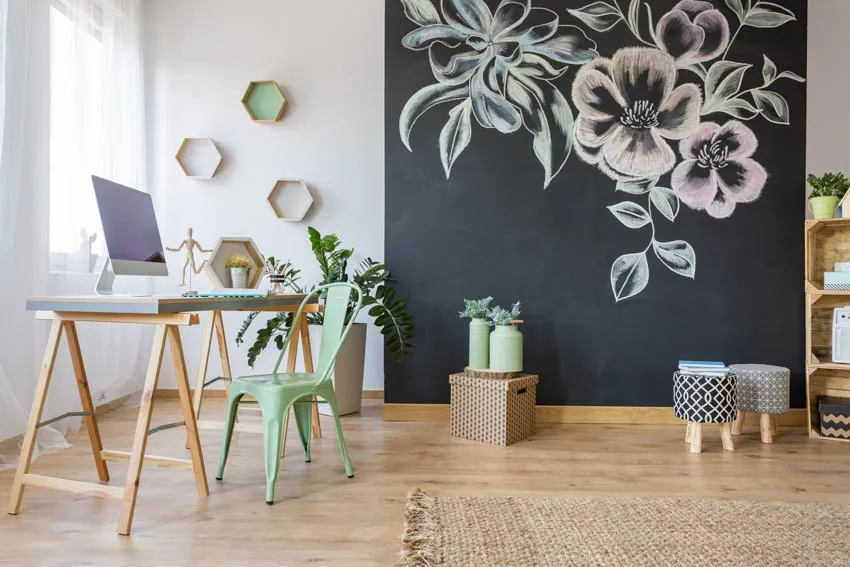 The decorative elements bring the room together by incorporating wall treatments that would not only look great but can also be a cheap yet stylish way of hiding unsightly eyesores on your surfaces, such as holes, dings, and scratches.
Walls are a very important part of your home's interior and exterior. Therefore, most homeowners prefer to keep them always looking beautiful.
Add bold colors to your walls , or use a neutral monochromatic color scheme for your surface decor and incorporate bolder furniture choices. Remember that colors or ornamental treatments you add to your walls can assist in unifying the elements in a room.
Any materials you integrate into your room surfaces will set the foundational style of your space, so covering them with the right wall treatment is so important. The following wall-covering ideas, including texture-effect wallpapers and three-dimensional materials, will change the room's look.
Curtains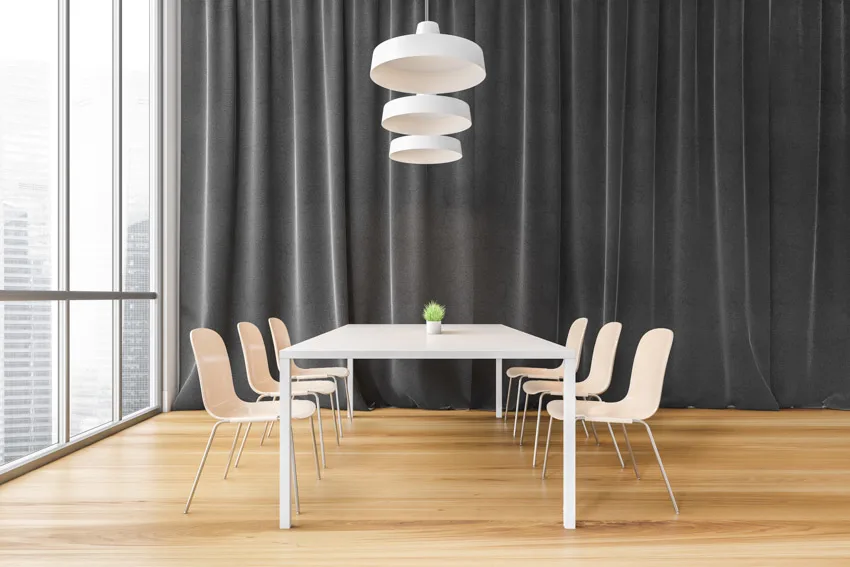 Curtains will work equally well as one way to cover walls to hide an unpleasant finish or dangling wires. This kind of surface cover does not have to be limited to covering most types of windows; they are often the most affordable option for a wall treatment.
Curtains can be used in many rooms; they can create a focal point since they offer additional design features such as headboards, room dividers, and a decorative wall treatment.
It can also hide any flaws on surfaces, offering a sense of depth by giving your space a more sophisticated and opulent look. Hanging curtains on the wall can also give the appearance of towering ceilings.
Peel And Stick Wallpaper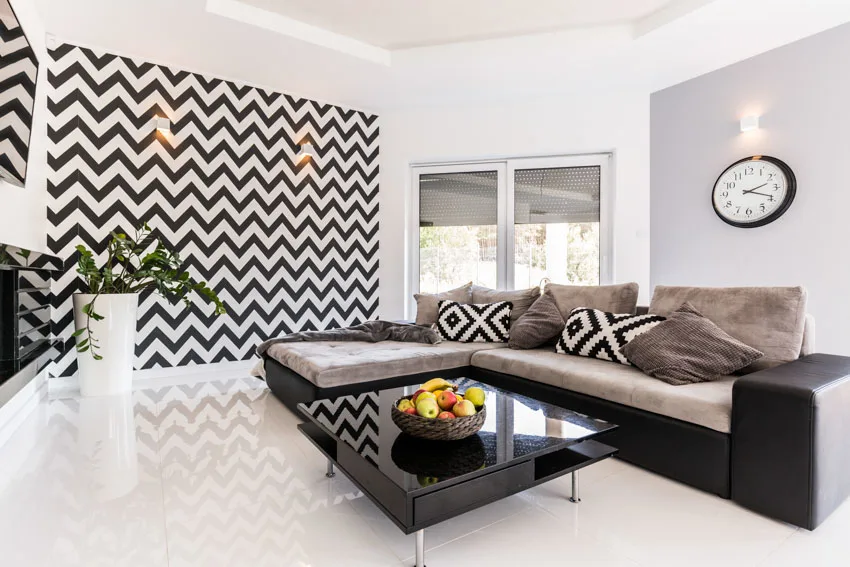 Peel and stick wallpaper is probably one of the easiest and simplest ways to cover up some ugly walls. It's a great low cost way to transform a space without DIY experience.

There are a lot of epic peel and stick wallpapers in the market nowadays that can make a bold statement and show fantastical scenes, pretty patterns, or creative design concepts.
Like decals, peel and stick coverings can be removed without damaging the surface area.
Since peel and stick wallpaper comes on a roll, it is a popular design choice for covering large areas because it can be installed in generous sections.
Print Fabric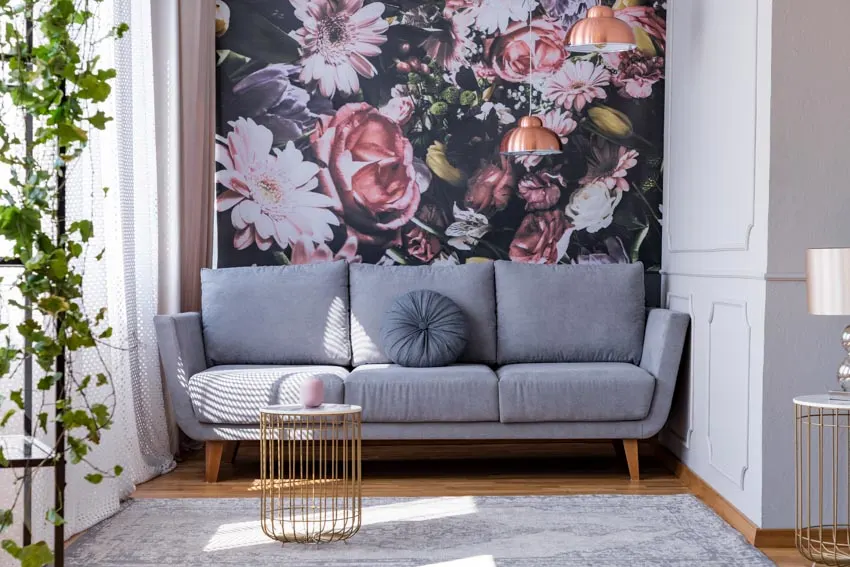 The next best and cheapest way to cover bad surfaces is to incorporate printed fabrics. Adding color to the walls using print fabrics can allow you to get a little creative with fabric.
We suggest mixing starch with water to attach the fabric to the wall for an on-the-spot wallpaper or paint effect. Make sure you measure your wall carefully to get the right amount of fabric, and add a bit more than you need because starch can cause some shrinkage.
When changing your wall covering, pull the fabric off and wash off the starch with a sponge and warm water. As for the print fabric material, the easiest way to make a fabric cover is to use 100% cotton cloth since it works well with starch.
Another tip for using print fabric to cover a wall, instead of covering the entire surface, try to add interesting focal pieces this way.
For example, cut your fabric into interesting shapes such as a tree, flowers, butterfly, your child's favorite animal, or even a child's name for their room.
Wall Panels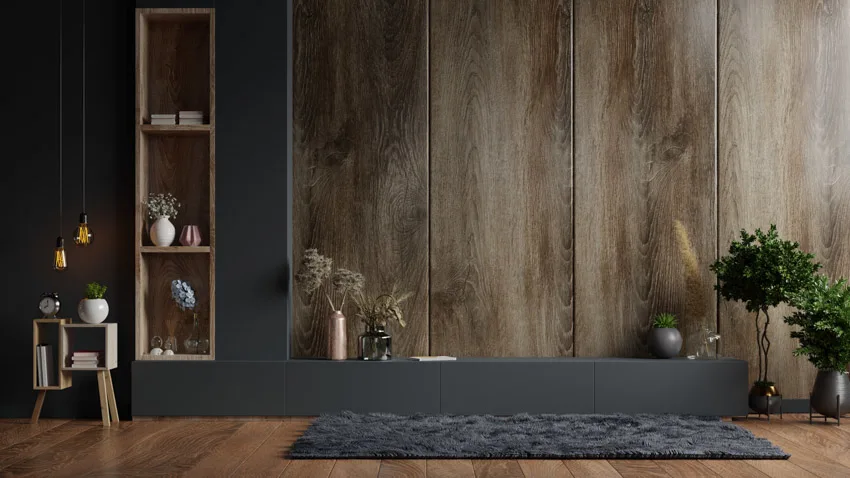 Wall paneling isn't just decorative but can also serve a functional purpose since it can save you time patching holes or cover any damage.
Impact-resistant panels protect your wall from scratches, dents, and other indentations. It is also easier to clean or replace a section of paneling than it is to repair drywall, and it can be installed over rough or uneven surfaces.
There are also flexible design choices to cover using elegant paneling, such as reclaimed wood which offers a rustic look and is great for creating an accent wall. Wainscoting, on the other hand, adds character to the bottom half.
Wallpaper Panels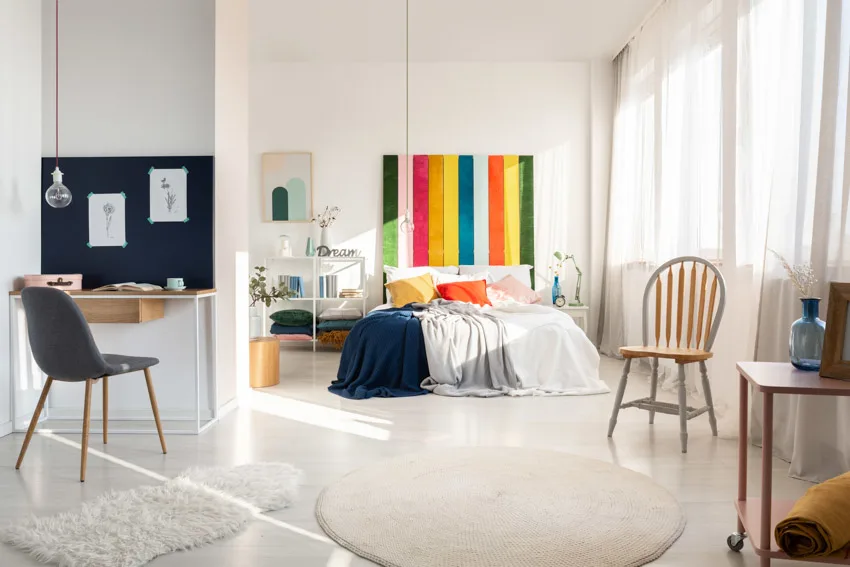 Using wallpaper panels as artwork for a covering can help you bring some patterns and design features into a room. You can use regular, pasted, and peel-and-stick wallpapers these can all work for this project.
In choosing an interesting pattern you love, we recommend looking for a large-scale pattern that doesn't repeat within your frame size. Keep in mind that it would be best that the wallpaper pattern is without an obvious repeat in order to look more like art décor.
Create panels by purchasing long frames, wherein you can frame your choice of wallpaper.
You may opt for using the same wallpaper in all frames, or you can use your creativity and find different styles to frame individually. Make sure that all wallpapers have one element that incorporates them, such as similar colors and design ideas.
These coverings will provide a fresh look to your boring old walls and provide your decor with a sense of sophistication, luxury, and a modern feel. If you are still deciding between wallpaper vs paint check out this page.

Slat Wall Panels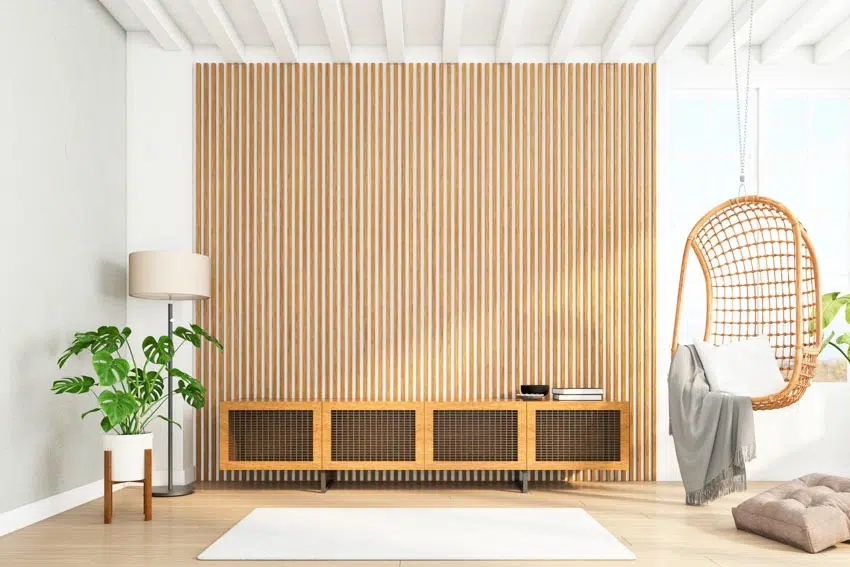 You can find many different styles and materials of slat panels, which can be useful depending on your desired design. Popular materials include MDF, fiberboard, OSB, plywood, and particle board.
Some slat panels come with slots that can be useful for hanging tools or materials that could be used for a hobby or crafts room.
If you're looking for soundproofing ability, there are acoustic panels available that can dampen the sound coming from other rooms, which is useful for shared walls in apartments or condos.
Pegboard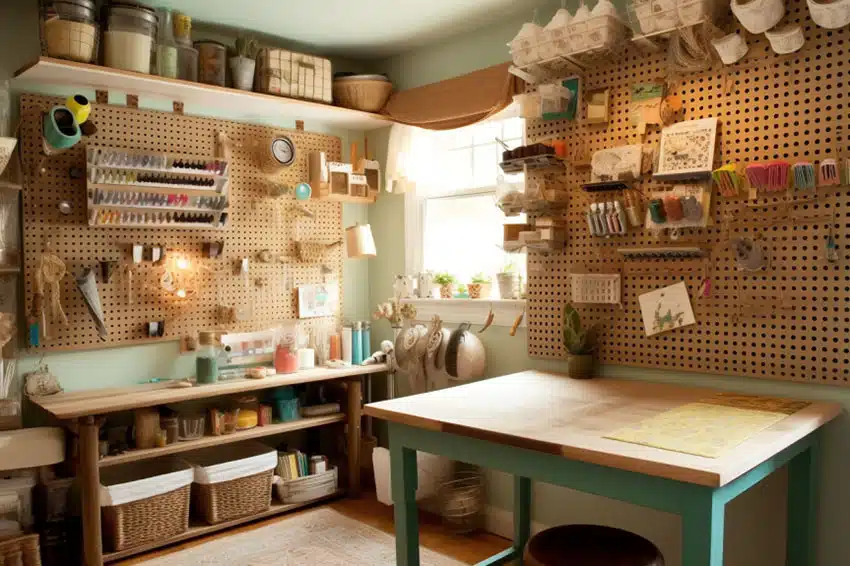 Pegboard is useful for hanging all sorts of tools and craft materials from a structure. They're often found in garages, home offices, kitchens, and hobby rooms.
They come in different materials like fiberboard, metal, and plastic in various sizes. In addition to being useful for adding vertical storage space to a room, they are also affordable.
To make them look a little more attractive, I recommend several DIY tips. First, you can add a custom frame to the edges to make them look higher quality and more appealing.
Second, by painting them with a can of Rust-Oleum Ultra Cover paint, you can improve the look. This works best with wood or fiberboard materials.

Another option is to use peel and stick wallpaper to apply to the surface to match your room theme and add some of your own personality to the room.
Faux Stone Wall
A faux stone wall can cover up any imperfections and transform the look at a relatively inexpensive price, depending on the type you buy. You can find these that look like stacked stone, river rock, bricks, or flagstone, to name a few.
These panels are durable and easy to install without too much hassle. You'll need some basic tools to cut them to the desired dimensions you need and mount them using caulk adhesive or screws.
Often, faux panels interlock together to create a better bond, so it's a good idea to look for this stone cladding style if you intend to cover a large area. It's a good idea to carefully lay out the panels and mark where you want to use screws going for the wall studs if possible.
Mirrors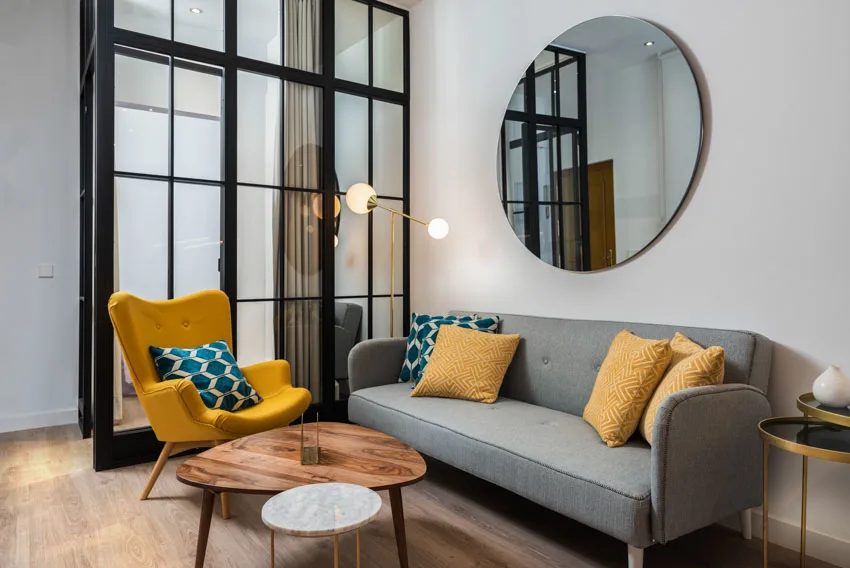 Regarding DIY coverings, there is another cheap and quick fix. Try using different types of mirrors – if you have a large mirror, lean it up against the wall to make a statement piece to fill up that ugly wall space.
If you have a few framed mirrors, you can try to create a collage of mirrors on the wall. This will also be a great decorative piece, and these mirrors can help bring light into the room and give it a larger feel.
Mirrors offer a particularly stylish way to cover a wall and, at the same time, make the room look classy and can give elegance to an entire room.
Foam Boards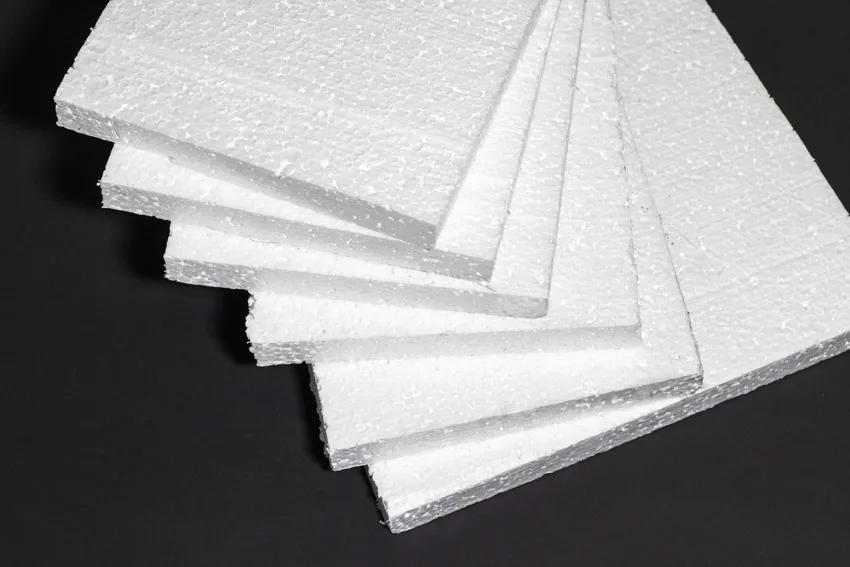 Foam boards are one of the most flexible ways to cover a surface since they create a new surface on which you may provide any cover on the foam boards you want.
You may either install foam boards as separate panels, putting up one board at a time, or connect them as a whole and cover them with any material, such as wallpaper, fabric, decoupage art, or pictures.
If you opt to install foam boards as one large piece, ensure the foam is slightly bigger than the area it covers. Using tacks to secure foam boards will help in the tight fixing of the foam boards to the coverage area.
Art Prints & Photography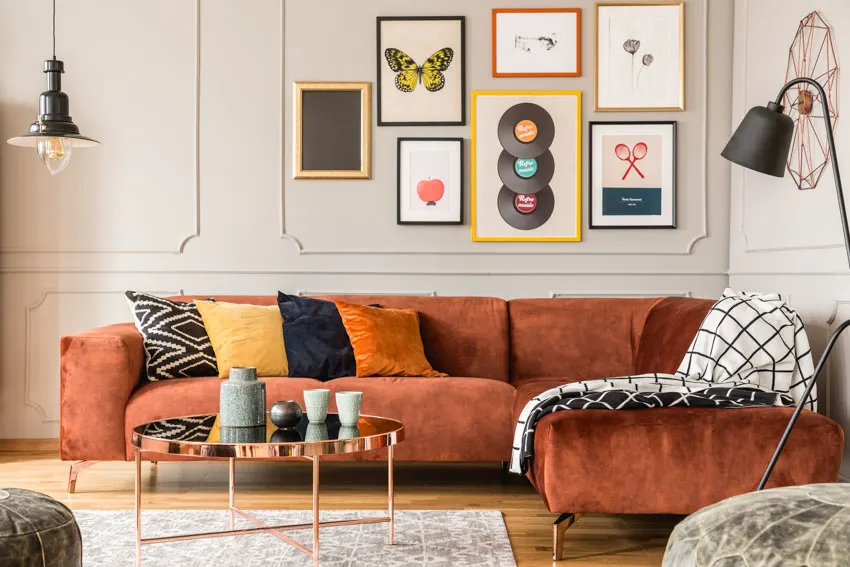 Another option to cover an area is to have a picture wall gallery of art prints or photographs. You can hang a collage of your favorite pictures that tell a story about who you are and what you love.
To have unity in hanging the photos, try arranging them in a brick-look pattern and ensure all the photos are printed at the same size and arranged in defined rows.
A postcard collection is also a great way to create an awesome mural wall covering and showcase your great memories from your travels and family trips.
For large, bare sections, you can also use large pieces of artwork and hang them in a way that makes an otherwise boring space look a lot more interesting. Read more about how high to hang pictures here.

Decorative Wall Coverings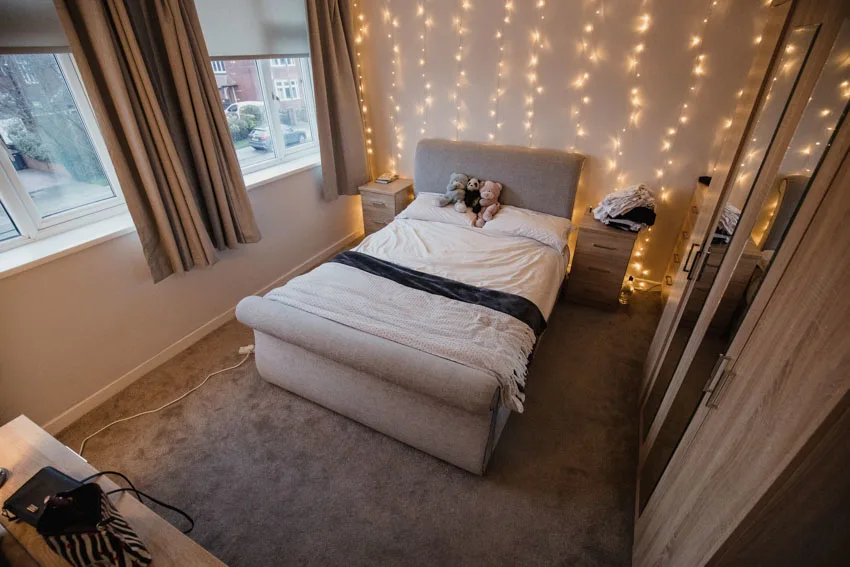 If you are fond of collecting weird oddities and unique items, all that collecting will come to noble use by displaying your eccentric knick-knacks on the space for a real statement.
Or try something original and unique by considering creating your own piece of art by painting on canvases in a variety of sizes and try using different art materials and paint mediums.
You could also opt to use a set of mixed-media paintings that incorporate souvenirs from different occasions or places you have traveled.
Or experiment with putting up posters of your favorite bands, movies, or art exhibits. There are endless possibilities, using decorative wall coverings to help you create something original that reflects your unique personality.
Privacy Screens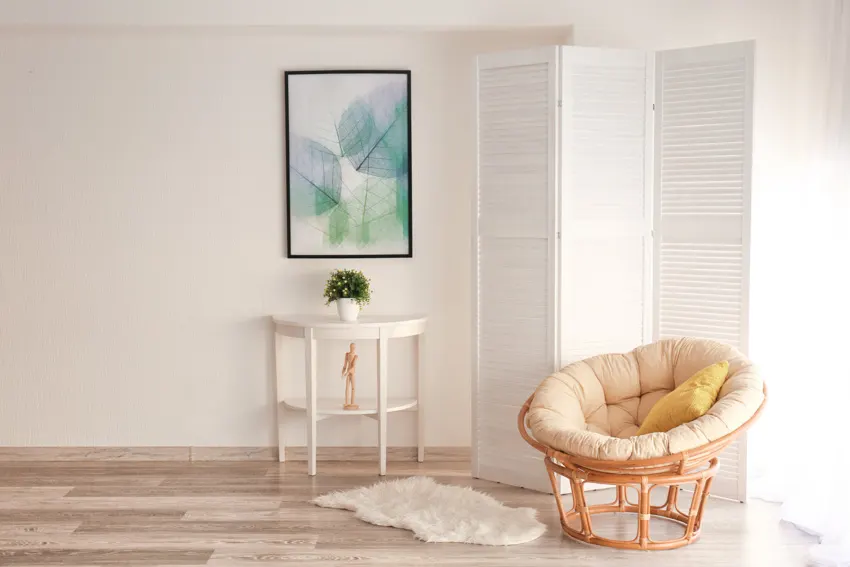 Folding privacy screens are versatile pieces of furniture that can be used as temporary wall cover décor. You may use a Shoji screen; its somewhat transparent design, when incorporated with a lamp behind it, will create an illuminating romantic feel and add drama to the room.
A bold, eye-catching privacy screen, when placed against a neutral wall, offers a striking accent piece in the room. Adding photographs or paintings to plain privacy screens that create a gallery effect will present an interesting wallcovering.
This way, you can avoid attaching photos and paintings, which can be problematic, especially for renters.
You can also opt to use a stencil to paint a design onto the screen to add color and texture to your wall cover without the commitment of it being permanently attached. You can move the screen around the room or anywhere in the house.
Tapestry Wall Hanging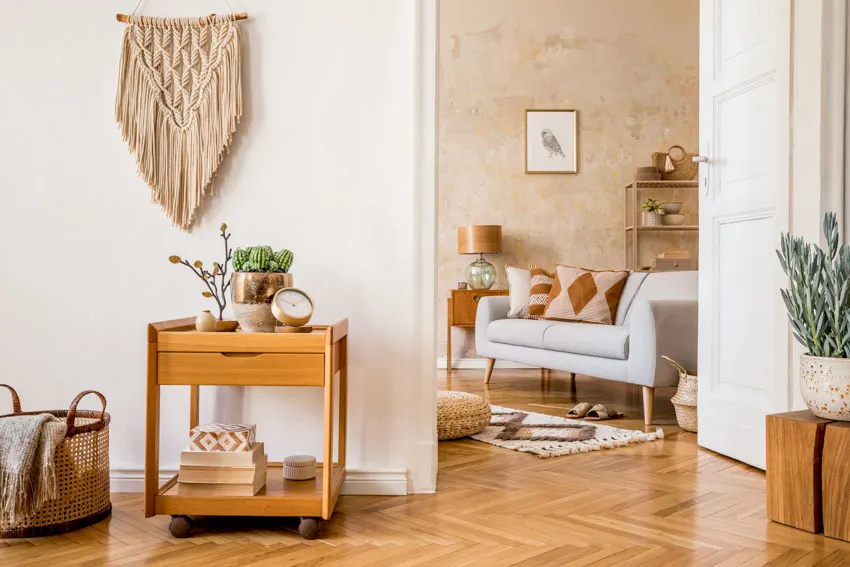 Does a Bohemian design style fit well with you? Hanging tapestry is one way of adapting the chic bohemian decor, as most tapestries have a modern, quirky art style.
Stylish beach blankets, printed curtains, and artistic tapestry can go up to the ceiling for a bohemian look that can help warm up the room you will love.
Opting for a tapestry covering, you don't have to go for a full-on fabric surface. You can use various methods to hang it; try using drapery rods, Velcro strips, coat hangers, and curtain poles.
A patterned fabric could provide a new and fresh look to hide any unattractive flaws or defects on your walls. It would also give your room a warm and inviting feel.
Your old sheets and blankets may be converted into a hanging tapestry, or another great idea is to use tie-dye fabrics. This is one of the simplest and cheapest ways to cover up your walls and make something elegant for your home. Hanging tapestry to cover your space will warm up your space and bring in a touch of personality.

Hanging Rugs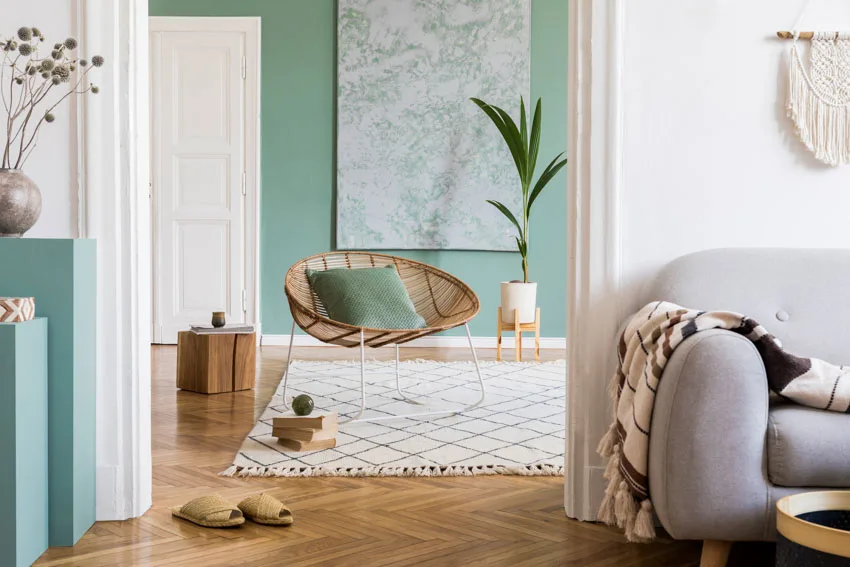 Rugs can also be displayed as what you would do with a tapestry in a room. Hanging rugs are also a great idea to use not only to cover walls but to hang them as various types of headboards.
It is not as complicated and labor-intensive as using panels or deciding to use wallpapers. Hanging rugs is also a fantastic way to repurpose an old rug and give it a new purpose, adding warmth and personality to the room.
Wall Decals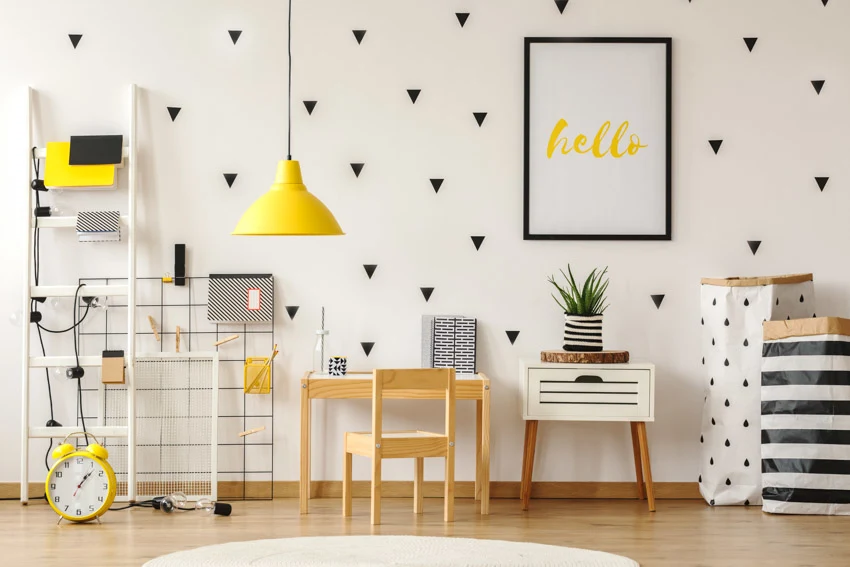 Wall decals have become increasingly popular to use as a covering; not only are they quite inexpensive, but they are also very easy to put up and can completely transform a boring spacel.
Vinyl decals can be a bit pricier than other options, but they are long-lasting. Vinyl decals can be applied with no lasting damage to the wall, and they are super easy to remove. These decals are a good option for renters as well.
Decals are the new way to add different style motifs, and they come in a variety of designs that can be stuck where you want them, peeled off when you're done, and replaced as many times as desired with no harm done to where they are applied.
Whiteboards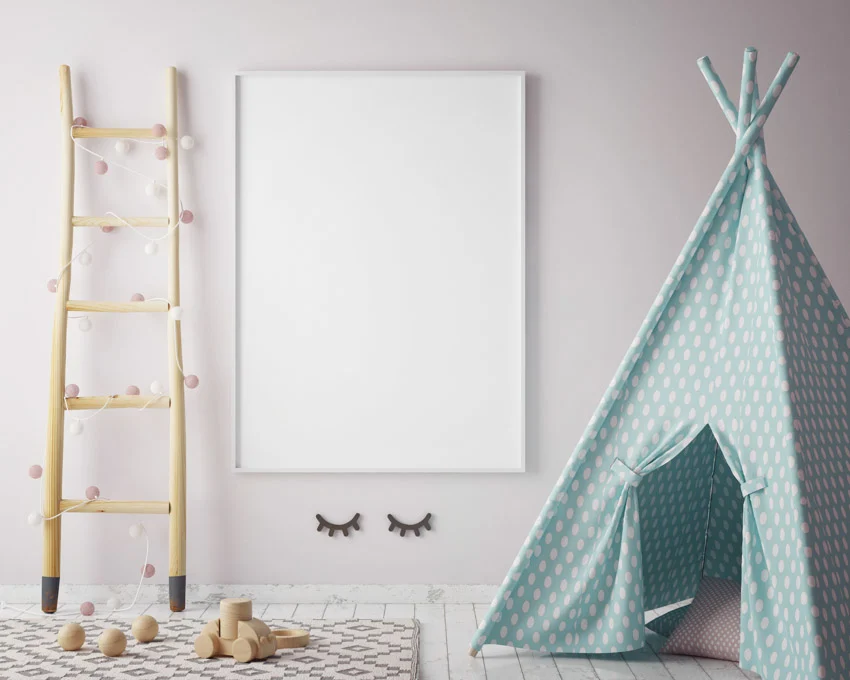 Using a whiteboard or dry-erase board for a covering is a great idea in a kids' room, a play area, and even your home office.
It can be a creativity booster, encouraging your children to finish schoolwork, especially when they practically cover one side of the room. It can also help with organization and is an awesome planning tool for your office room.
Hanging whiteboards in a room can serve as a place for brainstorming and research or act as inspiration boards, message boards, calendars, and ideation walls, not just as an artful surface.
It also enhances the thinking process of family members, where they can physically place sources of inspiration and work in progress that everyone can see.
Cork Panels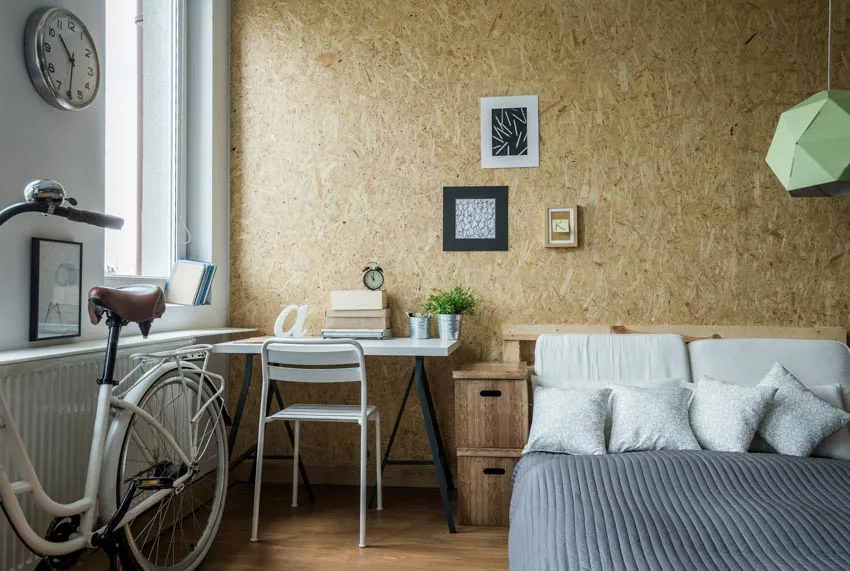 Cork panels provide an easy-to-apply covering that is highly decorative, warm to the touch, functional, and adds insulation against noise.
Cork panels are a functional self-stick sheets with a soft and earthy look that can be used as an inspiration board and are better than your regular old bulletin board.
Natural cork tiles are eye-catching wall décor that is eco-friendly and is a renewable resource because the bark is merely "trimmed" and allowed to grow back.
Paint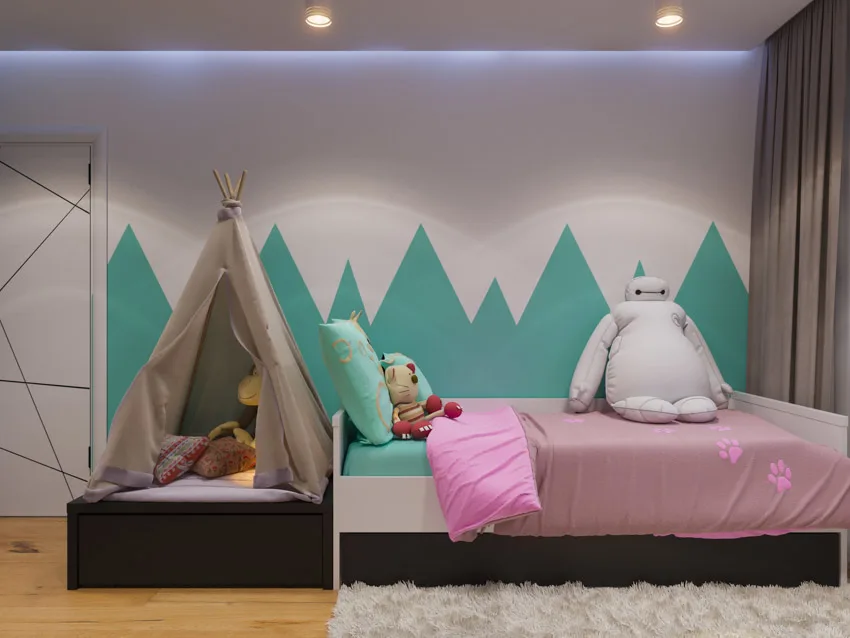 Among the effective and cheap ways to cover walls is to apply paint. Your imagination is the only limit to what you can do with painting your walls.
Pick paints that hide imperfections first and choose the right techniques, such as color-washing, rubbing, glazing, and sponging. These are just some painting techniques that can make any imperfections seem like a part of the paint job.
Stick with a flat finish, always. Glossy paints reveal uneven spots and imperfections. Dark colors also absorb, rather than reflect, light.
As a result, any flaws are less noticeable. However, keep in mind that you don't select anything too dark since dark colors tend to make spaces seem small, cramped, and overwhelming.
Finding a color appropriate to your design scheme and mood is key to a good interior design.
Have you tried any of these cheap wall cover products? We'd like to hear your results in the comments. See more related content in our article about geometric accent wall ideas on this page.