Discover these 29 creative pegboard ideas including the different ways to use it for garages, tool storage, shed organization, potting station, and more.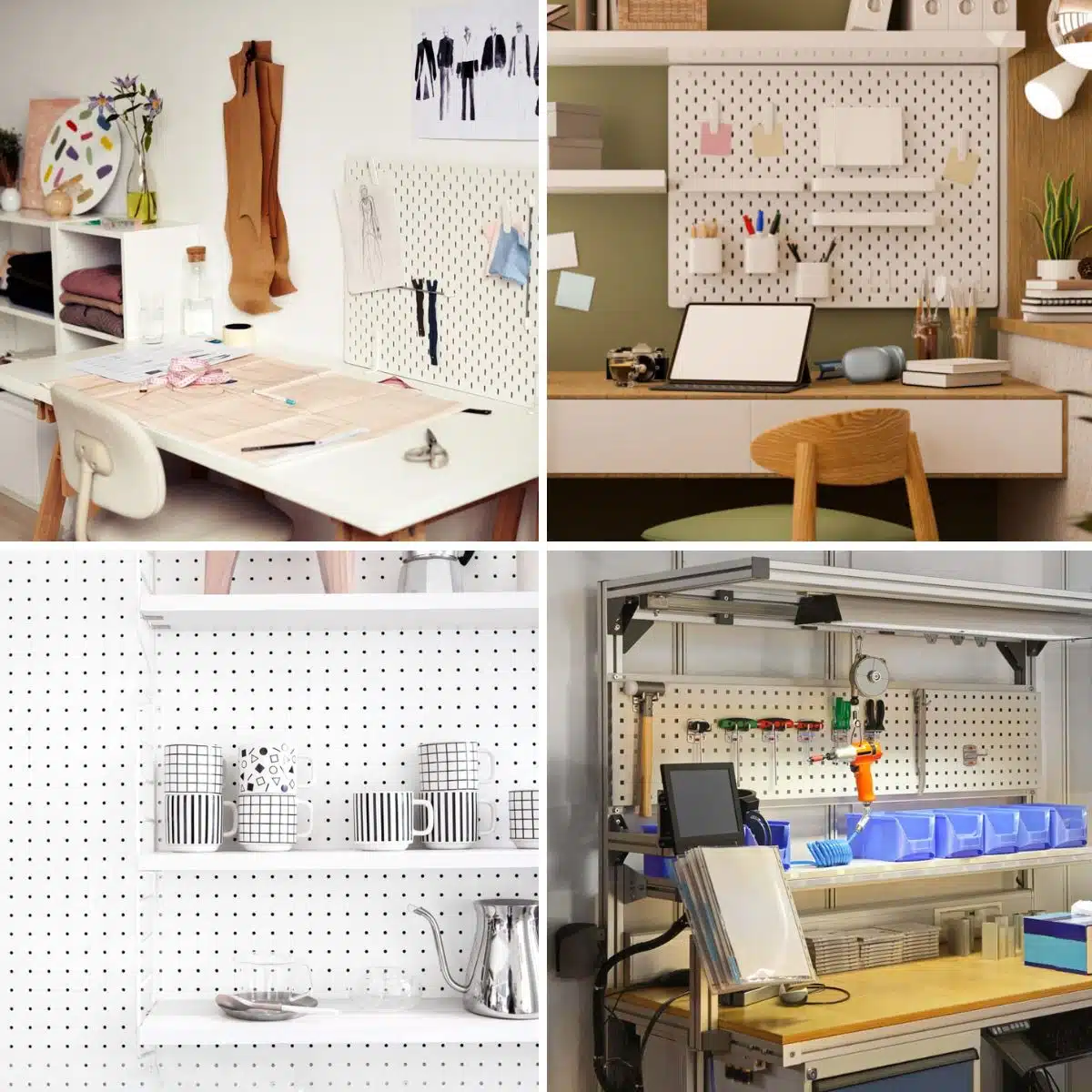 Pegboards are one of the most practical and creative ways to set up and organize interior design. They're easy to get your hands on because they're available in all the hardware stores. On top of that, they also come cheap. They make for very practical and yet very versatile storage solutions. If used correctly, they can transform the way your home looks like.
Another reason why they appeal so much to people is because they're aesthetic and highly customizable. It never gets dull with a pegboard accessory at home or in the office.
Keeping living spaces or work spaces visually appealing and organized simultaneously is a must-have these days, and this is precisely what the humble pegboard can bring to the table.
This has many applications, from kitchens to craft rooms, sheds and garages, bedrooms, and much more. Here are some ways to make pegboard aesthetics and functionality work at home.
Ways To Use Pegboard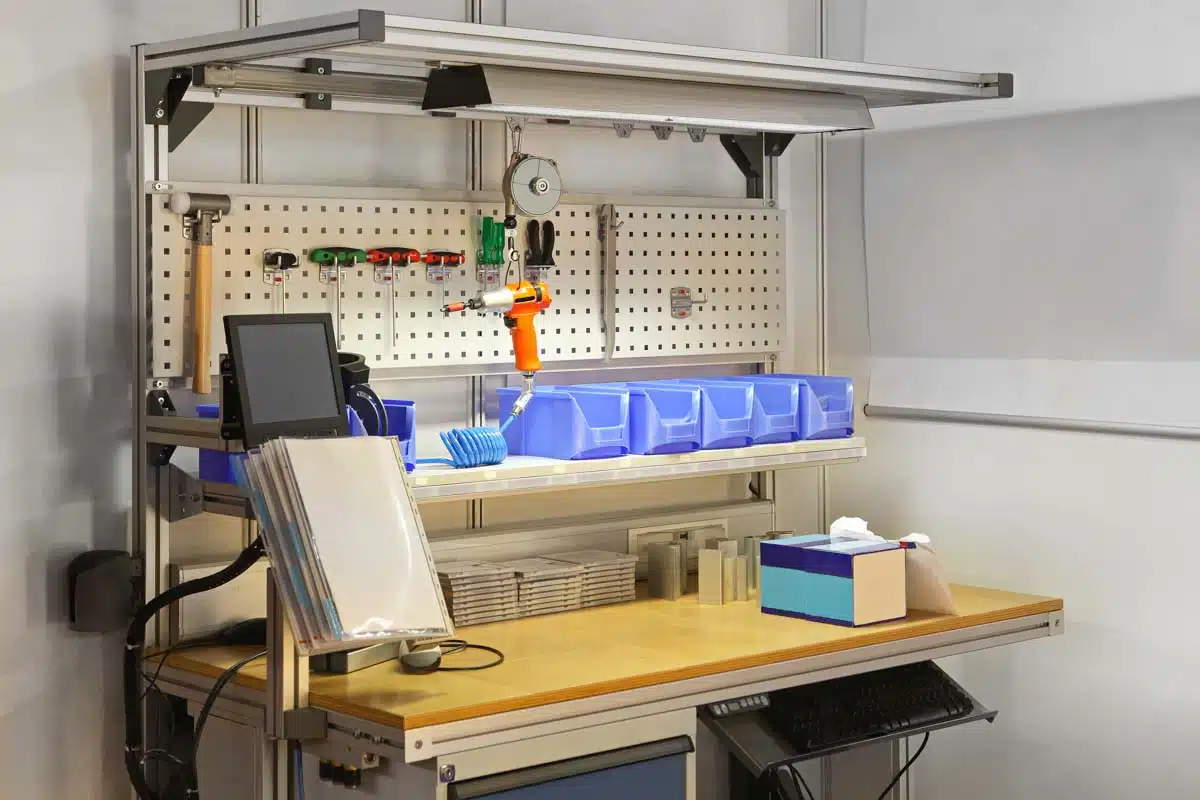 Here we share a variety of pegboard organizing ideas for inside the home.

Garage Organization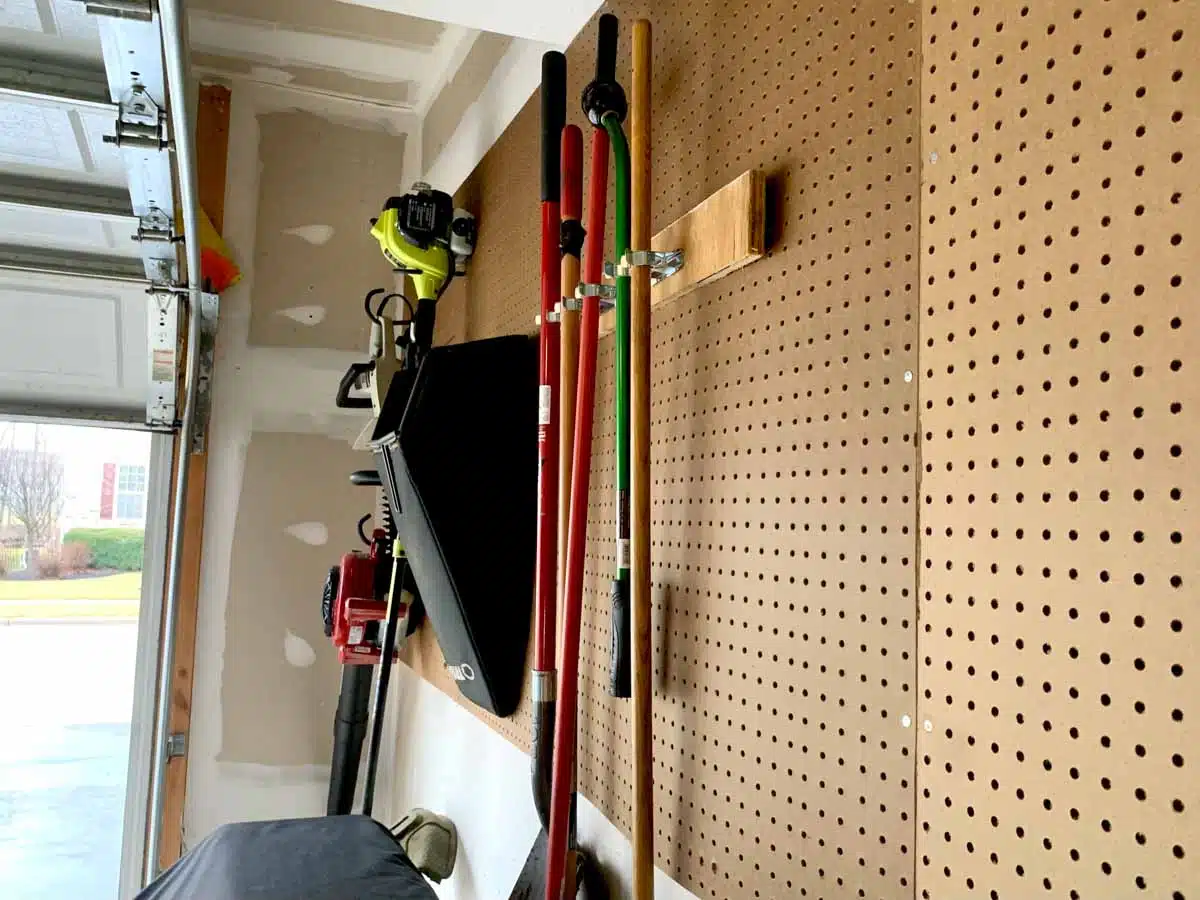 Pegboards are great for organizing the garage and ensuring that you maximize the efficiency of the space you're working with. Pegboards are definitely game-changers for garage storage.
They're perfect for when you want to declutter and create a safe haven for all your garage accessories, equipment, and tools that are both safe and organized.
A pegboard system can be used in a kitchen, garage, or anywhere that needs organization. – Do It Yourself: DIY Ideas (Better Homes and Gardens), Better Homes and Gardens
For car cleaning supplies: You can hang various car cleaning supplies such as car shampoo, wax, microfiber cloths, wash mitts, and so on from pegboards. This way, you have all your car washing essentials in one place.
Tools: Mount a large pegboard wall up in one area where you can hang all your tools. As an added tip, you can outline them with chalk so you have a guide before putting up your pegs to ensure you maximize the space.
Bicycle: Have some pegboards hung vertically against a wall so you can hang bicycles on them by the frames. You can get this done through the support of pegboard hooks. This keeps your bikes off the floor so you can have other uses for the space.
You can make your own DIY garage pegboard with a trip to the local home improvement store and the use of some household tools, according to Life Storage.
Tool Storage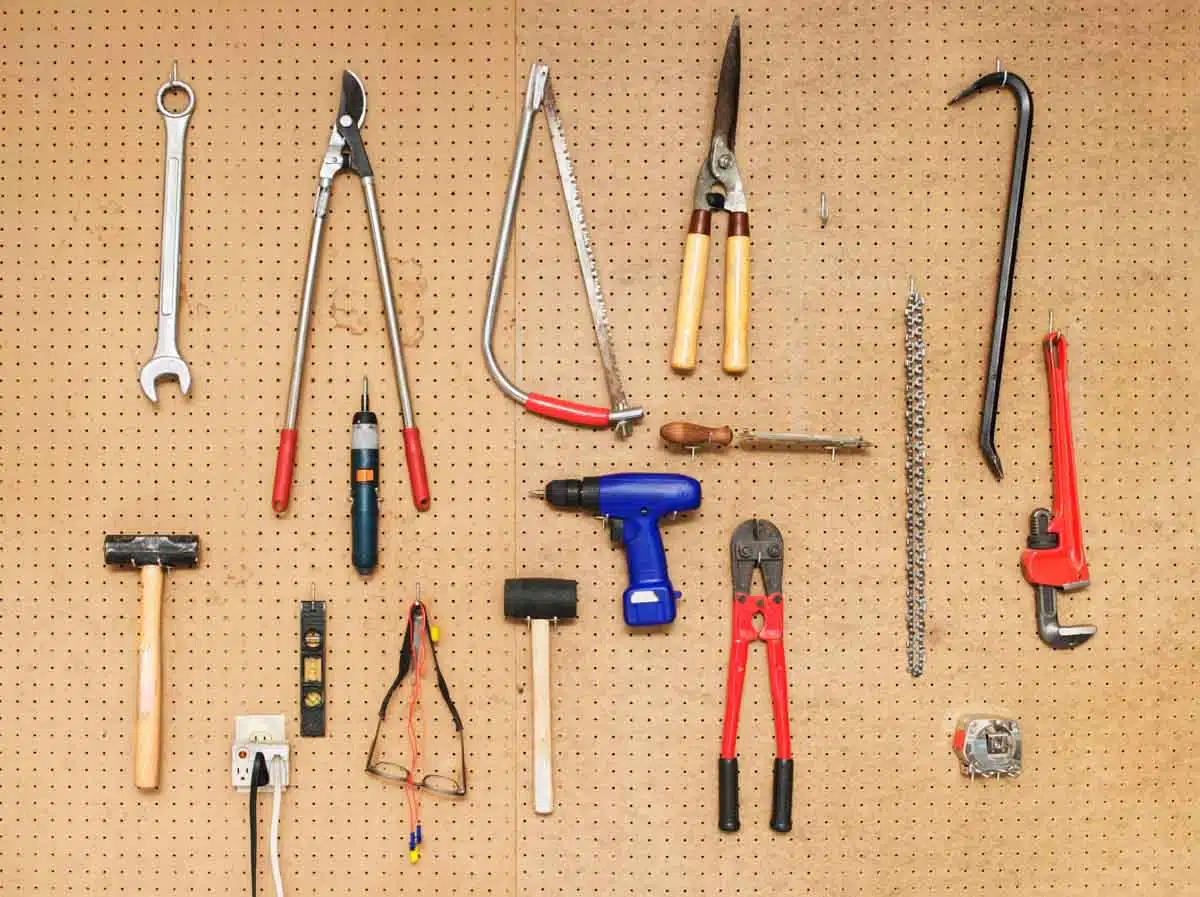 Pegboards can also offer you creative and innovative ways to store your tools properly and customize them to your specific needs and the work layout optimal for you at the end of the day.
Its main advantage compared to the usual cabinets and toolboxes is that it can provide a very organized and clear display that neither of the former two can offer. You get to ensure that the tools every homeowner needs have their designated spot and that they're arranged systematically in a way that makes sense for you.
Portable tool organizer: Attach a pegboard onto a wheeled cart or a tool chest and hang your most-used tools from them. This makes your tools easily accessible and convenient to cart around wherever you're working.
Magnetic strip combination: Attach magnetic strips to your pegboard to create tool storage that's versatile and easy to use. You can hold up metal tools such as hammers, pliers, screwdrivers, saws, and wrenches. You can also attach hooks to hang on magnetic tools.
Containers for small parts: You can attach containers such as plastic jars or boxes to the pegboard to store your small items such as nails, screws, rivets, and so on.
Shed Organization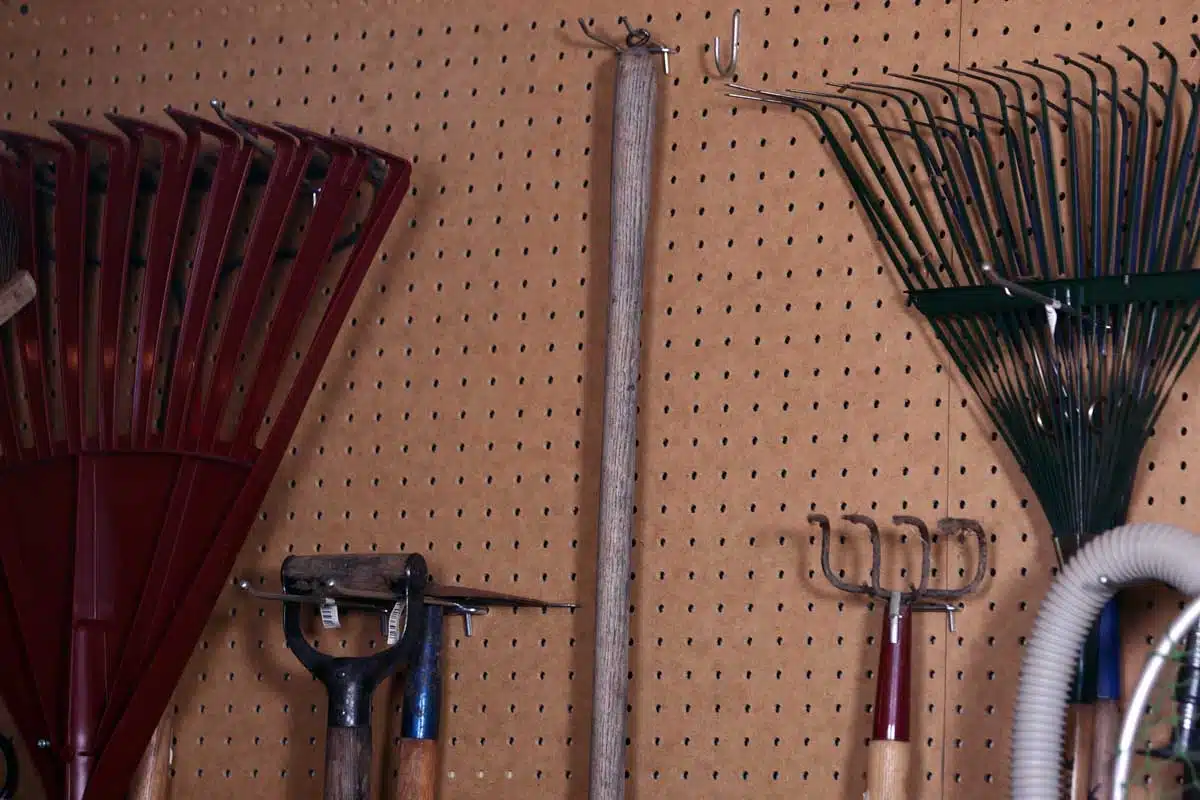 The shed is one of the most chaotic spaces in the house. Still, with smartly designed pegboard storage, you can quickly transform chaos into orderliness. Different types of sheds often house gardening tools and supplies and other hardware items you don't want to necessarily keep inside the house.
A pegboard is among the shed organization ideas that can come in handy, given that most gardening tools, such as rakes, trowels, shovels, and so on, come with handles. It would be best to hang a bunch of S-hooks from your peg board, and you'll have your gardening tools laid out efficiently in no time.
Power tool storage: You can install a pegboard wall near your workbench, attach holders and hooks, and store your power tool items on them. You can hang saws, drills, and other power tools.
Hanging storage bins: Attach a pegboard to a shed wall and hang different sizes of storage bins for various items, from garden tools and accessories to nails, screws, and other odds and ends you might be keeping in your shed.
Potting Station
A well-organized potting station is every green thumb's working paradise, which is precisely what a pegboard potting station can do for you. A well-organized area like this will ensure that you have a dedicated potting station that you would love to work in, and it can totally elevate your typical gardening experience.
Seed packet organizer: You can install binder rings or small clips on a pegboard and use them to organize your seed packets. You can sort them out by season, making them convenient to find when gardening.
Hanging planters: You can attach hangers or hooks on a pegboard and hang your small baskets and pots from them. You can even attach fence planters on pegboards to make things easier.
Vertical garden storage: You can easily create vertical storage for your small potted plants, such as herbs and other small flowers. You can maximize the space even more by hanging hooks to attach small plant hangers to them.
Tools: Your outdoor gardening tools will last longer be hanging them up where they won't be lost or rust.
Craft Room
Craft rooms should be a space that inspires creativity, and you can do that better when you get it well organized. This is one of the craft room ideas you can easily do this with the addition of pegboards. A pegboard setup in the craft room can quickly revolutionize how you store your arts and craft supplies and change your work in the area.
Ribbon and thread storage: With pegs or dowel rods, you can hang rolls of ribbons or spools of thread and put them up on display. This is great for preventing tangling, making them easy to organize by color.
Tools and brushes: You can use pegboard attachments to hold brushes and craft tools in an organized manner and hang them all vertically so that you aren't using table or floor space. This can help you prevent damaging the bristles and help you save space in your workspace overall.
Craft paper: You can also use a pegboard to hang up your collection of craft papers. Use binder rings to slide your cardstock or craft papers in and out, ensuring everything is easily visible.
Sewing Room Supplies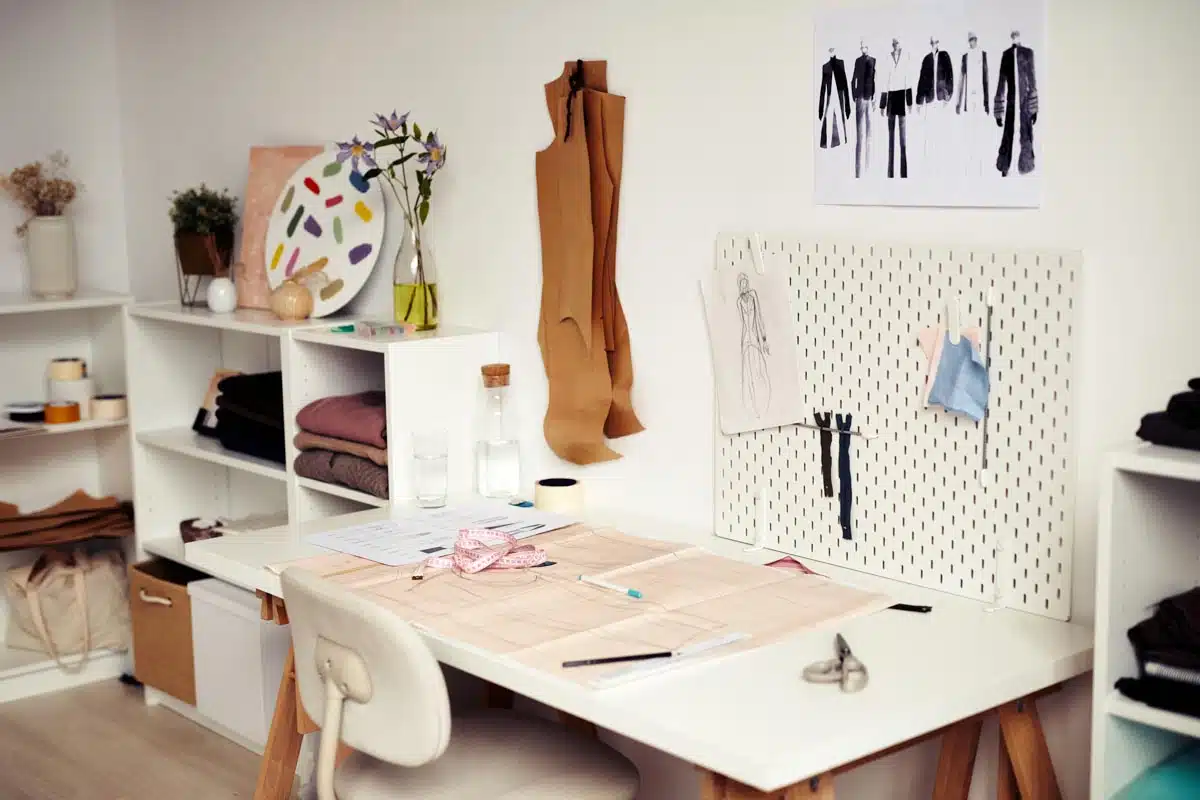 If you are a sewing enthusiast, you can use a pegboard setup too. Create a sewing room that's well organized. This is essential to maintaining creativity and efficiency while working on sewing projects. This will allow you to focus more because you are getting rid of the hassle of looking for materials or tools while you are at it.
Project planning and inspiration board: You can use a pegboard to display fabric swatches or sketches for your sewing projects. Use clothespins attached to the pegboard to hold them up.
Fabric storage: You can attach hooks on a pegboard and hang hangers to hold up your fabrics. This is a great way to organize them by color and pattern and make them readily available within reach the whole time.
Notion organizer: You can attach small cups and other containers on a pegboard to hold your sewing notions, such as snaps, buttons, elastics, and zippers. Label each of them for a more organized view of everything.
Gift Wrapping Station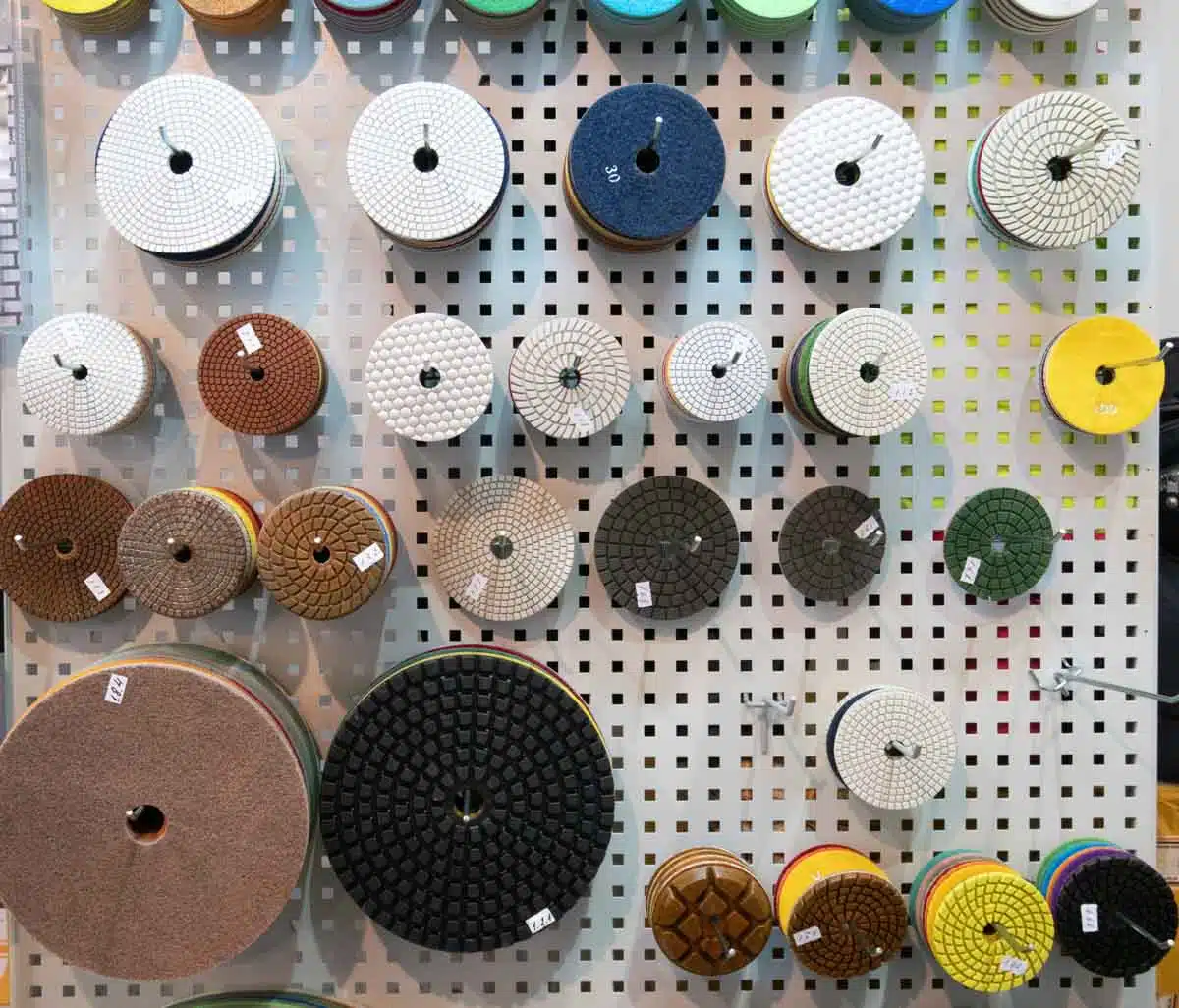 The gift-wrapping activity can quickly turn into a chaotic process that isn't only time-consuming but could also take up an awful lot of space if you need to organize the area better.
If you aren't careful enough, various supplies can get scattered and quickly become clutter. This is where the beauty of a dedicated gift-wrapping station can come in handy.
Paper cutter holder: Attach a bracket on a pegboard to keep your paper cutter steady and in a fixed location in your gift wrapping station.
Paper roll dispenser: Install a dowel rod on a pegboard to create a DIY gift wrapper roll dispenser. You can slide your rolls in the rod and easily unroll your paper when needed.
Laundry Room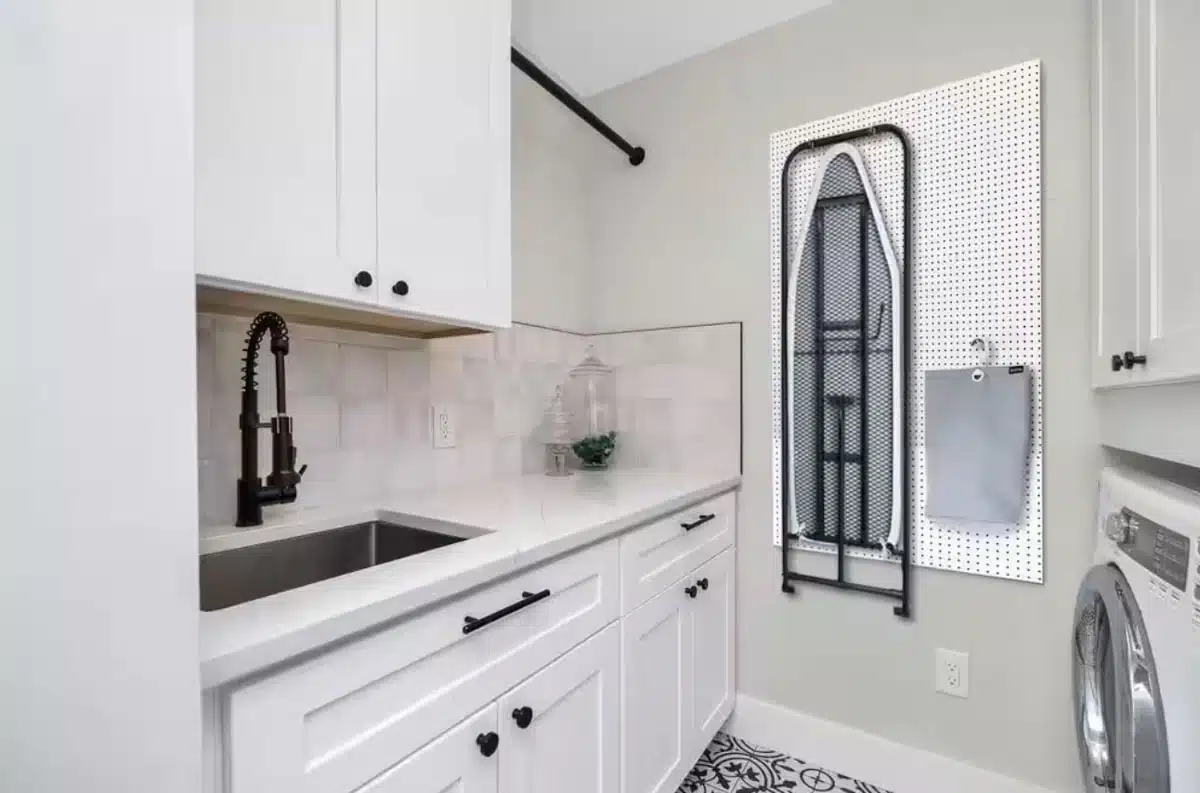 See this pegboard panel for laundry at Home Depot [sponsored link]
One of the most overlooked spaces at home is the laundry room. Very little thought and design often goes into a laundry room's setup for most homes.
It would be even fair to say that these spaces often occur as more of an afterthought than an integral part of the home's design. However, with pegboards, you can transform this into a highly efficient area and tackle your laundry chores easily.
Ironing station organizer: Using hooks and holders, you can use a pegboard to store your iron, ironing board, and other laundry room accessories.
Drying rack attachment: A pegboard can also come in handy if you have a collapsible drying rack at home. You can easily collapse it against a pegboard using hooks and brackets for easy stowaway options when not in use.
Folding station: Install a pegboard above a countertop or table and hang small bins or shelves against a pegboard to store your cleaning supplies, folded laundry, and other accessories.
Sports Equipment
Sports equipment can be a real hassle to have to store at home. They're often bulky, oddly shaped, and they don't typically fit right into standard cabinetry. They usually lie somewhere in a corner, looking entirely out of place.
With pegboards' aid, you can completely reimagine your storage solutions for your sports equipment. You can hang tennis rackets, sports balls, golf clubs, and more.
Ball storage: Install bungee cord attachments against a pegboard and hold various sports balls in an organized manner. This keeps them off of the floor and prevents injury and equipment damage.
Shoe and cleat storage: Use clips or hooks on a pegboard to hang your cleats and other sports shoes. This allows them to dry in between uses.
Racket organizer: You can install hooks or brackets to hold tennis or badminton rackets. This ensures that they are never misplaced and also protects them from scratches.
Plant Wall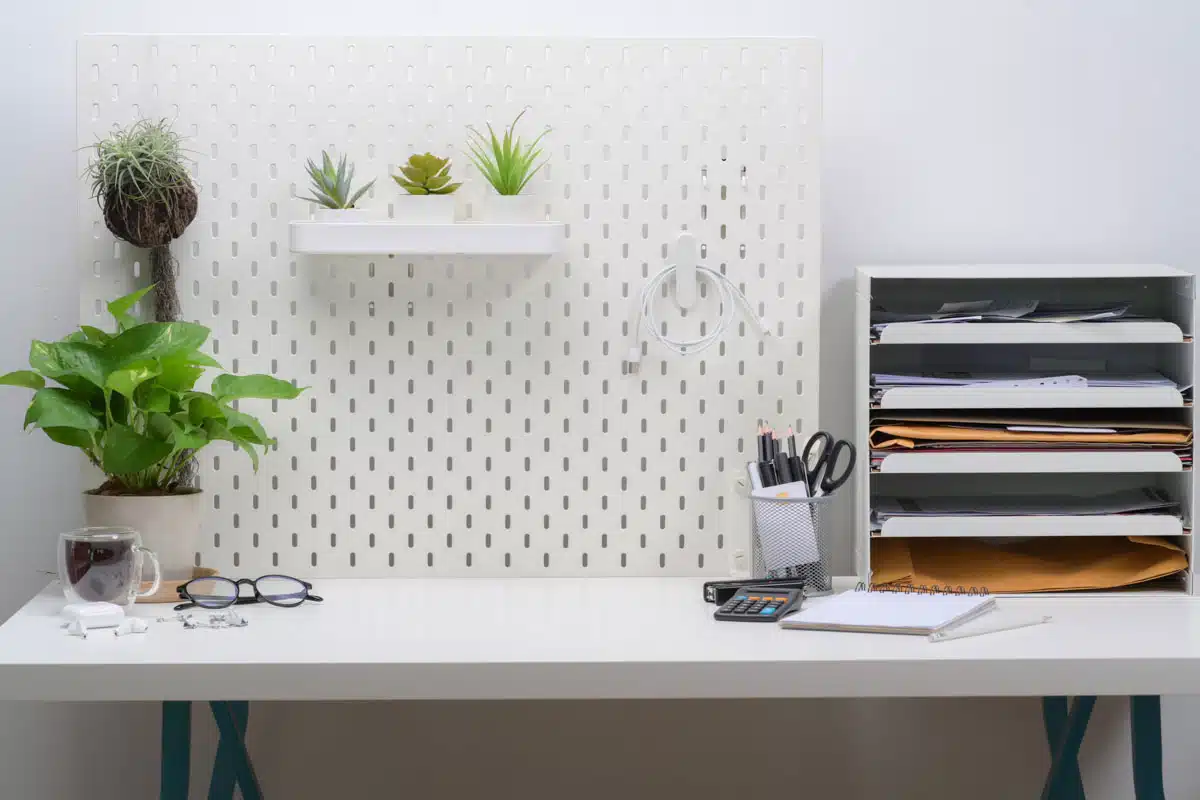 A touch of nature can bring a refreshing sense of serenity to any space. If you want to promote calmness and greenery to your spaces at home, a plant wall is advantageous. You can get stunning displays of your choice of plants and transform an otherwise blank wall into a living garden.
Hanging plant pots: Attach plant hangers onto a pegboard to hang individual plant pots vertically. This is great as a vertical garden or as an aesthetic focal point in any area in your home.
Trellis support: You can install a plant grid or some trellis support on a pegboard to help you support your vines and other climbing plants. This will enable you to grow a lush green wall while hanging your plants vertically.
Vertical herb garden: You can hang small herb plant pots against a pegboard to provide easy access to your herbs while cooking. This is best placed in the kitchen.
Pegboard Planter Holder
A pegboard planter holder is a great and stylish way to introduce greenery into your home. This way, you can have a space dedicated to your potted plants and any herbs you may be growing at home.
Planter holders mounted on a pegboard are unique and nifty space-saving solutions that allow you to have a living garden even if you don't have much space. This is great for cityscapes, apartments, and dorms.
Terrarium display: You can artistically hang glass terrariums and put them on display using pegboards. This is a unique and eye-catching way to showcase your small plants, such as succulents.
Multilevel plant stand: Have multiple pegboards vertically installed and attach plant holders to them in varying levels. This creates the look of a multi-tiered plant stand, giving you more than enough space for the rest of your plant options or collection.
Bathroom Storage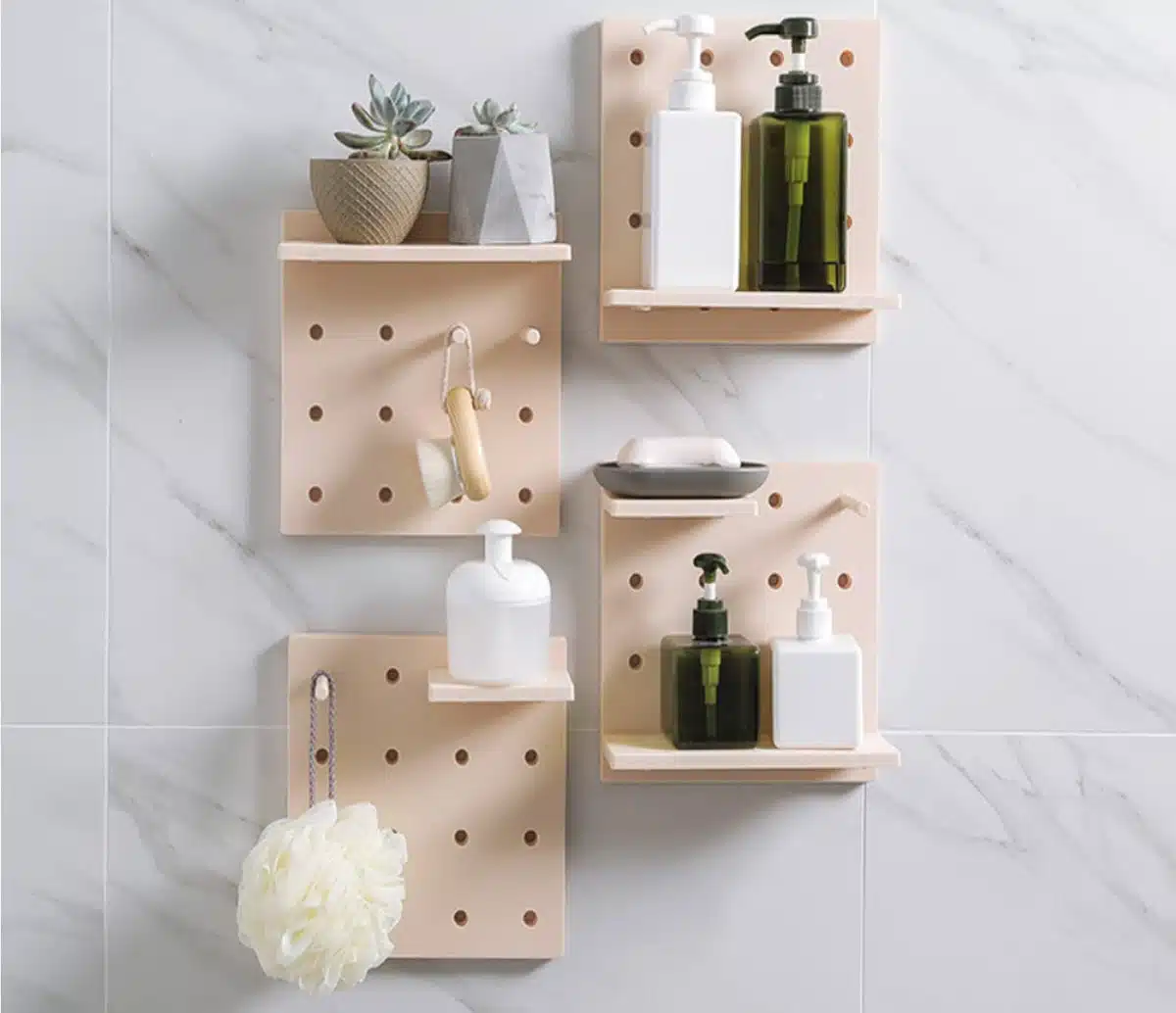 See this pegboard bathroom shelf at Amazon [sponsored link]
Well-organized bathroom storage can help you streamline your routine during those hectic mornings preparing for a busy day. With everything happening around us, an efficient and highly organized bathroom can make a difference in our lives.
You can your bathroom essentials, such as hang baskets, shelves, hooks, or bath products on a pegboard. This can add a touch of elegance to your bathroom space while, at the same time, maximizing its storage space as well.
Towel rack: You can attach towel bars to a pegboard and convert it into a versatile towel rack you can use in the bathroom. This way, you can keep your bathroom towels organized and easily within reach.
Shower caddy: You can use a pegboard to hold your shower essentials, such as shampoo, body wash, hair conditioner, loofah, and other products you might use while in the shower. Attach hooks and waterproof baskets to your pegboard, and do away with the traditional shower caddy.
Jewelry Organizer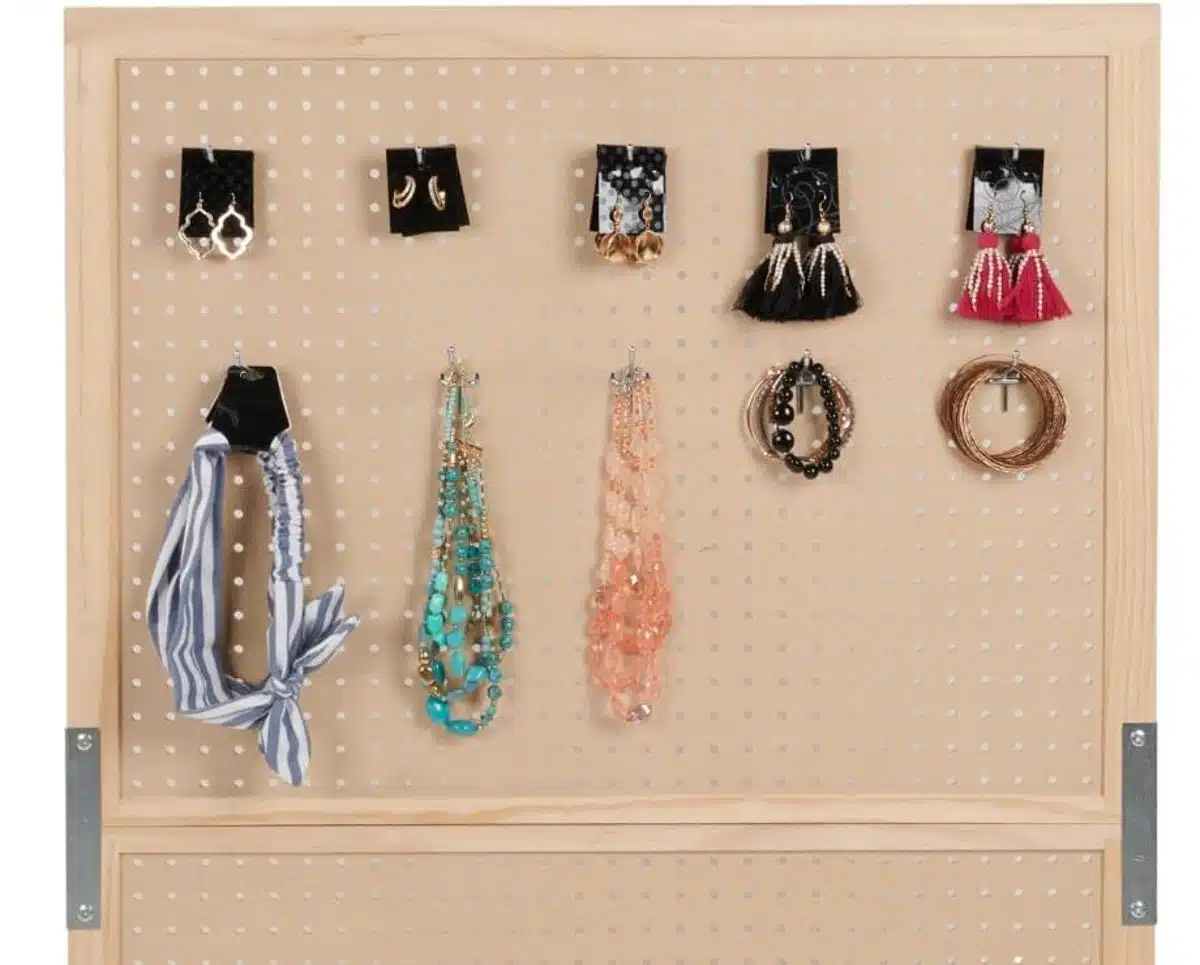 See this pegboard jewelry holder at Amazon [sponsored link]
Untangling a necklace or crouching down to look for a missing earring can be a real ordeal for anyone, and this is what happens when your jewelry pieces aren't properly organized.
You can avoid this by making a jewelry organizer from a pegboard wall. It would help if you had an army of hooks and a touch of creativity, and you're set. You can instantly transform any wall into your custom jewelry organizer.
Earring display: A cool way to showcase your earring collection is to attach a mesh wire grid to a pegboard and use it as an earring display area. The grid will secure all your earrings, and you never have to worry about missing earring pieces from here on out.
Floating shelves: Jewelry boxes are too pretty to keep on a desk. Showcase them on a pegboard wall by installing floating types of shelves. This can hold your favorite jewelry boxes and keep everything secured yet available within plain sight.
Kitchen Organizer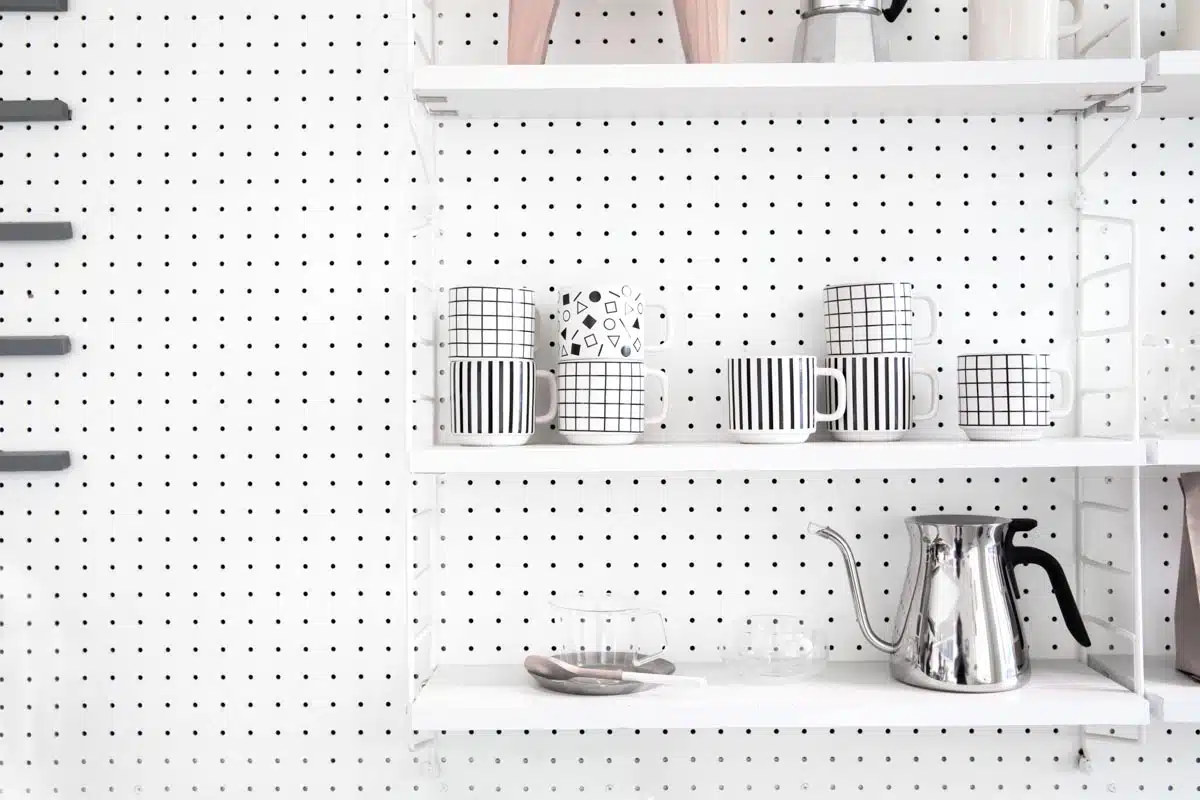 The kitchen is considered as the heart of the home. In this space, delicious meals are prepared, and quality time is shared with loved ones. To make your culinary efforts hassle-free and enjoyable, you can use a pegboard organizer to completely transform your kitchen.
You can hang utensils, various pots and pans, and all the other kitchen essentials you may need all in one area without ever having to clutter up your counter space.
Pots and pans organizer: With the help of really sturdy pot racks and hooks attached to a pegboard, you can have your very own pots and pans organizer. This will allow you to visually showcase your cookware while saving tons of cabinet space.
Spice rack: A pegboard with little containers or shelves attached to it can also be used as a spice rack in the kitchen. This allows you easy access to all of your favorite spices while cooking. Remember to label each of them for easier use.
Tablet and cookbook holder: Another smart way to incorporate pegboard use in the kitchen is to install holders or stands on a pegboard to hold your tablet or cookbook while cooking. This ensures they're always protected from splatter and always at eye level so you can cook quickly.
Coffee Station
A coffee station is an excellent addition to any home. There's something novel about having a dedicated space where you can get your day started with the perfect cup of coffee. A pegboard is among the coffee bar accessories and essentials that can incorporate orderliness into the concept while ensuring the atmosphere is energizing and cozy.
Coffee pod storage: Coffee pods of various flavors are all the rage, but they are relatively easy to store and keep organized. A great solution is attaching wire holders or wire baskets to your pegboard to hold the coffee pods. You can organize them by brand and flavor to make them even more convenient.
Coffee beans: The best decorative element you can add to a coffee station would have to be coffee beans, of course! Showcase them in glass jars held against a pegboard for that ultimate aesthetic effect.
Pantry Storage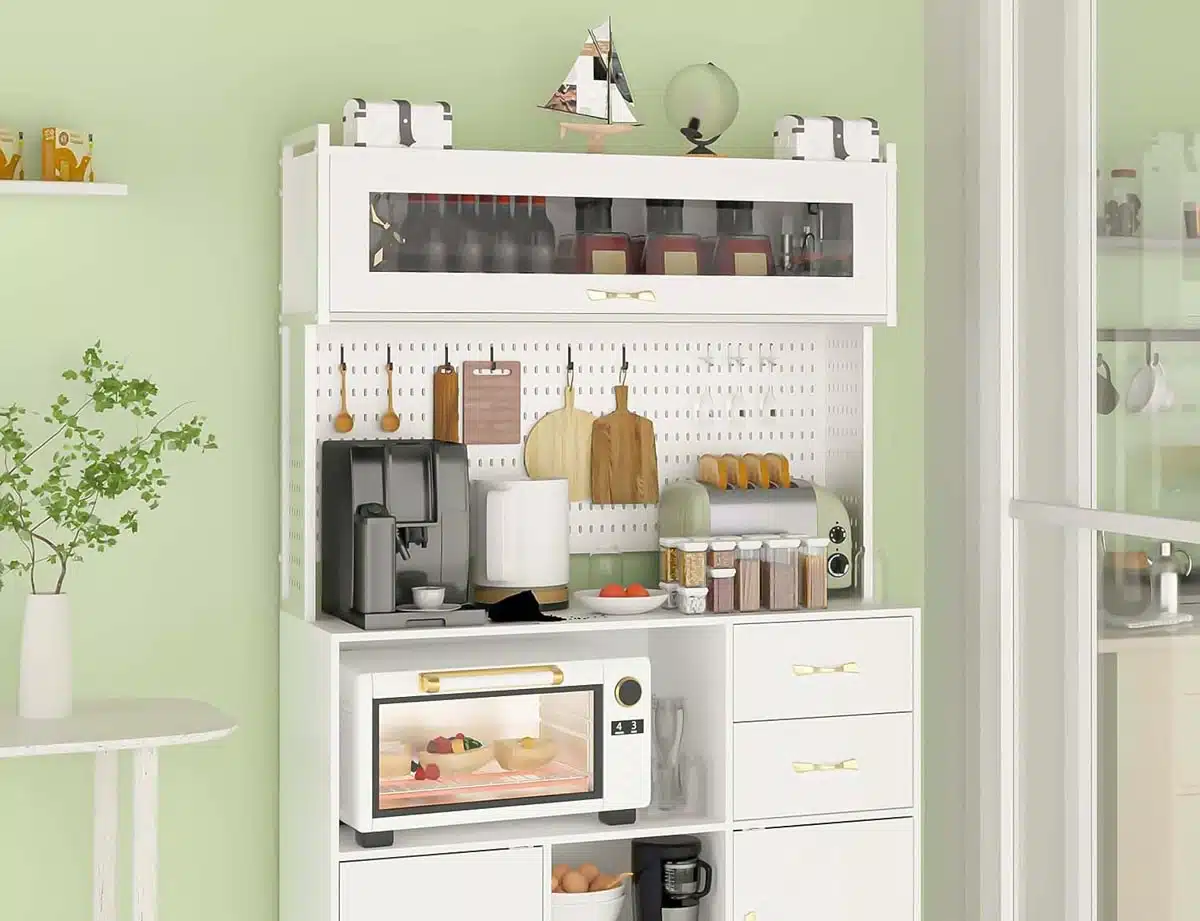 See this pantry storage at Amazon [sponsored link]
Pantry storage can be challenging for kitchens or homes with limited storage space. When meal prepping, it helps to have all your ingredients easily within reach at any time.
You can optimize your pantry storage with the use of pegboards. They're adaptable and versatile and can be the perfect solution for organizing your pantry items.
Canned goods: You can simulate a shelf-like structure with metal bars or dowels attached to a pegboard and use this to store or display your canned goods in the pantry.
Make it a habit to make the expiration dates visible so that you know what you need to consume first or what you need to replace soon.
Snack organizer: Pretzels, chips, and other snack items are prone to getting crushed during storage. One way to keep them intact is to hang them from clips or hooks installed on a pegboard. This keeps them off the shelves while at the same time keeping them visible at all times.
Home Office Organizer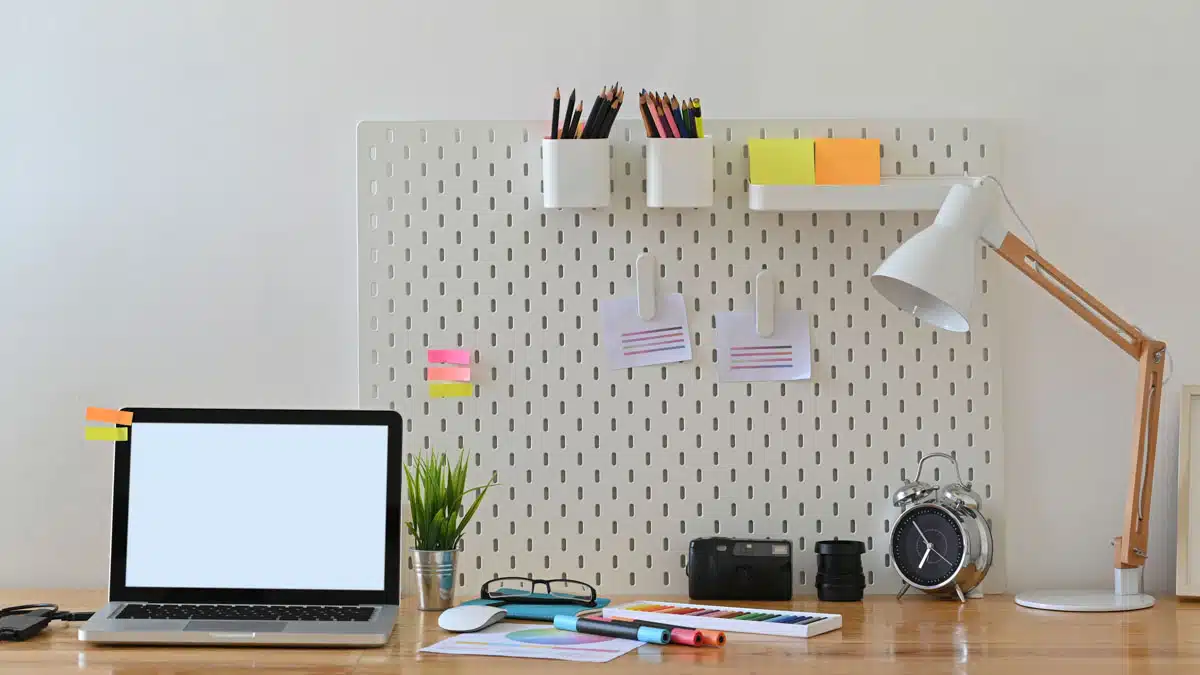 The home office is one of the motherships of clutter if you need to be more careful. Organizing it is crucial because it can lead to better focus and productivity. You can do this with the help of pegboard walls, one of the wall decor ideas for your home office.
They're perfect for organizing stationery, office supplies, decorative elements, and gadgets. A wall above your work desk is typically the best place to hang your pegboard wall, as everything will be within arm's reach should you need it.
Cord management: Cords can be prone to tangling. To create a clean and organized home office space, use hooks and clips attached to a pegboard to keep your cords from getting tangled up.
File organization: Using magazine racks attached to a pegboard, you can have a designated area in your home office to store important files, notebooks, folders, and other paperwork while keeping clutter at bay.
Children's Room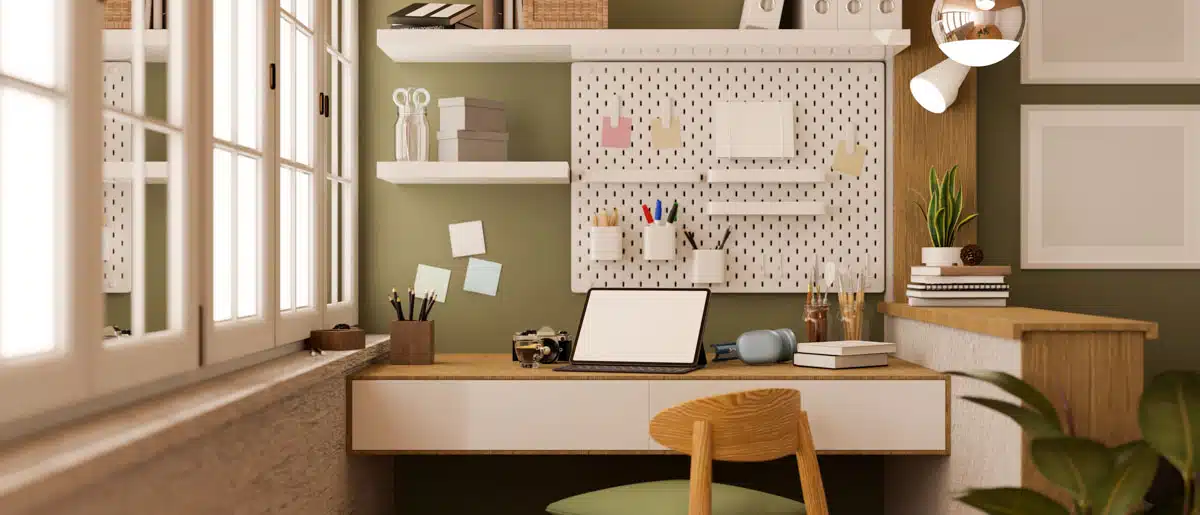 One requirement for a well-designed children's room is a space or area that is both functional and adaptable enough to foster a sense of playfulness and creativity. It should also be great for keeping toys and other supplies organized.
Adding bins and baskets to your pegboard storage for the children's room is excellent for creating that designated creative space for the kids at home.
Dress-up area: Kids are quite fond of costumes. You can cultivate that healthy imagination through an adequately organized dress-up area in the children's room. Hang simple hooks on a pegboard to hold up their costumes and other accessories.
Growth chart: A growth chart is one of the most memorable mementos of childhood. But instead of damaging a wall or a wall post at home, you can hang a growth chart poster from a pegboard in the children's room and keep track of their growth without ruining any area in the house.
Kids Crafts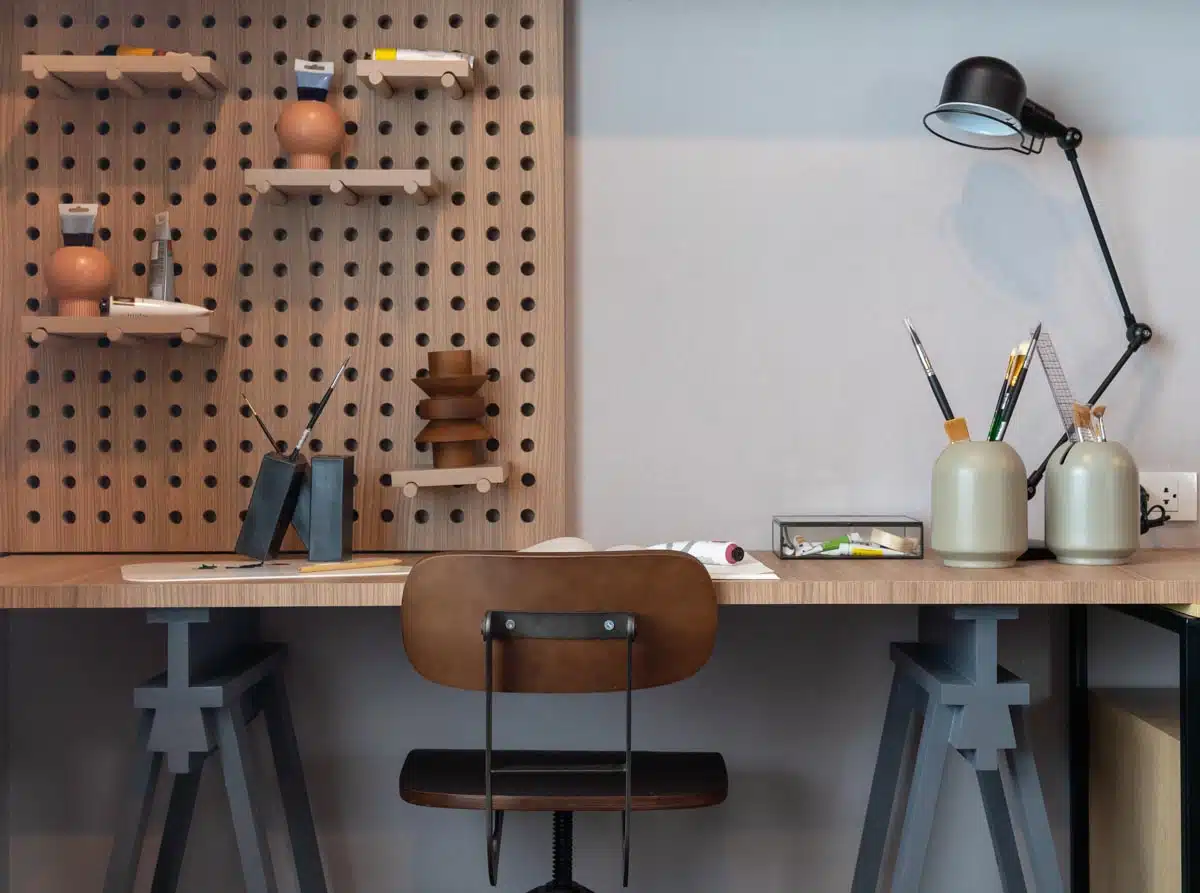 Nurturing your kids' creativity is a great way to foster artistic skills and encourage imagination. By creating a kids' craft area out of pegboard walls, you can quickly provide them with a designated space for their creative efforts and keep their art supplies organized and accessible.
Pegboard easel: Mount a pegboard on an easel stand to create a flexible and dynamic space to hold your kids' art. They can attach canvases, paper, or just about any material they want to work with.
Hanging drying rack: Paint and watercolor pieces usually need time to air dry. You can use a pegboard with attached pins as a hanging drying rack. This keeps their artworks organized, allowing them to air dry without wasting precious floor space.
Accent Wall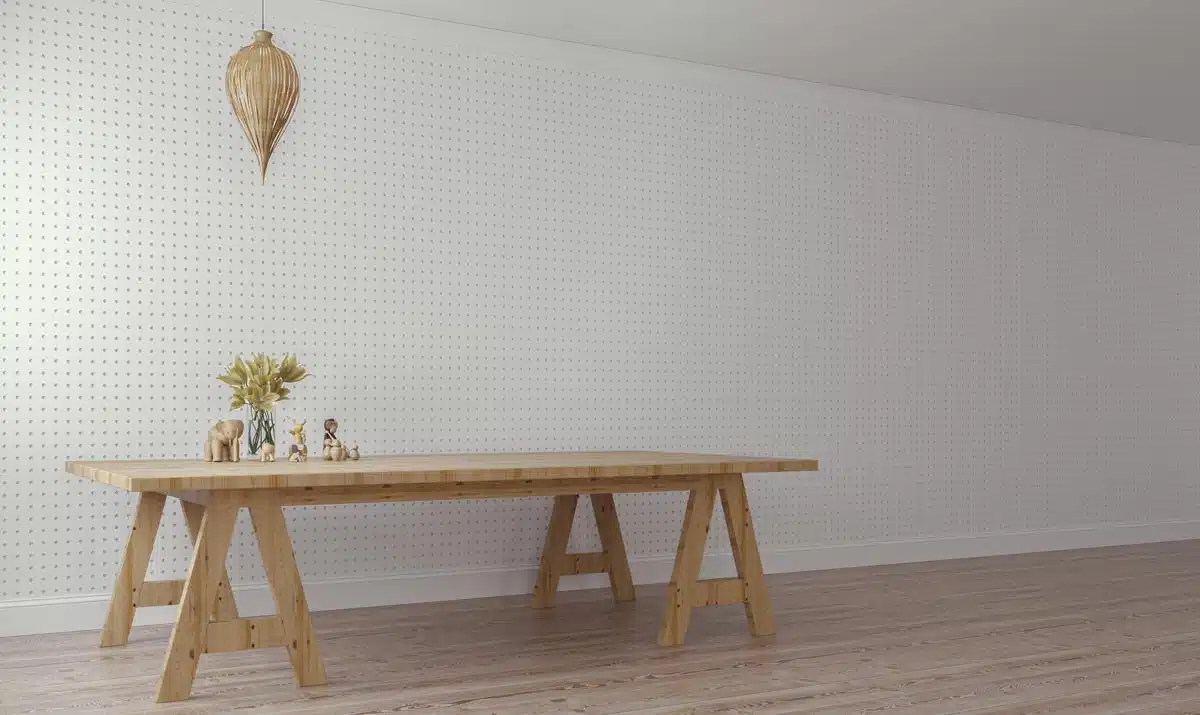 Adding an accent wall to any space at home can add personality and visual interest to the space. Using a pegboard wall to get this done is an easy solution.
If you're a bit handy with essential tools, it is something you can do yourself. It's among the unique and stylish accent wall ideas that make a statement while smartly incorporating textures, colors, and patterns that complement your current aesthetic.
Gallery wall: If you are a fan of showcasing family mementos or your art collection, you can turn this into an accent wall with the help of pegboards. Put up different pegboard sizes to create an accent wall that mimics an art gallery. It's easy, customizable, and the best part about it is that you can change it up every now and then.
DIY Pegboard Wall Message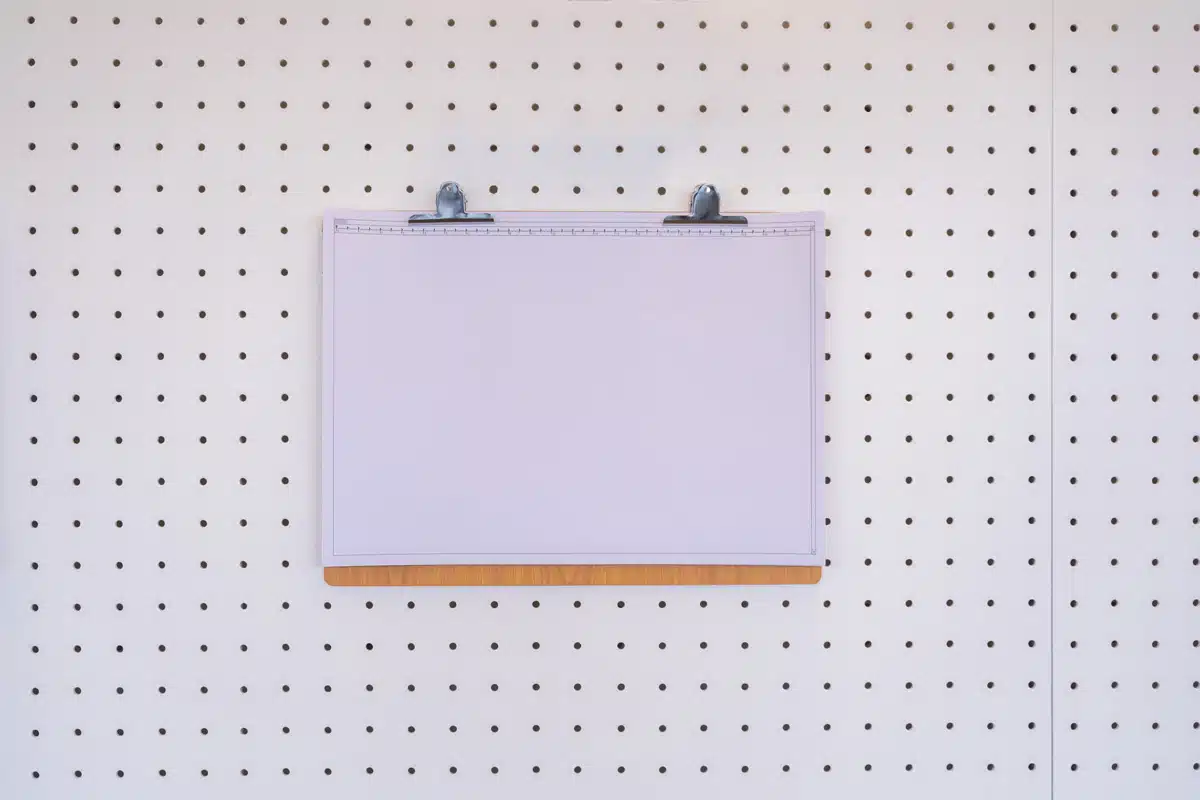 A DIY pegboard message wall is a practical and creative way to personalize your space while adding functionality to it simultaneously. With a pegboard and various accessories, you can create customizable and unique messaging that allows you to leave reminders, notes, and even inspirational notes for the rest of your household.
Chalkboard panel:
1. Convert your pegboard into an easily writable surface with the help of chalkboard paint.
2. Paint it all over a pegboard panel of your choice and hang it up near your home's entryway. Ensure
3. you have chalk handy so people at home can easily write things up on that chalkboard panel.
Memo board: Add clothespins to your pegboard to convert it into a DIY memo board. This is great for hanging reminders, notes, post-its, to-do lists, and other practical memos at home.
Mudroom Mail And Keys Hanger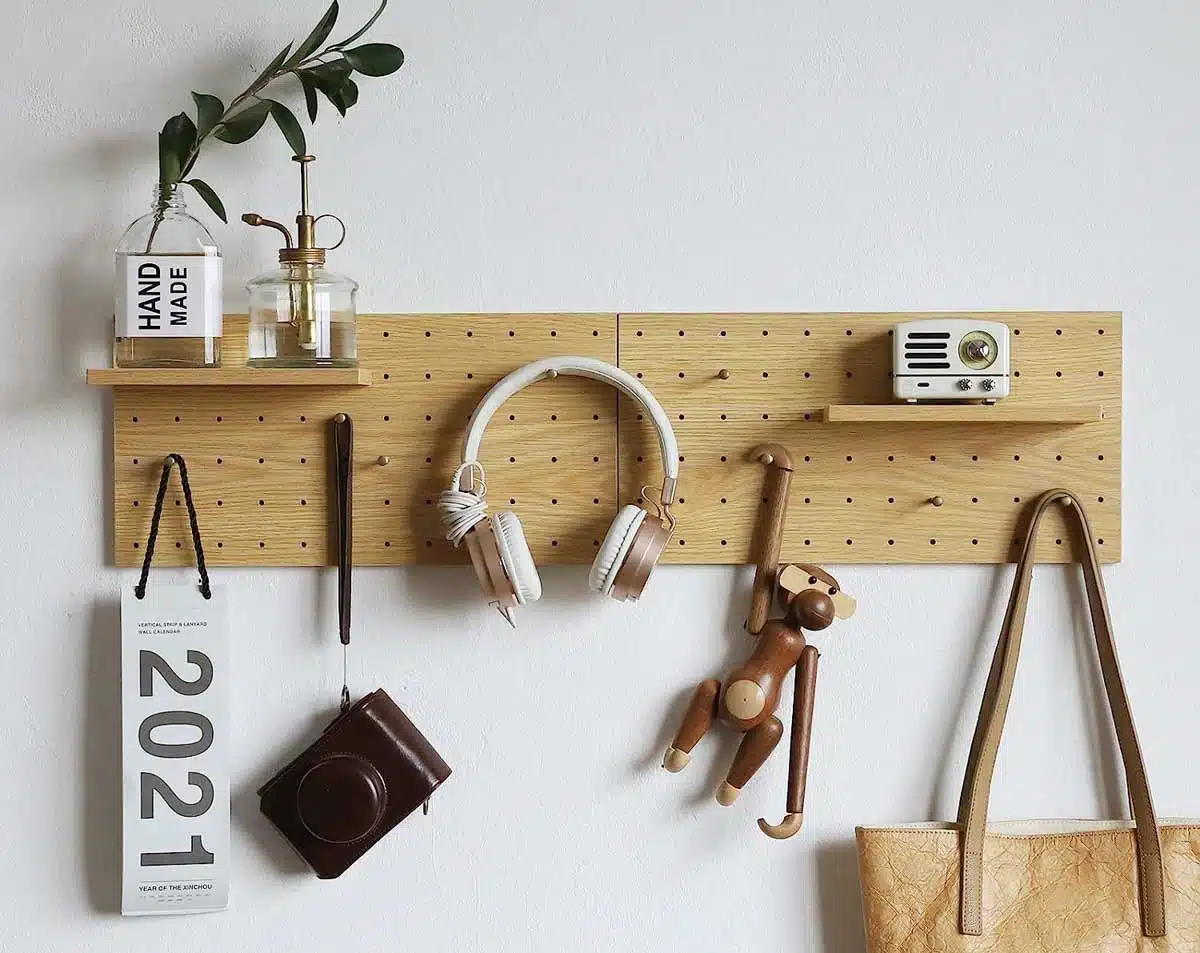 See this wood pegboard hanger at Amazon [sponsored link]
A mudroom mail and keys hanger is an efficient and practical solution to streamline the organization of your entryway or closet at home.
You can incorporate a pegboard to create an area designated for keeping your keys, mail, and other essentials in a way that's easily within reach and organized. This creates a clutter-free mudroom addition that can simultaneously serve as a smooth transition from your outdoors to the inner areas of your home.
Key hooks: You can hang keys from a pegboard using hooks and get them set up in your mudroom area. A nice added touch would be to assign a key hook per family member so that each has their designated area to hang their keys.
Charging station: This is both easy and practical. Mount a power strip against your pegboard to create a charging station for your mobile devices. Please use clips and labels to keep them all tidy and organized.
Shoe storage: You can do this at the bottom part of a pegboard. You can hang shoes, shoelaces, shoehorns, and so much more. It's a practical addition to the mudroom and something that people at home can use since this is where we change shoes the most.
Bed Headboard
Interestingly, you can also use a pegboard as a bed headboard. These types of headboards can help you create a stylish yet functional storage solution to keep your bedside essentials within reach without investing in additional furniture that can cramp up your floor space.
Functional headboard storage: Keep all your bedside essentials within reach by maintaining a functional pegboard headboard storage through small containers and shelves attached to the wall. You can use this area to organize your bedside clock, books, glasses, mobile devices, a glass of water, and personal items you may want to keep close to the bed.
Fabric backdrop: A fabric panel attached to a pegboard is an excellent idea for introducing extra textures to your bedroom design scheme.
Decorative hooks: You can add many things to your headboard area to make it cozier or homier. Add string lights, fabric banners, fairy lights, orb lamps, and more. Attach decorative hooks onto a pegboard near your headboard area and let your creativity loose.
Music Studio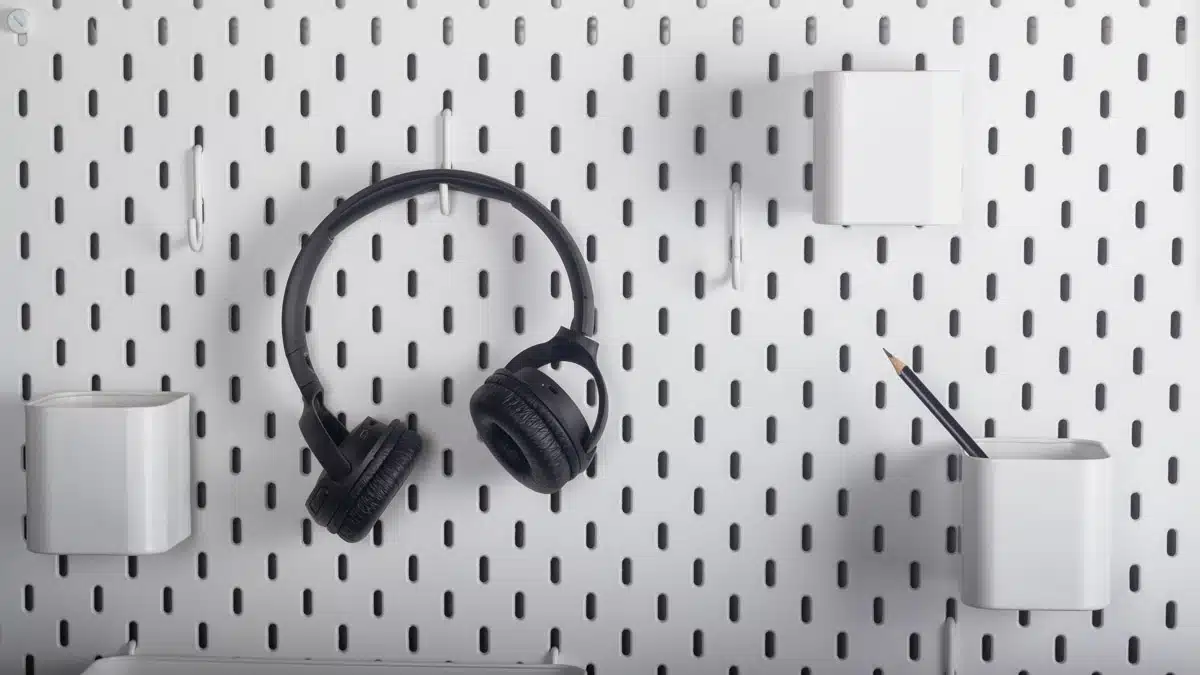 A music studio at home is the perfect area where you can foster creative musical expression. You can optimize this space with the use of pegboards.
This will allow you easy access to your musical instruments and other cables and accessories, making music-making much more productive for you and the other members of your home.
Music sheet holder: Using only clips or binder clips, you can attach these to a pegboard and hold all your music sheets in place while you record or practice.
Sound absorption panels: Recording quality can usually be impacted when sound echoes throughout the music room. You can remedy this by attaching acoustic foam on pegboards and setting them up all over the area. This can dramatically reduce any echoes and enhance the overall audio quality of your recordings.
Mic stands storage: Microphone stands are relatively easy to store and consume much floor space. Use holders or hooks attached to a pegboard to set your mic stands in place when they aren't in use so that they aren't all over your floors.
Home Gym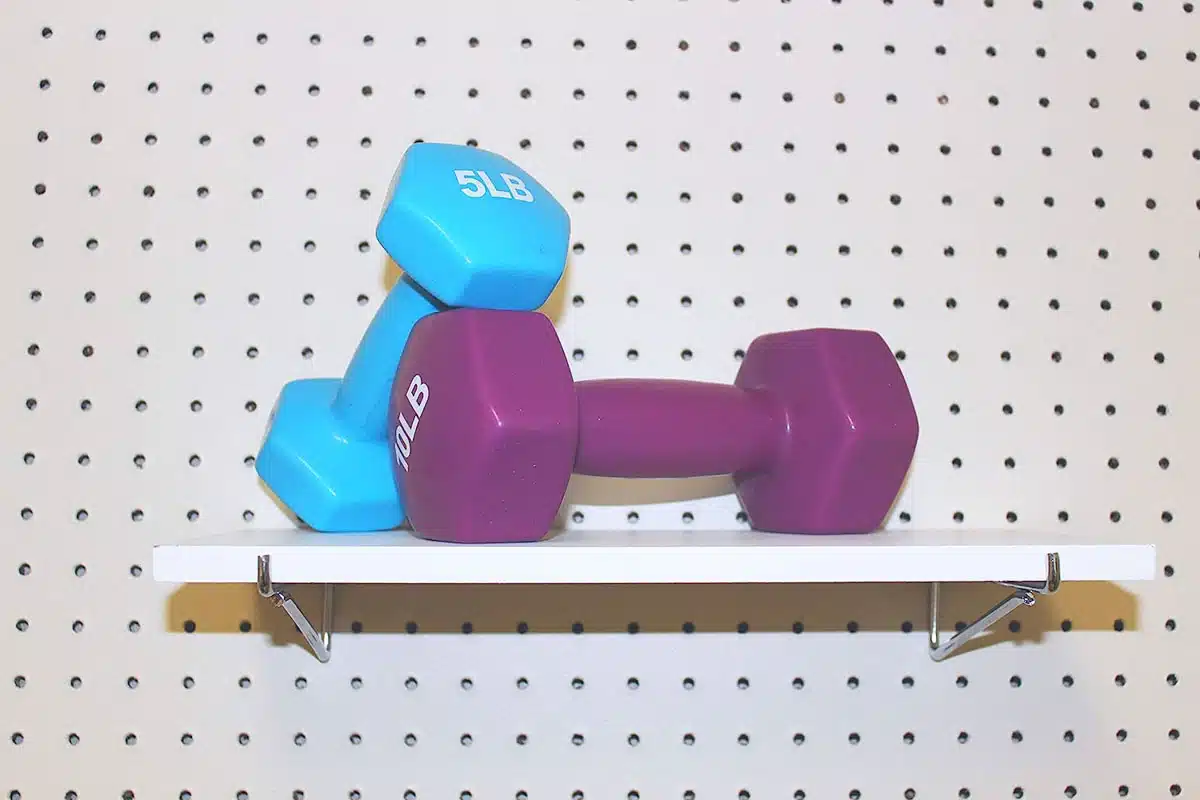 See this small pegboard shelf at Amazon [sponsored link]
A home gym is a great space to promote health and well-being at home. You can incorporate pegboards in your home gym to help keep your towels, workout equipment, and other workout accessories in place.
Weight plate rack: Keep your weight plate racks in one place by attaching them to a pegboard and organizing them by weight. This saves precious floor space while ensuring everything is within reach while working out.
Resistance bands: You can hang your resistance bands on clips or hook them on a pegboard panel to keep them from tangling and to store them in an easily accessible way.
Yoga mats: Install straps against a pegboard wall to roll up your mats and attach them to the wall once you're done. This will help you keep them off the floor while keeping everything organized the whole time.
Bookshelves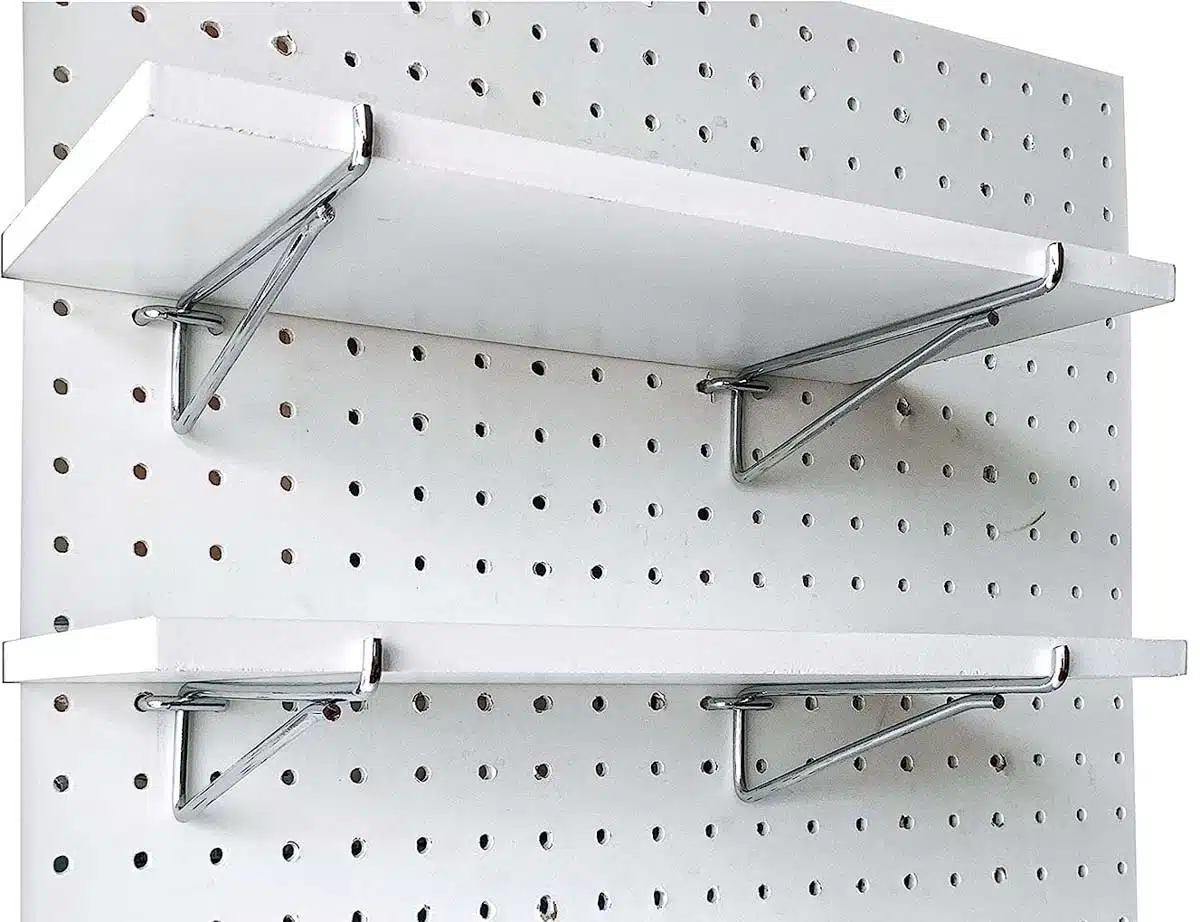 See this pegboard shelf set at Amazon [sponsored link]
Happen to have voracious readers and bookworms at home. A well-organized and well-designed pegboard bookshelf can be a true delight. With the help of pegboards, you can reinvent a traditional bookshelf with more creative alternatives. This can create a versatile and unique storage solution for your most prized books at home.
Floating bookshelves: Attaching floating shelves on a pegboard can create a visually appealing backdrop with the pegboard aesthetic as the main backdrop with floating shelves that you can easily customize in weight and distance against each other.
Book display: You can showcase exciting book covers and titles by attaching small clips on a pegboard and displaying books you would like to feature by their covers. It's unique and eye-catching and is a great way to showcase your personality as a book aficionado.
Photo Equipment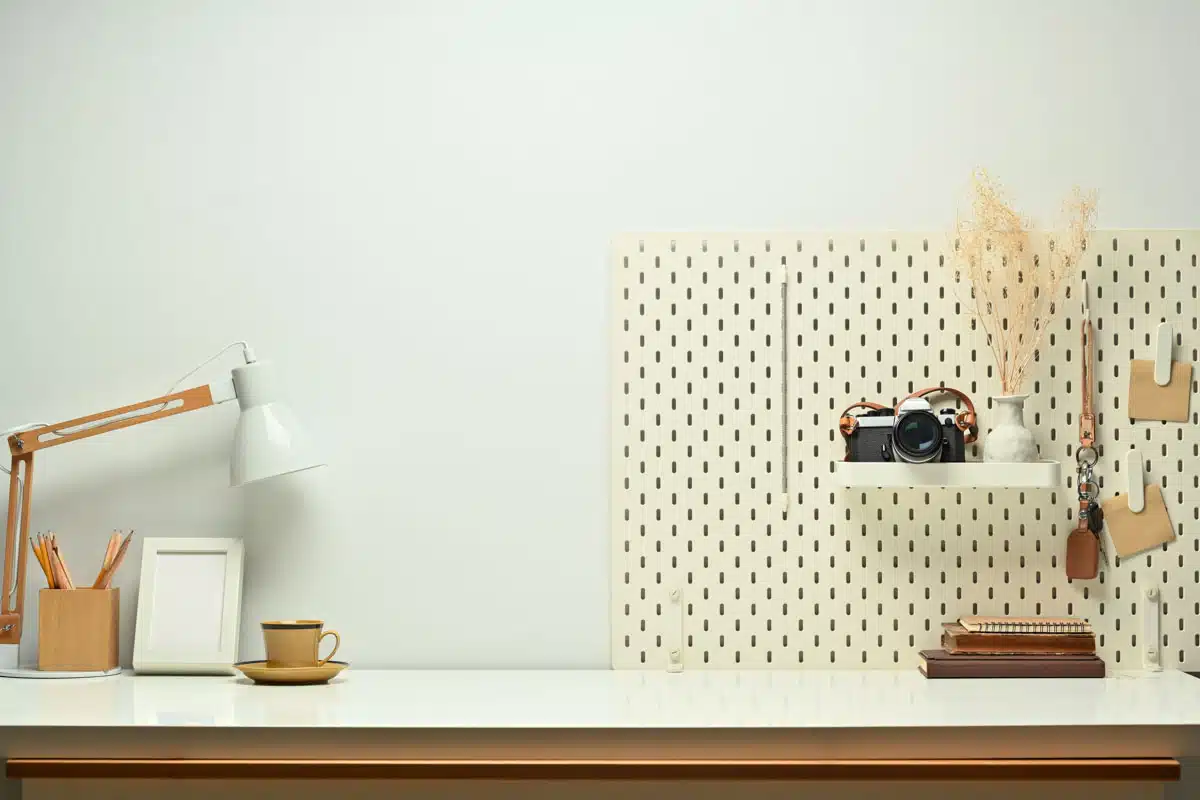 Capture your fondest memories easily and keep your photo equipment safe and organized using pegboards. They provide a practical and efficient solution for organizing your photography gear, from tripods to lenses, to cameras, which you can all securely hang from a pegboard wall.
Using pegboard accessories like different hooks, hangers, bins, and drawers can be an excellent hack to keep photo equipment within easy reach when needed. Here are a few of the things to display.
Tripod and light stand: You can save up on floor space by clipping or hooking your tripods and light stands against a pegboard panel while they aren't in use. It's a great way to store them without damaging them simultaneously.
Lens, filters, and accessories: Lens, filters, and other photography accessories are often misplaced because of their size. You can keep them in check by attaching small jars or containers on a pegboard panel and storing them there. It also helps if you label each part or container accordingly.
Background storage: Photography backdrops are challenging to store because they can get wrinkled and are very difficult to organize. You can conveniently use clips to roll them up and stack them against a pegboard panel while they aren't in use. This also makes it easy for you to pick out a backdrop from your selection when you have a new shoot you need to set up.
Wall Art
Pegboards are perfect when it comes to showcasing customizable wall art at home. They can serve as uniquely customizable canvases that will indulge you in showcasing your artistic tastes. You can arrange various paintings, sculptures, and other objects against an empty pegboard and turn it into a huge conversation starter piece at home.
Mixed media collage: You can play around with various elements to get this together. You can have an adorable collection of fabric swatches, pictures, handwritten notes, and more for your mixed-media collage. See the examples at Cloth Paper Scissors for downloadable tips, techniques, and mixed media ideas for the wall.

3D Art: Interestingly. 3D pieces, such as sculptures, woven pieces, and masks, can actually make for visually arresting pieces you can add to a 3D take for wall art. They have that sense of dimensionality and texture that other pieces can't bring to the table. You can easily attach them to a pegboard with the use of hooks.
Wire grid for pictures: Using only strings or wires, you can create a grid-like pattern on your pegboard and hang your favorite pictures, postcards, and other souvenirs.
Gallery Wall (Photos/Collectibles)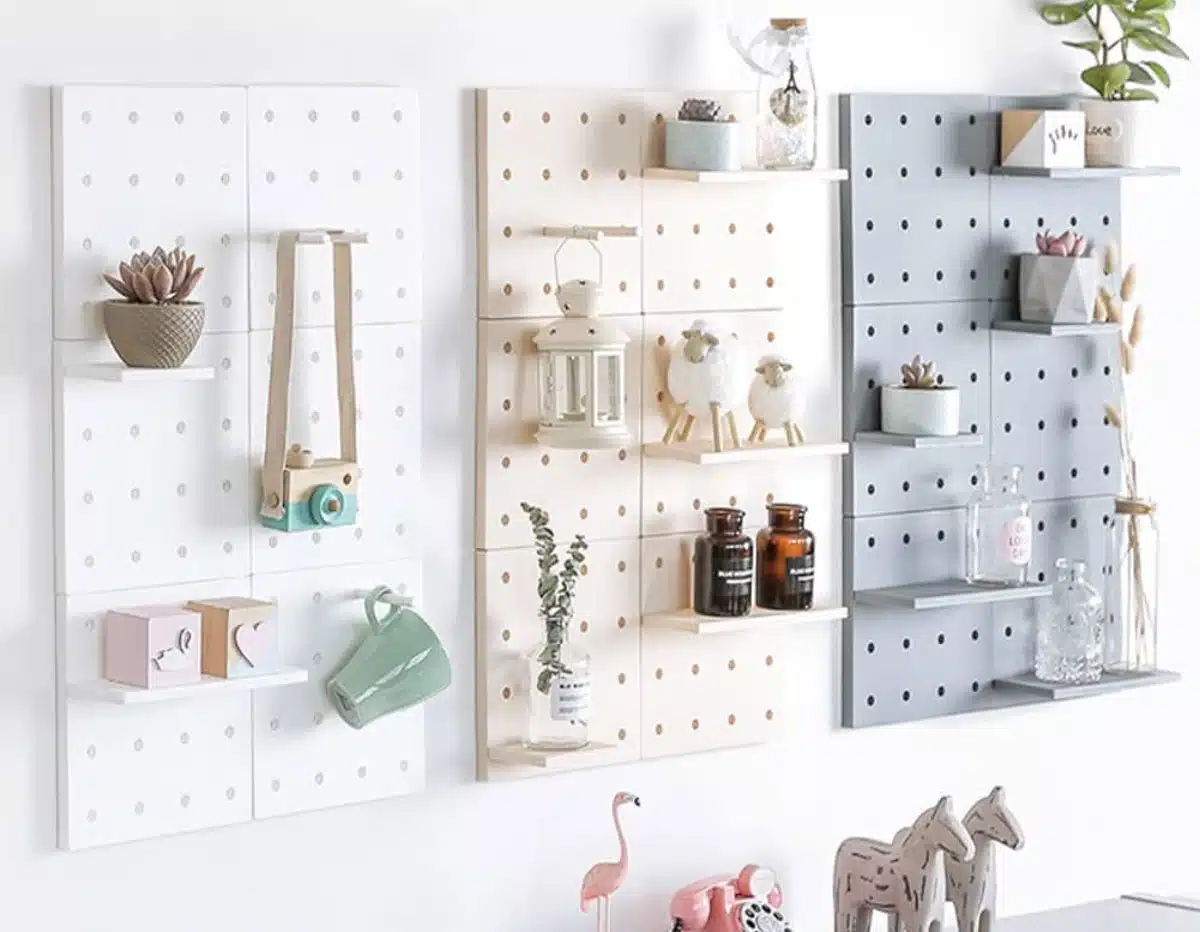 See this pegboard gallery display set at Amazon [sponsored link]
A gallery wall is a great way to showcase an art collection at home. This can even include memorable family photos, collectibles, and other artworks you should like to put on display. Pegboards can accommodate easy arrangement and a functional display of these items without hurting your actual walls' aesthetics.
Light fixtures: It's all about lighting and presentation when showcasing items in true gallery style. You can install lighting fixtures onto your pegboard panels to highlight specific pieces.
You can play around with soft lighting, ambient lighting, and so much more, depending on the effect you would like. Use clamps and other attachment hooks to get this done.
See more related content in our article about the different dresser top organization ideas on this page.