See the different pegboard sizes including standard pegboard dimensions, hole sizes & spacing, thickness, what pegboards are made of, and how much weight they can hold.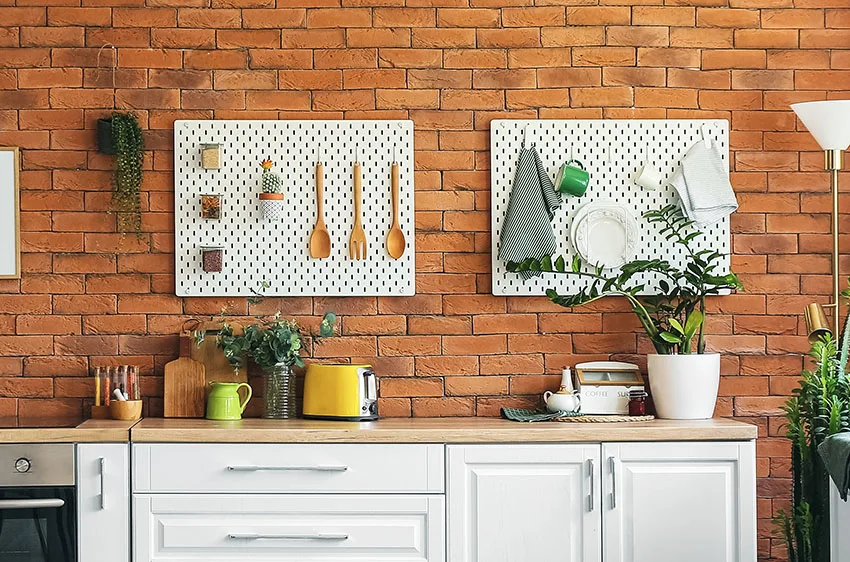 One of the many things that can declutter any homeowner's office, craft space, kitchen, or garage is a pegboard. It is easy to install and an effective organizing solution.
Pegboards are made in many types of materials from wood, plastic, and metal, and they are filled with holes in a grid pattern so hooks and other organizing accessories can be placed in each of them to be used to hang anything from power tools in a garage to pens and paperclips in a home office.
There are limited sizes for pegboards, but it doesn't mean purchasing will be easy. Knowing what size a homeowner needs for this purpose will help them ensure that the hooks they buy will fit a specific pegboard size.
Standard Pegboard Size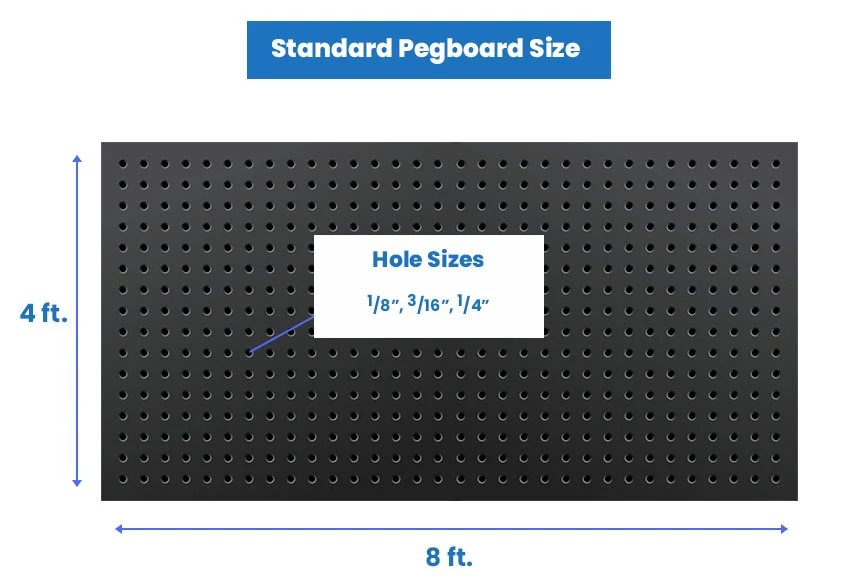 There are many sizes of pegboards you can get. The standard size you'll find in most home improvement stores come in panels of 4 feet by 8 feet.
One critical measurement any homeowner needs to know before purchase is the measurement of the holes in a pegboard itself, commonly calculated in diameter. Holes in many standard pegboards come in three sizes, and that is 1/8", 3/16", and 1/4" or 0.32, 0.48, and 0.64 centimeters.
Knowing the size of the pegboard a homeowner will get will determine the size of the hooks and other accessories they will buy to utilize the pegboard. Plus, it will dictate the maximum weight or how large an object can be hung on the organization board.
The most common hole size available for pegboards is the standard 1/4 inch or about 0.64 centimeters.
What Size Does Pegboard Come In?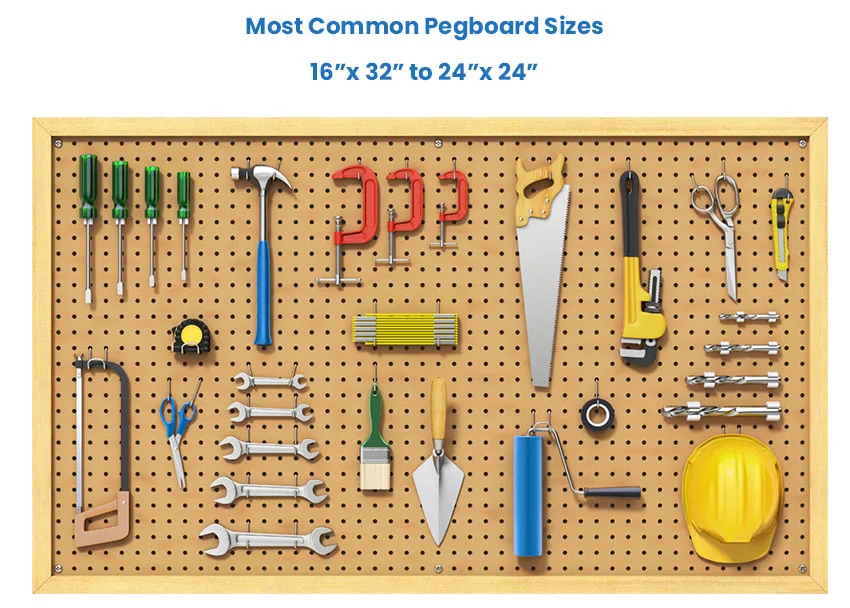 Aside from the pegboard hole size, there is the size of the whole pegboard panel itself. For many purposes, homeowners can get the size they need from smaller ones at 16 by 16 inches or 41 by 41 centimeters that can hold a set of six screwdrivers.
For a pegboard perfect for any kid's playroom storage, the IKEA Skadis is an excellent one. This pegboard is sized 14 by 22 inches or about 36 by 56 centimeters.
There are no set standard sizes for a pegboard panel, but the most common small sizes are 16 by 32 inches to 24 by 24 inches or 41 by 81 to 61 by 61 centimeters. So many homeowners can get smaller to larger ones if they want to.
You can find large standard pegboard panels that come in 4 foot by 8 foot sizes at many home improvement stores. These are usually made from hardboard with a hole size of 3/16 inch and a hole spacing of 1 inch on center. They can currently be found for less than $25 at most stores that sell them.
Pegboard Hole Size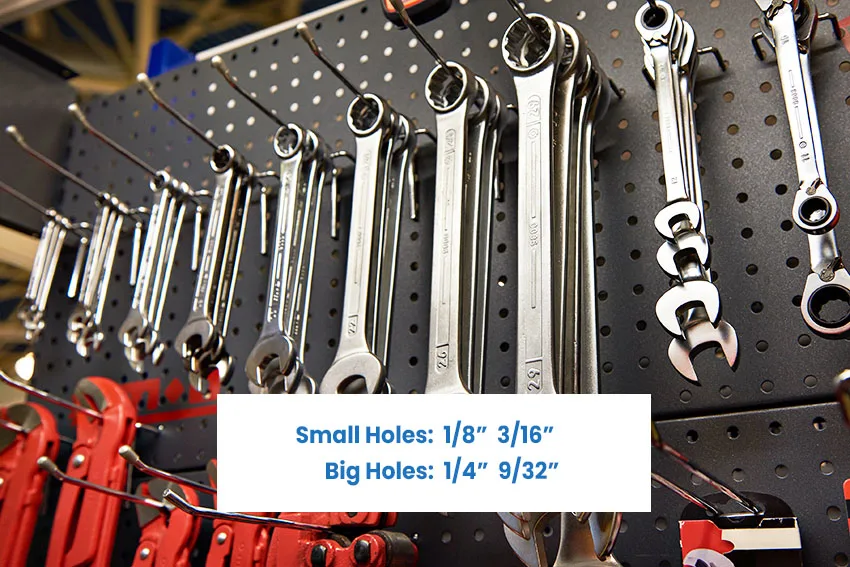 Holes in many standard pegboards come in four sizes, and that is 1/8, 3/16, 1/4 and 9/32 or 0.32, 0.48, 0.64 and 0.71 centimeters. So, what are the different benefits of these sizes, and what do you need to consider before choosing any pegboard hole size?
The smallest, which is the 1/8 inch or 0.32-centimeter holes, are usually utilized for the lighter ones like craft supplies, stationery, tapes, ribbons, etc.
The mid-sized, which is the 3/16 inch or 0.48-centimeter pegboard hole, is used for general purposes like kitchen organization or pegboards used for the office.
The large size which is the 1/4 inch or 0.64-centimeter pegboard hole size, will require bigger and thicker types of pegboard hooks, making them perfect for hanging and organizing larger tools like sanders, power drills, saws, and many others.
The largest widely available pegboard hole size is 9/32 and is made to hold the largest capacity hooks for large tools and accessories.
Pegboard Hole Spacing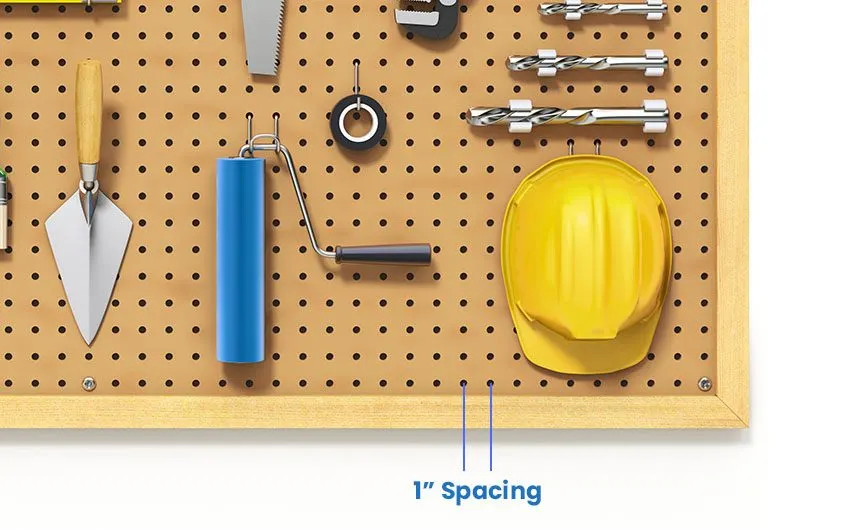 Every pegboard, from the one utilized for bigger tools to those perfect for craft room supplies, will have a pegboard hole spacing of 1 inch or 3 centimeters.
This space between one hole to the next is measured from the center of one hole to the other and not on the edge of each hole like what one might assume. This hole space is pretty standard for all pegboard sizes, from the size of the board itself to how big each hole in a pegboard is.
Pegboard Thickness
Aside from the hole size or the hole spacing, one also needs to consider how thick the pegboard itself will be. The hole space is pretty standard, but for thickness, there are two options available for purchase.
Pegboards with smaller holes are usually 1/8 inch or 0.32 centimeters thick. This pegboard thickness is excellent for hanging lighter, weighing stuff like arts and crafts supplies, and more lightweight office supplies.
Pegboards with a larger diameter hole usually are 1/4 inch or 0.64 centimeters thick, and this is the perfect thickness for hanging heavier stuff like garage and workshop supplies.
What Is Peg Board Made Of?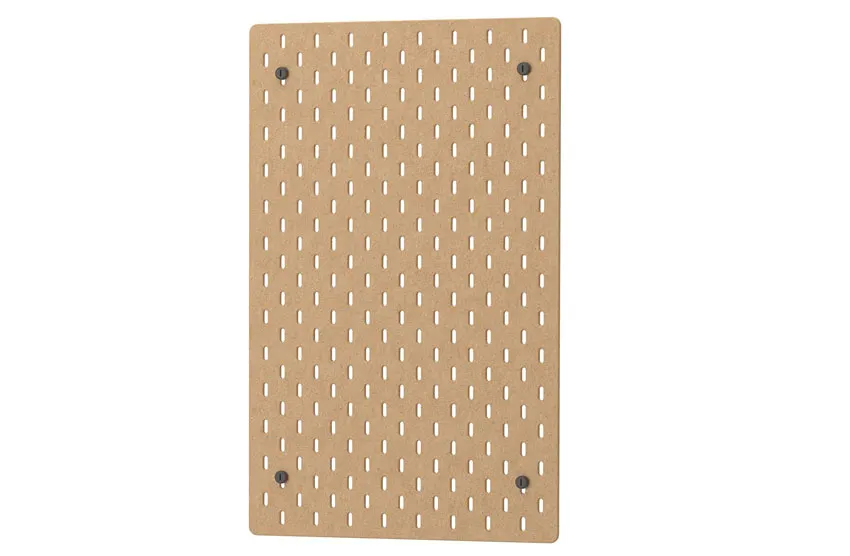 See this pegboard at Amazon [sponsored link]
Now that the sizes are out of the way, it is time to figure out what pegboards are made of, and typically they will be made out of metal, plastic (polypropylene), wood, or compressed wood pulp.
For smaller panels, plastic pegboards are the most common and lightweight option. They are also the most cost-efficient, although they are not as sturdy as metal pegboards which are more prone to be used to organize heavier power tools in garages and workshops.
The wood pegboards sold in most home improvement stores are made from hardboard which is a constructed from compressed and treated wood pulp. Since these are relatively inexpensive they are often used for garage wall storage or a workbench backsplash.
Solid wood pegboards, on the other hand, are often much more expensive since most of them will feature a decorative look. Making them perfect to be hung inside the home as a decorative wood wall centerpiece.
How Much Weight Can Pegboard Hold?
The weight capacity a pegboard can withstand will depend on how big or thick the pegboard is. Many pegboard manufacturers deduce that a standard 3/16 inches or 0.48 centimeters pegboard can hold up to 100 pounds or 45 kilos of weight.
Many factors will dictate how well a pegboard will withstand this weight, including how well it is attached or affixed to a wall. Some thicker pegboards can hold up to 150 pounds or 68 kilos of weight without difficulty. The largest capacity pegboards made from polypropylene can hold up to 250 pounds.
How Much Space Behind Pegboard?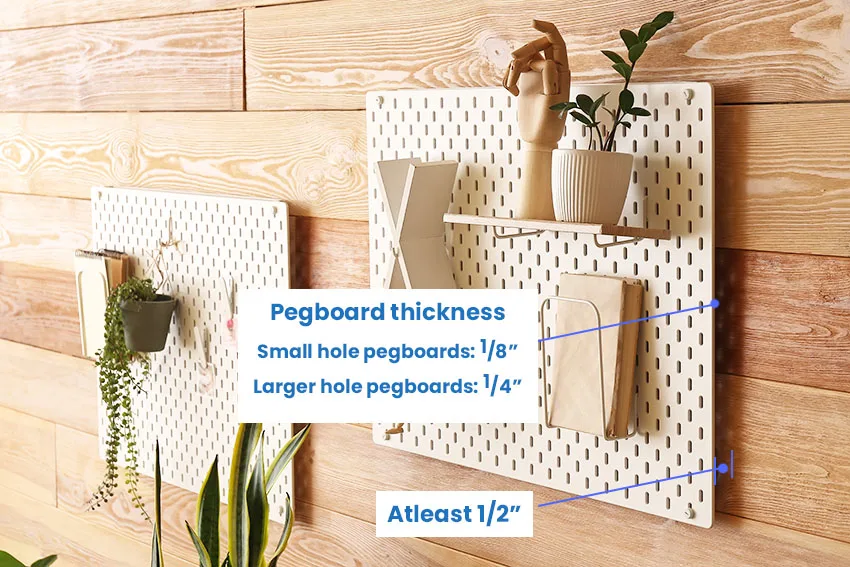 In order to attach a pegboard effectively to a wall, standoff space or space behind a pegboard needs to be considered. This space allowance should at least be half an inch or about 1.27 centimeters so that different pegboard hooks can be inserted into the wall panel.
Homeowners need not worry about this space since most metal, and plastic pegboards have this space built-in with the pegboard itself. Using spaces between each screw effectively provides this standoff space for wooden pegboards without this space allowance.
Another is making a frame for the pegboard, which is practical and will create a great aesthetic appeal to the pegboard itself.
Visit our garage makeover ideas guide for more related content.