See slat wall panel designs including their benefits, different types, systems, interior & exterior pictures, and the best wood slat wall ideas.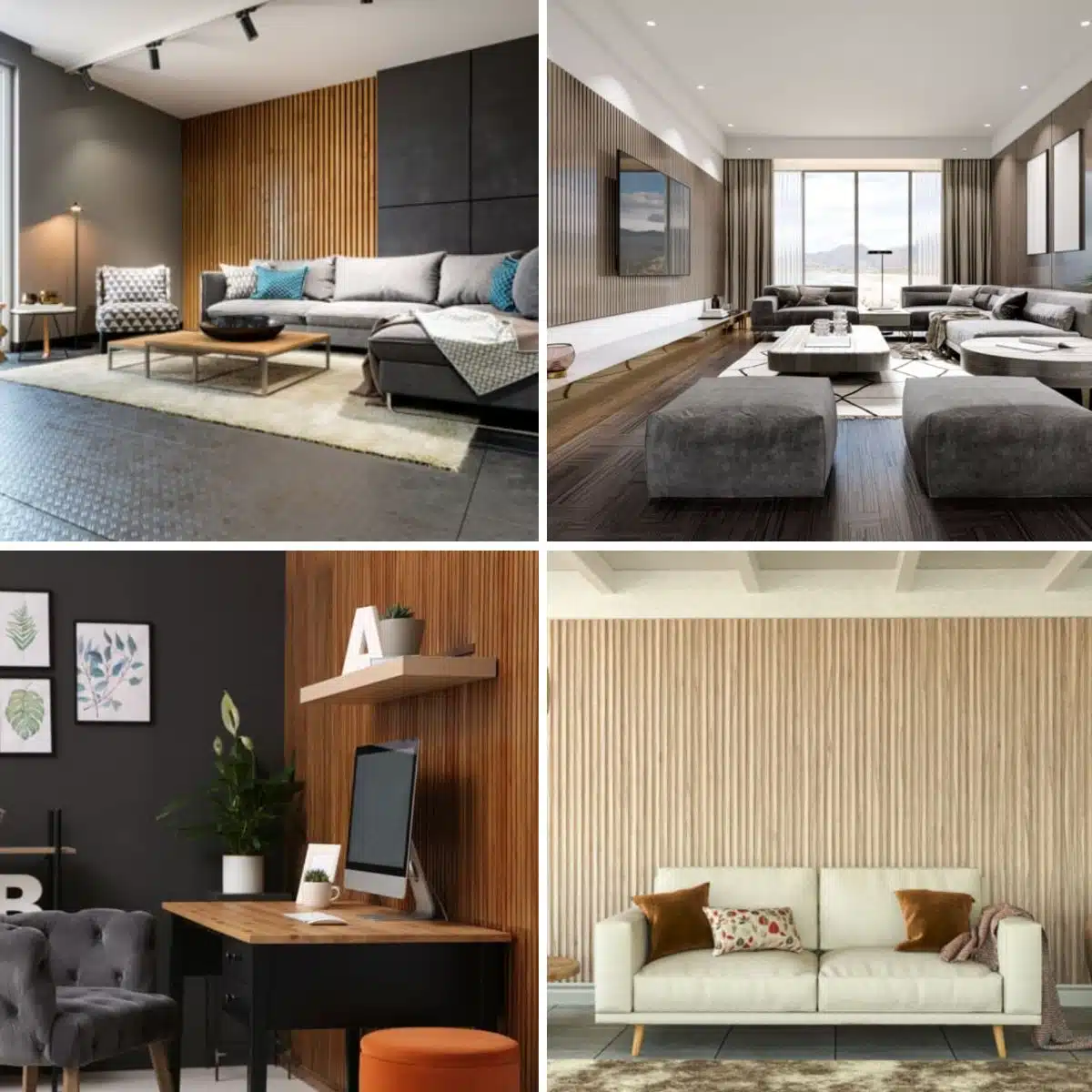 Slat wall panels are highly popular in commercial settings such as boutiques and department stores, and other retail establishments. This is because they work extremely well when it comes to organizing wares and ensuring they are aesthetically out on display simultaneously.
Slat walls are also frequently found in garages, office spaces, or workshops where they can be fitted with a variety of fixtures for storage and display. Some are also used as accent walls for modern interior designs.
What Is A Slat Wall Panel?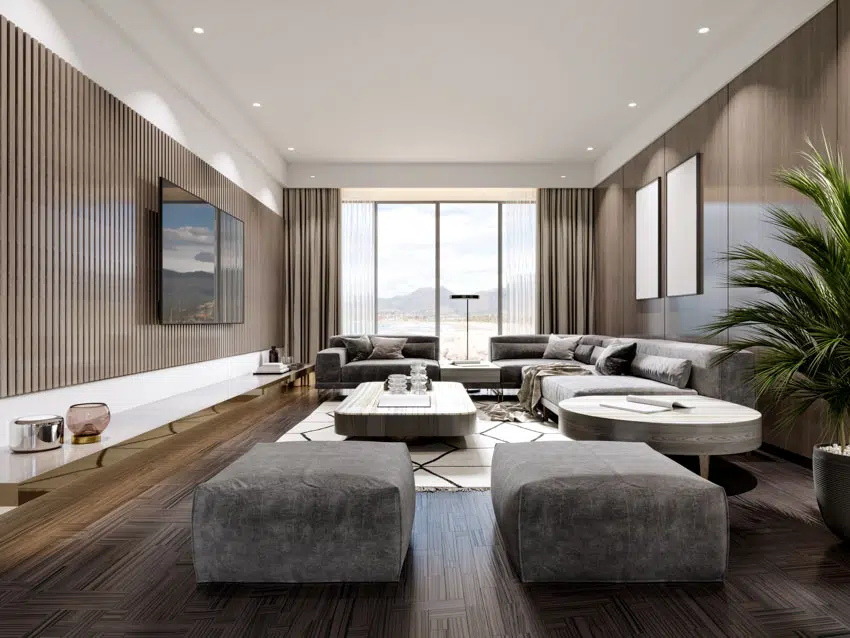 A slatted partition panel is basically a type of building material that can be fixed to the wall to display items. It is characterized by grooves that are oftentimes horizontal (which is why they are regarded as slats). It can come in a wide variety of styles and forms. It can range anywhere from being an actual freestanding fixture all on its own or just as a wall panel.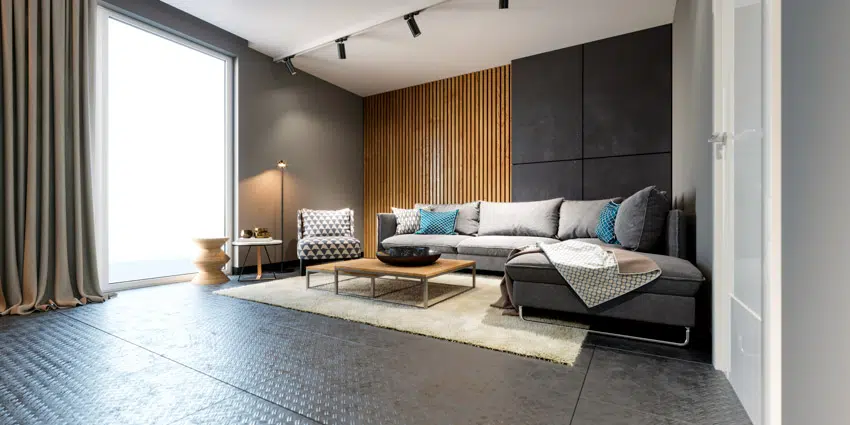 Slat partition panels are usually used alongside shelves and bins and other similar storage attachments that will be able to slide in and snugly fit right into the slats, holding them up.
This means that storage is organized and highly aesthetic and you can organize anything in your home without working too hard at it or exerting extra effort.
Why Are Slat-Style Wall Panels So Popular?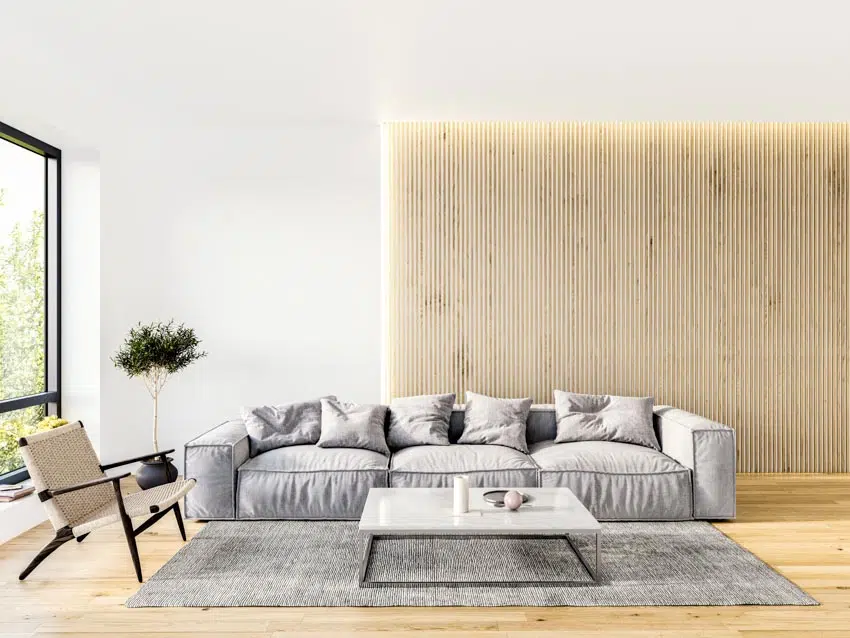 Durability: Slatted partition panels have impressively long life spans. They are pretty durable and hard to damage. They can also take in heavy loads along with other fixtures, especially metal hardware and rails that are inserted through the slats.
Affordability: They have a wide range of designs and uses and are extremely versatile. Slatted partition panels provide bang for buck value for your money and effort in getting them set up at home or in your commercial spaces. They're pretty basic and functional. But on top of all of this, they are fairly low-priced.
Customizability: Because slatted partition panels are mainly out of wood, you get to customize it according to your liking, from the shapes to the sizes, and even to the finishes as well as the different attachments that you would like to include. They are bound to fit right into whatever your needs may turn out to be.
Ease of use: You don't need handyman skills once your slatted partition panels have actually been assembled or installed. All you really need to do is to get your attachments hooked in and you can start using them right away.
Wood Slats for Wall Design Tips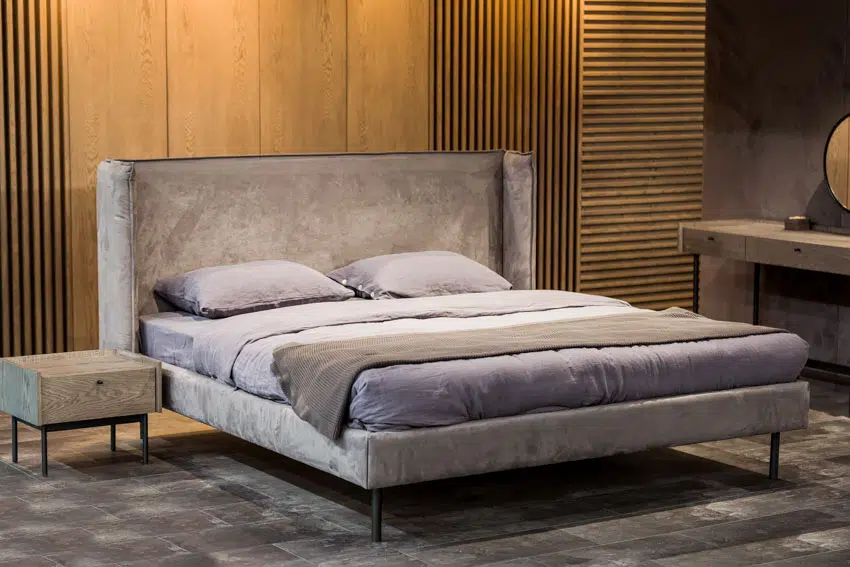 Although primarily functional, slatted partition panels also make for really great aesthetics. They never really go out of vogue so they always have this vibe of being trendy and on-point as far as interior design goes.
You can get it as an accent partition paired with wallpaper, wood, stone, some type of paneling, or even just a fresh coat of paint. There are so many ideas and options you can play around with out there.
Down below is a practical list of some of our ideas that you can do with a wood slat wall but don't be afraid to experiment and play around with fresh ones, just in case. Let's take a look at these ideas.
Create minimalist and contemporary spaces at home with wood slat walls: They are perfect for minimalist and contemporary designs. They bring the look together, making the theme more cohesive and seamless.
As accent walls, they get to warm up the exteriors without really going overboard with them. You can go for a vertical slatted partition panel stained with different shades to create gradient and dimensionality but also to create something that looks welcoming and warm.
If you are looking for a cleaner look though, you can always whitewash it or paint it completely white. It can open up the space and make it appear tall, big, and bright.
DIY wood slat panels: With a little bit of math and some 1" thick plywood sheets, you can turn your wood slatted panel dreams come true. You want your slats to be spaced the same in terms of width.
When you're cutting the slats, make sure that you put in a few extra ones just in case you have crevices and uneven spaces in the partition that you have to get into. If you don't have a woodcutter at home, that's OK too. You can get it precut in your local hardware or home depot store.
Sand the plywood slats down for a smooth texture. Paint the base partition. Go with an accent wall color that best suits your design plan for the room, of course. You have the option to either stain your plywood slats individually or you can paint them, whatever your preference is.
Don't forget to seal the wood before you get it up on the partition. Use a piece of wood as a spacer when you're installing in-between slats so that you don't have to take a measuring tape out every time you install a piece.
Install bookshelves: If you already have a grid partition installed, adding in some bookshelves both for extra embellishments and storage is actually a pretty good idea. When mounting the shelves, make sure that you use a level all throughout.
Create holes through the shelf support and make sure that you have studs out there to help secure the weight of your shelves. Do this for all of the shelves you're installing on your slat partition. The best recommendation is that they should at least be 16 inches apart in height.
Use wood slats in the stairway: You've probably seen it in some interior design magazines. Stairway areas in the home are a great area to put up a wood grid partitions on. It can add dimensionality to the stairs without blocking the entire area off completely because you can still see through the slats.
The effect this gives is something modern and very chic but at the same time, something that opens the space up without making it feel too exposed. It strikes the perfect balance needed for a stairway area.
Put it up as a headboard: It's true that bedrooms can get a little challenging and traditional headboards can end up costing you a lot but this is something that you can easily solve with a grid partition right where the headboard is supposed to be. It's cheap, and convenient to install, but the overall look is something that looks like it came straight out of a magazine. You can even play around with the base wall's color and the slat colors.
If you want something more subdued and cohesive, you can have them in the same color or at least in the same color wheel. If you want something a bit more dramatic and eye-catching though, you can go with contrasting colors that really draw attention in.
It can easily be your accent partition the moment that you step into the bedroom and it's guaranteed to be the focal point that grounds your entire bedroom's design at the end of the day.
Install your slat wall with some LED lighting: Have some led lights in some of the crevices in between the slats for a Tron-like effect. If you want to go with something a bit more modern or contemporary, this is a great option to consider.
Apart from being something that's worth trying, LED lights don't really cost a lot of money. If you're a bit handy, it can even be a slat partition upgrade that you can do yourself.
Slat Designs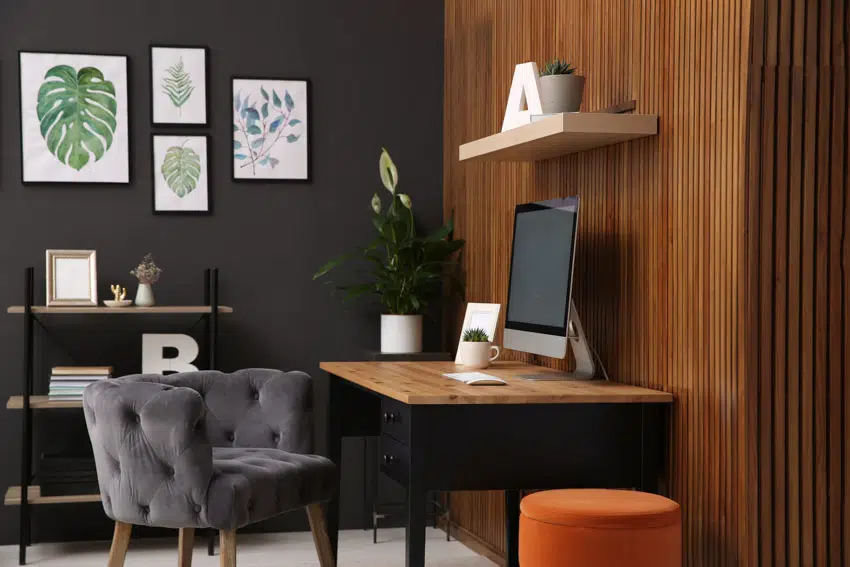 Here we share the different types of wood slat walls.
Slats for Interior Walls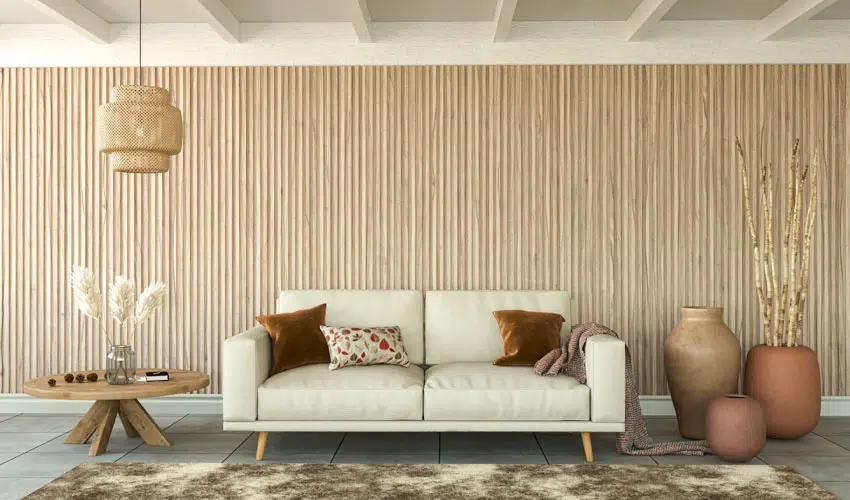 There are so many things you can do with interior wood slat walls. They can be purely aesthetic, they can be put on as dividers in-between spaces, as some sort of see-through walls for your stairs, as extra storage space solution, and so much more.
The sky's the limit when it comes to the appeal and actual practical use of wood slattedwalls for the interiors of your home. If you have a space inside the home that you don't really know what to do with, adhering slats onto the walls could immediately elevate the look without you ever having to do much in the first place.
Another benefit of getting wood slatted walls for your interiors is that they're a great way to embellish the space without really consuming any of your floor space. Vertical space for the interiors isn't really utilized as much as it should be utilized and this is something that you will be able to remedy if you introduce slatted walls to the insides of your home.
Slats for Exterior Walls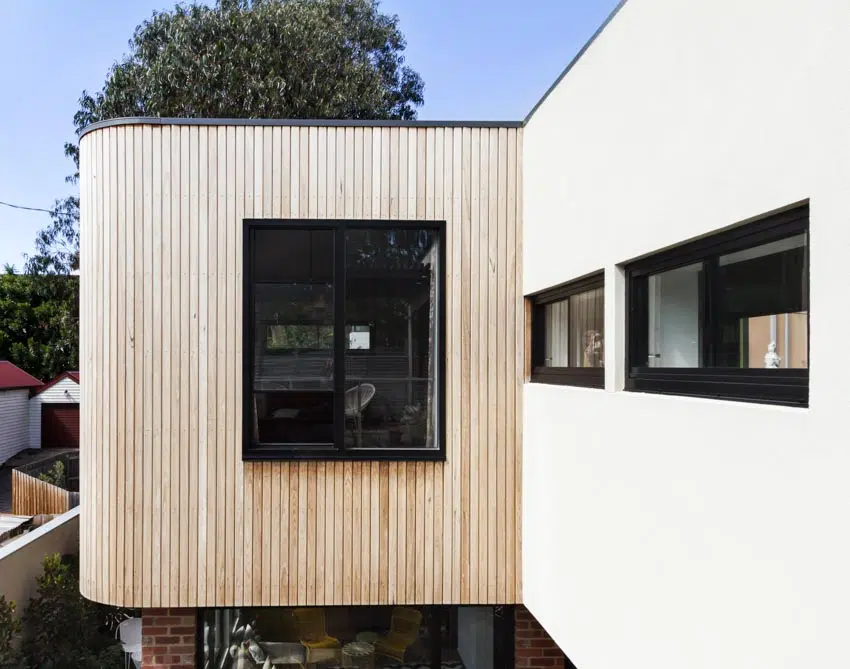 Home exteriors are typically fat and without any texture. Adding in exterior wood slat walls are a great way for you to introduce an extra level of dimensionality and character to your home's façade without burning through your budget.
This is because despite how chic or posh they look wood slat walls don't actually cost a whole lot of money. As a matter of fact, it's considered more as a cosmetic update instead of an actual renovation update.
If you're going for small bungalow style house design and you want to create the illusion of it being bigger than it actually is, it would be smart for you to go for a wood slat partition that has slats that are arranged vertically.
It will make it look taller and more impressive. On the other hand, if you have a huge house and you want to make it appear cozier and more welcoming, horizontal slats will work better.
Wood slats on the exteriors of the home can add beauty and a sense of balance to your home. It's also a great way for you to add to your home's curb appeal. There's something very cultured and sophisticated when you approach a home that has textured walls or even just a portion of the exterior with an accented wood slat partition. It's definitely worth trying out.
Vertical Panels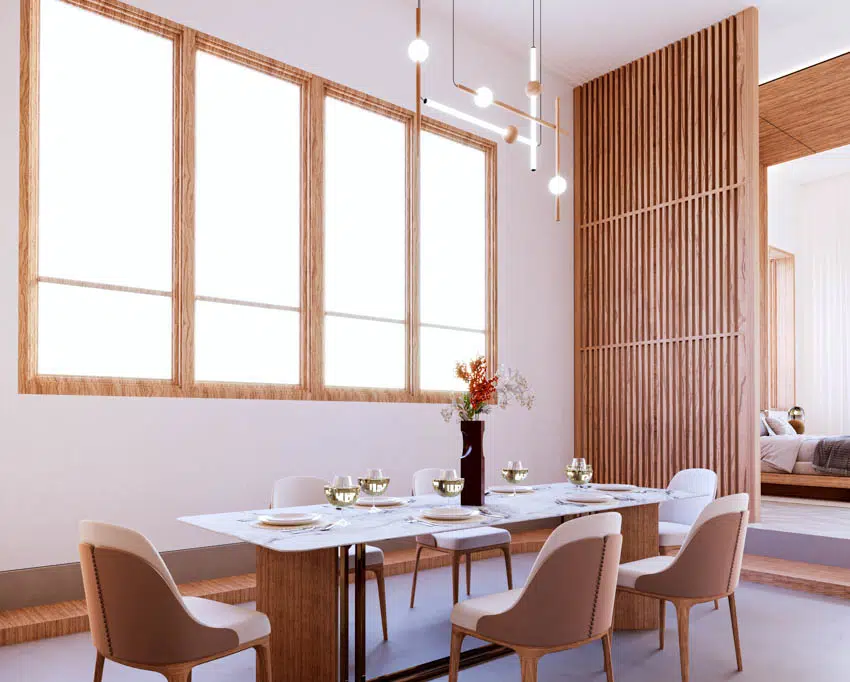 Vertical slatted wall panels come along with a lot of benefits. For starters, they can make any room in your home feel like there is instantly some added height to it. This is for when you place the panels against the wall from ceiling to floor. This creates an illusion of taller or more elongated walls. It can also make your ceiling appear like it is so much higher than it really is.
Vertical slats are a great way for you to balance out any horizontal lines that may already be present in your interior design layout. This can be anything to everything from tables, to shelves, to furniture pieces, to counters, to freestanding appliances, and so much more.
Vertical slatted wall panels were initially popularized by Scandinavian interior design. They have been known to use slatted wall panels as accents for offices, bedrooms, living rooms, and so much more. Thankfully, because of how great it can make the space look, the rest of the world seems to have followed suit.
Horizontal Panels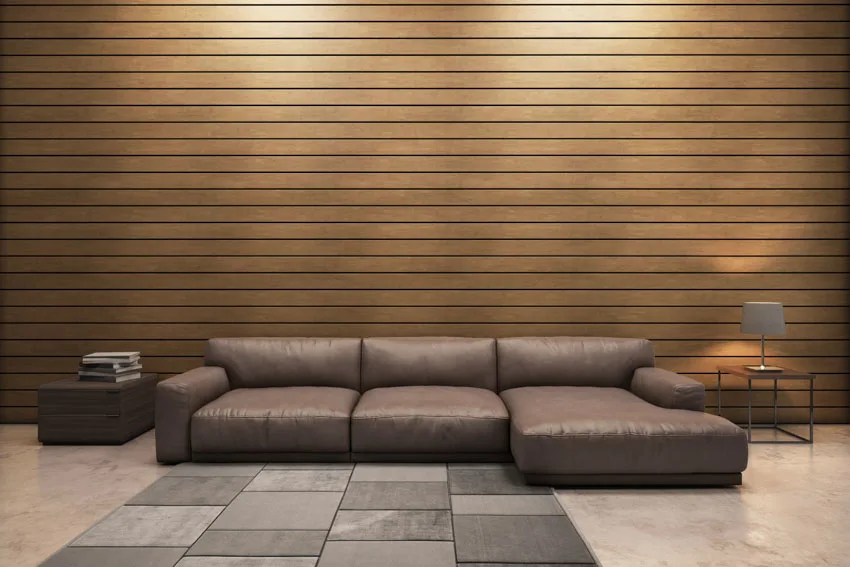 A horizontal wood slat wall, on the other hand, gives off the impression that the space that it's in is actually wider and larger than it really is. It can make it look bigger and far more spacious. If you want to improve a somewhat cramped and uninteresting-looking room in your home, a horizontal wood slat wall just might get the trick done for you.
Additionally, a horizontal wood slat wall is something that is actually so much easier to install compared to a vertical one because you have to lay the slats out right on top of each other.
Wood-Style Slat Accent Wall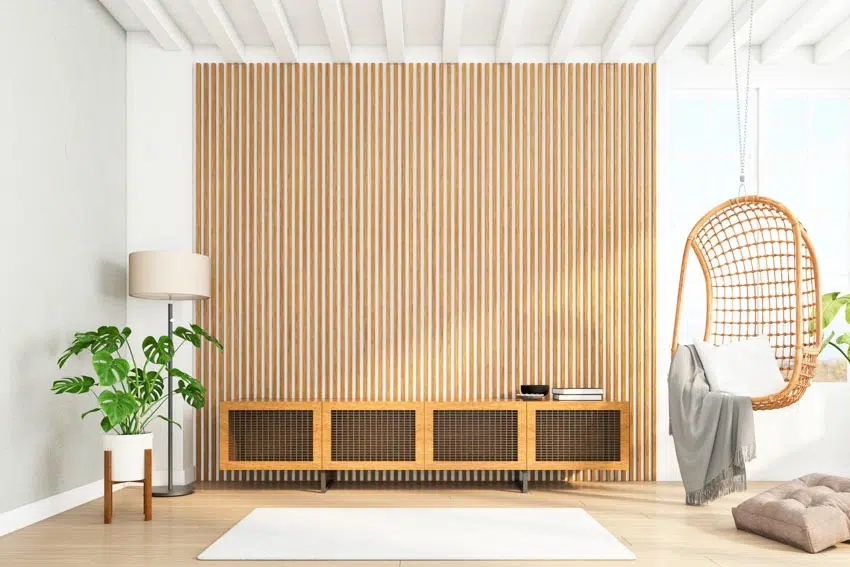 Making a wood slat accent wall is fairly easy. You just have to start off with the basic calculations. Decide on how much wood you will actually need to buy, how long and wide your slats will be, and how much width will be right in between those spaces. Then you start prepping your main wall by painting it with a color of your choice.
Also, it's important to know that your wood slats don't always have to span the entire area of your wall. You can install them based on the height or width you may want or prefer at the end of the day.
You can use this as a backdrop for whatever accent wall or feature wall you may set your sights on. You can even pair this with hanging wall art, embossed lettering or signage set indoors, and more. You can even add in some back-lighting if you want an added effect. You can be as minimalist or as maximalist as you like with your wood slat accent wall.
Modern Wood Slat Accent Wall: Wood slats against the wall are usually associated with a more modern or contemporary style or design. As a matter of fact, this is something that can be commonly seen in chic or fairly high-end looking commercial spaces, even.
There are endless ideas for design when it comes to getting a modern wood slat accent wall in. You can have them in the traditional straight rows. However, you can also play around with them and have them in curved or warped ones. It can turn out to be a really artsy collage of wood strips that can have hints of looking sculptural.
Mid Century Modern Slat Wall: If you aren't too fond of opting for a chic and modern look for your slat walls, you can actually dally a bit with a more Mid Century approach. Mid century modern slat walls are usually depicted by muted tons, very clean lines, and they should have a somewhat man made or organic element to them.
They can pair extremely well with vibrant colors, geometric shapes, and you can feel free and play around with both outdoor and indoor motifs. It's a more laid back approach to an otherwise sophisticated and at times austere Scandinavian feel to the typical wooden slat walls.
If you want to incorporate a little bit more warmth and livability into the space that you're creating, a mid century modern slat wall is definitely the way to go for you. The best part in all this is that there aren't really any hard rules. Go with what colors and elements fit your vibe and play it by ear from there on out. It also wouldn't hurt to include some hanging indoor plants in the process.
Rustic Wood Slat Wall: Rustic wood slat walls are known for their very "thrown out there" look. This type of slat wall design can fit in well with farmhouse designs for your interiors. It's all about letting the ruggedness and rawness of the wood really shine through and all about letting its natural organic charm shine through.
Rustic wood slat walls are perfect for bringing together a very laid-back and relaxed atmosphere. Pair this along with other wood-based and organic elements and you'll have an interior design scheme that's really one for the books.
This can usually be achieved by giving the wooden slats an unfinished and weathered look. You can also play around with certain stains. But the most common approach is a shabby chic look brought about by painting it white, usually with just a single coat, so some of the wood will still show through in the overall finish.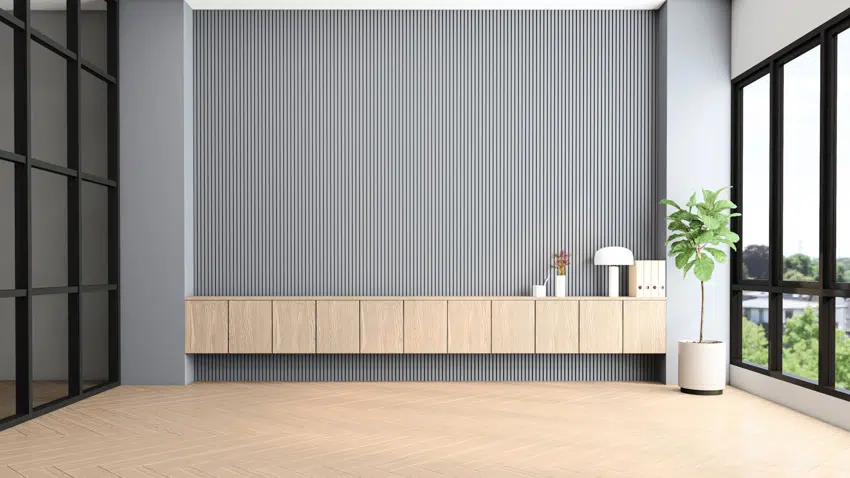 Acoustic Slat Wood Wall Panels: Acoustic slat wood wall panels are great if you want to maintain some sort of privacy in the area in the home that you're installing them in. You can usually bank on MDF boards to get the job done. MDF is known for its stellar acoustic properties. It is made out of wood fibers mixed in with resins. They are usually compressed together and then pressure heated.
A more natural approach to acoustic slat wood wall panels is to go for oak wood. Oak wood is categorized as a tone-wood. It means that it has tonal characteristics due to its large pores.
This is no surprise why a lot of guitars are actually made out of oak wood. They handle acoustics extremely well. You can have acoustic slat wood wall panels in your den or in a family room where you happen to watch movies with the family or play musical instruments in
Different Slat Systems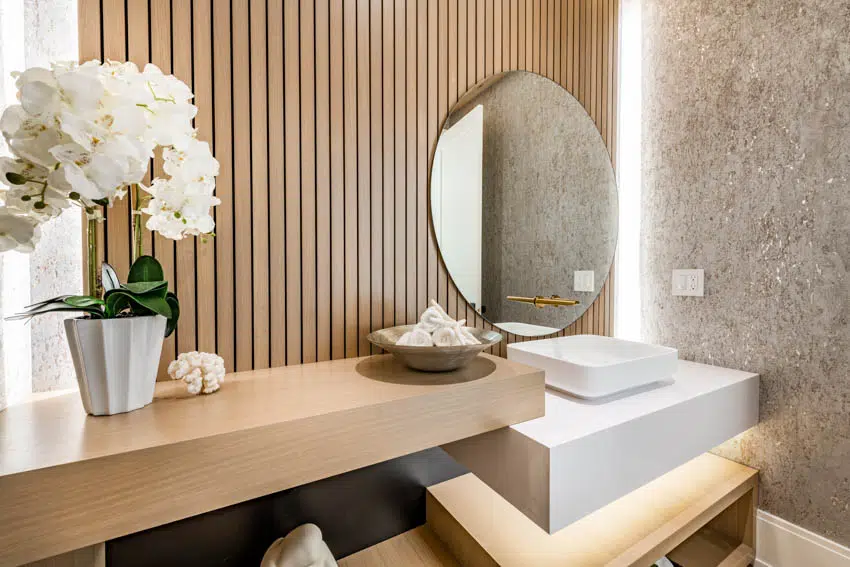 Here we share the different types of slat wall systems.
Slat Wall Inserts: Generally speaking, slat wall inserts come highly recommended especially if you want to use your slat wall panel for a purpose other than just being an accent wall. And the beauty in this is that you can easily do that with the addition of these inserts.
They are usually made out of aluminum and can help you turn your slat wall into a multipurpose storage area. You can display books, heirlooms and other household memento, or even storage bins, if you so desire.
They are basically strips made out of aluminum (but they also come in PVC material) that just easily snap into place when you place them right into the slats of your slat wall panel.
They are very quick and easy to use and can mean all of the difference in the world when it comes to incorporating versatility in your slat walls.
Slate Wall Tiles: Thankfully, there are more convenient ways for you to create a slat wall look for your home without necessarily going through the whole nine yards of getting the slats individually installed.
Slat wall tiles come with premade slat-like textures that can simulate the look and feel of an actual slat wall. You can install this the normal way that slats are typically installed, with some tile adhesive and grout, and voila, you've got a slat wall.
They can be made out of wood grain or MDF or a combination of both. The most popular materials are usually oak, maple, or beech. They also have a bit more versatility on the design end as some slat wall tiles don't really span an entire wall from side to side or from top to bottom.
Some of them come in certain lengths of about a foot or less. This can be made possible only because they're in tile form. Designs like these can turn out to be extremely tedious if they happen to be in actual wood slat form that needs to be installed individually.
PVC Slat Wall: PVC or polyvinyl chloride, is a cheap and lightweight solution to getting a slat wall in a breeze. They are strong, composite, and most importantly, won't weigh your main walls down that much.
And because of the fact that they are mainly made out of plastic, it means that your slat wall design options can come in so many types of sizes, colors, surface finishes, and so on. They definitely make for great alternatives to your traditional wooden slat walls.
They're very durable and strong, meaning they can last you for years. They also won't bend or warp. On top of this, PVC slat walls are pretty cheap. They are far cheaper than their wooden counterparts.
They are also easy to install as they can be easily trimmed and cut. Installation is also fairly easy and definitely not as laborious as that of wood. And since PVC is lightweight, the handling, transportation, and installation of the material up on your walls will turn out to be a breeze.
Let's also not forget the fact that PVC is s waterproof and nonporous material which means that it will never absorb water or moisture or anything like that. It will never facilitate mold or mildew growth further down the line.
The only downside though is that it has a very plastic appearance and doesn't look very high-end. It also isn't head resistant so you have to be really careful where you place it. This isn't a kind of problem that you face with wood.
Metal Slat Wall: It's probably a little surprising for you to know, but metal slat walls definitely exist. And because metal is customizable, this also means that your range of design options is considerably opened up.
For example, take a look at the materials alone. Metal slat walls can be in brushed aluminum, copper HOL, graphite HPL, or basic alloy or stainless steel. These metals are attractive, extremely durable, and deliver that very high-end look at only a fraction of the cost that most woods would normally cost. And on top of all this, is that they are very easy to install.
Metal slat walls normally come with horizontal or vertical seams, interlocking systems, and invisible fasteners. This delivers a very sleek and modern chic design. It will appeal to you if you are after a somewhat futuristic and modern vibe for your slat walls. On top of this, metal is very strong and durable while also being lightweight.
It isn't a fire hazard, it can be installed in a short amount of time. Especially with professional help, it can come in many colors and brushed or polished finishes. Honestly, there's very little that you can't love in metal slat walls and it's definitely worth your time to check out.
Slat Panel Designs
Here we share the different designs of slat wall panels.
DIY Slats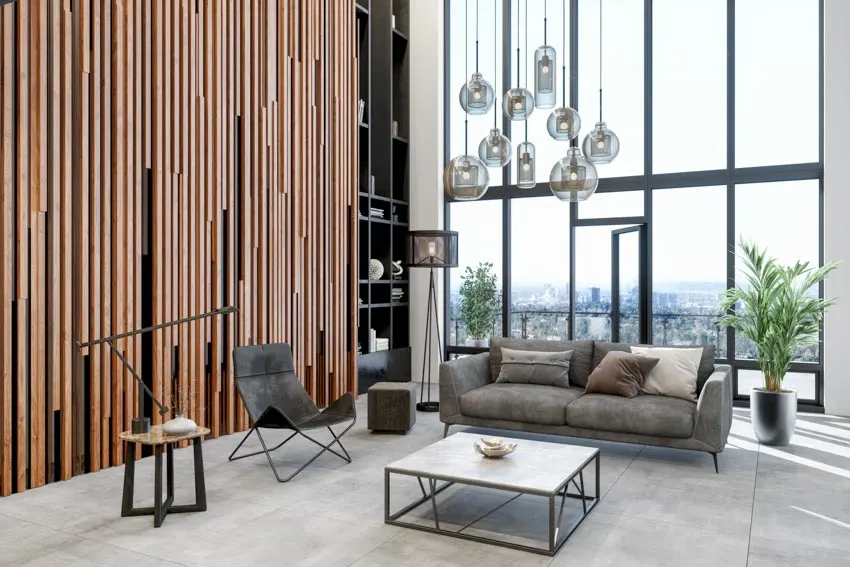 Of course, this is definitely something that you can try to do yourself. You get to save a lot of money, and you also get to make one that's exactly how you would like it or exactly as you have envisioned it. If you are handy with construction materials, then by all means, go crazy.
However, do not attempt to do this project alone or without the help of professionals if you don't really have any handyman skills. It might cost a little more upfront but it will save you from the frustrations of wasted time and effort.
You can go for a DIY vertical or horizontal slat wall. Take note of the actual size of the wall that you would like to cover. You don't have to cover the entire wall span, so don't let that restrict you and your creative ideas.
It's also important to measure everything before you begin. Make sure that your base wall has been primed and coated before you start installing your slats. If you are using wooden slats, it would be smart to get them painted, stained, or sealed before they actually go up on your wall.
Slat Garage Wall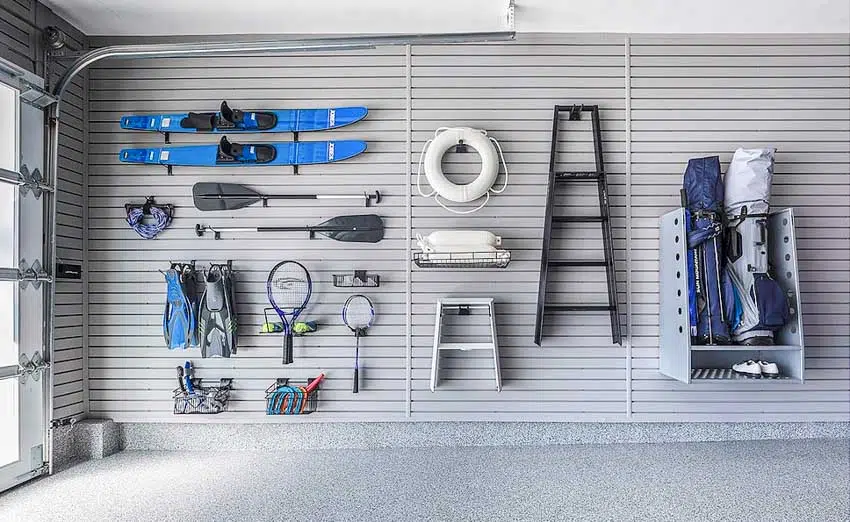 See this slatwall set for garages at Amazon [sponsored link]
Garage clutter is notorious as it creates all sorts of problems for you and for your household. For starters, it encroaches on precious parking space inside the actual garage. It can also make it really difficult to look for items you might need at any given point in time.
A slatted wall system combines easy installation, durability, and a range of hanging accessories to form an integrated solution for most any workshop need. – Black & Decker The Complete Guide to a Clutter-Free Home, Philip Schmidt
This can overall limit your garage's functionality, not to mention the fact that it isn't a good look for any garage or for any home. Grid partitions are one of the most popular wall panels for garage storage.
The things you should consider when picking out the type of grid partitionspanels to use for the garage are the quality, the durability, how much storage space you will actually need, aesthetics (of course), the required load capacity, ease of installation, hanging accessories you can use vertically, ease of use, and of course, whether or not it will fit into your budget.
There are different types of slat wall panels to choose from that offer the kind of sturdiness required for garage use. MDF boards are quite common. However, take note that they can be quite heavy and will require ample horizontal support.
PVC slat wall panels, on the other hand, are way more lightweight, durable, and as a huge plus, they are moisture resistant. Slat wall panels are more secure than peg boards in terms of providing stability for your storage solutions.
Wood Slat TV Wall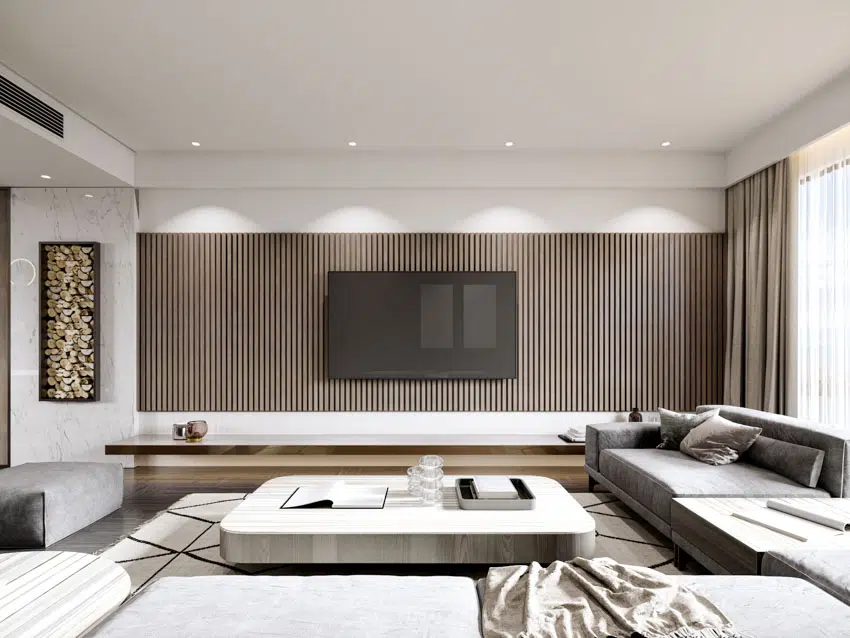 Mounting a TV against a slat wall is actually kind of a genius idea. For starters, the outlets and the mounting brackets can all be concealed in between the grooves of the slats which means that your TV will look like it's blending in perfectly with the rest of the wall.
It's great for particular areas in the house where a large screen mounted on a wall could look austere and a little too techy. It's also great for smaller rooms that don't have the space for a TV stand.

The aesthetic is also a perfect combination of technology and something organic, particularly if you're retaining the wood-like elements of your slats.
It's perfect for incorporating this home appliance into a laid-back interior design. More than that, slotted boards command the attention of the room, which works great if it has a TV smack right in the center.
Slat Privacy Wall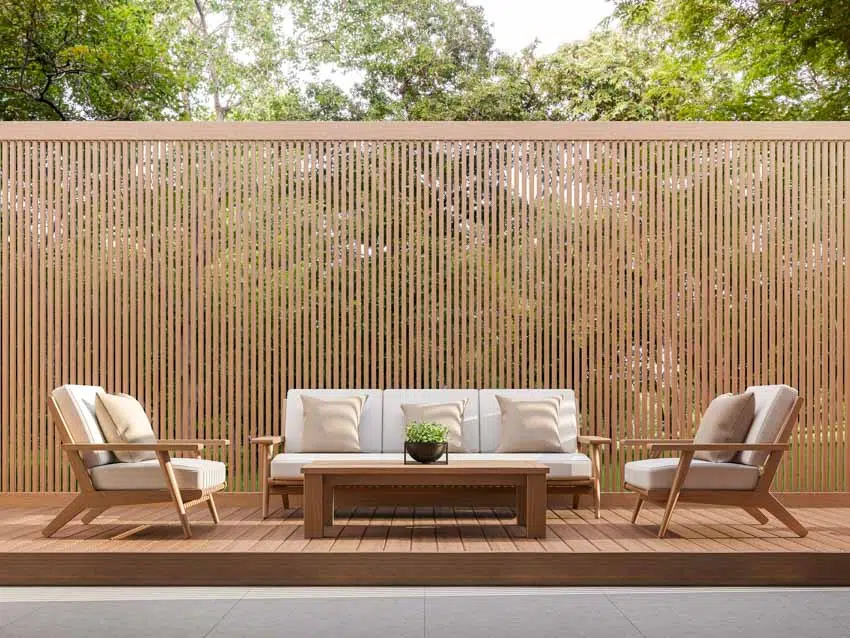 Slat walls make for efficient and ventilated privacy walls and screens. A lot of tropical-themed modern homes today feature slat privacy fences and walls on their exteriors and rightly so. Slat walls can protect large glass windows and doors while serving as some sort of screen for your outdoor space.
They're great for sun shading. Windows are usually exposed to direct sunlight, which isn't always good. For houses in the tropics and other areas that tend to get a lot of sun, it's important to screen the sunlight that's streaming in as it can help keep the house cool from the inside without using electricity.
Some natural light could still go in which means that it won't be dark and sunless indoors, but with the added benefit of not having to deal with the punishing heat.
It's also great for privacy. Depending on your preferences, it can totally bar people from outside from getting into your house. At the same time, you get to peer out and get a partial view of the outside. And of course, it offers natural ventilation since you aren't blocking the air or any breeze from blowing through your property.
Slat Type Fireplace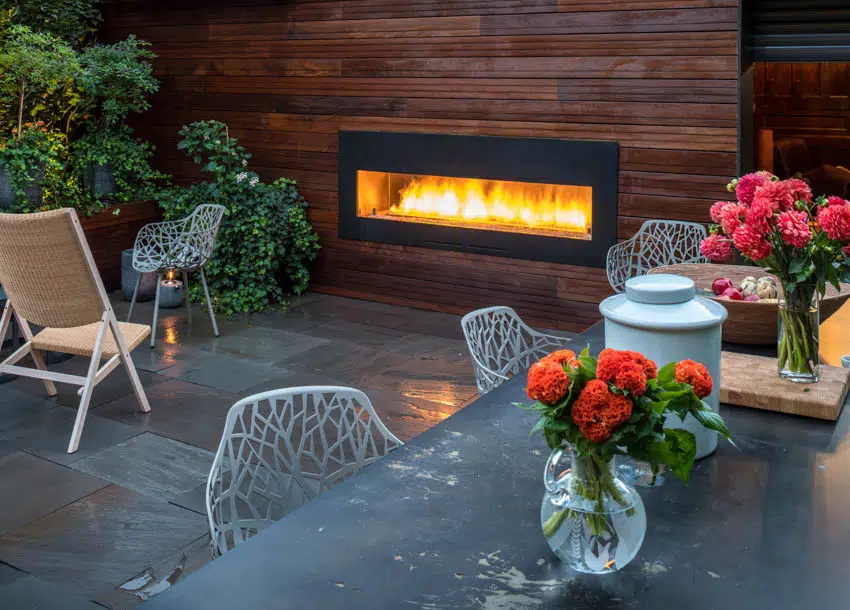 If you want a quick makeover of your fireplace without breaking the bank or without any major reconstruction done to it, you can always opt for a slat partition installed on it. It makes your fireplace stand out and look like it has more personality and character.
It looks comfortable and inviting, which is what the vibe should be when you have a fireplace nearby. And of course, it looks great when paired with shelves; this is something that you can easily do with a slat partition as the mounting brackets can be hidden in the grooves or in the spaces in between the slats. See more fireplace accent wall ideas here.

Wood Slat Divider Wall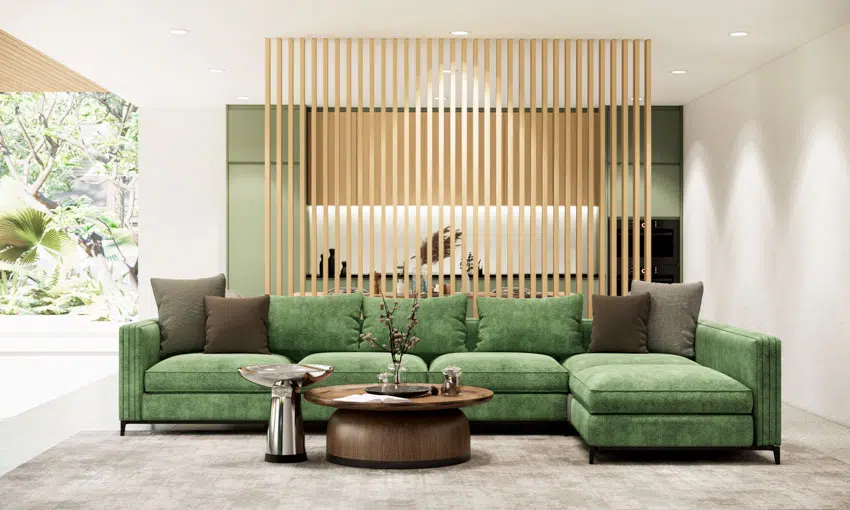 Using wood slats as a divider is another nifty idea you can bring into the home. If you have an open layout, it can be a bit challenging trying to keep track of the different areas of the home and what their functions are.
Wood slats are a great way to define them visually without completely closing the space off. They are lightweight and they can be constructed cheaply should you change your mind further down the road, you can easily take them apart.
Wood slats occupy less space. They're simple and practical. And above all, they look great and can even double as design elements for the space that you're renovating.
Bedroom Slatted Walls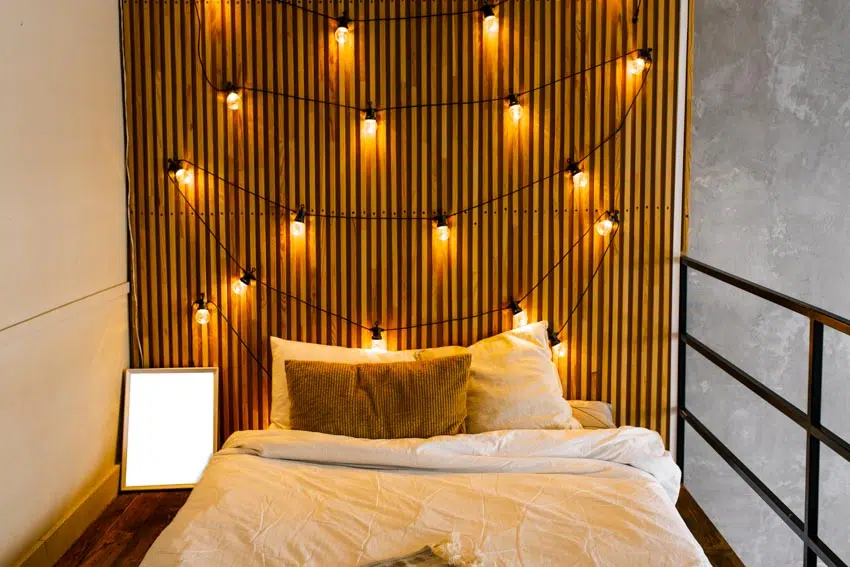 Slat walls also work great as bedroom accents. If you want to add that modern yet classic vibe to any bedroom in your home, slat walls would definitely have to be it.
You can use them as accent wall ideas and pick any random partition in your bedroom but slat walls are most popular when installed in the headboard area. Hanging string lights above your bed can create a warm inviting ambiance and welcoming glow.

It just visually draws the attention towards the center of the room, right where the bed is. And frankly speaking, that's the way it should be with bedrooms. The bed is the piece de resistance of the bedroom and slat walls can make it shine when installed as a backdrop. It can be a good alternative to buying an expensive headboard.

Slat Panels In the Bathroom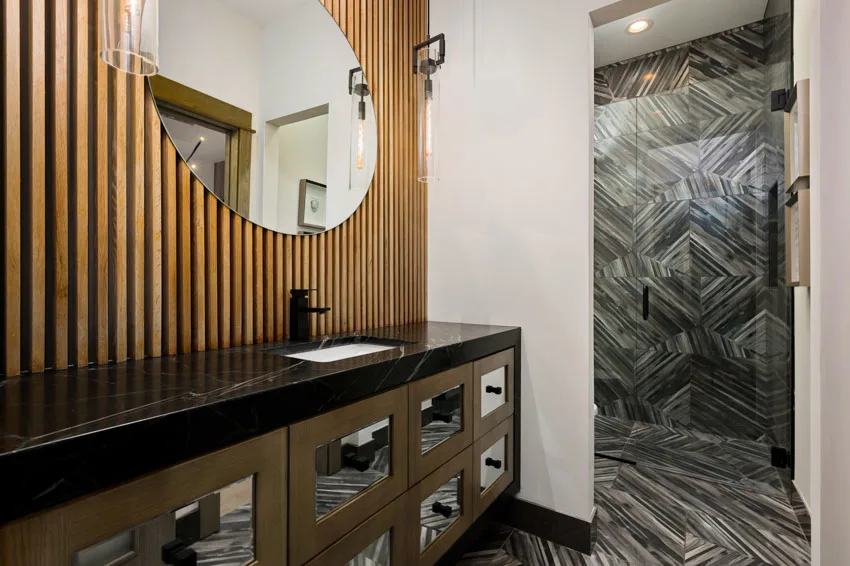 Having slat walls installed in the bathroom are fairly self-explanatory. They can make your bathroom look expensive just by being there. But on top of the aesthetics, slotted boards actually offer so much more than that.
Because of their natural sound-dampening qualities, having slotted boards installed in your bathroom would mean that you get to remove sound reverberation within the room.
They create an alluring bathroom accent partition that can provide a mid-century modern, or contemporary look depending on your finishes, hardware and decor.

To ensure your wood slat walls maintain their beautiful qualities you'll want to seal the wood with a varnish, lacquer or polyurethane coating. Then waterproof the wood surface with a stain sealer.

Slat Accessories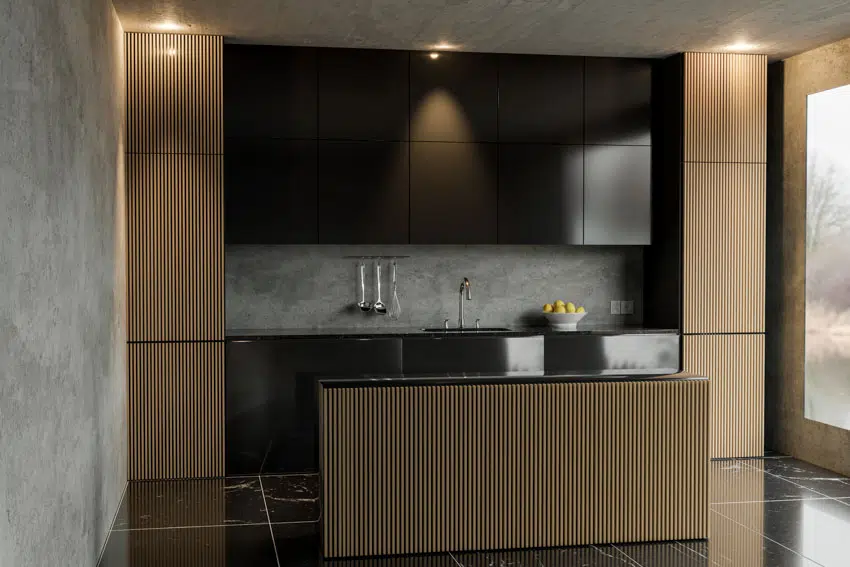 Slat Board Shelf: Some items in your home aren't really suited for storage. Shelving is a great option for those items. They're also perfect for items you might want to set aside but need every now and then.
If you have items that you would like to display at home, you can use shelving options up against your plank walls as well. You can pair them up nicely with baskets, and other items that you might want to mix and match either for design or utility purposes.
Slat Wall Hooks: Plank board hooks take up little to no space at all. They can be moved around on your plank partition panels, and they're absolutely perfect for hanging literally any item you can think of. These hooks usually range in sizes of 1-inch, 4-inch, and 8-inch hooks.
There are single, double, and deep utility hooks that are strong enough to take the load of small pieces of furniture and heavier tools. And of course, there's the industrial hook. It's usually 26 inches in size and it can take a load of tires, kayaks, surfboards, and other bigger items.
Slat Board Brackets: Wall brackets are versatile when used alongside slotted walls. They're great for supporting heavier load items such as shelves, and all the stuff that you put on the shelves. They are usually angle brackets that are made out of iron and they're typically L-shaped.
Slat Board Baskets: If you need storage options that are a little more versatile and have a bit more space, you can always pair your slotted walls with baskets. They hang conveniently vertically and they're great for large items such as shoes, tools, and even cleaning supplies.
Slat Board Bins: Slotted board bins are great if you want to store items that you don't want to accumulate dust. The bins can usually be installed with fasteners that can slide right into or off of your slotted boards. Try to go for transparent bins so you can see the contents of the bins without ever having to slide them off the partition and open them up.
Slatted Panel Sizes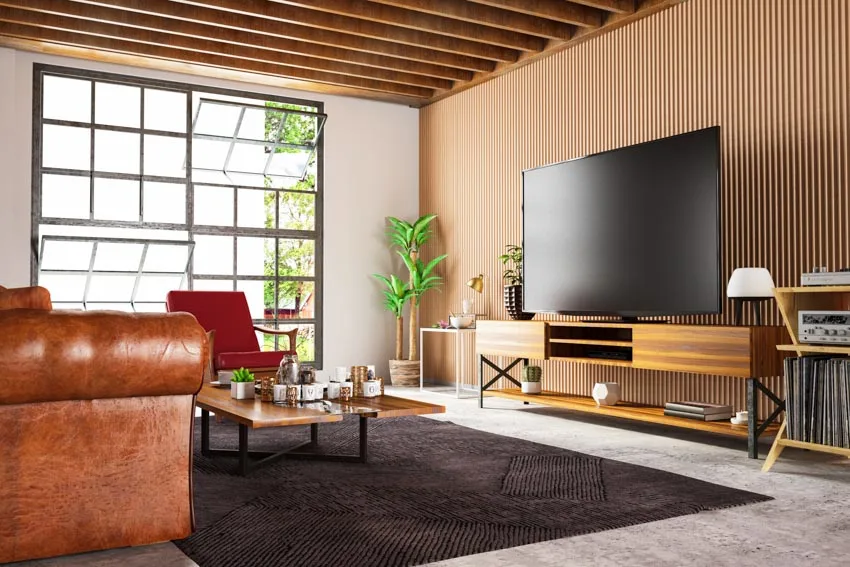 In reality, slotted board panels can be in any size, really. You can always fully customize your bar slat walls based on your preferred width and length.
However, as a general rule of thumb, the standard is at 8 x 4 feet. And then the standard gap in between the slat is at 3 inches. The recommendation for the wood slats is that they should be at least ¾-inch thick.
See more related content in our article about bamboo wall designs on this page.