Here we share our bedroom TV wall mounting ideas including wall placement tips, location, style, height, distance, and other important details for hanging a TV in the bedroom.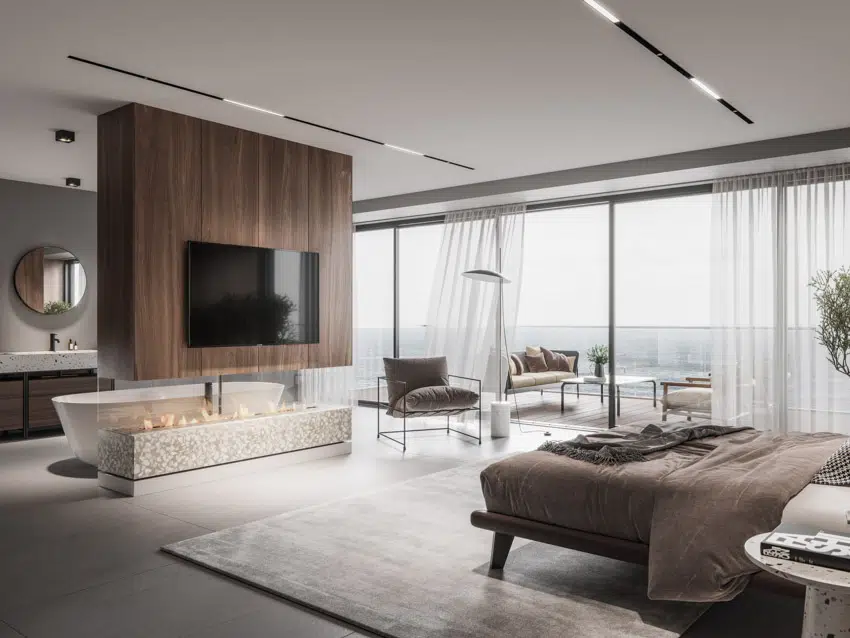 Choosing to have a bedroom TV is sensible, especially with today's sleeker and intuitive versions. But still, incorporating television into your bedroom will need a deft touch that settles the tech gadget smoothly into the calm and relaxing vibe of your bedroom space.
This means you'll need you to need to strive for a look that conceals or at least will blend perfectly with your interior design while accessible and securely mounted.
To help you out, we've listed bedroom TV wall mounting ideas you can adapt to fit your unique needs.
TV Wall Placement In The Bedroom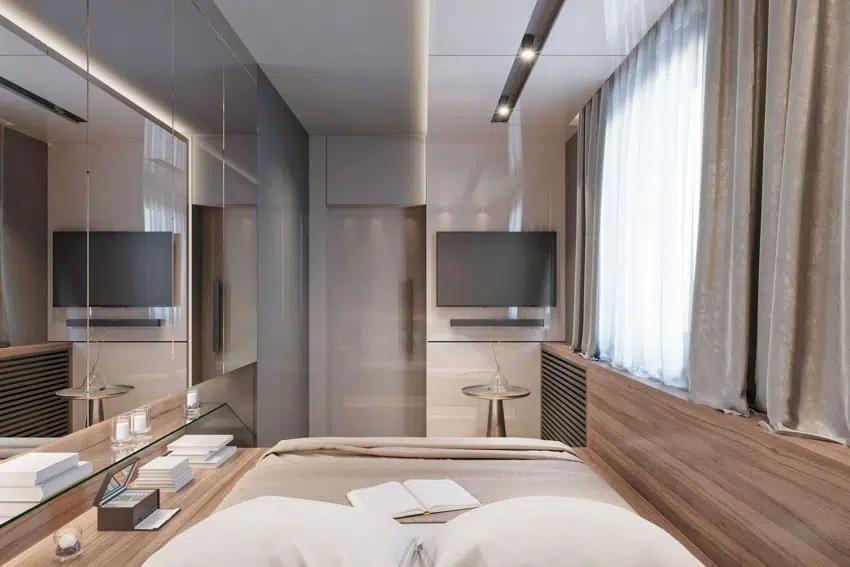 Before we dive into the TV wall placement in the bedroom, these are the primary considerations when choosing where to mount your bedroom TV:
1. Size of your TV
2. Room Size
3. TV components such as DVD players, extra speakers, etc.
4. Existing Room Layout
5. Consider Glare (natural and artificial sources)
Where to Hang TV in Bedroom?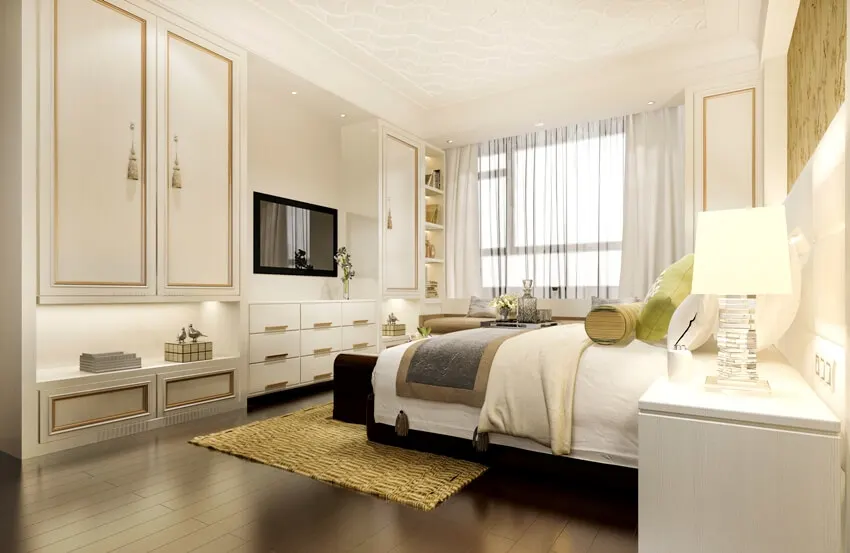 Here we share where you can hang a TV inside your bedroom.
Wall-Mounted TV

One of the most common bedroom TV wall mounting ideas is the wall directly from your line of sight when sitting upright on your bed or the wall across those different types of headboards.
1. Above a Floating Shelf: If you've got large-sized flatscreen televisions, say 32 to 55 inches, adding a floating shelf will fill in your vertical space.
The extra storage allows you to place additional equipment and other bedroom items. You should consider a closed shelf instead of open shelving to conceal your items.
2. Recessed Shelves: For fairly sized flat screens lower than 32 inches, surrounding shelves can accommodate the blank space while framing up your TV.
You can add back paneling to unify your existing design or add a decorative design to make the TV a focal point.
3. Sliding Shelves: You can opt for built-in sliding doors to conceal your TV when not used. The sliding mechanism leaves a neat look as opposed to your door swing cabinets.
4. Flush Mounted: Creating an alcove that allows your flat screen to be flushed against your wall is effective in keeping your bedroom interior looking sleek and modern.
Although, make sure you have enough drywall width to accommodate your bedroom television which requires you to have fairly minor renovations on your bedroom.
Tip: Add lighting into the back panels to create a dramatic effect behind your flat screen, especially when you plan to have it as a focal point.
Ceiling Mounted TV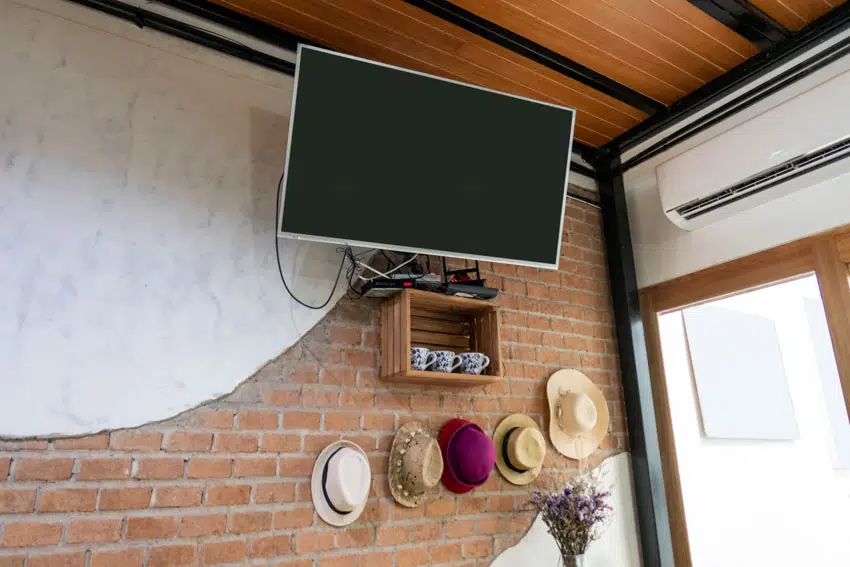 While this is among the unattractive bedroom TV wall mounting ideas, a ceiling is ideal for smaller-sized bedrooms as it saves space and offers convenience to users.
1. Extended Flip Down TV: Headboard. You can purchase a flip-down TV mount that flips 180 degrees to one side where it reveals your television screen, and on the other side, you can place an artwork. There are flip-down TV mounts.
Slide Down and 90-degree Flip Mount: Instead of flipping 180 degrees, your TV can be flipped 90 degrees flushed against your ceiling when not in use and easily flip and slide down when viewing.
2. Slide Down 90-degree Flip Mount with Built-in Box: For bedrooms with high headroom, having a built-in box for your ceiling-mounted TV is a great option to conceal and protect your equipment. The built-in box should be painted with the same color as your ceiling to blend in the interior.
3. Recessed TV Ceiling Mount: An alternative to your built-in box mount is creating a recessed pocket on your ceiling for your television, so it tucks away neatly above. Check with your local contractor to help you determine if this type of mount is plausible for your structural and architectural elements.
Corner Mounted TV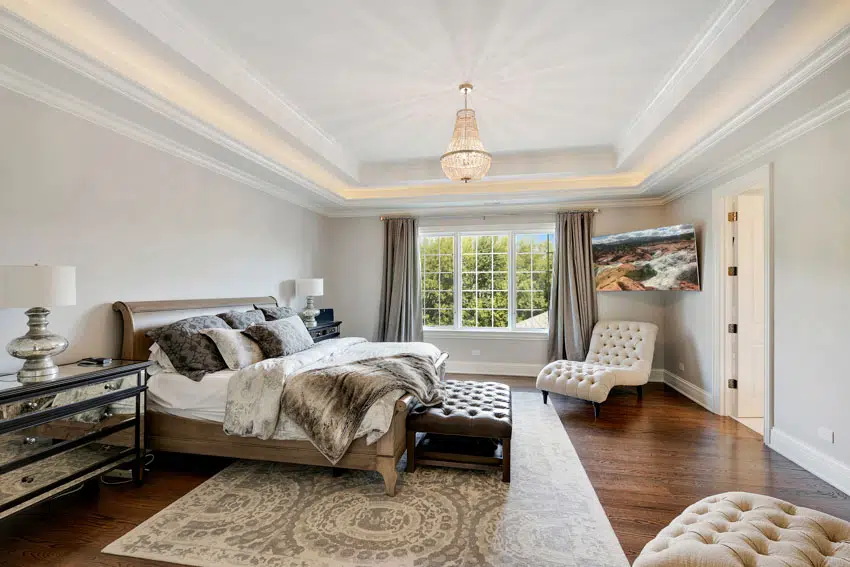 When you've got an odd bedroom layout or have a tightly-sized bedroom, a corner mounted is a great option.
The corner-mounted TV is also a great way to have your television away from your view and allows you to relax without the distraction of having equipment in front of you.
You can place a small nook with a club chair or lounger in your bedroom space to define your areas.
Add Style To Your TV Mount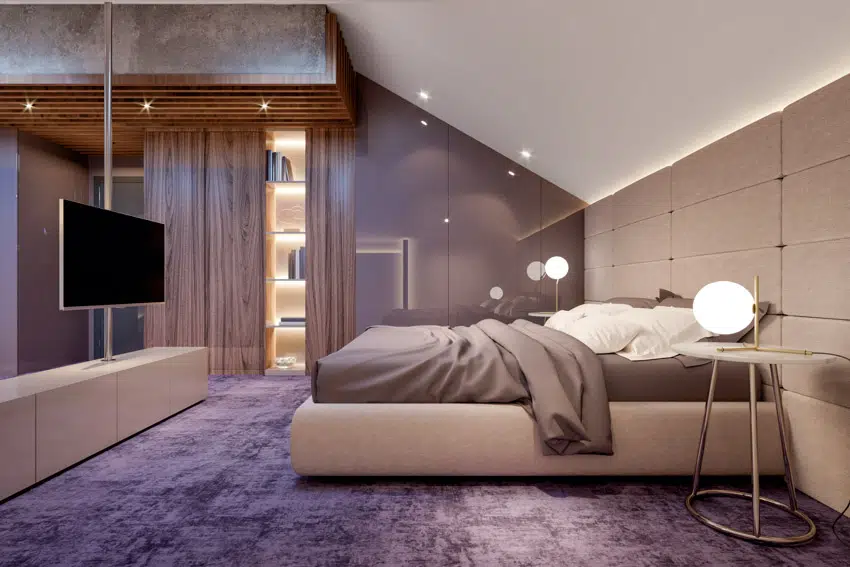 In a way, decorating around a TV mount can be baffling at first. Here are some simple ways you can add style to it.
1. Gallery of Artwork. For small-sized flatscreens, you can place it among a gallery of art pieces to perfectly blend in with the wall décor.
2. Add Wall Decal Corner Borders. If you find your television set mounted alone on your wall, a wall decal or mural can be placed as borders to frame up your TV.
Place the borders on two sides, one on your lower wall corner, then place another wall decal border that's diagonal across it.
How High To Mount Your Television In Your Bedroom?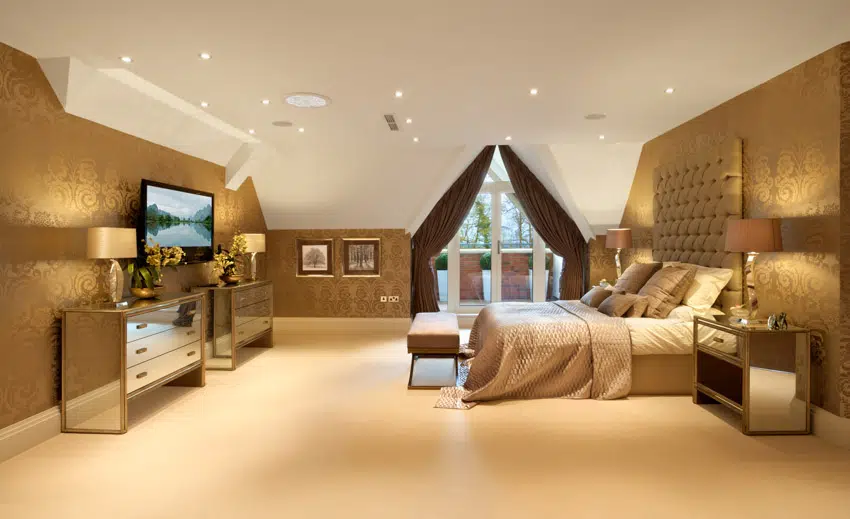 Mounting your bedroom television in your bedroom usually comes down through trial and error as each one has its preferences and height.
However, as a rule of thumb, the comfortable height in viewing televisions has the bottom edge from your flat screen to your floor as 43 inches or 109 cm.
Factors that affect the height of your television are the TV dimensions, floor-to-ceiling height, bed or chair height, and eye grade.
A 42-inch television should be placed about 56 inches from the floor to the TV center, a 55-inch television should be around 61 inches, a 65-inch television should be around 65 inches, and a 70-inch television should be around 67 inches.
Recommended TV Viewing Distance And Position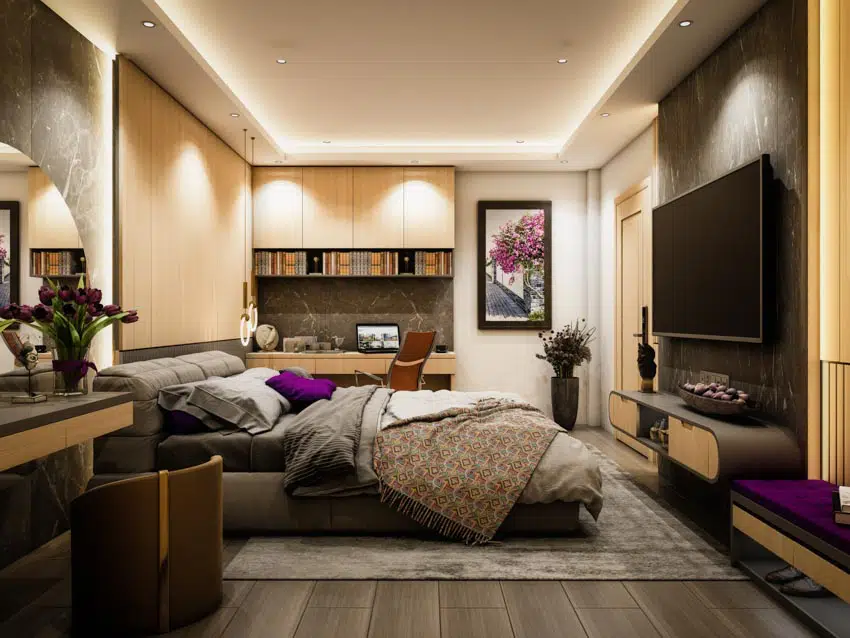 Some eye doctors recommend that you sit eight to ten feet away from the television screen. The general rule is that you should be at least five times as far away from the screen as it is wide.
If your television is 32 inches wide, for example, the ideal viewing distance is 160 inches or about 13 feet.
However, most optometrists and ophthalmologists agree that the best distance for television viewing is the distance that feels most comfortable for you. The distance is probably correct if you can see the screen clearly without feeling uncomfortable.
In addition to viewing distance, the location of your television with where you are sitting is crucial for avoiding eye strain.
To avoid straining your vertical eye muscles or your neck, try to position your TV at eye level or lower, whether you hang it on the wall or set it on a tabletop. The eye muscles will eventually become fatigued if you force your eyes to look up all the time.
Finally, the American Optometric Association promotes the 20-20-20 rule as different types of screens have become more common in homes. Every 20 minutes, they recommend taking a 20-second break to look at a distant object that is 20 feet away.
If you're watching your favorite movie or TV show on your laptop, for example, take frequent breaks to avoid eye strain.
Can A TV Be Mounted Too High?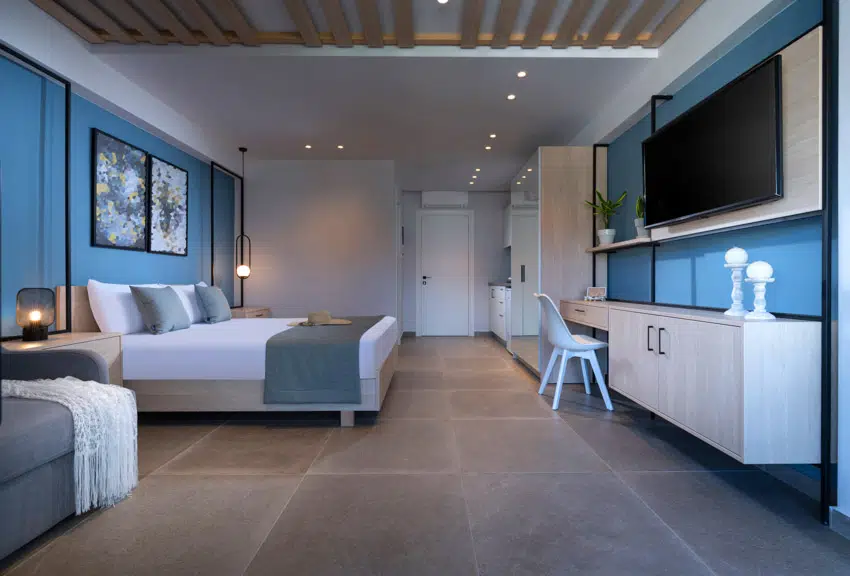 If you're reclining or sitting on the bed, your TV may need to be raised.
Because mounting your TV too high will distort the picture quality and cause neck and eye strain, it is recommended that your viewing angle not exceed 15 degrees above or below the center of your screen.
Is It Safe To Mount A TV Above The Bed?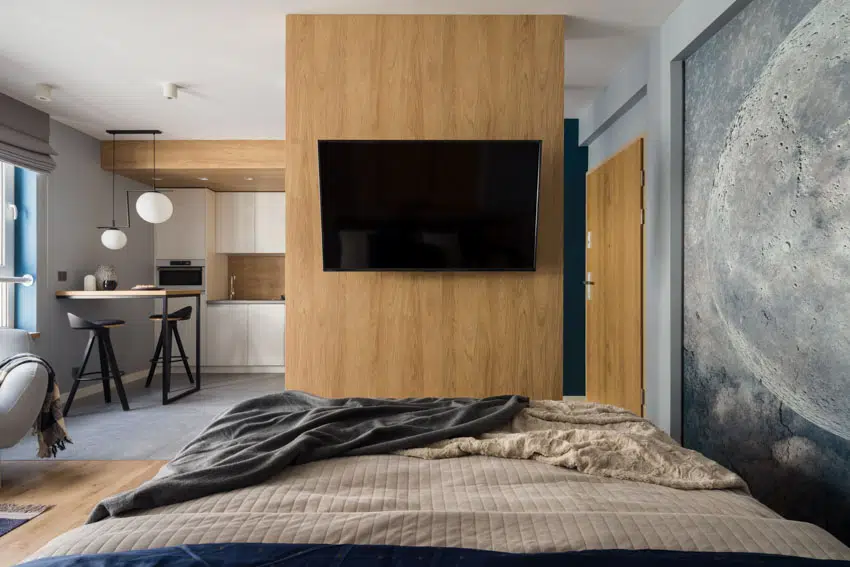 Mounting a TV above a bed is generally safe given that you have a structurally sound ceiling and that you have UL (Underwriter Laboratories)-certified and VESA-approved mounting brackets. See this mounting brackets on Amazon [sponsored link]

Also, consider the frequency of earthquakes and other natural disasters in your home. Having a TV mounted on your wall or ceiling is safer than placing it on top of a shelf or dresser.
The U.S. Consumer Product Safety Commission reports that TVs and furniture like dressers chests pose tip-over risks, especially if you have young children and pets around your household.
What Size Is TV Good For A Bedroom?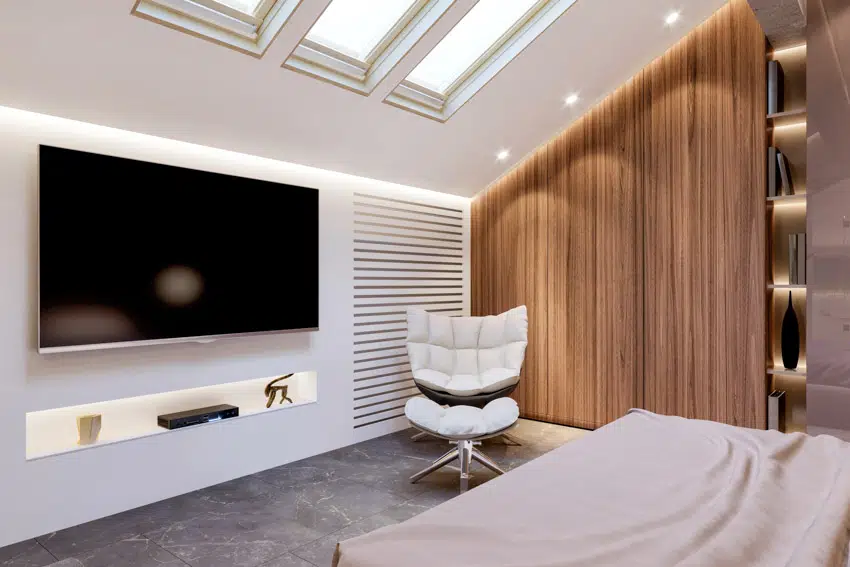 If you want to take full advantage of our TV's size, you'll need some space between the monitor and us. The size of the screen in inches may play a role in this.
There's a method for calculating the average distance (in inches) at which we'll split to watch TV. To obtain a reference distance, simply divide the horizontal of the television by 0.55; for a 42-inch display, the distance to divide would be 76 inches.
See more related content in our article about the best TV size for a bedroom on this page.