This gallery shares ceiling bed canopy design options including what they are, ceiling mounted bed canopy panels, and ideas for hanging your canopy from the ceiling.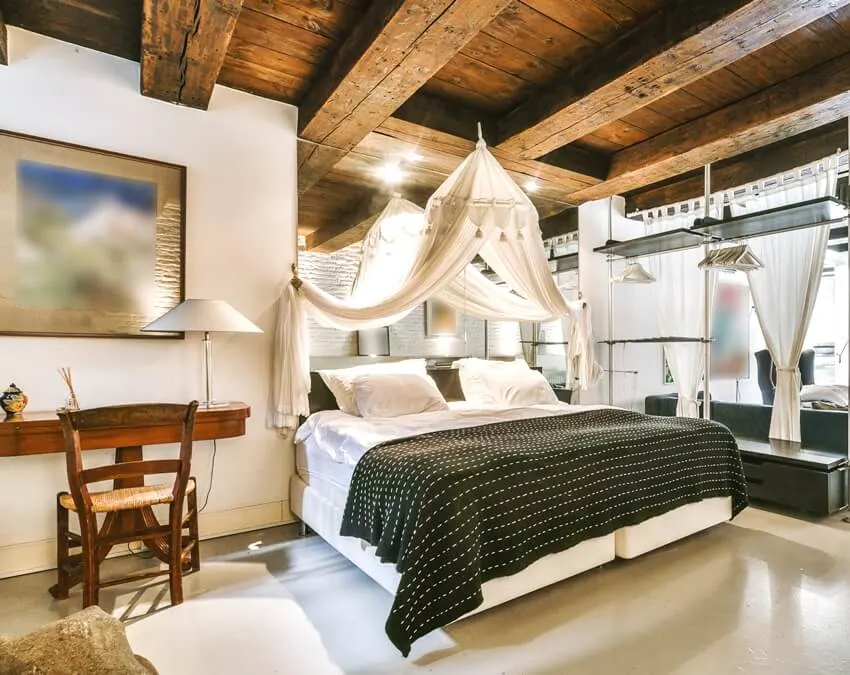 The bedroom is your haven, where you're supposed to feel most secure, comfortable, and free. This is the reason why many homeowners focus on the bed's comfort through thick mattresses and soft bedding.
It doesn't mean you can't focus on the aesthetics though and just let your room be bare. You can always add elements to your room that can spruce it up.
If you're a romantic and you want to add this part of your character into your bedroom, one of the quickest and simplest ways to do it is to add a ceiling canopy by your bed. You can even feel like a king or queen when lying down on your bed (which is what you are in your bedroom!)
What Is A Bed Canopy Ceiling?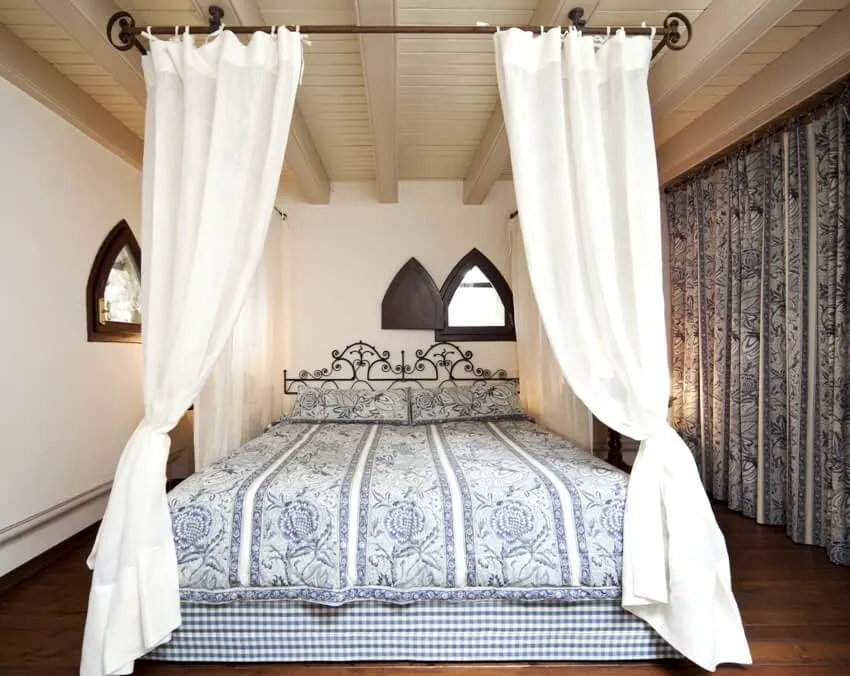 The best way to add some vibrance and romance to your bedroom style is to hang a lightweight and pretty canopy on top of your bed. And this is not a new thing since canopies date way back to Medieval times, providing privacy to the intimate spaces of European nobles since then. Its addition to your bedroom can make you feel like royalty.
Bed canopies are a popular bedding accessory that offers a serene ambiance and can spruce up your bedroom into a sleep sanctuary. This is not to be confused though with canopy beds. A bed canopy is an accessory that you hang above your bed while a canopy bed is a piece of furniture, particularly a bed, that features a tall frame where the bed canopy or curtain can be hung.
If you plan to install a bed canopy, there are different ways to do it. The installation will depend on how you want the canopy to look and if you have a tool you can use to hang it. You can use a rod or rails to help you with its installation.
Bed canopies offer several advantages once you choose to use them, including the following:
• Can be made from different types of fabrics – You can choose the fabric to use for your canopy depending on your preference. The most popular fabrics for canopies though are lightweight and sheer ones.
• Features elegant and serene aesthetics – This bed accessory does not swallow your bed whole but actually can make it stand out. The canopy features a theatrical look for the bedroom and can deliver contemporary or transitional aesthetics to your home.
• Ideal for different types of people – While bed canopies started with European nobles, they have become associated with nurseries, couples, and girls of all ages. For couples, it adds a romantic feel to it and for girls, it creates a princess feel to the bedroom.
• Comes in different styles and designs – Bed canopies have different designs and styles you can choose from and you can match them with the theme of your bedroom and bed types.

Bed Canopy From Ceiling Designs
Bed canopies that hang from the ceiling can also have different designs. You can't just hang it on a rod, drape it over your bed, and call it over. There are many designs to choose from and for sure, you'll be able to find the ideal style to match your bedroom.
Some of the most popular bed canopy from ceiling designs:

• Rectangular canopy – Also popular as a four-cornered canopy, this type usually has a wooden frame and beam with it, making it possible to form a rectangular shape at the top. With its structure, it is durable but can be costly.
• Wall or Frameless canopy – A single hook is enough to hang this bed canopy. The materials are attached to the wall and draped over the bed corners. This type of canopy is considered one of the best and most popular options because of how affordable and easy it is to install.

• Crown canopy – Known as half canopies, this type covers the upper parts of the bed from the headboard area up to the middle part of the bed. These crown canopies are semi-enclosed and ideal for children.
• Dome canopy – While frameless, this canopy is draped over the entirety of the bed like rectangular canopies. It can easily be installed by hanging it on the hook on the ceiling. They are also affordable and come in a round form that creates a dome shape.
Besides these types of canopies, there are also some canopies based on other factors like the type of ceiling and other accessories that come with it. Here are other designs to check out.
Canopy Bed On Low Ceiling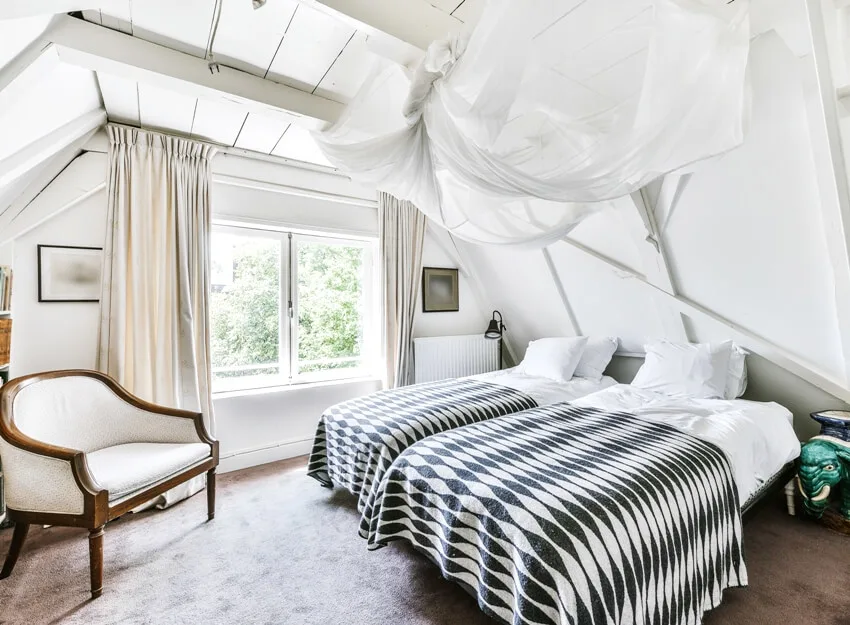 Low ceilings won't stop you from having a canopy on your bed. You just need to make sure that you're using the right length of the fabric so that it won't drag down the floor and get dirty in the process.
There are also specifically designed bed canopies for a low ceiling so you can look for them in the market first. And just like any bed canopy, you can customize how it looks on your bed. You can choose a fabric with creative designs or popping colors to create the dramatic effect you want your bedroom to have.
If you're going for a canopy bed and you have a low-ceiling bedroom, it might be quite difficult since it usually has a frame to accommodate the canopy. So for low-ceiling bedrooms, it's better to choose a free-flowing canopy. Make sure that the room won't feel stuffy with the addition of this bed accessory.

Bed Canopy On High Ceiling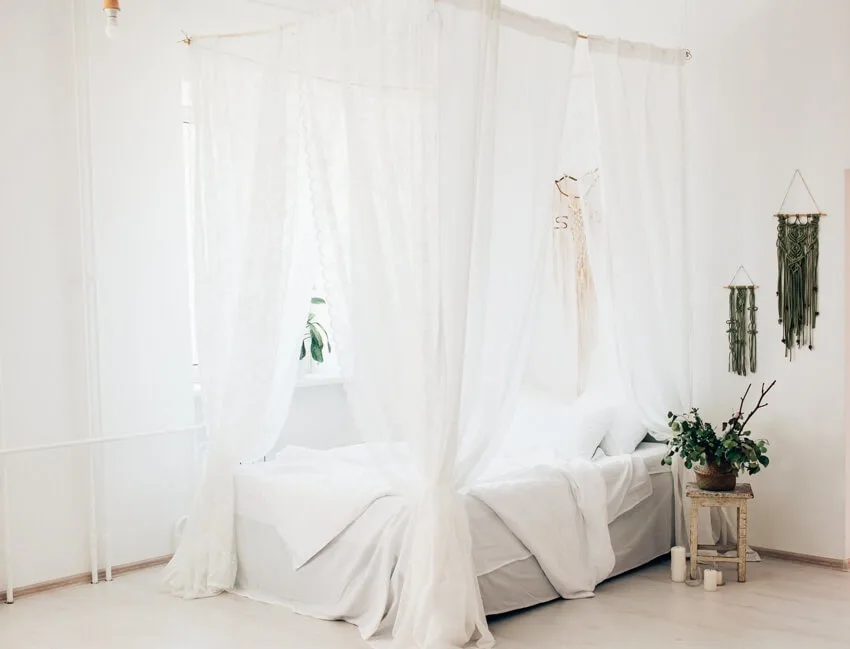 Bed canopies look wonderful on a high ceiling, draped from the top and elegantly flowing from the ceiling. Depending on the type of canopy you choose, from a frameless one to a rectangular one, you have the freedom to install the canopy you want.
You can even go for a canopy bed with a four-poster frame since this type of bed needs to be in a room with at least 8 to 9 feet tall. However tall the ceiling, make sure that the canopy won't hit or touch the elements on the ceiling, whether the light fixture or ceiling fan.
The good thing about installing a bed canopy in a bedroom with a high ceiling is that you have all the freedom to choose the canopy you want to have.
Canopy Bed With Mirrored Ceiling
Canopies are elements of the past and can be traced back to the nobility in Medieval times. The bed accessory screams rustic and vintage and adding antique mirrors in the mix will add to this vibe.
If you have a mirrored bedroom ceiling though, this will be an entirely different matter. Installation of the canopy over the bed may be a bit difficult if you're planning to use a hook where you can hang the accessory. Ropes might be a good option and you will need to be creative in how to hang the canopy without ruining the effect you want your mirrored ceiling to have.
Canopy Bed With Ceiling Fan
One of the issues you will encounter when installing a ceiling bed canopy is making sure that elements mounted on the ceiling won't be hindered in the process. If you have a fan mounted on the ceiling, installing a canopy can be tricky.
But you can make it in a way that it's safe for the ceiling fan to operate and for the canopy to remain aesthetically pleasing. Here are some tips to follow: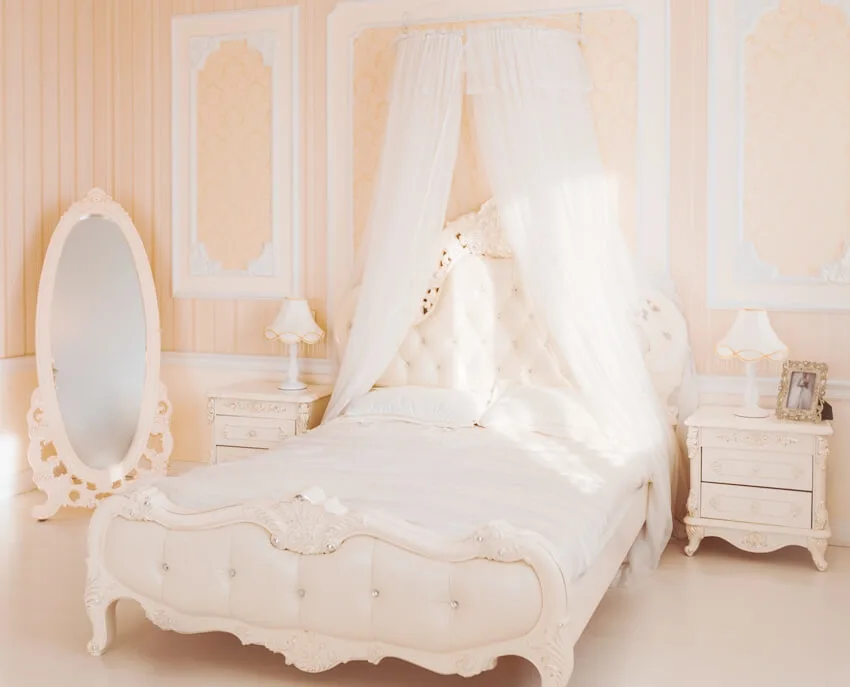 Choose a half canopy
For a room with a ceiling fan, a half canopy like a crown canopy is the better option. This will free up enough ceiling space for the fan to safely operate. You can easily cover the top half or third of the bed so in this case, it will be possible for the ceiling fan to be installed at the center of the room without the danger of the canopy entangling with the fan.
Choose a hollow canopy
Another option you can consider is a hollow canopy to free up the center for the installation of the fan. A hollow canopy is open at the top, which is where you can fit the ceiling fan in.
The best thing about this option is that you will be able to enjoy the ceiling fan even when inside the canopy. But you have to make sure though that the hollowed space is big enough to accommodate the fan and safely operate.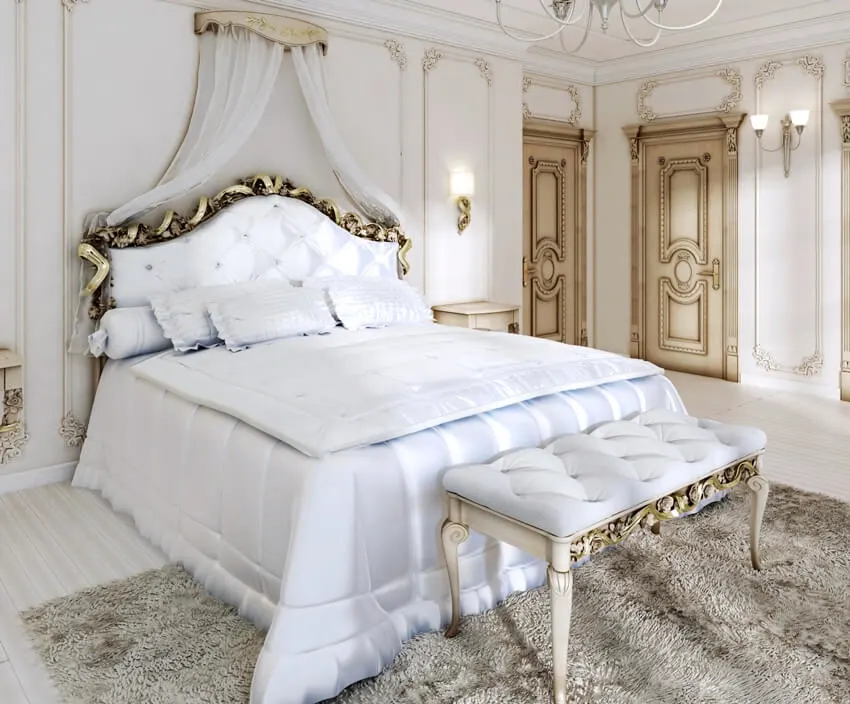 Strategic placement of the fan on the ceiling
One way for the canopy to be installed even with a ceiling fan is to separate the two elements on the different ends of the room. This might seem like a forced solution since you won't be able to enjoy the ceiling fan fully and installing it off-center might look awkward. If you don't have any problem with those issues though, this solution can work.
Bed Canopy Ceiling Mount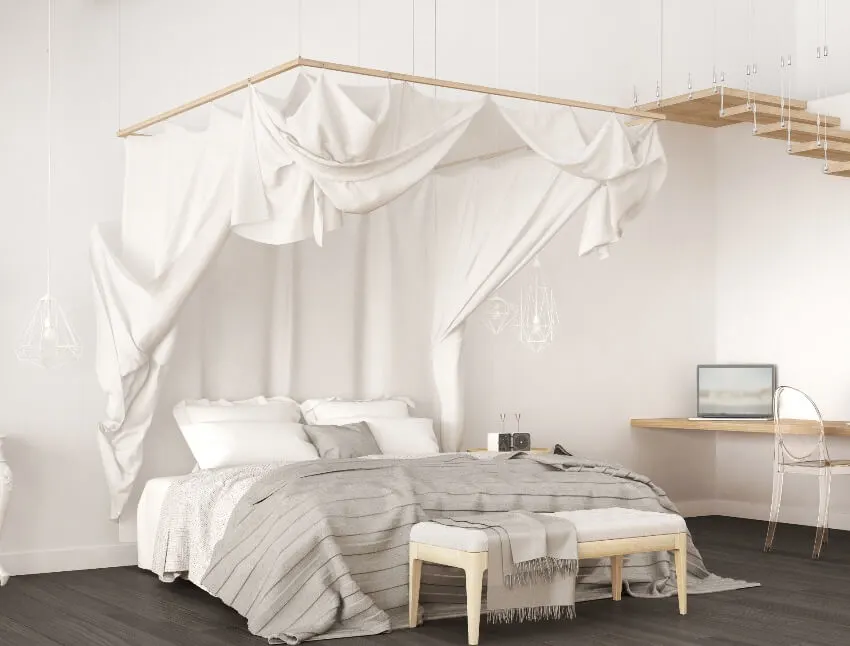 In installing a bed canopy on the ceiling, you will need a mount that will make it possible for the bed accessory to drape over the bed from the top to the floor. It will also depend on the type of canopy you choose to install.
A dome canopy is perfect to be installed at the dead center of the bedroom, along with the bed. If the canopy has a round frame, a sturdy hook is enough to be installed in the ceiling.
Other mount tools you can use are rails, rods, and wire ropes. You can match your chosen canopy with the mounting tool that can showcase the drape effect you're going for.
How To Hang A Bed Canopy From The Ceiling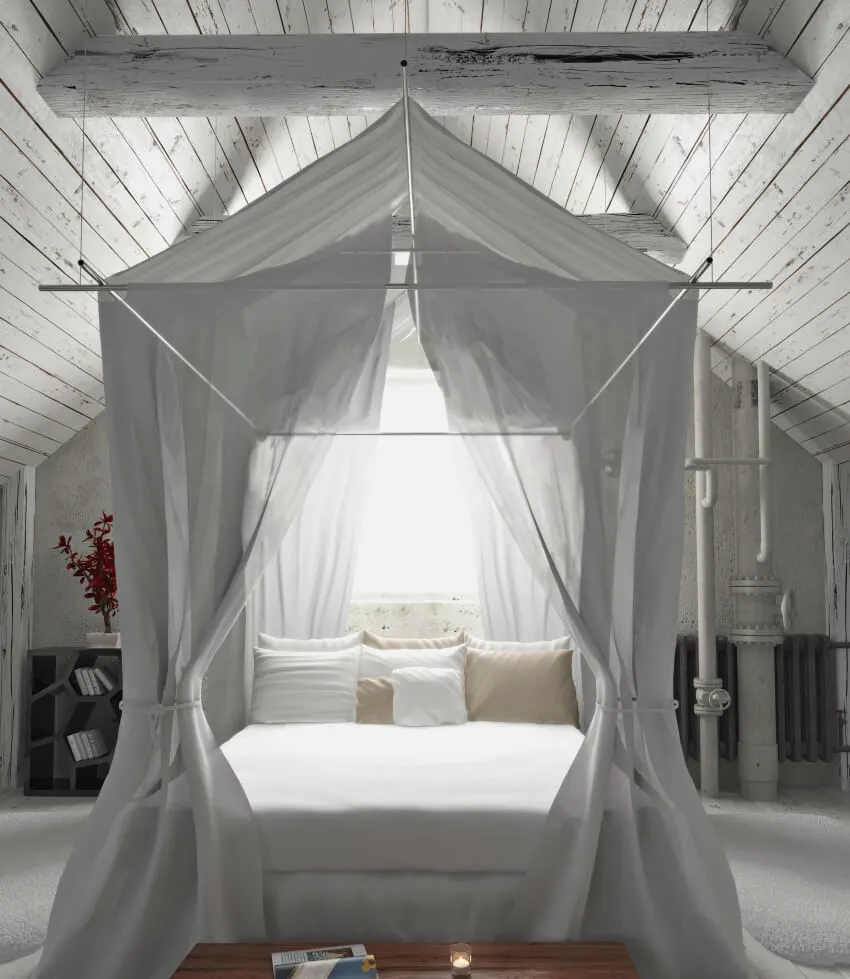 Hanging a bed canopy from the ceiling will highly depend on several factors. But you can always start with the basics. To help you effectively install your ceiling bed canopy, here are the steps to take:
1. Choose the canopy
There are many types of canopies to consider, from the fabric and materials used to the colors you prefer. There is also a variety of styles and designs to choose from. Some options to consider are the following.
• One-spot hoop canopy
• Four-spots ceiling bed canopy
• Mosquito net canopy
• Dome canopy netting
2. Choose the mounting accessory to use
The next step after choosing a canopy is to match it with a mounting accessory. The accessory will be highly dependent on the type of canopy you chose.
A one-spot hoop canopy can be used together with a hook. For other types, you can go for one of the following:
• Wire ropes
• Ties
• Rings
• Rails
• Rods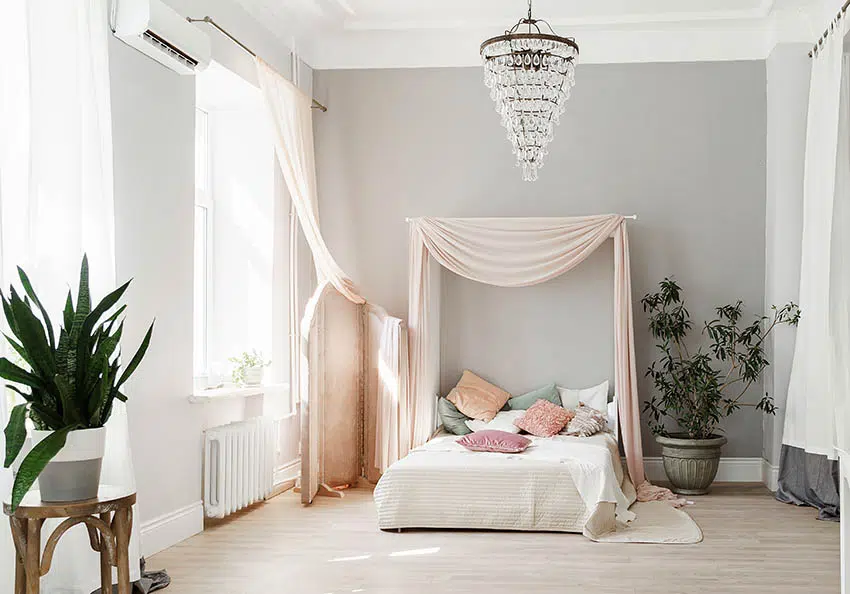 3. Pick the placement of your canopy and attach the accessory
Choose where you want to install your canopy and carefully attach the mounting accessory to the ceiling. The best placement is at the center of the room and the bed but you always have the freedom to choose wherever you want to install your canopy. Read more about bedroom layout planning here.

4. Attach the canopy
One by one attached the fabric of your canopy to the mounting accessory you've chosen (If you will be using more than one hook or ring). Make sure that it's even from all sides so that it won't look awkward and imbalanced.
5. Customize the canopy however you want
Add some embellishments and flair to your canopy, from fairy lights and pinned butterflies. Integrate your personality into it and add your personal touch. You can only be limited by your imagination and the materials you have available.
Ceiling Mounted Bed Canopy Tips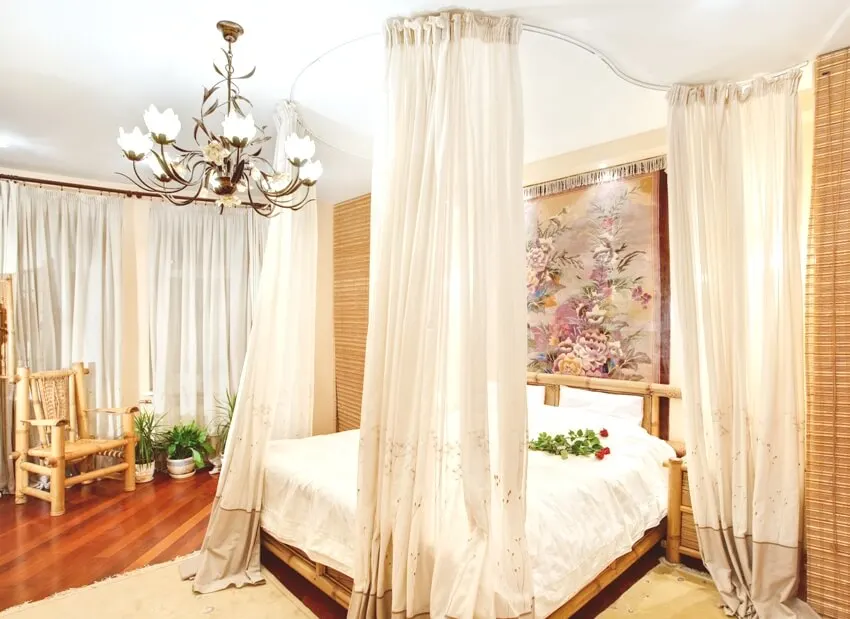 Besides learning your ceiling bed canopy options and how to install them properly, here are several simple tips you can take note of when dealing with a ceiling canopy.
• Choose a fabric that will fit the style you're going for (traditional and vintage looks can be achieved by velvet and silk canopy but if you're going for a romantic and dreamy look lightweight mesh or linen is better)
• You can also choose a fabric depending on the climate in your location (go for heavier fabric like satin or bamboo to keep the warmth in your room during winter nights)
• Use a canopy post or frame for high-quality materials like satin
• Choose a highly flexible canopy and can be adjusted whenever you want or need to
• Consider your budget when choosing a canopy since it can set you back as much as $300 if you choose a high-quality fabric canopy
If you enjoyed this article and want more, you may want to check out our guide to Parisian style bedroom ideas.