Here we share pictures of cream color bedroom ideas including paint colors that match with cream & curtain options, and tips to brighten up a cream bedroom interior design.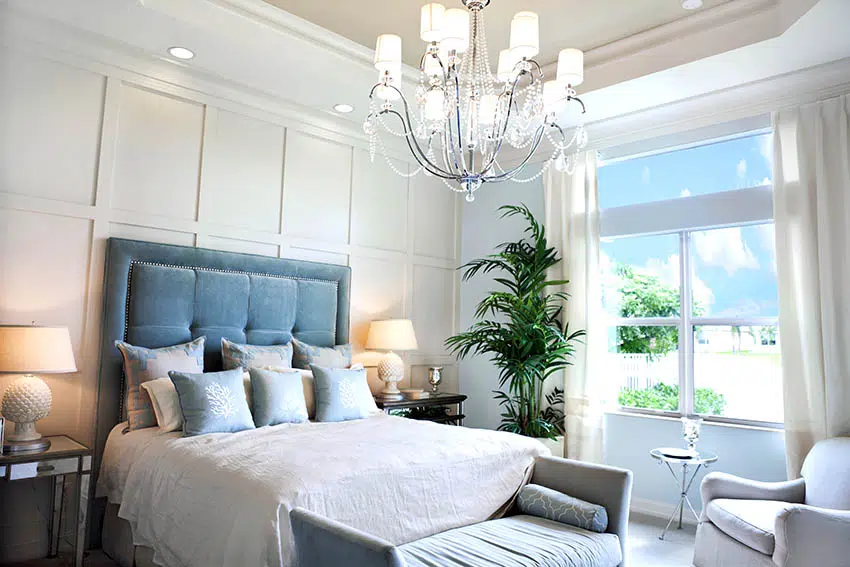 When revamping the look of your bedroom, colors play an important role. The color you add to your room can contribute a certain vibe that can either support the goal style or clash with it. And one of the safest color options you can choose is cream.
Cream is a neutral color you can maximize and pair with other colors and elements. Considering its light hue, it is an excellent option if you want a canvas you can freely paint with decor and art. And even if you choose a neutral color for your bedroom, it doesn't mean it has to be boring.
Cream Color Bedroom Decorating
There are different ways you can do to make it more interesting, including the following simple sprucing-up ideas:
• Go for an all-cream bedroom
• Make the most of layered textures
• Match varied tones and shades with compatible fabrics
• Add subtle energy through a printed wallpaper
• Match soft colors with your cream bedroom (E.g. pink or gray)
• Try out earthy and nature tones
• Mix layers and antique items
• Add boho accessories for a bohemian-inspired bedroom
And these are only a few of the ideas you can use for your cream-colored bedroom. You can explore more options and more colors to consider together with this neutral color.

Is Cream A Good Color For Bedrooms?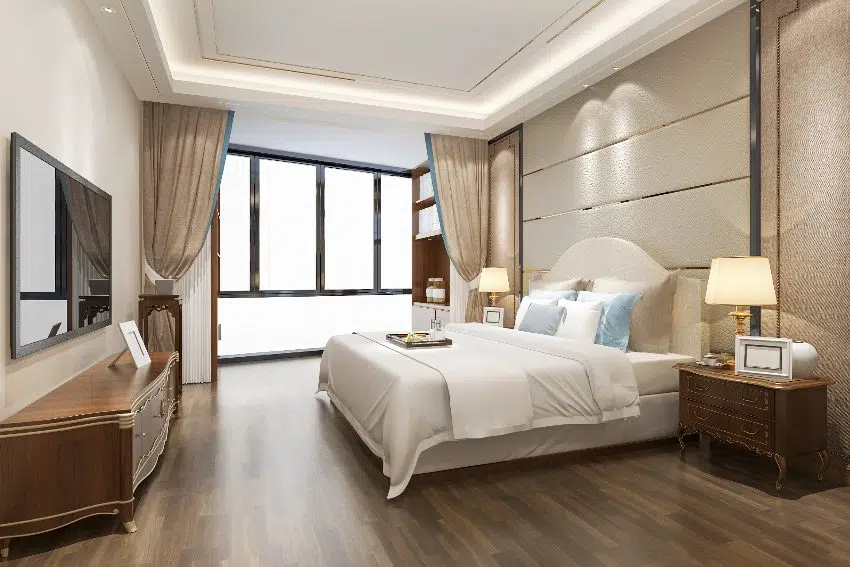 Cream, like most neutral colors, is a good color to consider for your bedroom. This light color features a soft and subtle tone that makes a perfect canvas for your masterpiece.
Here are some of the reasons that make the color cream a good color option for bedrooms.
1. Soften and enhances a space's natural light and transform a room into a calming and soothing sanctuary
2. Showcases elegant and timeless aesthetics that are also practical in their usage
3. Features harmonious tones and interesting textures
4. Highly versatile and so can be used for different vibes and styles (From modern minimalist white and cream combination to romantic vibe with cream and dusty pink)
5. Offers a wide variety of shades to choose from, starting with lighter cream to warm and edgy one
6. Gives an illusion of a bigger and more spacious room
• Larger wall area when paired with a darker paint striped on the bottom edge of the wall
• Provides more height when the ceiling and wall are painted cream
• Delivers overall harmony with cream-colored bedding and furniture
7. Takes out the cold and sterile feeling that comes with white but offers a similar vibe of brightness and warmth
If you've set your mind on cream walls and would love to take a shot at experiencing these benefits, the next step is to learn how to make the most out of this color.
How Do You Add Color To Cream In A Bedroom?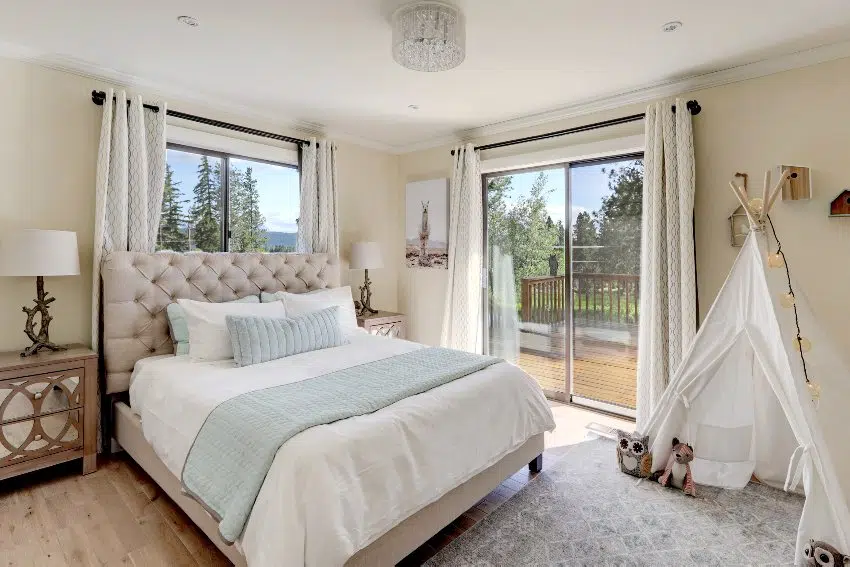 While an all-cream bedroom may be considered, adding color to the mix can make your bedroom look even more interesting and unique. And the good news is that it's not difficult to add color to cream since it's basically white and a neutral color you can almost pair with any other color.
Here are ways to add color to your cream-colored bedroom:

• Add glamour to your bedroom with metallic colors like copper, gold, and silver and you can introduce them through vases, mirrors, and candle holders
• Popping bold colors (like red and blue) can be introduced through decorative elements like frames and rugs
• Wooden pieces of furniture, from drawers to tables, can add warmth to your room's color palette with the addition of brown and similar earthy tones
• For a room with a darker cream color, add a white element to the mix through wall and bedroom decor to brighten up the space
• Use layered lighting fixtures to your advantage and create diffused light for a more elegant atmosphere (Use chandeliers, pendant lights, or wall lamps to create the effect)
• Add a white trim for your cream walls not just to give the illusion of a bigger space but to add sophistication to your bedroom
What Color Compliments Cream?
Once you've set how you want to add colors and accents to our cream bedroom, the next step is to choose a color that can work with it.
Cream has become a popular trend for bedrooms together with other neutral colors like warm clay and earthly beige. And depending on the vibe you want to apply to your room, you can choose the corresponding color that can accommodate the style you want to accomplish.
Cream, being a neutral color, is very versatile and can easily match and pair well with other colors, including the following:
Cream and White
Since cream has a yellow undertone, pairing it with pure white is possible without the entire look being too bright. While both are light-colored, looking at them side-by-side can easily distinguish the difference between them.
Cream and white will look wonderful on the moldings and walls. They will appear monochromatic but provides an airy setting and an illusion of more space. You can add pops of bold colors along with this pair if you prefer.
Here are white paint colors you can explore:
Sherwin-Williams Snowbound (SW 7004)
Benjamin Moore Ivory White (925) Farrow & Ball All White (No.2005)
Cream and Warm Colors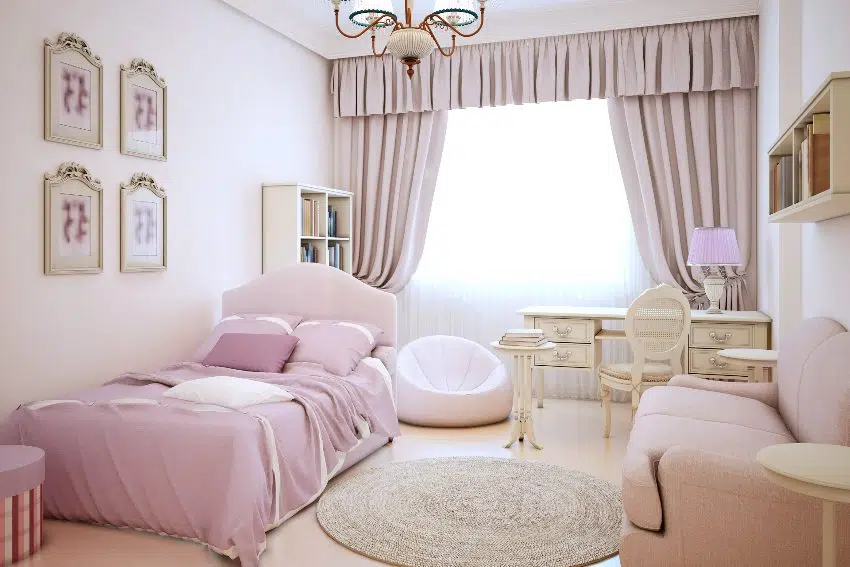 Cream will also look wonderful when matched with warm colors, particularly warm earthy tones. This is not surprising considering the fact that the complementary color of cream is lavender. Naturally, the cream looks good with lavender and other warm colors. Lavender/Purple – Glidden Regal Purple (56RB 09/302) Red – Behr Morocco Red (PPU2-17) Pink – Valspar Berrylicious (1005-1A)
Orange – Sherwin-Williams Persimmon (SW 6339) Red-orange – The Spruce Persimmon Orange Terracotta – Sherwin-Williams Smoky Salmon (SW 6331)
If you don't want to go for paints, you can add earthy, warm, and rustic colors by adding reddish-brown cherry wood or orange-brown cedar piece of furniture.
Cream and Cool Tones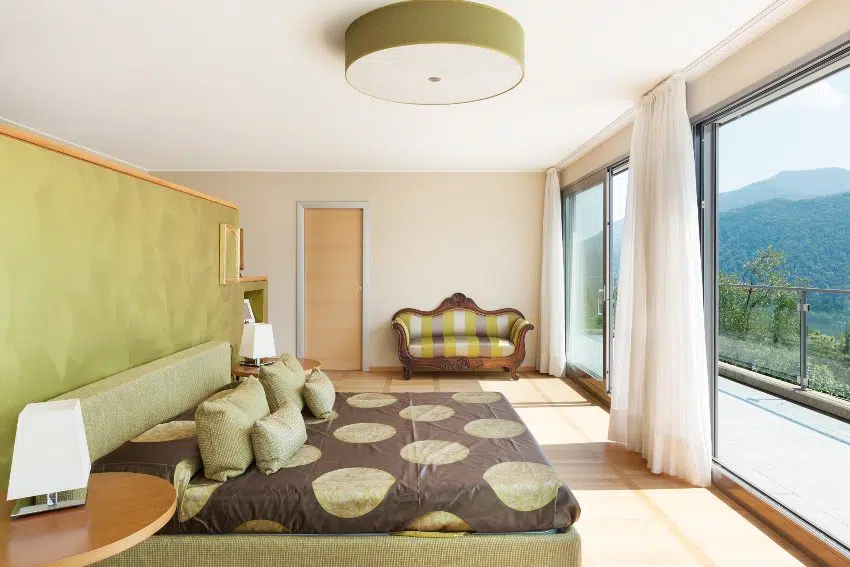 If you want to go for something cooler instead of welcoming and warm rustic colors for the bedroom, there are cool tones that would look wonderful with cream. Cool tones with cream work well in a country and seaside home.
And darker colors will also look great to produce a more traditional and classic look. Some cool paint tones to try are the following:
Sea-foam Green – Benjamin Moore Seafoam Green (2039-60) Turquoise – Behr Turquoise Blue (PPH-50)

Sky Blue – Paint & Paper Library Bluebird (651) Sapphire – Sherwin-Williams Sapphire (SW 6963) Emerald Green – Benjamin Moore Black Forest Green (HC-187)
Cream and Gray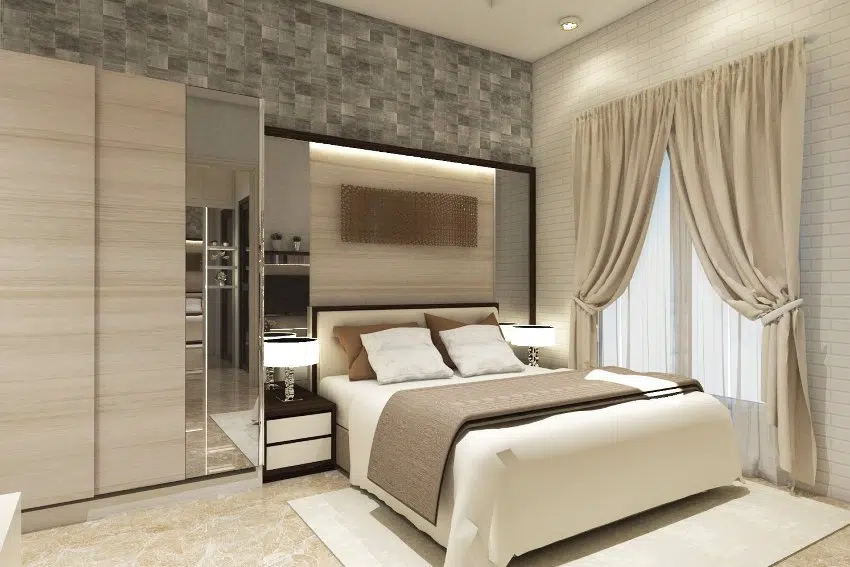 Another color to consider for cream is gray, specifically pale and pure gray to blue-tone gray. If you're going for a minimalist look, this is just the perfect matched color for you.
The combination will produce an ambiance similar to spas and relaxing pools. Here are some of the paint ideas to explore and match with cream. Benjamin Moore Stormy Sky (1616)
Farrow & Ball Blue Gray (No.19) Sherwin-Williams Mindful Gray (SW 7106) Farrow & Ball Parma Gray (No.27) Benjamin Moore Granite (AF-660)
Cream Colored Bedroom Paint Ideas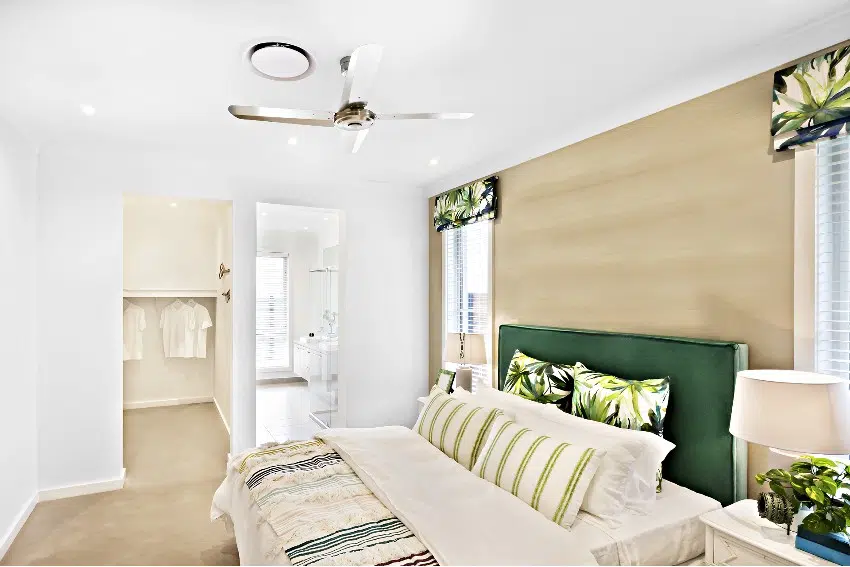 Before you can even choose the ideal color to pair with your cream-colored bedroom, you first need to choose the specific cream paint to use.
Since the color cream is a pretty versatile tone, you can go from the creamy off-white to a sandy hue. While cream is highly compatible with a myriad of colors, there are specific shades of cream that works better with specific colors.
If you're searching for the best cream paints to use, here are some options you can explore. Benjamin Moore Chantilly Lace (OC-65) Dulux Vanilla Mist 1 (40YY 83/021)
Benjamin Moore Vanilla Milkshake (2141-70) Mylands Belgravia (No.6) Farrow & Pointing (No. 2003) Benjamin Moore Swiss Coffee (OC-45)
With all of these selections for cream-colored paint, it may be a good step to know what to do while you search. Here are some tips to bear in mind.
• Choose 3 or more cream paint samples you can consider
• Once you've chosen several to consider, explore them individually and thoroughly
• Make sure to remember that cream has a high light reflective value making them a bit reflective of other colors surrounding them
• Try out the samples you have on the walls to personally see how different they are (Make sure you also use the trim color you've chosen along with it)
• Look at these painted walls during the day and night, as well under different lighting
Best Warm Cream Paint Color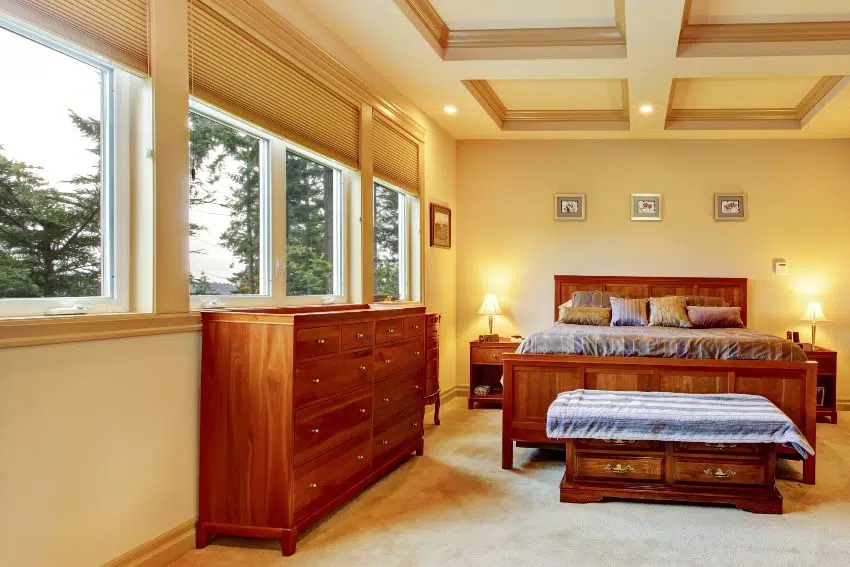 Cream is quite versatile you can go from a very light shade to something that's warmer and much denser. Though the color has a yellow undertone, there are some shades that are more yellowish.
The lighter ones look brighter and can make a room even bigger and more spacious. On the other hand, the warmer ones will look even more welcoming and even rustic in their appeal and vibe.
Choosing the best warm cream paint may be a bit difficult to decide on since many factors will come into play. But if you want to check out several warm cream options you can explore for your bedroom, here are some worth taking note of.

Farrow & Ball White Tie (No.2002) Sherwin-Williams Natural Linen (SW 9109) Farrow & Ball Slipper Satin (No.2004) Sherwin-Williams Alabaster (SW 7008) Farrow & Ball Tallow (No.203)
How Do You Brighten A Cream Room?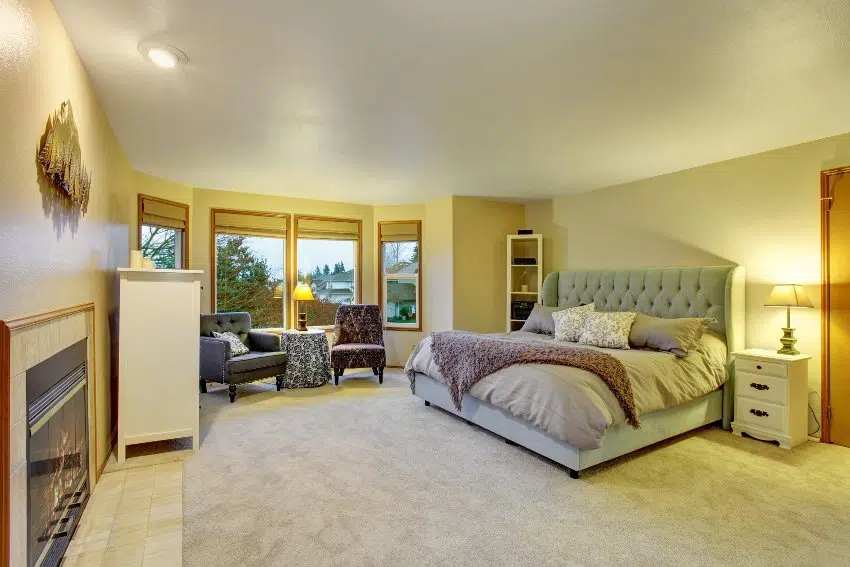 One of the effects that cream has when applied to a bedroom is that it becomes brighter. Many large bedrooms can feel too spacious and using cream paint for the walls will bring a cozy and welcoming feel to the space.
While white may feel too clinical and empty, cream has the yellow undertone that takes out the uninviting and cold feel to many neutral colors.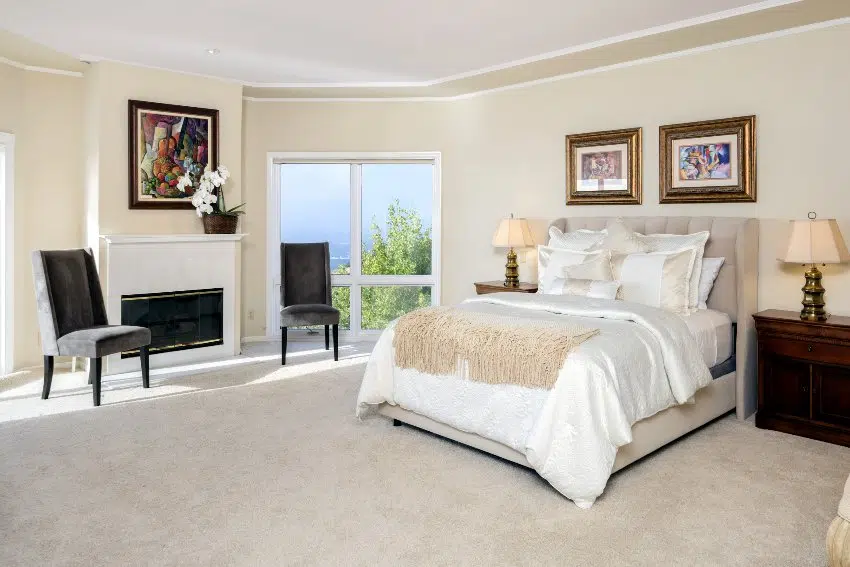 Cream bedrooms already look bright on their own, you can do something even more to brighten the space you have. Explore the following options and choose the ones that can help you.
• Add a statement headboard – Choose a bold-patterned fabric for your headboard to brighten up the bedroom in a trendier way that makes your bedroom stand out
• Use mirrors in your room – More than just a magnificent and stunning element in the room, adding a mirror will improve light movement inside and brighten the space
• Choose the best lighting fixture – Choosing the right light fixture will support the ambiance you're going for your room but it will also brighten the room
• Maximize the use of windows – Open your windows every now and then in order to allow natural light to enter the room so you will effortlessly brighten the space
• Add metallic finishes – For glamor, luxury, and a bit of a brightening, include elements with metallic finishes like candle holders and vases
What Curtains Go With Cream Walls?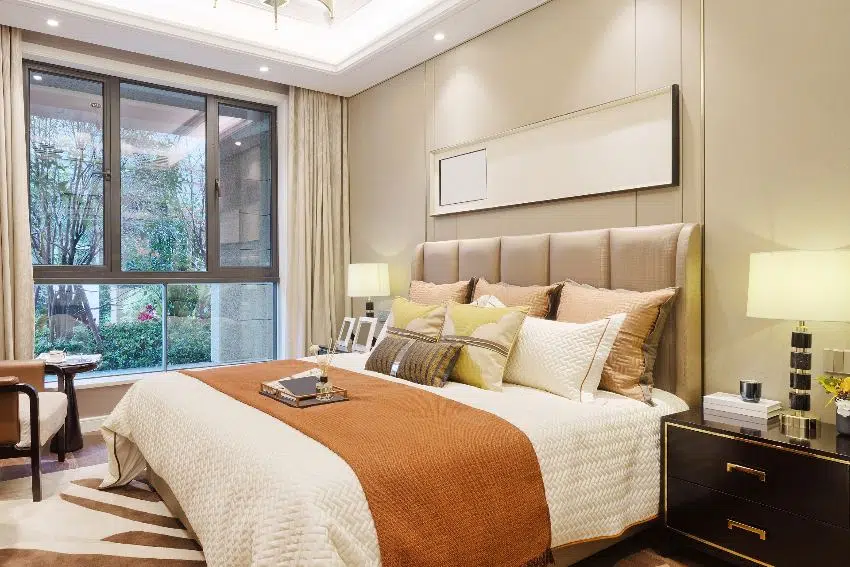 Another element that will play an important role in the aesthetics and ambiance of your cream-colored bedroom style are curtains. It is also the perfect opportunity to add your personality and integrate it into your cream-colored bedroom. Some of the color options worth considering for your curtains are the following:
If you want to add more brightness to the room, light-colored curtains like off-white and light blue are the best options. Warm and earthy colors though including red-orange and terracotta add warmth and bring an inviting feel to the room. And finally, olive green and deep navy are the cool tones that will add a soothing and calm feel to your bedroom.
Besides the colors, you also need to take into account the fabric you will use for your curtains and the function you want them to play. If you want natural light to come in despite the curtains, light-colored curtains using lightweight fabric are ideal for your bedroom.
If you want more privacy though, go for dark-colored curtains and even a blackout one if you choose to. All these would match the neutral cream-colored walls you have in your bedroom. See our portable blackout curtains guide for more ideas.
What Does Cream Color Symbolize?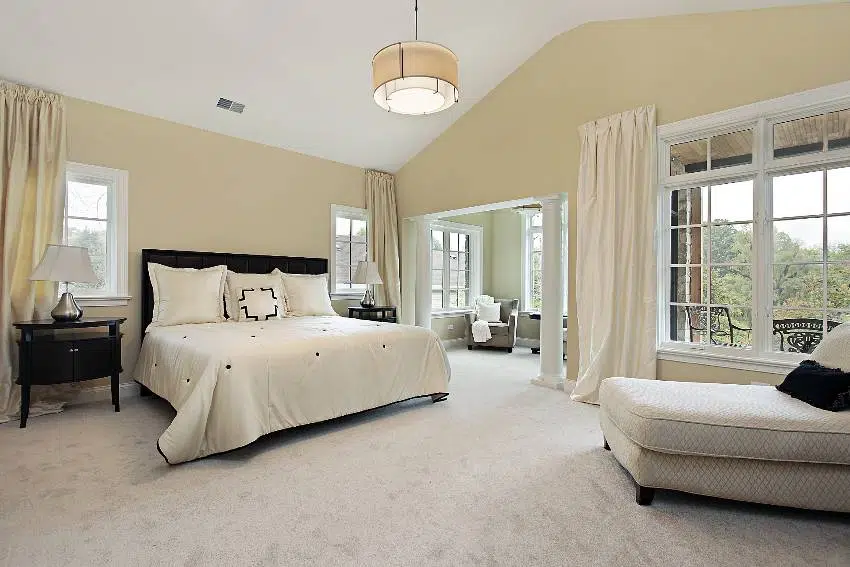 The color cream is a neutral color that is highly versatile and compatible with many other colors. It symbolizes comfort and openness, providing enough brightness with the needed warmth to feel at ease. While the cream is applied to a neat black canvas more than the color white, it falls over the pastels and also somehow showcases purity and simplicity.
Want more bedroom design ideas? Visit our gallery featuring tan bedroom ideas in an assortment of design styles.