Here we share our floor to ceiling headboard design guide including different ideas to consider, best floor standing headboard height, and ideal bed frames for a tall headboard.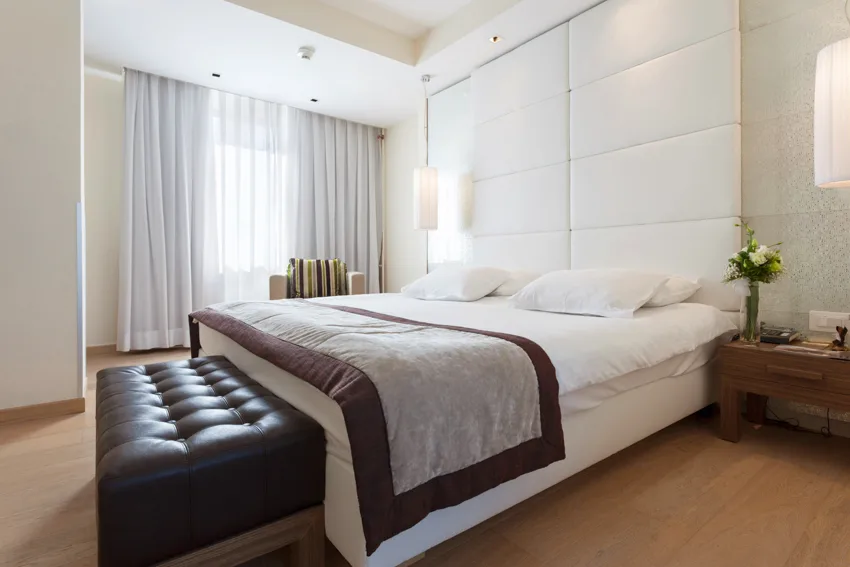 The headboard serves an essential function in the bedroom: it visually anchors the bed, elevating the main element in the room and adding style to your bed, turning it into a focal point. A floor-to-ceiling headboard is the epitome of drama in a modern bedroom design.
For decades, the headboard was always part of a matching set with the rest of the room's furniture, such as the nightstands or dresser.
Fortunately, now that the unspoken "bedroom set" rule has been broken, decorating is a lot more fun. A headboard no longer has to be a literal board behind the bed.
They can be padded, tufted, wooden, metal, painted, salvaged, or any other material you can think of. Perhaps these headboard ideas will inspire you if you're looking for something new and different but don't know where to start.
What Is A Floor To Ceiling Headboard Bed?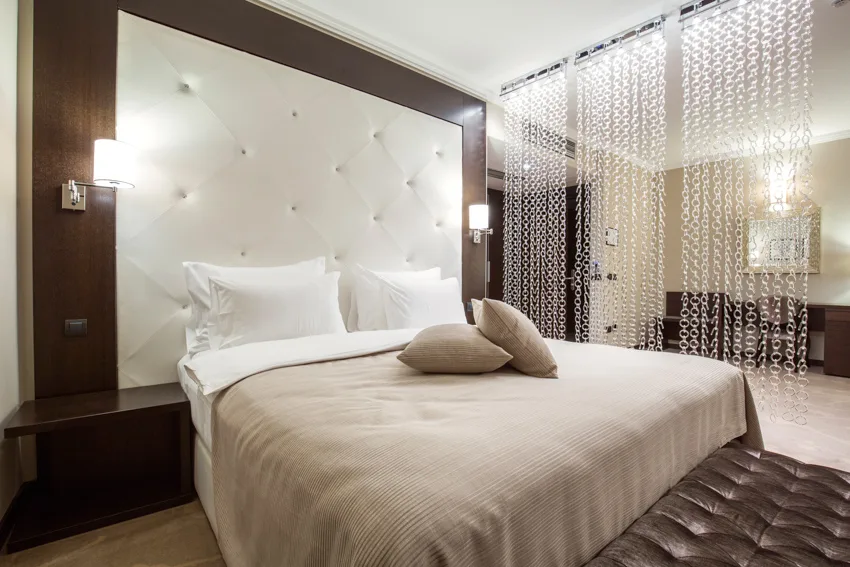 A floor to ceiling headboard bed is a furniture piece that can be attached to the head are of a bed, usually secured by bolting the slide headboard on your divan or installed on the wall surround.
The floor to ceiling headboard bed, as the name implies, stretches from your bolted bed heading to your ceiling, giving it a grand appearance. The verticality of the floor to ceiling headboard also makes a modest room feel taller.
There are many design options available, such as velvet or faux suede headboards. For aesthetic balance, a headboard is frequently accompanied by a footboard.
Headboards were traditionally made of wood, which is less thermally conductive than stone or brick, to protect people from drafts and cold in less protected buildings.
They were built to allow falling colder air to sink to the floor rather than onto the bed by creating space from the wall thru thicker end pillars.
Headboards now primarily serve an aesthetic function and minor practical functions, such as keeping pillows from falling off the bed in better heated and insulated homes.
They could include things like book storage and personal items and conveniences like lights and a phone. Critical care functions may be included in hospital beds.
Floor To Ceiling Headboard Ideas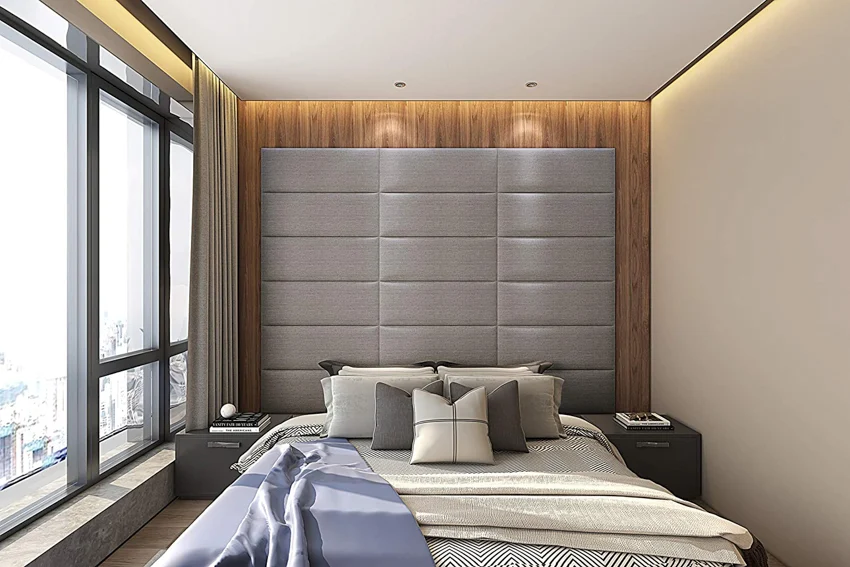 See this padded bed headboard at Amazon [sponsored link]
Here we share the different ideas for floor to ceiling headboards.
Floor to Ceiling Upholstered Headboards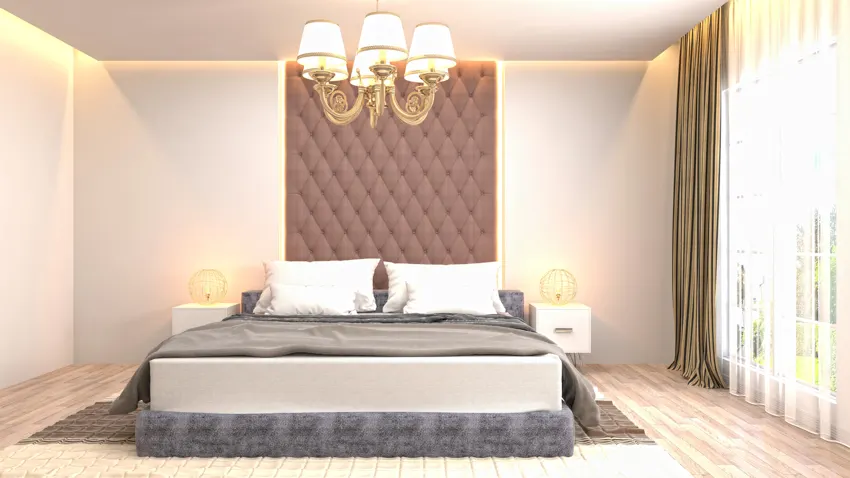 Installing an upholstered headboard to your bed can increase its coziness factor while also making a visual statement in your room.
While it has a big impact, it's not as difficult to put together as you might think, and it's a fun DIY project to do.
Floor to Ceiling Tufted Headboard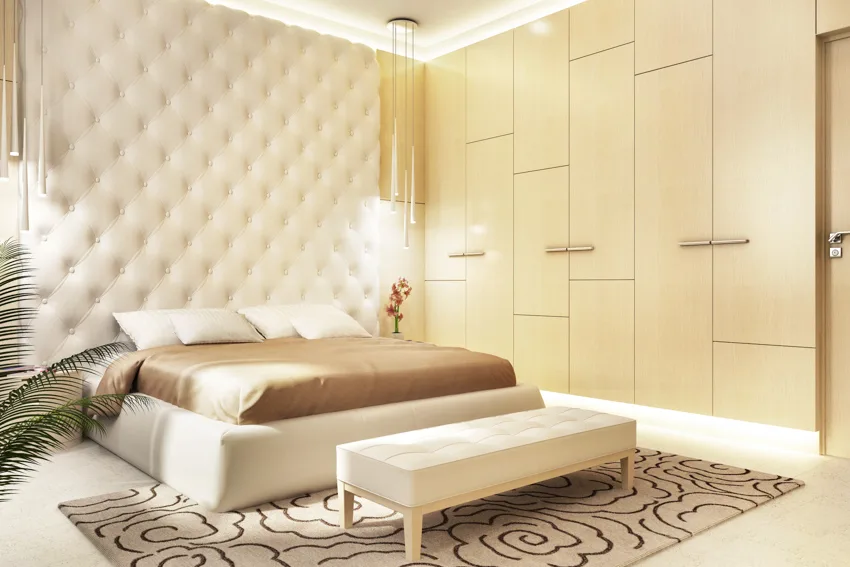 Tufting is a classic textile weaving style that we see recurring every year and integrated into many of our contemporary interiors mainly because it gives that immediate comfy look.
The white floor-to-ceiling tufted headboard is your perfect focal point. Pair it with tufted furniture, and you've got a simple yet elegant bedroom style.
There are a variety of design options for your tufted headboard. You can go with a darker frame around your headboard to give a contrasting effect or go with an unframed version to get that seamless backdrop showcasing a closer spacing on your tufting.
Inset Tufted Headboard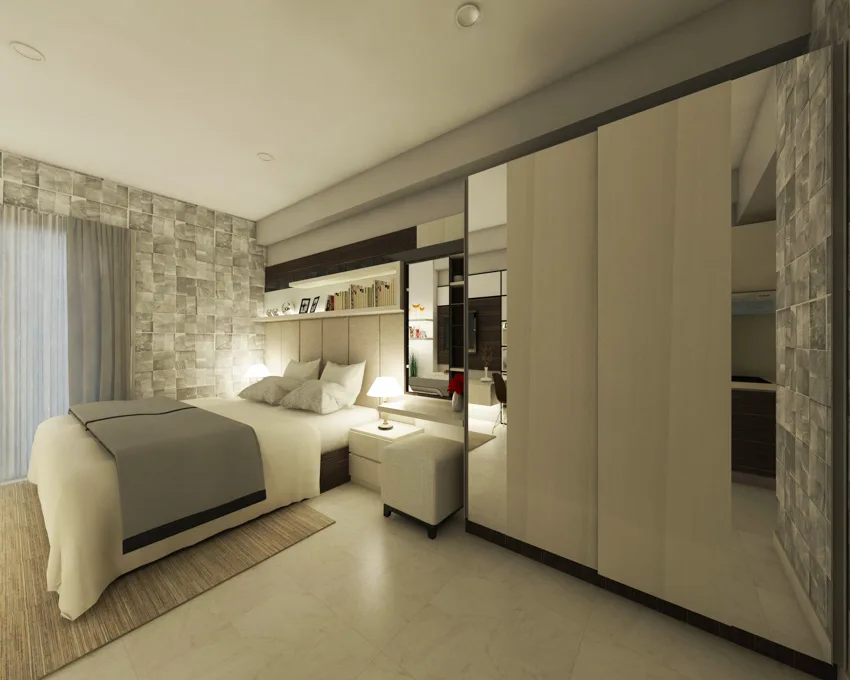 The inset tufted headboard is a clever design solution that allows you to give an illusion of more space while actually providing an area for an overhang open shelving on top.
You can also add a 7 to 10 inches depth surrounding your headboard for that extra space. This is a great idea for small bedrooms.
Padded Headboard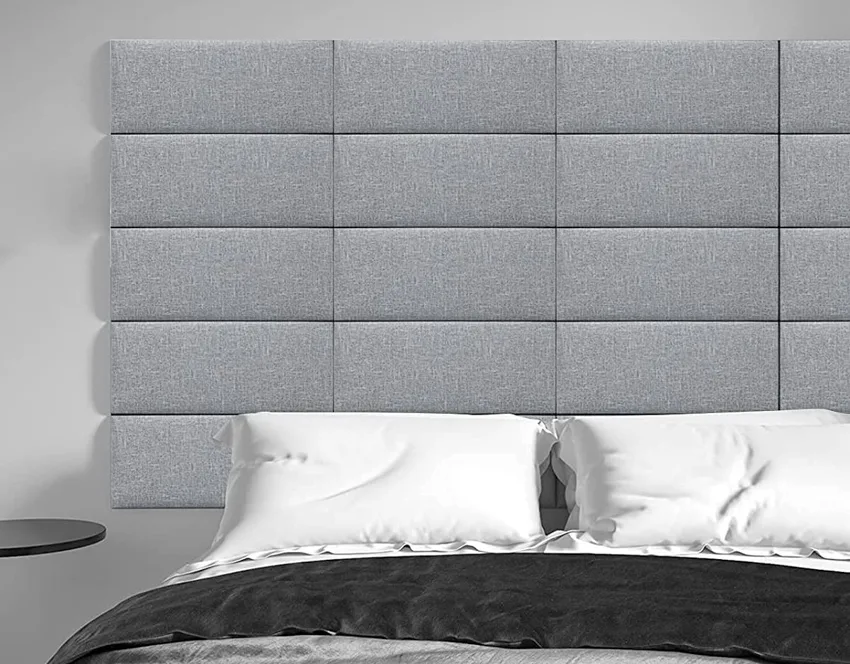 See this modern horizontal tufted upholstered headboard at Amazon [sponsored link]
The padded headboard is a series of padded panels that gives that cushiony feel but less ornamental giving a sleek clean finish. Choose to have these padded panels laid on the horizontal side to elongate the visual space.
These padded headboard flutings that go floor to ceiling are a great way to showcase grandeur, taking advantage of a high ceiling bedroom.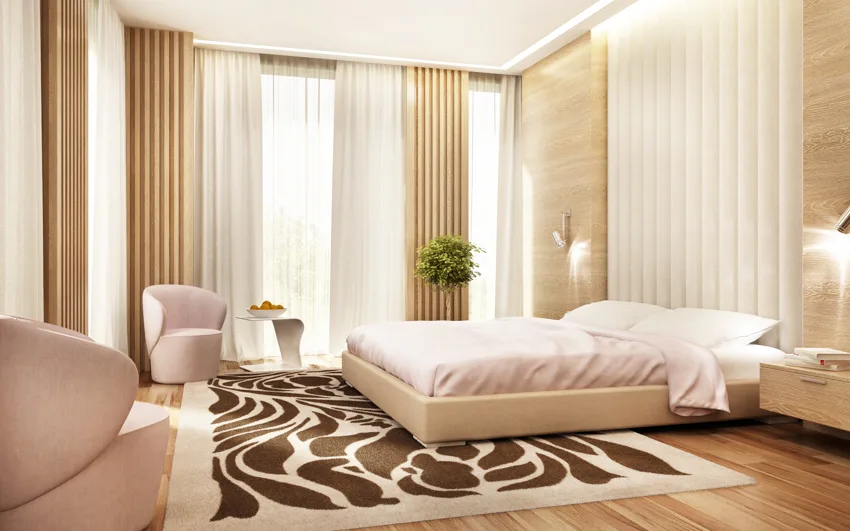 The white flutings in this bedroom space highlight the ceiling height while adding a dimensional feel to the wood-grained textures. Add soft lights and you get that light and airy feel to your bedroom space.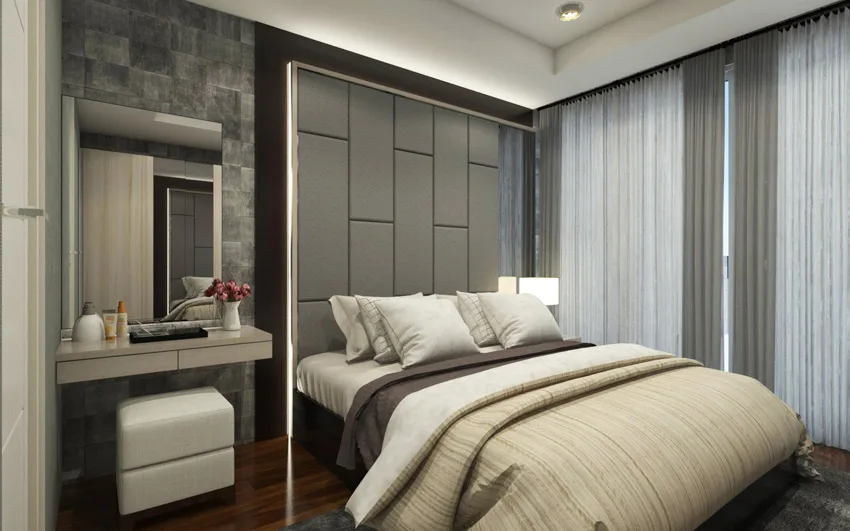 Wide-Width Vertical Panels: This floor to ceiling headboard in gray gives a cozy look to your bedroom. Match it up with layered pillows when fixing the bed to add more volume to the space.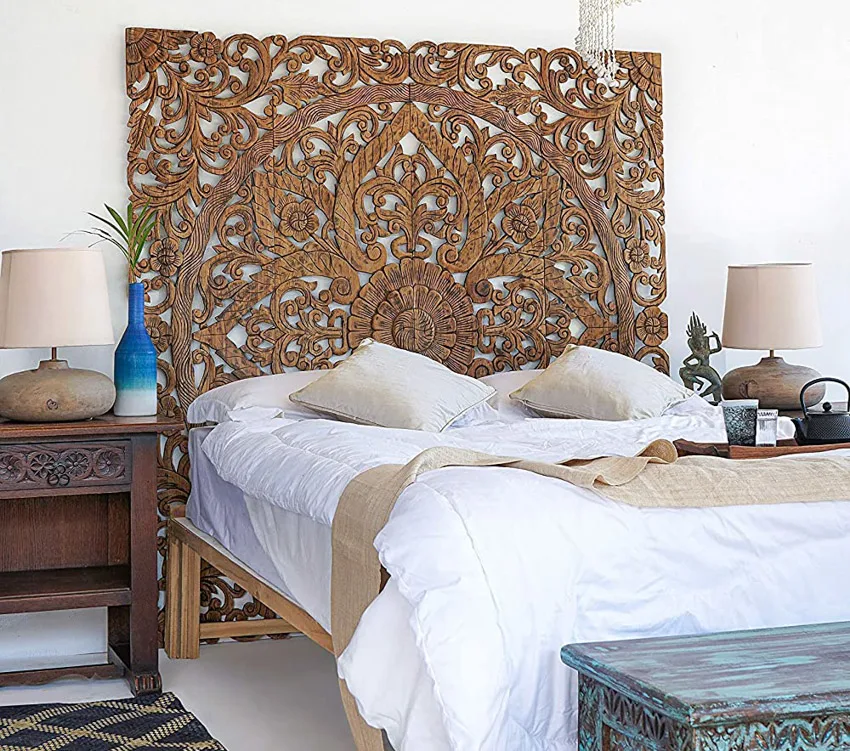 See this Balinese handcarved bed headboard at Amazon [sponsored link]
Abstract-Style Upholstered Headboard: Don't limit yourself to the rectilinear shapes for your upholstered headboards. You can give an abstract layout to add more visual interest and movement to your bedroom area.
Moroccan-Inspired Headboards

A touch of exotic scenery in the bedroom can elevate the look and feel of your space, just like this golden Moroccan-inspired headboard.
The dreamy space has that classic latticework in bronze and to give it a more impressive look is the white framing around the Mediterranean architectural detail.
The result is having a bedroom full of character and looking pricier than it seems.
Oriental-Inspired Headboards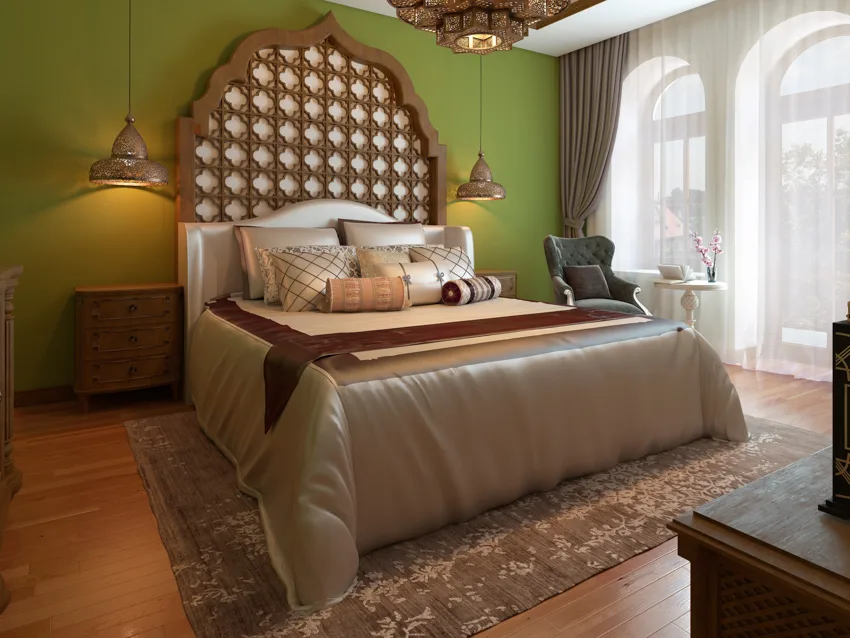 A beautiful version of your exotic headboard styles is this oriental latticed headboard that gives a posh and cozy look to the modestly sized bed.
Pair it with pendant lights and warm lighting and you'll love the inspiring look.
Art Deco-Inspired Murals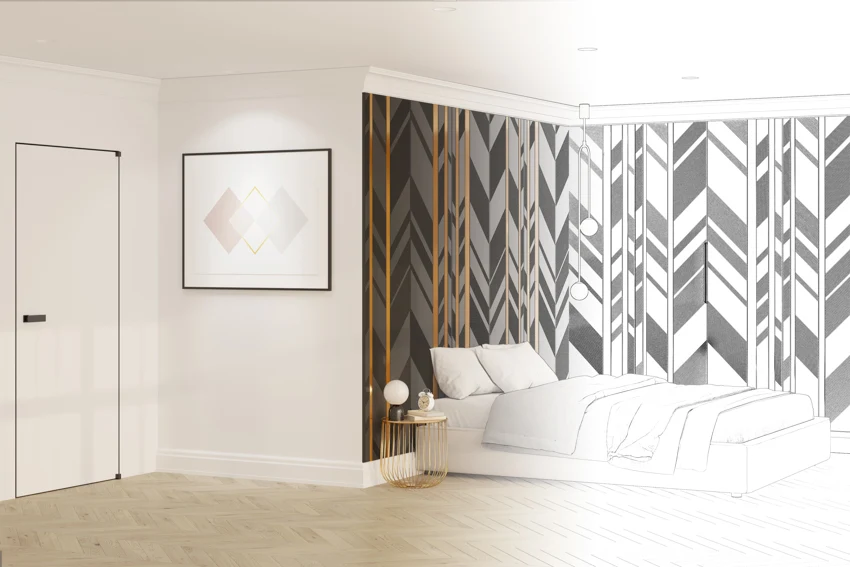 When you want an artsy vibe that has the contemporary look, an art deco-inspired mural is an eye-catching headboard surround.
You can use neutral hues such as this black and white geometric pattern that runs vertically to extend your ceiling height. Gold lines up the vertical geometry that lends a rich and warm feel to the bedroom space.
The Minimalist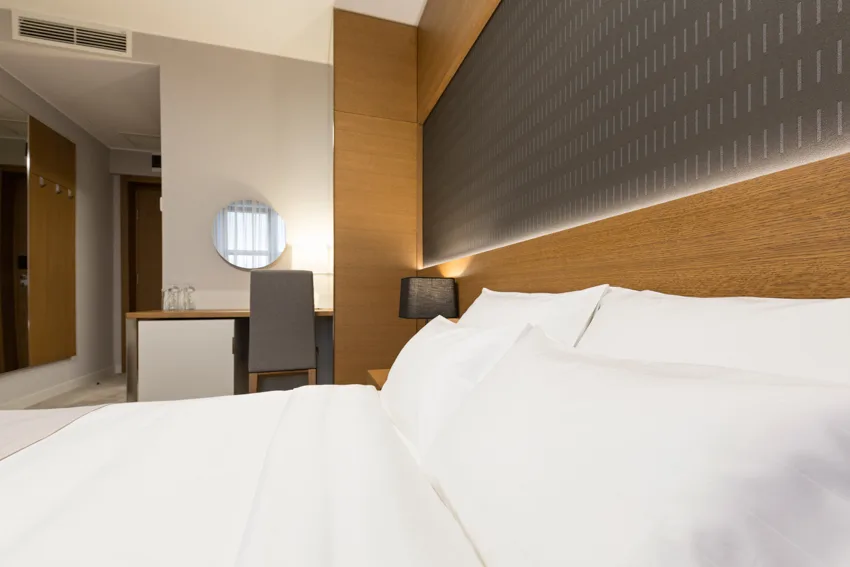 When you need a clean and simple floor to ceiling type of headboard, this Japanese-inspired bedroom is the perfect aesthetic to go for.
Like most of its interiors, the Japanese love to work on dark wood materials and have low and simple furniture. Have your headboard stretched wall to wall and with a low profile.
Highlight panels by adding mood lights, much like that of a coved ceiling are lighted to give that dramatic effect on your bedroom backdrop.
Layered Look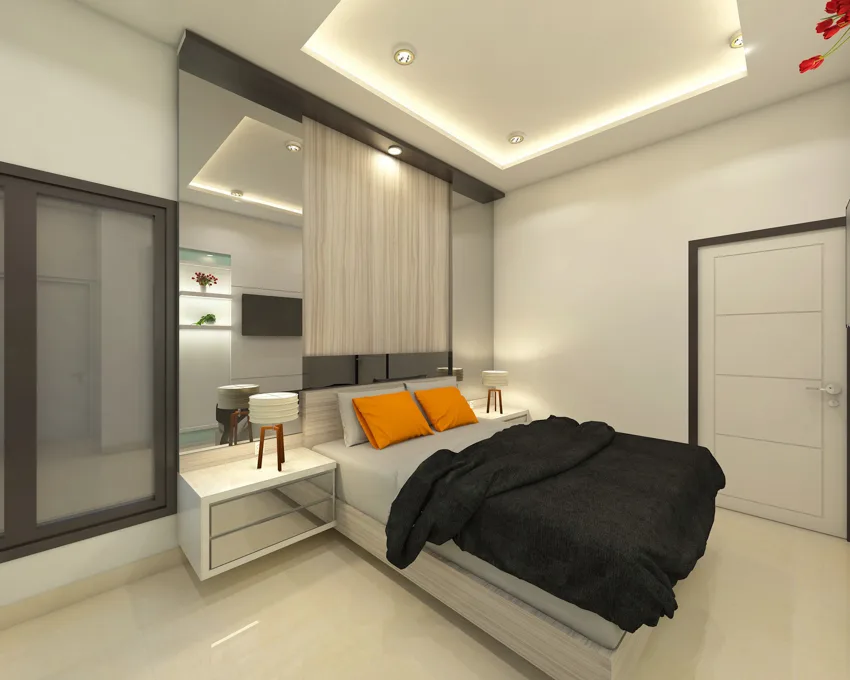 When you want simple aesthetics and plan to have minimal ornaments in your bedroom, a layered look on your bedroom headboard is an effective way to add dimension and weight to a room.
Such as this relaxing minimalist bedroom that opts for a mirror frame around its headboard. To add texture, a straight-grained wooden panel is used as the focal point.
Just above the pillow area, a horizontal window is stretched across the headboard which is a perfect way to get in light through the bedroom area during the day.
Wood Panel Floor To Ceiling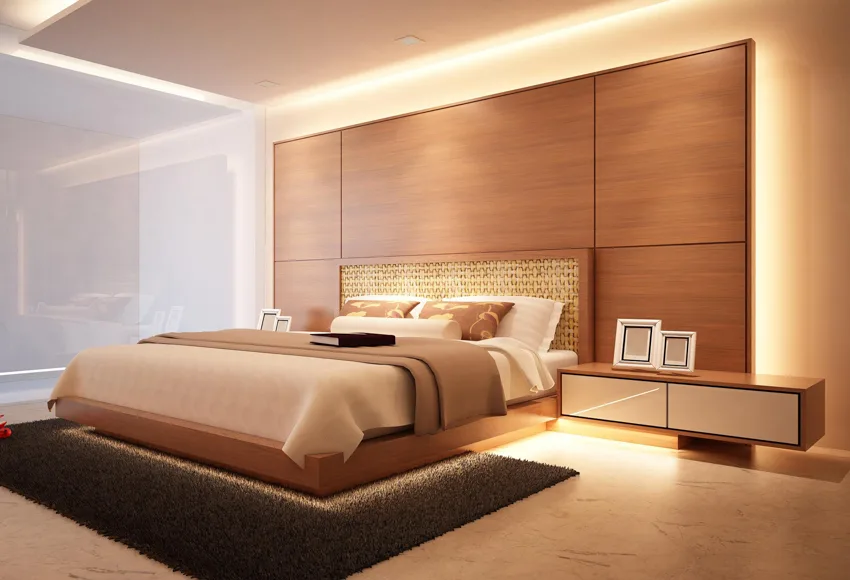 Wood never fails to add personality and visual interest in a space. These gorgeous dark wooden panels are the perfect backdrop for the earthy-toned bedroom. Add warm light to your organic material and it gives a warm and cozy feel to the space.
Mural Backdrop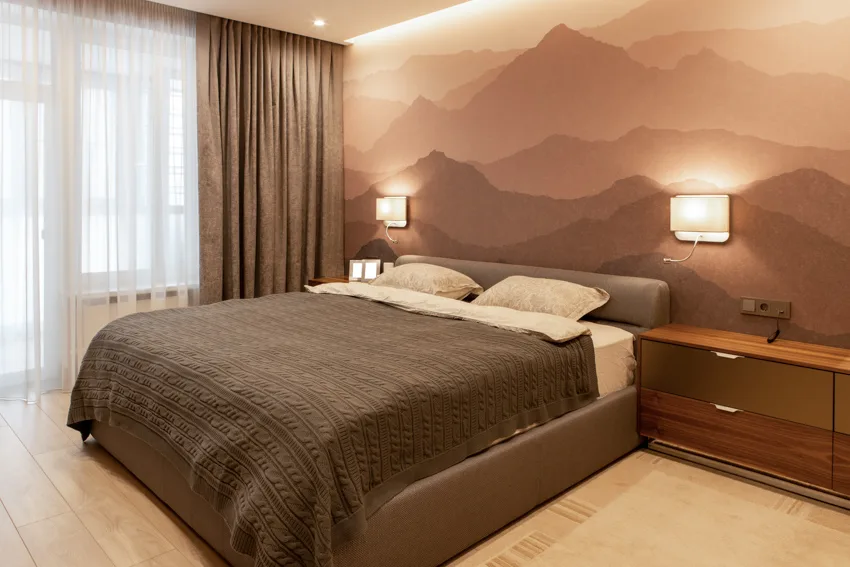 This monochromatic mural painting is a lovely headboard backdrop that gives your bedroom space a relaxed and dreamy feel.
To be able to showcase the mural art, a very low headboard profile is used to give way to the wall aesthetic.
Wallpaper Backdrop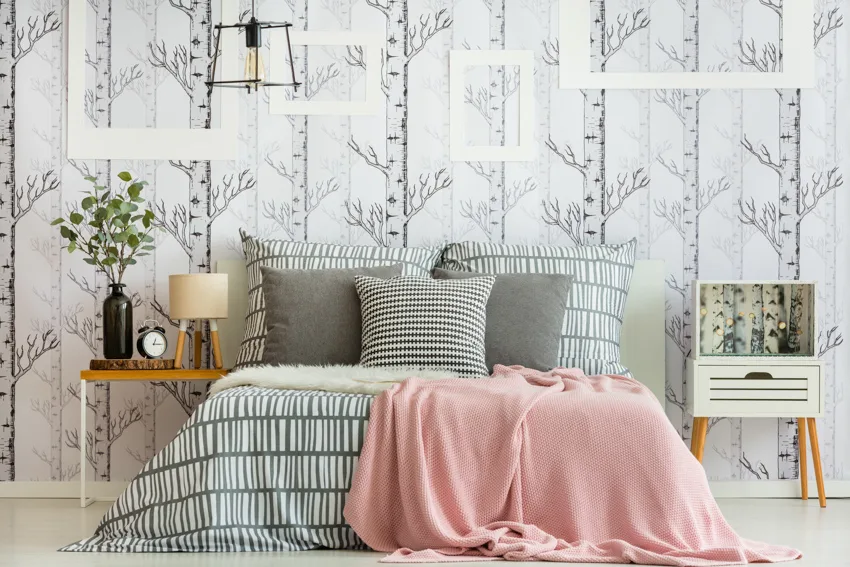 If you're looking for a fast and easy way to add some botanicals to your headboard area, this wallpaper backdrop in lime and beige colors is the perfect option.
There are non-permanent wallpaper options you can buy if you're planning to move or if you want to replace your current one in the future.
Space Jet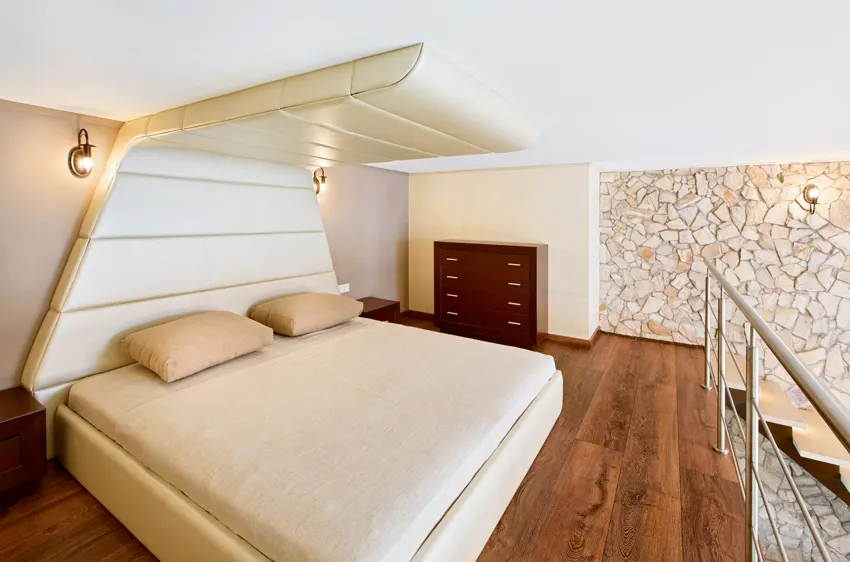 Like straight from a scene from the "Jetsons", the space jet-inspired headboard is definitely a floor to ceiling and beyond style that may not be for everyone. but its cozy feel and look is almost having a large cradle to sleep in.
Floor To Ceiling And Beyond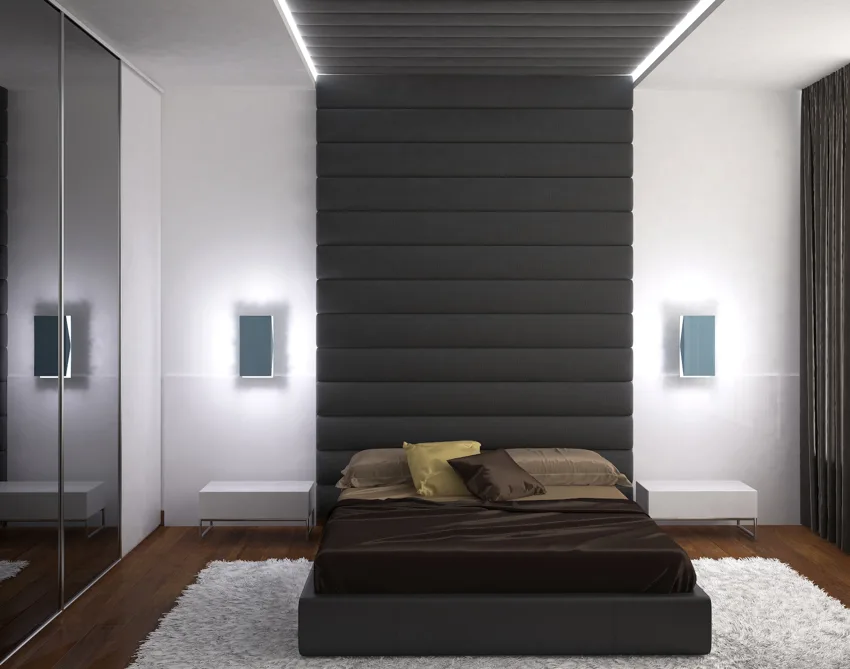 This elegant headboard frame uses a moody black color with horizontal paneling lined from the headboard and extending throughout the ceiling.
The result is a moody and relaxing atmosphere that's perfect for catching up on your Z's when you want to shut off from the outside world.
Best Height For A Floor-Standing Headboard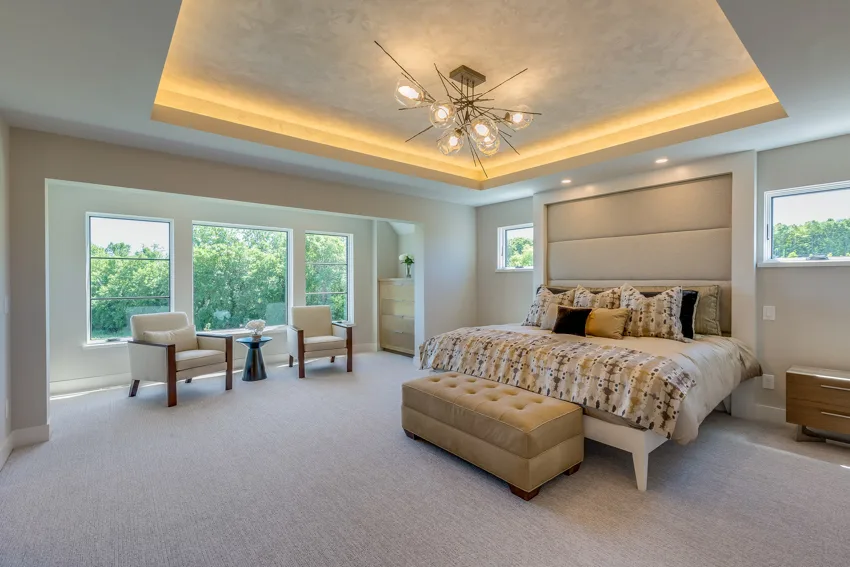 Due to their structural need to extend to the floor, floor standing headboards will be taller than strutted headboards.
A floor-standing headboard's dimensions are usually twice as large as their strutted counterparts.
Floor-standing models come in a variety of widths to suit your frame size, with most standing between 47.24″ or (120cm) and 55.12″ (140cm) tall.
Best Bed Frames For A Floor Standing Headboard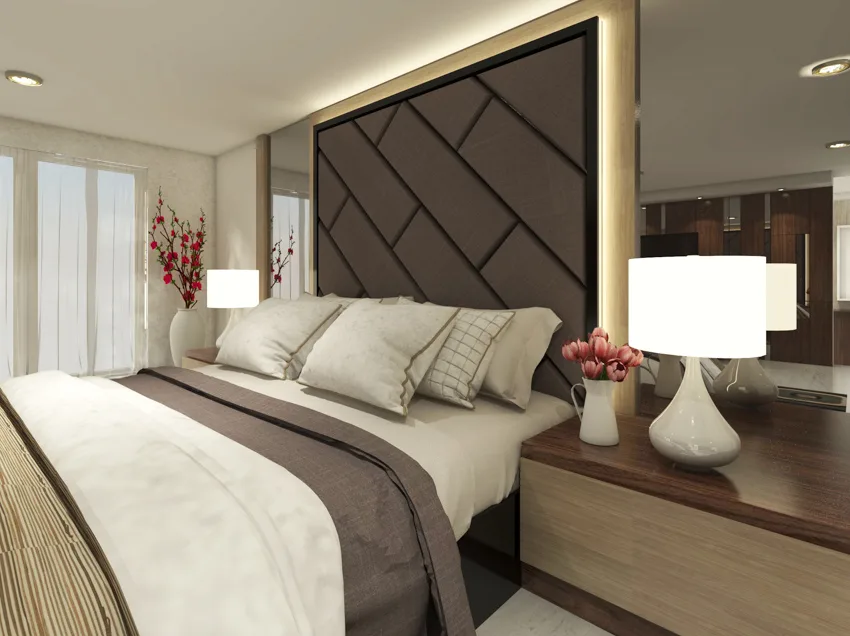 Floor standing headboards have a larger-than-life presence and are often used to balance out a king-size bed's larger frame.
On the other hand, floor-standing headboards are available for all bed sizes, including small singles.
There are small single, single, small double, double, king, and super king size floor standing headboards.
See more related content in our article about what you should know when choosing bed sizes on this page.