Floor to ceiling window treatments design guide including style options such as drapes, curtains, or the types of blinds that could best with room interiors.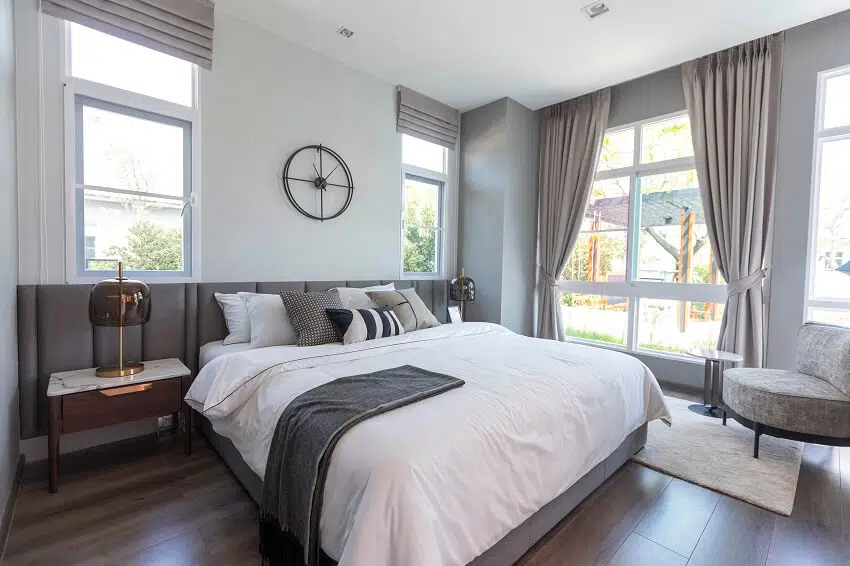 For an increasing number of homeowners, smart homes that are partly or entirely automated are becoming a reality. Houses run with machinery and remotes, formerly only available to the super-rich or science-fiction tales, are now within reach of many families.
Floor-to-ceiling windows offer modern style and let in natural light. When practicality takes precedence, though, they often lose their luster. The lack of control over sunlight, seclusion loss, and rising temperatures of your home are among the most aggravating problems.
But you don't have to give up everything you care about. We've compiled a list of things to think about before covering floor-to-ceiling windows.
Motorized Shades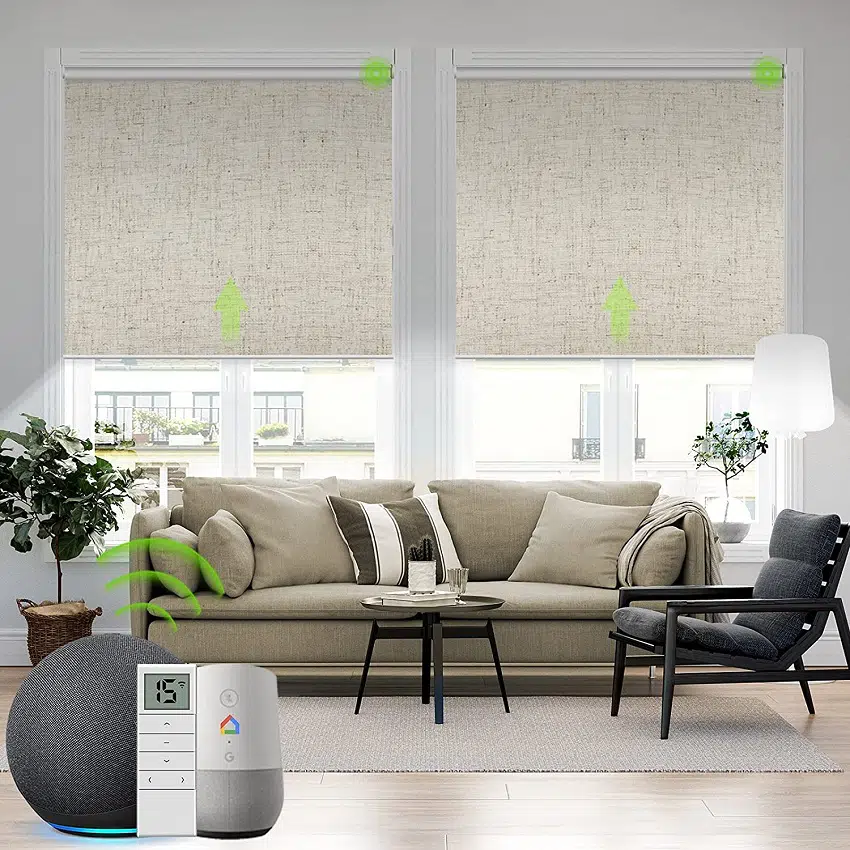 See these motorized shades for windows with remote control at Amazon [sponsored link]
The window covering industry's response to make everything in homes smarter, simpler, and more convenient is motorized shades. Motorized shades, as its name suggests, raise and lower with the help of a motor, eliminating the need for lift cables, chains, or even cordless options.
Instead, just click a single button to raise or lower one, two, or even more rows of shades in a matter of seconds. After all, if you can turn on and off appliances, TVs, and light switches from a single location in your house, why couldn't you do the same with your shades? Read more about types of window shades here.
The following are some of the features of motorized shades:
Convenience: You don't have to raise or drop shades manually all the time. That means no more walking over scaling ladders. It's as simple as pressing a button.
Security: You can set motorized blinds to rise and drop at specific periods throughout the day. Programming your blinds provides you peace of mind since you'll know that your house will look "lived in" even if you're gone for days or weeks on business or vacation.
Practicality: Motorized shades are ideal for households, but they are also suitable for businesses, massive offices, or warehouses with many windows. It saves energy to not manually adjust the placements of a dozen or more shades every day.
Uniqueness: Do you want to have a fantastic conversation starter at home? With motorized shades, you can't go wrong.
Motorized Drapery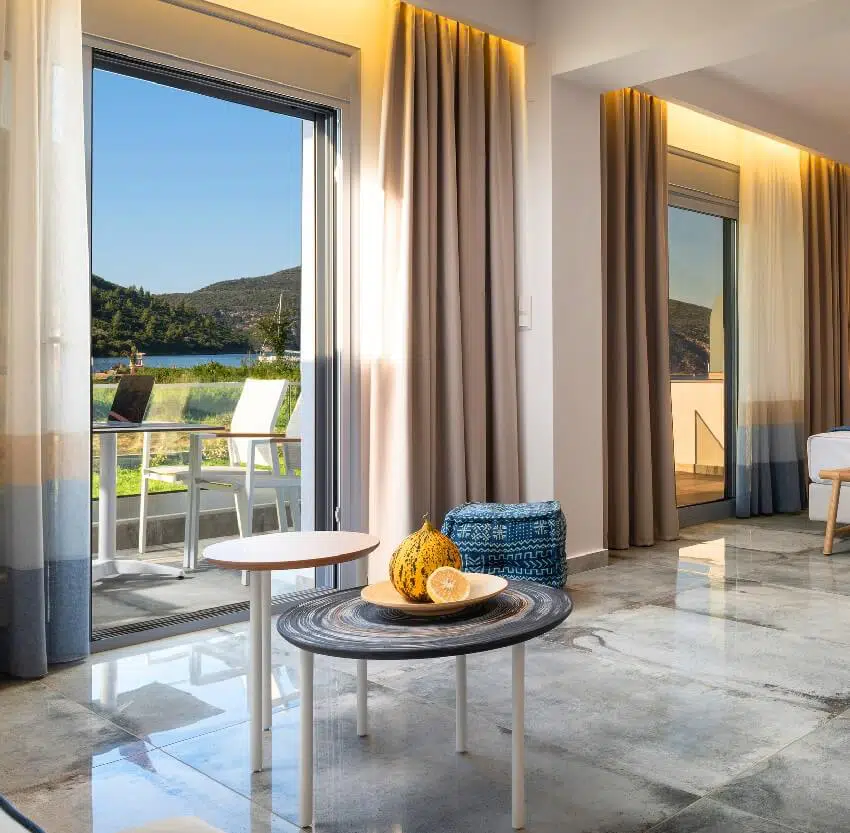 Motorized drapery, which comes in almost any fabric, texture, or pattern, offers a beautiful decorative element to any space. The motorized operation makes it simple to enjoy the advantages of room darkening, especially in a home theater or media room.
You can choose from various motorized drapery control choices, including wireless wall switches, hand-held remotes, timers, and more.
Motorized drapery is safer for households with children or pets because there are no wires to get tangled in. It allows you to open your window to the outdoors beautifully and dramatically. To save money on electricity, set window coverings on timers to open and shut at certain times throughout the day.
It also provides an unrivaled mix of ease, cutting-edge design, and security. You can establish immediate security and privacy at the power of a button and automatically change blinds in response to increasing temperatures.
Blinds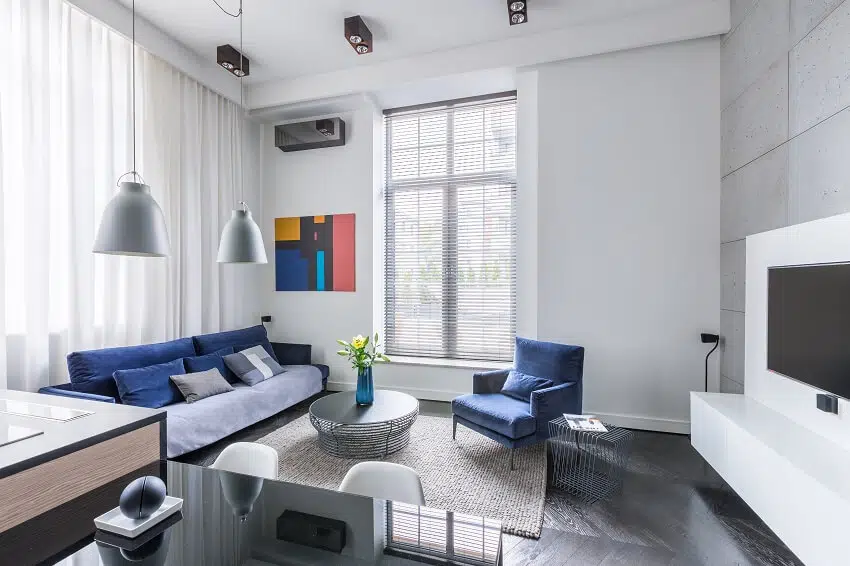 Floor to ceiling blinds, particularly those with a view, is magnificent! They let you see out into nature, and it can truly brighten up a room.
Window views from floor to ceiling provide a stunning background for your house. However, there are occasions when the light is just too much. The good news is that there are big window solutions that allow you to manage the amount of light, privacy, and UV protection that your house requires.
Floor-to-ceiling windows with matching blinds make a strong statement. For example, with Pirouette blinds, you can get a contemporary and minimalist design, and when in use, they provide maximum seclusion and fold away quietly when not in use.
You can also use roller blinds for floor to ceiling window treatments as long as you have adequate mounting support to the studs, joists or beams according to Lifestyle Blinds.
Check out our types of window blinds ultimate buying guide including popular styles, materials, cost, and features.
Window Curtains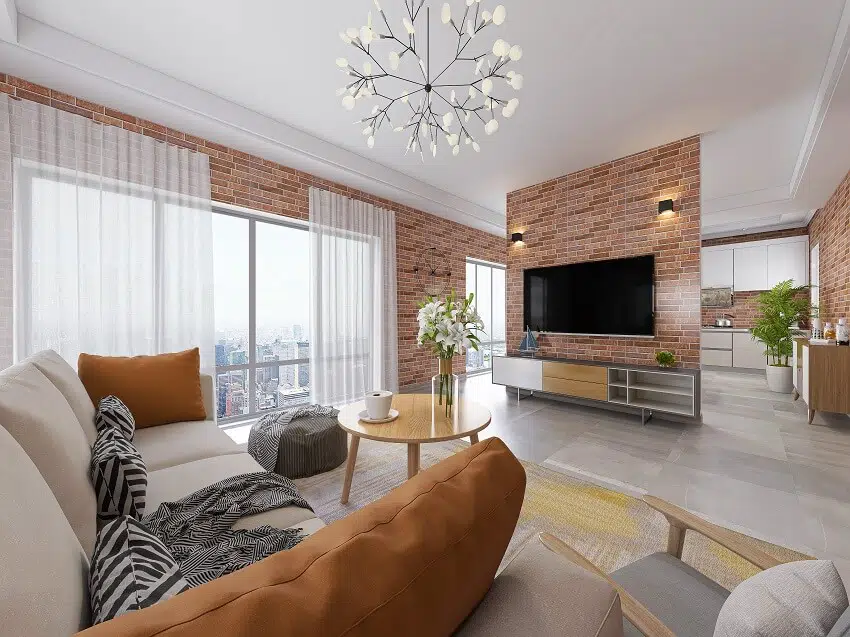 Long curtains attached to your ceiling (or very close to it) may help generate a dynamic and more prominent appearance to your room.
You can create a gentle and delicate path for the eye to follow by hanging curtains from the highest wall point that falls to the floor. It encourages you to take in all of the space you have, creating the appearance of a bigger room.
If you don't want to use a sliding track, a curtain rod extending beyond the window frame is a tidy and easy alternative.With curtain panels you also have a variety of patterns and materials to choose from to match your home decor.

Remember that the curtains should be swept from top to bottom, or bottom to top if you like. It gives the living room and the windows themselves a more expansive and majestic sense—something to think about if you're upgrading or redecorating your home. See more types of curtains design guides here.
Drapes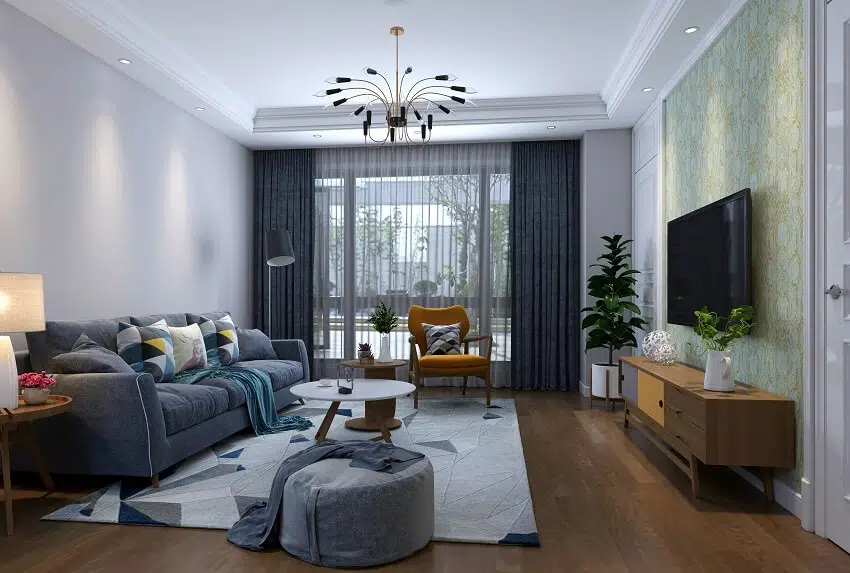 The use of floor-to-ceiling drapes provides a warm first impression. They also have practical help, such as a darkened sleeping environment and maintaining a suitable room temperature.
Choose a fabric that compliments your current room décor and is within your budget. You may also use draperies to hide a storage space, such as a pantry or built-in shelf unit.
A budget-friendly method to modernize an old, mirrored wall or create a soft, textured background behind a headboard is to hang drapes from the ceiling to the floor.
When creating a tiny office space within a closet or nook, use curtains instead of a door. Swagging curtains open and fastening each side on a beautiful wall hook creates a nice feel in your area.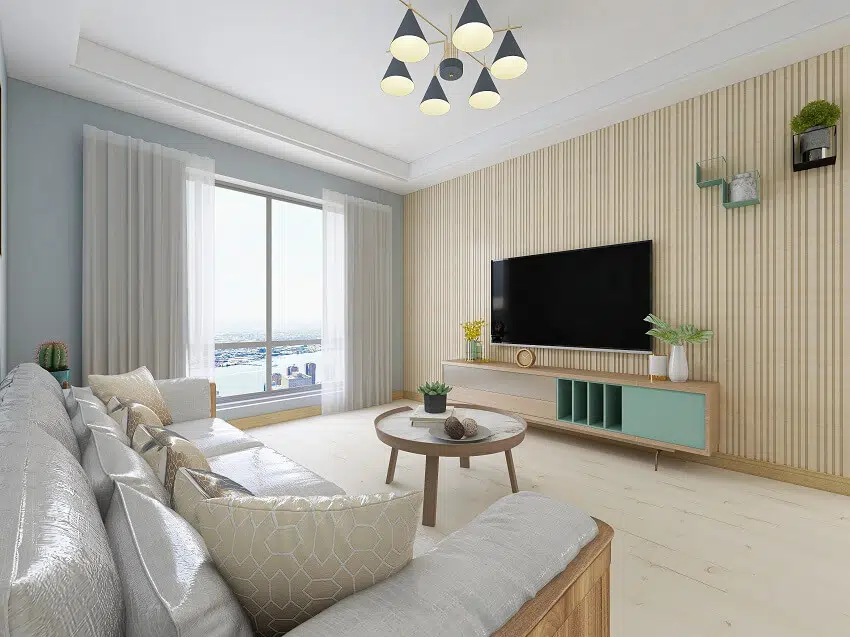 Consider using fabrics in a bright, beautiful palette, such as a cheerful, poppy pattern, to brighten and liven up a room.
Window coverings with timeless color combinations, such as black and white, gold and brown, and yellow and blue, also have a timeless aesthetic. The use of neutral drapery palettes in white, beige, and gray creates a peaceful, relaxing environment.
You can also create layered window treatment with dramatic contrast by hanging white wooden blinds behind silky black drapes. Alternatively, drape a window scarf over the top of the curtains for a more beautiful, formal look.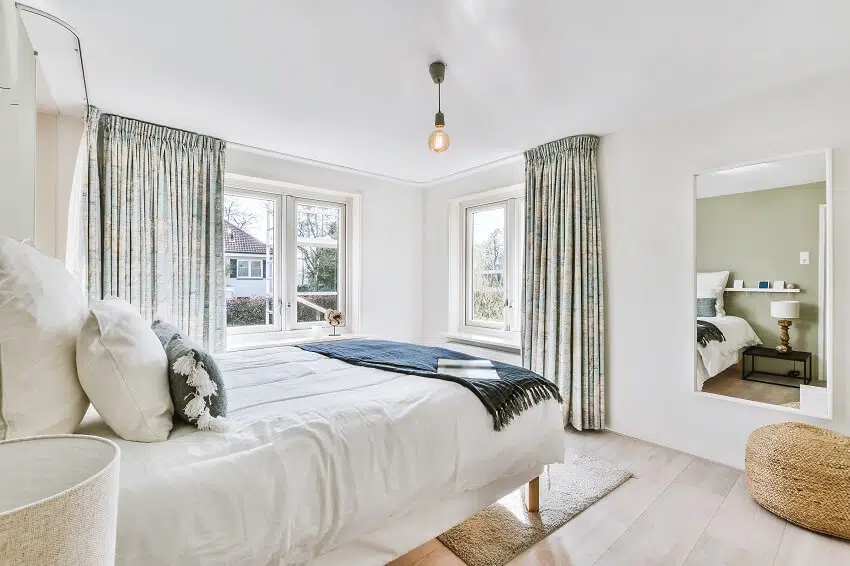 Window Treatment Tips
When doing floor-to-ceiling treatments, here are five things to consider:
#1: Maintain your point of view: The most common worry is losing the view when it comes to floor-to-ceiling window treatments.
Isn't your beautiful view the reason you moved there in the first place? Window coverings such as designer screen shades and light-filtering sheer shades can help you view the scenery without being blinded by the glare.
#2 Natural light: When you have no control over sunlight, it may not be pleasant. You can optimize your window coverings with motorized blinds, shades, and shutters to blackout the sun when it's the most annoying.
#3 Don't sacrifice your comfort: Because you spend most of your time at home, you should not jeopardize your comfort. Though naked windows seem trendy, urban, and stylish, the disadvantages greatly outweigh the benefits.
#4 Keep up with the times with stylish window treatments: The possibilities are limitless for attractive window coverings. The days of heavy, unsightly treatments are gone, and shades with designer materials and new designs have taken their place.
#5 It's all about automation! You can change your shades with one button or plan movement via an app with automatic shades and blinds. It makes your life simpler while enjoying your beautiful window coverings.
To get more ideas in choosing the right house window, check out our types of windows design guide.