Welcome to our types of headboards ultimate buying guide covering the most popular design styles for your bedroom.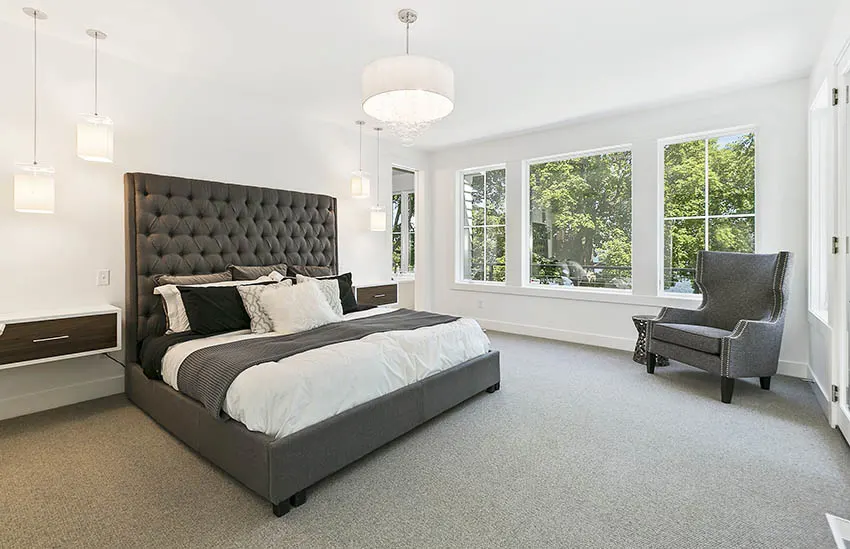 Choosing a headboard that fits the theme of your bedroom is a large part of creating a beautiful design. Your headboard is a centerpiece that makes a statement, provides comfort and offers different levels of functionality.
The way you use your headboard will play a large part of the buying process. For instance if you like sitting up against it, you may desire an upholstered headboard. On the other hand, you may want a specific material to match other finishes in your room.
Headboard Materials
One of the biggest decision to make when choosing a headboard is which material to use. They all have some pros and cons and different buying considerations which we will cover here. Visit this page for more info on the types of beds available.
Wood
One of the most common materials for headboards is wood. Almost any kind of wood is suitable for a headboard. Birch, oak, and pine are all popular materials for a wooden bedboard. You can also make your own headboard out of reclaimed wood.
For those with allergies a wood headboard is often the best choice. Wood does not hold on to dust like upholstered headboards and wood is easier to clean.
Painted Wood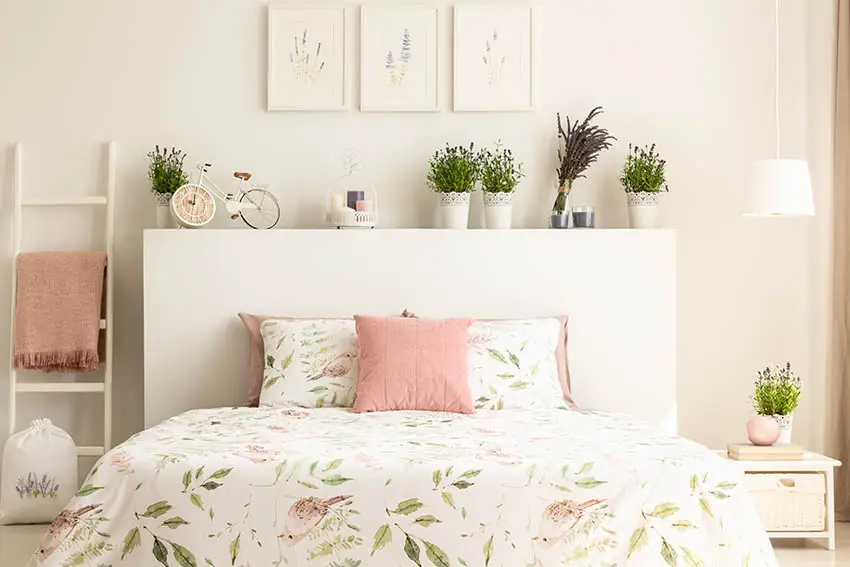 You won't often find pre-painted wooden headboards for sale. However, you can easily paint some or all of the headboard once you get it home, or update an old wood headboard with a fresh coat of paint.
When painting a headboard use latex or oil paint with a satin or semigloss finish.
Stained Wood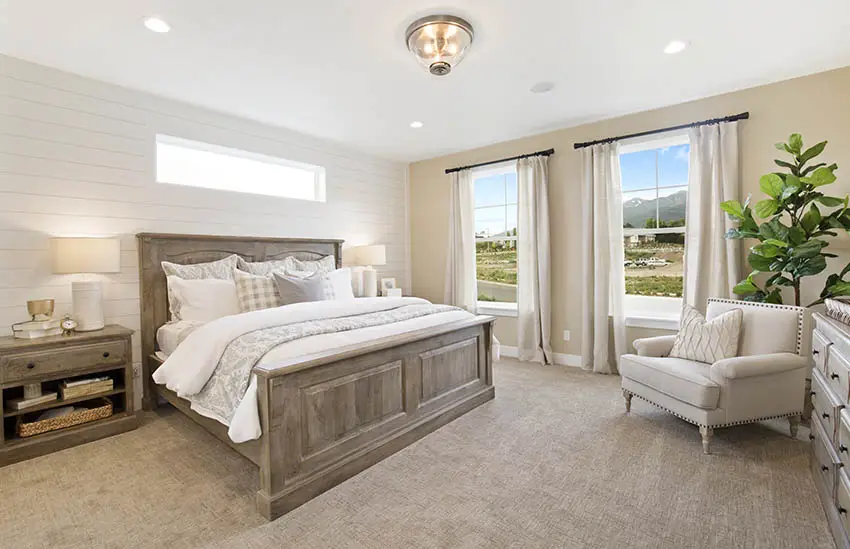 Wood stain preserves or enhances the effect of the grain in the wood while providing some protection from deterioration.
Shellac, varnish, polyurethane, or lacquer are the best options to seal in the color and provide your headboard with protection from dings and scratches.
Rattan & Wicker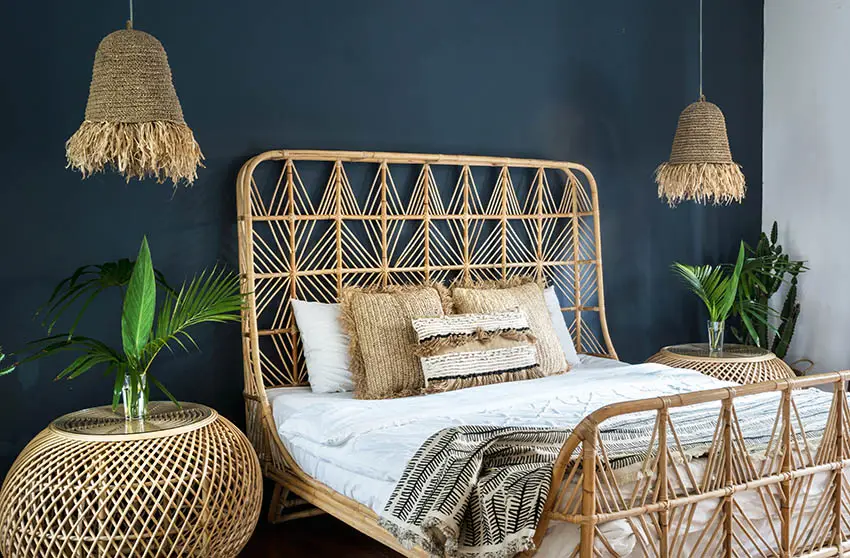 Rattan is a fibrous material harvested from a vine-like plant that is closely related to tropical palms. It can be woven into a strong and durable pattern, which is often used to create furniture.
'Wicker' is the name for the weaving pattern. So, wicker is how the bedboard is created, and rattan is what the headrest is made from. Willow, rush, and synthetic fibers can also be used to create wicker headboards.
Because rattan comes from tropical palms, it is associated with tropical climates. Beach houses or coastal homes are often enhanced by a rattan headboard.
Metal Headboard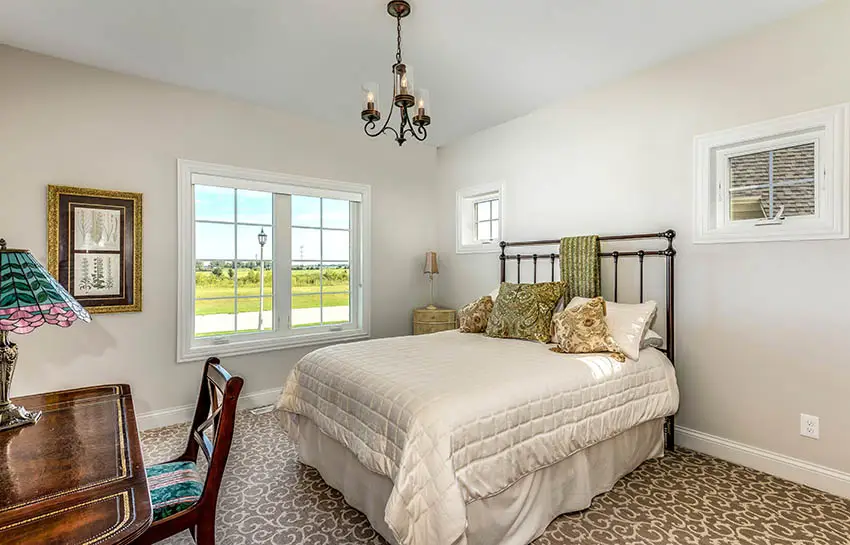 There are many different types of metal headboards. They are often made of a cast iron metal and crafted in to intricate shapes.
Wrought iron
Wrought iron is a gorgeous and very traditional choice of material for a headboard. It needs to be maintained periodically to prevent and remove any rust.
Wrought iron headboards are usually attached to the bed frame — they are too heavy to hang from most walls.
Brass
If you don't like the heavy look of wrought iron, but still want a metal bedboard, brass is an excellent choice of material. It's very durable, so many brass headboards produced decades ago are still in good condition today.
Vintage brass headboards pair perfectly with shabby chic decor. You can also buy new brass bed frames in striking modern designs.
Fabric Headboard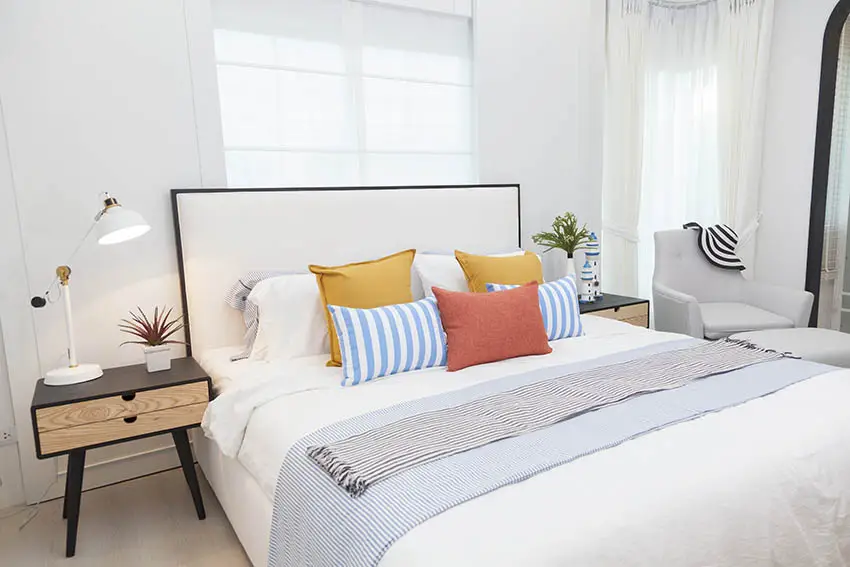 An upholstered fabric headrest is the most popular choice due to its comfort and style. They are available in practically any design one can think of.
The fabric offers a relaxing place to lean against and provides an inviting ambiance. Popular fabrics include linen, cotton and synthetic materials.
To avoid dust from collecting on the upholstery, these headboards should be frequently vacuumed with a soft brush.
Linen
Made from flax, linen might be the perfect material for a headrest. It has a fresh, clean look with an inviting texture, and is usually a creamy white color. Perfect for tufted headboards.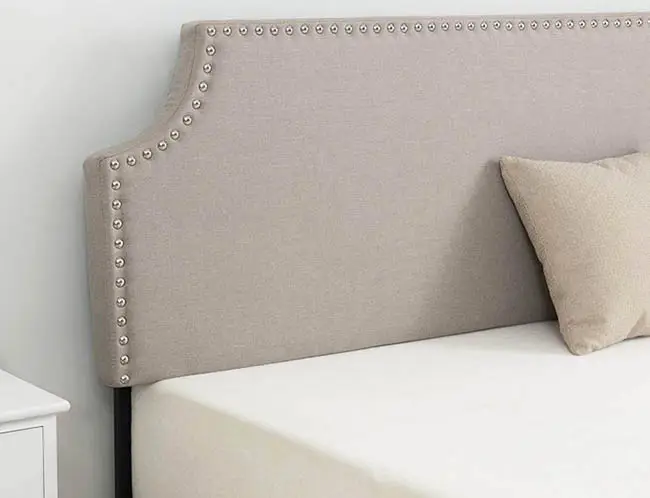 See this linen headboard at Amazon
Cloth
Headboards upholstered with cloth are available in every pattern and color imaginable. Upholstery fabric often mixes natural fibers with synthetic fibers, which makes it longer lasting.
If you're making your own headrest, you can usually find upholstery fabric at your local fabric store.
Velvet
Velvet headboards have a soft, plush texture that you'll love to lean against. From traditional silk velvet tufted headboards to contemporary velveteen panel headboards, there's something for everyone in this category.
Leather Headboard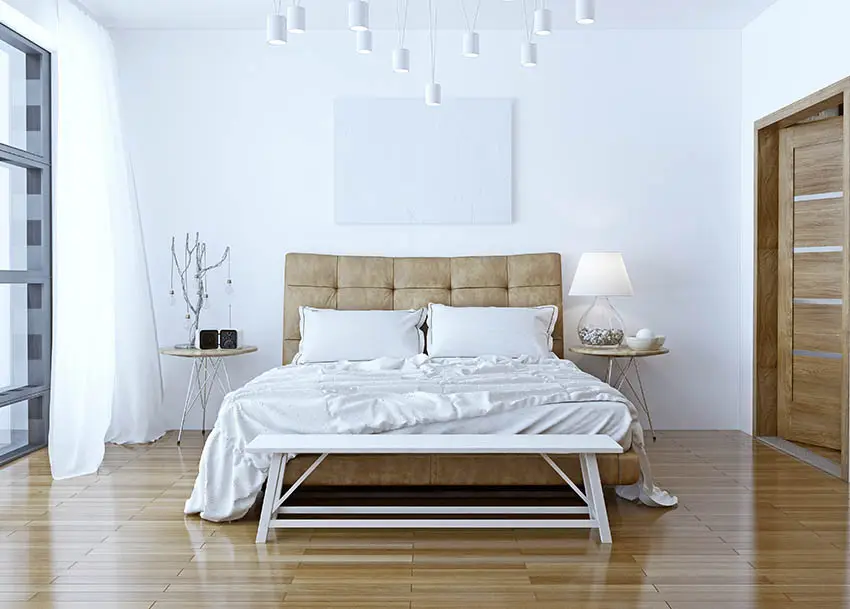 Leather is a popular and attractive material for furniture, and that includes headboards. Four leather products are commonly used to make headboards: full grain, split leather, corrected grain and faux leather.
Full Grain
The longest-lasting, best wearing, and most durable leather available is called 'full grain leather'. The grain of the leather, or its texture, has not been altered in any way. It is a high quality, high-performance material with a high price tag.
Split Leather
Split leather is a suede-like leather that has been treated with an artificial coating and grain to give it the appearance of full grain leather.
This product doesn't last as long or wear as well as full grain leather. It's a great choice for headboards, which don't see as much wear and tear as a sofa or chair.
Corrected Grain
Some imperfections in leather can be sanded or buffed out. This shortens the life and durability of the leather somewhat. When these alterations are performed, the resulting product is called 'corrected grain'.
This product accepts dye more easily than other types of leather, so it's your best bet if you're looking for a headboard in a specific color. It is also usually the most affordable option.
Faux Leather
This fabric is made from plastic, not animal skin. It's then colored and treated to give it the appearance and texture of real leather. Because it's plastic, it will crack and eventually break in a fraction of the time of real leather.
However, the cost is also significantly less than other types of headboards made from leather. If you're likely to change up your headrest in a few years, faux leather is a fine choice. If you're looking for something longer-lasting, stay away.
Headboard Sizes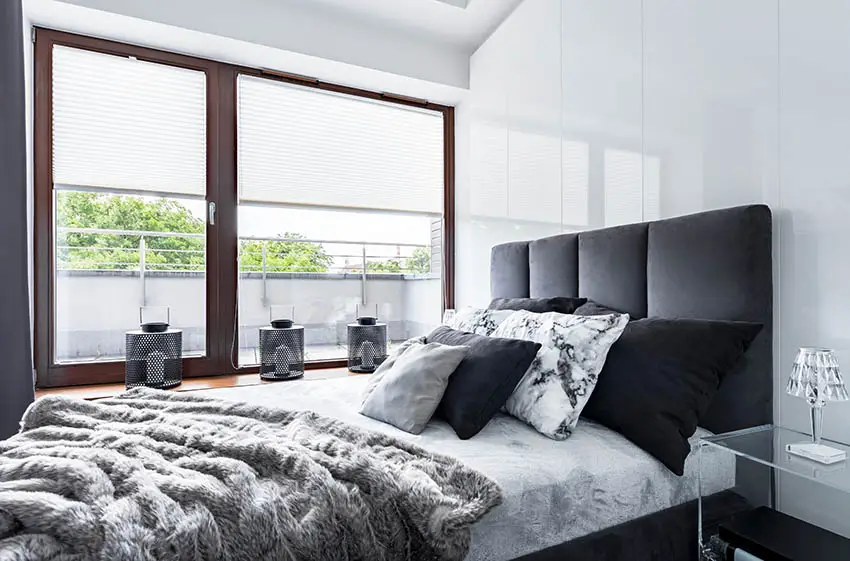 There are a few rules to keep in mind when sizing your headrest. First, the bedboard should not be taller than the length of the bed.
Second, it should be at least as wide as the mattress on the bed, and commonly not more than 2-4 inches wider than the entire bed (including the frame).
Third, the weight of your headboard needs to be compatible with your support mechanism.
King
A king-size bed needs a king-size headboard! For the width of the bed, the headboard should be 80 inches wide. 58 inches is the standard height.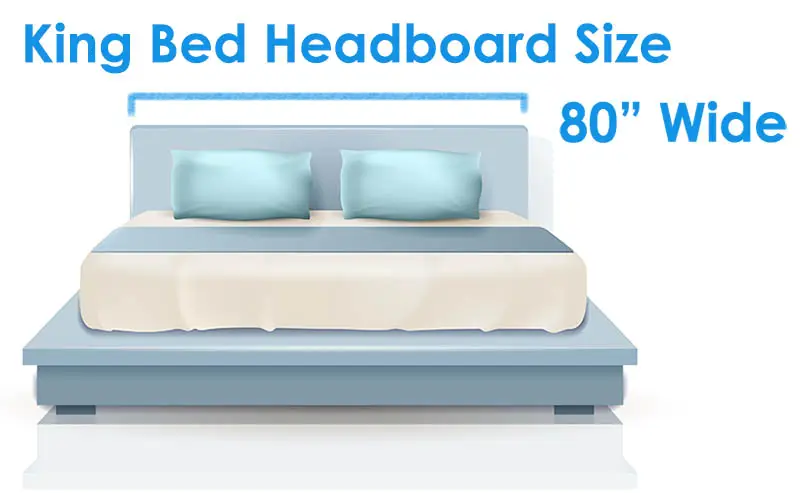 Cal King
California kings often have headboards with a width slightly less than a regular king-size bed — just 74 inches. Like king-size beds, Call king headboards are often 58 inches high.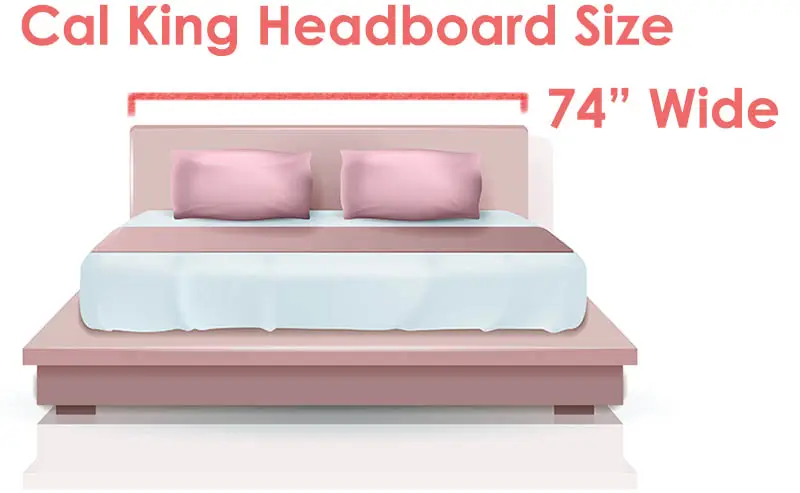 Queen
A queen-size bed needs a headboard that is at least 62 inches wide. The height is customizable, but the most common height for a queen-size headboard is 28 inches.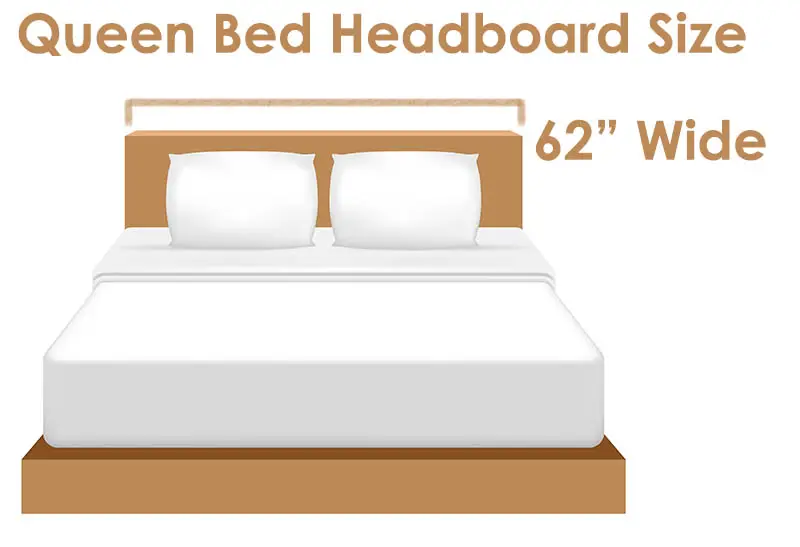 Full
Headboards for a full-size bed are narrower than their queen-size cousins, measuring 56 inches wide. However, like queen-size headboards, they are usually about 28 inches high.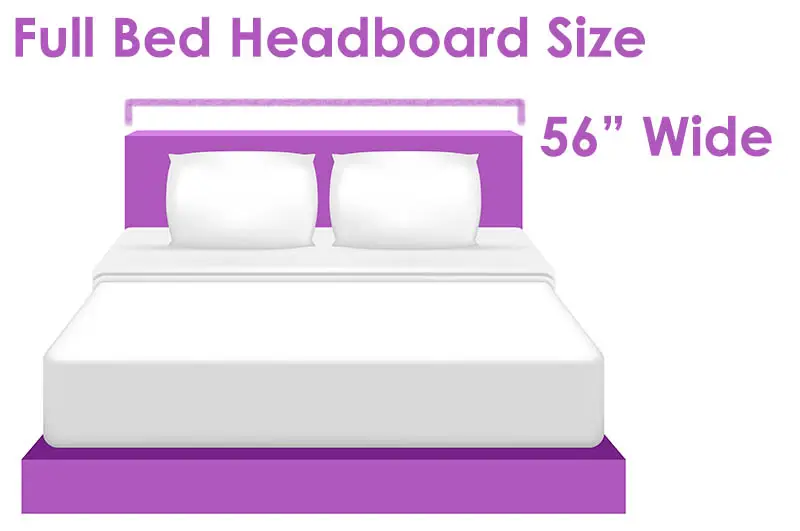 Twin
Headboards for twin beds are 41 inches wide and are usually 14 inches high above the top of the mattress.
Read more about common bed sizes here.
Headboard Designs
A new headboard can make a big impact on a bedroom design. Here we share the most popular installation styles to choose from.
Free Standing Headboard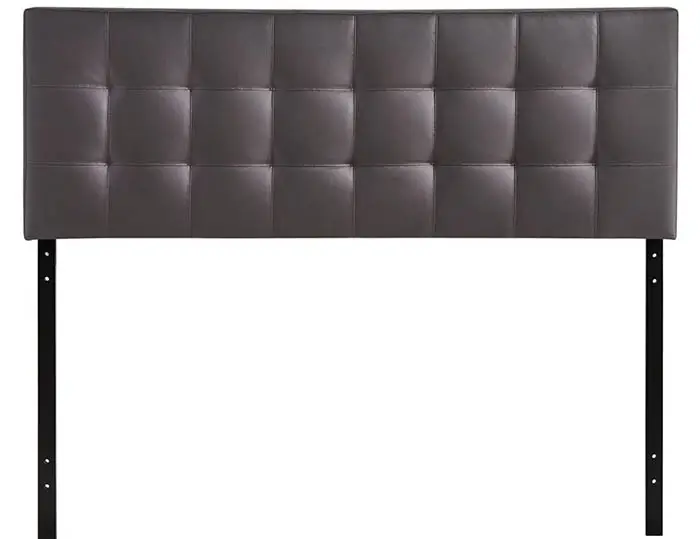 See this adjustable headboard at Amazon
A free-standing headboard is sandwiched between your bed frame and your bedroom wall. They are great for those without the time or inclination to hang or assemble a headboard.
Bed Frame Mounted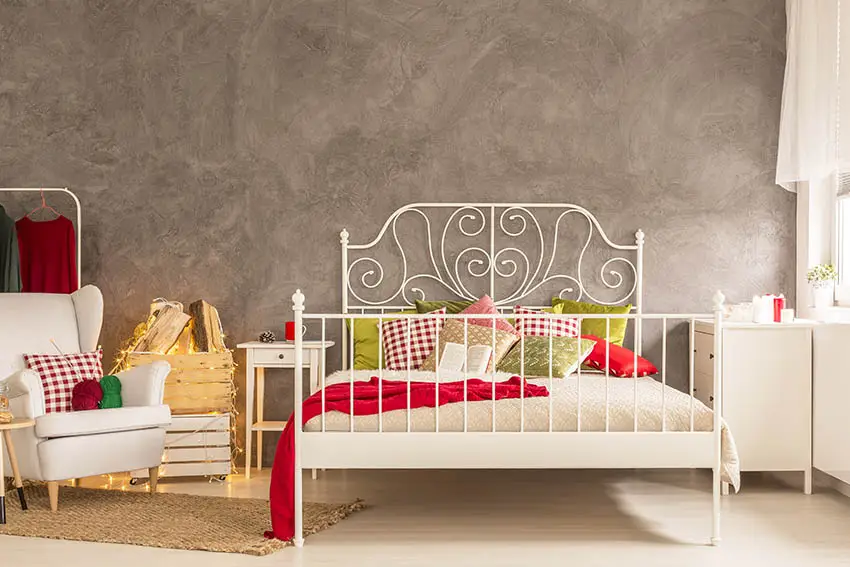 A bed frame mounted headboard is an incredibly convenient and easy way to freshen up your room. These headboards are attached directly to the frame that supports your mattress.
Many bed frames come with pre-existing holes drilled for the purpose of attaching a headboard. Use bolts no more than 1" thicker than the headboard to securely attach it to the frame.
If your bed frame doesn't have pre-existing holes, don't despair. Bed frame brackets are available at major home improvement retailers. These thin pieces of metal are attached to the bedframe, and then the headboard is attached to the bracket.
Wall Mounted Headboards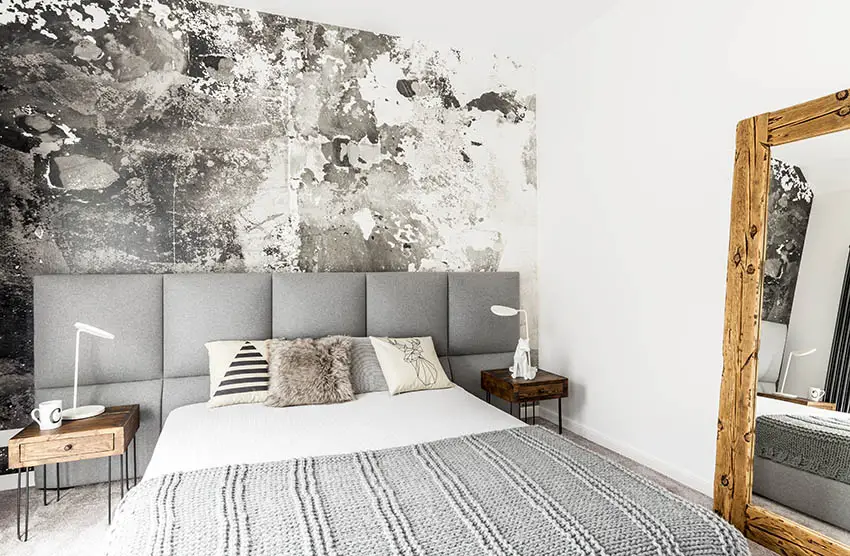 Maybe your bed frame doesn't have bolt holes to attach a headboard, and you don't want a free standing headboard. In this case, mounting the headboard to the wall is the best option.
You can attach any headboard to the wall, provided you have appropriate mounting equipment. This would include French cleats, Z clips, or any heavy-duty mirror mount. It's best to use a stud-finder to make sure the headboard is properly anchored and won't rip out your drywall.
The main drawback to a wall mounted headboard is that it makes it difficult to rearrange your space. If you want to move your bed, you'll need to uninstall and reinstall the headboard. You'll also need to repair the holes in the wall of the original mounting location.
Floating Headboard
A floating headboard doesn't touch the floor and isn't attached to the bed. The only point of contact is the back of the headboard against the bedroom wall. They can be considered a sub-category of wall-mounted headboards.
Hanging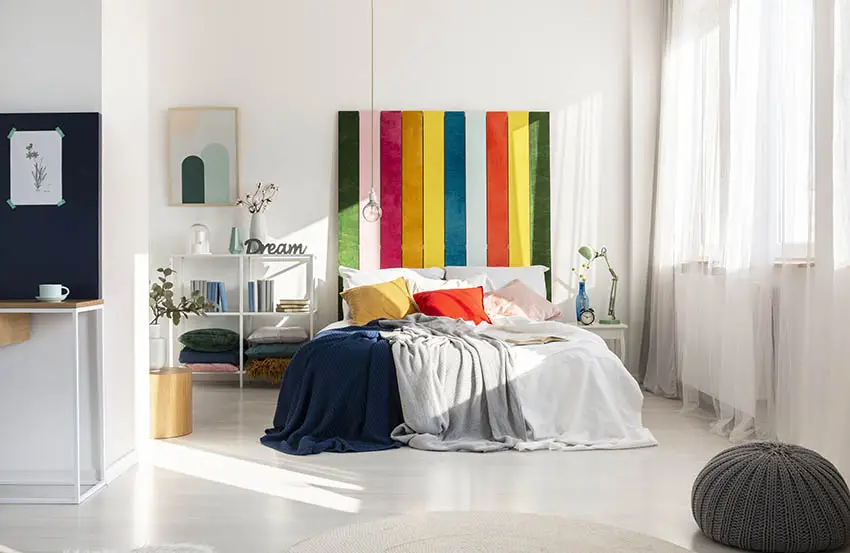 Hanging headboards are an emerging trend in bedroom decor, and lend themselves to a DIY approach. They are created by hanging curtains, decorative items or plush pillows from something attached to the wall.
Curtain rods or towel racks are commonly used, but some hanging headboards use hooks or leather holders. The hanging items can be any size or shape that complements the room.
One creative idea is to install a shelf above the bed and hang the pillows from it to make a headboard. If you go this route, make sure the shelf is high enough that you can lean back on the headboard without bumping your head.
Corner Headboard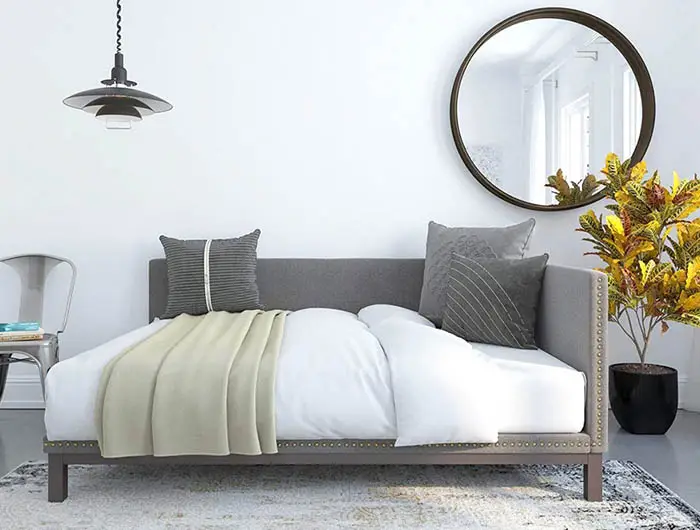 Most people prefer to put the head of their bed against the wall, with room on either side for nightstands and to get in and out of bed.
However, in some spaces, there isn't enough room for this, and the bed has to be pushed into the corner and against the wall. This makes the space look and feel cramped, and a regular headboard won't make sense. Instead, choose a corner headboard to make the placement of the bed feel deliberate.
An underutilized solution in bedroom decor, corner headboards are perfect solutions for rooms where a bed is part of the living space, such as a studio apartment, daybed, or guest room-cum-office.
Corner headboards extend along the head of the bed and down one of the sides, against the walls. Depending on the style you choose, they can be used as a substitute for a couch.
Headboard Ideas
Now that we've explored some of the most popular design styles let take a look at more ideas.
Panel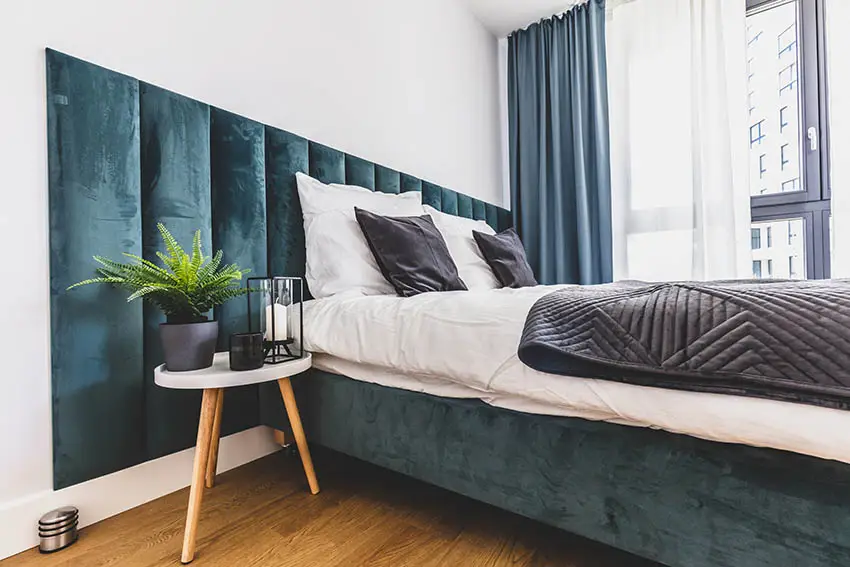 A panel headboard is constructed of one or more continuous, opaque rectangles.
Most commonly, these are fabric-covered, although reclaimed wood panel headboards are also quite popular. Metal panel headboards exist but are less common.
Wingback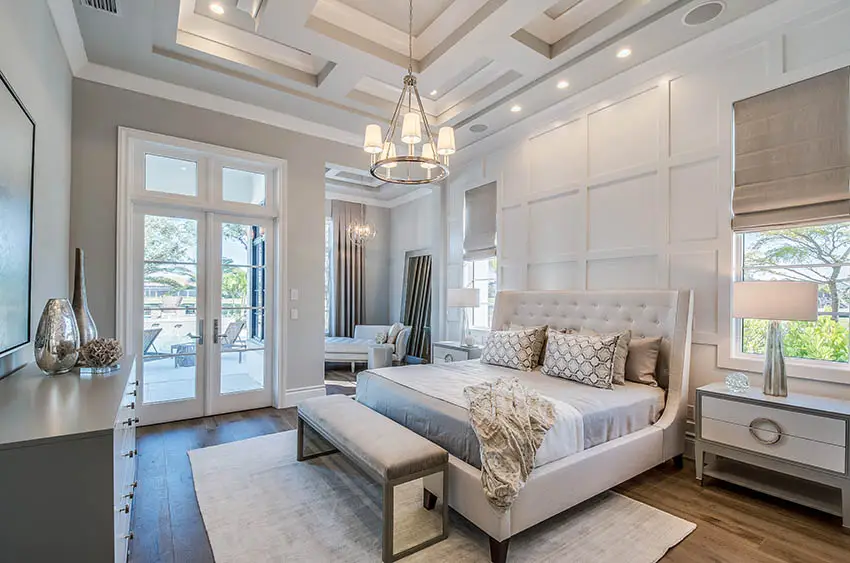 Most headboards are the same thickness all the way across. Wingback headboards, however, have a protrusion on either side, much like the sides of an easy chair or fireside chair. In fact, these are also known as wingback chairs.
The original purpose of wingback chairs was to shield the occupant from drafts of cold air. While it's unlikely you need this feature in your bedroom, there's no denying that wingback headboards will make your bed feel extra cozy.
Tufted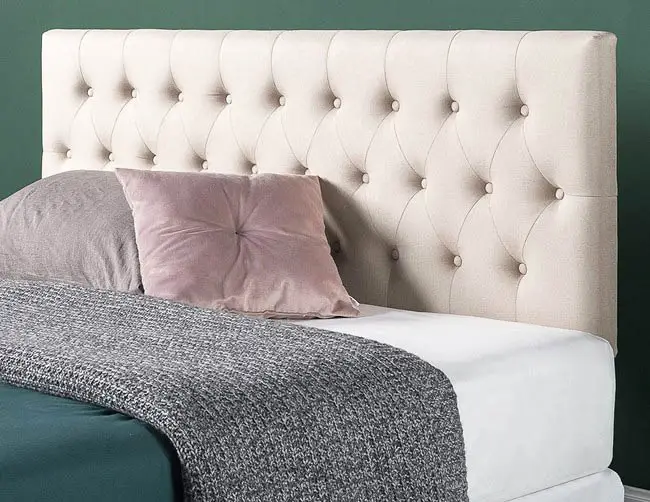 See this tufted headboard at Amazon
Before high-quality foam was invented, furniture was stuffed with other materials. These materials didn't always stay in place, and so tufting was a technique invented to prevent shifting and squashing.
The stuffing is essentially sewn on, held in place by buttons or stitches. The stitches are usually placed in a diagonal pattern, although square tufted headboards exist. This style is great if you like to sit up in bed as it's both supportive and comfortable.
Open Frame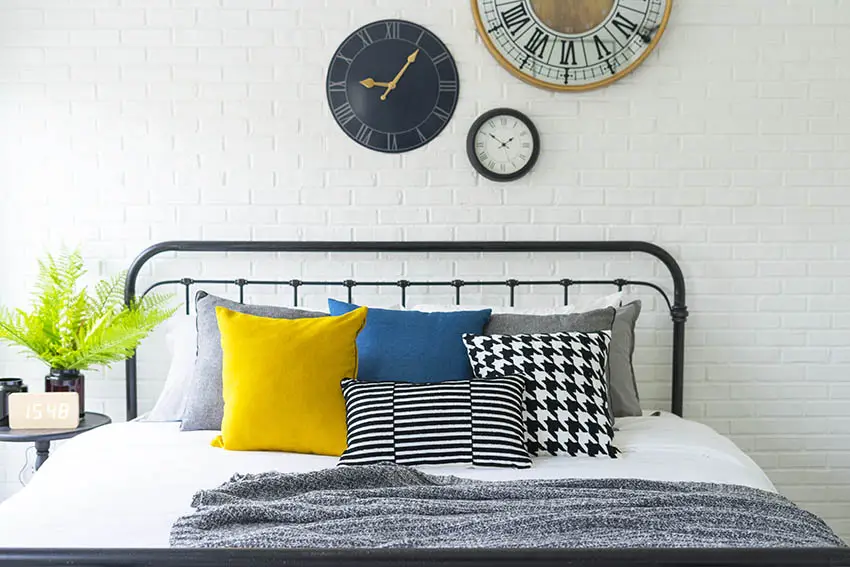 While a solid headboard completely obscures the wall behind it, an open frame headboard has spaces between the slats, bars, or designs where your bedroom wall will show through.
Open frame designs can be made out of wood or metal. Bamboo is also a common material for open frame types of headboards.
Sleigh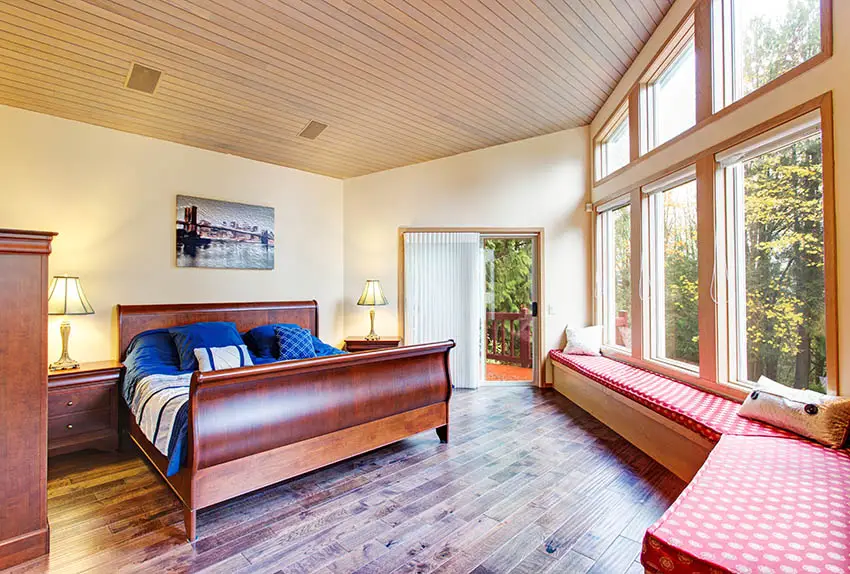 A sleigh bed is one of the best-known styles of bedroom furniture. Usually, a sleigh bed has both a headboard and a foot board. Both are curved or scrolled, lending them the bed the appearance of a sleigh or sled.
Since the top of the headboard curves away from the mattress (and from the bottom of the headboard), it will not be able to lay flat against the wall, pushing your entire bed a few inches further into the room.
If you have a large room, this isn't an issue, but for small rooms where every inch counts, it's not ideal.
Tall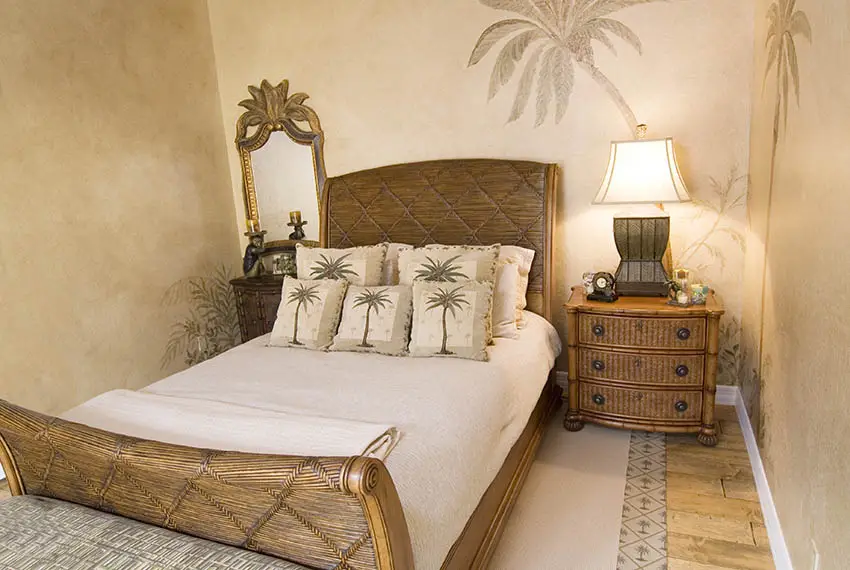 Headboards can be any size you want them to be. Conventionally, they are shorter than the bed is long.
A room with high ceilings and lots of vertical wall space can support a much taller headboard than a cramped attic room. The most popular tall prefabricated headboards on the market are 65 to 70 inches tall.
Low Profile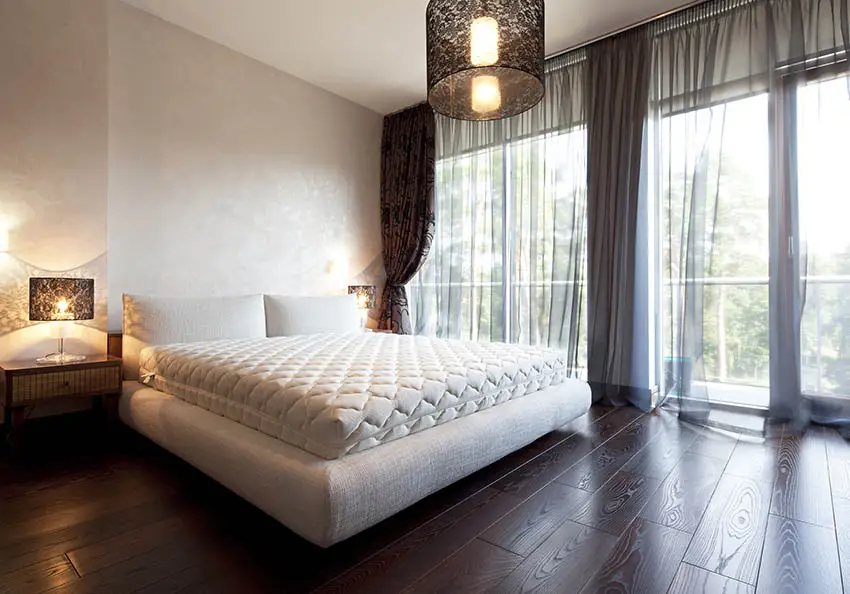 Beds that are low to the ground or platform-style are often paired with a low profile headrest. They are just tall enough to prop a pillow against and keep your pillow from falling between the bed and the wall during the night.
Custom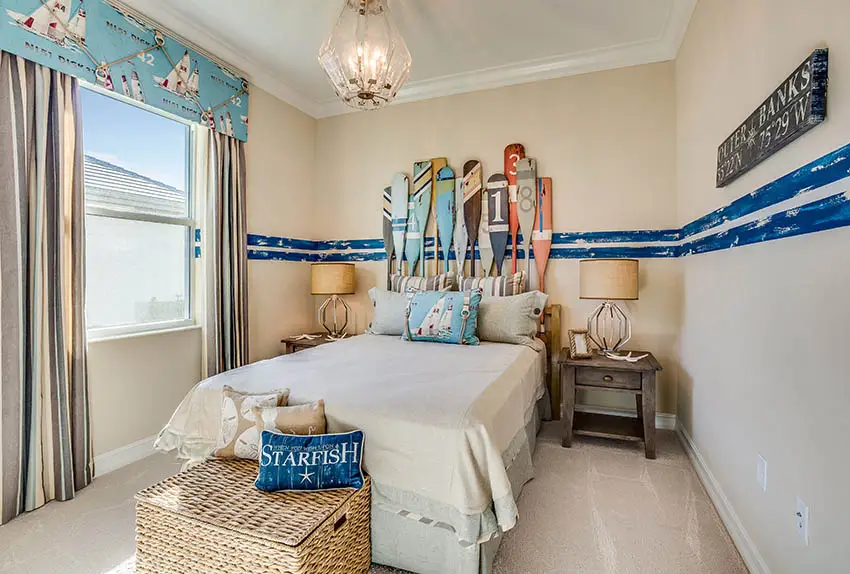 Maybe you know what you want your bedboard to look like, but you can't find it in a store and you're not crafty enough to make it yourself.
The solution to this problem is to seek out a custom headrest designer and manufacturer. You can choose the shape, style, filling, and material, with help and guidance from a professional.
The price depends on the artisan and your location. Custom headboards tend to be more expensive than pre-fabricated options from big box stores, but less expensive than luxury retail.
Contemporary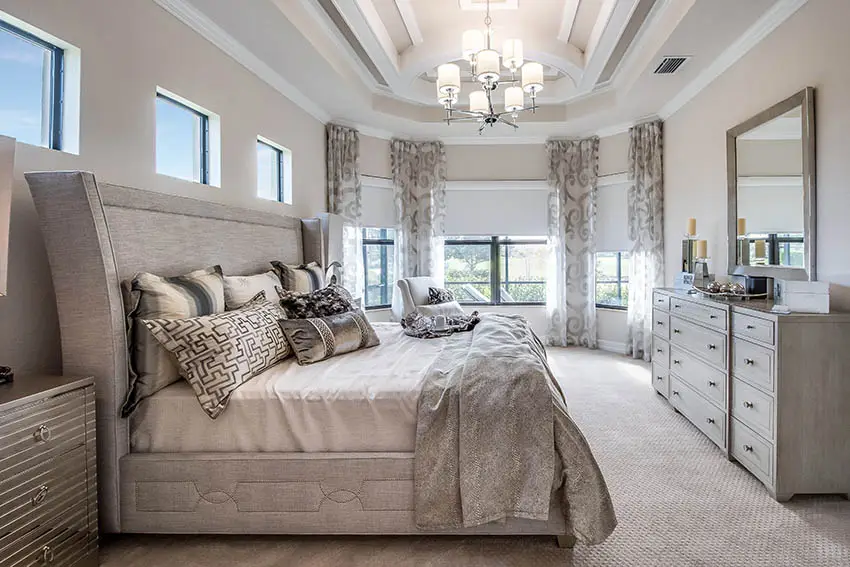 A contemporary bedroom will look best with a simpler, pared-down headrest. Floating headboards or simple fabric-covered panel headboards are both great choices for a contemporary look.
Clean lines and functionality are the hallmarks of contemporary design, so look for types of headboards without excessive detailing.
Modern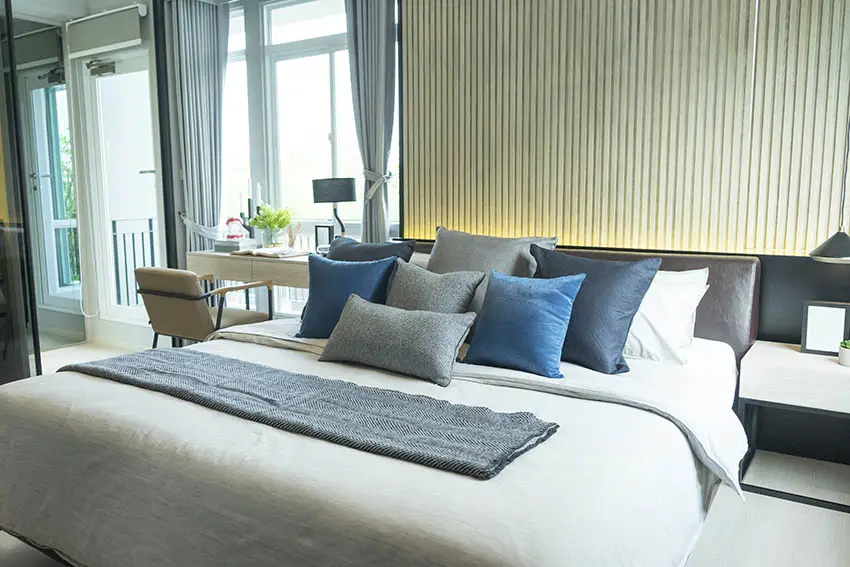 Modern bedrooms may incorporate newer materials such as plastic and different metal alloys. Modern decor often utilizes bright colors, natural materials and simple geometric shapes.
Like contemporary design, it's a fresh and uncluttered design style, but it lacks a focus on functionality. To complement modern design, look for headboards that have a distinctive geometrical element and are shiny or reflective.
Traditional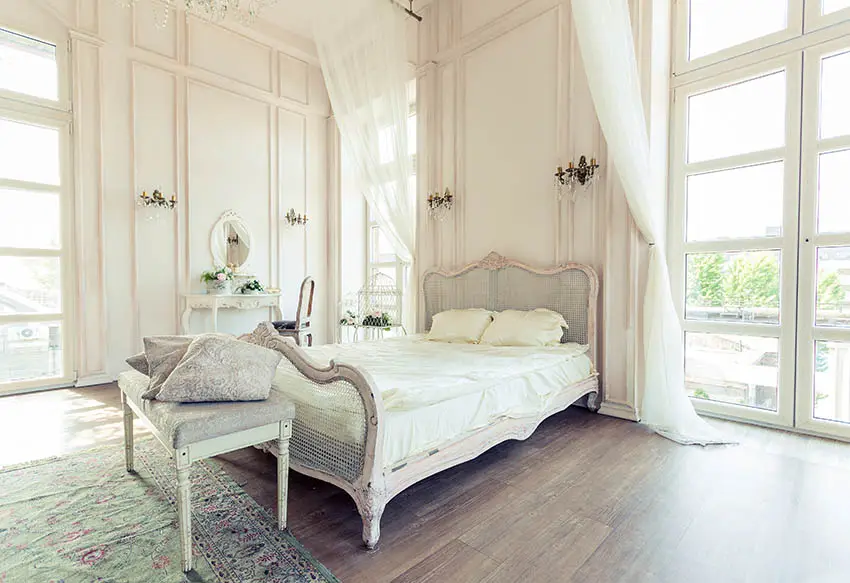 A traditional bedroom will be enhanced by heavy wood or ornate metal bed frames. Tufted upholstery bedboard will also suit a traditional bedroom. Traditional design is intended to replicate styles and materials that have been used in the past.
For the most traditional design, stick to the most traditional materials — dark hardwoods and wrought iron. If you want an updated traditional vibe, look for curved, carved, and ornate headboards made from less traditional materials, like light-colored wood or aluminum.
Rustic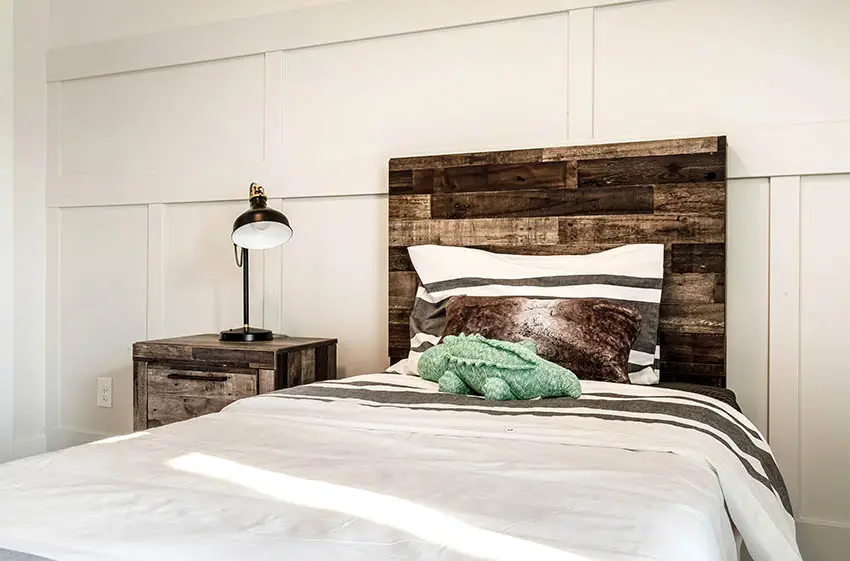 The internet is filled with tutorials on how to make your own rustic headrest out of new or reclaimed wood. New wood is typically artificially distressed. Rustic headboards often incorporate woods of different colors, types, and ages to achieve a varied appearance.
Shabby Chic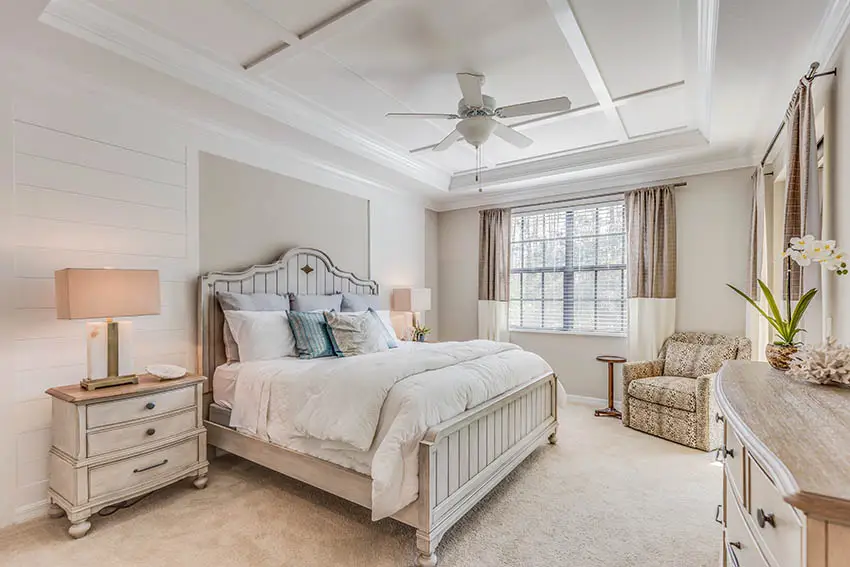 Distressed wooden furniture is a major element in shabby chic design. You can paint and distress an existing wooden headrest or build your own from reclaimed wood. You can also order a 'pre-distressed' wooden bedboard from a retailer.
Luxury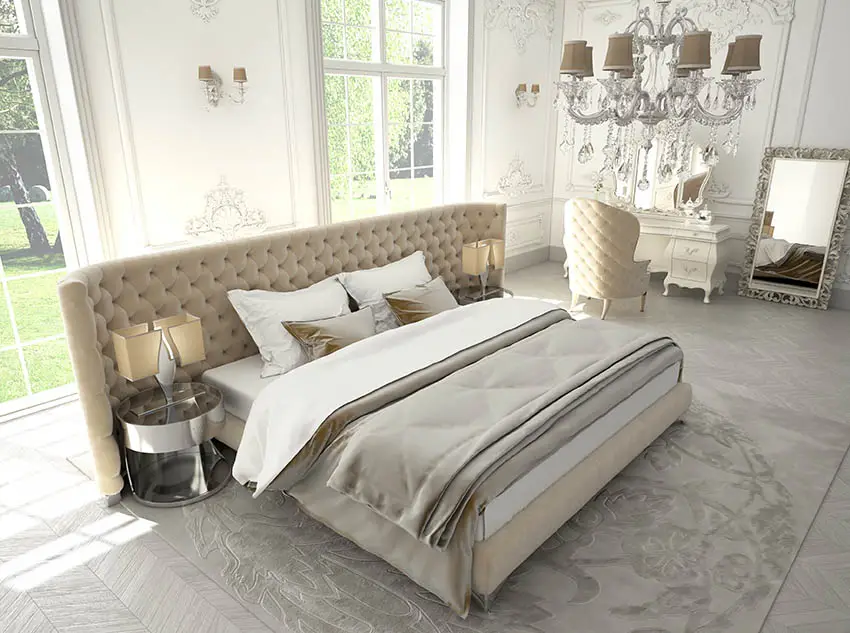 High-grade leather, premium hardwood, and plush fabrics like velvet will all lend a splash of luxury to your bedroom. High-end materials combined with high-quality construction equals the creation of beautiful and durable furniture that you just might be able to hand down to your grandkids.
Four Post Bed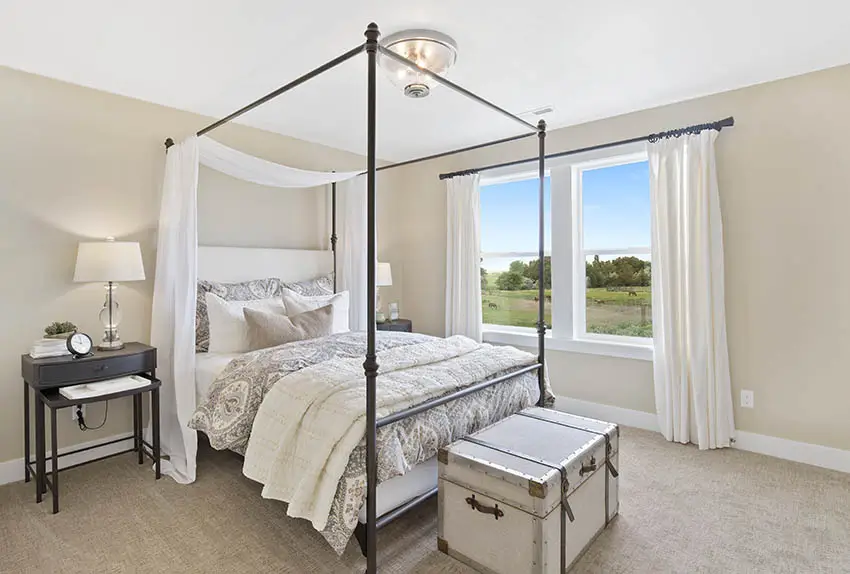 Four-post beds, also called four-poster beds, have long been associated with opulence and wealth. The bedframe has four posts, one in each corner, and they are sometimes connected by rails.
In the past, curtains were hung to protect the occupant from drafts. Although they don't tend to have curtains nowadays, they remain a symbol of luxury.
Shiplap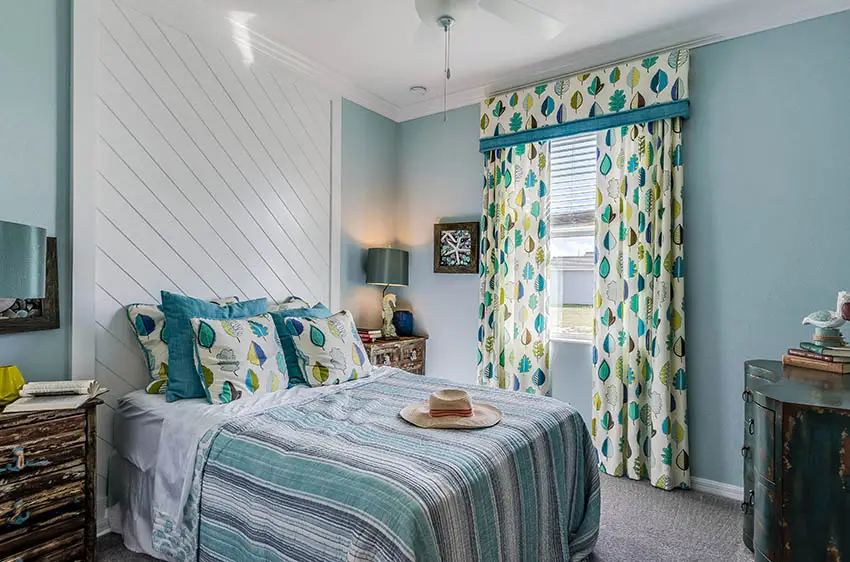 A shiplap-style headrest has long planks mounted horizontally. Each plank fits like a puzzle piece with the one below it, making shiplap an ideal material for DIYers.
Painted Headboard
If you're short on space or funds but are sick of looking at your headrest-less mattress, you can paint the shape of a bedboard onto the wall behind your bed.
The visual impact will be similar; all it will cost you is a pot of paint and some brushes.
Mirror Bedboard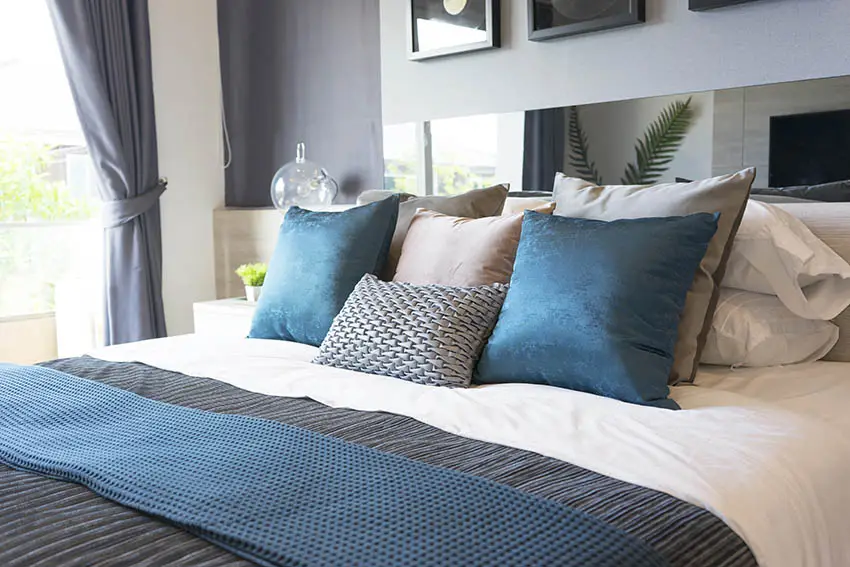 A mirrored or shiny surface on your headrest will reflect light into the room and make it feel bigger. It can be quite startling to catch a glimpse of yourself in the mirror while you're half-asleep, so you may want to choose a smoky or burnished finish.
Oversized Headboard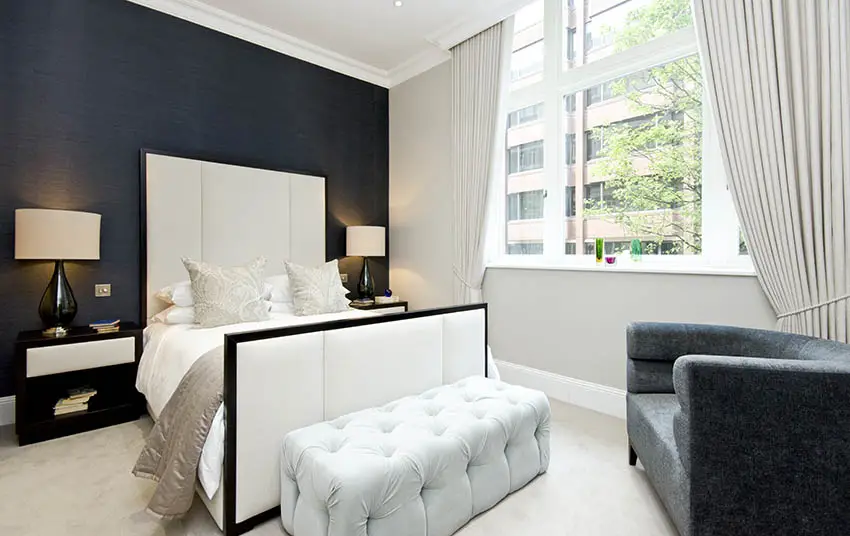 The average headrest is between zero and two inches wider than the mattress. An oversized bedboard could be up to twice as wide as the bed, or, if you're feeling dramatic, the width of the entire wall.
You can frequently buy headboards that are up to 70 inches tall, or make one that's even taller than that.
Padded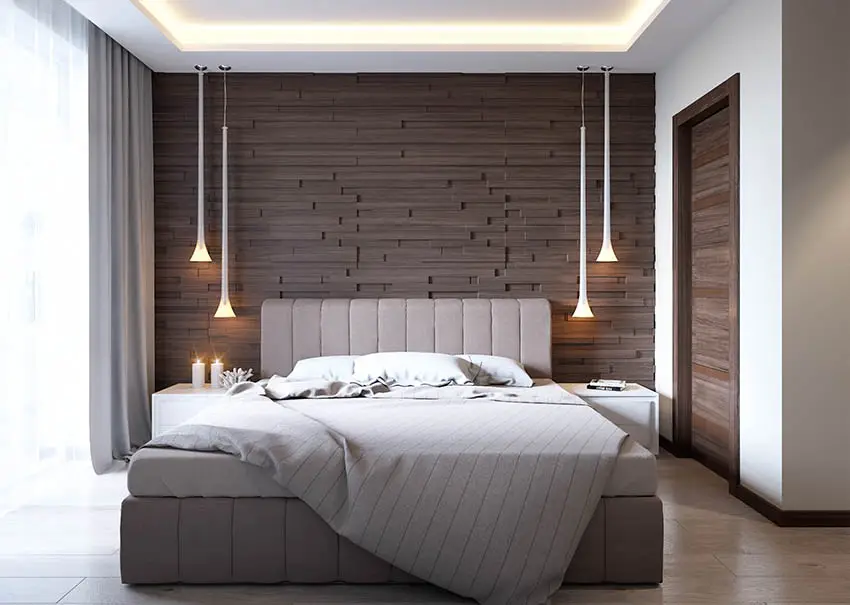 If you spend time sitting in bed, you want a padded headrest. It will be much more comfortable to lean against than metal rods or wooden slats. Padded headboards are usually covered in fabric or leather.
Pallet Headrest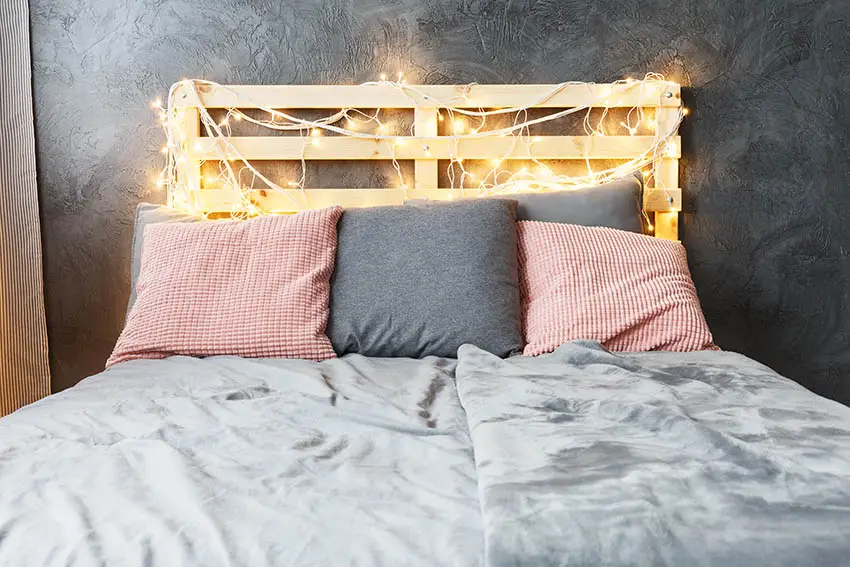 Pallets are cheap and easy to find, and you can make just about anything using the wood, including a bedboard.
Before you do, check to make sure the pallet you purchased wasn't treated with any noxious chemicals — they can linger on the wood.
These types of headboards make an excellent inexpensive DIY project. After you're finished pile on different types of pillows to give the design a comfy feel.
DIY Headboard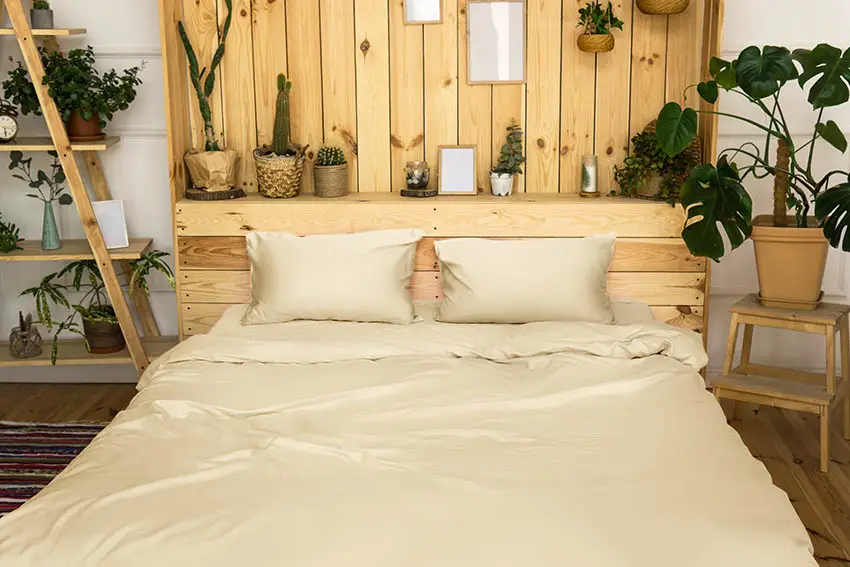 A bedboard is a great project for a DIY-er of any ability level. One easy option is to use found material, like old shutters or a door, treat it appropriately with stain or paint, and mount it to the wall.
If you're lucky enough to find an appropriately sized full-length mirror, you can turn that on its side and create a modern bedboard. If you're looking for a bigger project, you can make your own tufted headboard!
Headboard Features
The primary purpose of a bedboard is to protect the wall behind it from abrasions and to serve as a decorative feature of the room. However, some headboards have additional capabilities.
Headboard with Storage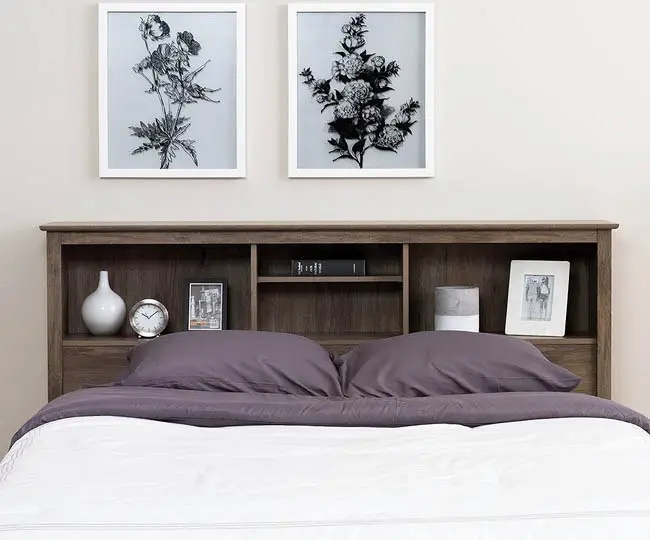 See this headboard at Amazon
Nightstands with drawers can be included in the bedboard of a platform-style bed for a sleek and integrated all-in-one look.
Headboard with Shelves
A bedboard with shelves is useful for storage and decoration. The shelves can be located on either side of the mattressor directly above it.
Bookcase Bedboard
If you're hoping to store books on the shelves of your bedboard, look for a model with shelves at least ten inches deep. There should be between eight and 12 inches between shelves.
Most bookcase headboards are free standing. If you have shelves in your wall mounted bedboard, be careful about filling them up with books. Paper is very heavy, and the added weight could pull the shelves off the wall.
Bed Frame with Lights
If you like to read in bed, a bedboard with lights is a tempting choice. Reading lights are typically attached with an adjustable arm, which can be positioned to focus the light on only one side of the bed.
Headboards with lights provide a cozy reading environment without the risk of waking up your partner.
You can also try draping string light along your bed frame for a more romantic ambiance. Just take care to ensure that the lights are installed correctly to avoid creating a fire hazard.
How to Buy a Headboard Tips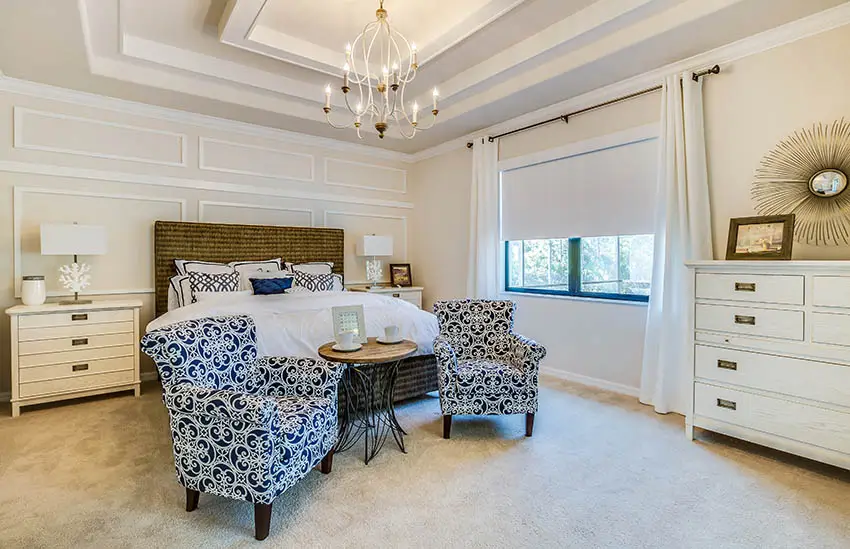 Here we share some bedboard buying considerations.
Room Style & Decor
While a bedboard may be one of the most prominent design elements in your bedroom, it's not the only one. Consider the style and design choices you've already made.
What colors and materials are already prominent in the room? Do you have a unifying theme, or have you chosen a bedroom style? Common decor styles are traditional, contemporary, and modern.
Select from the types of headboards that matches best to your overall bedroom theme.
Room Size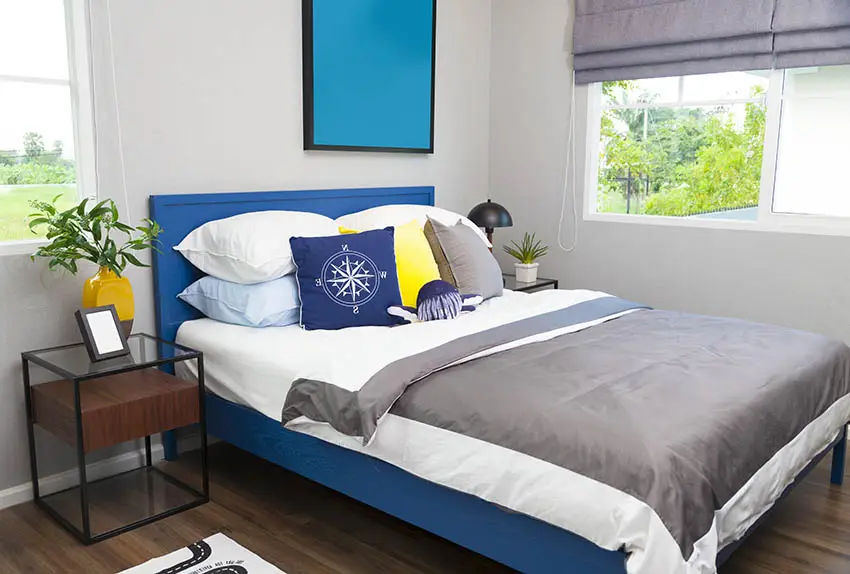 Whatever size room you have, you want to work with its dimensions, rather than against them. A small room with the bed in the corner looks great with a corner bedboard.
A larger space with high, vaulted ceilings, on the other hand, can support an ornate four-poster bed.
Adding a footboard will separate the bed from the rest of the room, which is desirable in some cases but not in others — it all depends on the space and the way you have it set up.
Horizontal slats or stripes will elongate the room and make it look more spacious. Vertical slats or stripes will diminish the impact of the bedboard in the overall design.
Headboard for Adjustable Bed
If you have an adjustable bed, chances are you don't need a bedboard to lean against — you can simply raise the head of the mattress.
However, you may want one for aesthetic reasons. Adjustable beds require a bit of extra clearance, so look for products that say 'compatible with adjustable bed'.
Bedboard Maintenance
One of the primary purposes of headboards is to protect your wall from damage — but doesn't that mean any damage gets transferred to the bedboard? Luckily, it does not — the damage headboards prevent is usually caused by the bedframe hitting the wall.
However, that doesn't mean your bedboard can be installed and forgotten. Metal headboards need to be treated for rust and tarnish. Wood headboards should be dusted and polished regularly.
Leather headboards can be wiped frequently with a microfiber cloth, or cleaned with a leather cleaner. Fabric headboards can be spot treated with upholstery cleaner.
Environmental Factors/Allergies
Allergy sufferers know that dust and pollen can get trapped in any kind of fabric, and fabric headboards are no exception.
Since the bedboard is so close to where you lay your head, non-fabric headboards are a better choice for those with allergies.
If you live in a humid environment, you may also want to avoid fabric covered headboards or those with foam interiors, as they can be a breeding ground for molds and mildews.
If you do have a cloth bedboard its important to clean them often using a soft vacuum attachment to remove excess dust and allergens.
Headboard Cost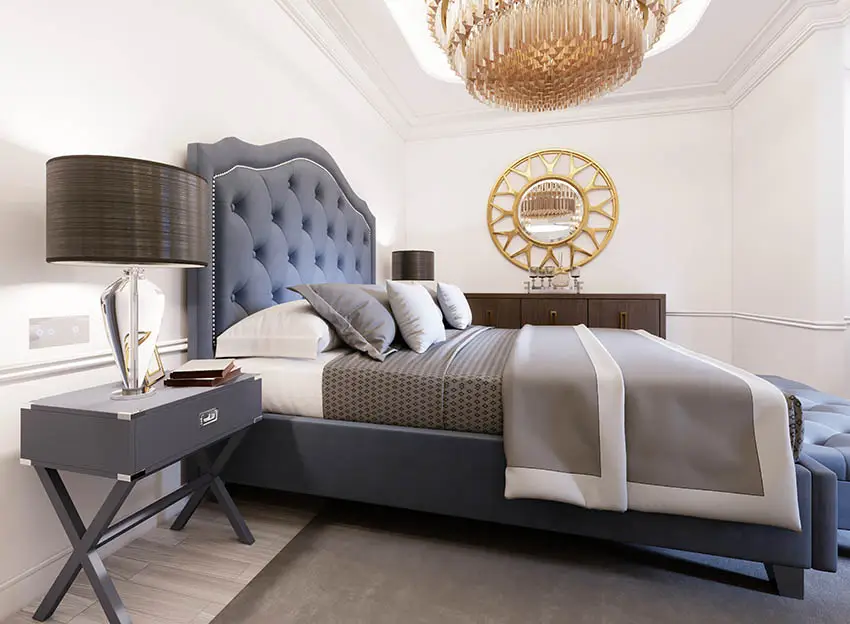 Using reclaimed materials to fashion a custom bedboard is probably the most cost-effective way to get a bed frame — if you already have the tools and materials.
Big box stores and online retailers carry a wide variety of fairly inexpensive and midrange headboards, usually costing between $100 and $1,000.
The price of luxury headboards varies widely based on the materials, finish, hardware, and designer, but you could spend as much as $10,000 on the bedboard of your dreams. Larger, more intricate headboards usually cost more than smaller, simpler ones.
Where to Buy Headboards Online
Before you start surfing for types of headboards online, grab a tape measure and a stud finder to figure out what you're working with.
Find out how wide is your bed frame? Are there appropriately placed studs? Does your bed frame already have brackets to attach a bedboard?
Armed with this information, you'll be prepared to select an appropriate bed frame. Here are a few places to look for inspiration:
Overstock.com
Ikea.com
Wayfair.com
Bed Bath & Beyond
Home Depot
Target.com
Amazon.com
We hope you enjoyed our types of bedboard gallery. Please let us know what is your favorite in the comments below. For more related content take a look at our bedroom layout ideas article.