Here we share our guide to painting shower tiles including what type of paint to use, and the steps needed to get an appealing bathroom design.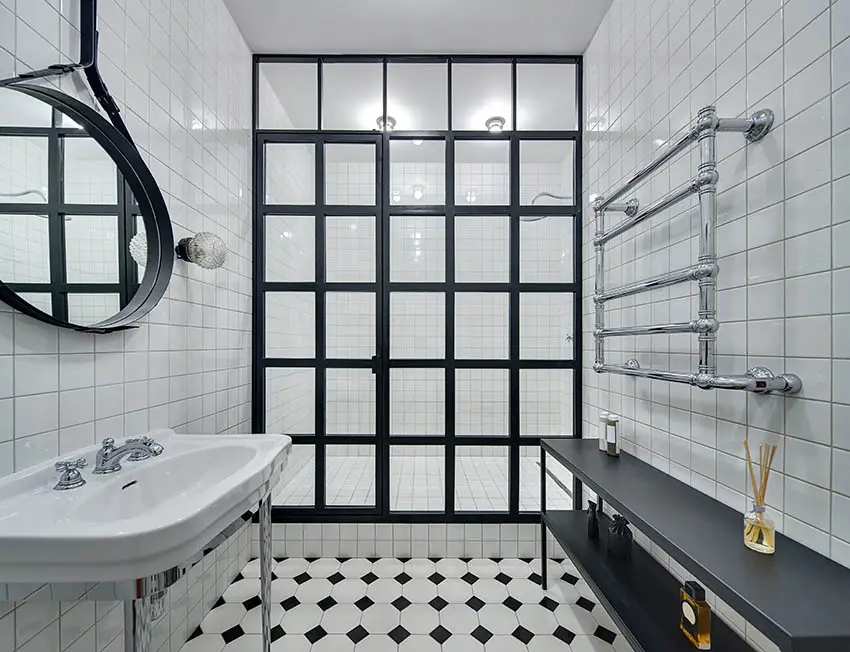 Shower tiles are often pretty sturdy, making it common for them to go out of style long before they would need replacement. Replacing the entire area of tiles can be time consuming, costly and is not very environmentally efficient.
Another solution could be painting the shower tiles to match the color you desire instead of a full demolition and reinstall.
Can You Paint Shower Tile Walls?
You can paint shower tiles! We used to have to rip out and replace shower tiles to change the look of them, but now we have choices and options to paint the tiles to a color of our liking.
To get the paint to adhere to the tiles there is a special process and material that needs to be used.
This works best on ceramic tiles, porcelain tiles, natural stone tiles and quarry tile. It is best to avoid this process on glazed tiles as it does not adhere very well to that surface.
How To Paint Shower Tile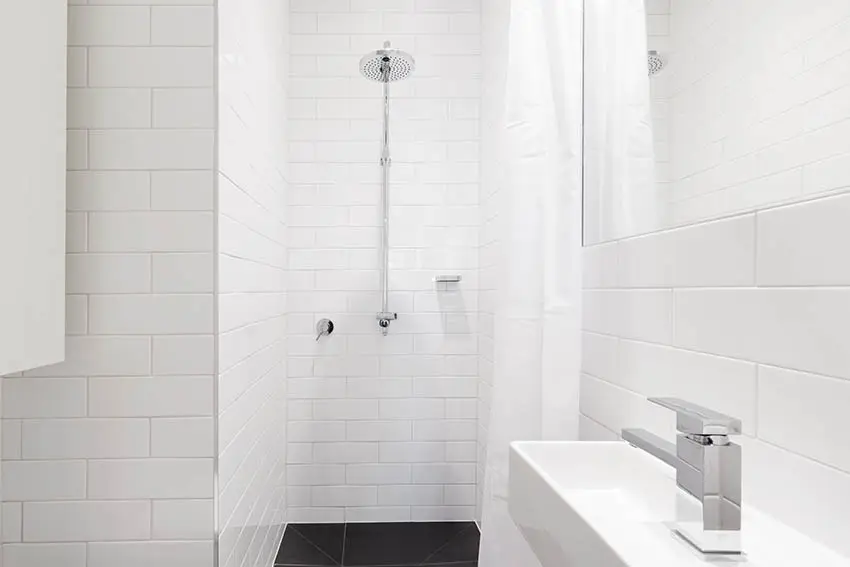 Collecting the materials: When painting shower tiles you also need to get a few big ticket items such as: primer, sealer, grout, and the paint.
Other than that getting some brushes a roller and miscellaneous items like tapes, drop clothes, and pans can save some spontaneous trips back to the home improvement store.
If there are any areas where there are items screwed into the tiles, and you wish to take them off versus paint around, make sure you have the right tools for that. Now is a good tile to clean them while they are off, too.
Cleaning the Tiles: Start with soap and water to completely clean the tiles. Then follow-up with alcohol to get rid of any built-up residue.
Preparing the Tiles: To prepare the tiles you need to do a few simple tasks. First, sand the tiles down using 400 grit sand paper or steel wool to get the surface layer off. This gives a rough, clean surface for the paint to adhere to.
Next, scrub the grout and tiles to get a clean surface. Following that, remove any debris and set up the materials that will be used in the next steps.
You'll now want to use a tile cleaner to cleanse the tile and prepare it for painting.
Before you begin painting make sure your room has proper ventilation and you wear appropriate safety gear such as a respirator.
Tape off all of the areas that you don't want paint on including walls, windows and fixtures.
Priming the Tiles: The next step is the one of the most important before the actual painting part and that is the priming. The tiles need a good layer of primer so that it can accept the paint better.
For ceramic tiles and porcelain tiles you need to use an epoxy or urethane primer, while the natural stones and quarry tiles need a masonry primer.
Painting the Shower Tiles
Next up is applying the paint. Make sure if there is going to be any type of pattern, that there are outlines or guidelines to what the pattern is.
Some patterns can be done after the first layer of paint has been applied with a second color and stencils.
Other than that roll or brush on the paint to evenly cover the shower tiles. You can use a roller for larger areas and a paint brush for hard to reach spots. You can choose to paint the grout lines, or specifically avoid them if you plan to touch those up in a different color later.
Keep in mind that the paint takes about 2 or more days to dry, and it could need more than one coat. Repeat this process until you get the desired look.
Sealing the shower tiles: Last but certainly not least is the sealing of the tiles. This is an added to layer of protective material to keep the freshly painted tiles safe from scratches, grime and other imperfections.
Apply an even coat of the sealer to the entire area. Keep in mind that the primer has a several day dry time as well. Check the specific products for the exact dry time.
What Kind Of Paint Do You Use For Shower Tiles?
There are two choices of paint that can be used for painting the shower tiles.
Latex paint: Latex paint is going to be on the lower side of the price range ($10 to $30 a gallon) and has a lower VOC, making it less toxic and smelly.
Since it is going into a heavily wet area, it is recommended to get a mildew proof type of latex paint, which can raise the price a little bit .This is important though since a shower has frequent contact with water.
Epoxy paint: The second choice of material can be an epoxy paint, these are more expensive ($20 to $35 per gallon) than the above mentioned latex paints.
Epoxy paint creates a harder surface that is a bit more durable, resistant to moisture, and holds up better to everyday use. In the long run the epoxy paint is the better option by far for ceramic, porcelain and unglazed quarry tiles.
Acrylic Latex Paint: If the current base material is a natural stone, you need to use an acrylic latex paint ($20 to $35 per gallon) which ranks up with the qualities of the epoxy.
This product comes in different sheen's that can be selected, but be careful because the glossier you select, the more slippery the tiles become.
Tub and Tile Refinishing Kit: This tub and tile refinishing kit comes with acrylic paint and goes on in two parts. To apply the paint you can use a foam roller on the sink, tub, shower tile and bathroom accessories.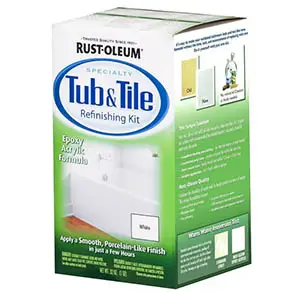 See this product at Amazon.
Painting Ceramic Tile Video
Painting Tile Precautions
There are plenty of DONTS when it comes to painting tiles for a bathroom remodel, take a peek at a few precautionary notes below.
– Make sure you get the right primer, paint and sealer for the tiles you have!
– Keep in mind that your bathroom will be out of commission for weeks to complete this project.
– Make sure to have proper ventilation!
– Make sure to wait the full dry times, even if you are excited for the next step.
– If painting a shower floor, don't get too glossy a finish or it could become slippery.
For more related content visit our page of the best paint for bathrooms.