Here's our mudroom addition cost and design guide including popular types of features & flooring.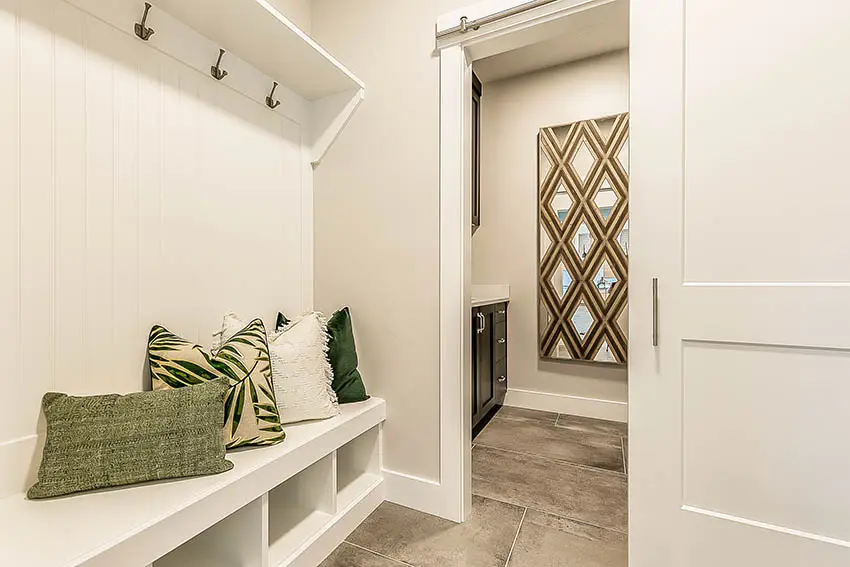 Mudrooms are often an overlooked feature in a home, but it is definitely a must, especially nowadays that we're extra wary of dirt, germs, and viruses entering our homes.
Mudrooms are basically a secondary entrance to the home wherein we can remove dirty boots, wet clothes, coats, etc., helping ensure we don't bring in any mess into the main rooms.
They are usually placed at the back entry or any secondary entry to your home, so the perfect location would be areas that you'd probably come in dirty, such as the backyard after you tend to the garden or even the garage.
The concept of a mudroom design is quite similar to the Japanese entryway called genkan, where you can leave the shoes you wore outside, the umbrella you used, and hang the coat you wore before entering the house.
Although the genkan is placed by the main entrance of Japanese homes, as their culture doesn't allow outdoor shoes inside the home, the functionality is essentially the same – both the genkan and the mudrooms were designed to get dirty so that the rest of your house can stay clean.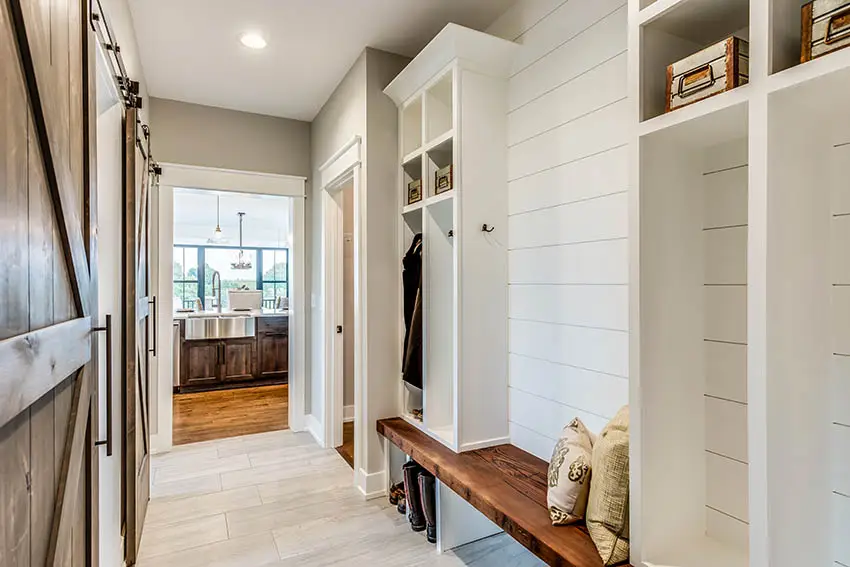 Country-style homes often have a mudroom already considered into the design such as this example. A narrow mudroom hall is placed by the back entry, where several storage areas have been provided.
There's a small bench where you can remove and or wear your shoes, hanging rails where you can hang your jackets, and coats, as well as lower cubbies for your shoes. The multiple shelves definitely provide enough space for your whole family when they need it.
What to Consider When Adding a Mudroom
The first thing you need to consider when adding a mudroom is the location & accessibility. Aside from your main entry, where else can you access the house from the outside?
The usual choices for mudrooms are the back entrances, the side entrances, or the entrance access from the garage. Just make sure you choose a location that is convenient for its intended use.
Another important factor is the materials. When designing a mudroom, keep in mind that this place should be designed to get dirty – hence, you need to choose materials that are durable and are very easy to clean.
Try to choose materials that don't get damaged easily with water and moisture so that you can easily mop and clean the area when necessary.
Storage is another important consideration. The design and storage choice is largely depended on what your family's activities are usually, and what is its intended use.
For example, if you do a lot of gardening, perhaps provide an area to remove and store wet boots, and provide clean indoor slippers to change into? Or if you live in an area where it rains a lot or snows a lot, provide an area to hang your coats.
You can also add other features such as a hamper for soiled clothing, some towels, or even add a bench to comfortably remove your shoes. Anticipate your activities and needs to be able to determine the right storage solutions for your mudroom.
Mudroom Addition Cost
The cost would largely depend on whether or not you already have a space designated for a mudroom/converting an existing space into a mudroom, or if you're building it from scratch.
The next factor that will determine the cost would be the size. On average, the cost per square foot would be around $100 to $200, depending on the factors as stated previously. The cost would largely depend on the materials and furnishings you specify for your mudroom and the type of upgrades you need to do or build.
The cost per square foot to build a mudroom will largely depend on your specifications, but if you're building a mudroom on existing indoor spaces, it will be around $100 to $200 per square foot.
However, if your mudroom will be an extension of the existing structure, aka an exterior addition, the average cost per square foot can go up to $100 to $500 per square foot.
To give you an idea, here are some of the common average costs per upgrade type:
Painting – $2 to $6 per square foot (Interior), $1 to %5 per square foot (exterior)

please note that if you're constructing new exterior walls for these, you need to add more cost for the wall surface preparation and waterproofing.

Flooring – $2 to $22 per square foot depending on the material

note that flooring cost of material and installation will vary depending on the material used

Custom cabinets/shelves – around $500 to $1500 per linear foot. The price will depend on material, size, design, and configuration.
New Wall (interior) – around $1800 on average
Bench – $500 to $2500
Sink – $40 to $200, depending on existing plumbing conditions
If you are building your mudroom to attach externally from an existing structure, expect your average cost to bump up higher to around $15,000 to $30,000. This is because you need to add the cost of a new foundation, walls, doors, roofing, etc.
If you're converting a small porch to a mudroom, the additional walls can still cost a few thousand dollars depending on the size.
However, if you want the most cost-efficient mudroom conversion, a closet will be the easiest to convert as it has around the right size and already has storage systems installed.
We have written more about the cost of different types of room additions here.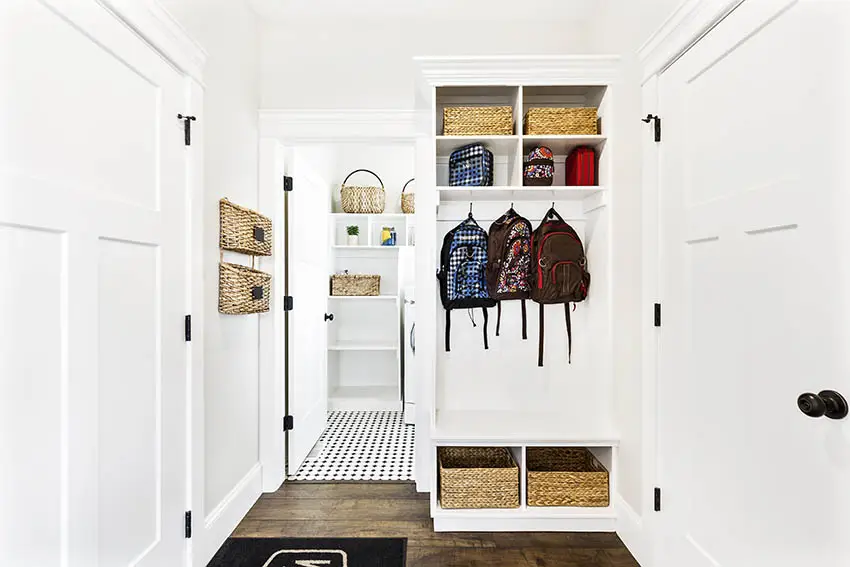 This is a very simple yet very efficient mudroom design inspiration. The mudroom is located right by the laundry area, so any dirty jackets or coats can do directly to the laundry's hampers.
Because the laundry area usually also provides plumbing and sink, you can also easily add a small washing area should you need to wash or hands and feet first.
The mudroom also provides hanging racks for the children's school bags and a couple for storage baskets to store slippers, towers, and other essentials.
Mudroom Additions to Consider
Here are common mudroom additions that you should consider in your space:
Mudroom Cabinets
Cabinets are one of the must-haves of any mudroom. Mudroom cabinets are typically open-type, with multiple storage options such as shelves and hanger areas.
Cabinets can also be used to store items such as sports equipment, inflatables, and other items you don't use much indoors. You can use wood or steel material for your cabinets, depending on its intended use.
Mudroom Lockers
The price of mudroom lockers will depend on size and material, but lockers will typically range from $1000 to $2000. Closed lockers are handy for shared spaces, wherein multiple residents use the mudroom.
For residential homes, open cubbies would be a cheaper alternative. Consider assigning cubbies for each resident, and adding a few extras for guests.
Mudroom Benches
It's a nice-to-have feature in any mudroom, big or small. A small bench can be somewhere you can temporarily place your bag on, or maybe somewhere you can sit so you can sit comfortably to change your shoes. Whatever purpose you'll use it for, a bench is a simple basic feature that will be very useful.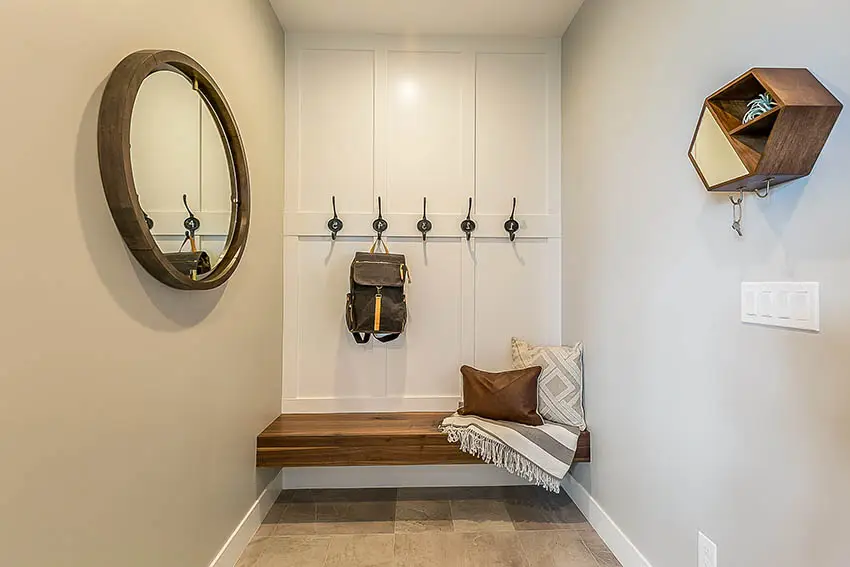 A great idea for a small and functional mudroom for smaller homes. This very simple mudroom provides a solid wood built-in bench where you can easily remove shoes.
You also have wall hooks where you can hang your bags, coats, or hats. A mirror has also been provided so you can make sure you're decent when you leave the house, as well as a key holder on the walls.
The best feature of this room would probably be the stone flooring – a very durable material and easy to clean.
Mudroom Flooring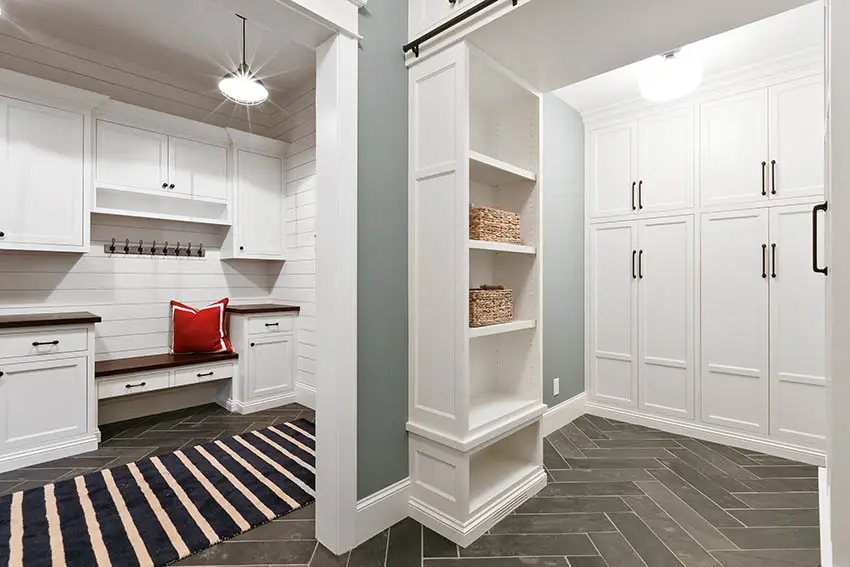 The mudroom is a utilitarian space where its function should be its main purpose. Because mudrooms are meant to "get dirty", it is highly suggested to use materials that are easy to clean and maintain.
You might be tempted to opt for "nice-looking" materials, however, keep in mind that it might cause more headaches in the future. There will always be alternative material options you can look into if there's an aesthetic you're going for. Here are the features of flooring you should be looking-out for:
Moisture-resistance – expect your mudroom to get wet and dirty. Using a moisture-resistant material will make your mudroom easy to clean with water, in case it actually gets "muddy" like its namesake
Durability – consider wear and tear! The mudroom was designed to be used and abused, so use materials that can withstand constant use and cleaning for longer to save on replacement costs
Here are our top suggestion flooring materials to use for mudrooms:
Ceramic tiles
Ceramic tiles are $0.50 to $30 per square foot and come in many different sizes, shapes, and finishes. This is our most recommended material, as they're very easy to clean, source, low-cost, easy to install, and comes in a range of styles, colors, and finishes!
You can get ceramic tiles that look like wood, stone, marble, and even have patterns. Whatever aesthetic you're going for, you'll most probably find a ceramic tile equivalent.
There are definitely tons of options to choose from when it comes to ceramic tiles. Do note that ceramic tiles are more porous compared to porcelain tiles.
Vinyl Tiles
If installing ceramic tiles seems like a daunting task for you, consider vinyl tiles! This is a synthetic material, so it is waterproof and comes in many different colors and styles.
It can virtually mimic any type of natural material, so if you have a specific style or color palette in mind, there's probably a vinyl tile equivalent of that!
Vinyl is favored because of its low cost and easy installation, so if you're DIY-ing your mudroom, this is the easiest option to install.
You can even just install on existing flooring, only needing glue for installation. It can cost anywhere between $3 to $10 depending on the type of vinyl flooring you choose.
Vinyl Sheets
Vinyl sheets are similar to vinyl tiles, but instead of coming in planks or square tiles, this comes in a roll and is usually purchased per yard or foot, and is usually cheaper than vinyl tiles.
Similar to vinyl tiles, this is a waterproof material and comes in virtually any type of style or finish. The only downside of vinyl sheets is that it is softer compared to vinyl tiles, so if you're expecting to place heavy furniture pieces and equipment, it will get dented more easily.
One advantage, however, is that you can install it up to curve up into the baseboard, similar to how they install vinyl in hospitals. This minimizes the corners/edges in the area and makes it easier to clean every nook and cranny of the walls.
Mudroom Styles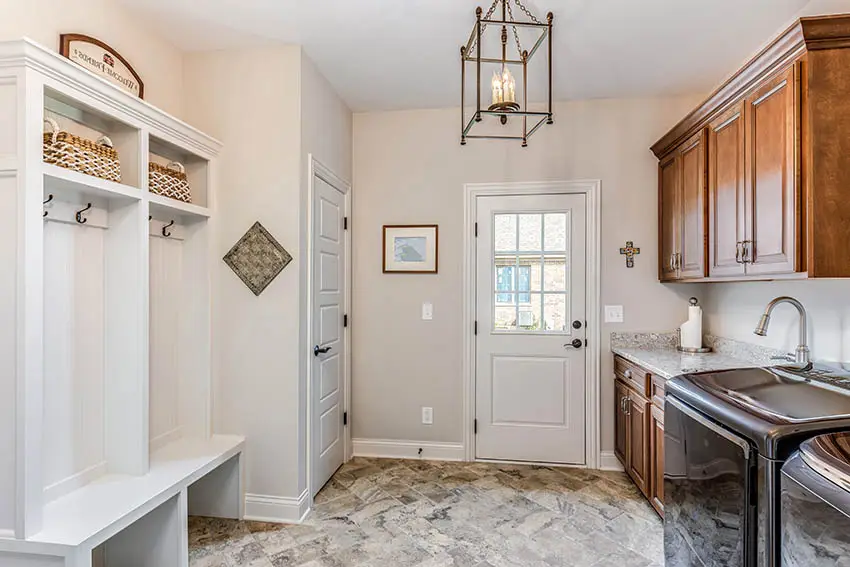 As for styles, you can basically apply any kind of interior style you prefer to your mudroom. You should keep in mind though, that a mudroom's importance is in its function over its aesthetics.
The overall cost of adding a mudroom will depend on many different factors, but if you are interested in such an upgrade, it is best to contact general contractors in your area to receive a more accurate quotation and site assessment. If you have the materials and skills for a DIY mudroom though, it is also very possible to do.
Do note that not every type of space will be able to accommodate a mudroom. You are limited by many different factors, and space is usually the main issue.
The easiest option is to buy a freestanding mudroom cabinet that you can place near an entryway. More involved would be converting an existing bedroom or closet to either a shared or designated space.
Does a Mudroom Add Value?
Mudroom definitely adds value to your home. Mudrooms are very functional and often don't take up much space. Additionally, it also provides additional storage and will help keep your home in pristine condition.
If you have expensive finishes in your homes such as hardwood floors, or carpets that are difficult to clean, the mudroom will definitely help maintain these features and maintain their condition.
Pros and Cons of a Mudroom
One of the biggest cons of a mudroom is how dirty they can look if things get out of control. It's not unheard of for mudrooms to accumulate open Amazon boxes and piles of shoes and clothing. And since a mudroom is often right in the home's entryway it can look unsightly.
Adding a mudroom also means you are either willing to give up a portion of your existing indoor space, or you're willing to expand your existing structure to accommodate the new mudroom area. This means you're going to have to spend a bit more to ensure the exterior matches or complements the existing structure.
If you're using expensive materials to finish your interiors, however, adding a mudroom is a definite pro for your space. The mudroom helps with the longevity of your interior finishes and materials and is also a utilitarian space that can increase the value of your property.
See more mudroom design ideas on our gallery page.