Here we share our pros and cons of walk in showers with different designs, benefits, cost, how it adds value to a bathroom, and the best walk-in shower size.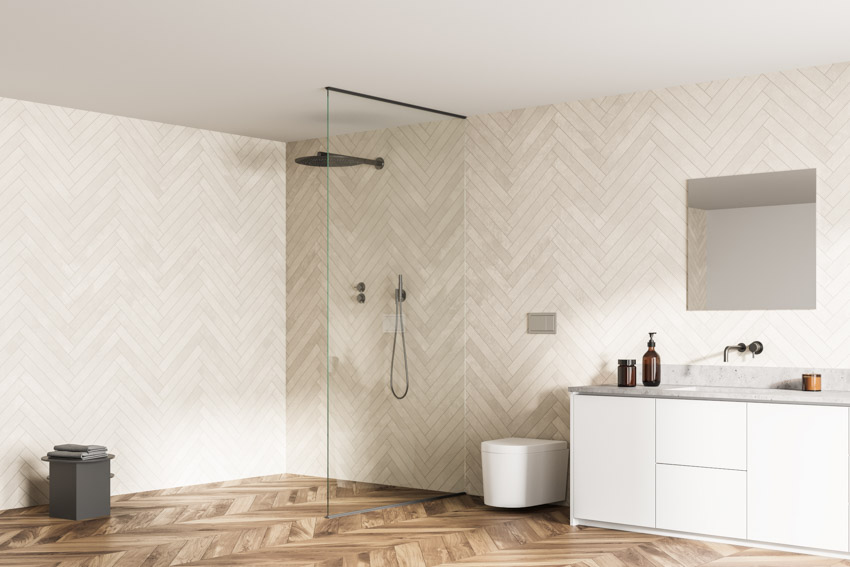 Are you planning on making some changes to your bathroom and considering a walk-in shower to replace your old shower stall?
In traditional homes, a bathroom shower is usually enclosed by a shower curtain or a wall. This is to maintain privacy and to prevent water from splashing all over the bathroom walls and floor while you shower.
With a walk-in shower you do not have to worry about opening or closing doors. You just step under the shower and out of it when you are done.
Walk-In Shower Pros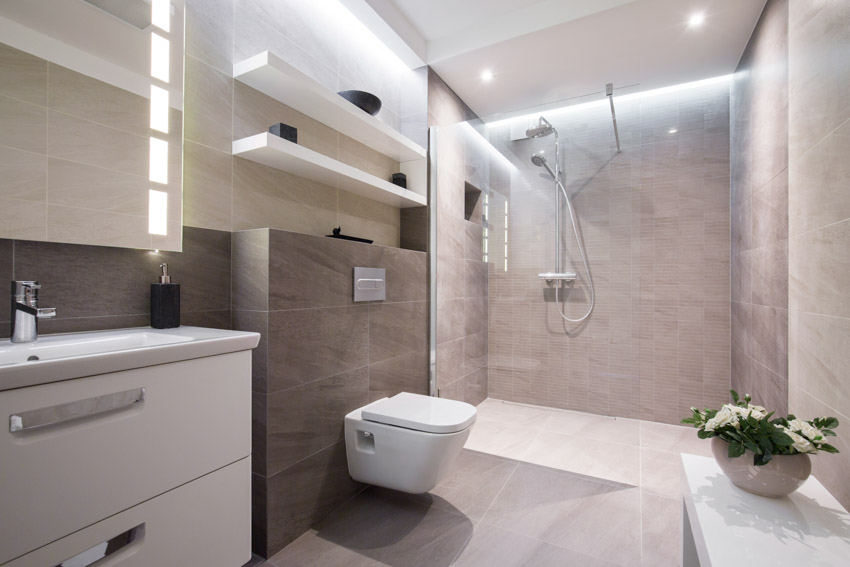 Why are shower cubicles popular? Here are the pros of a shower cubicle.
1. It offers more space: Walk-in showers have more space because there are no bathtubs, doors, or enclosure frames to restrict their area. You can allot a wider area in your bathroom for it to have freedom of movement.
2. People have less accidents: Shower rooms tend to be a place for accidents caused by stumbling, slipping, or falling. Elderly and those with mobility issues may stumble or fall when climbing into or out of the bathtub.
With a walk-in shower, these problems are lessened. One goes straight under the shower without the encumbrance of a bathtub or sunken shower room floor. The surface is level and free of stumbling blocks.
Because walk in shower designs are spacious, they can be customized to suit the needs of the users. Handrails can be installed so that old or physically disabled persons can have something to hold on for support while taking a shower.
3. Cleaning it is easy and quick: You do can clean a walk-in shower easily and quickly. A bathroom cleaner and brush can do the magic. Pour cleaners into the walls and floors. Scrub the whole area and rinse. If you want a fresh-smelling walk-in shower, you can hang or spray an air freshener.
4. You can maximize the space: Since a shower room does not have fixed enclosures, you can have one which is bigger or smaller, without having to dismantle the bathroom.
All you have to do is decide how much space you need. If in the future, you feel that your movement is hampered by the size of the area, you can extend or widen it to occupy a larger part of the bathroom layout.
Walk-In Shower Cons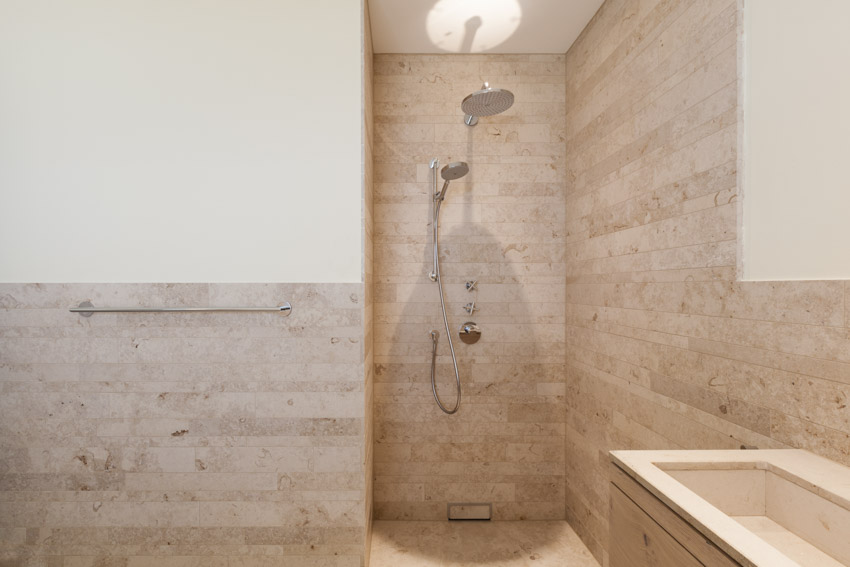 If walk-in showers have their advantages, they also have their disadvantages.
1. Lack of privacy: If you are sharing bathrooms with other occupants of a house or a rental unit, it will be impossible to expect ultimate privacy if you have a walk-in shower. It is only ideal for homes with a private bathroom for all members or an apartment unit with one occupant.
There is always the chance of someone walking into the bathroom while you are in the shower and that will be embarrassing.
2. Wet floor and walls from water splashes: Since walk-in showers do not have doors, curtains, or partitions, water can splash in all directions when you are taking a shower. You can end up cleaning and drying the mess every time you finish using it. Wet surfaces can also cause accidents.
It is important to be careful when taking a shower. Choose the appropriate types of shower heads that can help minimize water splashes. Avoid moving too much such as jumping to prevent water from splashing.
3. Walk-in showers are cold: The absence of a door and shower curtain allows air to enter the shower area. You must be prepared to feel cold during and after you shower.
People living in cold countries might not enjoy taking a shower when the temperature is low. Even if you use hot water, you will still feel cold while drying up.
4. It is expensive: Walk-in showers may look less elaborate than the usual bathroom shower but they can cost more. The materials used for this type of shower room are quite expensive. Glass doors cost more than any other materials for the purpose. You need a professional plumber to install the water system. Adding on handrails can also increase the cost.
How Much Does A Walk-in Shower Cost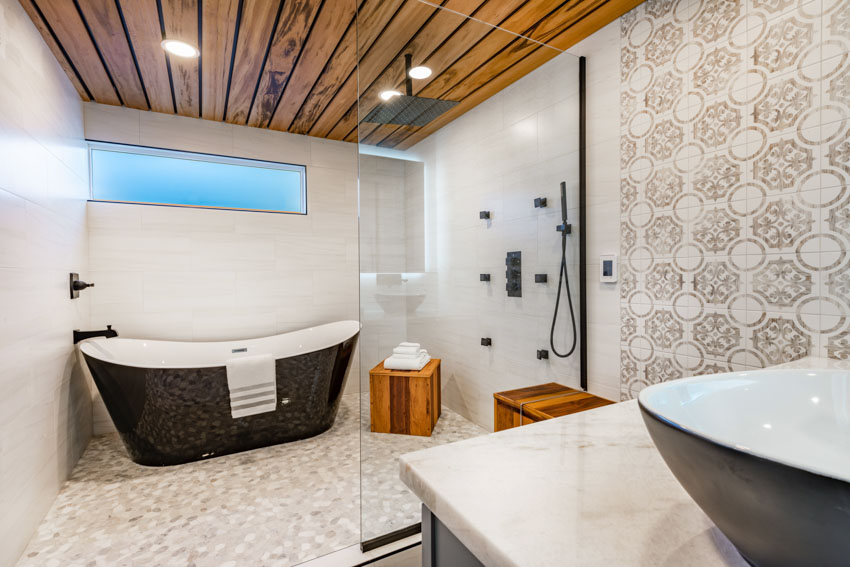 Apart from the pros and cons of walk in shower, renovating the bathroom can also be a costly endeavor especially if you are dreaming of major changes and upgrades.
If you have a bathroom with a tub, converting it into a shower cubicle will cost between $2000 to $12,000 depending on labor and materials. It is not only the tub that you will replace with a shower. Major changes must be done in the water supply system as well.
The cost will also depend on the materials that you use. You might find it necessary to install glass doors, non-slip flooring materials, and other safety equipment such as handrails.
Upgrading the walls and floors can enhance the aesthetic value of your bathroom. Make a good estimate before you start the renovation or installation to make sure that you can afford it.
A typical custom walk-in shower will cost about $8500 and range up to $20,000 for larger designs. The cost will primarily depend on the cost of labor in the area you live as well as the types of materials you choose. A prefabricated walk-in shower installation is less expensive, starting at $1,000 to $8,000.
Does A Walk In Shower Add Value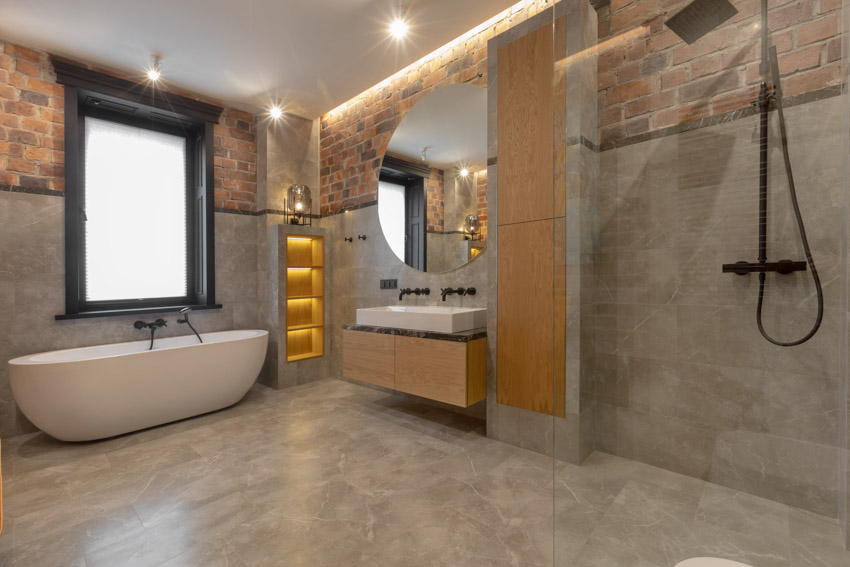 Many homeowners renovate their bathrooms to add value to their homes. Having a walk-in shower can make your home attractive to contemporary buyers. Yet, having both a bathroom with a tub and a shower cubicle can make it faster to sell your home at a good price.
Childless couples and those with mobility issues will find a walk-in shower ideal. Yet, young families with small kids would prefer going for the most popular types of bathtubs.
Before you assess the pros and cons of walk in shower, consider your target customers first. But, if you want to increase the chance of selling a home, have both the bathroom tub and walk-in shower.
How Big Should A Walk-In Shower Be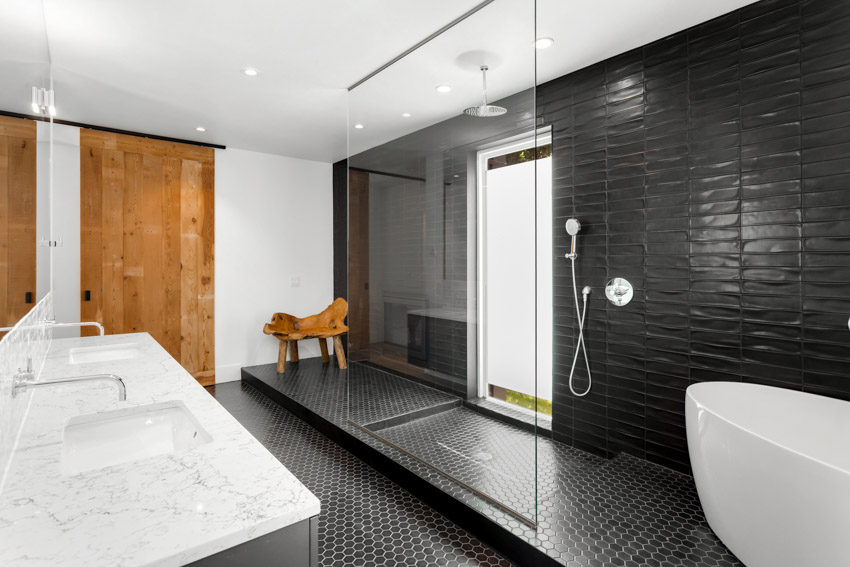 One advantage of having a shower room is that the space you can use does not have to be limited by having a bathtub or fixed walls and attachments. The minimum size for this type of shower is three feet by three feet. Read more about shower sizes here.

If you add a bench where persons with mobility problems can sit while taking a shower and a handrail, the person can still have ample room to move while taking a shower.
If you aspire to make your home more marketable in the future, a walk-in shower and a bathtub will do you good.
See more related content in our article about bathtub inside shower designs on this page.