Here we share our waterfall tile shower guide including what it is, design elements, tips on layout orientation, and the different types of waterfall tile designs to use.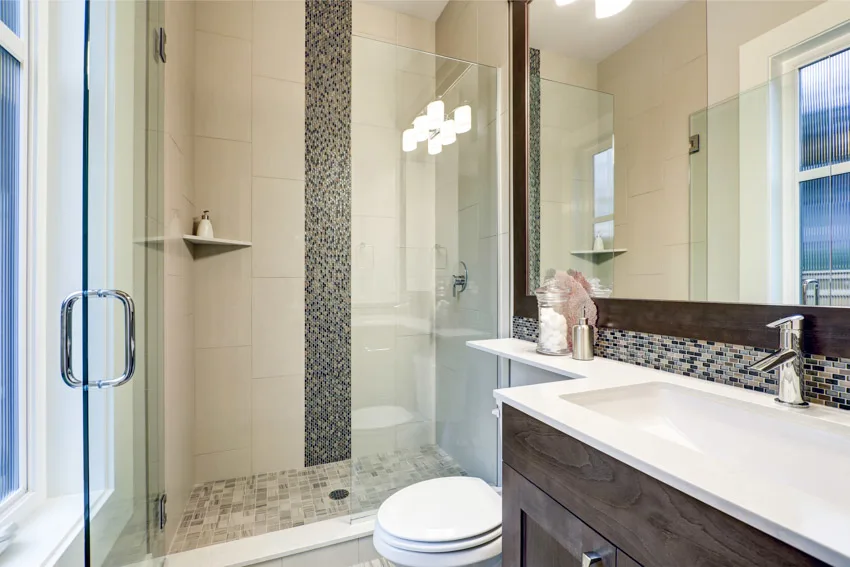 A waterfall tile shower maximizes the design potential while keeping a consistent balance of technical functionality and mesmerizing beauty. Installing waterfall tiles in your shower design undoubtedly makes a statement, mainly if the shower is the primary element you see whenever you enter the bathroom.
What Is Waterfall Tile In The Shower?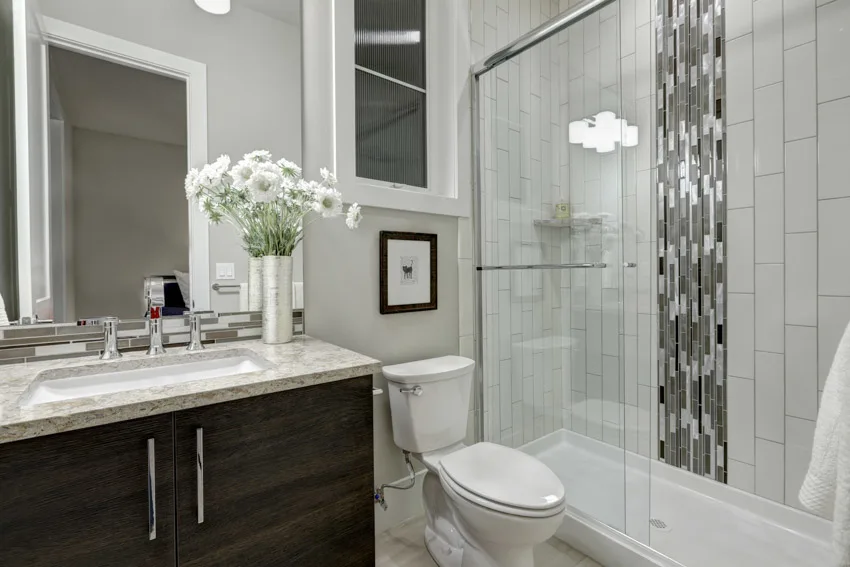 A waterfall style is generally a tile accent positioned directly around the primary shower head. The tile is usually vertically placed to give the design character and uniqueness.
Even when the shower is turned off, it contributes to the illusion of an actual waterfall. Most homeowners are drawn to this style of bathroom tile installation when they want to create a pampering environment or have a Feng Shui sense of style.
A waterfall-tiled shower layout is inspired by the commonly used horizontal ornamental tile banding that has existed since the Roman-style bathrooms. This has become a popular way to add beauty, creativity, shimmer, and complexity to the shower wall.
It is also known as a listel in French or listello in Italian. This design was made popular by the ancient Romans who used it in their baths and fountains.
Waterfall Shower Tile Design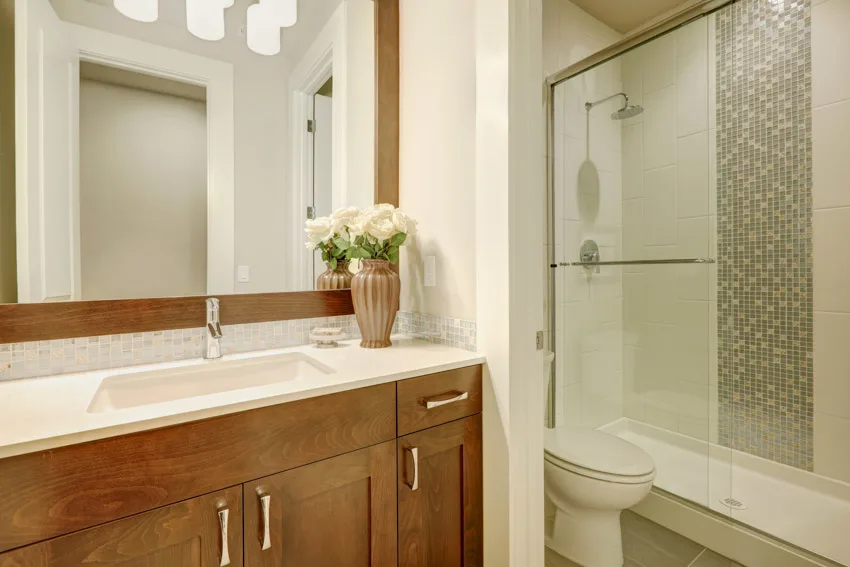 The design of waterfall shower tiles is a great way to make your shower space look like a relaxing bathroom sauna. They are also ideal for those who want to create a soothing atmosphere for their guests or family members.
Waterfall tiles are an excellent choice for creating a centerpiece for shower surrounds. They attract your attention to a focal point in your shower, providing depth and character. Waterfall designs can be created using planks, little square glass mosaics, subway tiles, and a variety of other materials.
Waterfall tile colors are often grayscale and range from the darkest, "deep stream," to the lightest, "ivory stream." This evokes the natural oxidative degradation of stone, a material that is always changing color, shape, and structure while adjusting to the progression of natural phenomena.
Moreover, waterfall tiles offer a polished surface that reacts well with shifting light by imitating the textural variances and color changes of shimmering ancient rock. These tiles are excellent for areas that are looking to be in complete sync with the bathroom architecture and environment surrounding them.
Horizontal Or Vertical Waterfall Tile Layout?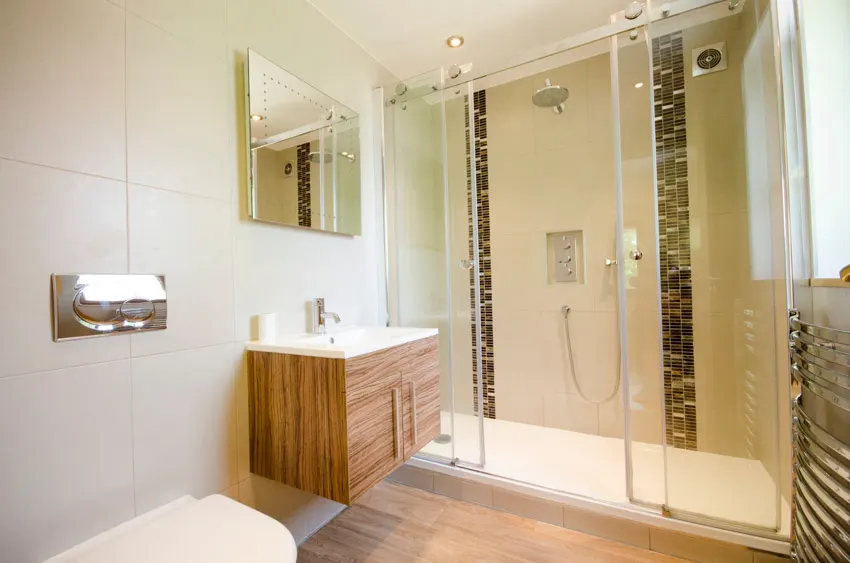 In most shower areas, both horizontal and vertical waterfall tile layouts are used. The visual differences between horizontal and vertical waterfall tiles are significant, and designers use them tactfully in various settings.
The general idea is that both horizontal and vertical tiles make the space appear larger, which is accurate at some point. However, they do not literally expand your kitchen or bathroom sizes, rather, it is mainly of a unique visual effect.
If you would like your space to appear wider horizontally, you can put your waterfall tiles horizontally. This might be an effective choice if you have a small floor space and yet a tall bathroom. It will dramatically open up the area, creating the impression that it is broader and longer than it actually is.
However, the effect may be less obvious if you utilize large-format waterfall tiles with narrow grout joints. You can use horizontal feature lines with patterns if you want to emphasize the look. Contrasting color waterfall tiles are another alternative.
On the other hand, if you want your shower room to appear taller, you can install your waterfall tiles vertically. If your shower room has a low ceiling yet features a larger floor space, this can be a good alternative to open up your shower space vertically.
You can install large-format tiles rather than a lot of small tiles since having a lot of grout joints can end up making the space feel smaller. For the same reason, it would be preferable to place them without displacing the grout joints of adjacent tiles.
Porcelain Tile Waterfall Shower
Porcelain waterfall tiles have a natural look and offer the same technical quality as genuine stone waterfall tiles. They perfectly replicate the stone surface and iridescent colors of sedimentary rocks.
Furthermore, in a variety of through-body porcelain tiles, they integrate style, size, and longevity into a versatile form that can be fitted into any shower design. While there are many different styles and shapes of waterfall porcelain tiles, the most popular ones are simple rectangles with patterned edges.
Indeed, porcelain is a sophisticated and long-lasting material for your waterfall tile installation. Porcelain waterfall tiles, for example, are strong enough to resist foot activity, are available in various design choices, and have additional grout lines to promote grip in places prone to water and spills.
Some even come in coordinated sets with floor tiles, wall tiles, and trimmings, making them ideal for bathroom design features. Additionally, porcelain waterfall tiles are often water- and stain-resistant, making cleaning a pleasure for active homeowners. This makes these tiles a perfect choice for shower areas, which are always occupied and used.
Furthermore, because porcelain waterfall shower tiles absorb less moisture, they are not damaged by shower steam. Decreased moisture absorption rates may also help enhance the air quality within the bathroom by preventing the space from absorbing undesirable air pollutants.
Porcelain waterfall tiles can be glazed or unglazed. The glazing gives the tiles an extremely stunning, flawless gloss. With advanced glazing technology, it is possible to make them seem and feel like slate, which is the stone originally used for waterfall tiles. This can result in a very exquisite shower arrangement without the expensive cost.
Glass Tile Waterfall Shower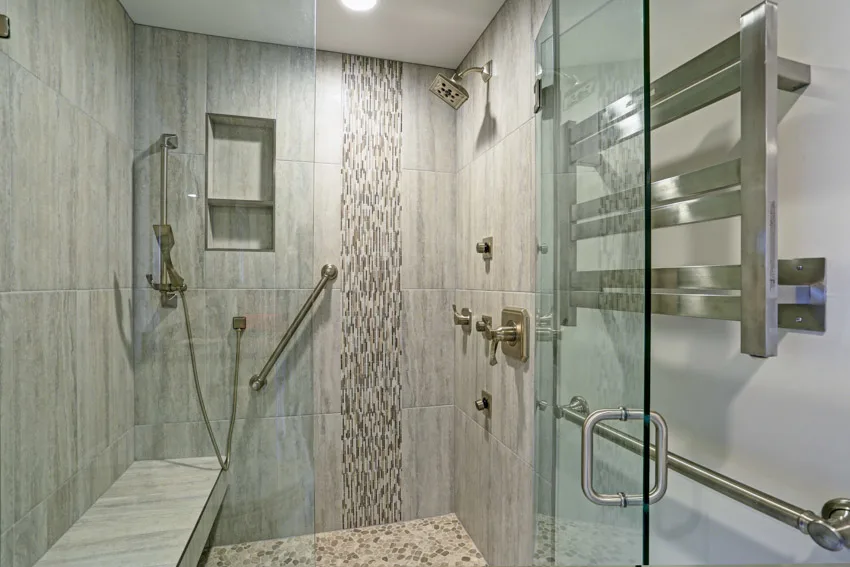 A glass waterfall tile's extraordinary design can charm any shower flooring or wall. From a design standpoint, glass waterfall tiles offer fantastic chances to experiment with color, whether in subtle neutrals or dramatic hues.
They showcase a variety of exciting effects in your shower room. Glass waterfall tiles in showers provide a modern, refreshing, and one-of-a-kind look. Vibrant-toned glass shades offer a one-of-a-kind possibility to make a bold impression with your shower.
Glass waterfall tiles are so intricate that you can personalize a shower space with them. They also can make a room feel larger and brighter. In terms of reliability, livability, and cleanliness, these glass tiles provide an impenetrable surface that resists mold, mildew, and germs.
Glass waterfall tiles require minimal upkeep. What you only must do to maintain their cleanliness using a window cleaner and a cloth. This advantage helps in making them a great solution for the shower area, where soap build-up must be removed constantly.
Most glass tiles bounce illumination, helping to make your shower look more spacious. It is quite translucent, and unlike any other bathroom surface material, that lovely shade you chose will shine all the way throughout the tile, adding depth and character.
Pebble Waterfall Tile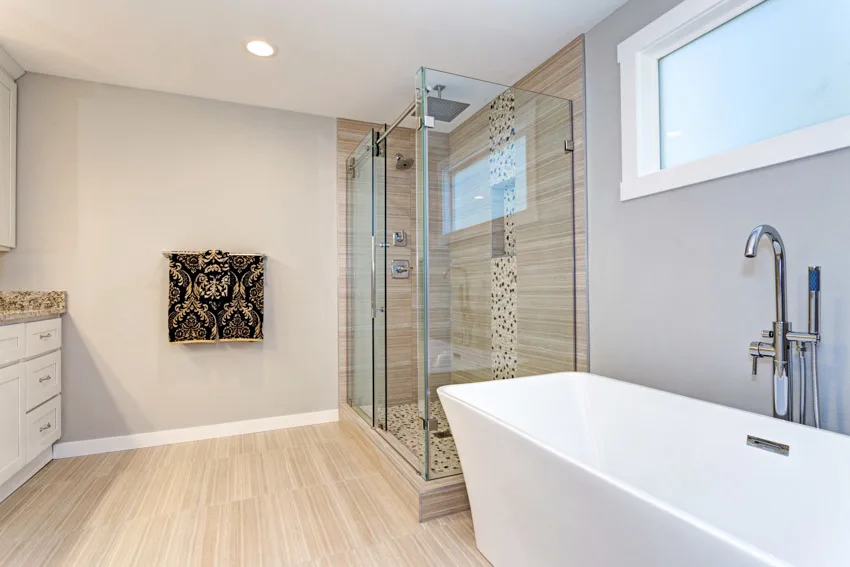 Pebble waterfall tiles have a vintage feel with a blend of mild bumpiness and seamless surfaces, adding individuality to your shower room. They evoke images of riverbanks as well as a sensation of being connected to nature. Natural stone tiling is used in the creation of pebble waterfall tiles.
For a continuous pebble wall, they are frequently mesh-mounted in a proprietary interlocking pattern. These waterfall tiles are simple and add a natural feel to the shower design. Furthermore, because these pebbles are water-resistant, they are perfect for walls, providing a sense of continuity and movement.
Shower pebble waterfall types of floor tiles can be completely smooth or with marginally raised pebbles for a primitive and textured look. It is almost the same as massaging your feet whenever you walk on it.
A flat finish is recommended for high-moisture locations such as shower rooms because it prevents water from accumulating in the gaps. Bumpy pebble waterfall tile floors in showers, on the other hand, can also give an anti-slip surface, which is an added benefit. The fractionally rugged material offers an excellent grip on the floor, preventing slippage.
Aside from that, pebble waterfall tiles are obtainable in a variety of pebble shapes such as round, oval, triangular, and many more. Colors often range from tan to black. Other tiles with variegated pebbles seem natural and complement any shower décor. Therefore, you have selections that give you a lot of design freedom in your shower space.
Waterfall Mosaic Tile Shower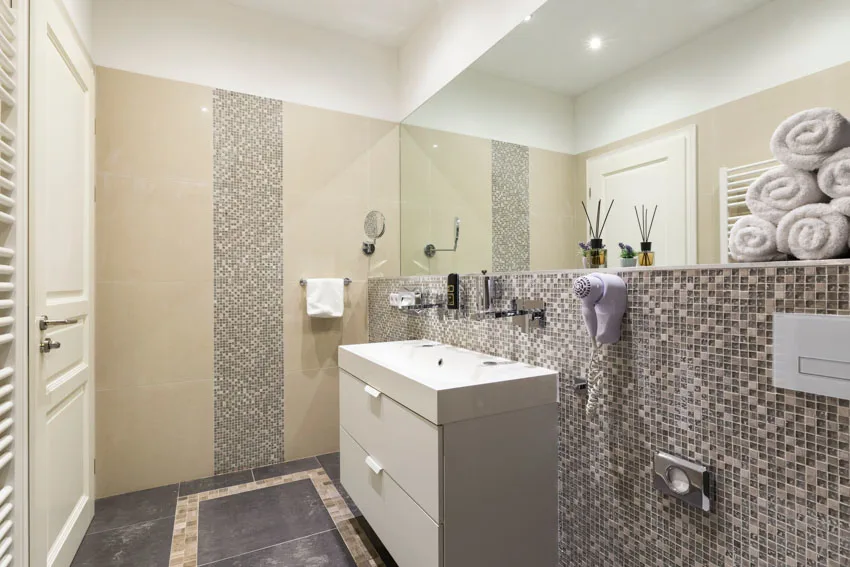 Waterfall mosaic tiles include designs that cascade from tile to tile like a real waterfall, making a powerful and unique aesthetic impression. Waterfall mosaic tiles, in fact, are an excellent solution for lining your shower enclosure.
This is an elegant, modern shower enclosure liner that will outlast any changing fad. In addition, waterfall mosaics are generally a practical solution for showers because they have the same properties as larger tiles such as strength, purity, and adaptability.
Moreover, waterfall mosaic tile walls and floors are no longer merely glossy or smooth; they can also feature rough forms. Three T-dimensional tiles and mosaics, in addition to a wide range of forms, beautify walls with the interaction of light and shade. As a result, they are pleasing to the touch and the eye.
Moreover, mosaic waterfall tiles are ideal for smaller bathrooms because they allow you to produce a recurring pattern with minimal space. These are water-resistant and simple to clean as well. Plus, mosaic waterfall tiles can be used to create one-of-a-kind shower walls.
Bathroom mosaic tile backsplashes are also quite practical since they safeguard the wall from moisture damage. Mosaic waterfall tiles may be kept clean by gently wiping them down from time to time, making them a low-maintenance solution for your shower or bathroom.
Subway Tile Waterfall Shower Accent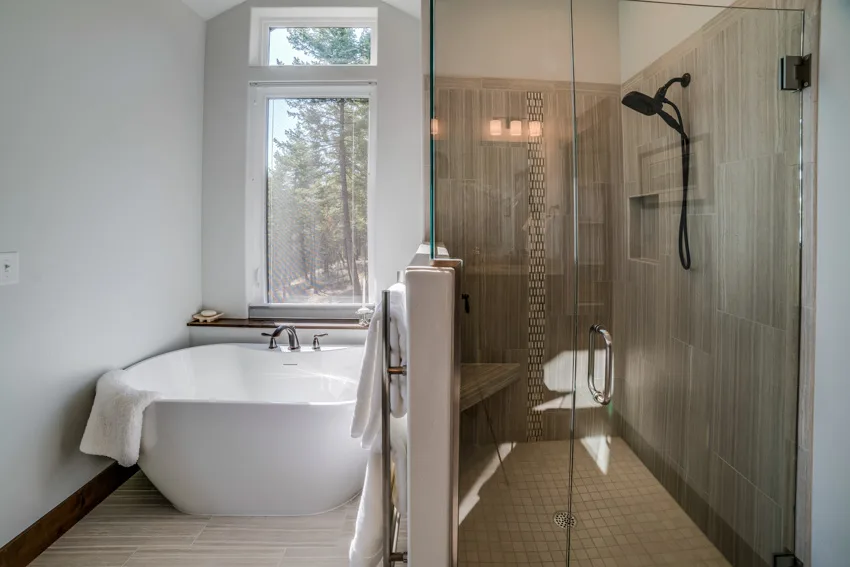 Subway tile waterfall shower accents are a great option for anyone looking to add a little flair to their shower. A subway tile waterfall accent can be created with a variety of materials. You may choose to use ceramic, glass, or porcelain tiles for your accent.
The most important thing is that you get the right size and style for your shower. If you want to add interest and complexity to your shower space, then this would be an easy way to do it.
These subway tile waterfall shower accents are available in many different colors, including white, black, and gray. They can be used on walls or floors in your shower spaces. They are low-maintenance, easy to clean, and can be used in any shower space.
Whether you like the look of a subway tile or a hexagon tile, they can be used on shower walls or in accent areas such as around faucets. Plus, installing a glass tile waterfall accent might also provide appeal. They come in many different sizes, shapes, linings, and colors so you will have plenty of options for your shower space.
How Wide Should Shower Waterfall Accent Tile Be?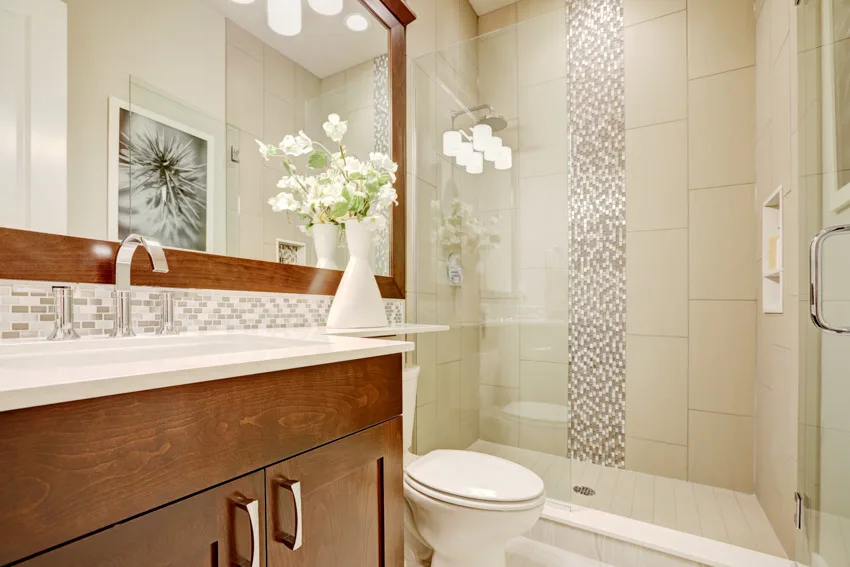 The ideal width for a shower waterfall accent tile is usually between 6 inches, but you can go as large as 10 to 12 inches. If you plan to put it up on a wall, ensure enough room for the entire thing to fit without overlapping.
The smaller the tile, the easier it is to install because you will not have to worry about cutting or drilling into an already occupied space.
However, the width of your shower tiles will depend on the size of your bathroom. If you have a small space, it's best to use narrower tiles. Consider using wider accent tile options if you have an average-sized bathroom and want to add some flair.
See more related content in our article about the listello tile designs on this page.