See pictures of vertical tile backsplash designs with details on where to use it, popular types, vertical tile layout tips, and if backsplash tile should be vertical or horizontal.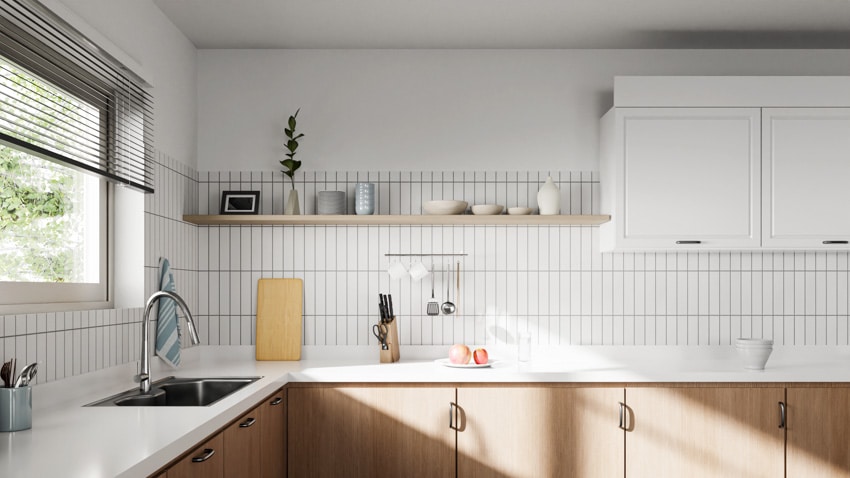 Interior design is ever-evolving and one of the latest trends to break design norms is vertical tiling which showcases a bold and unique design statement. A vertical tile backsplash is where tiles are oriented vertically along their longest side instead of the typical horizontal position.
This new aesthetic spin is a refreshing approach and, at the same time, can be practical as it can visually expand tightly spaced kitchens. Vertical tiles are also used on external applications such as walls and roofing.
Where To Use Vertical Tile Backsplash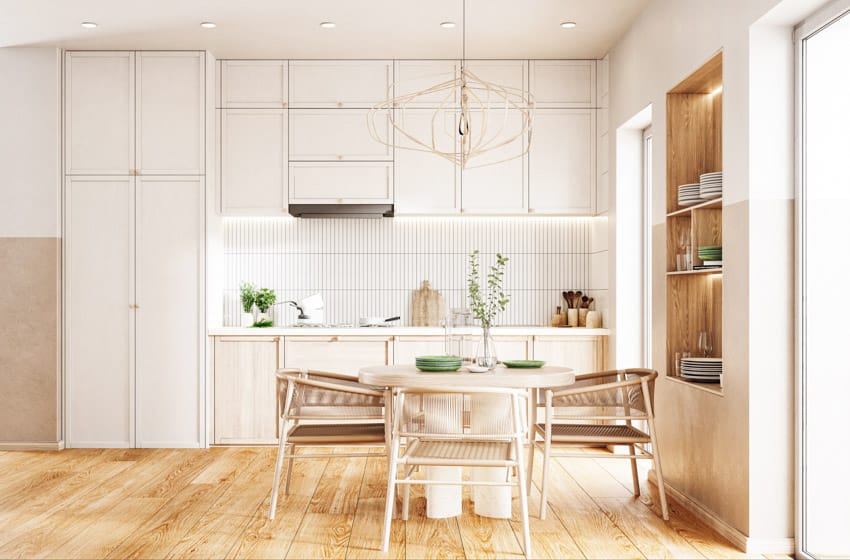 Kitchen: A kitchen backsplash acts as an extra layer that will keep moisture, water, oils, and other debris when prepping or cooking food from getting into your structural walls made from drywall or concrete. It's an inexpensive kitchen update where tiles are simply flipped on their vertical side saving more materials.
Rangehood and Cooking Range: Sectional tiling usually leads to higher material wastage, especially with intricate designs such as hexagonal shapes.
The wall section where your range hood and cooking range will typically have a long vertical area starting at the backside of your oven range that continues above your range hood with your ceiling mold as the threshold.
Installing a vertical tile backsplash tricks the eye of having more space. With a different tiling material, the backdrop is a perfect accent wall adding depth and movement to a rather constrained space.
Kitchen Counters: The kitchen countertop runs along a horizontal orientation with the typical cupboards in a parallel position. A vertical tile backsplash breaks the horizontality of your elements, creating a dimensional and contrasting effect and making your space more exciting and visually pleasing.
Open Shelving: Bring the vertical tile backsplash installed above your counter way up to your kitchen ceiling to create visual continuity. The backdrop of vertical tiles with open shelving features a clean and simple aesthetic. Sectional tiling can also be done to draw attention to open types of shelves.
Bathroom: The earliest adopters of vertical tile backsplash are the bathroom area. The modern touch suits ensuite bathrooms with limited spaces since the vertical tiles draw the eyes upwards, creating an illusion of space.
Shower Area: The shower areas are usually narrow, and vertical tile cladding will make the space visually less confining besides having an attractive accent wall.
A vertical tile shower backsplash is an excellent way to introduce different colors and textures to a modern bathroom. Rich and colorful vertical tiles as a backdrop create a warmer vibe rather than sticking to the minimalistic design.
Vanity Counters. Mantel or round mirrors are popular right now that suits contemporary bathrooms. These types of mirrors can leave a few areas on your wall, and sometimes tiles can have less visual impact.
A vertical tile backsplash can have a more visually striking effect as the change in direction draws the eyes to the element. Glass and other unique materials can be used to have a more translucent effect that blends perfectly with mirrors, creating an illusion of space. Sometimes a strip or one layer of vertical tiles is enough to make an exciting addition to your vanity space.
Accent Band: Traditional accent bands have tirelessly used mosaic tiles in creating decorative features, and vertical tiles are a great alternative to break a monotonous wall. Lining up a single row of tall vertical backsplash tile on top of your kitchen counter or vanity is another great way to add a new dimension to the space.
Powder Rooms: A vertical tile backsplash can work in a powder room, but with caution, especially when you have a high ceiling clearance, as it can create the "elevator shaft" effect. Use your vertical tile backsplash sparingly if you have a high ceiling with a tight space—an accent band along with horizontal tiles.
Fireplace: The mantel or chimney piece is the perfect architectural element to feature in a home. Most mantelpieces have a low profile, and a vertical backsplash tile can add grandeur and emphasis to a fireplace tile design.
As virtually every type of tile is available as vertical tiles, there's a material and color suitable for either a modern or traditional-themed fireplace.
Popular Types Of Vertical Backsplash Tile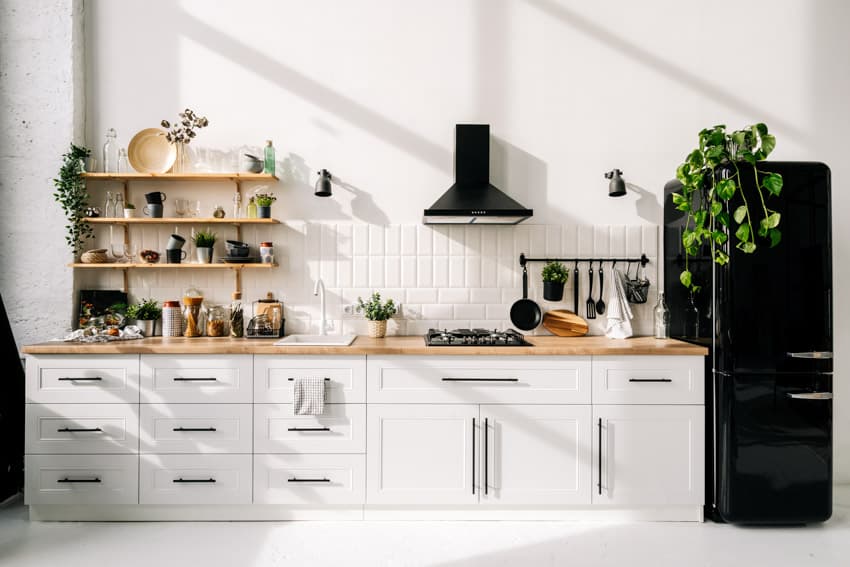 Here we share the different types of vertical backsplash tiles.
Vertical Subway Tile Backsplash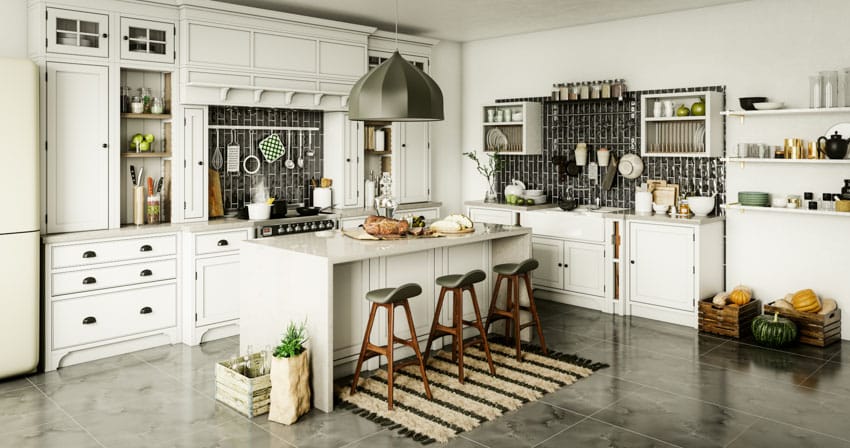 Subway backsplashes continue to be popular as it gives that modern contemporary look with their straightforward design. As a rule of thumb, any tile with a 1 to 2 size can be categorized as a subway tile and with the standard size of 3 x 6 inches.
There are other sizes available today, but manufacturers of subway tiles commonly have 2 x 4, 4 x 8, and 6 x 12 sizing. Orienting the subway tile backsplash on its vertical side provides an updated look with the popular straight set pattern.
Picket Tile Backsplash with Vertical Design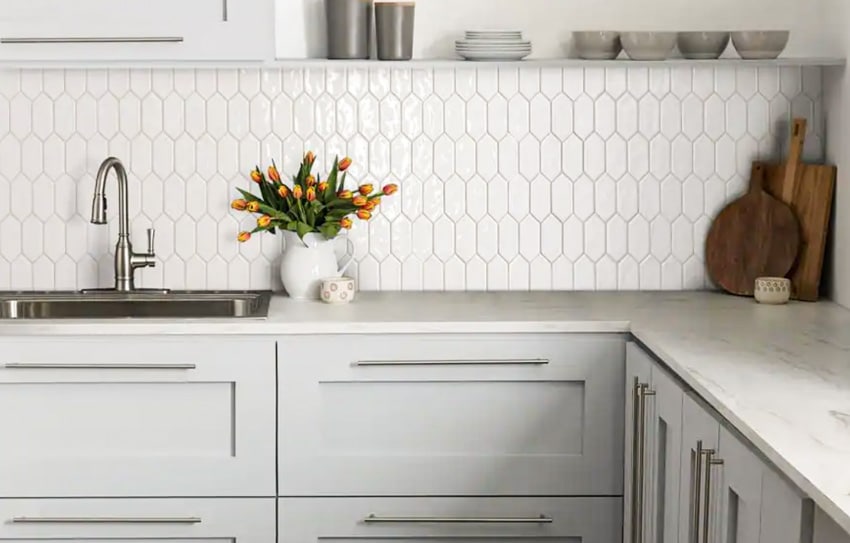 See this picket tile backsplash set at Home Depot [sponsored link]
Since the introduction of hexagon tiles in the 1900s, this geometric tile has been a popular alternative to straight-edged rectangular tiles inspiring the new trend of picket tiles.
In spite of being associated with the art-deco and modern aesthetics, the hexagon is a reoccurring shape in nature, found in beehives, turtle shells, snowflakes, and dragonfly's eyes.
For this reason, hexagon tile shapes such as picket tiles are visually pleasing, and there's a sense of familiarity with the organic shape. Picket tile backsplash with a vertical design can showcase a modern and updated look with its sleek, elongated shape while having that visual ease innate in humans.
Large Vertical Tile Backsplash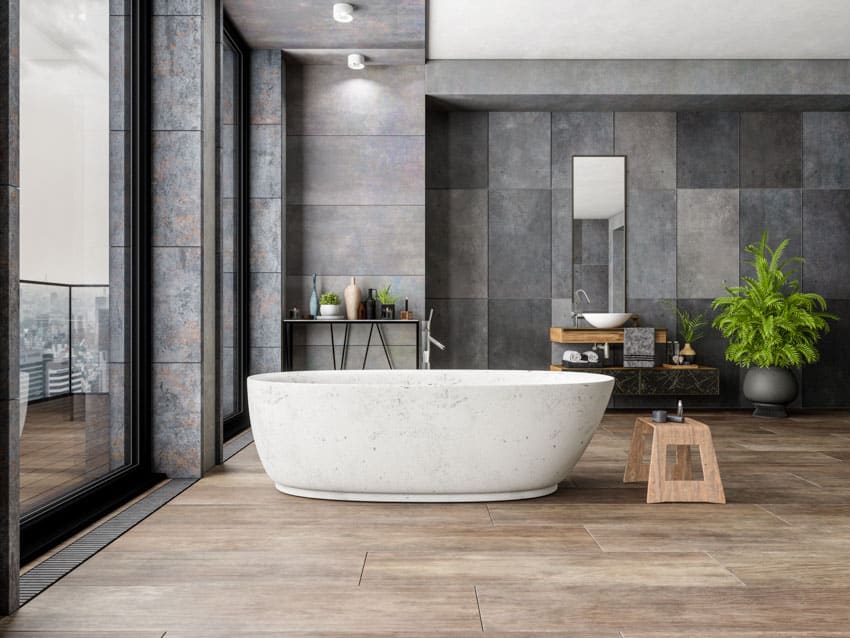 Large tiles were once exclusive for commercial use and eventually made into consumers' homes. A sizeable vertical tile backsplash provides a dramatic and modern aesthetic. Years ago, a 12-inch tile was considered a large format.
However, changes in the tiling industry today generally think of a tile with 15-inch or more as a large format tile. Having fewer grout lines creates the clean minimal look of modern interiors, and with a vertical orientation, a large vertical tile backsplash easily creates that modern look.
Besides having a sleeker surface, large vertical tiles are easier to clean and maintain with less visible grout lines. A large format tile creates a more luxurious and expansive look for spacious areas such as the living and dining area. The vertical cladding can also make a feature wall stand out significantly when extended upwards toward the ceiling.
Vertical Glass Tile Backsplash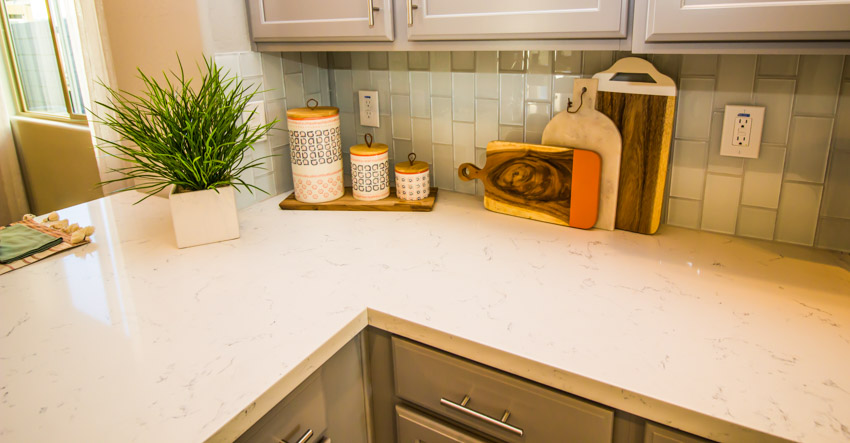 Orienting narrow glass tiles in the vertical position can create the visually appealing waterfall effect, with dual tones or having one color in varying tones. The vertical glass tiles are perfect for shower areas, either offset or stacked uniformly.
Glass backsplash tiles are reflective and translucent, which can make a luxurious feature wall. Line the vertical tiles with brass or gold grouting, and you'll get an opulent and attractive wall cladding.
Vertical Mosaic Tile Backsplash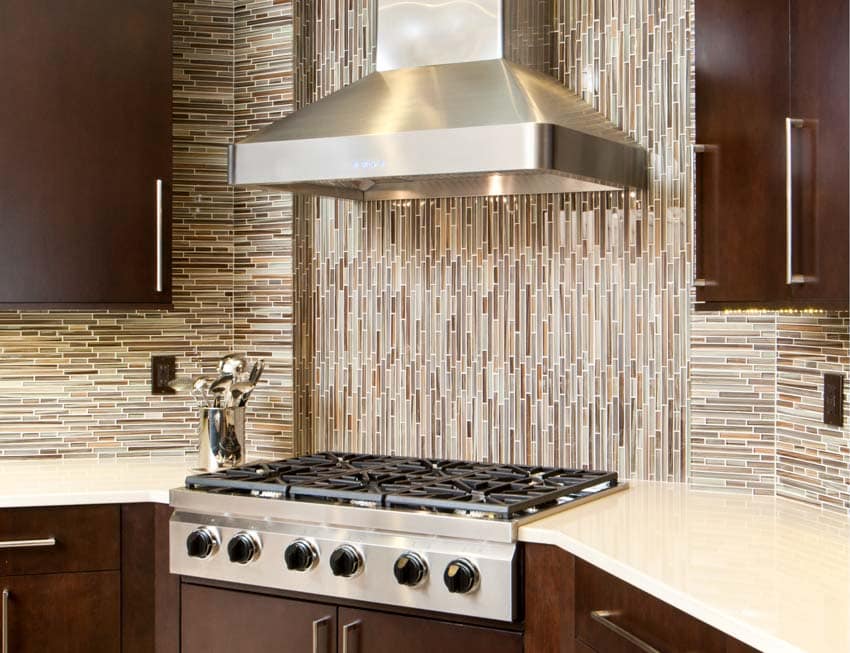 Mosaic tiles are smaller pieces of tiles with various colors and textures usually laid out to form or create a pattern or image. Mosaic tiles have been around since ancient times and are a popular tile design for both traditional and contemporary interiors.
A trend in wall tiling is where vertical mosaic tiles backsplash in monochromatic colors are laid out to create a pixel-like representation of the aesthetic of the digital age. A more conventional option is to have the vertical mosaic tiles stacked vertically side by side in glass or ceramic material.
Other Designs: Three-Dimensional Vertical Tile Backsplash. New trends in vertical tiling include wavy tiles with designs extruding from the surface, creating geometric shapes or patterns.
The 3D vertical tile backsplash can be alternated with your regular flat surface vertical tiles to create a pattern that gives a textured surface. These vertical tiles are an interesting wall cladding to explore, especially when layering light and shadow on featured walls.
Vertical Tile Backsplash Layout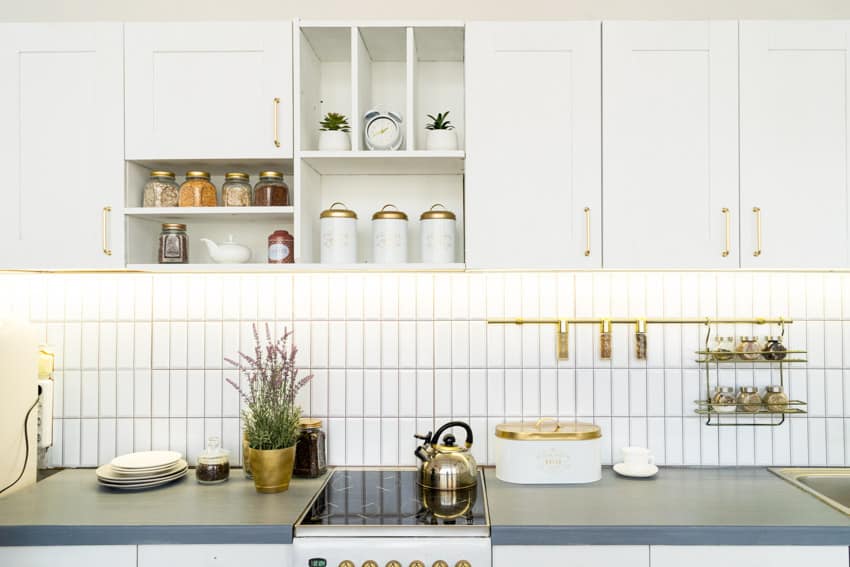 Tiles, in general, are a versatile cladding material with a rectangular shape offering a good number of options. This versatility makes it easy to mix and match with other shapes and orientations.
Vertical Offset: A vertical offset is also known as the traditional brick tile pattern or running bond, where vertical tiles are laid with their adjoining edges positioned at the center (half of the tile) of the next block in line.
This creates an alternating pattern considered to have stronger structural integrity for load-bearing bricks. For backsplashes, the vertical offset creates an interesting visual movement and, when installed from the finished floor level to the ceiling, makes an eye-catching wall feature.
Vertical Straight Set: The vertical tiles are laid with each tile stacked parallel to each other, creating a uniform alignment of the grouts. The vertical straight set creates a clinical vibe to a space that has than clean and modern aesthetic. Contrasting the uniform look with warmer and richer colored tiles makes it a visually attractive wall feature.
Vertical Offset (Alternate): Like the vertical offset, the adjoining edges of the tiles are aligned at the middle part of the tile, but this time the offset is done along the vertical axis. Since there is a limited area to cover with a vertical offset, it is best to use the layout on wider spans of wall area.
Should Backsplash Tile Be Horizontal Or Vertical?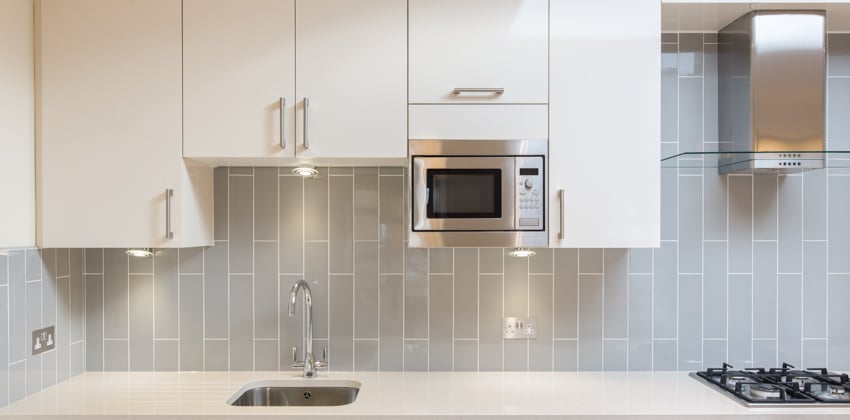 Choosing between a horizontal or vertical tile orientation can be a dilemma, especially when both are aesthetically pleasing on a feature wall. To help you decide which to choose, it is best to consider other elements surrounding your feature wall and the visual effect of vertical tiles when matched with these elements.
Scale: A vertical tile that looks too long can look odd when installed in a very short space. Consideration should be made to the clearance between the floor-finished flooring and ceiling line.
When a professional is hired, the interior designer is likely to present you with 3D simulations and drawings to help you visualize how the vertical looks once installed in your space.
Perspective. Factors such as the shape and size of tiles can significantly affect your visual perspective of a room. Vertical tiles tend to elongate a space tricking the eye into perceiving a higher ceiling. This should be in consideration when opting for vertical tiles.
A vertical tile can also make a room look claustrophobic, so make sure to balance elements and remember contrast when matching them.
Unlike chevron or herringbone backsplash tile, which can work in both vertical and horizontal directions, a vertical tile backsplash is usually an effective way to make a room look higher.
Color. Along with scale and perspective, color is an important factor to consider. Darker colors are a striking feature against light elements but can be overbearing when used extensively.
Light colors offer a clean and airy feel. Light on light colors are great in kitchen and bathroom areas where increasing light is most desirable.
Dark, cool colors such as green or blue can add a dramatic feature, especially with a glass or metallic element. Darker colors such as brown or black meanwhile add mood to a space.
Horizontal: Tiles oriented in the horizontal position generally make a space look more expansive. Limited floor space will benefit from horizontal tiling, visually opening up space as the lines run sideways.
Medium-sized tiles are recommended as large format tiles may not be noticeable, especially with narrow grouts. Small tiles may not be practical for wet areas as mold and mildew can quickly accumulate over time between grouts.
Vertical: With a low ceiling, a vertical tile layout effectively draws the eyes upward and creates the illusion of vertical space. A wider floor area can use sectional tiling, creating feature walls and emphasizing architectural details.
Be mindful, though, of how it looks with a very high ceiling. Lofts and atriums can use vertical tile layouts to emphasize grandeur but usually balances the verticality with an added width.
What Style Is Vertical Tile Backsplash?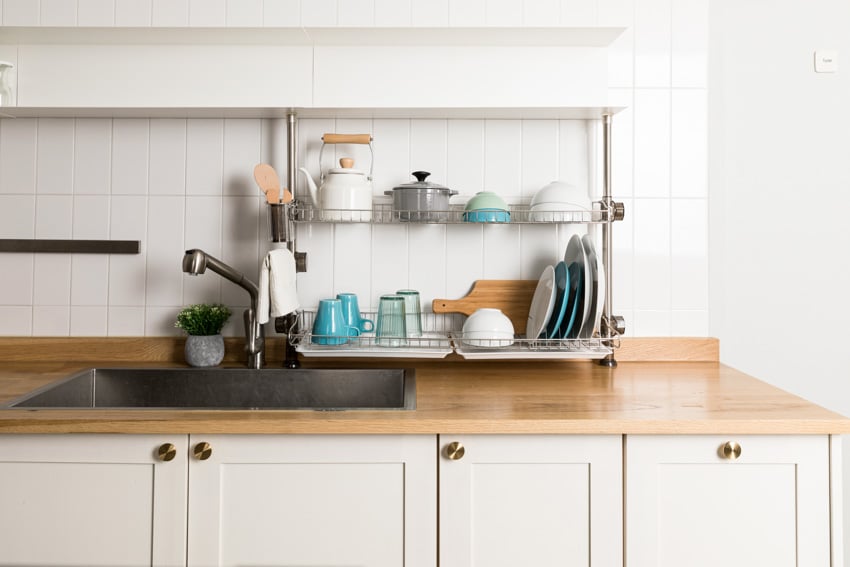 Bold and modern, the vertical tile backsplash is considered under the contemporary aesthetic. Vertical tiling was popular during the 19th to 20th century and was extensively used during the Arts and Crafts movement. They are seen
Vertical tiling became popular during the Arts and Crafts movement in the late 19th Century and early 20th Century, and it is often used today to add detail to buildings, particularly at the first-floor level and at gable ends as well as around dormer windows.
See more related content in our article about the best quartz kitchen backsplash ideas on this page.