Here we share our beadboard walls design gallery with what they are, reasons to choose this style, its uses, types of beadboard panels & materials and comparison to wainscoting.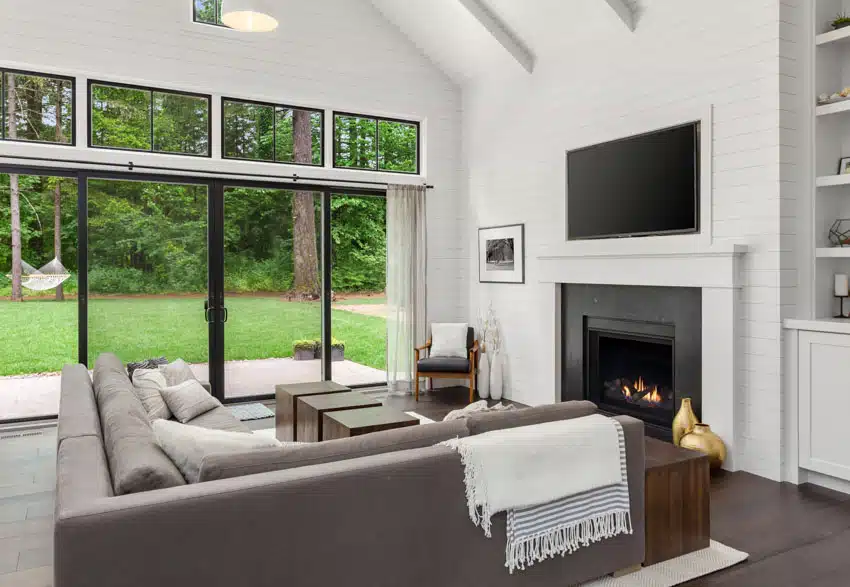 Beadboard panels are a common feature in opulent homes just as well as summer lake houses, rustic Victorian farmhouse kitchens, and 1920s bungalows .Although more commonly associated with these traditional house styles, beadboard panels are increasingly being used on more contemporary interiors to add a timeless, classic look to different spaces.

When beadboard was utilized in the more casual portions of the home in the early 1900s, it quickly gained popularity. It was made using wood scraps from past projects and served as a cost-effective method to spruce up different rooms in the house. Nowadays, you can find different material alternatives to traditional beadboard wood panels which offer more advantages.

Below, we give you our very own guide on beadboard panels along with some of its types and installation tips. Read on to know why they make a great addition to your home.
What Are Beadboard Walls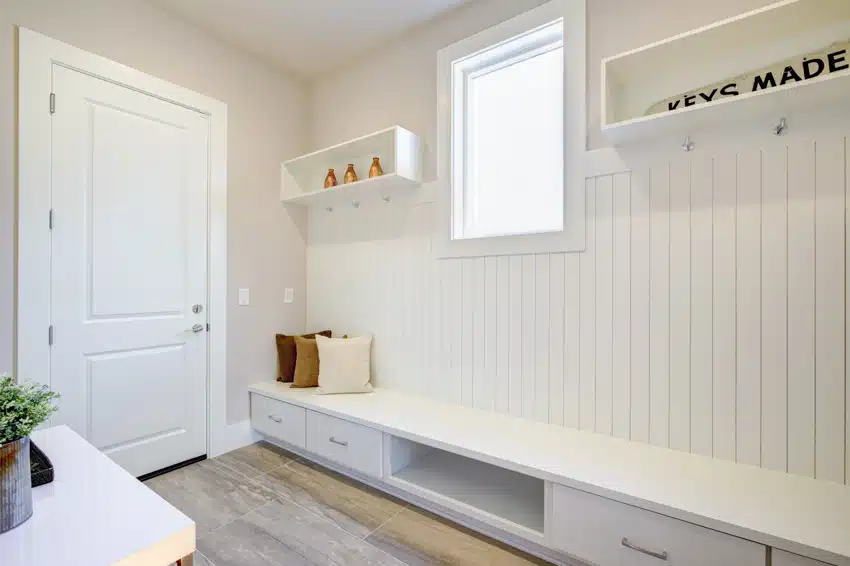 A beadboard is a piece of board with continuous long vertical grooves and raised "beads" or reeds in between. If you were to look at a beadboard, the appearance is somewhat similar to a series of planks that are vertically lined up with a regular spacing in between. These beads give the panel an attractive and decorative profile.

Beadboards are typically 32 to 48 inches long by 3 to 4 inches wide. However, you can find large panels that are as long as 8 linear feet. Typical dimensions for beadboard panels are 4 feet by 8 feet. The "beads" are spaced every one to two inches.

Genuine beadboards were assembled by hand, but using a more modern technique, the beads are molded into the board during production. Each beadboard fits side to side and has a tongue and groove which can easily connect with each other.

Beadboard or paneling is usually made from wood, but it can also be made from synthetic materials like plastic or composite. Beadboard paneling is usually installed over a wood or composite substrate, such as plywood or drywall.
Beadboard wainscoting or paneling is a popular choice for bathrooms, kitchens, and other areas where a decorative and water-resistant surface is desired. Beadboard paneling is also a popular choice for wainscoting in laundry rooms and mudrooms.

Why Choose Beadboard Panels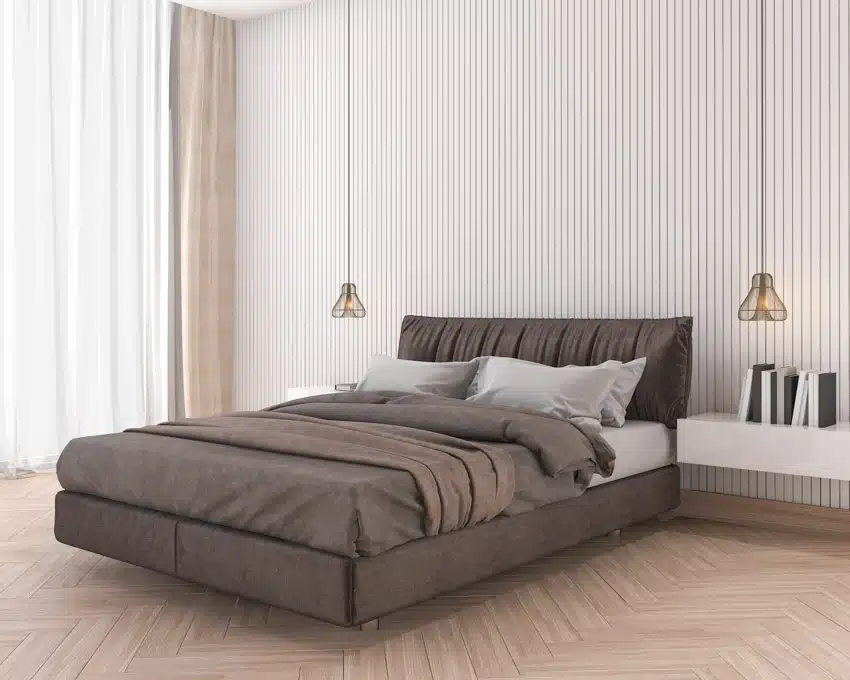 Aside from its charming aesthetics, there are a lot more reasons why you should give beadboard panels a try. Here are the advantages of using a beadboard panel:
• Protects the walls from damage
• It is a durable option for different wall and types of ceiling designs.
• Gives a charming, casual, "cottage look" which is perfect for rustic and traditional interiors, however it can also work for modern styles
• Can be finished in any color you want to match a variety of interior design styles and color schemes
• Adds texture and accent to interiors, giving them more visual appeal. Beadboard can also be used to add architectural interest to a room, creating the illusion of wainscoting or paneling.
• Provides a unique way to cover up any flaws in walls and ceilings. Beadboard panels can be used to cover up a variety of faults in vintage homes, including cracks in the walls, uneven floors, and gaps in the trim.
• For insulation
• Wood paneling like beadboards are an effective soundproofing material
Uses of a Beadboard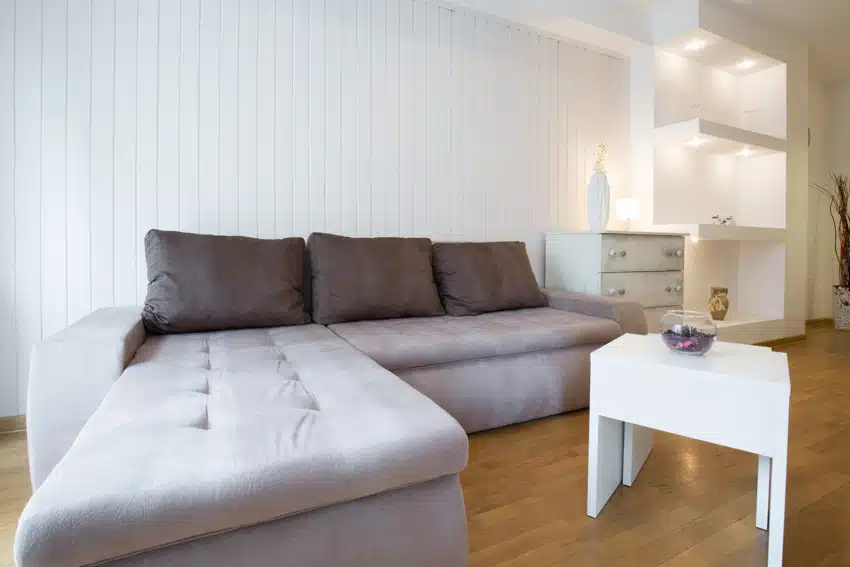 Beadboards are traditionally used as a wall surface covering. But as time goes by, beadboards have been applied not only to walls but also to ceilings and other surfaces.

Traditionally, beadboards are installed below the chair rail with the function of protecting the walls and paint from being chipped by furniture. When used as a ceiling treatment, headboards can easily cover up damages and give a room a charming look.
Beadboard Vs Wainscoting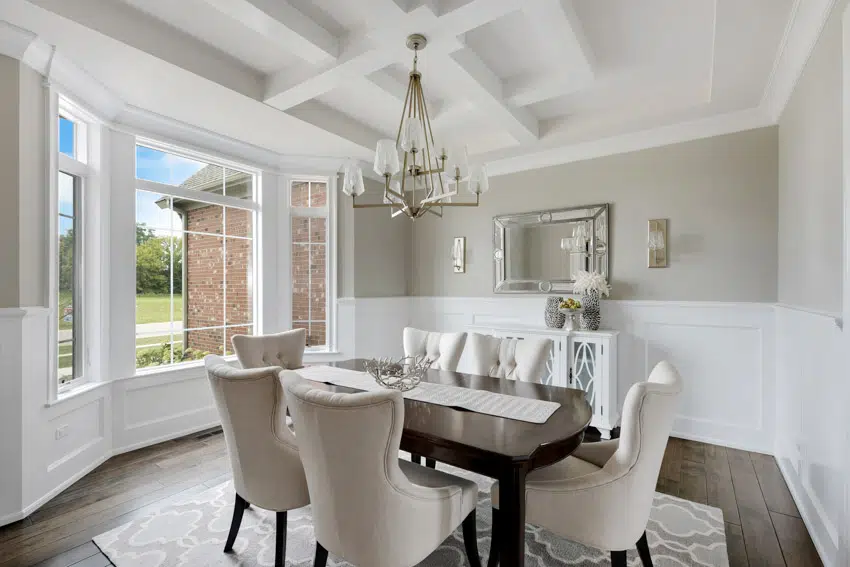 Beadboard and wainscoting are both decorative wall treatments used for interiors. Wainscoting makes use of wood paneling that is installed on the lower one half to one third of the wall. It covers the entire room perimeter and often has a strip of chair rail on top.
The primary function of wainscoting is to protect the lower part of the wall from damage, chair bumps and impact. It is typically used in living rooms, dining rooms and children's rooms.

Beadboard was originally used in the construction of wainscoting, which is a type of wall paneling that covers the lower portion of a wall. Wainscoting was a popular design element in homes during the 18th and 19th centuries. It was used to protect walls from damage and to add a touch of elegance to a room.
The standard height of wainscoting is one third of the room's ceiling height. So for a room with a typical ceiling height of 96 inches, the height of the wainscoting would be around 32 inches.
Wainscoting can be different panel styles and beadboard is one of them. Other wainscoting types include flat panel, raised panel and board and batten. Commonly, the material used for wainscoting is wood, but there are more modern material options like wood composites or MDF, PVC and vinyl.

Beadboard Panels & Beadboard Materials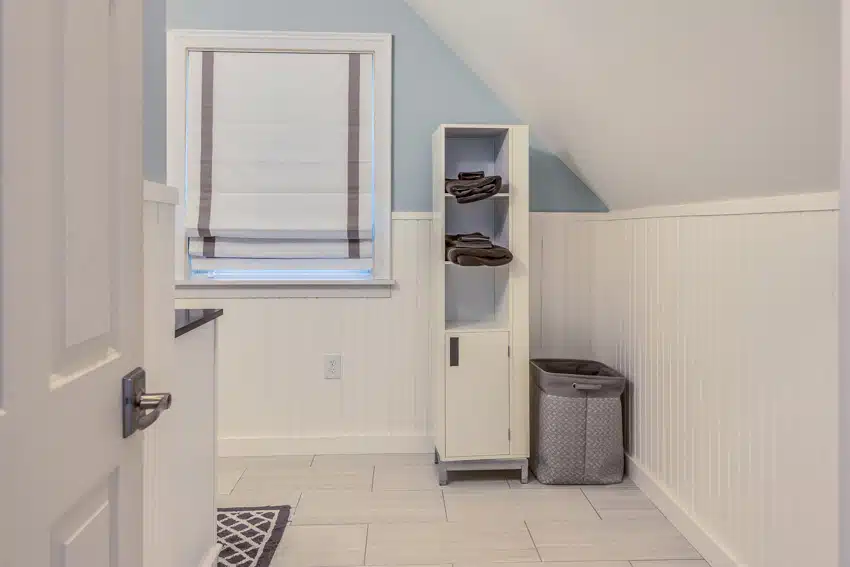 What is beadboard paneling made of? Beadboard paneling comes in different materials, the most common one being solid wood. Hardwood species used for beadboards include solid oak, pine, fir and cedar.
However, you can also find alternatives to solid wood beadboards like wood composites, MDF, vinyl/PVC, plywood, and fiberboard.
Beadboard panels are ready to paint and can be finished or stained in any color to match your vision for your home. Beadboard panels are available in different styles based on the bead designs. Standard panel designs include:
• V-bead
• Antique V groove
• W-bead
• Custom bead
Beadboard Wall Paneling
Beadboard wall paneling is a wood paneling that has vertical grooves cut into its surface. These grooves form small ridges, which make the surface look like a series of miniature boards.
The panels are usually installed on walls, but can also be used for ceilings, wainscoting, and other decorative applications. Here is a look at the most popular beadboard wall paneling materials:

PVC Beadboard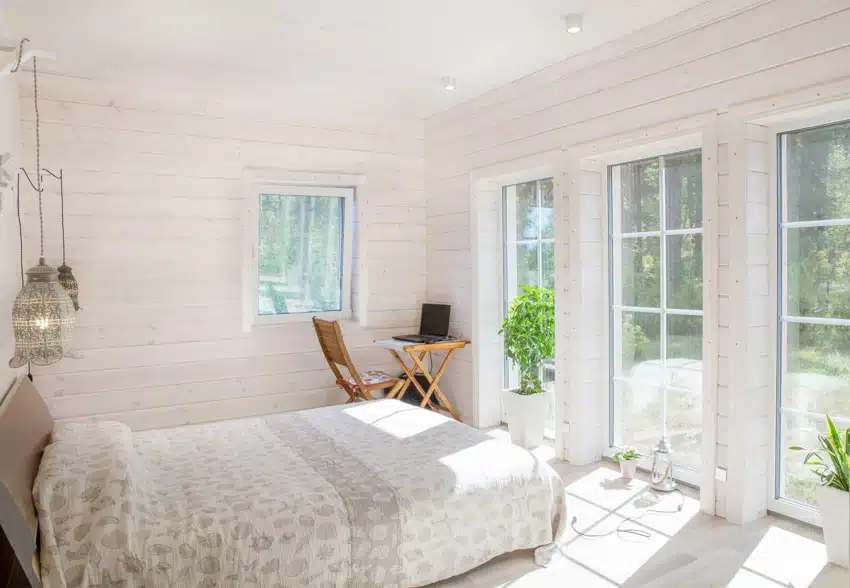 PVC beadboard panels are a unique and cost effective alternative to traditional wooden beadboard panels. PVC or polyvinyl chloride is made of thermoplastic polymers and is a very durable material that is resistant to harsh weather conditions.
It typically comes with a tongue and groove joinery , allowing for easy assembly and installation as a wall or ceiling covering. Because of such, it does not require specialized labor and professional services. Moreover, PVC beadboards have a smoother and cleaner profile because they are not milled.
Although white remains to be the most popular choice for beadboards, the ones made of PVC come in a wide variety of colors. It is readily painted but can be finished in a coat of your choice of paint. Make sure to use a paint that is specifically formulated for PVC's.
PVC beadboards offer a lot of benefits but the best one is durability. They are waterproof, which means they are suitable for use in wet areas like bathrooms. Additionally, it does not harbor the growth of molds and mildews.
PVC beadboard panels are also low maintenance and can be easily cleaned by wiping with a cloth. Unlike wooden beadboards, PVC beadboards are non combustible.

PVC beadboards are also super easy to install and can be fixed into walls using adhesives and fasteners. It does not require any specialized equipment and can be undertaken as a DIY project.
Wood Beadboard Wall Paneling
Wood Beadboard paneling is made from a variety of different woods, including pine, maple, and oak. The panels can be painted or stained to match the existing decor of a room. Wood beadboard is available in a variety of different thicknesses and widths.
These panels are easy to install and can be cut to fit any space. They can be glued or nailed into place. It is also available in a variety of finishes, including paint-grade and stain-grade finishes.

The wood species you use will ultimately depend on personal preference and the style of your space. Use beadboard panels made from pine or cedar to create a cozy and informal look, whereas high end woods such as mahogany, maple and cherry are perfect choices for more formal interior settings.
Vinyl Beadboard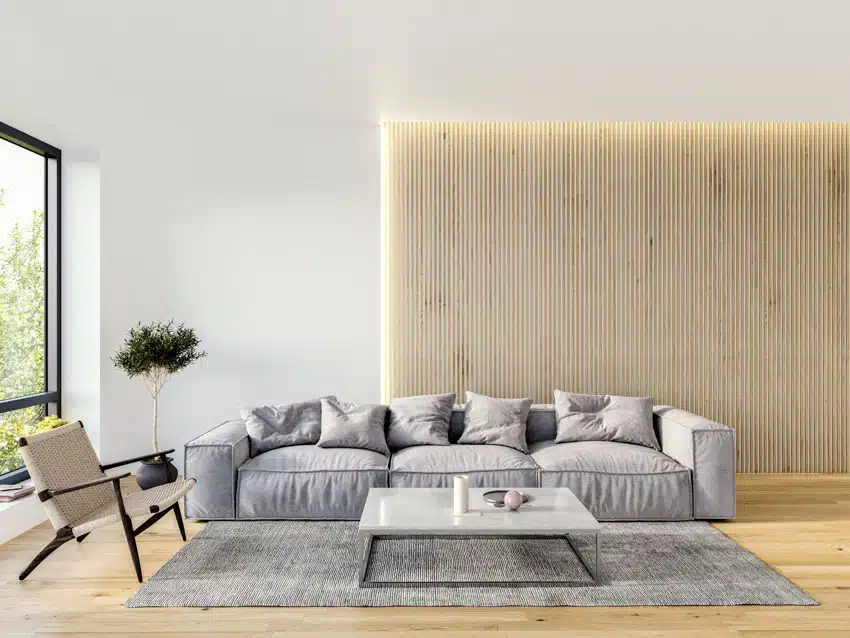 Vinyl beadboard paneling comes in handy when you want a durable and low-maintenance alternative to wooden beadboards.

Vinyl beadboards have a standard thickness of ¼ inches and a typical dimension of 4 feet wide by 8 to 10 feet high. Because they come in large format sheets, they offer more coverage.
Vinyl beadboard panels are cost effective. They have less upfront costs than wooden beadboard panels, but despite this, vinyl beadboards come with a lot of long term benefits. First, is ease of installation, vinyl beadboard panels are lightweight and come with can be DIY'ed.
Each wall panel can easily stick to a surface using the glue-up method. Because it does not require professional installation services you can also cut down on installation costs.

Additionally, vinyl beadboard panels are low maintenance and can be cleaned by wiping with a damp cloth. They also provide insulation against heat loss in winter and heat entry in summer. This also translates to additional savings as it cuts down on cooling and heating costs.

Vinyl beadboard paneling is also known for their durability and long life span. It is the perfect choice if you want to achieve a permanent or semi-permanent look. They are resistant to fading, rusting and pest infestation. Vinyl beadboard panels are also waterproof and won't harbor the growth of molds and mildew.

Vinyl beadboards are also highly versatile and can be installed in any space, including outdoor areas like patios, gazebos and other backyard structures. See pictures of outdoor ceiling panels here.

In addition, vinyl beadboard panels are available in a variety of colors, patterns, textures and designs which include wood finishes like walnut, oak,etc.
Medium Density Fiberboard or MDF Beadboard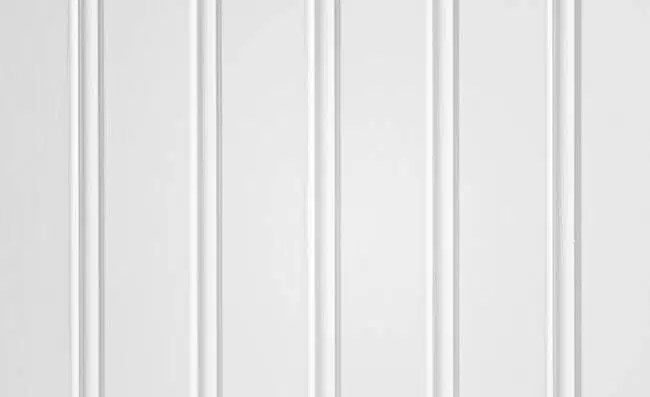 Another modern alternative to traditional wooden beadboard paneling is MDF. By definition, medium density fiberboards are a type of composite wood made from wood fibers and shavings that are bound together with resin and wax. It is denser and harder than particle board, and is used in a variety of applications, including cabinetry, furniture, and molding.
MDF beadboard is available in both planks and panels. Planks are long, narrow strips of beadboard, while panels are large, flat sheets. Planks are generally easier to work with, but panels can be cut to size and used in a variety of applications.
MDF beadboard panels come in standard 4 x 8 ft boards and are available in a wide variety of thicknesses, from 1/4 inch to 1 inch. It is prefinished and already coated with a primer but it can be finished with just about any type of paint, including oil-based paint, latex paint and enamel paint.
MDF beadboard panels are more dimensionally stable than solid wood. It is a good choice for beadboard because it is very hard and dense, making it resistant to warping and contracting.
Since it is composed of wood byproducts, it can be cut, routed and drilled using standard woodworking tools. Installation wise, MDF can be fastened together with screws and finish nails. MDF can be glued together with construction adhesive like carpenter's glue or polyurethane glue.

However, MDF beadboard panels come with a few drawbacks. First, MDF produces a lot of dust when cut, which can be hazardous to your health so make sure to wear a dust mask when working with it. It can be easily damaged if not handled carefully.
It is also not waterproof, which means it will swell and disintegrate if it gets wet. When it comes to cost, MDF beadboard panels are relatively inexpensive and are cheaper than wooden beadboard panels.
High Density Fiberboard or HDF Beadboard
HDF or High Density Fiberboard is also a man made composite panel that is manufactured from compressed wood fibers. It is harder and stronger compared to MDF panels because it is more dense.

HDF beadboard panels come in standard 4 x 8 feet boards with a typical thickness of 3 to 8 millimeters. These are also usually prefinished and ready to paint.

The benefits of HDF beadboard panels are almost similar to the advantages of MDF. These panels are durable and impact resistant. In terms of cost, it is relatively cheaper compared to plywood and hardwood. However, it does come with a few disadvantages. Although moisture resistant, HDF beadboard panels are not completely waterproof.

Beadboard Wall Ideas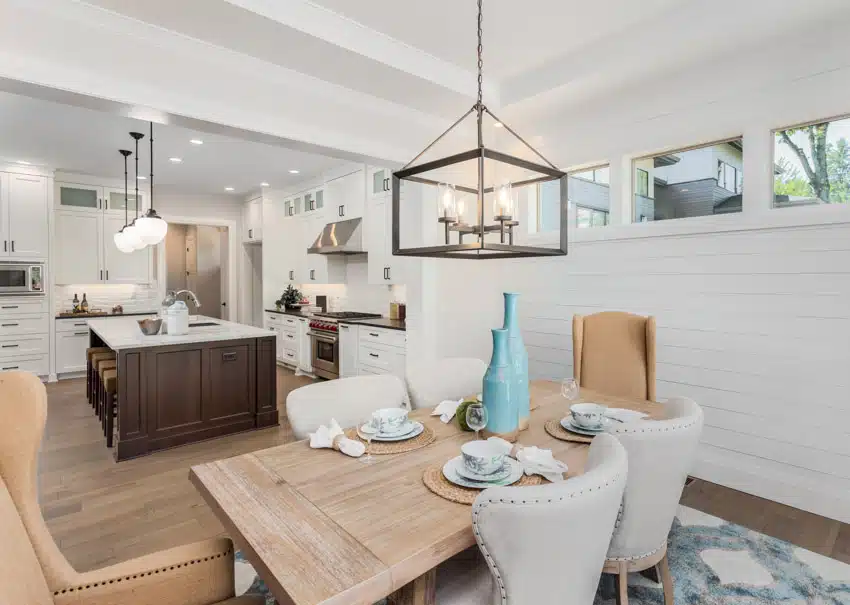 Beadboard panels are a charming addition to a home. Although more commonly used as a wall treatment, many homeowners utilize them for different applications to make a space more visually interesting. Below are some of the best beadboard ideas you can try out for your home:
Floor to Ceiling Beadboard Walls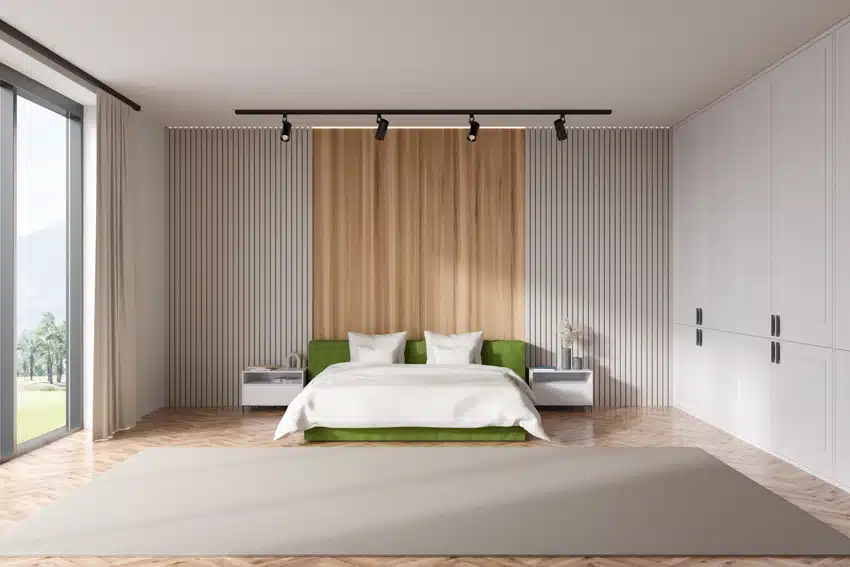 Floor to ceiling beadboard walls are ideal for small spaces because they can visually add height to a room. The vertical panels can easily add an illusion of height to a room as it directs the eyes upward, making it feel larger.

For this type of application, you can opt for large format beadboard panels that come in 8 feet lengths for more coverage.
Bathroom Wall Beadboard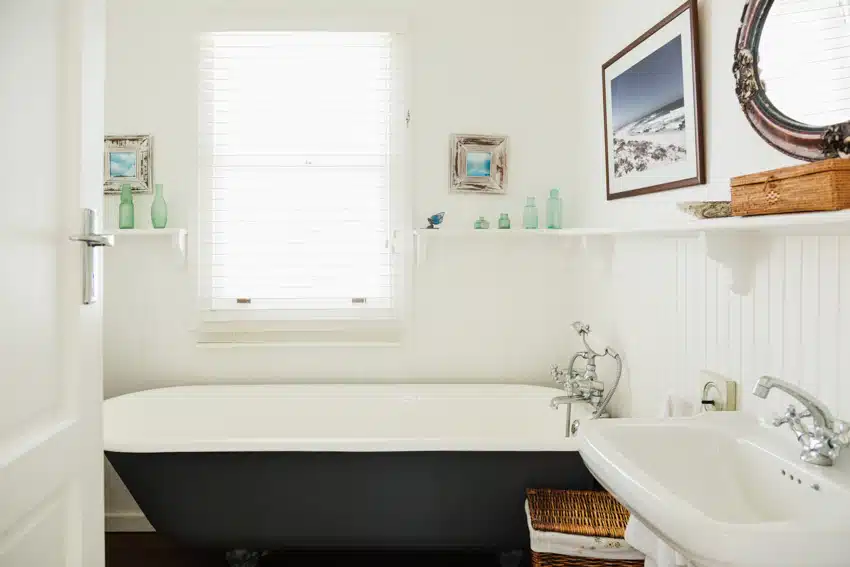 Beadboard panels are also an excellent choice to add decorative value to a bathroom area. They are cheaper than tiles and are easier to maintain and install. However, because bathrooms are constantly exposed to high moisture, make sure to choose a beadboard material that is water resistant.
The most suitable materials for bathroom wall beadboard are PVC and vinyl because they are highly durable and not prone to water damage. Aside from being used as a bathroom wall covering, you can also apply beadboard panels in vanities, cabinetries, ceiling, etc. A beadboard ceiling will give you a cozy and inviting feel in your bathroom.
You can use beadboard on the bathroom walls to create a cottage or beach style. Alternatively, you can beadboard panels for bathroom cabinets for a clean and classic look.

Beadboard can also be installed in the bathtub cover. Beadboard is also a great way to decorate your bathroom vanity. You can use it as an accent or backsplash for the vanity area to create a classic and elegant look.
Beadboard Kitchen Walls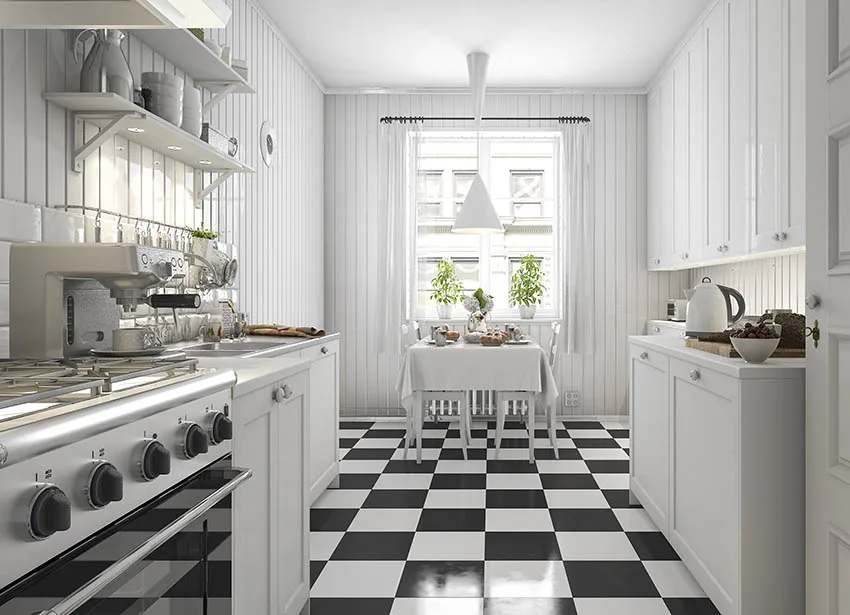 Beadboard panels can be utilized in kitchens for a variety of applications. It can be used for cabinets, backsplashes, ceilings, and chair rails. Beadboard can also be used to create an accent wall in the kitchen. This is a great way to add texture and interest to the space.
Aside from providing an inexpensive and easy way to change the look of a kitchen, it also rendered a charming and cottage inspired vibe to a space. Beadboard is also easy to clean and maintain, making it a great option for high traffic areas like the kitchen. See more examples of kitchens with beadboard cabinets on this page.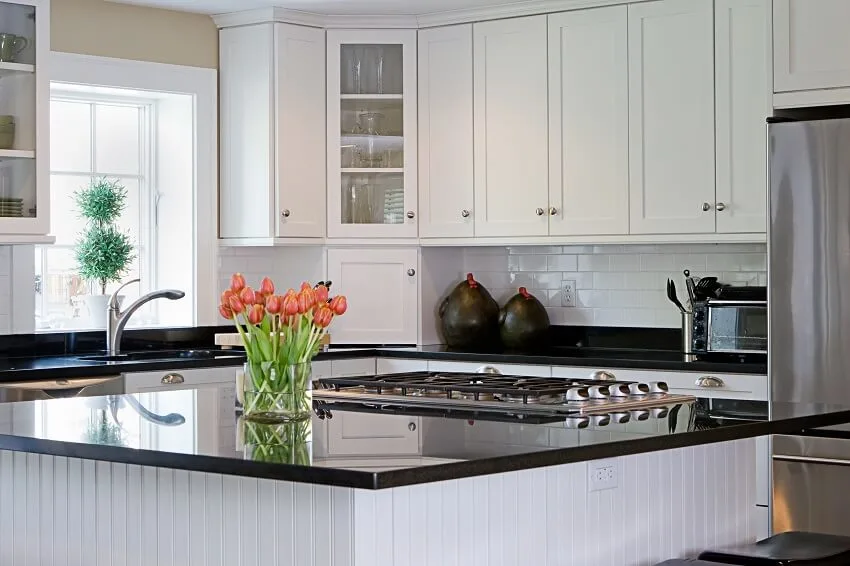 A creative way to enhance a farmhouse style kitchen is to add beadboard panels to the kitchen island. The panels can be used as a kick plate for the area facing the island's bar stools or completely surrounding the sides.
Beadboard Backsplash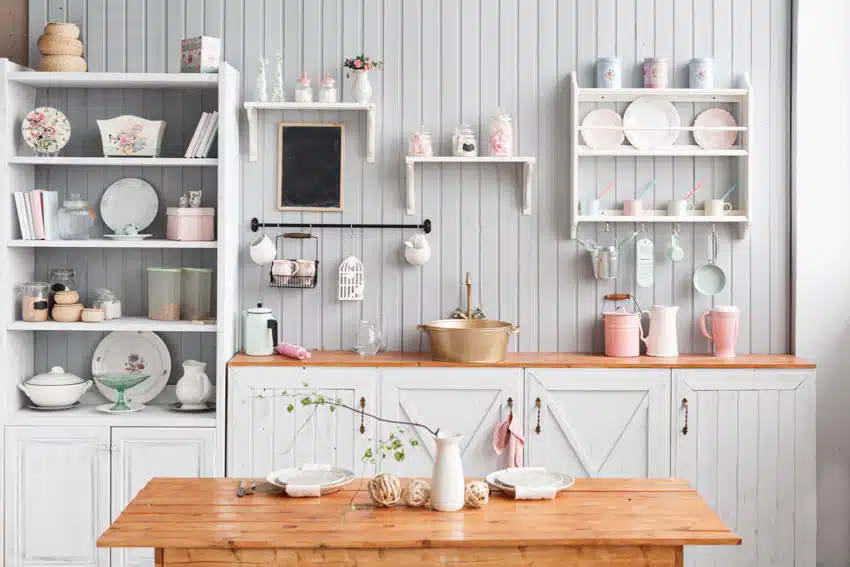 Another popular use of beadboard is on the backsplash. A beadboard backsplash is one of the simplest decors you can use to bring in a cottage, country and farmhouse feel in a kitchen.
Aside from being inexpensive, you can easily install it on an existing kitchen wall without the need for professional services.See more pictures of kitchen wall panels here.

Beadboard Ceiling

Beadboard panels are also useful if you want to make your ceilings the focal point of a space. Aside from adding texture if you put the beadboard panels in the same direction with the ceiling joists, you can create a lovely, classic and timeless look in the room.
It will also create the illusion of a higher ceiling. Since the beadboard is considered as a good material for creating a decorative ceiling, it's ideal for a lower ceiling. The panel will make the room seem bigger and higher.

Beadboard ceilings can be painted as well as stained to suit the need and preference. It's recommended to select the one that can be painted. You can repaint the panel anytime you want to change the look of the ceiling. Or you can paint the beadboard to match with the color of the ceiling joists.
Beadboard Bedroom Walls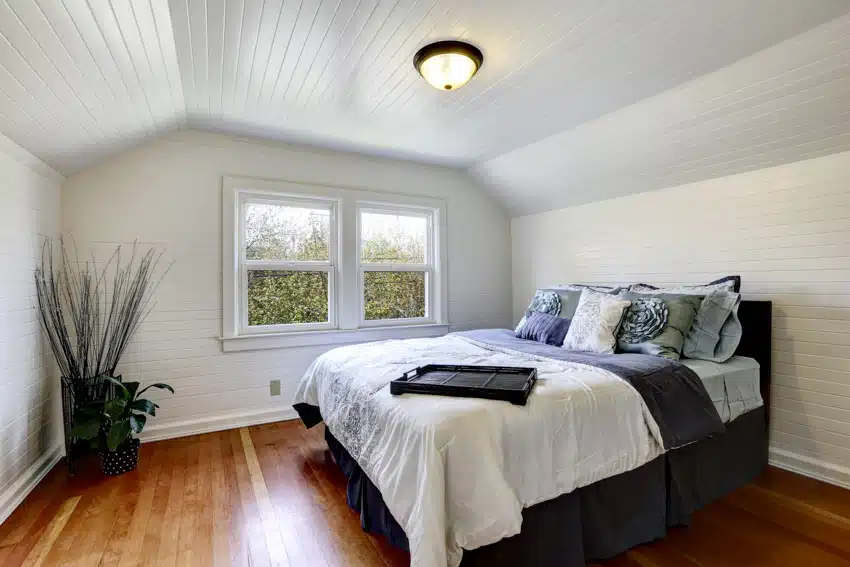 Beadboard panels look phenomenal along the walls of the bedroom and can add a charming, farmhouse vibe to it. It pairs really well with a lot of bed designs and furniture.

There are several ways to use beadboard panels in bedrooms. Aside from installing it along the perimeter of the whole room, the most common application is to use it as an accent on the headboard. This makes the bed the focal point of the space and gives added texture too.

Beadboard Accent Wall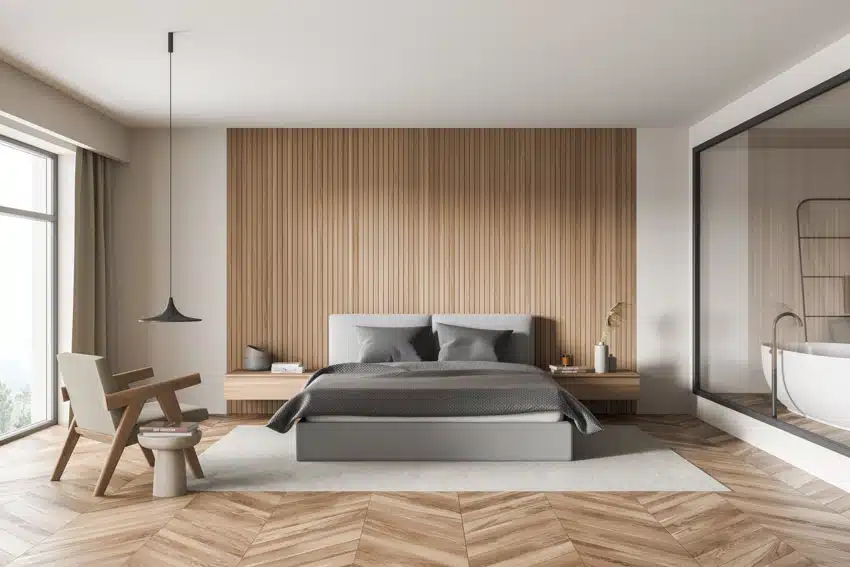 Beadboard panels are also one of the simplest and easiest treatments you can use to create an accent wall. Add character to a lackluster wall space by installing wainscoting or full floor to ceiling beadboard panels. Paint it in a slightly darker shade than the rest of the walls if you want to make it an interesting focal point of a room.
Beadboard Half Wall


Wainscoting typically uses the rule of thirds when it comes to measurement. However, you can also opt to install it on the lower one half of a wall and cover the entire room perimeter.
Half wall beadboards are commonly used in classic and cottage-inspired homes. Aside from living rooms and dining rooms, beadboard half walls can also be used in nurseries and children's rooms.

Beadboard Wallpaper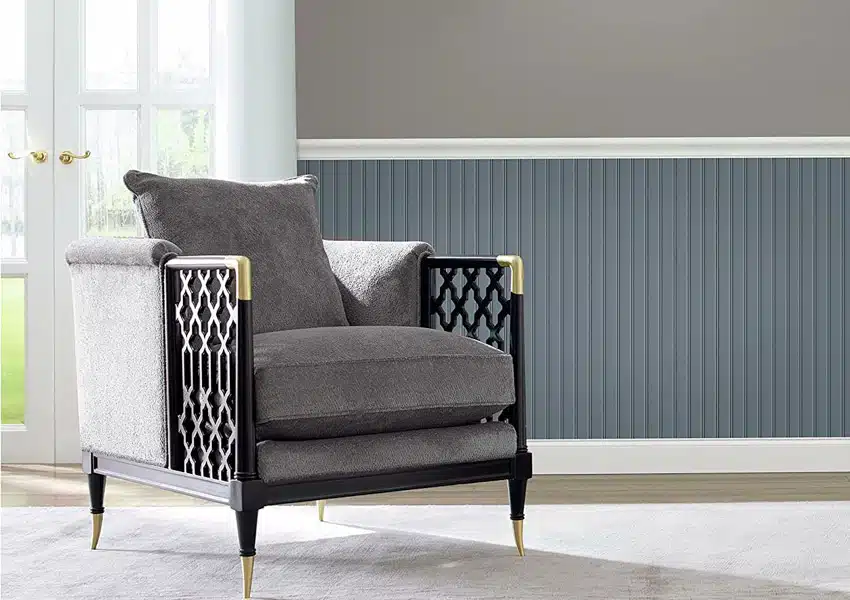 See this Beadboard wallpaper at Amazon [sponsored link]
Beadboard types of wallpaper are the ideal alternative you can use if you want something that is easier and faster to install. You can readily find beadboard wallpaper designs in home improvement stores and online and they are very inexpensive.
Aside from cutting on costs, beadboard wallpapers offer the same cottage charm and farmhouse vibe you get with wooden beadboard panels. However, this type of beadboard treatment is not suitable for use in wet areas like bathrooms because most wallpapers are not water resistant.

Horizontal Beadboard Walls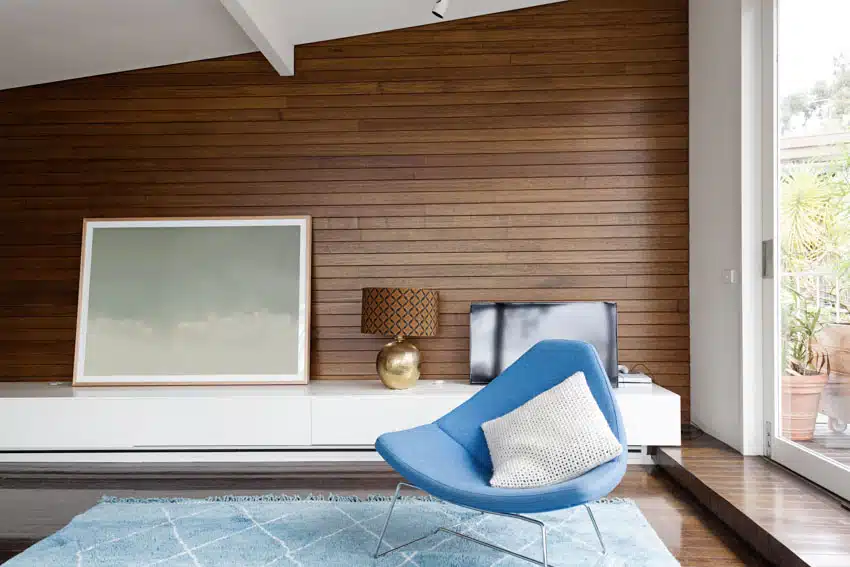 Traditional beadboards make use of a vertical orientation but they can also be installed horizontally for a more modern feel. By running the beadboard horizontally, you not only give it a contemporary twist but it also creates an illusion of a wider space.
Painted Beadboard Walls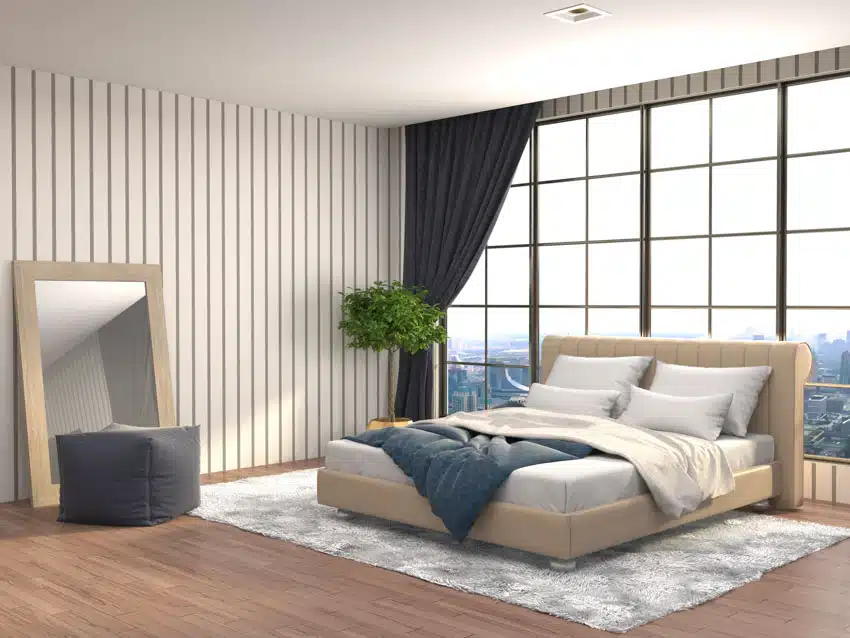 Paint is the most common beadboard wall finishing. High impact applications like wall paneling demand a reliable paint. Paints designed for cabinets, trims and doors are equipped to withstand minor scratches.

The type of paint you can use on a beadboard panel will depend on its material. Water based and oil based paints are a good choice for interior wall applications. Water based latex paints clean up with water dries quickly and develop a durable yet smooth finish.

The glossy finish of your paint on wood paneling is a matter of personal preference. It can be flat or matte, eggshell, satin, semi-gloss or high gloss. However, the most common finish is satin and semi gloss. Aside from aesthetics, there are practical reasons for this choice.
A semi-gloss or high-gloss paint is easier to clean than a matte or eggshell finish. The reason for this is that the glossier the paint, the more resistant it is to dirt, grease, and stains.
This means you'll have to clean your paint less often and that there's a smaller chance of any stains making a permanent mark. The downside of glossier paint is that it's more reflective, which means that it will also highlight imperfections and minor surface damage.

Most of the time when people paint beadboard paneling in white. But that doesn't necessarily mean that you have to. There's a good reason why most people opt for white, though. White paint is the easiest color to apply on wood paneling and it's also the easiest to clean.
But if you're not interested in painting your walls white, there are still some good paneling paint colors to choose from. For example, light green, pale pink, and light blue can all be good paneling paint colors. The reason these colors work is because their shades give out a casual look.
Beadboard Fireplace Wall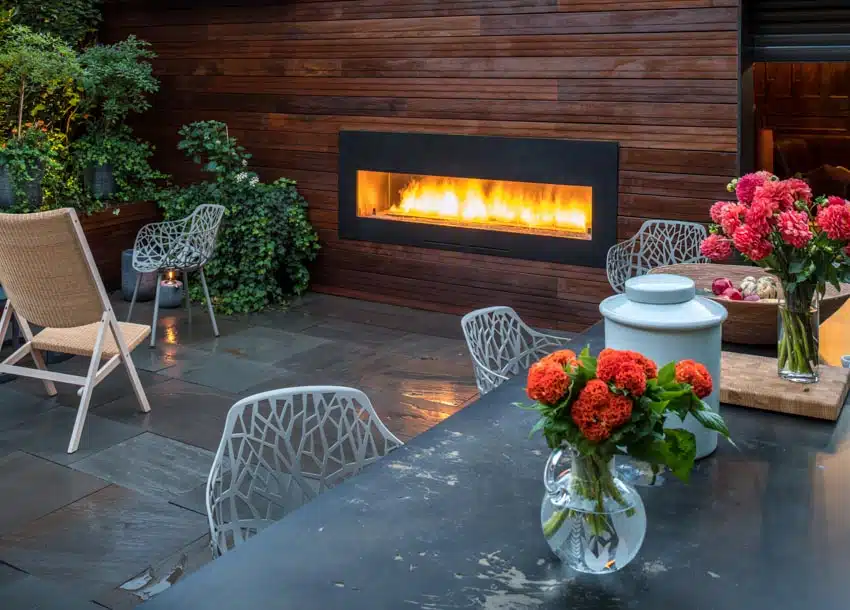 Beadboard panels are also an interesting addition to fireplace walls. The only thing you need to remember in this application is to choose a material and finish which can withstand the high temperatures generated by a fire-place.
Indoor latex paint is a good choice of finish and for the material, it is more advisable to use MDF or HDF boards for the surround material.
DIY Beadboard Wall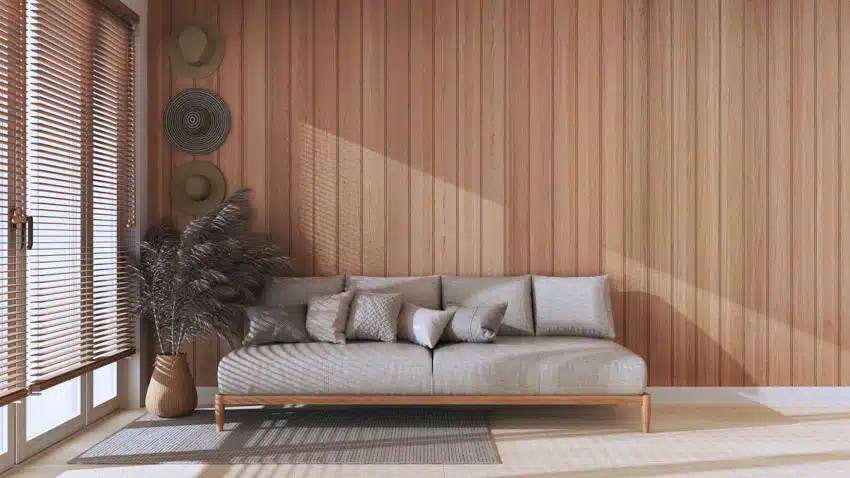 Installing and making a beadboard wall is moderately easy and can be undertaken as a DIY project. With the right tools and equipment, you can create one which fits your own taste.
Materials for DIY headboards are readily available in local home improvement stores and depots. You can use wood and create one from scratch or buy ready made panels for quicker installation.
How to Attach Beadboard to Wall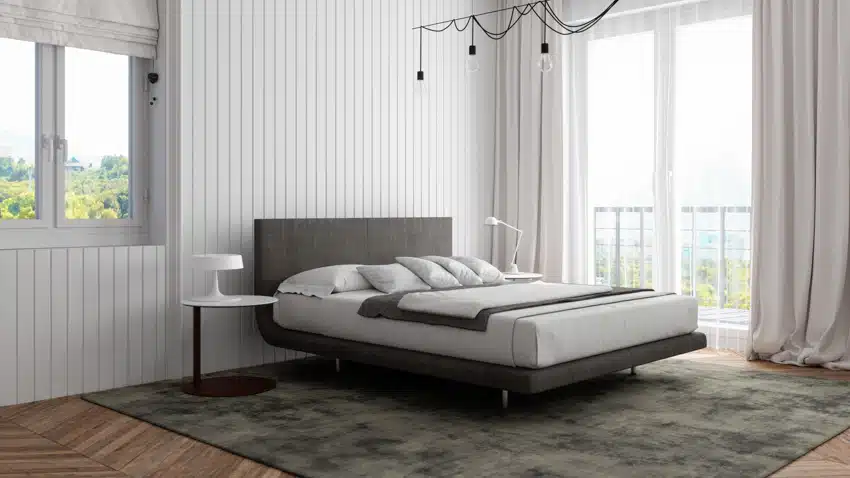 Attaching a beadboard panel to a wall can be undertaken as a Diy project because the steps are moderately easy. Below are some of the tools and materials you need to complete this project:
Materials and Tools Needed
• Beadboards panels
• 1×4 select pine board for the top rail
• Construction adhesive
• Screws
• Finishing nails
• Caulk
• Wood putty
• Paint primer
• Latex paint or enamel paint in your desired color
• Circular saw
• Electric drill
• Hammer
Steps on How to Attach Beadboard to a Wall
1. Determine the placement of the beadboard on the wall. If you plan on using beadboards for wainscoting, measure between 36 to 42 inches from the floor.
2. Draw a horizontal line on the wall to use as a guide for attaching the beadboard.
3. Using a circular saw, cut the beadboard according to size.
4. Apply a bead of construction adhesive to the back of the beadboard.
5. Position the beadboard on the wall, aligning it with the horizontal line.
6. Press the beadboard firmly into place on the wall.
7. Secure the beadboard to the wall by driving finishing nails through into the wall studs.
8. If installing a beadboard panel as a chair rail, cut the rail material of your choice according to the required size and fix it on top of the beadboard panel. Apply some construction adhesive and press the top rail firmly onto the wall and secure it by driving nails or screws.
9. Fill all the nail holes with wood putty.
10. Caulk the seam where the beadboard meets the wall.
11. Paint or stain the beadboard as desired. Make sure to use the right type of paint for the beadboard material of your choice. Apply paint primer to the beadboard surface, if you are using latex paint. If you are using an oil-based paint, you do not need to apply primer.
Use a paint brush to apply paint to the beadboard. Use a roller to apply paint to the flatter parts of the beadboard. Make sure to apply paint evenly throughout the surface. Let the paint dry for two hours. Apply a second coat of paint if necessary. Let the paint dry for 24 hours before applying any finishes.
See more related content in our article about beadboard kitchen backsplash on this page.