Here's our guide to acacia wood cabinet designs including what it is, its pros and cons, different cabinet style ideas & options, and acacia cabinet care tips.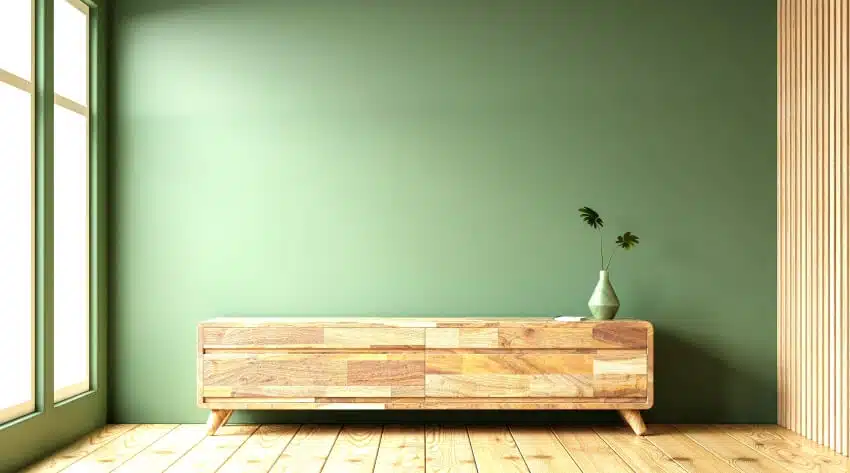 From accent furniture to kitchen cupboards, an acacia wood cabinet embodies that rich organic texture that gives a more aesthetic appeal to any rectangular silhouette. Moreover, acacia wood is very durable, making acacia furniture the perfect heirloom piece to invest in.
However, a piece of furniture made out of acacia goes beyond just beauty and durability as the other qualities of the hardwood have helped it rise to popularity.
What Is Acacia Wood?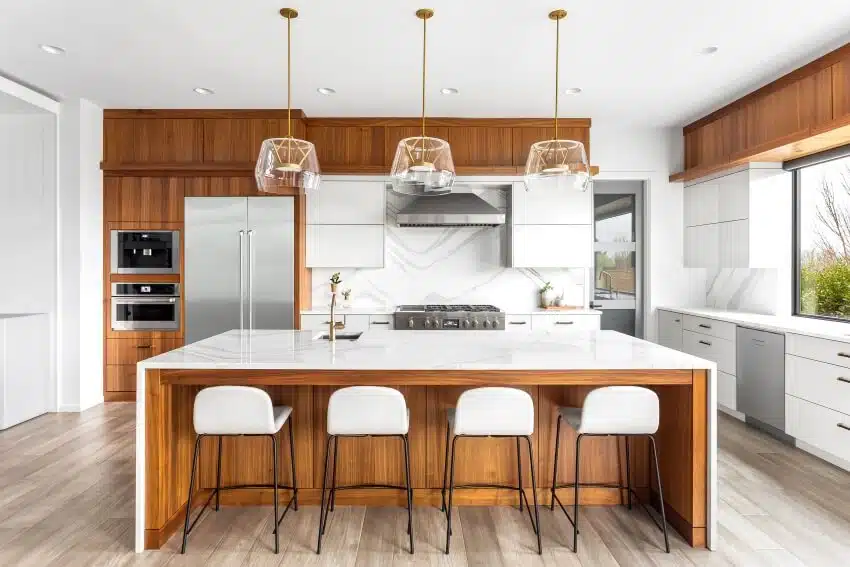 Acacia wood is a type of hardwood lumber characterized by soft honey and deep reddish browns with straight or curvy graining. The grain pattern will depend on the acacia tree which it was sourced from, but all acacia wood has that smooth finish and is distinct from its sapwood which features a yellowish to light brown coloring.
Native to Australia, the acacia tree has 1,350 species that spread throughout Asia, Africa, and Pacific Rim, and due to European settlers, the acacia wood has spread worldwide.
Today, the acacia tree is mainly imported into the United States, particularly the Acacia Koa or Hawaiian Koa and Acacia Blackwood species. For this reason, when selecting the best acacia wood for furniture, look for a full grain that has a straight grain, as it is commonly stronger and has better workability.
Pros And Cons Of Acacia Cabinets
These are the advantages and disadvantages of using acacia wood for your cabinets.
Pros of Acacia Wood Cabinets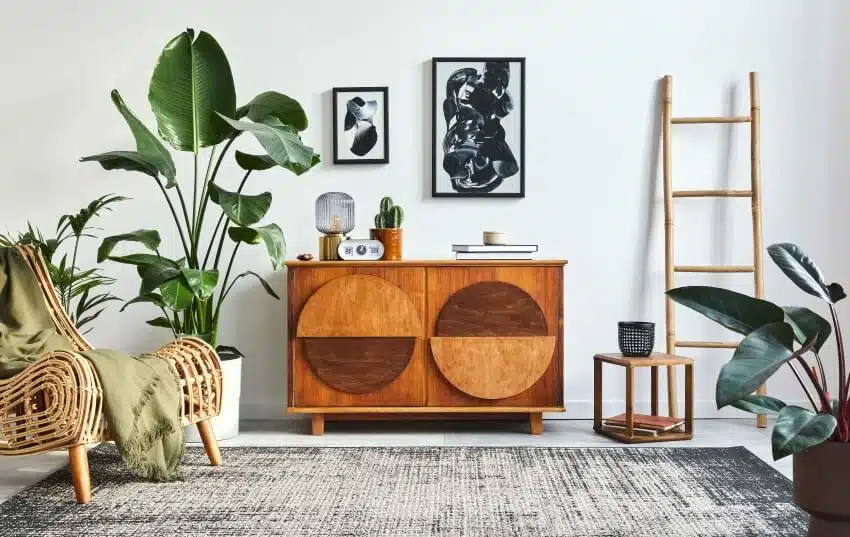 Extremely Hard Material – With its dense and close graining, the acacia wood is hard to scratch or dent. The hardwood has a Janka rating of 1700 (large leaf) and 2200 (small leaf). In general, it is 55% harder than European white oak and 23% harder than hickory.
Waterproof – Water is the number one cause of furniture damage; with an acacia wood cabinet, you'll get waterproof furniture that's ideal for kitchens and bathroom areas. Thanks to the natural oils of the hardwood, the surface is sealed off from moisture and decay.
Antimicrobial Properties – Of the 1,300 species, 19 have been proven to have antimicrobial and antifungal properties making an ideal wood for furniture, especially for damp places such as kitchens and even bathrooms. Small leaf acacia is also known to be resistant to termites, making it great for homes prone to termite attacks.
Sustainably Sourced – There is no shortage of Acacia wood that thrives in any weather condition. Moreover, the hardy tree can grow fast, around 1.5 to 2 meters in just 3 to 4 years, and has a lifespan of 20 to 30 years.
Affordable Hardwood – Due to its availability worldwide and fast-growing capabilities, acacia wood is one of the more affordable options for hardwood. Acacia wood is cheaper than teak, mahogany, oak, and rosewood.
Chatoyancy Effect – A unique feature of Acacia wood is that it can change in color and luster depending on the lighting conditions. An acacia wood cabinet can look dramatic and dimensional with the right lighting design.
Available Wood Choices – There are numerous designs of acacia wood cabinets, both in modern and traditional styles. Moreover, other than solid wood, acacia wood cabinets can also come with engineered wood, which has the top layer having true acacia wood material. Laminated acacia wood cabinets are also available.
Cons of Acacia Wood Cabinets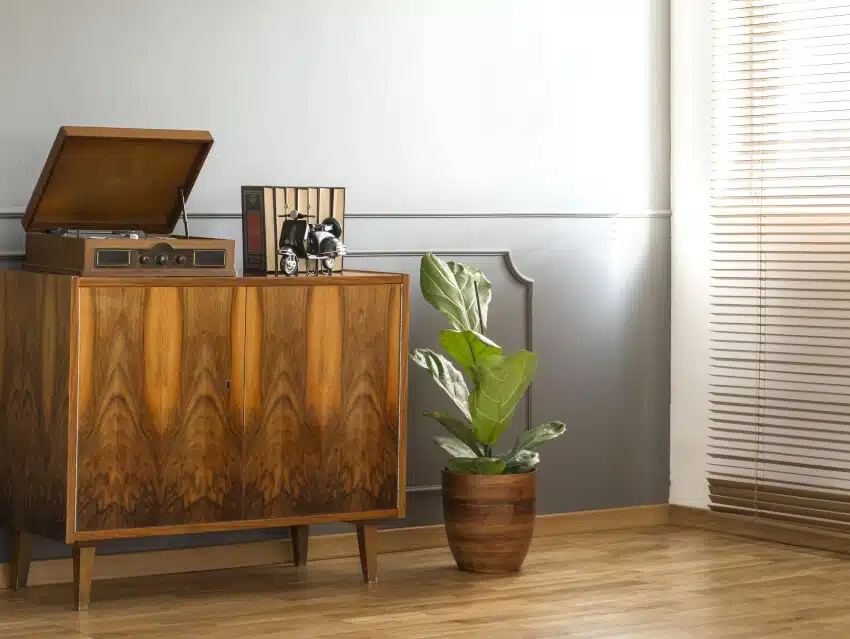 A Challenging DIY project – Acacia wood is a very hard wood that can be difficult to cut using hand tools. In addition, acacia lumber comes with wood knots which can disrupt the consistency of the wood, which means it requires a professional craftsman to work with the wood.
Heavy Furniture – Due to the dense structure of acacia wood, installing your acacia wood cabinet can be challenging and will need stable and structurally sound backing for wall-mounted cabinets.
They are easily Damaged with Harsh Chemicals – When cleaning your acacia wood cabinet, make sure to use a soft cloth and simple cleaning products, as harsh chemicals can easily damage the material. Water spills should also be wiped immediately and thoroughly to prevent staining and damaging the look of your acacia wood cabinet.
Varying Quality – Not all acacia wood cabinets are made with the same variety of acacia, so you'll need to know more about the best types of acacia species. Since acacia wood can vary in quality, expect not all versions as waterproof.
Though, most acacia species produce are very durable. A reliable supplier of lumber can save you on future problems with your acacia wood cabinet.
Deforms Under High Humidity Levels – Acacia wood can crack and deform when the material has dried out, which means an acacia wood cabinet above the cooking range or air outlets is not advisable. A stable humidity level in the room is needed to prevent the wood from drying out.
Darkens Overtime due to Sun Exposure – Acacia wood will darken over time, especially when exposed to the sun. Locate an acacia wood cabinet where it won't be constantly exposed to daylight.
Maintenance Needs. Like any other type of hardwood, cabinets made out of acacia wood will still need a level of maintenance to preserve the gorgeous look. Daily wiping of the acacia wood cabinet is recommended, and it is best to stir away from any liquid spills on the surface.
Acacia Wood Cabinet Designs
From credenzas to built-ins, acacia wood cabinet designs are numerous, and the rich color is the perfect element to add a cozy and relaxing feel to any function room.
Acacia Kitchen Cabinets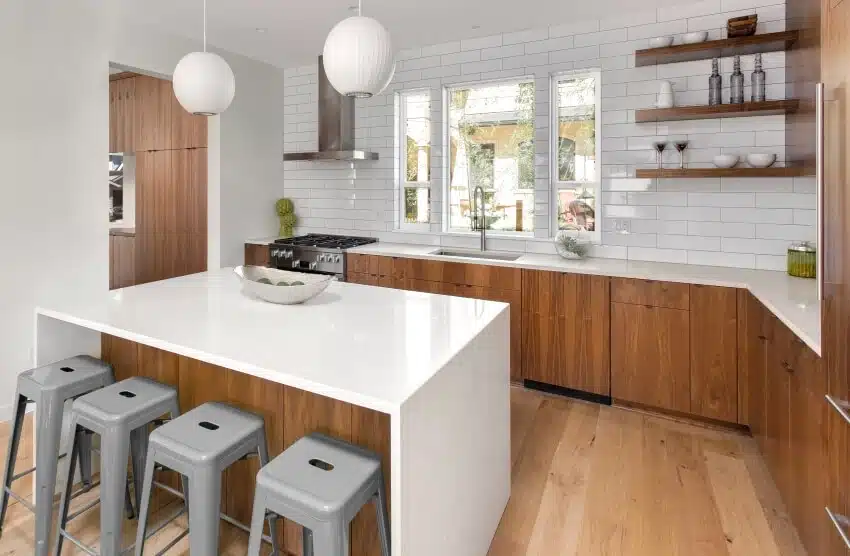 A careful selection of your kitchen storage is needed as it is a huge investment to make and can be costly to replace. An acacia kitchen cabinet is an ideal option if you want long-lasting kitchen furniture that is able to keep up with heavy use and exposure to moisture.
Cabinet baseboards are usually one of the first to receive wear and tear; with an acacia kitchen cabinet, dents and scratches are less likely, and you get a stable base for heavy countertops such as marble or granite.
If you need to match the color of your existing kitchen, your acacia kitchen cabinets can be stained and finished to your desired color. Acacia wood has a high acid content and absorbs water-based solutions well. Instead, use oil-based stains and finishes to achieve the surface color for your acacia wood cabinet.
Acacia Bathroom Cabinet
If you love wood in your bathroom but worry about water and moisture from ruining your furniture, an acacia bathroom cabinet is a great option. The natural oils and high density of acacia wood make it virtually waterproof.
Either opt for a piece of bespoke furniture or a ready-made bathroom cabinet. The acacia bathroom can last many years with proper care and high-quality craftsmanship.
Acacia Wood Buffet Cabinet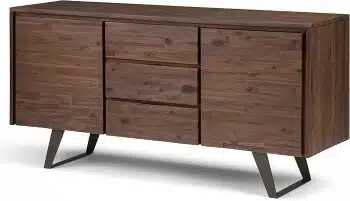 See this acacia wood buffet cabinet at Amazon [sponsored link]
There's more than just food and a well-structured table setting when it comes to food presentation, and that is having a reliable buffet cabinet. The gorgeous texture of acacia wood can make an inviting backdrop for any dining room styling.
The durable material means you can have an acacia wood buffet cabinet as a great heirloom piece. Though, you'll need to add an extra layer of protective coat on your acacia wood furniture as it can easily stain the surface.
Acacia Wood Bar Cabinet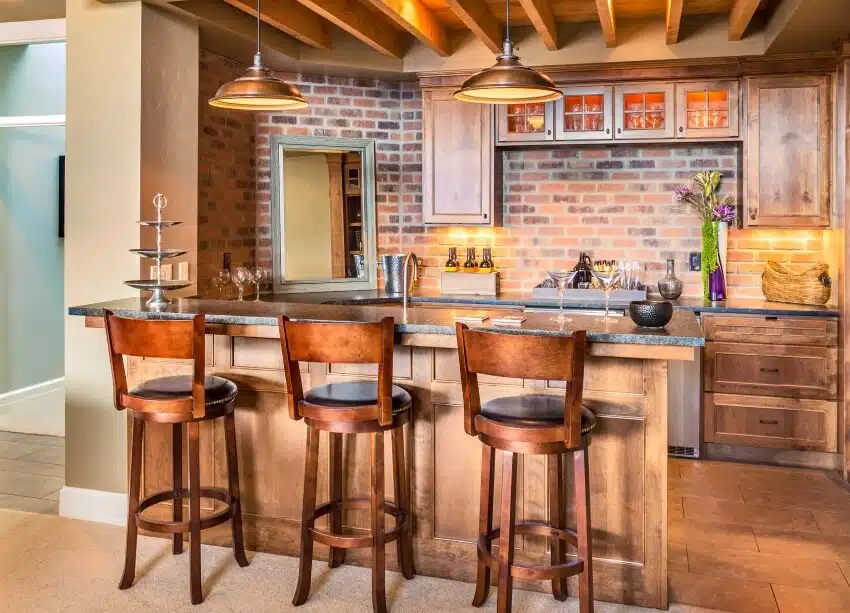 Nothing beats a piece of handcrafted furniture, and the acacia wood bar cabinet can be an exquisite addition to any home bar, living room, or kitchen. The eye-catching colors make it an inviting furniture piece to house favored spirits.
Due to its gorgeous texture, an acacia wood bar cabinet can be a sculptural piece. For instance, a black resin inlay in your acacia wood bar can be a unique feature.
How To Care For Acacia Wood Cabinets?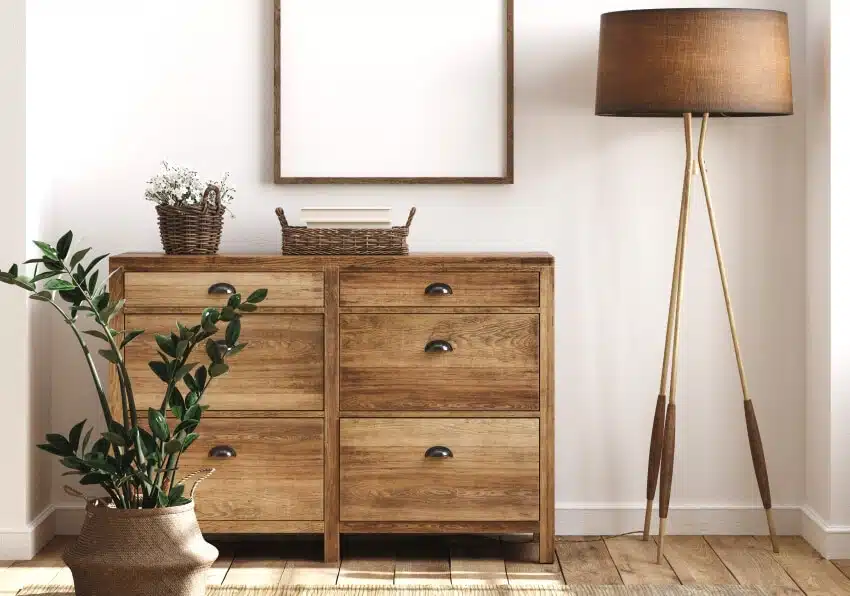 1. Daily wiping off the surface of the acacia wood cabinet will maintain its appearance. Use a soft cloth that is slightly moistened when cleaning the surface of your acacia wood cabinet.
A lacquer finish or any other protective coating should be applied to your acacia cabinet to protect the acacia surface.
2. Don't use brushes and other cleaning materials with a rough surface.
3. Avoid placing the acacia wood cabinet near fireplaces, radiators, or any other devices or areas exposed to heat, as the wood will warp and deform.
Matting or coasters are recommended when placing hot beverages or any other items that emit heat on your acacia wood cabinet.
4. Do not use cleaning agents with silicone content, as it can dry out the wood surface over time.
While acacia wood cabinet is very hard and will rarely dent or scratch, there are instances that these damages can happen, especially in a kitchen setting. To remove the scratches, use a touch-up marker to conceal them scratches. Test the touch-up marker on a hidden part of the acacia wood cabinet before applying.
5. Do not use cleaning agents with ammonia as the chemical can take out the moisture in the wood furniture. The acacia wood's surface can
To remove stains, apply olive only with a soft cloth along the direction of the wood grain—Buff out the stain with a soft cloth. Mayonnaise and petroleum jelly can also be used. Apply them using a circular motion using a soft cloth.
For more related content, check out our comparison of inset vs overlay cabinets here.