See our comparison of inset vs overlay cabinets including what they are, their pros and cons, cost and which is best between these types of cabinets.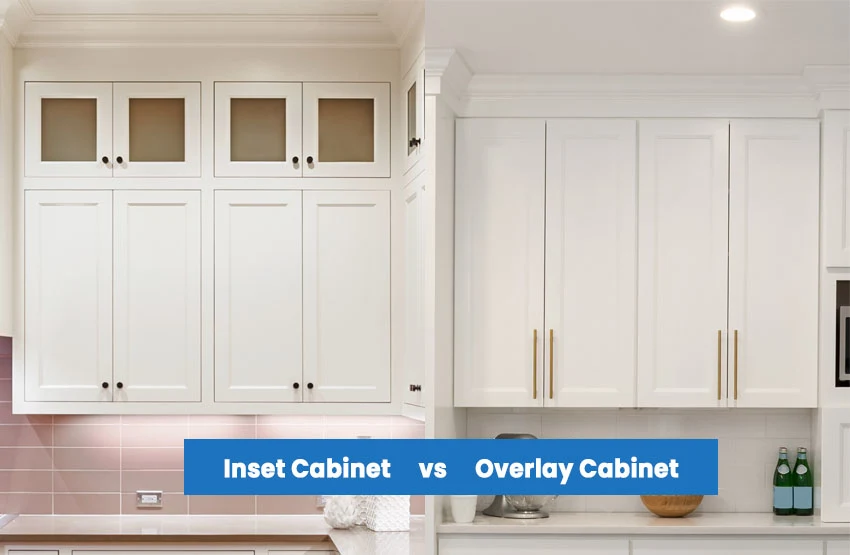 Cabinets are safe storage spaces you can add to your home and can be installed in different rooms, from the kitchen to your bedrooms. Besides its functionality though, they also have the capability to contribute to the area's aesthetic value and elevate it to another notch.
With cabinets, you can have a wide selection to choose from, based on materials, colors, and styles. And when it comes to the cabinet door's structure, you can choose one among inset and overlay cabinet doors. If you choose overlay cabinets, you also need to choose between full overlay cabinet doors or partial overlay cabinet doors.
The decision on the structure of your cabinet door can impact the current style you have going in your home and the budget you're willing to spend on the piece of furniture. So if you're in the process of deciding, this is a quick guide to differentiating inset cabinets from overlay cabinets.
Inset Vs Partial and Full Overlay Cabinets Chart
| | | | |
| --- | --- | --- | --- |
| Elements | Inset Cabinets | Full Overlay Cabinets | Partial Overlay Cabinets |
| Style | Modern & custom look | Traditional | Most traditional & classic |
| Hardware | Pull/knob required | Pull/knob required | Hardware not required |
| Storage Space | Maximum access but less than full overlay cabinets | Maximum access and storage space | With space similar to full overlay cabinets but offers less access |
| Budget | Most expensive | Cheaper than inset | Least expensive |
To understand these types of cabinets better, exploring them one by one is the best step to take. After skimming through them, you can decide which type fits your home the best.
What Are Inset Cabinets?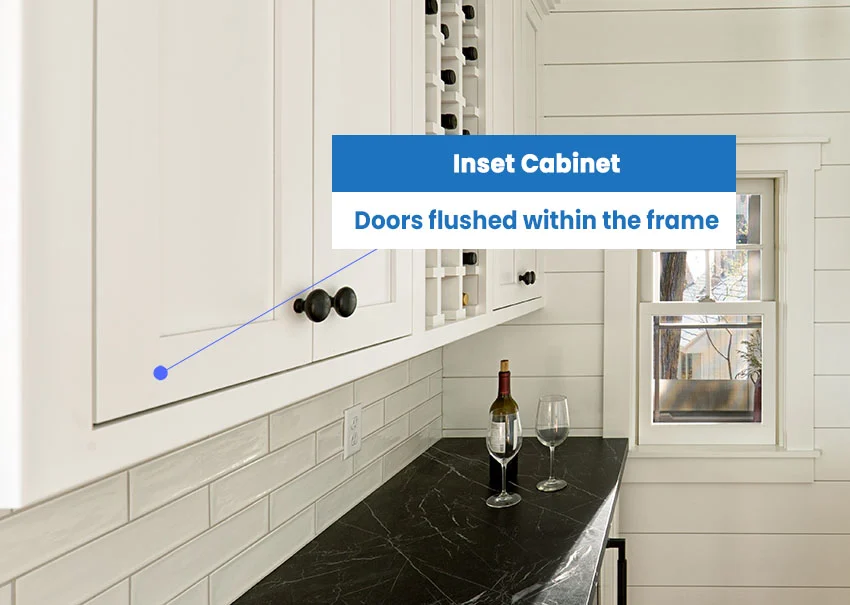 Inset cabinets have drawers and doors flushed within the frame when they are closed. This showcases a streamlined look that's both classic and elegant to look at. And while they do come in a variety of colors, finishes, and stains, the most popular inset cabinets come in white because of their clean and minimalist aesthetics.
Inset cabinets are named as such precisely because the cabinet doors or drawers are set and structured into the cabinet's frame. This means that the frame is designed to surround the entire cabinet, even its door. A standard framed cabinet structure has additional rails and stiles, which are responsible for the edges that form around the opening of the furniture.
With inset cabinets, doors are most often installed with hinges that are completely concealed and hidden from the outside. This makes it possible for the entire cabinet to have this streamlined, sleek, and clean look that it's popular for. You still have the option of making the hinges visible if that's what you prefer.
With a flat door that lines up with the rest of the cabinet, you will need to install a door knob or pull to open the door. And since it does not require a frame, the cabinet provides full access to its interior.
Besides their modern aesthetics, these inset cabinets are more known for their custom look. Designers offer customization to this type of cabinet, adding embellishments around the door panel since it serves like an empty canvass. This particular kitchen cabinet design is very popular in European kitchens that are dominated by high-end and modern designs.
Pros And Cons Of Inset Cabinets
Exploring the pros and cons of using inset cabinets is the best move to take so that you can decide better if this is an excellent option for you.
Inset Cabinet Pros
Inset cabinets are a favorite of many designers for a reason. Some of the advantages you can expect to enjoy with this type of cabinet include the following:

• Showcases a clean and timeless look – Designers love inset cabinets because of their high-end and seamless look, which can be achieved by flushed doors and invisible hinges. They are flexible and can be used in traditional kitchens and contemporary kitchens.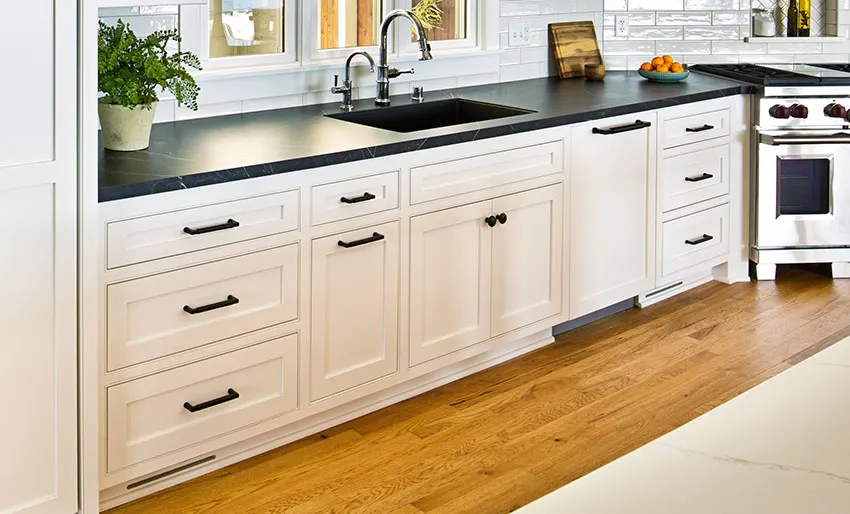 • More protected cabinet corners – Since the corners of the cabinet (the ends of the doors) are flushed within the cabinetry, they are protected from getting nicked and bumped when they are closed.
• Add value to your space's aesthetics – Inset cabinets can elevate the design and aesthetics of your home. Since they are priced higher, it means you're also adding more value to your kitchen with its installation.
• May feature historical appearance – Older homes have the same style as inset cabinets so if you're going for a historically accurate interior and style, these cabinets would be great.
• Highly customizable – Besides its modern and seamless aesthetics, inset cabinets are known for their custom look. From beading to additional embellishments on the door panel, the cabinet's clean design makes it an ideal canvass for designing and customizing.
• Offers maximum access to the cabinet's interior – Because of how the doors are flushed to the cabinet's frame, it allows maximum access to the interior of the piece of furniture.
Inset Cabinets Cons
Inset cabinets have many advantages to benefit from but like all things, there's also the other side of the coin. Here are the drawbacks you can expect from this type of cabinet.
• More expensive and higher cost – Compared to other types of cabinets, inset cabinets cost more to build and install. They cost 10 to 30 percent more than overlay cabinets, which can often lead to thousands of dollars.
• Issues with humidity – Inset cabinets, specifically those made from wood, are prone to expanding when in humid climates making the cabinets difficult to open. The doors and frames will rub each other which can lead to damage.
• Less storage than overlay cabinets – Compared to overlay cabinets, inset cabinets offer less space despite providing maximum access. Storing large items inside may be difficult.
• Requires a specific type of maintenance – You will need to adjust the doors and drawers of inset cabinets over time to make sure that it opens and closes properly since it's prone to expanding especially when in humid climates.
What Are Overlay Cabinets?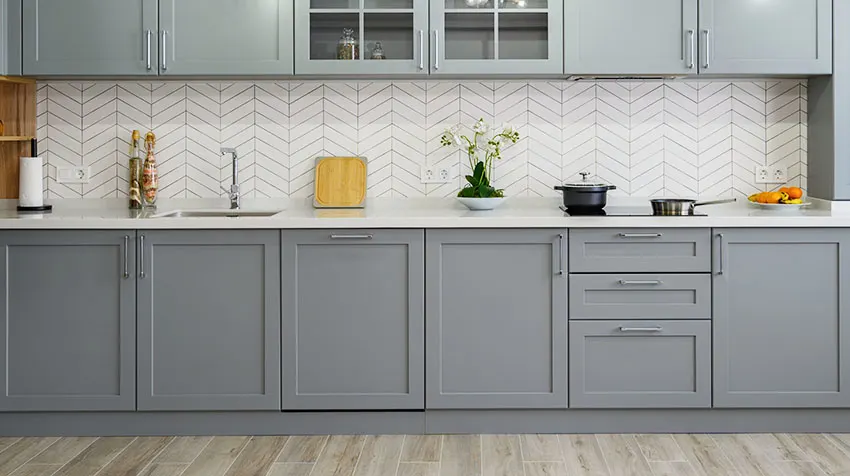 If you're going for overlay cabinets, you can either choose full overlay or partial overlay, depending on your preference. An overlay cabinet simply refers to the ones with doors not set and flushed into its frame, giving it more space and additional storage inside the piece of furniture.
Overlay cabinets can easily be incorporated into kitchens with different styles. You can use this type of cabinet for a traditional vibe through a recessed or raised cabinet door.
You can also go for a modern aesthetic with a slab door. Whichever you choose, there's something you can do to your overlay cabinets to fit the style you're envisioning.
Full Overlay Cabinets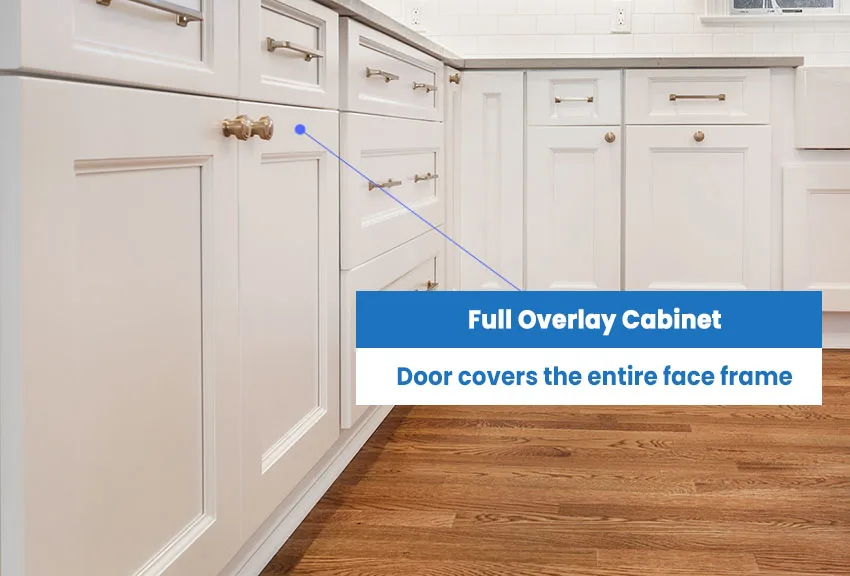 The first type of overlay cabinet is the full overlay cabinet. This piece of furniture is recognized by its extra-large fronts, both with its doors and drawers.
Based on the name alone, these cabinets are structured to fully cover the entire face frame of the cabinet. It is the exact opposite of inset cabinets (with an entirely visible face frame) since it completely hides the face frame when it's closed.
Similar to inset cabinets though, full overlay cabinets also have this streamlined look but in a different cabinetry way and with a lower price tag attached to it.
Full overlay cabinets require hardware like a pull or knob to open the door. And compared to inset cabinets, while they may have similar look, they are less expensive and offers the most amount of storage space and access.
Partial Overlay Cabinets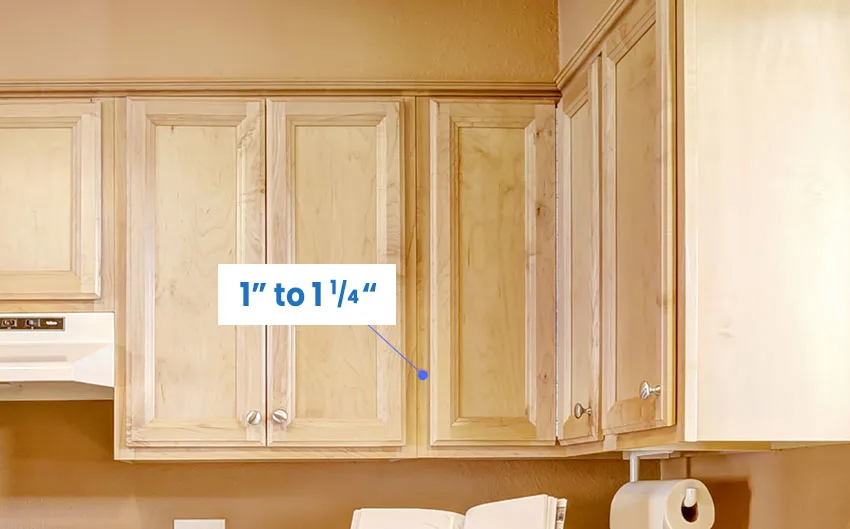 Partial overlay cabinet is the other type of overlay cabinet. It is the least expensive option compared to inset cabinets and full overlay cabinets. Considered the most common choice for most homeowners, partial overlay cabinets are similar to their full version because the door sits in front of the cabinet frame and is not flushed in it like inset cabinets.
Known as the most traditional American cabinet style, partial overlay leaves around 1 to 1 ¼ inch of gap between the doors that allows you to see the cabinet's face frame. The hinges are fully exposed, giving the cabinet the traditional and vintage look that homeowners are used to.
When closed, the cabinet box is only partially covered and when opened, the inside wood edge is fully exposed. It also offers the same maximum storage space that its full version offers but provides less access to the interior of the piece of furniture.
And compared to inset cabinets and full overlay cabinets, partial overlay cabinets do not require any type of hardware just to open the cabinet. You can easily open the cabinet through the edge of the door.
Pros And Cons Of Overlay Cabinets
Overlay cabinets can be a good option to take into account. To help you decide if this is the ideal option for you, weigh its pros and cons. Whether you're going for a full overlay cabinet or a partial overlay cabinet, they offer similar benefits and drawbacks you can take into account.
Overlay Cabinet Pros
Overlay cabinets are the more common choice compared to inset cabinets. And here are the advantages why they are highly preferred by many homeowners.
• Ideal for all types of styles – Partial and full overlay cabinets are wonderful aesthetic additions to your home. Partial overlay cabinets deliver a traditional and vintage appeal while full overlay cabinets showcase a sleek and streamlined look for modern kitchen styles.
• Showcases more storage space compared to inset cabinets – Unlike inset cabinets, overlay cabinets have more storage space you can use since the door is not flushed inside the frame and sits outside it. They can accommodate larger items inside the furniture.
• Considered the least expensive option – Overlay cabinets are offered at lower costs, which is why they are more popular compared to the expensive inset cabinets. They are the better option for homeowners with tight budgets.
Overlay Cabinet Cons
Choosing overlay cabinets does not only mean making the most of the benefits but also accepting the drawbacks that come with them. Here are some worth taking note of.
• May or may not require hardware – Partial overlay cabinets may not require hardware since you can easily open the furniture through the edge of the door but full overlay cabinets will need a door pull or knob to pull it open.
• More prone to getting nicked – Since the corners of overlay cabinets are exposed, they are more prone to getting nicked and damaged over time.
• Not as high-end looking as inset cabinets – Inset cabinets are expensive for a reason and overlay cabinets may not be able to replicate the same high-end look and showcase a similar feel to them.
Inset Vs Overlay Cabinets Cost
Overlay cabinets are more affordable than inset cabinets, which is the reason why many homeowners choose this type of cabinet for their kitchen. Inset cabinets carry an additional 10 to 30 percent compared to overlay cabinets.
The added cost will depend on how you will customize the cabinet and embellish the doors. In addition to that, inset cabinets are much more carefully crafted and so take meticulous expertise to make.
Are Inset Cabinets Better Than Overlay?
Deciding whether inset cabinets are better than overlay cabinets will rely on what you prioritize with your choice. List down the different factors that can affect your choice and rank them according to which ones you prioritize more. Here are some factors to check out and what type of cabinet may be the better option if you prioritize them.
Budget – If you have a tight budget, overlay cabinets (particularly partial overlay cabinets) are the ideal option for you. Inset cabinets are more expensive and they won't be a practical choice for you. To help you with your tight budget, here are more tips to consider for a more affordable choice:
• Choose stain rather than paint
• Flat panels are less expensive than raised panels
• Copped or butted corners cost less than mitered corners
Style – These different cabinets have their own styles that can help you decide if they are the perfect fit for your home. For a modern and contemporary style, inset cabinets/full overlay cabinets are the better option. For traditional and vintage styles, partial overlay cabinets are better.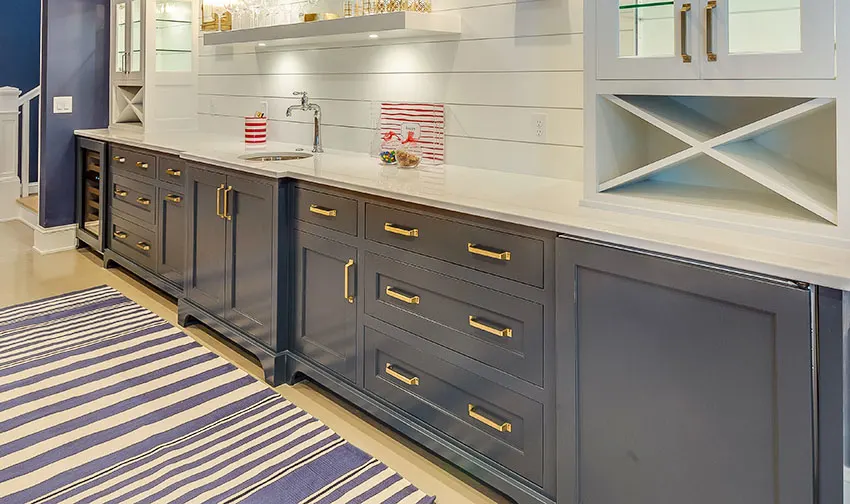 Inset cabinets are also a bit European in style (that's where they are popularized in the first place!) and have this custom look to them that screams high-end.
Customization and Installation Friendly – Inset cabinets are much more custom-friendly but when it comes to their building and installation, they require a bit of a meticulous touch and precise measurements for the cabinet to work perfectly.
Some are even adjusted every now and then since the wood is prone to expanding, which can affect how the door functions since it is flushed in the frame. This is not an issue experienced with overlay cabinets.
Overlay cabinets do not require strict measurements and meticulous labor. They have more wiggle room in terms of construction and installation.
Visit our guide to kitchen cabinet styles for more related content.