Welcome to our guide to choosing the best kitchen wall colors with cream cabinets including various paint color combinations and other popular color choices.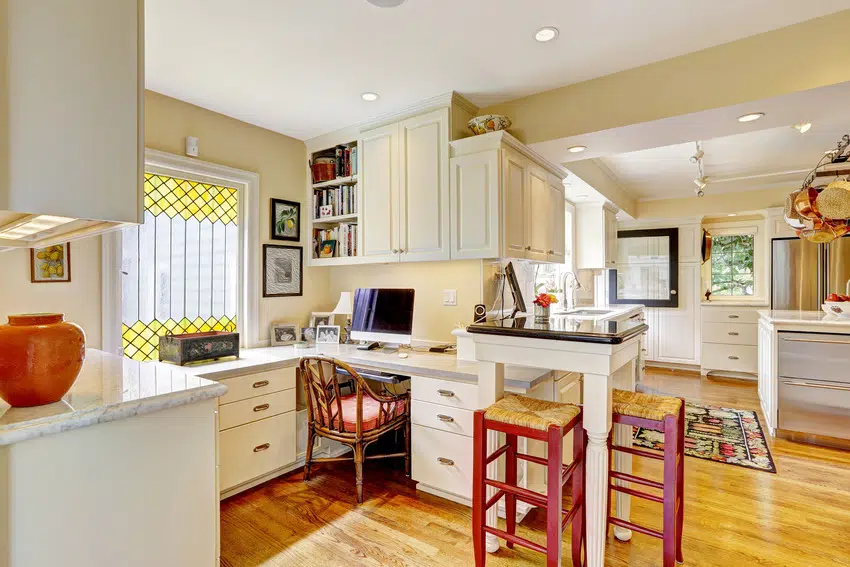 Cream, like white, is a versatile color that you can pair effortlessly with a wide spectrum of colors. Essentially, it helps give your kitchen a classic or traditional look.
A cream kitchen especially looks inviting, making it the perfect place to chill out with family and friends. However, what about cream cabinets? Is there any available paint color that goes well with it?
No worries because we've got you covered! We've compiled a list of kitchen wall colors that work best with cream cabinets below. Let's take a look.
Choosing Wall Paint Colors With Cream Cabinets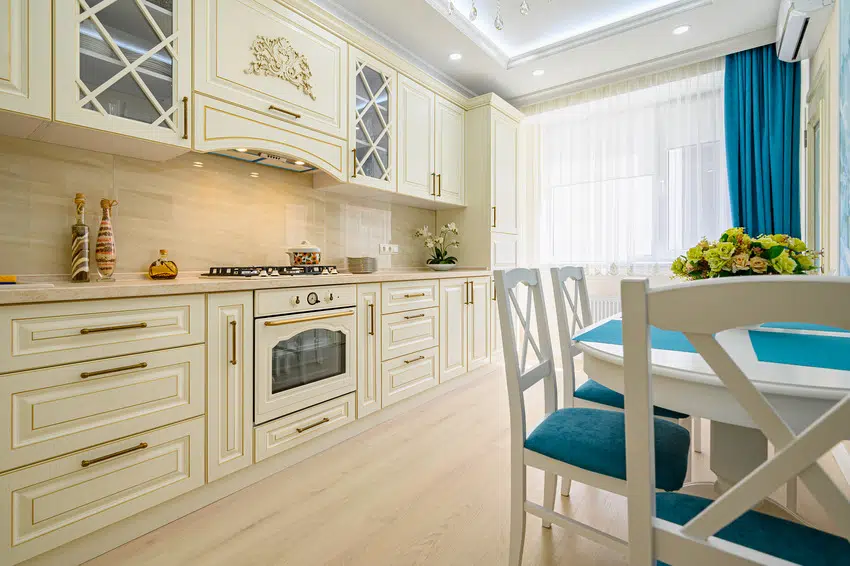 Firstly, you have to choose colors that will complement or emphasize your cream cabinets to help them stand out.
With unlimited color scheme options available, cream can easily be paired with almost any color for your kitchen remodeling project. The best and easiest way to pair this color is to refer to the color wheel.
Here are some tips to help you decide which color to use, not only for your kitchen walls but also for your kitchen accessories to perfectly highlight your kitchen's appeal.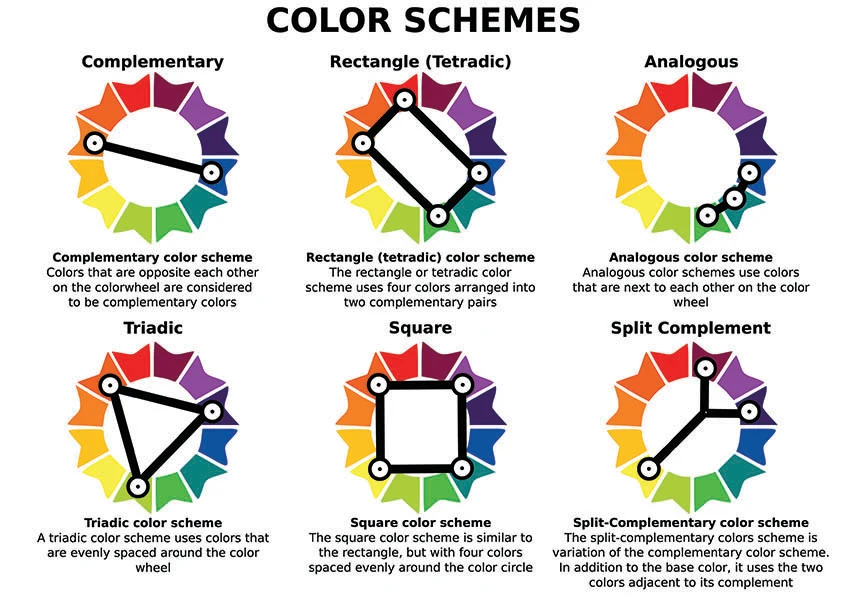 Complementary Colors
Complementary colors sit directly across each other on the color wheel. For cream, it's blue.
Does that mean painting your kitchen walls with any shade of blue will do?
That would actually depend on your taste and the overall feel you want to achieve for your kitchen. Color experts particularly suggest using a contrasting ensemble of dark cream colors paired with any cool shades of blue. Read more about our article on blue and white kitchens design ideas here.
Analogous Combination

Analogous colors are a combination of two to five colors, which sit adjacent to each other on the color wheel. In this case, the analogous colors for cream are yellow, green, blue, and orange.
Using an analogous color scheme for your interior design essentially gives your room a calming and harmonious ambiance.
For example, painting your walls with matte honey-gold paint and decorating the room with accessories in various shades of cream will give your kitchen a warm and homey feel.
You can also paint your kitchen walls in any pale blue shade to match your cream cabinets.
To further enhance your kitchen's personality, you can also pepper it with accessories or design accents in any green or earthy shades.
Triad Colors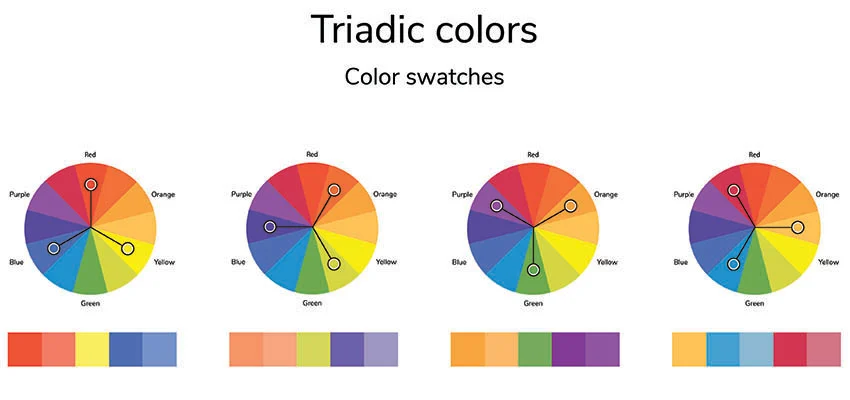 Like the name implies, triad colors consist of three colors that are equidistant from each other in the color wheel.
To give you an idea, simply draw or imagine a triangle at the center of the color wheel. Pick out the colors at the tip of each side of the triangle for your color scheme.
For your cream cabinets, that will be green and purple.
To use this color scheme for your kitchen, you can paint with delicate pastel shades like mint and lavender. This combination is ideal to create a romantic and dreamy ambiance for your kitchen.
Four-Color Combination
The four-color combination basically uses one primary color and two complementary colors, plus an additional color to accentuate the remaining three colors.
To help you visualize, simply draw a rectangle on the color wheel. Pick out the colors that sit on the four edges.
In this case for cream, that will be red, blue, and green. These are all bold, dominant colors that somehow reflect a sense of adventure.
Consider painting your walls with navy blue while accentuating with cream tables and chairs to match with your cabinets. To complete the look, you can decorate the space in various shades of red and green.
Split Complementary Combination
For the split complementary color scheme, simply pick the two colors that sit on both sides of the color opposite cream. In this context, blue is the opposite of cream and the two colors on its sides are purple and green. Read more about our article on colors that go with green here.
To mix and match with cream kitchen cabinets, consider using yellow-green and Turkish rose colors with any peach shades as accents. This is an interesting color combination that will help evoke a fun and relaxed atmosphere for your kitchen.
Best Wall Paint Colors With Cream Cabinets
If you're still having a hard time choosing the best kitchen wall colors for your cream cabinets, no worries! We make it easier for you by simplifying the paint color options below.
Gray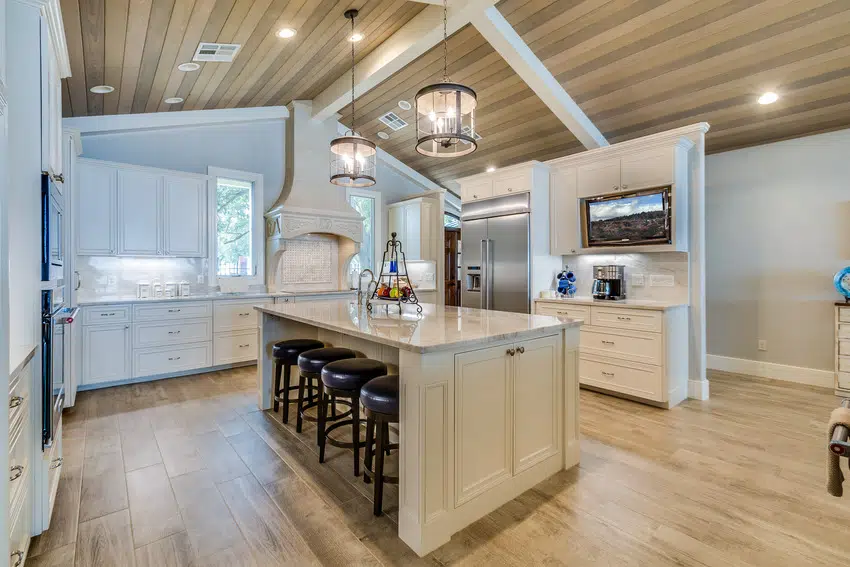 Gray is an all-time favorite when it comes to wall paints, especially if you prefer to give your kitchen a trendy modern or classic minimalist look.
But does it look good with cream cabinets?
If you're a fan of gray walls, you're in luck because cream and gray are a perfect combination. It may not seem like it, but the color contrast is actually visually pleasing, creating a soothing and relaxing effect.
However, if you still want to spice up the neutral look of your cream and gray kitchen, you can use any red, black, or orange accent to break the monotony of the room. Top paint pick: Rhino 710E-3 by Behr Rhino
Lavender
Lavender or pale purple may seem an odd choice, but painting your kitchen walls with either color will complement your cream cabinets, giving your kitchen a very feminine and elegant look.
You can also transform your kitchen interior into something more rustic by decorating the space with reddish-brown or warm orange furniture or wood trims. Top paint pick: Majestic Purple SW 6545 by Sherwin-Williams
All Cream
You can never go wrong with an all-cream color scheme for your kitchen interior. Settling on similar colors for both your kitchen walls and cabinets may seem like a safe choice, but this color scheme actually creates a clean and inviting atmosphere for your kitchen.
What's more, this color scheme is most ideal for small kitchens because it also helps make the room appear bigger.
To further give your cream-colored kitchen a twist and defining character, you can use dark-colored tiles to highlight your flooring and balance out the neutrals.

Top paint pick: Calming Cream OC-105 by Benjamin Moore
Chalk White
If you want to give your kitchen a vintage or classic look, consider pairing your cream kitchen cabinets with chalk-white walls.
Aside from the aesthetic factor, this color combination will also make your kitchen look spacious and clean. Top paint pick: Chalk Gray RJ230 by Kilz (Note: It may appear chalky white when painted on the surface.)
Putty
Putty paint colors are neutral colors that are a shade darker or lighter than cream. It's the ideal wall color if you're using gray and other color combinations.
For example, if you have cream cabinets and gray worktops or accessories, a putty color will help balance the starkness of gray and the lightness of cream. Top paint pick: Ivoire SW-6127 by Sherwin-Williams
Golden Ocher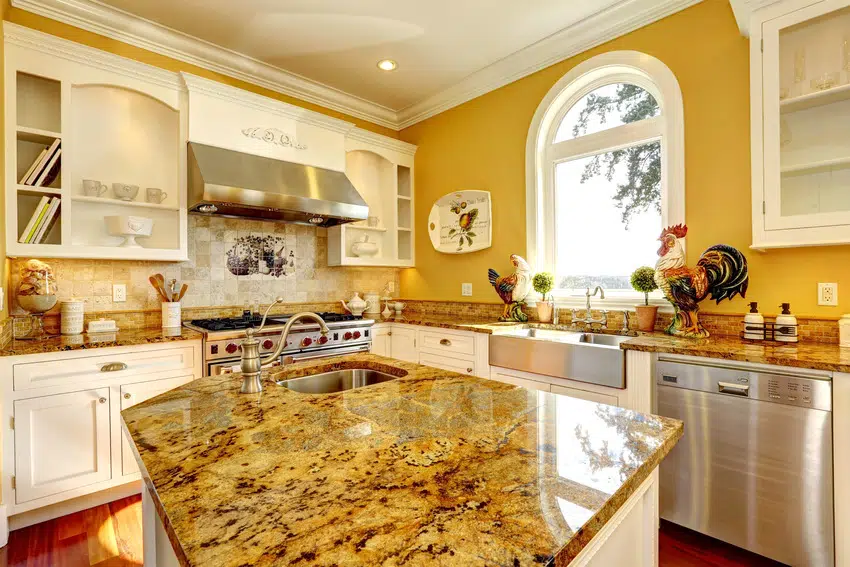 Golden ocher is a dark neutral that belongs to the same color palette as cream. Basically, the darker hue balances the softness of cream.
You can complete the look of your kitchen interior by using this paint color together with dark-colored pendant lights and blinds for a more outstanding effect. Top paint pick: Golden Ochre V053-6 by Vaspar
Bonus:
Metro tiled wall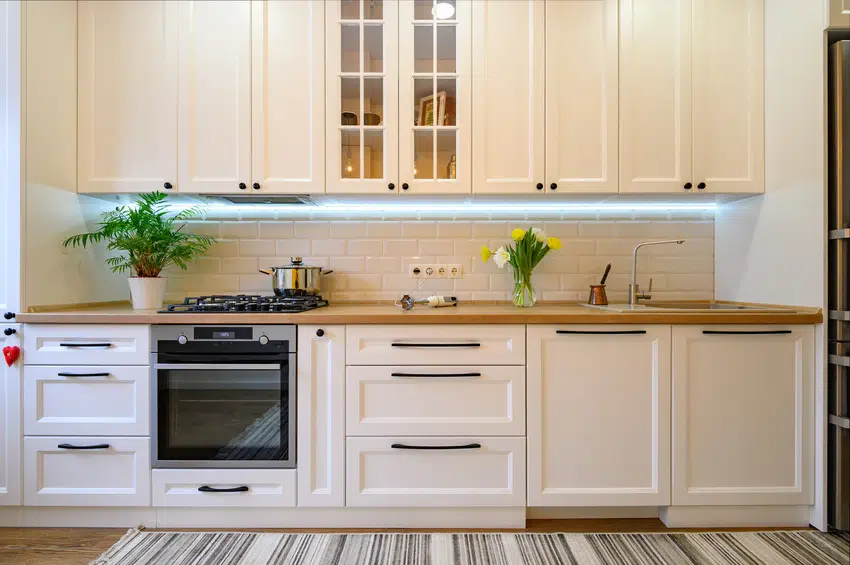 Metro tiled walls aren't a color but they complement cream-colored kitchen cabinets exceptionally well that we had to include them on this list.
This design combination gives your room a bright, summery feel. Complete the look by adding granite worktops, pendant lights, and bar stools.
Moreover, if you still want to add some character to your cream cabinets, consider glazing them.
Glazing is a technique that enhances the color of certain parts of your cabinet. It is normally done to highlight any intricate detail of the cabinet.
There's a wide variety of colors available to pair with your cream kitchen cabinets. Ultimately, it's best to pick a color that will suit your preference, which will depend on the look or style you want to achieve for your kitchen interior.
Get ready to unleash your fun and creative side!
For more related content, check out this kitchen wall colors with white cabinets article.