Here we share our interior door paint ideas design guide with the best colors to use for closet doors, walls, trim and jambs.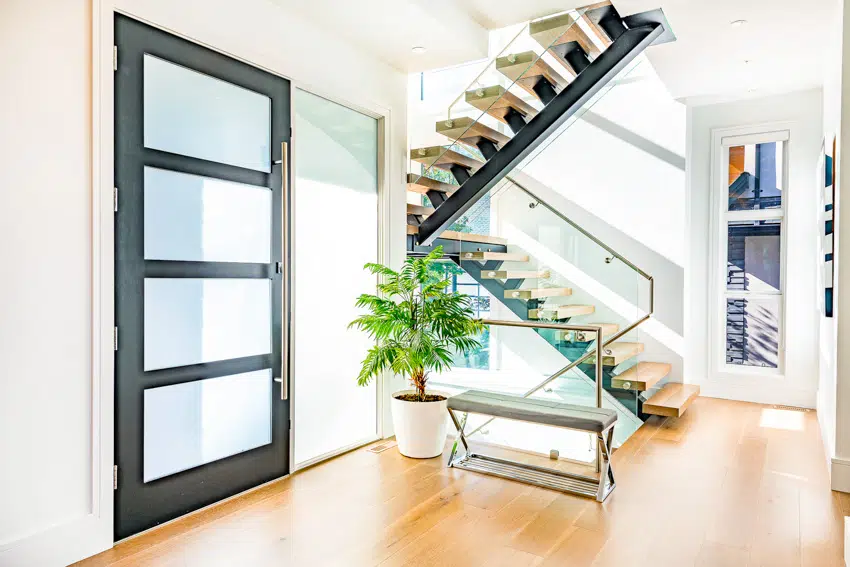 Interior door painting is a quick and easy method to freshen up your house. You may revamp with a new coat of white paint or add a splash of color to your interior doors to match your design style. Repainting is also a budget-friendly choice for novice DIY home remodeling!
What Color to Paint Interior Doors?
With the current trend toward white and neutral walls and décor, spaces may quickly become drab. Painting the door in an exciting color is a fast and straightforward method to give pop and personality to a room.
Without making a huge commitment, it is simple to alter if you become bored with it.
Many popular interior door colors are available, but we recommend selecting one that complements your interior and exterior decor. Although the ideal shade for your house is the one that makes you happy, we'd want to point you in the correct way at least.
Best Interior Door Colors
Here we share the best colors for interior doors including other design tips.
Grays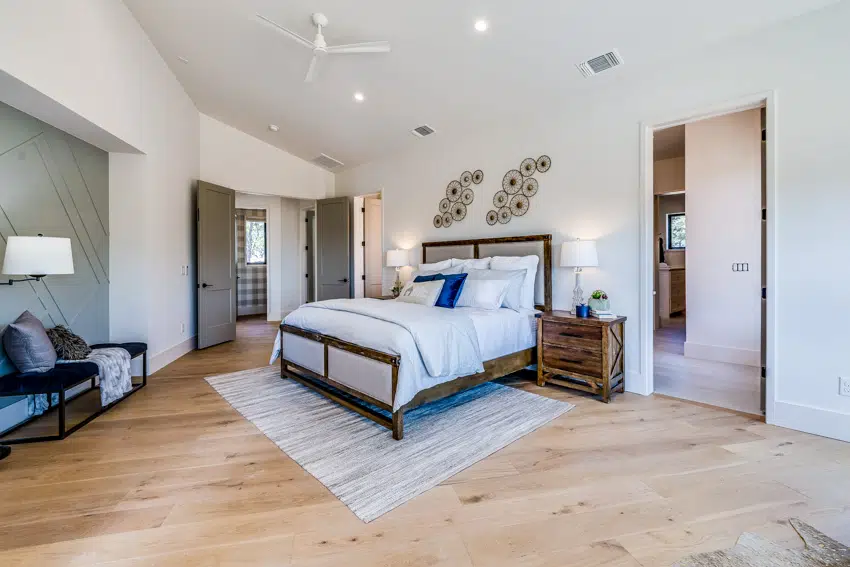 Gray is among the great and safe interior door paint ideas if you are not ready to go with a bright hue or a dark black. If you are not sure to paint your inside doors a different color, start by painting the inner side of your front door to see.
If you have sliding doors, they, too, look fantastic in gray! Read more about our guide on colors that go with gray floors here.
Nearly Black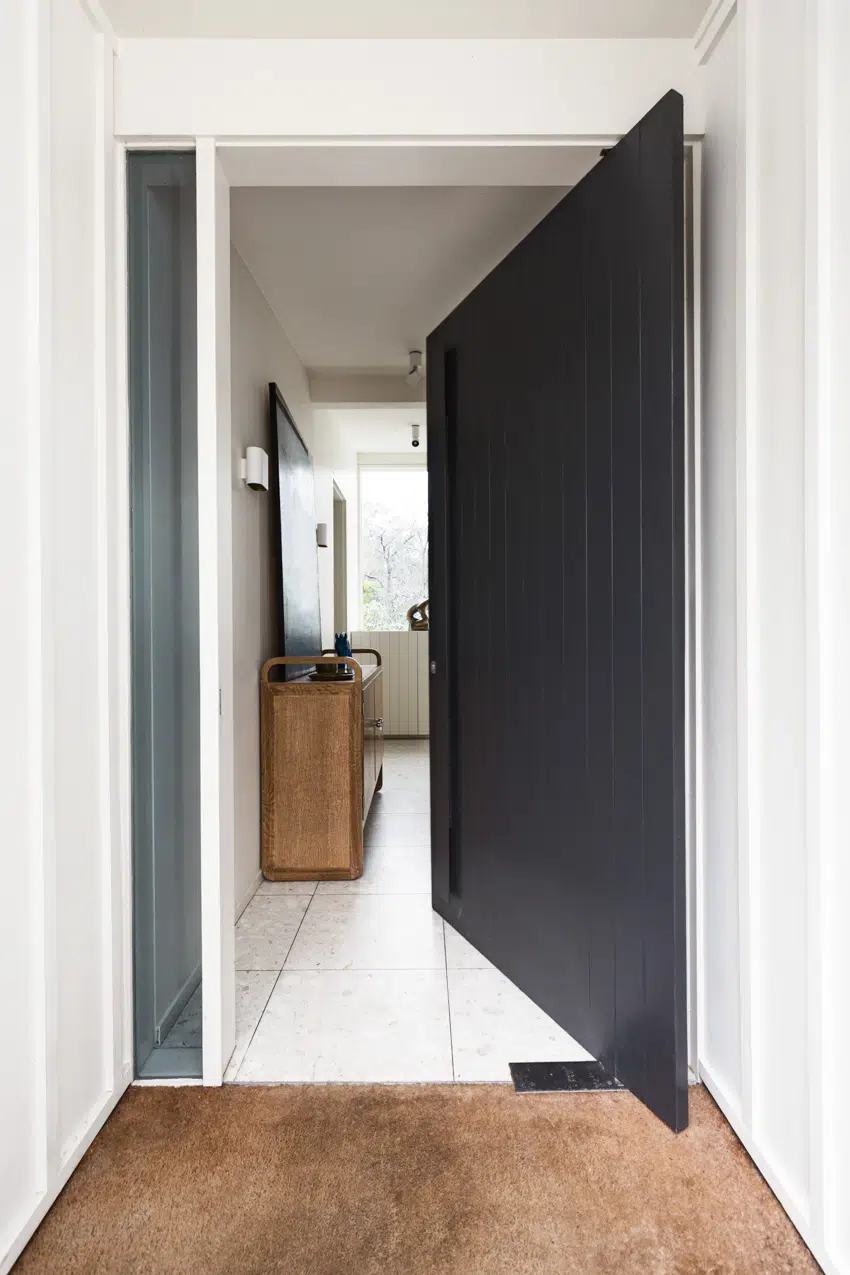 Nearly black doors are stunning. True black is extremely powerful and may be harsh. Although pure black looks great in certain situations and houses, we usually keep our painting customers away from true black.
Simply softening and diffusing the black by selecting an almost black with a gray or brown undertone certainly does make all the difference. If we cannot persuade you not to do a nearly black, go for a black with a neutral/gray undertone to help dilute and soften.
After many campaigns in Scandinavian design, with its light and brilliant colors, we anticipated seeing this year a return to dark tones. As a result, finishes like Black Oak have a place among the popular door colors.
The color must not, however, produce gloomy and cramped areas. That is why dark tones are often paired with marble, which brightens everything with its intensity, or with glass doors and organic hardwood furniture in lighter finishes like bleached oak or silk oak.
Blues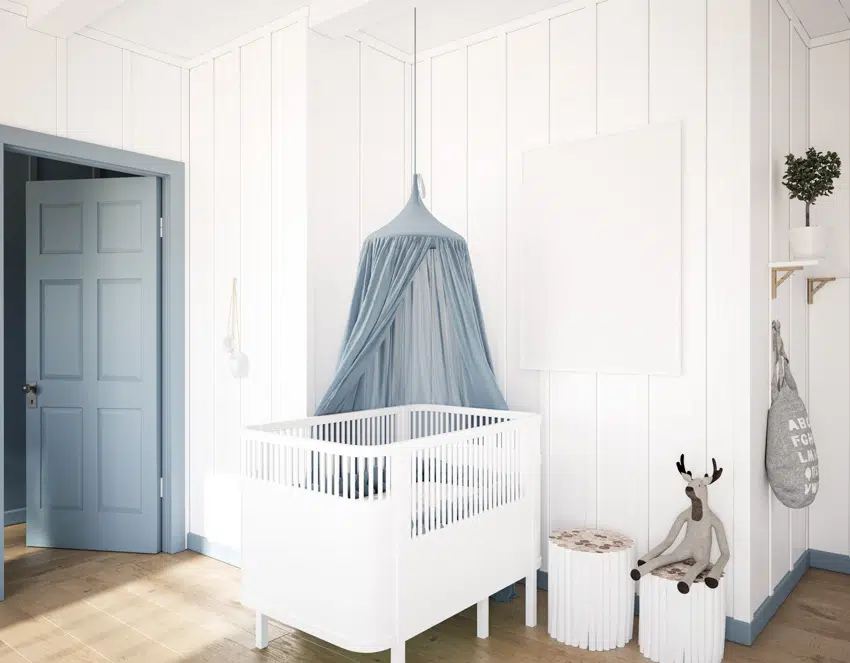 We understand that blue seems one of the riskier interior door paint ideas, but trust us when we say that the correct shade of blue can look beautiful and neutral.
If you have sliding French doors in your house, painting them a beautiful blue will add spice. Read more about our guide on what colors go with light blue walls here.
Bright Pastel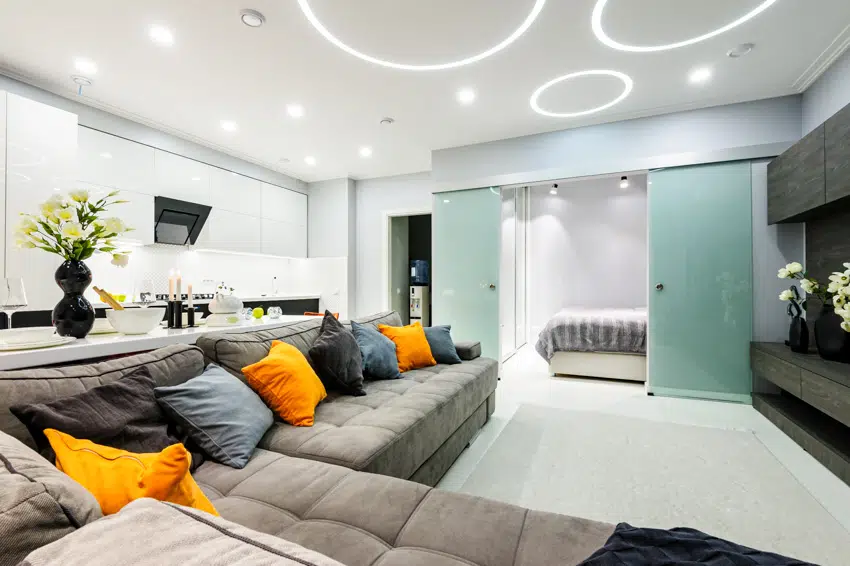 Color is an addition to the mild and delicate hues. The use of bright colors has also resurfaced as a trend, impacting the color of interior doors.
Choosing colored interior doors already implies decorating the surroundings, beginning with the door frame. It is among the interior door paint ideas to make your door appear elegant.
Ideas for Painting Doors and Trims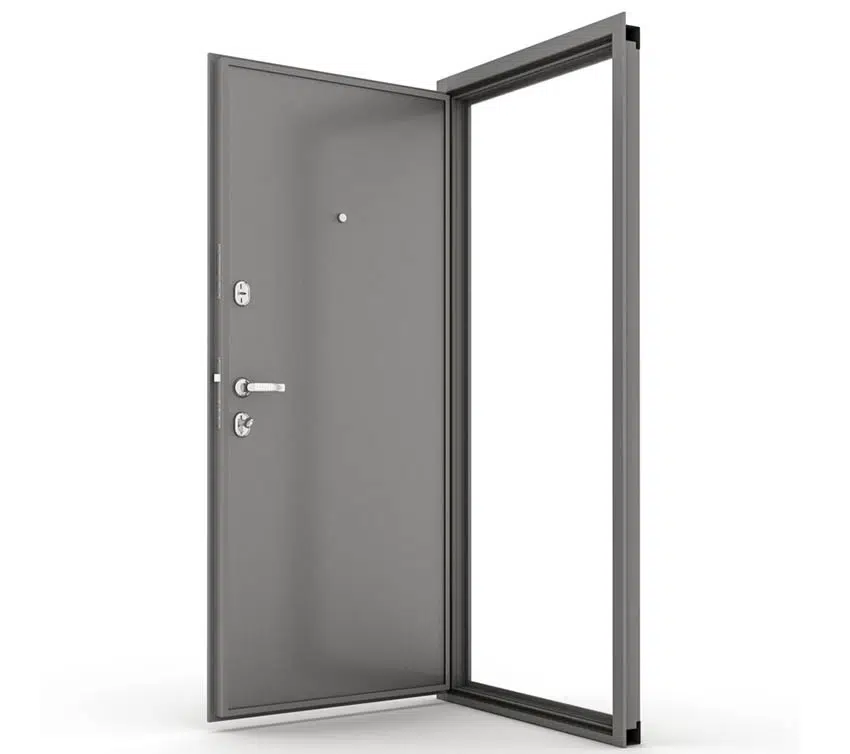 The design rule of thumb is: If you will paint your door white or another light neutral, match the surrounding trim. If you like to paint the door a deeper color, start with the trim, sit for at least 24 hours, tape it off, and paint the central part of the door.
The color scheme of black and white is used in almost any room, whether inside or outside. White houses with black trim add interest to the outside and give the impression of being bolder.
Black interior door color with white trim, on the other hand, provides a sophisticated and beautiful appearance that you can match to any style choice.
A door may break down wall space, making a room or entrance seem smaller. Matching the door's color to the wall and trim is vital to make the room appear larger.
Keep tiny sections in a traditional, basic palette like white or cream. A fresh coat of interior door trim paint may make these attractive features stand out even more, depending on overall wear and tear.
Larger rooms, unlike smaller ones, can take a little more of a punch; thus, you may paint interior doors in a brighter hue. Use a full shade in the same family.
Choose an accent color you already use in other areas if you want something more dramatic. Anyone wishing to add a mix of elegance and earthy tones into their house would love the combination of white trim and wood doors.
Closet Door Colors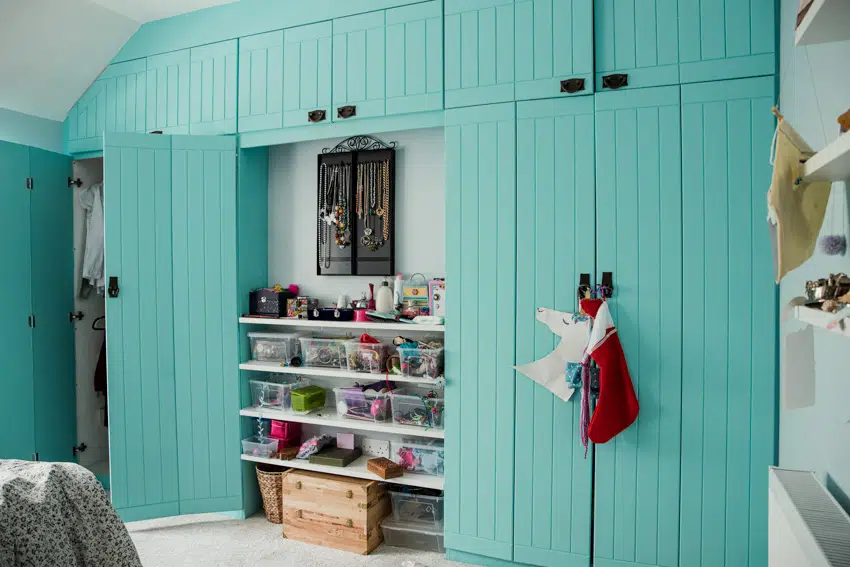 Are you contemplating whether or not to paint closet doors to match the walls? Painting closet doors after you've decided on color is a lot simpler than you think. Stated, whatever color trim you use on baseboards, bedroom doors, and the rest, you should use the same color on closet doors.
Furthermore, whatever color you choose, all trim should be the same hue. Pantry, laundry, mudroom doors and baseboards, casings are all painted in the same finish and color.
Mixing colors from one trim to another, or using several trim colors in the same room, may detract from consistency and is not recommended. When painting closet doors, test the paint colors on the doors or trim first. Because let's face it, paint is expensive, and once it's shaken up, it's yours.
Doors and walls should have somewhat varied color schemes, with slightly more noticeable opposing color combinations. If your room is tiny, we recommend softer toned colors for the walls and doors.
Are Painted Inner Doors Still Trendy?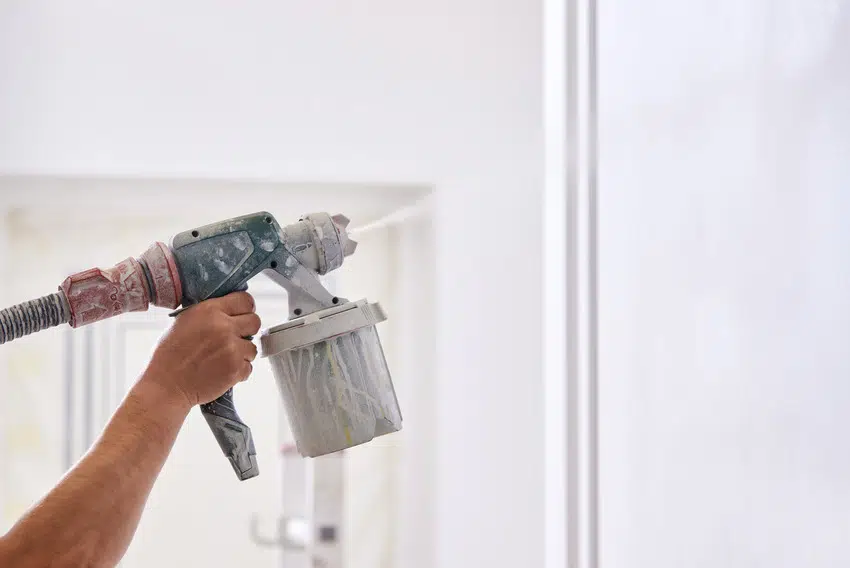 Painted interior doors, like painted front doors, are a hard sight to pass up—and this painting trend has lately been catching on. It is a bright, fun way to add personality to a room with less risk and commitment than an accent wall or a wholly painted room.
Sometimes, we overlook interior doors to create a decorative statement, although not all entries should stick out from the walls. Depending on the doors and the room's layout, you may make them stand out or fit in.
Should Doors Be Painted the Same Color As the Walls?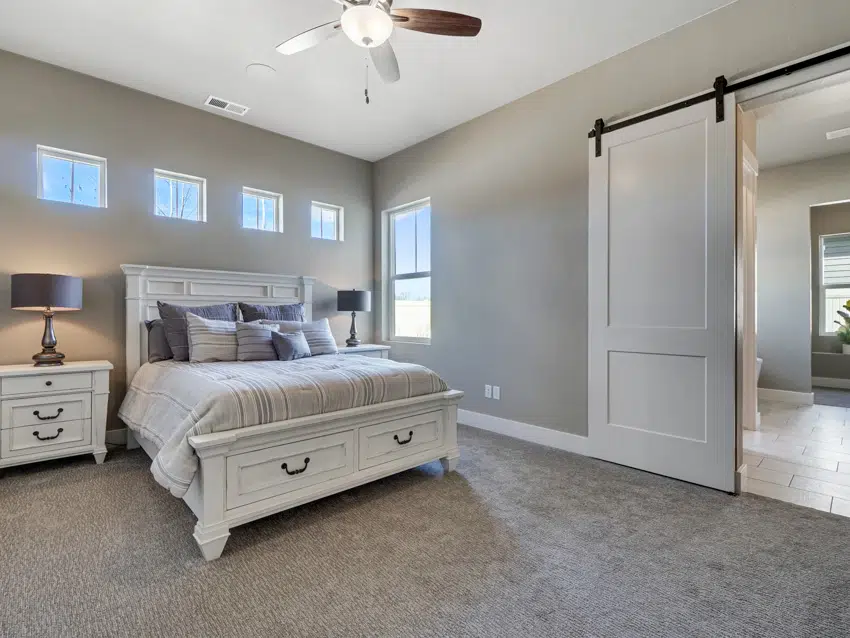 Painting interior doors and trim is one of the most common paint inquiries we get. If you paint interior doors and trim white or a color that contrasts with the walls, they will stand out.
Painting the same color as the walls, on the other hand, will help them blend in and virtually vanish. Because there are no white trim or doors to halt your eye as you look around a tiny space, it will seem more expansive.
Painting baseboards and crown molding can also make the room seem taller if it has low ceilings. You may choose a shade brighter or darker for the trim work and doors if you want a little more contrast. But don't dismiss the possibility of white on white.
Paint everything white if you desire to keep it fresh but not have your doors and trim stand out. It's a light, airy design that lets your furnishings and accents take center stage. Bring in bursts of color and plenty of natural textures to warm things up.
In a small room, painting the ceiling, walls, and woodwork the same color helps everything merge. Because your eye isn't sure where to stop, the area seems to be considerably bigger. Read more about our guide on accent wall colors here.
Do You Paint the Door Jamb the Same Color As the Door?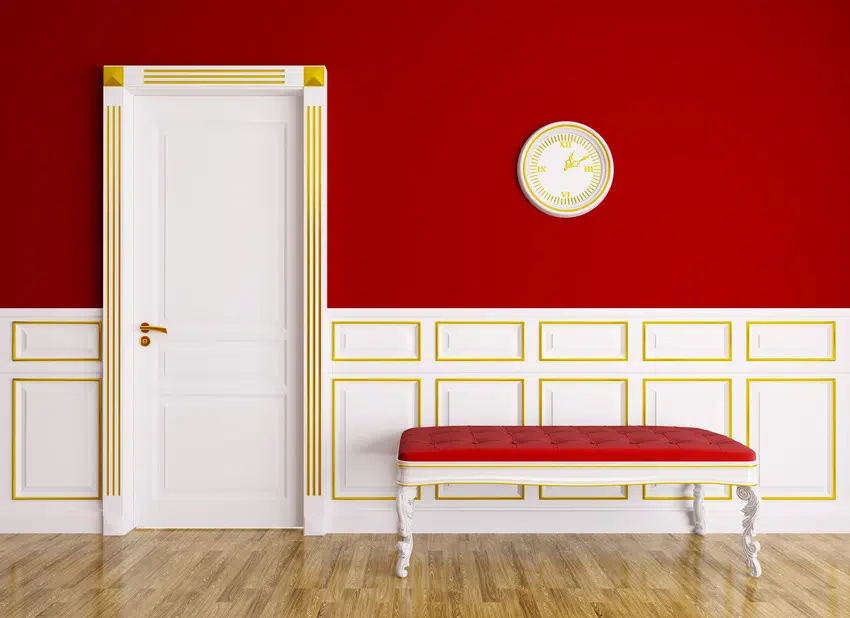 The door jamb is the molding where the door meets the wall. If a transition between two rooms isn't a concern, it's OK to paint the door jamb the same color as the door.
It will give the appearance of being one piece. Another alternative is to paint the door jamb the same color as the trim (for example, white), creating a three-color scheme: wall color, trim (jamb), and door color. It is the busiest choice, but it's also the most convenient.
Let's suppose you have a dining area next to your entrance. The dining room is blue, and the entrance is gray.
It would be best to color the threshold transition area gray to match the door since the traffic flow is from the entry to the dining. Many interior designers like to follow the room hierarchy. Meaning, you will prioritize rooms that are deemed essential.
There is no need for you to paint all of your doors the same color. Begin with your master bedroom and evaluate how you like it by painting the closet/bathroom doors. It is just painting; we always remind our clients. You can always modify it should you change your mind.
Keep things modest with a subdued color palette if you're not ready to commit to a robust color scheme. You can paint the inside of your front door a "barely there" pink to fit in with the warm woods and vivid flora in a mid-century design house.
Door paint ideas don't have to be large and dramatic to be effective. See more related content at our article about the different front door color ideas and meanings on this page.