Here's our retractable ceiling fans pros and cons including what it is, if they work, how to choose a retractable ceiling fan, and cleaning tips.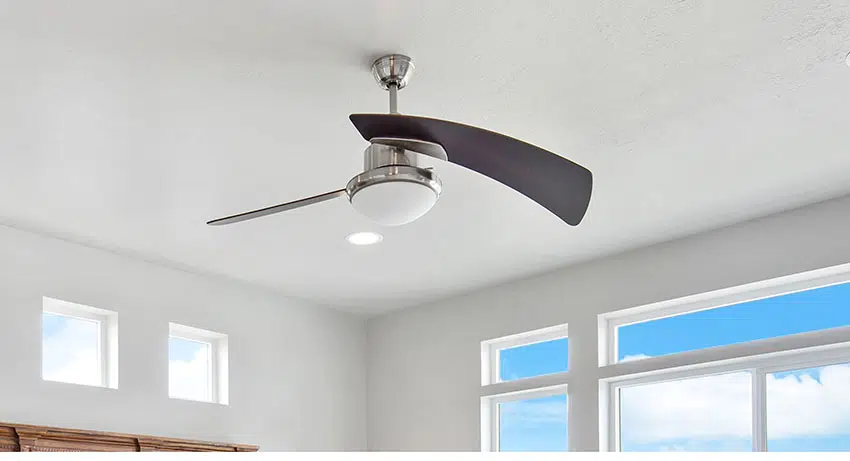 Finding a decent concept for a ceiling may be difficult, particularly if you need to choose between a gorgeous chandelier and a ceiling fan that keeps you cool in the summer. With these new popular ceiling fan designs, you may enjoy the best of all worlds.
Retractable ceiling fans are an excellent choice in your house as they are both functional and aesthetically pleasing. They are now a must-have in many homes since they help lower energy bills by circulating air. Continue reading to discover more about the advantages and disadvantages of retractable ceiling fans.
What Is A Retractable Ceiling Fan?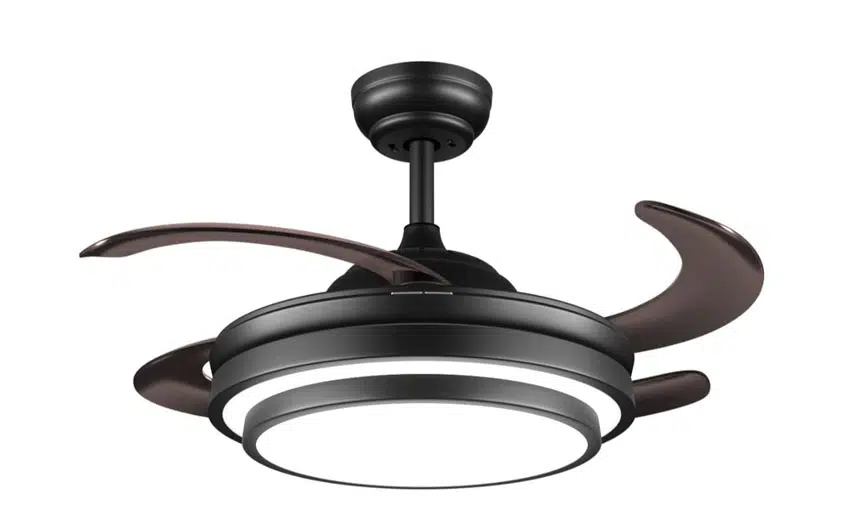 See this retractable blades ceiling fan at Amazon [sponsored link]
A retractable ceiling fan is a type of ceiling fan that has retractable blades. When the machine is off, the blades retract, and when it is on, the blades spread out to their maximum length.
They are also available in various features and styles that you may customize to complement the décor of your house. Some may even be embellished with gemstones or have an industrial style.
Retractable Fan Pros
In addition to being visually beautiful, retractable ceiling fans also have many advantages.
Less Maintenance: Retractable ceiling fans need less maintenance than other ceiling fans. They are simple to clean since they are from high-quality materials resistant to dust accumulation. You can keep it clean is as simple as cleaning the blades with a moist towel after use.
Less Noise: One of the benefits of retractable ceiling fans is that they are less noisy than other ceiling fans. Compared to typical ceiling fans, they are quieter due to the technology used in the motors.
Saves Energy: Another advantage of using a retractable ceiling fan is that it might help you save money on your energy costs over time. The ceiling fan helps a room cooler by distributing heat evenly across the space. In practice, you can set the thermostats at higher temperatures in the summer and lower temperatures in the winter.
Furthermore, retractable ceiling fans help keep a consistent temperature by moving the air. As a result, your air conditioning equipment will not have to work as hard, allowing you to save money on your energy costs.
Improves Air Circulation: The fact that they are strong enough to circulate air and keep the space cool is another advantage of retractable ceiling fans. Blades are offered in a variety of sizes to accommodate varied needs.
The greater the size and length of the blades, the greater the power of the ceiling when it comes to air circulation, and circulation will be more forceful.
Aesthetically Pleasing: Ceiling fans with retractable blades are fashionable. They are often in a chandelier style, which gives off an industrial vibe. They are appropriate for both contemporary and traditional-style homes. You may choose from a diverse range of styles that are currently available on the market.
Durable and Long-lasting: You can be sure that they will survive for a long time due to the high-quality materials used in constructing retractable ceiling fans. Always be sure to inspect the fan's overall quality before making a purchasing decision.
Lowers Temperature: Retractable ceiling fans direct air downward, creating a gentle breeze that is beneficial in cooling the room. On the other hand, you may turn the fan's blades in the other direction during the winter. If the ceiling fan is the other way, it will draw air up from the floor to the ceiling.
Take notice that warm air tends to ascend in the atmosphere. When the fan is in the other direction, it draws cold air to the ceiling and drives heated air to the floor resulting in heat being spread evenly across the space.
Retractable Fan Cons
There are also certain disadvantages to using retractable ceiling fans.
Difficult To Set Up: Retractable ceiling fans may be challenging to install, particularly for individuals installing ceiling fans for the first time. If you install a retractable blade ceiling fan for the first time, the procedure may be more complex and time-consuming.
Additionally, most of these fans need a flush mount installation for optimal performance. We recommend hiring a professional to install your ceiling fan for those unfamiliar with electrical work.
Difficult To Clean: The blades of a retractable ceiling fan might grow filthy and dusty over time. Air, dirt, and grime collect on the blades as the motor case circulates. Cleaning the fan blades is challenging because of the enclosed form of the fan. It might also be challenging to reach the fan blades if mounted on a high ceiling.
Generates More Heat: You should note that ceiling fans do not affect the room's temperature. Instead, it circulates the air to keep the temperature comfortable. The engine of the retractable ceiling fan generates a tiny amount of heat, which you may feel in the room.
Retractable ceiling fans may generate more heat than regular fans when allowed to run for more extended periods in houses with low ceilings. As a result, the air circulates in a smaller area, causing the room to seem warmer.
Limited Amount of Light Available: Retractable ceiling fans are available in various designs that feature a lighting fixture. In contrast, when it comes to illuminating the whole room, you cannot simply depend on the fan's lighting fixture to provide enough illumination.
The amount of light available is restricted, and it may not be enough to illuminate the whole space. The retractable ceiling fans have lighting fittings for further convenience.
It Can Be Dangerous: Retractable ceiling fans may be hazardous when positioned at low levels. Before installing, consider the heights of your family members and any guests present.
Avoid installing the fan in a room with low ceilings that are readily accessible. When the fan is on, its blades are very sharp and may inflict serious injury if they are touched.
How To Choose A Retracting Fan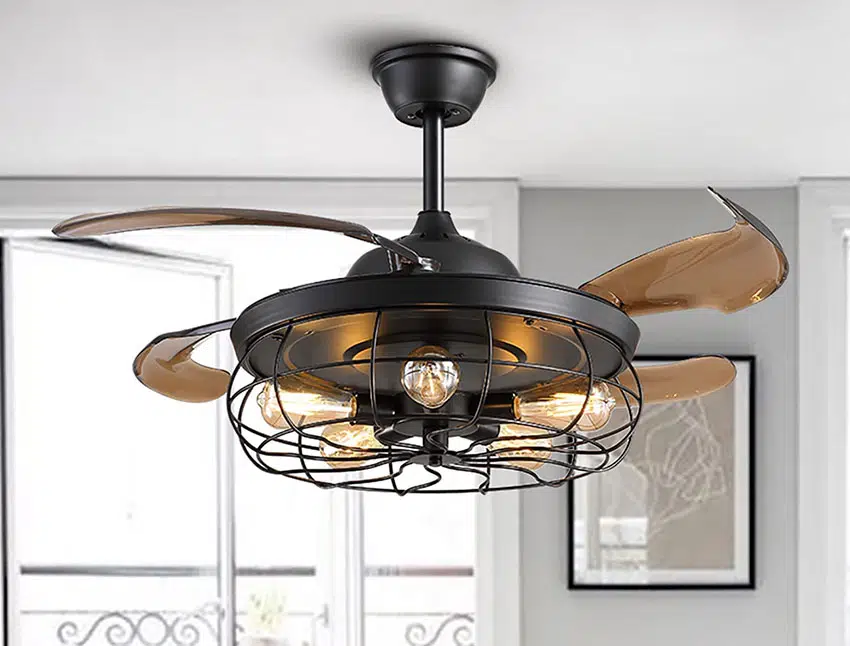 See this retractable blades ceiling fan at Amazon [sponsored link]
When selecting a retractable ceiling fan, there are many factors to consider. These considerations are critical, particularly when it comes to the performance and long-term longevity of the ceiling fan in question.
Fan Size: When selecting a ceiling fan, one of the most important considerations is the quantity of air circulation you want the fan to provide for your home or office. As a result, it is essential to evaluate the size of the space to calculate the size of the retractable ceiling fan you will require.
It is determined by the square footage of a room how large a ceiling fan will need to be since a fan that is either too tiny or too large for space will not circulate the air effectively.
Energy Efficiency: Another factor to consider is the energy efficiency of the retractable ceiling fan. You do not want to acquire a product that will cause your energy expenses to increase in the future.
The amount of electricity used by the ceiling fan to generate airflow determines its efficiency. Before you make a purchase, be sure to examine the wattage and efficiency of the fan you're considering. Look for energy-efficient models that are Energy Star certified and check their details for the amount of power consumption and cost savings.
Ceiling Mounts (Flush Mount & Downrod): A flush mount ceiling fan is an excellent option if the dimensions of your room do not permit the installation of a regular fan in the space. As a result, it is appropriate for use in tiny places with low ceilings.
Downrod ceiling fans, on the other hand, are suitable in large rooms with ceilings 8-9 feet in height. It hangs a bit low from the ceiling because it is linked to its motors by a metal rod. It is not recommended for use in areas with low ceilings since it poses a safety threat. Both fans are lovely choices, but you will determine which one is best for your home requirements.
Fan Blades: The blades of a retractable ceiling fan are one factor you should consider when selecting one. The blades can influence airflow, balance, and span.
Keep in mind that if one of the blades is out of rhythm with the others, it might affect circulation. Check the product specifications to ensure that they meet your needs. For example, a ceiling fan with four or five blades has a more traditional, balanced appearance, but a fan with two or three blades has a more contemporary and sleek appearance.
Reversible Blades: A retractable ceiling fan with a reversible feature is the best option if you live in a region where the temperature fluctuates regularly. This function enables the fan to spin in clockwise and anticlockwise directions. In other words, it may supply hot air in the winter and cold air in the summer according to the season.
Lighting: Suppose you decide to go with a retractable ceiling fan that includes a lighting fixture. In that case, you must examine how many lumens it can generate to determine whether or not it will be sufficient to illuminate the space. T
The amount of light produced by the fixture of a retractable ceiling fan is usually restricted. As a result, you must carefully inspect the lights to determine whether or not they are sufficiently bright for the space. The majority of fans come with light kits or will provide a suitable alternative. You may purchase retractable fans with or without lights depending on your preference.
Other Features: Some other important features that may sway your buying decision are a space-saving design and quiet operation, as well as having a remote control.
Do Retracting Ceiling Fans Work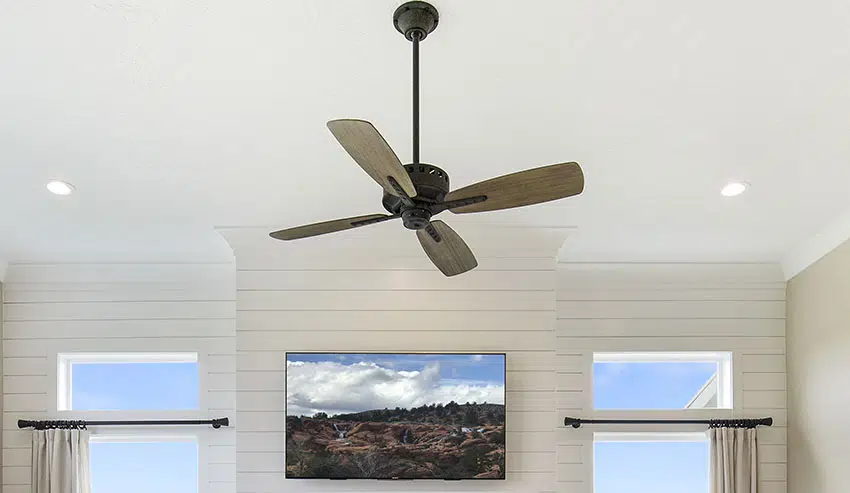 Retractable ceiling fans are excellent when circulating the air in space since they are both efficient and effective. They contribute to keeping the temperature of the space cool no matter how hot or cold the outside weather is. Retractable ceiling fans have various additional functions that make them more useful.
However, there are excellent and terrible models to choose from, and choosing the wrong model might result in a loud, unsteady mess.
The best retractable ceiling fans, on the other hand, are entirely competitive with the best conventional ceiling fans in terms of performance and style, and they are practical, discrete, and appealing.
How To Clean Retractable Blades
It is pretty simple to clean the retractable ceiling fan blades. To clean electric fan blades, remove the cover from the fan, unscrew the blade cap, and take the blades out of the fan.
Then, using mild dish soap and warm water solution, wipe off the grille's interior and blades. Remove any dust or lint from the nooks surrounding the motor using a cotton ball or Q-tip dipped in the cleaning solution.
Don't allow any liquid to enter the motor. When cleaning the blades, take care not to bend them since bent blades may cause the fan to vibrate when operating.
The alternative option is using a ladder to reach the top. Although it is more complex, you may do several tasks while up there, including cleaning the blades, the motor, the fan's direction, light bulbs, and glass shades.
Takeaway
A retractable ceiling fan may enhance the aesthetics of your house while also providing additional comfort. It eliminates the demand for air conditioning, helps air circulation, and cuts your energy expenditures. You may choose from various designs and sizes currently available on the market today.
Visit our ceiling fan sizes guide for more related content.