Here we share what color curtains go with yellow walls, including the ideal hues, suggestions that work well in kitchens, using mustard walls, and interior designs with brown furniture.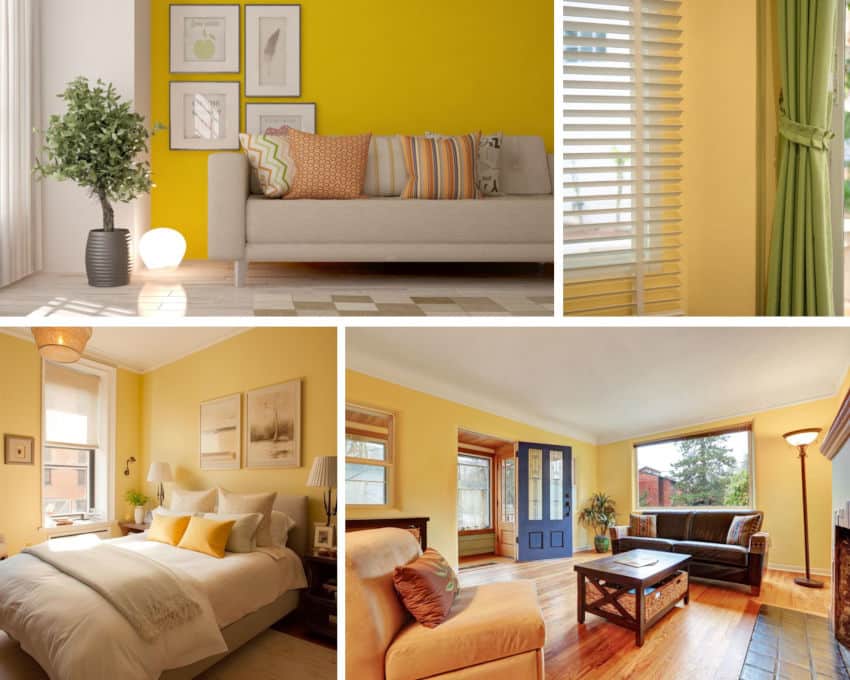 Yellow is bright and eye-catching, immediately brightening a room where it's being used. The color easily represents warmth and happiness, which you'd want in your room for extra motivation.
The thing with yellow kitchen walls, though, is that sometimes it can be intimidating to style and match up. Some get scared of how bright yellow can be that it might be difficult to pair with other colors.
If you are wary about what color of curtains you should go for, here are some easy options you might consider.
Quicklist: Curtain Colors That Work Well with Yellow Walls
Sheer Curtains
Teal or Sea Blue Curtains
Textured Dark Brown Curtains
Black and White Curtains
Green Curtains
Rust Curtains
Navy Blue Curtains
Sheer Beige Curtains
Red Curtains
Grey Curtains
Mocha Curtains
Sheer White Curtains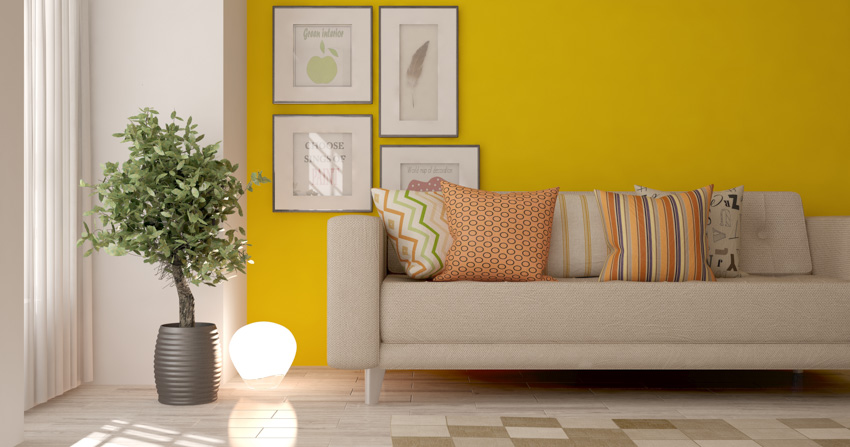 Whether patterned or not, sheer white curtains are perfect for your yellow walls. The sheer white )or almost clear) curtains will balance the brightness that the yellow walls offer.
Since it's sheer, it will also provide a more refreshing and light look. If you want a bohemian look for your room, this is what you are looking for.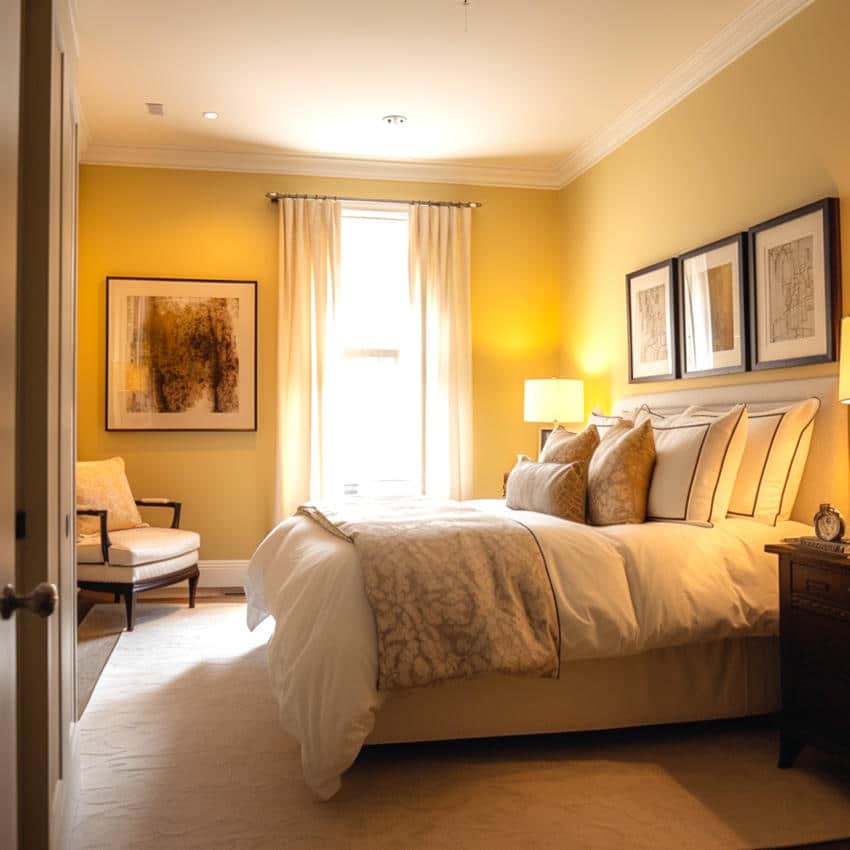 You can pair these sheer white curtains with tan curtains, especially if your room has wooden pieces of furniture installed. Combining sheer white and tan curtains with yellow walls creates a more unified look.
Teal/Sea Blue For A More Coastal Ambiance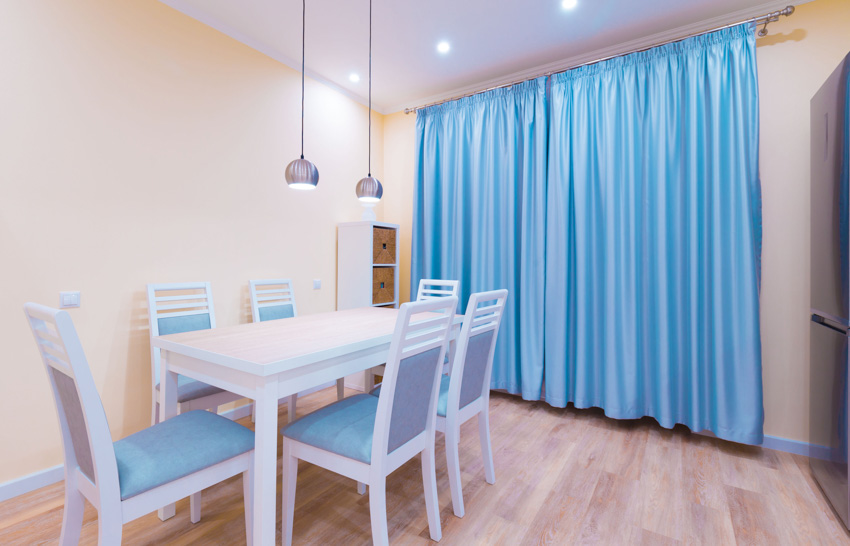 Nothing beats teal or sea blue colors if you want a coastal vibe for your room. And yes, they can easily be paired with yellow walls!
Blue is a good pair for yellow. But you must be careful about what shade of blue you will match up with a specific intensity of yellow.
What you can do for a perfect coastal vibe is to choose a less intense hue of yellow. Teal and sea blue are cool colors that balance yellow's welcoming vibe.
"Although the in-vogue shades may vary from year to year, such standards as blue and yellow, blue and white, and the all-American red, white, and blue are as popular as ever." – Better Homes and Gardens Books (Firm), Color Schemes Made Easy
For a rustic feel, though, you might want to go for a yellow that reminds you of sunny seaside morning walks.
Tip: Avoid using blue curtains with patterns not to make the room feel smaller.
Textured Dark Brown Curtains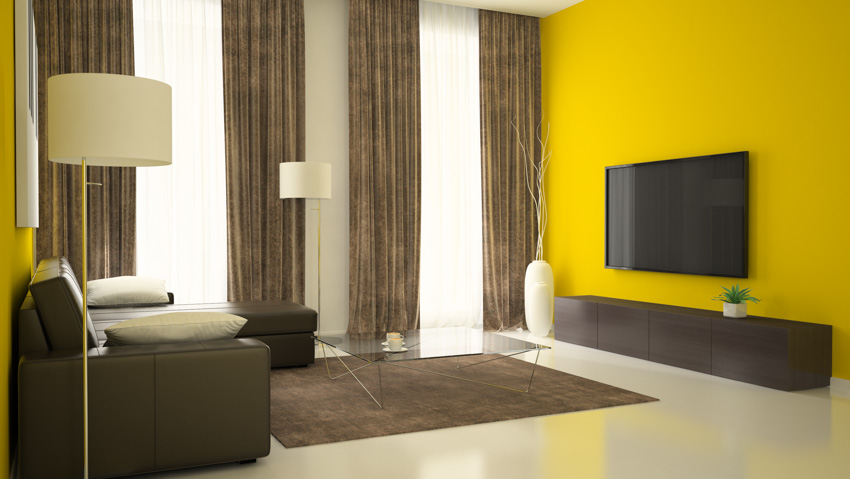 If you want a more modern style room, textured dark brown color curtains work well with bright yellow walls. This classic pair has this warm harmony that is gorgeous and refreshing to look at.
You will need to consider how intensely yellow your walls are to be able to choose a brown hue that can match. With textured dark brown, though, the color is compatible with light and bright yellow shades.
If you have wooden furniture inside the room, it will also contribute to the cohesiveness of the design. The brown softens the bright yellow room and adds texture to the vibe.
Black And White Curtains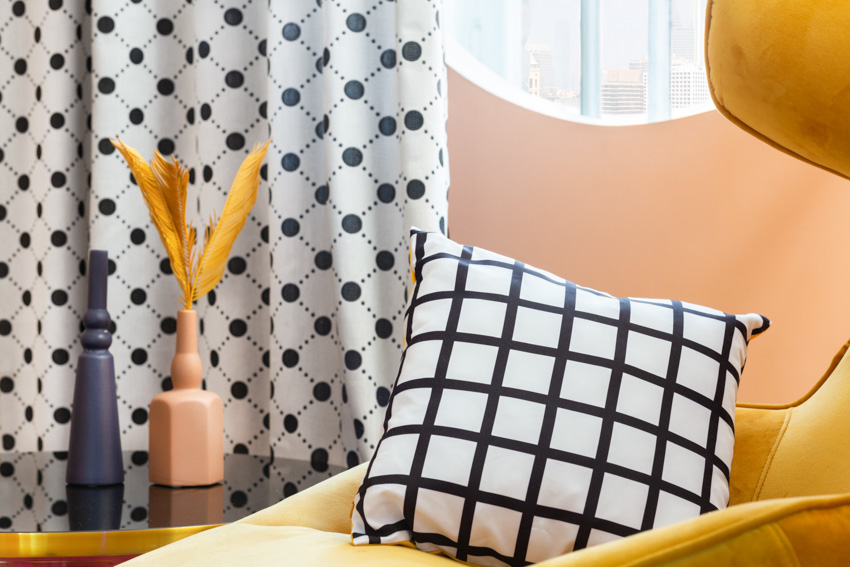 Black and white curtains, plaid or striped, work well with bright yellow walls. It would be better if the yellow you chose for your walls leaned more on the gold shade. The black-and-white combination balances the brightness of the yellow.
Green Curtains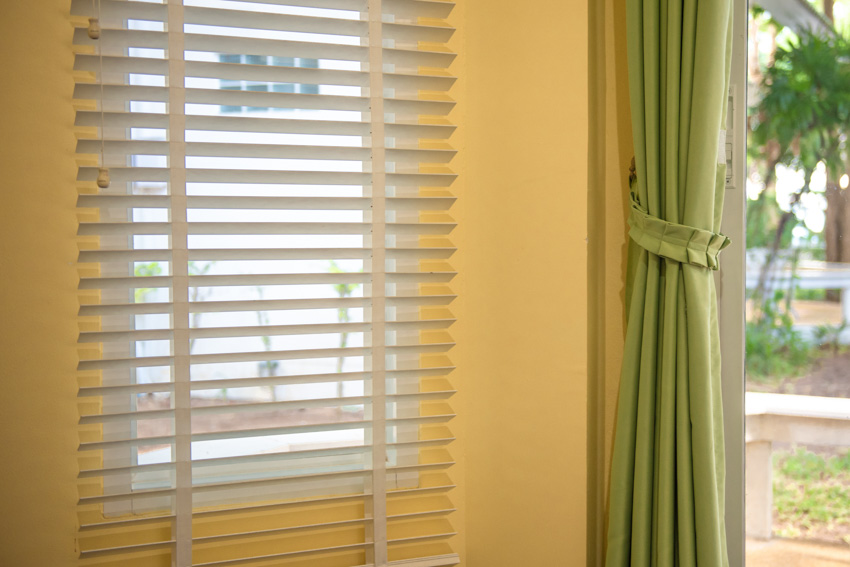 You can also use green curtains to match your yellow walls. This works wonderfully, especially if some plants are installed in the room.
The solid green color of the curtain somehow brings nature inside your room, and the sunny yellow walls complete the whole experience. This also works well with floral green curtains.
Green is also on the same color spectrum as yellow, so you can safely combine the hues of these two colors.
Adding complementary colors, such as red or orange, to a yellow-painted wall can result in a better attention span compared with colors that belong to cool tones, like brown and gray. [Source: NIH]
Smoky Rust-Colored Curtains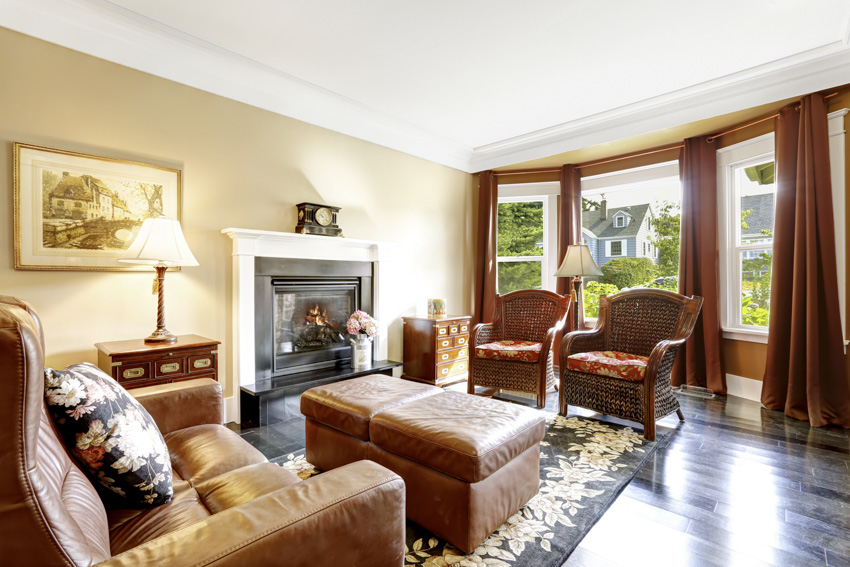 The combination of yellow walls and rust-colored curtains is easy on the eyes, especially since they belong to the same color family. The sheer light through the rust-colored curtains looks good in a yellow-dominated room.
Navy Blue Curtains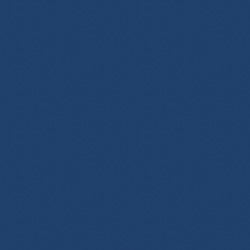 Behr Navy Blue (S-H-580)
Blue and yellow are complementary colors, so they go well together. You can match your yellow walls with navy blue curtains for a soft contrast.
Make sure, though, that your walls are in pale yellow so that their contrast with the blue will be smooth and elegant rather than forced and overpowering.
You can choose a minimalist navy blue curtain or something with a geometric pattern. The choice is up to you.
Sheer Beige Curtains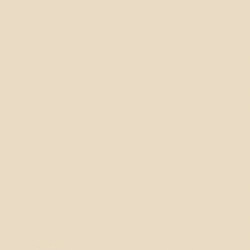 Benjamin Moore Burlap Beige (OR-6)
Sheer beige curtains can also match your yellow walls. Beige adds more texture and depth to the yellow walls.
It offers a room a neutral look with natural materials, including wood and plants. So if you have wooden furniture and indoor plants in your room, this is a good option.
What Color Curtains Go With Yellow Walls In the Kitchen?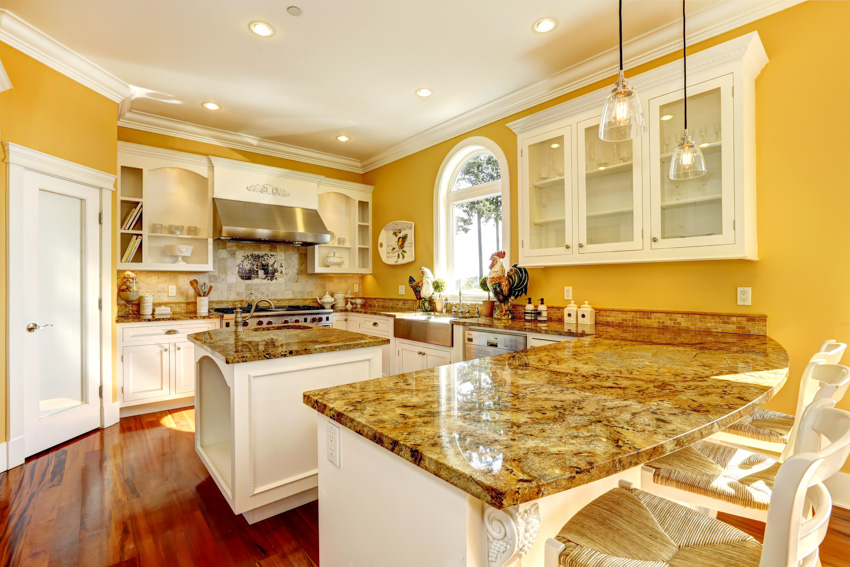 If your kitchen has yellow walls and you're trying to look for compatible curtains to go with it, here are some colors to consider:
Blue

Brown

Black

White (Sheer)

Red

Grey

Mocha

Pink
Silver
These are only a few colors that can go well with yellow, and it will be up to you what to choose. Be careful when choosing the shades and hues from both colors since they will define the room's vibe.
Do you want your kitchen wall to be calming or produce a dramatic effect? If it's the former, go for pastel, muted yellow, and cold curtain colors. If it's the latter, try out warm shades for the lined curtains.
What Color Curtains Go With Mustard Yellow Walls?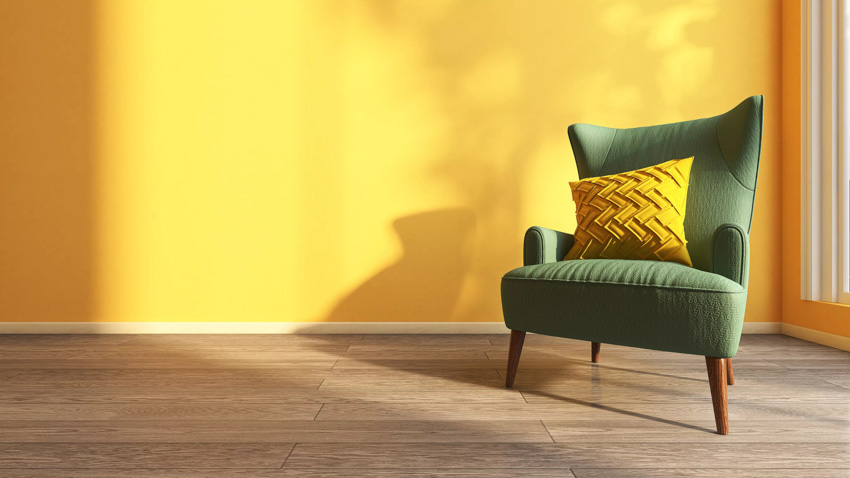 Another color that's difficult to pair up with is mustard yellow. However difficult to match, some colors can go well with it.
With mustard yellow walls, try out turquoise or azure curtains. While yellow and blue may be complementary colors, choosing the right shades and hues to pair them together is still necessary. Other colors you can try are:
Purplish blue

Grey

Sheer White
What Color Curtains Go With Yellow Walls And Brown Furniture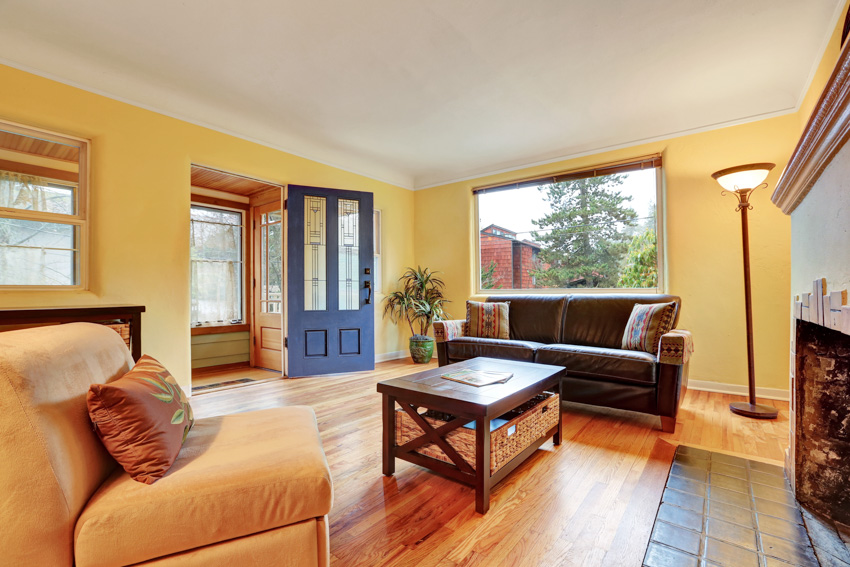 Yellow walls and brown furniture go well together since they showcase nature in its pure essence. Some of the best options you have for the colors of your unlined curtains are:
Black and White (Patterned or Printed) Curtains

Neutral Curtains

Contrasting Colors (Blue and Purple) Curtains

Monochromatic-themed Curtains
These color curtain options can improve the look of any room with brown furniture, especially in your home's living space.
See more related content in our article about the different living room color schemes with brown leather furniture on this page.