Here we cover what color curtains for green walls, including the best shades for dark, light, mint, seafoam, lime, sage, and rooms with brown furniture.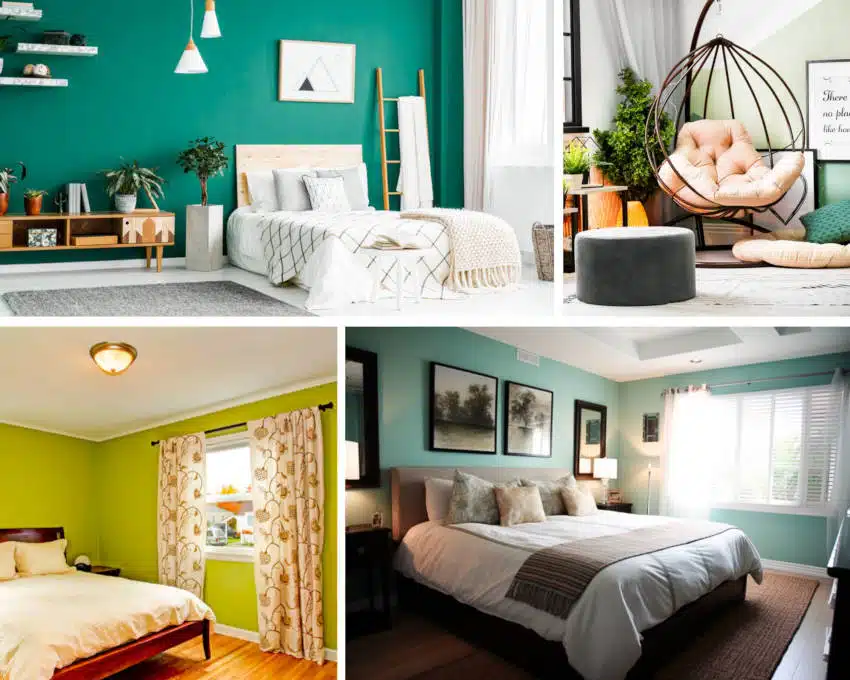 Green is a universal color that you can see wherever you look. It's the palette of nature and all things good and refreshing. Is it a good tint for your walls, though?
Usually, there's no problem with such wall colors. The real challenge lies in what curtain colors would pair nicely with them.
While it is a versatile hue, green can be hard to match with if you paint it for your walls.
If you chose olive, you could pair it with pale olive curtains! Yes, olive on olive works as long as they're in different shades. With bright emerald walls, you may want more neutral-colored drapes like cream and light tan.
These colors can balance out the flashy personality of a bright jade room. But this is just the start. It can be overwhelming, with many shades and hues of green to use.
To help you just a little bit, here are some options for curtain tones and their corresponding green shades and hues.
Quicklist: Curtain Colors That Match Well with Green
Black
Blush
Emerald
Ivory
Honeydew
Mint
Off-White
Orange
Pale Blue
Royal Blue
Ruby Red
Soft Gray
Tan
Violet
What Curtain Colors Go with Dark Green Painted Walls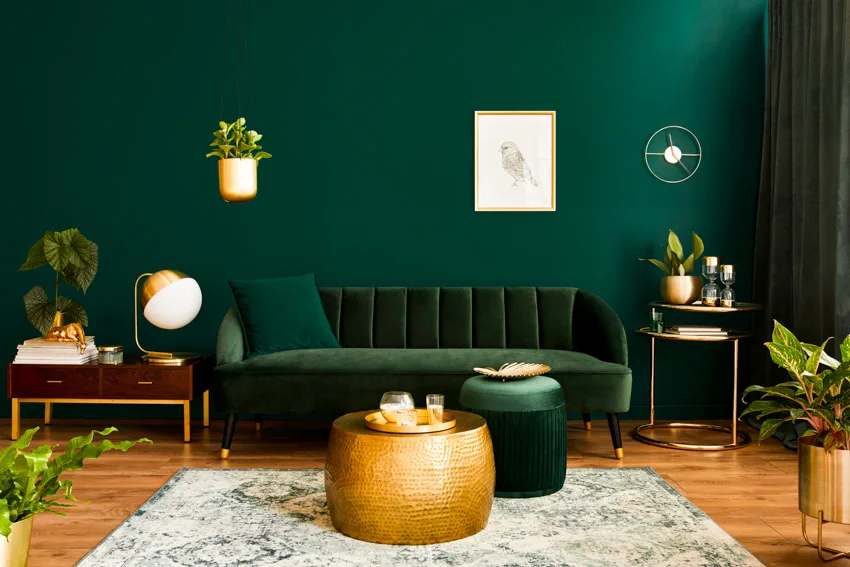 Dark green colors have this cooling effect when used in living spaces. Here are some colors you can consider if you have dark green walls.
• Light Green: creates a tone-on-tone concept. Honeydew window coverings on dark emerald wall partitions will make it clear that green is the theme of the room without making it bland and unicolored. Tone-on-tone creates a beautiful ambiance you can try.
• Contrasting Colors: choosing contrasting colors always works for styling and designing. In the case of green, its contrast colors are orange, violet, and red. These colors are great with cool turquoise.
One good example is a ruby red velvet curtain. Since red is complementary to green, the combination creates a good harmony. Your dark moss-hued walls will look elegant with ruby-red velvet curtains.
• Pale Blue: this is another good consideration to match your dark green walls. Just make sure you choose a soft tone like pale blue or sky blue to match your cool dark green walls.
Curtain Colors for Light Green Walls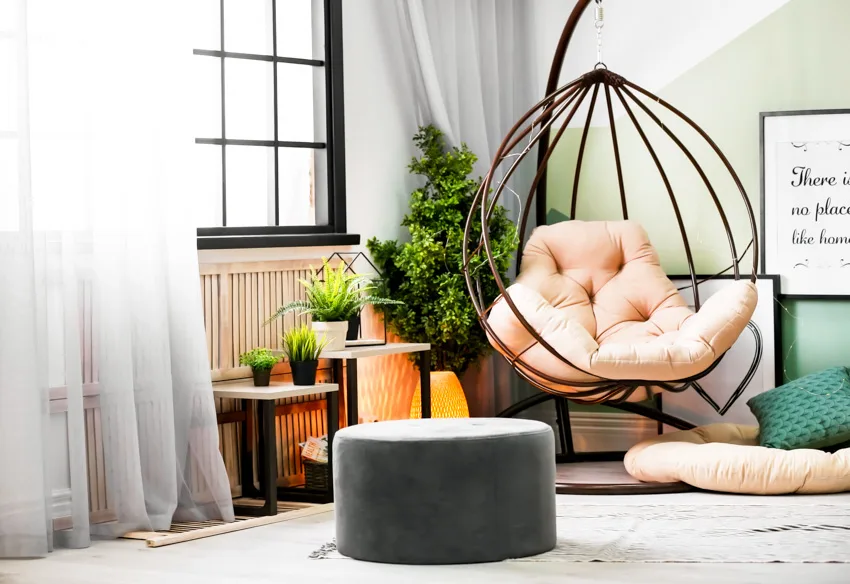 For light green walls, choose a curtain color that will depend on what specific shade of light green you use. These shades can range from mint to sage, giving your dividers a refreshing look.
Light green shades normally have blue undertones, so you can match them with the right color curtains even if you don't know the specific green shade you're using.
Here are some colors you can consider:
• Orange: if you want a bold color combination
• Gray: to add warmth to your room
• Natural linen white: brightens the room and will make the room lighter and airier. White curtains will look eye-catching and elegant if your rooms are painted in pistachio hues.
• Royal Blue/Turquoise: works great in making a room look bigger and more spacious
• Violet: can transform your green-walled room into a modern look
"Warm colours make things look closer and cosier, while cool colours give a more spacious feel." – Wendy Baker, Easy to Make! Curtains & Blinds Expert Advice, Techniques and Tips for Sewers
If you need more colors of draperies to pair up with a specific green shade, here is a guide you can follow.
Curtains Shades For Mint Walls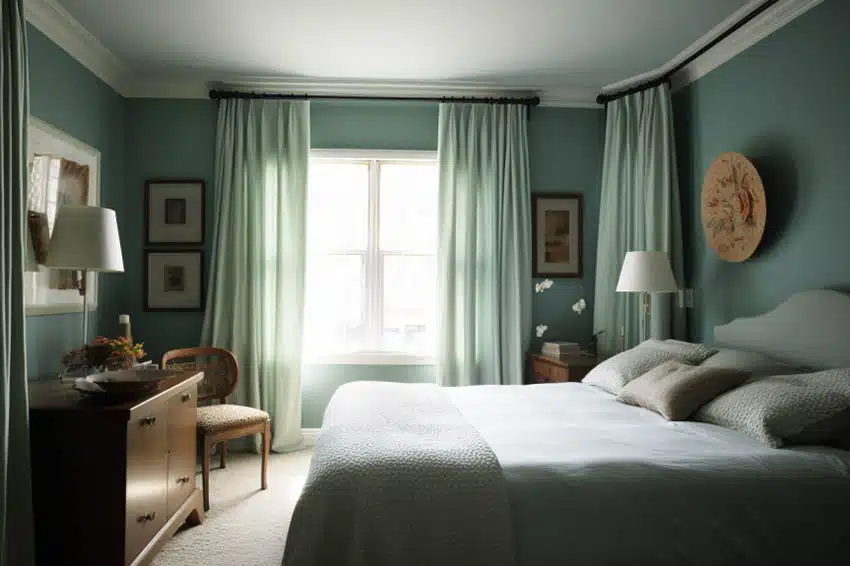 Mint is a light green hue that's refreshing to look at. Pretty and subtle, mint can be a good color for your walls.
And you can pair it with a wide selection of colors for your different types of curtains. Some of these colors are:
• Mint: you can go all out mint for both partitions and window dressings, or you can choose white and mint, plain or patterned, drapes to match your mint walls
• White/Ivory: elegant ivory curtains perfectly match mint-painted living areas and can transform your room into sophistication like no other
• Black: if you're up for something bold and dark, this is another color to consider for your curtains
• Brown/Tan/Beige: neutral colors work wonderfully with mint, especially if you prefer something light that can bring out the green color
Curtain Tones For Seafoam Walls
Seafoam is another light shade that is calming and soothing. Using it will have a brightening effect, especially in a dark kitchen.
This is why choosing the color for your window blinds should complement the effect of the color of your walls. If you want to warm it up, yellowcurtain panels will bring sunshine to your room.
Neutral colors like grey and beige can create harmony with seafoam hue, which are some of the colors for your curtains you can choose if that's what you're going for.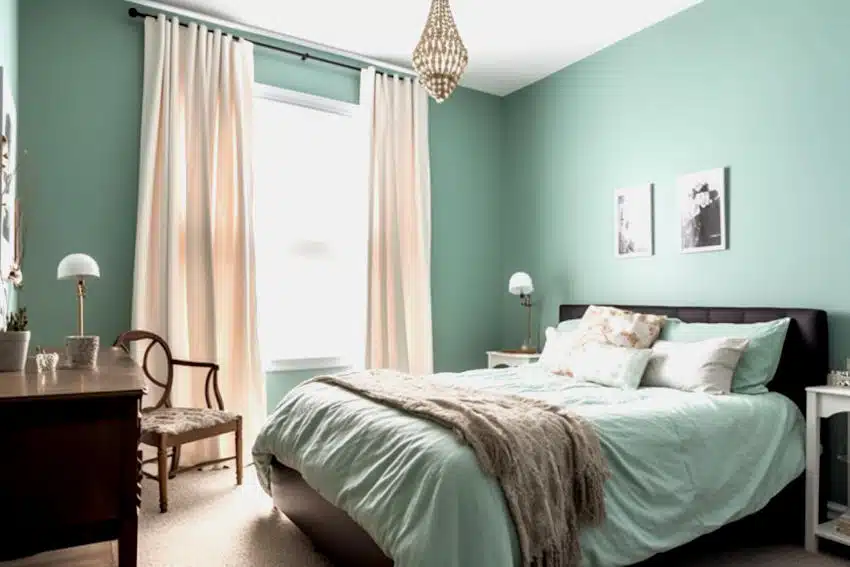 You can also bring something bold to your calming seafoam walls; metallic colors like bronze, silver, and gold can bring glamor to your room. If you're not into metallic colors, pink and red are great options for bold colors.
Curtain Shades For Lime Painted Walls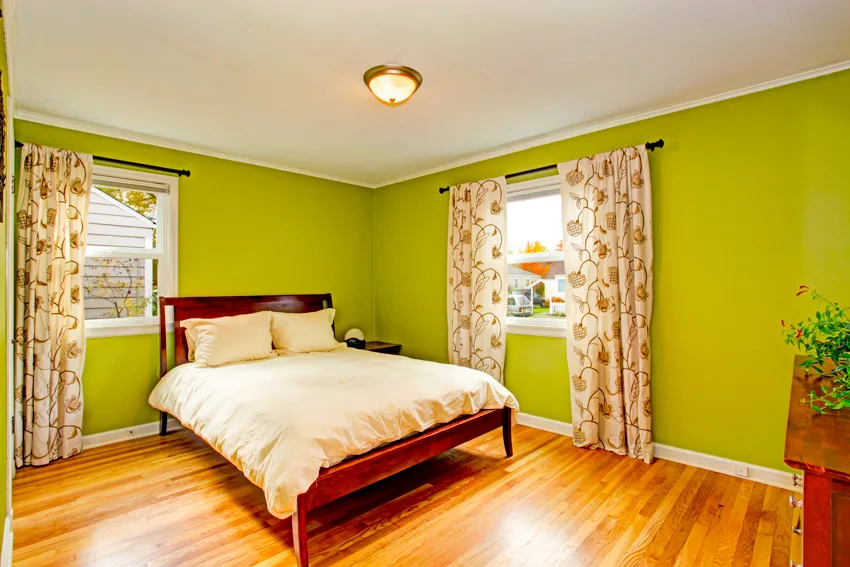 With lime painted room, you may want to match them with curtains that have colors capable of softening this warm color. Lime shades range from olive to yellowish-green.
And you need to pair the color of your curtains with the specific lime shade you chose for your walls.
• White or Neutrals: For a clean look that balances the bright look of lime hues.
• Grays or Charcoal: Offers a modern feel of sophistication when combined with lime. Avoid too much contrast, such as using very dark grays with very bright lime, especially if you have a darker room. Instead, consider a lighter gray for a more appealing contrast.
Solid gray panels make a bold impact. To tone this effect down, use patterns or prints with gray. For fabric, consider linen or cotton for a modern feel and texture. If you want a luxurious feel or a touch of glam, go for velvet textures like velvet, velour, velveteen, or polyester velvet.

• Deep Blue or Navy: These hues can complement lime with their cool tones.
• Earthy Browns: Offers a natural, organic feel that can warm the overall theme.

• Pastel Tones: For an energetic theme that is light and bright.

• Patterns and Prints: These can have bold patterns with a small amount of lime elements to coordinate with the rest of the room.

If you don't want to go to all that trouble, you can also choose to go for tone-on-tone for lime shades. Just make sure to choose your furniture and accessories meticulously.
Bring in decor items, furniture, finishes, and accents that tie in the color scheme for a cohesive design style. Use the color wheel to find other shades that fall under the primary hues.
Curtain Hues For Sage Walls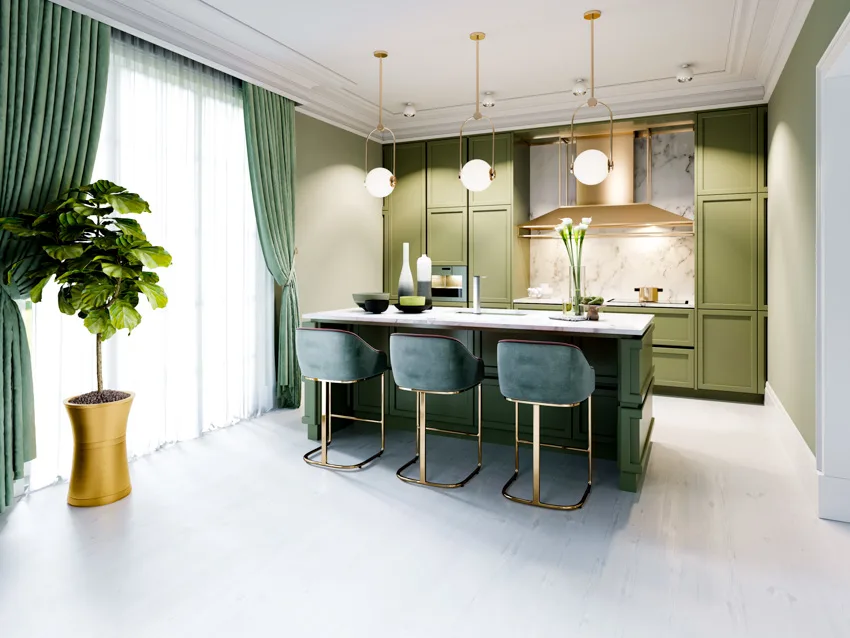 Sage is another shade you can use for your walls, and it will be a beautiful sight to behold!
This shade can also be matched with a variety of hues, and choosing the one that perfectly fits your personality is up to you. Some of these colors and patterns include:
• Clean Crisp Linen White: safest option but offers a chick minimalist vibe
• Neutral Colors (Beige/Oatmeal): evens out the chartreuse with additional warmth
• Blush/Peach/Soft Pastel Pink: showcases a feminine yet chic look when paired with pear color
• Soft Grey: complements celadon and allows the color to shine
• Mustard Yellow: adds a bold factor in the room when paired with the sage
• Teal/Emerald or Hunter Green: tone-on-tone always works
• Black: perfect if you like to keep a dim and dark aesthetic
And these are just some of the colors your window treatment can use to match sage-painted living areas.
Curtain Hues For Green Rooms with Brown Furniture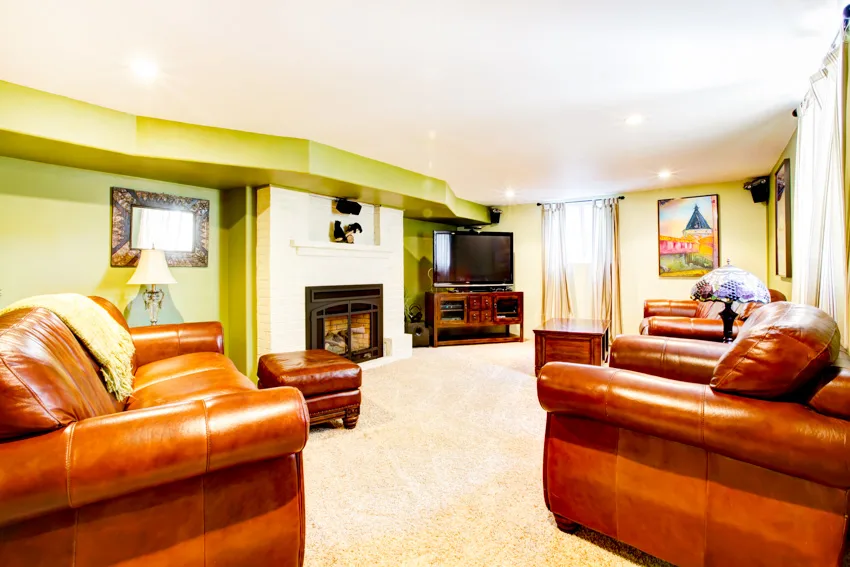 There are also specific colors you can use for your curtains if you have a green-hued room and brown pieces of furniture.
Green has more shades compared to other colors. It is known to increase efficiency, making it an ideal color for home office walls. [Source: Dunn Edwards]
Green and brown are also colors of nature; if you're going for that ambiance and style, it will be easier to match a color for your curtains.
Here are some of the patterns and colors you can consider:
• Purple: light purple looks good with chartreuse and brown, giving the room a calmer and more relaxing ambiance and, at the same time, giving the room personality and texture.
• Green and White (Patterned): tone-on-tone is a good consideration, but if you want something different, you can choose patterned green and white swags.
• Soft Brown: choose a brown shade lighter than the color of your pieces of furniture. It will create cohesion with your furniture and, at the same time, complement your olive walls.
For more painting and decor ideas, see more related content in our article about the colors that go with green on this page.