In this playroom paint colors guide you'll find ideas for color schemes, types of paint, matching colors, and tips to improve your kids' playroom design.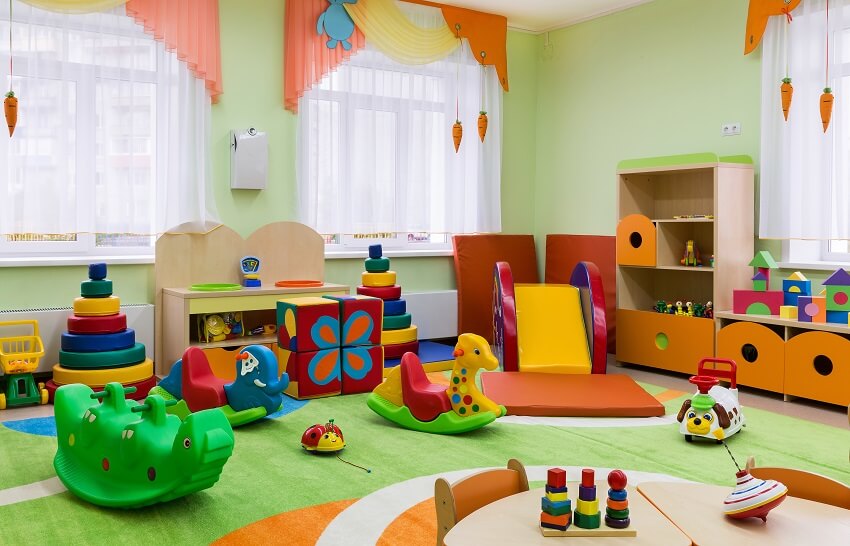 Play is an important activity that every child needs to engage in. It is an activity where a child can freely create, improve on different skills, and develop his imagination.
This is why the playroom is also an important factor in a child's play. And yes, this includes the style, design, and colors you choose for the playroom.
Your child's playroom will be part of his or her everyday life. To aid in the child's development, designing it the right way is necessary.
Let's start with the different color ideas, palettes, and schemes you can apply to your playroom. For starters though, here are tips to follow.
Balance Playroom Decor And Practicality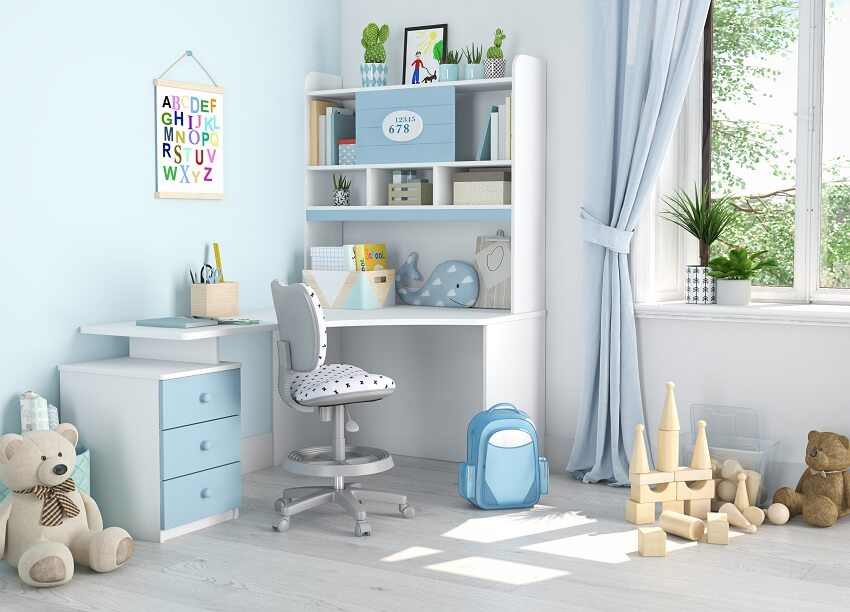 The playroom will always be crazily messy and it will be an everyday battle just keeping it clean. This is the reason why practicality is absolutely helpful in this case but it doesn't mean you have to give up on the decor.
You can use storage bins in fancy colors that match the theme you have going in the playroom. You can make the decor and organization part of the child's play and activity. Assign colors to the storage bins and the respective toys to keep in them.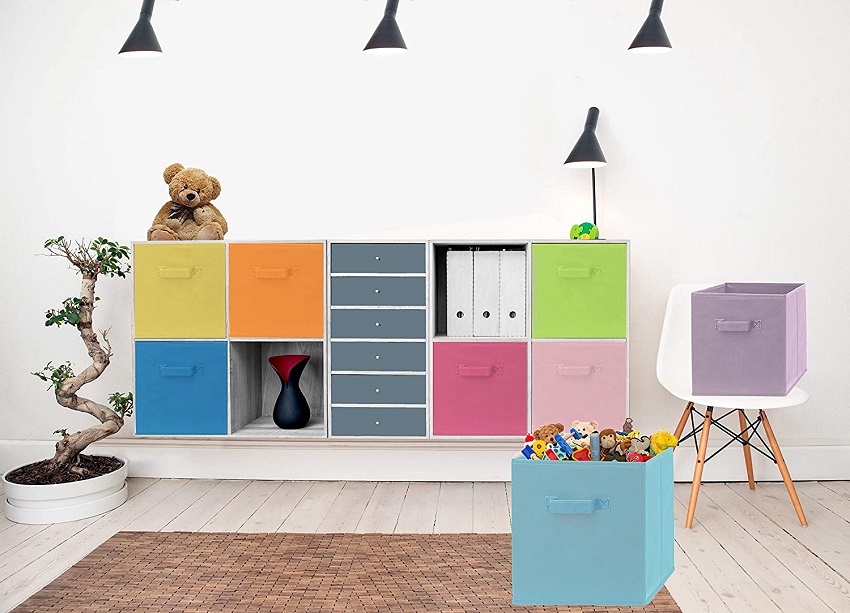 See these cute colored storage bins at Amazon [sponsored link]
For example, you can place art supplies in the red bins and toy cars in the blue bins. Be as creative as you want to be. You can also check some creative toy storage ideas for living rooms here.
Combine Simplicity With Comfort
Besides practicality and decor, make sure of the room's comfort too. Make sure that your child will feel at ease when in the playroom and this may mean using soothing and calming colors. Blues, greens, pastel purple, aquas and lavender shades are all considered soothing colors.

And make sure to just keep everything simple. Keeping it simple will allow you to make necessary changes as your child grows.
Avoid Over-decoration And Over-stimulation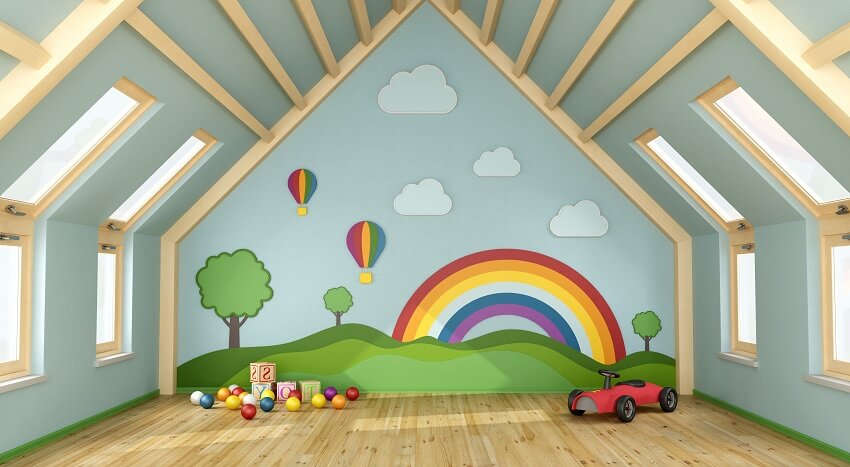 When considering colors for the playroom, it is recommended to use bright colors but not too much and not too many colors that can overstimulate and overwhelm your child. Choose a few major colors and then stick with neutral tones with the rest.
Use the Designer's Rule of 60/30/10
Simply put with the designer's rule of 60/30/10, there will be 60 percent dedicated to one dominant color, 30 percent to a secondary color and 10 percent to an accent color.
For a playroom your walls will provide 60 percent of one color, flooring provides 30 percent and the decor and accessories cover the remaining 10 percent.
Use Delicate And Understated Colors For Toys
Another idea for your playroom's color is to choose colors that won't compete with the room's energy. You can try out soft grays, teals, pale blues, and soft pinks.
Playroom Color Ideas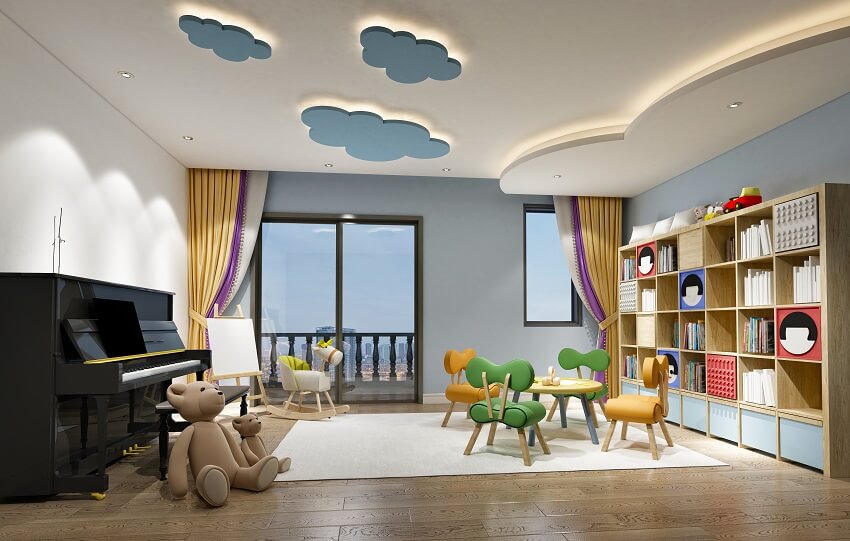 In creating a dedicated playroom, colors play a relevant role to foster active imagination and creativity. More than just picking the right color, you can also be creative in designing and creating your child's playroom. Here are some color ideas you can apply to your child's playroom.
Neutral Playroom Colors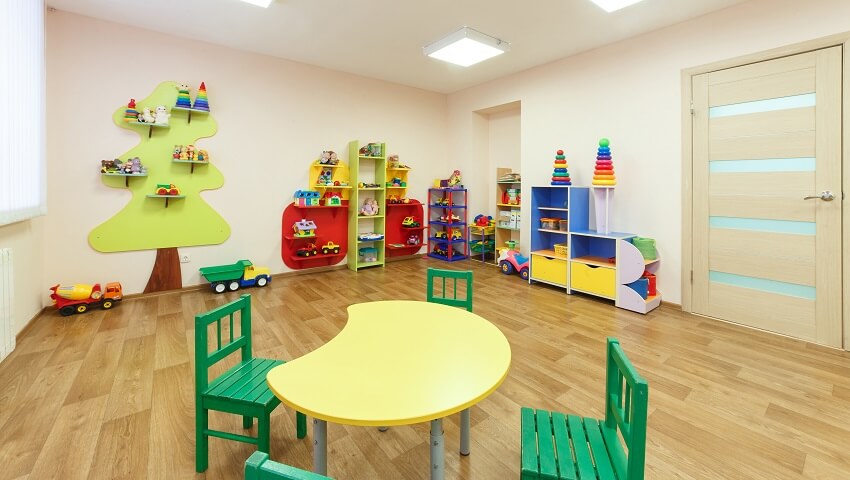 Neutral colors are always the way to go if you are somehow not sure what you can paint for your playroom. And yes, there are colors you can use for both your baby girl and baby boy.
You can create visual interest with a lighter colors by painting accent pieces a color at least three shades deeper.
Here are some paint options you can check out.
Yellow
This color offers a bright and lively vibe to a room, which is a good option if you want the room cheery and vibrant. You can use other neutral colors and add more texture to the room through pillows, blankets, and rugs.
White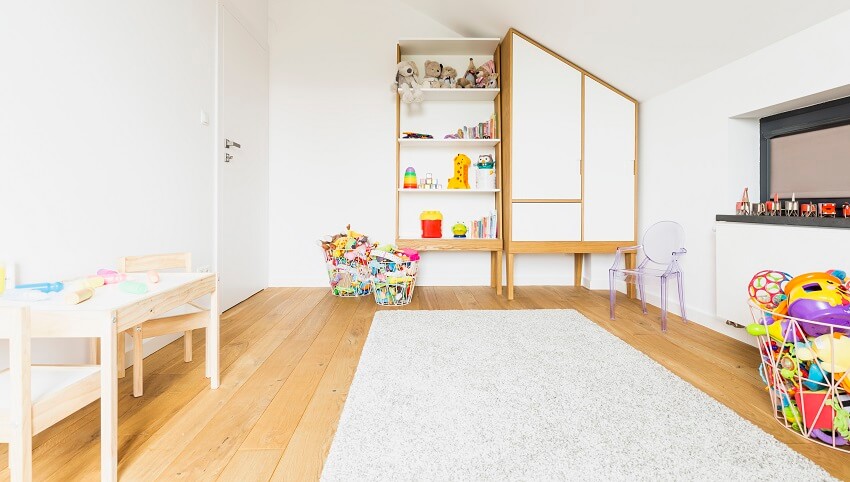 White is a natural classic and when considering a neutral color, it is a safe choice. It can easily be matched with every other color and whether you have a girl or a boy, you can use white.
The best thing about this color is that your child could grow with them and easily paint over the room if you want something new.
Gray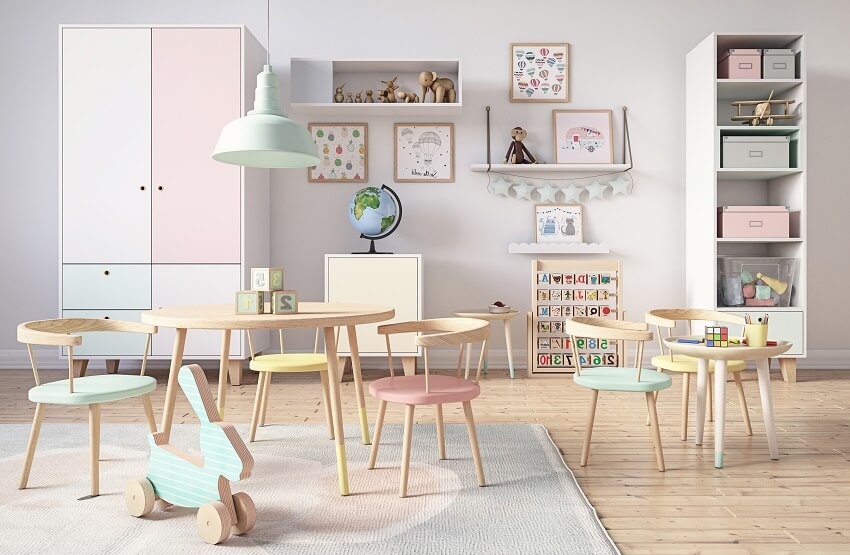 If you want a color that's neutral but you don't want to go for white, gray can add a bit of character and texture to your child's playroom.
The color allows a mix and match of dark and bright colors, acting as a subtle backdrop for the room. You can pair gray with red and orange if you want something popping.
Playroom Color Schemes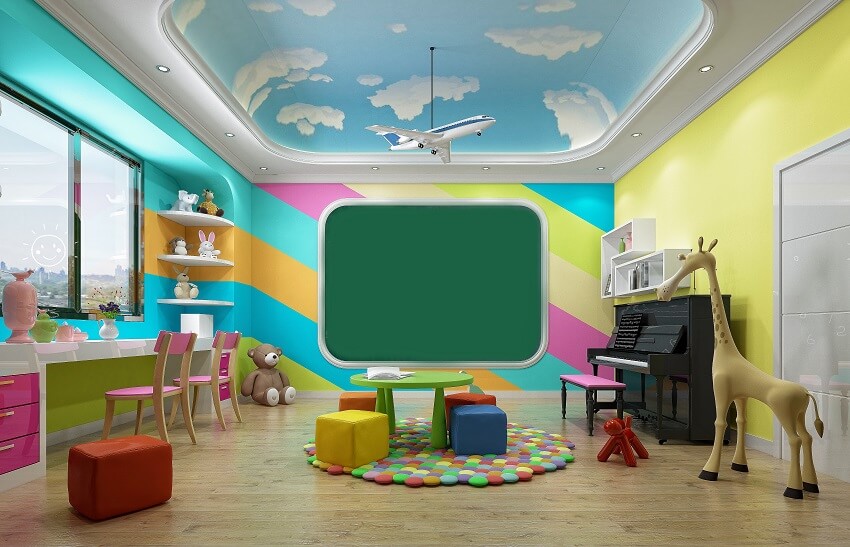 If you don't want to think harder and prefer following a theme for your child's playroom, here are some color schemes that will help you plan a lot easier.
• Zoo theme – Can include white and black, along with a variety of colors of the animals you include.
• Desert tones – This theme includes brown and green in its palette, as well as other earthy colors.
• Citrus tones – Some colors included in this theme are yellow and orange, as well as other colors of citrus fruits.
• Retro Colors – You can integrate '80s vibes into your child's playroom by using graphic patterns and painting them with hot pink and deep teal. These colors are punchy, vibrant, and spunky, which are perfect for lively and cheeky kids.
• Confetti Galore – If you want something colorful for your children, confetti is a guaranteed choice. And we're sure that kids like confetti cause who doesn't? This is especially a good choice if you're fond of rainbow colors.
• Tropical Theme – Choose this theme and be teleported to tropical teal waters and vibrant pink flamingos. You can have simple black and white for your neutral background and get creative in making your child feel on vacation while playing.
• Superhero-inspired Themes – There are many superheroes you can integrate into your child's playroom and be honest, you only have to ask your child his/her favorite superhero.
• Navy Blue + White – The combination of navy blue and white can offer your child calmness and a sense of peace while in the playroom.
• Primary Colors – Red, blue, and yellow in the playroom can even serve as an educational activity you can use every now and then.
• Gender Neutral Colors – If you'd like to use gender neutral colors you can go with white, yellow, brown, green and orange. These colors all work for both boys and girls.
Best Color For Playroom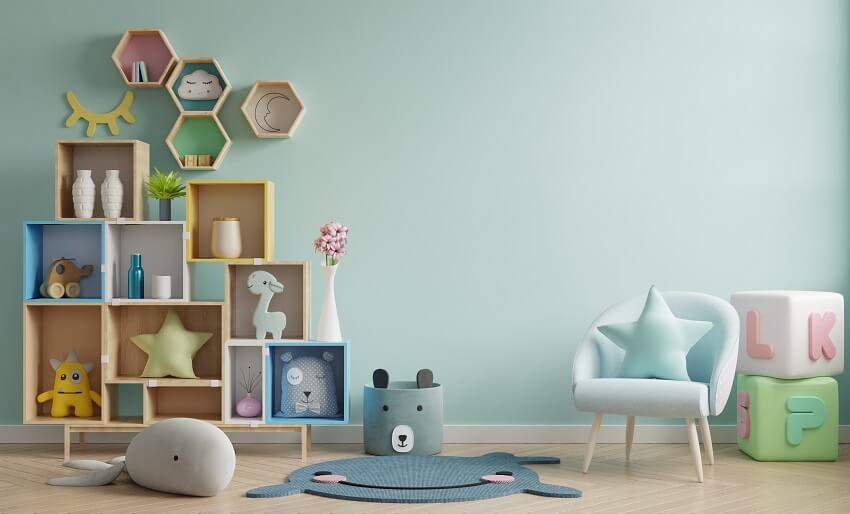 Would it be better to stick to one primary color when it comes to your child's playroom, or would color combinations and schemes be better? It will all depend on your preferences and the vibe you want the playroom to have. Here are some colors mostly preferred for a playroom.
Black and White
You might be hesitant to use these colors because they may not seem like colors that would match kids but this timeless combination actually works anywhere, and yes even with your child's playroom. Black and white feel bold and chic but it can appear like an elegant cityscape playhouse.
Teal
These colors when combined are referred to as nature's neutrals, especially when partnered with brown and gray.
The combination of all these colors will transport you to your favorite outdoor spot. Besides the calming and soothing colors, children are also bound to feel more at ease and free to act like kids and play.
Light Green
As shade of light green or lime is especially helpful for smaller spaces to help brighten them. Light greens evoke feels of peace, relaxation and harmony. Bright energetic shades of green can also enhance a sense of calm.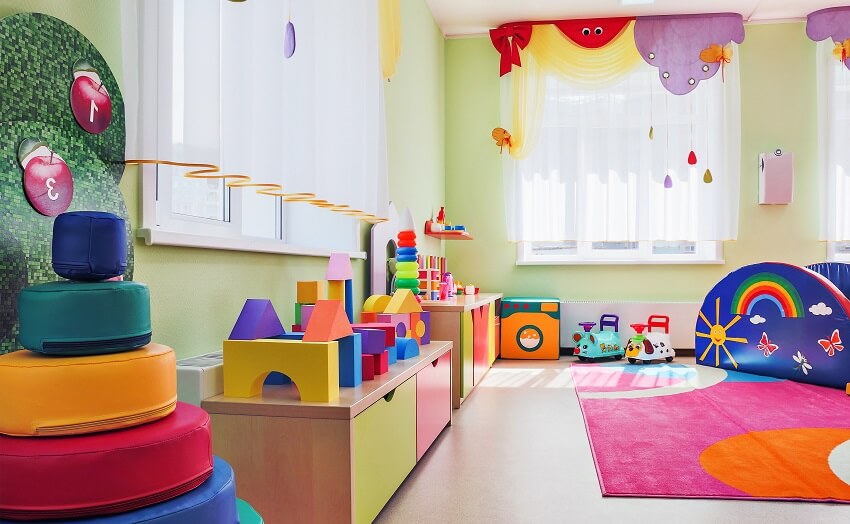 Sticking with one color may be easier considering you only have one tone to consider. You can use one color to dominate the room and then just bits and pieces of decor and furniture to be used as an accent.
Pink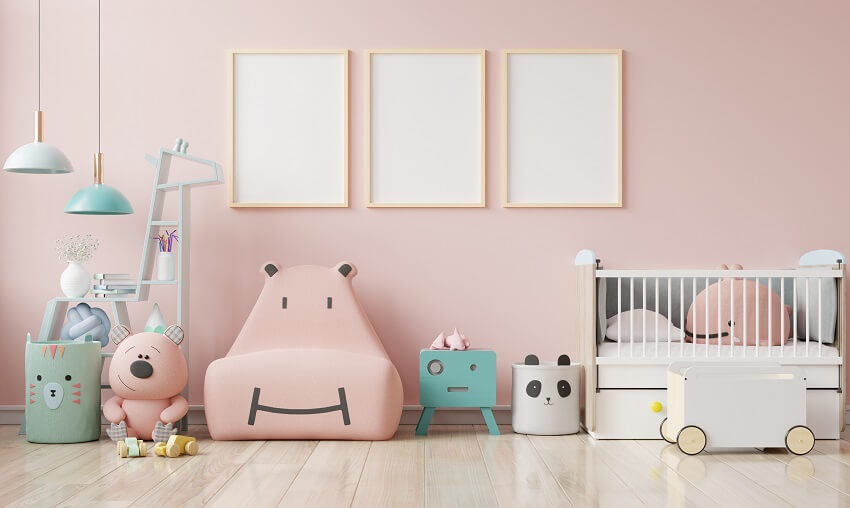 Benjamine Moore, Cream Puff (2174-70): Blush and dusty pink can be a good option for your baby girl's playroom with its soft, sweet, and feminine appeal. Visit our gallery of little girls bedroom ideas for more related article.
Lilac

Benjamin Moore, Lily Lavender (2071-60): For your baby girl's playroom, you can use this pretty lilac color if you want something different than the usual pink. This subtle color offers a sweet vibe to a room perfect for your baby girl.
Blue

Benjamin Moore, Newburyport Blue (HC-155): If you have a baby boy ready to play, you can check out this story blue color. While it may seem dark, it can be perfect for your baby boy's playroom when combined with the right colors and decor.
Teal

Sherwin Williams, Intense Teal (SW 6943): With its bold green hue, this teal paint delivers the flashy shade that screams fun and adventure at the same time. It might be difficult to think of a theme to match teal but if you have a baby girl, a mermaid theme can work!
Small Playroom Paint Ideas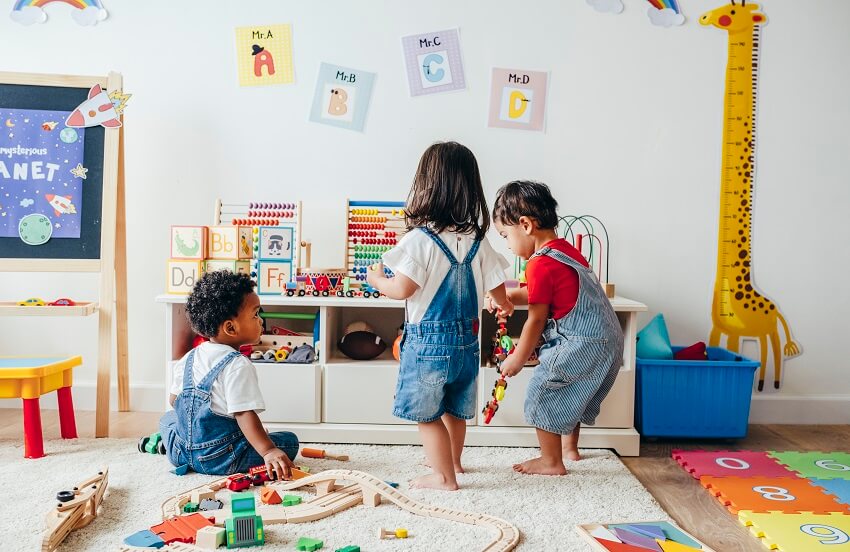 If you have a small playroom, it is understandable that you want to make it look bigger and avoid designing it to look more crowded. The best choice is to go for neutral paint colors that can brighten a room and make it appear bigger than it really is. Here are some of the paint colors that can help with the space of your small playroom.
White

Benjamin Moore, Simply White (OC-117): Working with all other color palettes, Simply White provides a great shade for a minimalist design. This white paint can easily open more space to your small playroom and even give you more freedom when it comes to stylish the room.
Beige

Benjamin Moore, Shaker Beige (HC-45): This color offers a deeper tan hue that makes the room feel bigger yet adds warmth to the playroom, perfect to set a comfortable mood for your child. The great thing about this paint color is that it can easily hide crayon marks and scratches your child may have inflicted on your walls.
Cream Yellow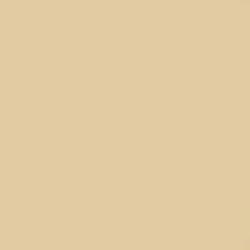 The Spruce, Sundream (SPR-03): This paint color is a good mash-up between light tan and creamy yellow, showcasing subtle sunlight feels. The color can be refreshing to look at, which can make your child feel refreshed even when playing.
Best Type Of Paint For Playroom
Since a playroom gets a lot of wear and tear you'll want to select one that doesn't show smudges and hand prints. Eggshell and satin finish pains are generally used in high traffic areas for this purpose. Choose a paint finish that is washable and non- toxic for a child's playroom.
For more related content, visit our guide on the best kids room paint colors, and boy and girl shared room ideas here.