Here we share our roman shades vs roller shades comparison guide including what they are, their pros & cons, designs, and which shade option is better.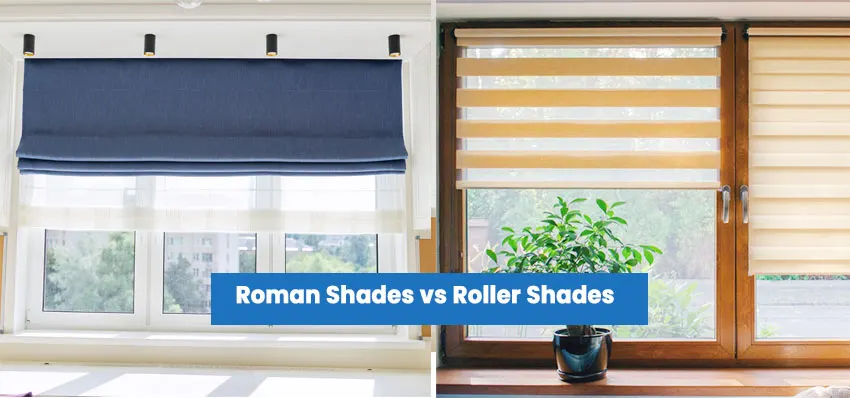 Window shades are loosely interchanged with window blinds. Their main purpose is to cover windows in order to block out natural light from coming inside the home. It's an efficient device for light control. You get to control how much sunlight or natural light you'd actually like to have in any room in your home at any given time.
The most popular types of shades are roman shades and roller shades. Each of them have their own strengths but they also have their unique downsides. The two don't really differ much from each other when it comes to the premise of functionality. Their main differentiator would have to be in how they are operated and in how they look.
What Are Roman Shades?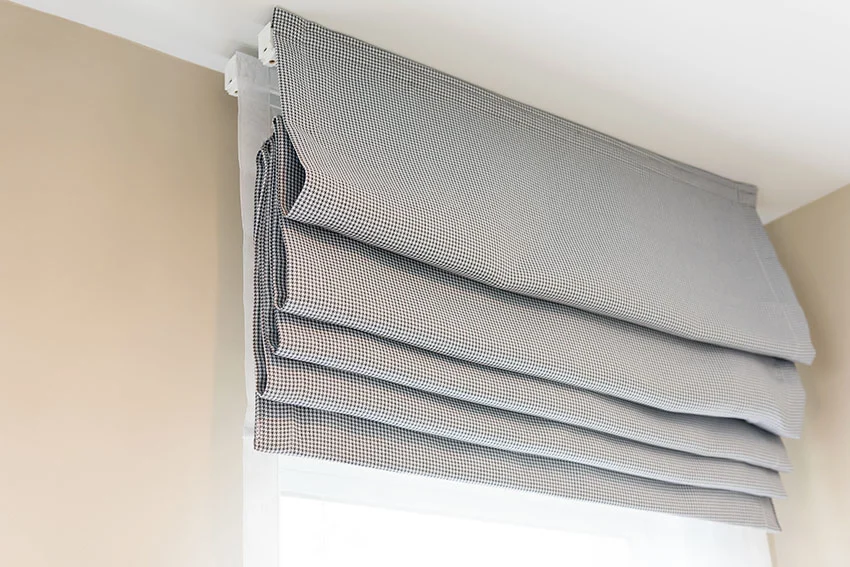 Roman shades are usually made out of fabrics. They lend an elegant and somewhat sophisticated look to the rooms they're installed in. They also fall flat when they are opened.
These shades usually have structured slats on the back side of the fabric. They are then attached to cords. These cords draw the slats together when the cord is pulled, this motion folds the fabric up and scrunches it up, resulting to overlapping pleats.
The size of these pleats are usually determined by the size of the slats. Depending on how the slats are constructed, this can lead to a variety of options in terms of how the folds look like.
There are also a lot of different types of roman shades out there. There are balloon roman shades, relaxed roman shades, Austrian roman shades, butterfly roman shades, tucked roman shades that have cascading pleats, and faux roman shades.
Roman shades are widely available and highly popular. They can be purchased from any home depot store. A lot of them can be even customized to your specific window size and you can also customize its features and manner of operation.
The best part about roman shades is that you get to choose the type of fabric you like. It can come in silk, linen, cotton, hemp, or even synthetic types of fabrics. Depending on the fabric of your choosing, you can have added features such as climate control, UV protection, opacity, amount of light control, and even how easily you will be able to wash it.
Some roman shades come with lining that offer better insulation and light blocking. Roman shades that are equipped with blackout lining can block out 100% of the sunlight although there may be some chinks on the side where the fabric doesn't cover the window pane.
This makes roman shades particularly efficient for outdoor uses such as in gazebos and patios but they aren't as durable as they can be susceptible to the outdoor elements.
Pros And Cons Of Roman Shades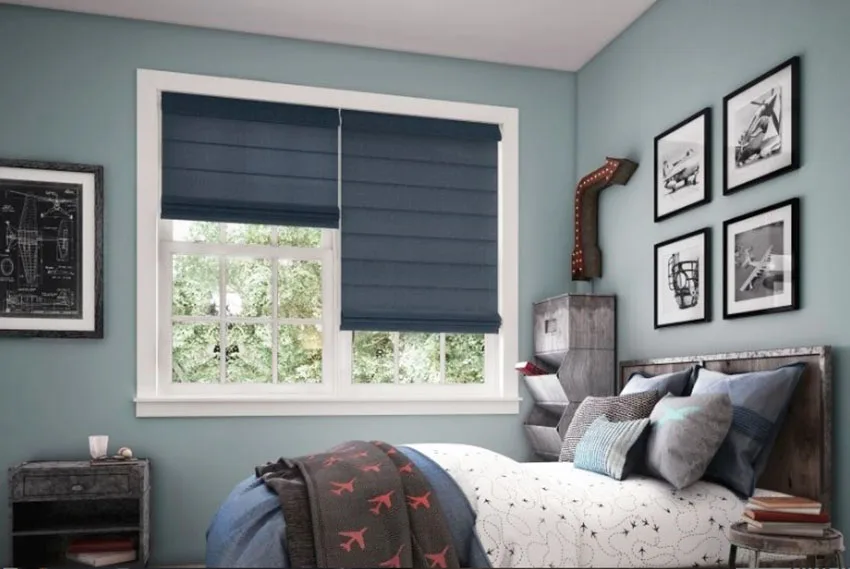 See this roman shades at Home Depot [sponsored link]
Pros of Roman Shades

Roman shades provide an elegant and classic look. They're best suited for rooms in the home that you would like to dress up such as bedrooms, living rooms, dens, and the like. They have a very sophisticated and posh aesthetic.
They are versatile in terms of design as they come in a lot of fabrics and styles. You're bound to find just the perfect type of fabric and design that will fit in well with your indoor aesthetics. You can go traditional and maximalist by opting for textured and heavier fabrics while you can also go minimalist by opting for simple and sleek fabrics.
Roman shades are also made out of heavy lining and fabrics and can offer great insulation. This makes it great for climate control. You get to keep the heat in when the months are cold and you get to keep the heat out when they're hot and humid.
Roman shades are made out of a single piece of fabric which makes them effective in providing privacy and in blocking the light out. You won't have any issues with gaps, allowing you to completely filter the light out in the windows that they cover up.
Cons of Roman Shades

Roman shades stack up in a pile at the top of the window when they're raised. This can block a portion of your window's view and may affect ventilation as well as getting enough light into the room.
Roman shades usually come in standardized shapes and sizes. This can make it difficult if you have windows that aren't of standard sizes. You would need to have them customized in order for them to fit your windows perfectly.
Roman shades will retain moisture because they're made out of fabric. This could lead to mold issues and other dampness related problems. This makes roman shades a bad option to consider for kitchen and bathroom windows where the environment is mostly humid.
Roman shades are either chain or cord operated. Any dangling or loose cords can turn out to be a hazard for pets and kids as they can end up getting tangled and strangled by the hanging cords.
What Are Roller Shades?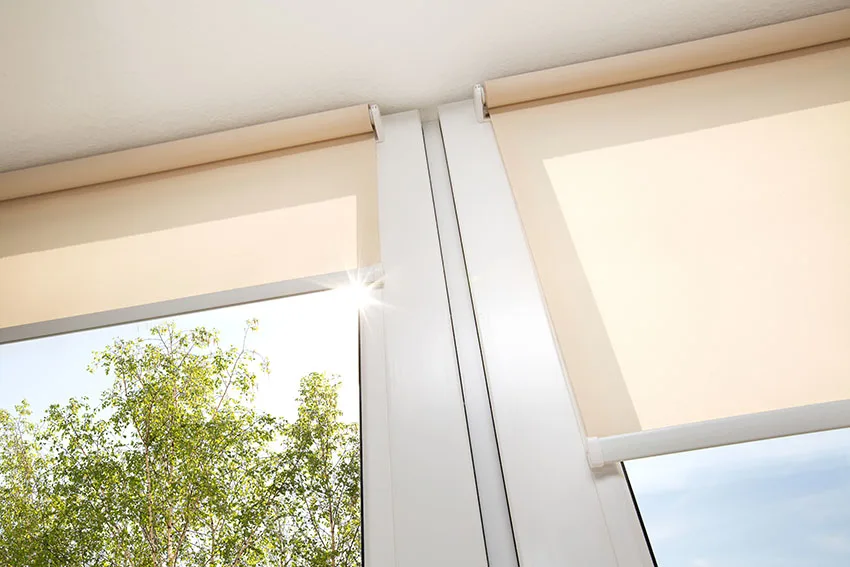 Roller shades are also made out of a single piece of fabric. The main difference is that instead of bunching up into pleats at the top of the window when the cord is pulled, they instead fit right around a case installed at the top of the window frame. It can either be outside or inside the actual recessed window pane.
These shades are oftentimes operated by some type of pull cord. This pull cord is usually fixed right at the bottom of the shades or right by the side of the casing that's attached to it.
Pros And Cons Of Roller Shades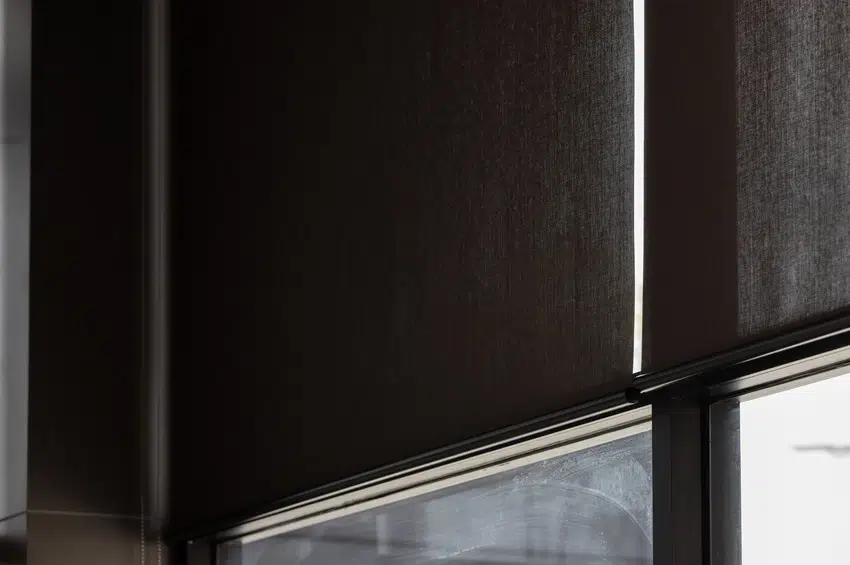 Pros of Roller Shades

Roller shades stick closer to the actual window pane as opposed to roman shades that have a slight gap in between the glass and the actual fabric when it's closed. This means that there isn't a lot of extra fabric. It looks more streamlined and more well-put-together.
They come in a wide range of fabrics for you to choose from so you can easily pick one that will either block the light out efficiently and provide climate control or pick out something a little more sheer.
Polyester and silk fabrics are usually best if you want a look that's classy and elegant whereas linen and cotton fabrics are great for reducing glare and blocking the light out.
Roller shades are easily the safest and easiest window treatments you can get your hands on. This is mainly because of their operating device. They can either be spring assisted, pull-chain driven, or in more modern models, can be completely motorized.
If you opt for motorized roller shades, you wouldn't even have to worry about any loose chords at all. They can be quite durable and have been known to resist fading over time. This is because roller shades are made out of fabrics that are usually of the highest quality and are UV treated. They're also supported by strong and reliable steel tubes along with an easy operating system.
Cons of Roller Shades

Roller shades aren't that versatile for interior design. If you have a room that has an old world or colonial aesthetic, it wouldn't fit in well at all because their design or aesthetic is mainly contemporary. They won't blend in well with more formal interiors. More than that, older homes usually come with window shutters which means that they can't exactly be fitted with roller shades.
Because of the fact that roller shades are mostly motorized and have electronic systems, some parts may malfunction over time. This means that they will need to be routinely cleaned and maintained often and this can be tedious for some homeowners.
Roller shades require special handling in terms of cleaning and maintenance. There are even some instances wherein the roller shades require professional dry-cleaning in order to extend the life span of the shades.
Comparing Roman Shades Vs Roller Shades
Design. If you are looking for something a bit more versatile with the design, roman shades would have to be more advantageous.
You can go for a formal look or for something more contemporary and your roman shades will be able to fit right in. Roller shades are suitable only for contemporary or more modernist looks.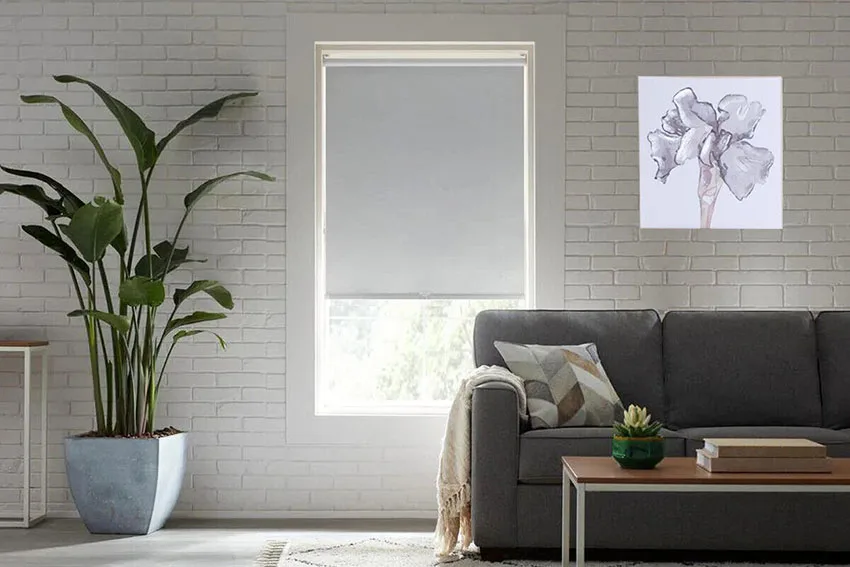 See this roller shades at Home Depot [sponsored link]
Space efficiency. Roller shades are more efficient compared to roman shades when it comes to the matter of space usage. This is because roman shades bunch up at the top of the window, which doesn't allow you to fully enjoy the view even with the shades wide open.
Roller shades, on the other hand, have cases that are installed at the top of the window frame, allowing you to retract it, and view the window in full frame.
Cost or Price range. Roller shades (the non-motorized type) are known to cost far less compared to roman shades. If you're on a bit of a budget, the manually roller shades can come in handy in having you install window fittings.
Materials. The materials that roman shades are made out of are far more superior compared to roller shades. They are usually thicker and more textured, which makes them better in terms of durability and light control compared to roller shades.
Insulation. When it comes to the purpose of insulation or climate control, the roller shades would have to be the better choice compared to roman shades. Roller shades are more closely installed to the window pane with little to no gap in between the fabric of the shades and the glass.
If you pair this up with a lined fabric, it works extremely well in keeping the heat in and in keeping the cold out and vice versa.
Which Is Better Roman Or Roller Shades?
It really all depends on what functionalities and features you prefer. Depending on what your priorities and preferences are, one will always turn out to be better than the other.
If your goal is more on aesthetics and versatility, then roman shades will turn out to be the better option. They come in a wide variety of fabrics and can be lined for insulation or can be sheer for lessened light filtering. If you also want to come up with a more sophisticated and posh look, roman shades are great for dressing up the room.
If you are willing to come up with the much higher price tag that comes along with these benefits, then roman shades will turn out to be the better fit for you at the end of the day. Also, if you have a more traditional home design and architectural structure, roman shades will fit right in for you.
On the other hand, if you're on a bit of a budget but want to come up with a window treatment that values function over form, then perhaps roller shades are more suitable for you. They're cheaper and they're easier to install.
More than that, they also allow you to enjoy your window's full view compared to roman shades that bunch up at the top of the window which can lead to obstructing a portion of the window pane. You need to make sure though that your aesthetics will fit in well with roller shades. This shouldn't be that much of an issue if you're going for something modernist and minimalist.
If your window is flat and isn't recessed, roller shades will also turn out to be more suitable for you as there won't be any issues when it comes to getting the casement installed at the top of the window.
And the last point of comparison would have to be the maintenance. If you want something easy and hassle free, roller shades would have to be the option for you. However, if you prioritize the aesthetics above all, roman shades would be the best bet for you as they look great and fit in well with either formal or modern settings.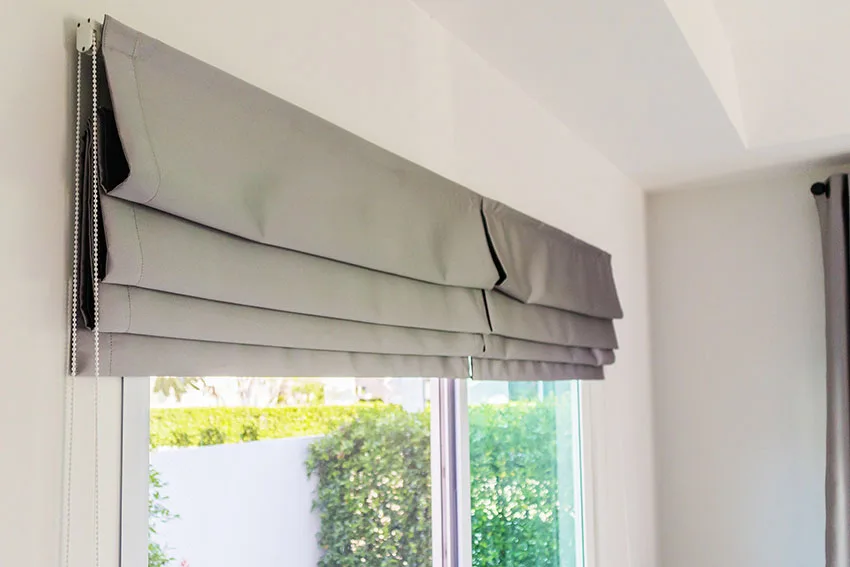 Roman shades require special care and handling with the fabrics though. Improper handling can lead to shrinkage and fading but if you don't mind the extra effort in the maintenance, then this wouldn't really be a problem for you.
In the end, it all boils down to personal preferences. You just need to figure out what fits in well for your needs and wants before choosing the type of shades you want.
See more related content in our article about the types of window blinds here.