This gallery of high gloss tiles features what they are, differences from polished tiles, pros and cons, and the different types of high gloss tile designs & materials.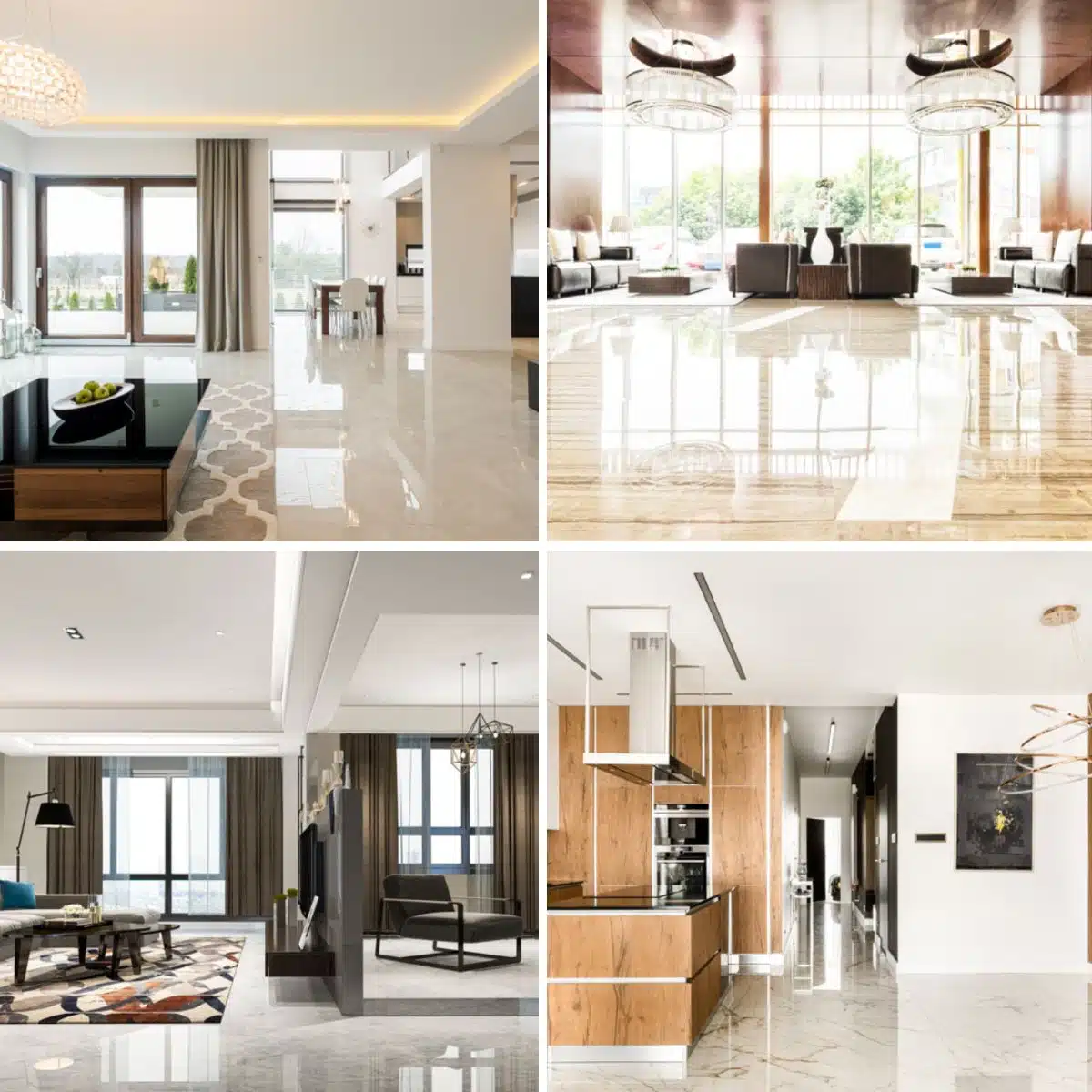 When you first begin the tile purchasing process, your primary attention will most probably be on the color schemes and designs you want to achieve for the ultimate home improvement project.
Nevertheless, you must also pick which tile finish is ideal for you. Dazzling high gloss tiles would undoubtedly be one of your preferred options as they appear gorgeous, sophisticated, and attractive in a contemporary setting.
This is why we are providing you with recommendations on whether these are a great pick. We will go through the different types as well as the pros and cons of high gloss tiles. We will also provide you with all of the essential information you need to create an accurate selection.
Quicklook: Different High Gloss Tile Types
• Porcelain
• Ceramic
• Flooring Tiles
• Peel and Stick Tiles
• Wall Tiles
• Ceiling Tiles
What Are High Gloss Tiles?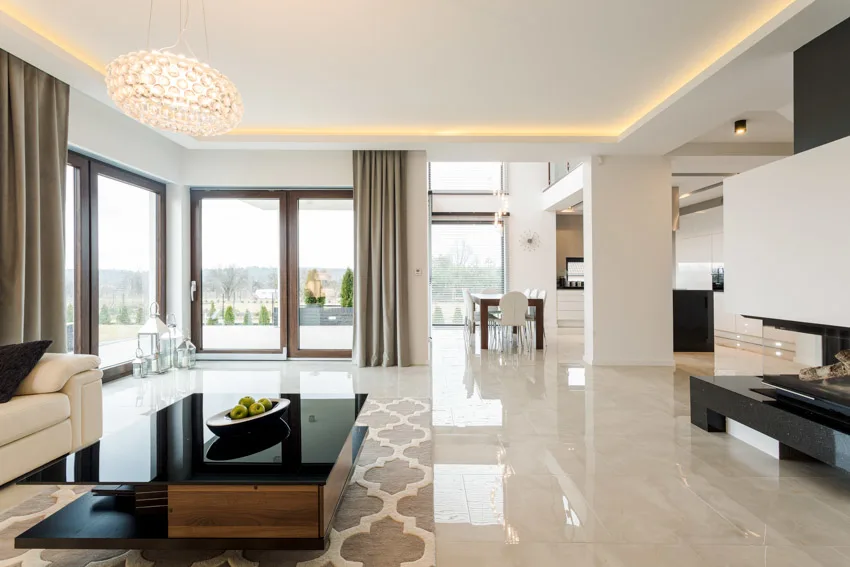 High gloss tiles, as the name implies, have a brighter, refined, and more glossy finish that helps to bounce light off the surface. These tiles are not only stunning, but they are also highly versatile, bringing light and space to any room in your house.
Moreover, even the smallest of spaces may be made to appear larger by using these tiles. The effect is comparable to placing a mirror in a room. The light reflection widens out the area and fools the eye into thinking the room is broader and more open than it is. Thus, these types of tiles are a fantastic design option for smaller and narrower bathrooms, box rooms, and corridors.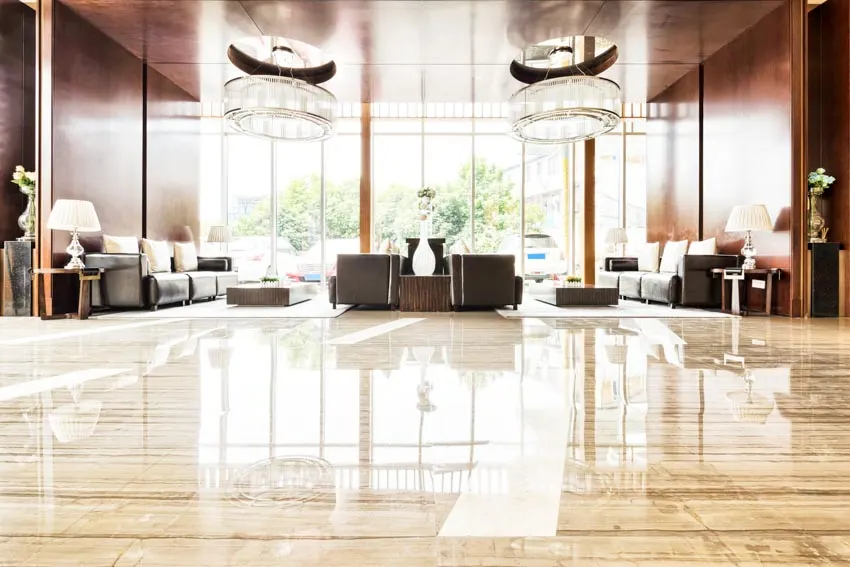 High gloss tiles are ideal for making a room feel livelier and fresher. This style of tiles optimizes natural light in locations with limited natural lighting by reflecting light back and forth around the area. This is an excellent choice for compact bathroom sizes.
Furthermore, the seamless quality of the high gloss surfaces makes them exceptionally uncomplicated to clean and maintain, requiring only a simple wash down to glisten. This is one of the numerous reasons why these tiles are ideal for use in cluttered areas such as kitchen backsplashes and shower surfaces.
Difference Between Glossy and Polished Tiles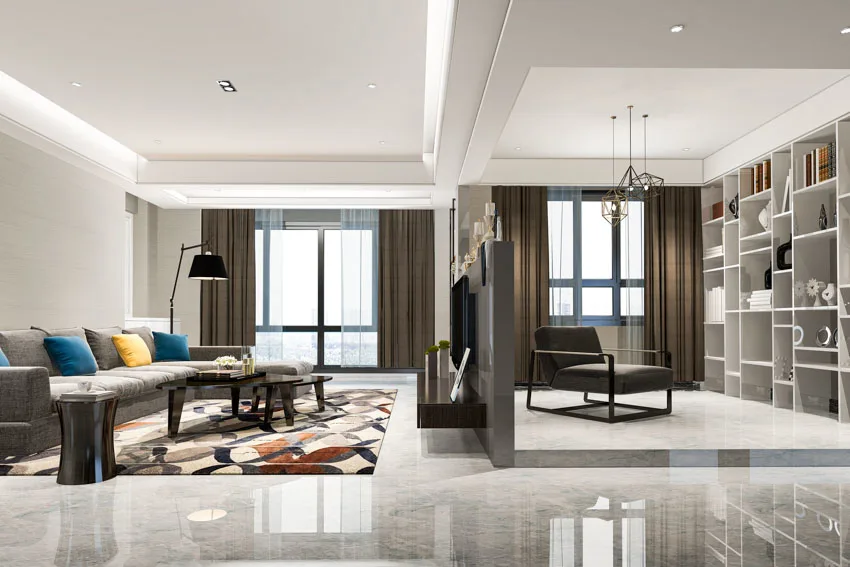 Although both polished and high gloss tiles appear to be very glossy, they are somehow different. To achieve a polished appearance, tiles are normally double-fired with the tile arrangement or color first, followed by a clear coating application.
Polished tiles are treated in the same way that stones are polished, by passing them through polishing rollers with water as well as a polishing solution. To complete the aesthetic, the tiles are sealed to keep their beauty and provide a polished texture.
High Shine Tiles Pros and Cons
Here we share the advantages and disadvantages of high gloss tiles.
Pros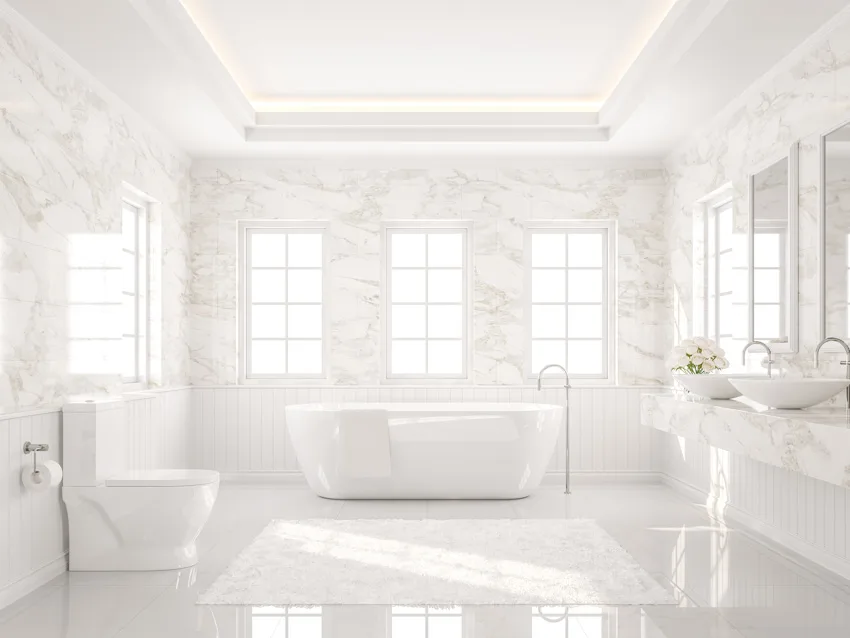 High Gloss Tiles Make Spaces Much Bigger: Gloss tiles, with their polished, gleaming surface, have the advantage of reflecting light about the room, making tiny spaces feel larger.
These Tiles Can Brighten Particular Areas: These tiles are a great choice for rooms with low lighting because of their naturally occurring ability to reflect light, which also has the added advantage of making spaces feel lighter and brighter.
High Gloss Tiles are Very Easy to Clean and Maintain: This type of tile has a smooth, glossy surface and is the ideal easy-to-clean material. Cleaning your tiles is as simple as wiping them down with a damp cloth or mop, which is why they are such a widely known choice for restrooms and kitchens.
Numerous homeowners overlook a sensible application for high gloss types of tiles: surrounding fireplaces. The ashes and filth from the fire may be easily cleaned off the high gloss surface – it is one of the best-kept techniques for saving you time cleaning around the house. Using marble-effect or encaustic-effect high gloss tiles will provide your fireplace with a very unique and genuine touch.
Provides an Extremely Luxurious Aesthetic Impact: These tiles are ideal if you want a glamorous, modern, high-end aesthetic for your kitchen, bedroom, bathroom, or any room within your house. Many homeowners use high gloss types of floor tiles for their home interiors to add a rich sense and a contemporary accent.
Cons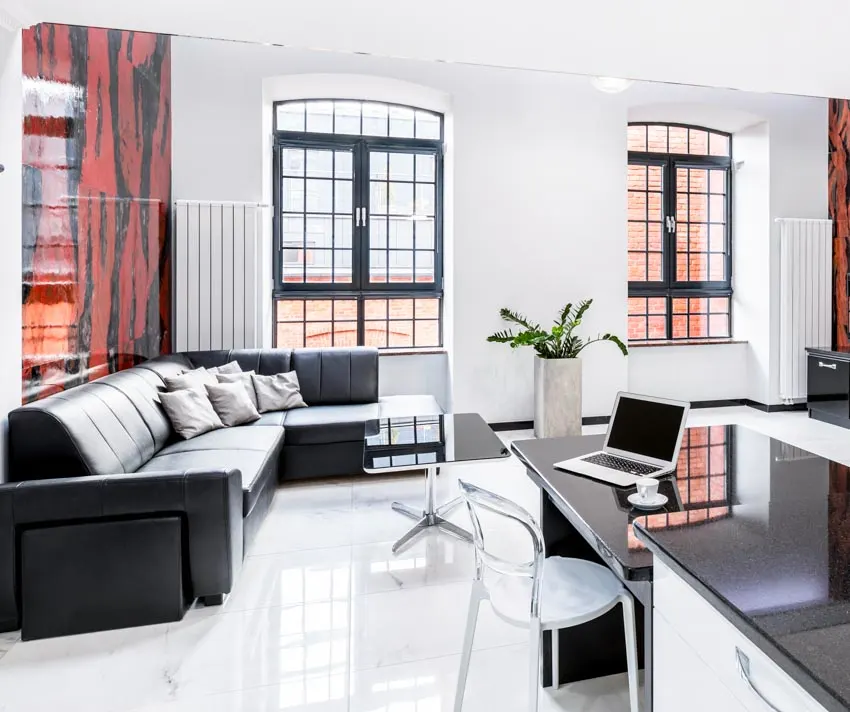 High Gloss Tiles Make Flaws Visible (Scratches or Dings): Even though gloss polished tiles are simple to clean, their highly glossy surface makes water spots and streaks stand out more. As a result, they will need to be cleaned frequently to maintain their beautiful appearance, especially in high-traffic areas with high gloss floor tiles.
High Gloss Tiles Can be Extremely Slippery: Certain high gloss floor tiles can be very slippery on damp surfaces such as bathrooms. If you insist on a polished surface for your home, you can choose non-slip gloss floor tiles for enhanced safety.
High Gloss Tiles Can Be Excessively Reflective: If you want to create a tranquil, serene environment, the light-reflecting aspects of gloss titles are not necessarily a benefit. The light bouncing off tiles might create a distraction, detracting from the serene atmosphere you wish to achieve.
Types of Glossy Tiles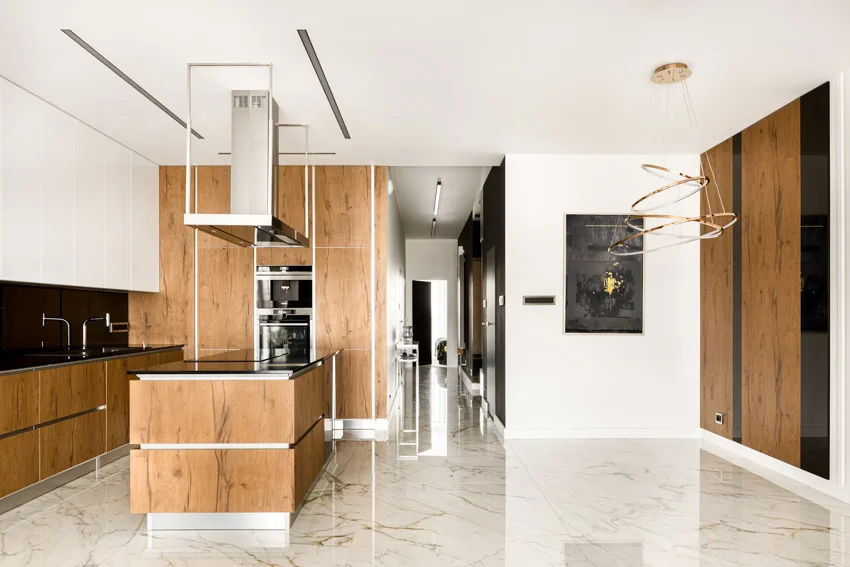 Here we share the different kinds of high gloss tiles.
Porcelain Tiles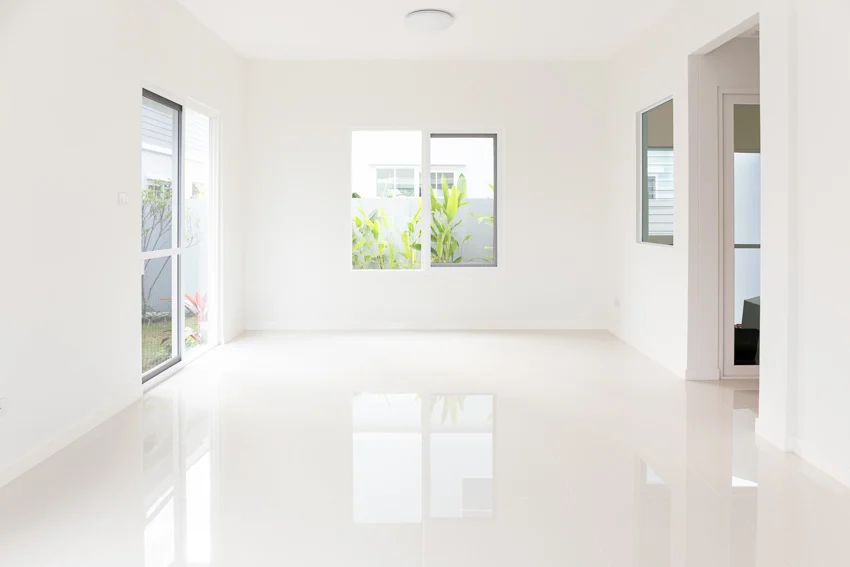 The surface of high gloss porcelain tiles is polished with a firm grinding stone to achieve this effect. The glazing procedure also produces this to provide the tiles with a lustrous appearance. These tiles are suitable for both floors and walls.
Very fine pores appear on the surface of the tiles throughout the polishing process. Because these pores bounce light differently, you might expect to detect a fluctuation in glossiness appearing as a little haze on a portion of the tile's surface under specific lighting situations.
Similarly, tiny differences in sealer thickness may be interpreted as variances in shininess. These are typical of high gloss porcelain and are to be anticipated.
Another type of polishing process for porcelain tiles to achieve an extremely glossy finish is Leviglass. Leviglass may enhance the natural lighting in any setting, allowing you new decorative possibilities in your home.
Ceramic Tiles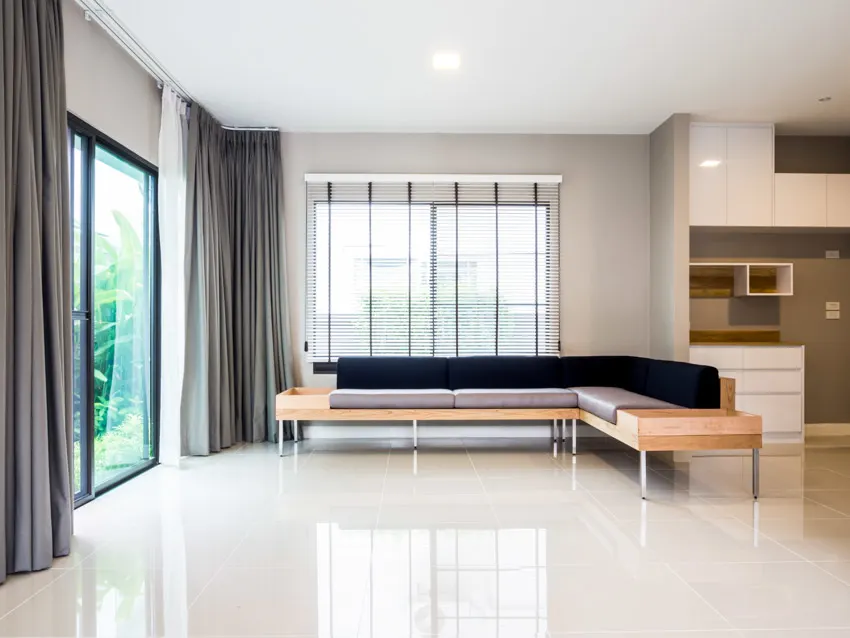 Ceramic tile is quite versatile, with a wide range of possibilities ranging from natural stone textures to neutral tones in a plethora of sizes. Ceramic tile can also be used to create a variety of unique designs.
Natural stone-look ceramic delivers all of the design aesthetics of stone without the exorbitant price tag. Natural stone designs can be exceedingly realistic with modern printing options on ceramic.
A durable glazed covering of liquid glass is commonly applied to gloss-finish ceramic tiles. This is the primary distinction between a glossy and a matte finish for ceramic tiles.
High gloss ceramic tiles normally feature a gleaming mirror-like luster. These ceramic tiles have a stylish surface and provide a polished aesthetic to a place. For wall installations, high gloss ceramic tiles are recommended.
For high-gloss tiles and tile installations with narrow grout lines, use a grout without sand. – Handmade Tiles: Designing, Making, Decorating, Frank Giorgini
Ceramic tiles offer a tough, substantial surface that does not collect or retain dust, dirt, dander, or other irritants. Whenever these little particles fall onto a ceramic surface, they stick out against the surface and are easily removed with a sweeper or sponge. This aids in keeping the air clean and clear of irritants that can endanger people who suffer from asthma or other allergies.
Moreover, ceramic walls are relatively simple to maintain, particularly the high gloss variant with a durable protective top coating that makes them resistant to water and certain stains.
This is why they are popular in locations like restrooms, kitchens, and laundry areas. Dirt, stains, and liquids settle on the surface, making them easy to remove.
Flooring Tiles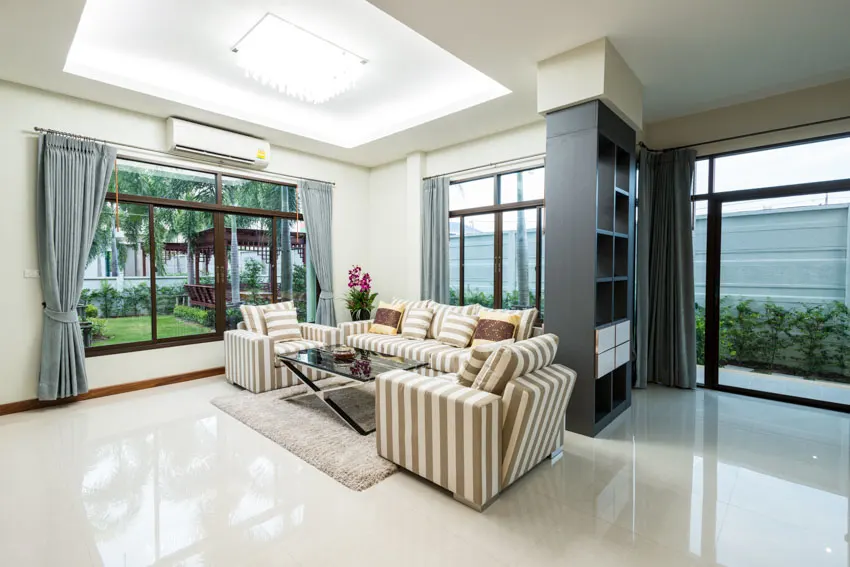 The sheen on high gloss floor tiles is beautiful, resembling the look of an actual mirror. Their reflective surface reflects light throughout the room, making it appear wider and livelier. High gloss floor tiles are a good choice for smaller spaces and rooms with little natural light.
Marble-like glazed vitrified tiles with a glossy surface are an excellent option for bigger spaces such as living rooms or bedrooms. These high gloss floor tiles can readily replicate the appearance of real marble flooring while eliminating the need for extensive maintenance.
Peel and Stick Tiles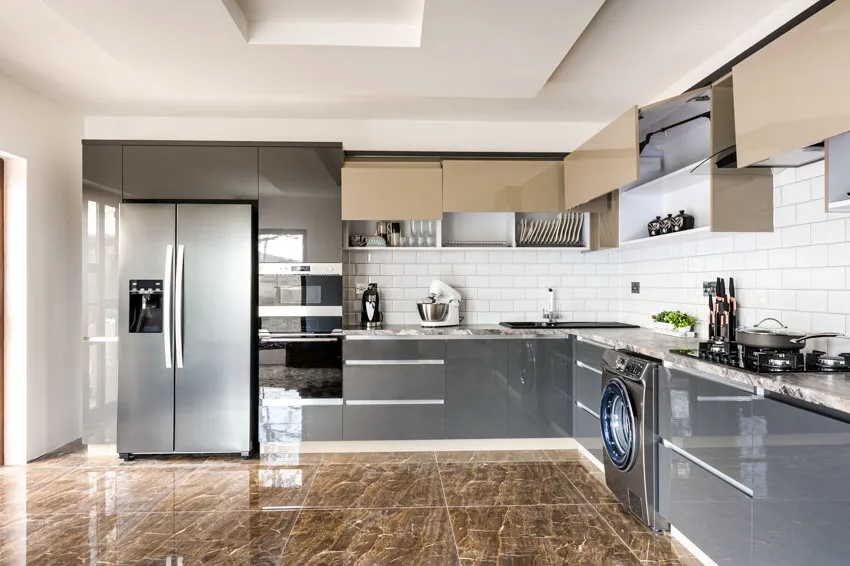 When you want to give your kitchen, bathroom, or another room, such as the basement, a glossy transformation but do not have the time or money to install a tile floor or wall, you can try using high gloss peel-and-stick tile. The installation method is simple enough that most do-it-yourselfers can handle rather than hiring an expert.
Vinyl is typically used to make high gloss peel-and-stick tiles. These tiles make it simple to install and rapidly remodel any space in your home. You must peel and stick to a flat and dry surface for quick and straightforward application.
There is no need for additional glue or adhesives. Hardly any specialized cutting supplies are necessary for these vinyl tiles, which may be easily cut with a utility knife.
Before beginning any tiling project, the wall or floor must be adequately prepared. The tile will only adhere to a clean and level surface. These peel-and-stick tiles are high gloss, so you have to ensure that the surface you are working on is flawless. Otherwise, high gloss peel-and-stick tiles will easily reveal wall or floor imperfections.
You must sand or scrape away any old glue or indentations that may hinder the fresh tile from lying fully flat. Afterward, you must clean the wall or floor with a degreaser if needed. High gloss peel-and-stick tiles can be applied to painted drywall, linoleum, porcelain, concrete, and various other conventional wall and floor materials.
Nevertheless, if the surface is not adequately prepared or the space is not measured and laid out, the robust adhesive on the backside of the tile can cause complications. Broken or cracked tiles, distorted tiles, and mismatched designs are examples of these problems.
Wall Tiles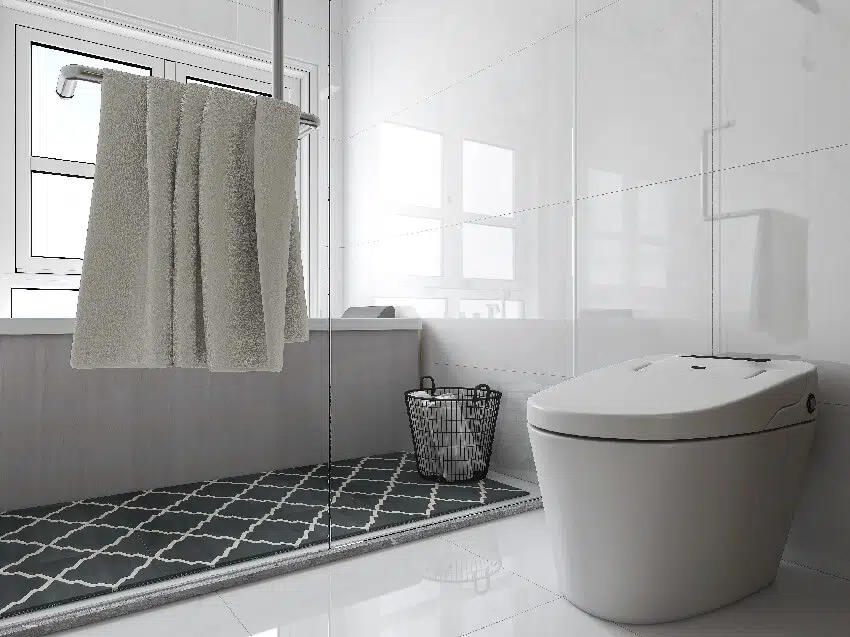 High gloss wall tiles have a sophisticated and seamless surface that intensifies the light and makes a space appear larger. Because of this lighting entrapment, they are suitable for wall tiles in compact rooms. These wall tiles may be cleaned weekly, and their shiny surface is constantly visible.
Cleaning is thankfully as simple as a quick wipe-down on high-glass wall tiles. The tiles' smooth texture makes them perfect for living room walls, bathroom walls, and kitchen backsplashes.
High gloss wall tiles also appear great in living rooms when used on the floor in a large arrangement. This gives your living spaces a stylish contemporary vibe and makes them appear larger.
Furthermore, because they are easy to clean, high gloss wall tiles are common in washrooms. You can use a quick wipe with a soft cloth to remove watermarks or other grime. You will not have to worry about their appearance being affected by nature in your bathroom because these tiles do not smudge.
Aside from that, backsplashes and the kitchen section are ideal locations for high gloss wall tiles because they will complement the space flawlessly. It is also very easy to clean and wipe down.
Lastly, a studio loft can be an excellent location for high-gloss wall tiles. Studios are frequently flooded with natural light. Picking non-glossy wall tiles can exude boredom and zero energy. That is why it is much wiser to install high-gloss wall tiles for these spaces.
Ceiling Tiles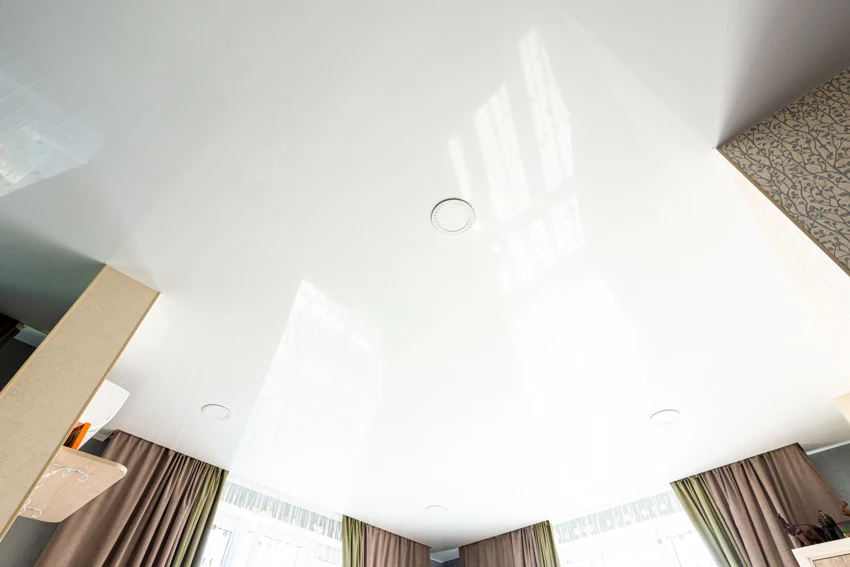 Ceiling tiles, commonly referred to as ceiling panels, are lightweight building materials used to overlay ceilings. They offer significant heat insulation when placed in an aluminum or steel panel, but are mainly used to improve a room's appearance and acoustic performance.
High gloss tile ceiling design types are commonly utilized for commercial, residential, and industrial purposes and can be found in retail establishments, workplaces, hotels, hospitals, and other locations. For some areas that have poor lighting, contractors normally suggest installing high gloss ceiling tiles to enhance lighting further.
Cleaning Shiny Tiles for the Floors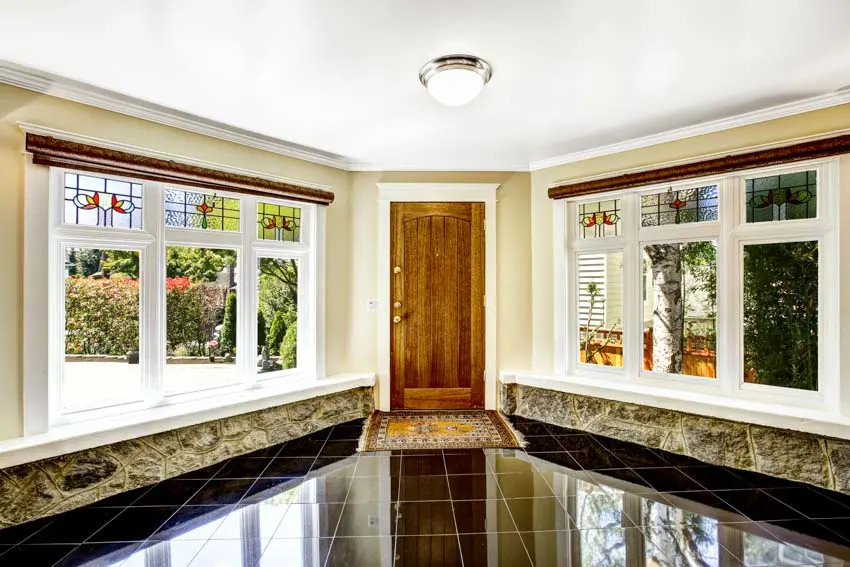 With high gloss surfaces, you must keep them clean because, as previously mentioned, they will quickly reveal fingerprints, watermarks, mud, scuff markings, and paw marks. You can keep the attractiveness of your high gloss floor tiles by employing these basic cleaning techniques.
Vacuum the Floors: You can always try to extensively vacuum the entire flooring. High-quality vacuums are ideal for removing pet hair and cleaning high gloss surfaces. Vacuuming collects dust and grit and prevents them from resettling. Therefore, this cleaning method is essential and should not be overlooked!
Sweep the Floors: To gather any loose particles the vacuum might have left behind, you can gently sweep the floor. Sweeping after vacuuming may sound unusual, but you would be stunned by how much dust and grit can be left on the flooring after vacuuming it.
Sweeping has always been an important step because it is the greatest way to prevent debris and hair from remaining after mopping. Indeed, this is an important floor cleaning step that prevents dust and hair from being pushed into the nooks of your high gloss floor, and you should not skip it because it will save you a lot of time after mopping.
Loosen the Stains: After vacuuming and sweeping the floor, you can use a multi-surface cleaning solution to go throughout the floor and look for sticky food spills and stains. To dissolve the spots, spray the cleaning solution on them.
Apply Hot Water: Make your water as hot as possible to let the water evaporate fast on the floor, minimizing streaks and watermarks. Hot water lingers on the surface of these tiles longer. It makes watermarks easy to remove as well. You can also add a bit of dish soap and a capful of disinfectant to your hot water for added stain-removing power.
Mop the Entire Floor: Immerse your mop into the pail of water and disinfectant, then spin it until it is nearly dry. When you assume you are already finished, spin the mop once more. Spinning is an important step in preventing smears; the drier the mop, the fewer smears will form on your high gloss tiles
Clean the Corners: A small quantity of debris is always deposited between the floorboards as well as the floor. To remove any dust or hair that may have gathered when mopping, use a paper towel or gentle microfiber cloth to go around the corners of your high gloss floor tiles.
Best Tile Sealer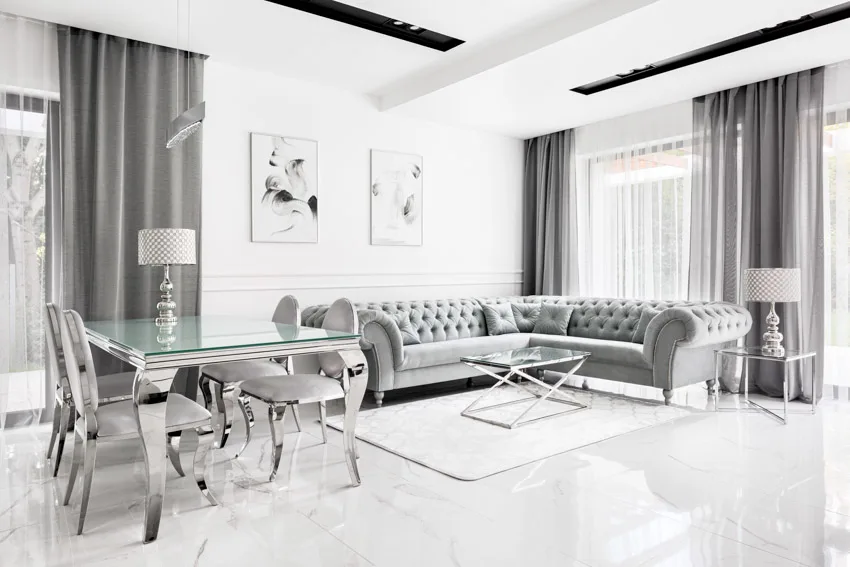 If you use a product for sealing high gloss ceramic or porcelain tile that is not specially formulated for that surface, it will just lift and peel over time. Tile sealers must absorb into the surface.
Ceramic or porcelain tile are too thick to achieve that result. You need something with adherence advancement to enable you to bond to the surface very well.
GlazeGuard is an example of a premium-quality high gloss tile sealer. It is specifically engineered to bind to that surface. It will leave a great film on the tile and grout and a high gloss, shiny appearance that will last several years. GlazeGuard tile sealer is a two-part polyurethane sealant that is uniquely formulated for adhering to ceramic and porcelain tile.
This tile sealer contains adhesion boosters, which allow it to attach to impervious surfaces. It is a two-part chemical that cross-links to create a dense and long-lasting seal over the high gloss surface. Furthermore, it includes a significant amount of polymer, resulting in an extremely tough and ultra-durable barrier.
Are Glossy Floor Tiles Slippery?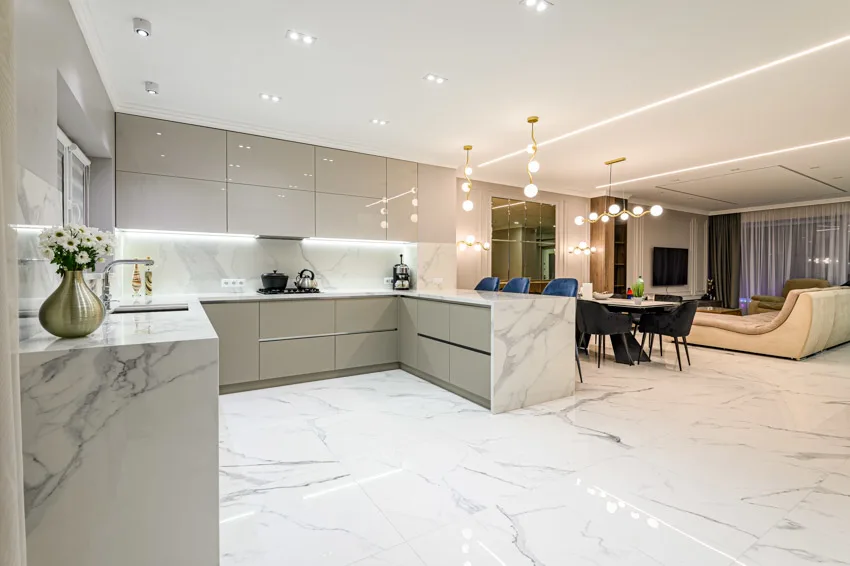 Yes. Some versions of high gloss floor tiles can be slippery on wet surfaces such as bathrooms. But if you decide on using high gloss tiles for your home, you can still find non-slip yet high gloss floor tiles on the market for extra safety.
See more related content in our article about large format tile on this page.