Here 's our tips on what color curtains go with gray walls such as classic white, emerald green, multi colored bohemian style and other window covering colors that give accent to your gray walls.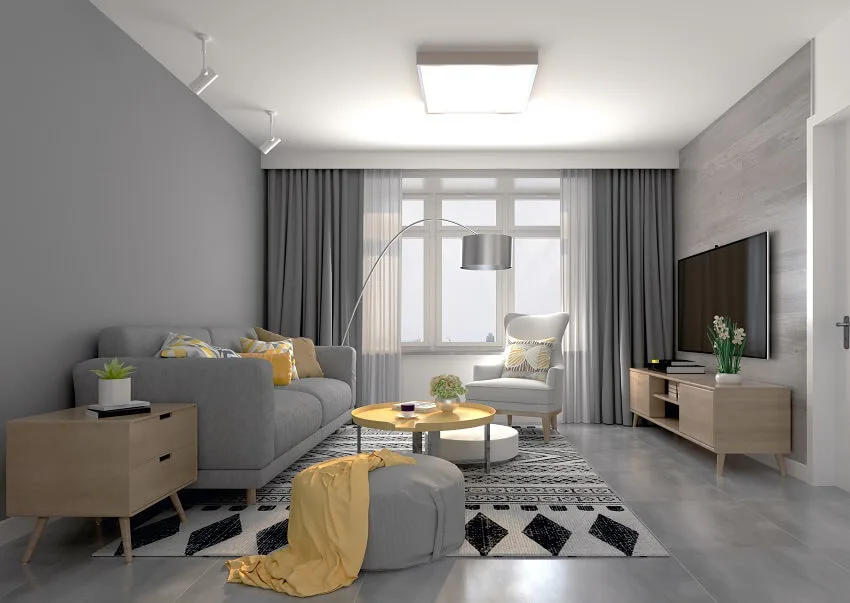 Nowadays, gray walls are trending because of their versatility. Gray alone looks boring but if you mix and match or accentuate it with other colors, your interiors will surely stand out.
Like white, gray goes well with any color so it's easy to find colors that match it. It can add some depth to a room. You won't run out of ideas if you choose curtain colors that match gray.
Curtains For Gray Wall Color
So, what color curtain should you choose? Here are some suggestions for an attractive room design:
Classic White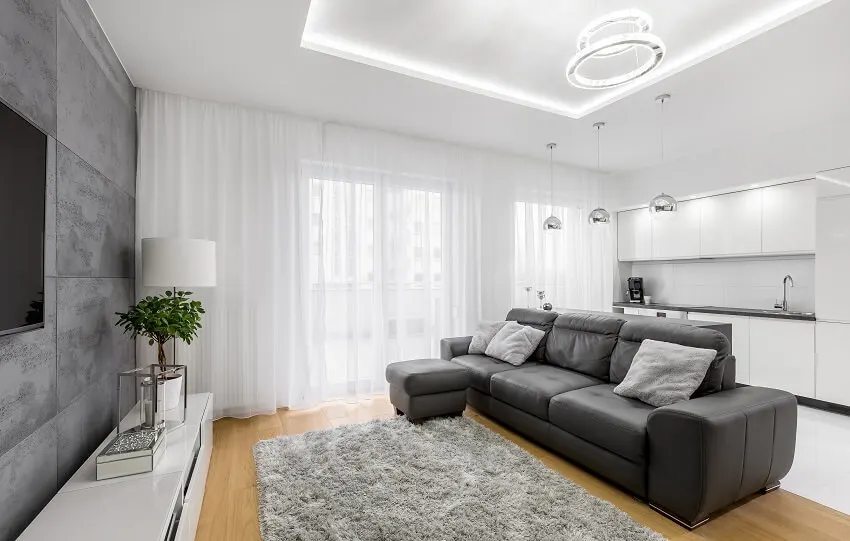 Classic white or bright white is an excellent match for gray walls. White curtains can go with any style and any room. The bright white pops out of the gray wall color, giving the place a light and airy ambiance.
Oatmeal
Oatmeal is a neutral color and it perfectly blends with gray and yellow. Gray walls can have a cold effect on a room.
Hanging oatmeal-colored curtains will allow adding accents in a warm color. You can turn the room into a lighter space without feeling the coldness of the gray walls.
Navy Blue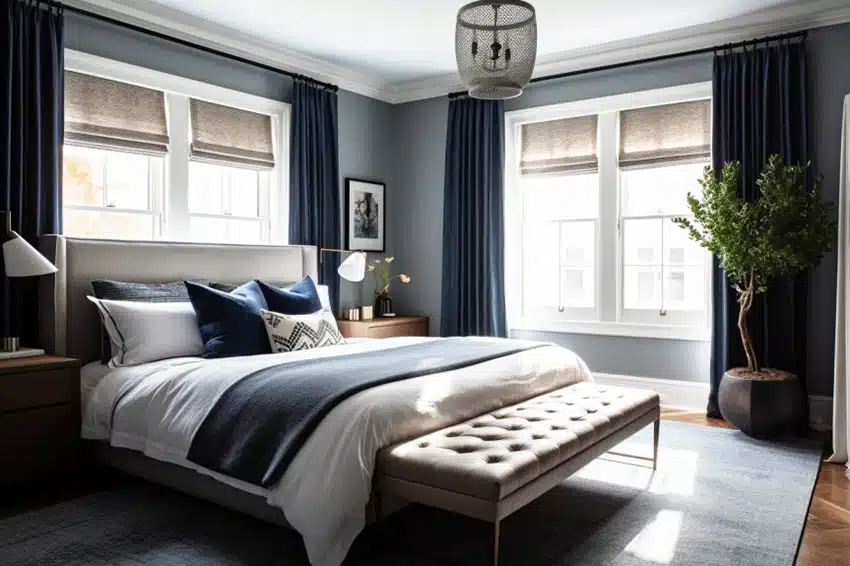 Navy blue curtains are the prettiest draperies for a room with a gray wall. The deep color of the curtain does not result in a dark impression of the room.
The deep and rich hue becomes more pronounced. Choose furniture in camel brown with white or warm accents for an amazing effect.
Yellow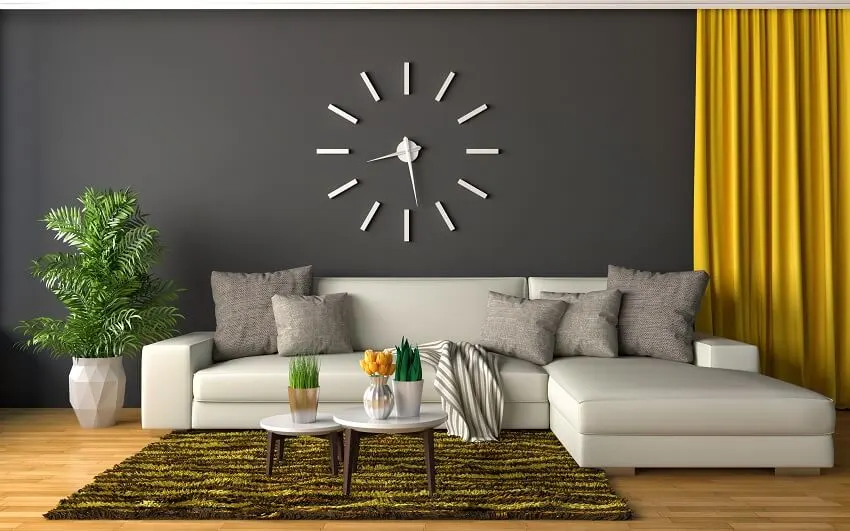 Yellow is a perfect match for gray. Hanging bright yellow curtains can give the room a warm and cheery feel. Opting for mustard yellow creates a classy look. Both shades will look gorgeous on gray walls.
Tan And Cream
Gray is a neutral color that can go along well with other neutrals. Hang curtains with cream and tan color combinations to make the room a little bit warm. Turn a corner into a cozy spot by adding a comfortable chair and a knit blanket.
Dusty Rose
Hang dusty rose curtains in a room with a gray wall color. The two colors are a perfect match. You can use dusty rose with any shade of gray and get good results.
With dusty rose curtains, you can add white furniture with accents of burgundy and olive. Visit our design guide on what color furniture goes with gray walls for more tips.
Charcoal Gray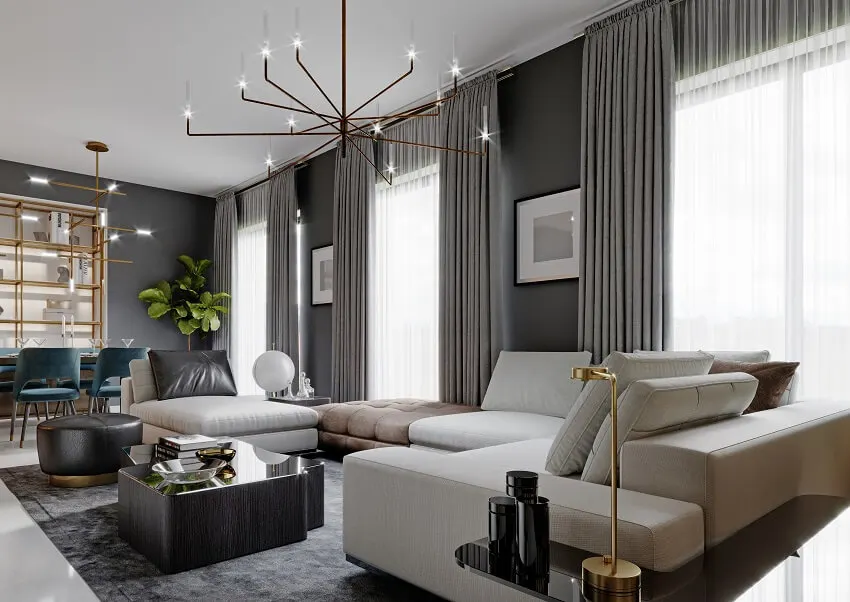 Give a room a masculine look by hanging charcoal gray curtains. Any shade of gray will do. Charcoal gray against light gray walls creates a fantastic contrast. The room will feel warm and welcoming.
Natural Green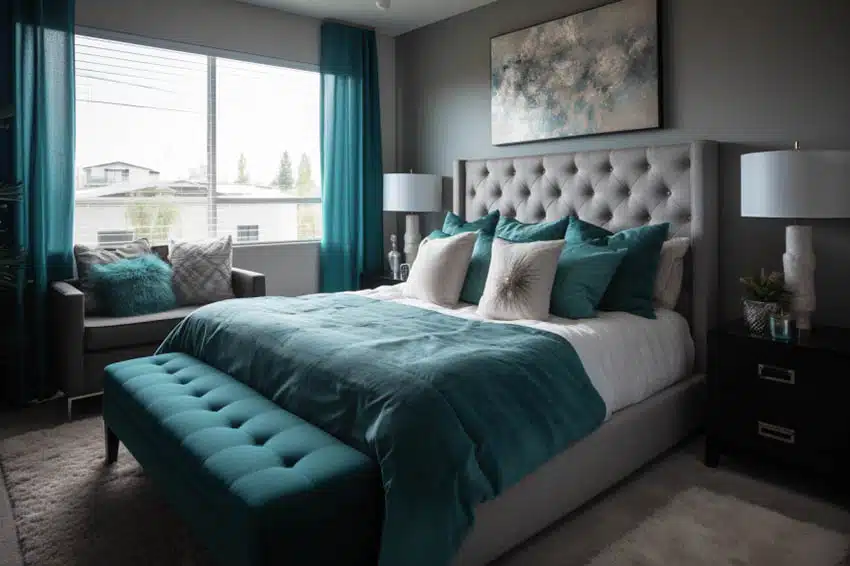 Go earthy. This is the trend right now. You can opt for olive green or one with a floral pattern. Add some native decors or indoor green plants. White furniture will do wonders to the room.
Lilac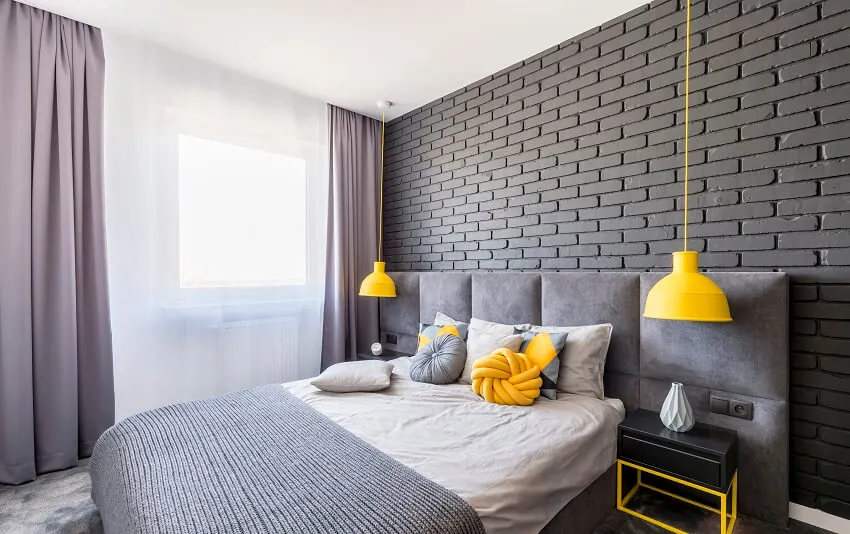 Soft lilac curtains of gray walls result in a gorgeous combination. But, both shades are cool colors. Add some warmth to the room by adding darker shades. You can have magenta, plum, or wine furniture. All these tints go well with gray.
Coral
Coral curtains and gray walls are a gorgeous combination. This color scheme is soft and calm and coral curtains make the room brighter. They also pop out and make the room impressive.
Enhance the brightness of coral by adding white accents. Using navy blue furniture can tone down the oral shade.
Cream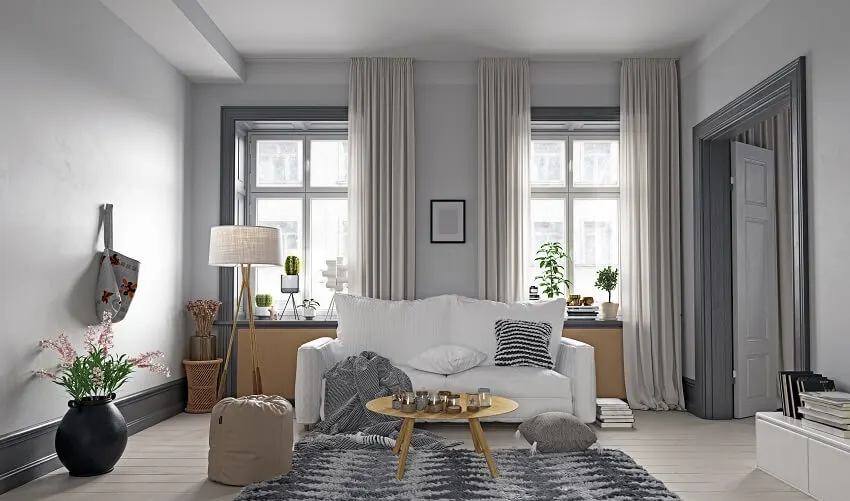 Gray-colored walls make a room airy and light. Hanging curtains in a cream color can help keep air and light without making the place cold.
A cream color tint does not pop out of the gray; it provides a subtle contrast. Yet, the hue is gray with a different appeal.
Chalk Blue
Gray and blue complement each other. You can use any shade with the same effect. Yet, some shades look better than others. Dusty shades like chalk blue work best with gray walls. This is because dusty shades have gray undertones.
Ombre
Choosing ombre curtains will allow you to use any color. Ombre has one main color that fades out. You add a splash of red. The color is vivid at the top and fades as it nears the bottom edge. The fading hue softens the main burst of color.
Emerald Green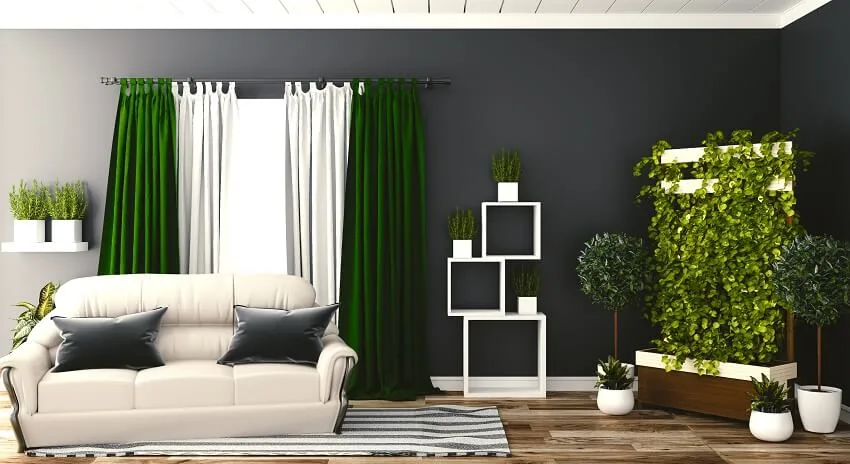 A gray wall color and mid-century furniture will go well with emerald green curtains. Emerald green and gray lends a calming effect to any room. Rooms with this color scheme look sophisticated.
Turquoise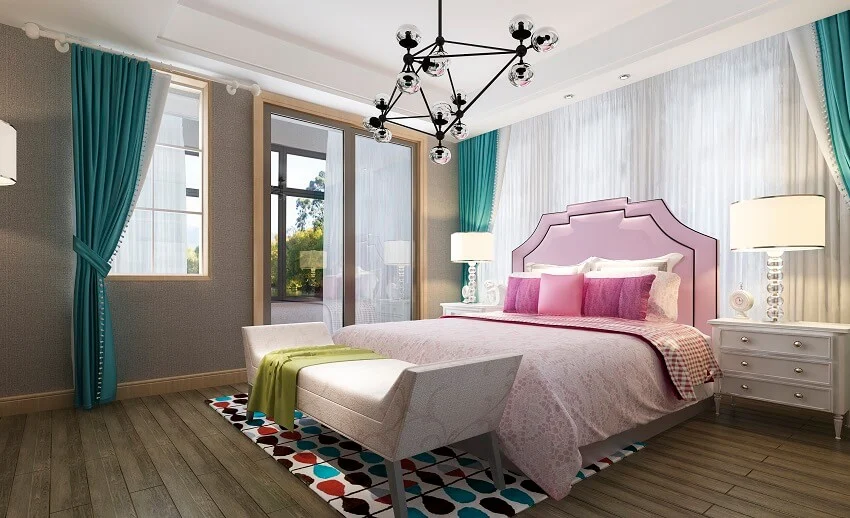 Turquoise is a vibrant color that perfectly matches gray walls. It comes out from the gray background as a contrast. The combination is ideal for kids' rooms, play areas, and other spaces that need more life.
Buffalo Check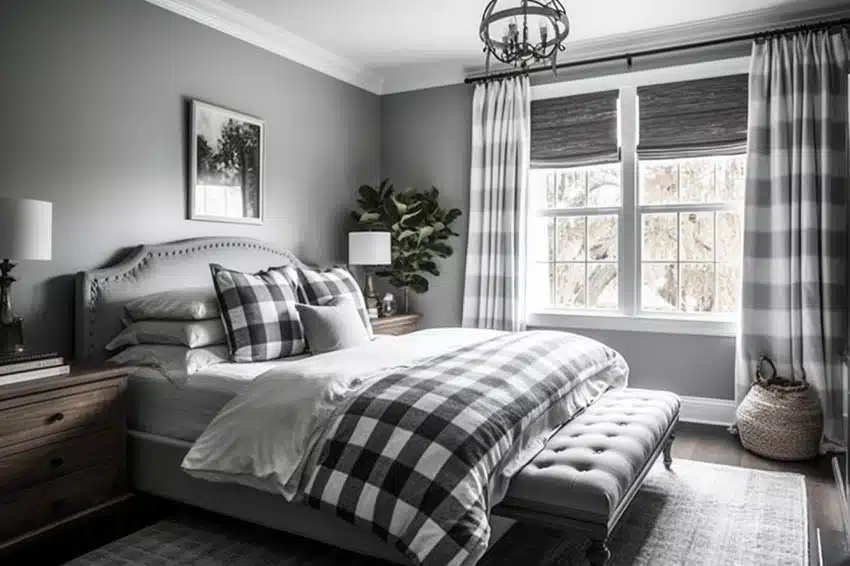 Farmhouses with simple decors need buffalo check curtains. These patterned fabrics suit the theme of the house—a gray and black check pattern ties in with the gray color of the walls. Thee curtains add a lovely texture to the walls and bedding, and almost any pattern will fit the gray walls.
Multi-Colored Bohemian Style Curtains
Persons preferring the bohemian style can go for curtains with a mix of colors and patterns. Proper mixing and matching will make these curtains perfect for a gray color palette.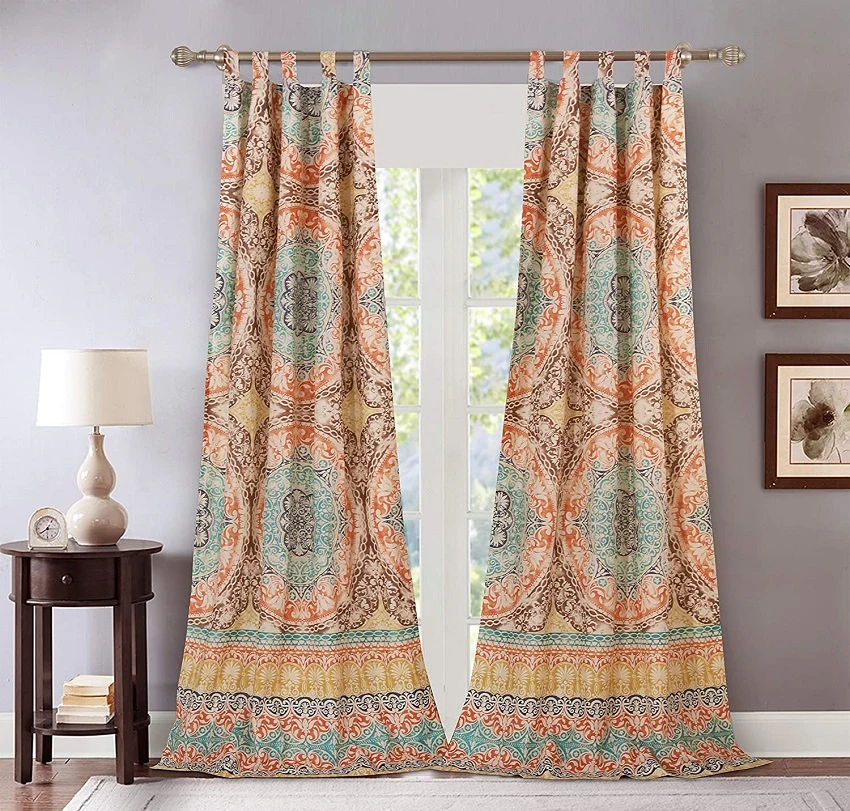 See this Barefoot bohemian style curtain at Amazon [sponsored link]
Colorful curtain panels with patterns in orange, yellow, teal, and purple can make a statement and enhance the vibe of the room.
Curtains with Large Vibrant Floral
Large vibrant floral patterns are popular. They also go well with grays—the gray background tones down the impact of the bright tints. Go for large patterned prints for a burst of colors. Small ones can make a room look cluttered and offer an inviting vibe.
Blue, Gray, and White Combination
Curtains that mix white, blue, and gray will look amazing on a gray wall. The slid white background will make a room bright despite mixing it with darker colors.
Neutral stripes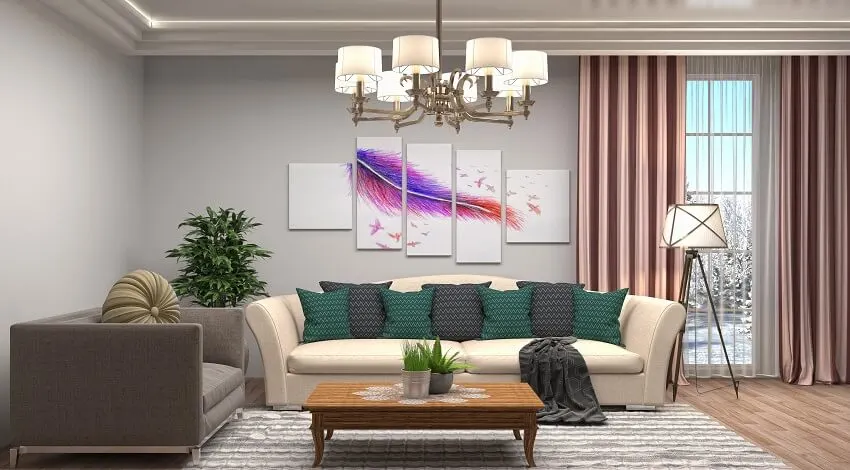 Curtains with neutral stripes can suit walls of any color including gray. They might not have an explosive effect but they can bring warmth to a room. They can make a room an inviting space.
Mossy Green
Mossy green curtains go well with walls with gray color with a hint of green. The effect is like the color of woods and sky.
Many curtain colors match gray walls. and choosing the best shade can be intimidating. Use these suggestions to make the right choices. After hanging the curtains, you will see the amazing outcome of your hard work.
Read more related content by visiting our design guide on colors that go with gray walls.