Here we share what color furniture goes with gray walls, including the ideal paint hues for light-gray and dark-gray walls and the best color for couches.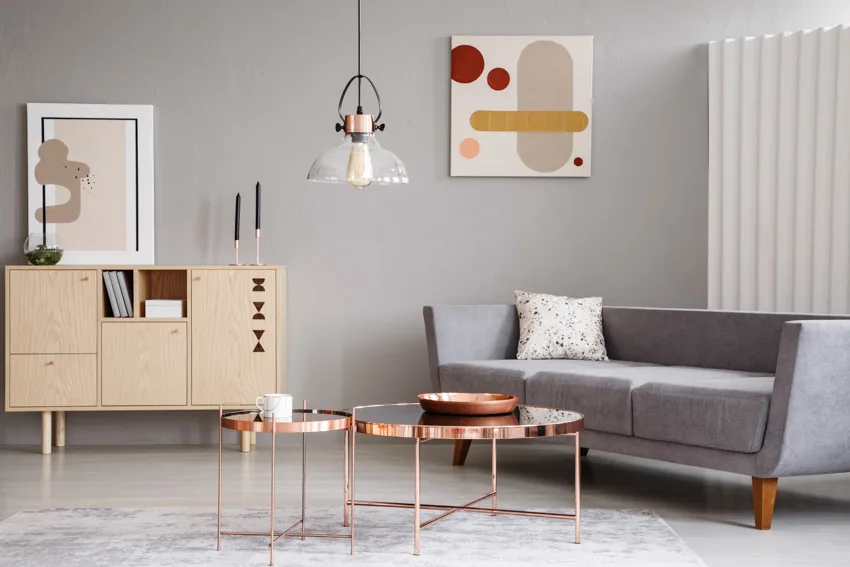 When planning the design of your bedroom and considering your walls' colors, don't take the color gray out of the choices! Gray walls can create an ambiance that's far from dull or somber.
It can be a good background color to pop out bold colors and patterns. And you can make this possible using your decor, accessories, and pieces of furniture.
The color gray may seem cold, but there are ways you can do to add warmth to it. You can't just leave grays as is and not add anything to it.
Color Matching Furniture with Gray Walls
Here are some tips you can try out when matching what color furniture goes with gray walls.
1. Learn the wide range of gray-hued shades you can use for your rooms and choose the one you want your room to have.
2. Understand how tone works and make sure you recognize the color's temperature so that you can choose a complementary color and match it appropriately.
3. With this color for the wall, you can add color to your furnishings, accessories, and decor as accents with unique hues, patterns, and styles.
4. Don't feel restricted by the color gray; try to have fun and be flexible with it. The tone is not just cold and has its own personality you can play with.
5. Try out the following gray colors for a new spin:
• Greige (Gray-tone with a hint of brown or beige)
• Charcoal (Close to dark blue or black)
While these tips are a start, you may need more help matching furnishings with your walls; let's start with what colors you can choose.
So you've chosen gray for your walls but don't know what furniture pieces to match them. There are a variety of colors for the home furnishings you can choose for your room, which can go well with these shades.
Gray is a neutral color, which makes it a great backdrop for other colorful shades. Whether it is a couch, nightstand, drawer, or wall art, considering the colors will be a good step to take.
What Color Furniture Goes with Light Gray Walls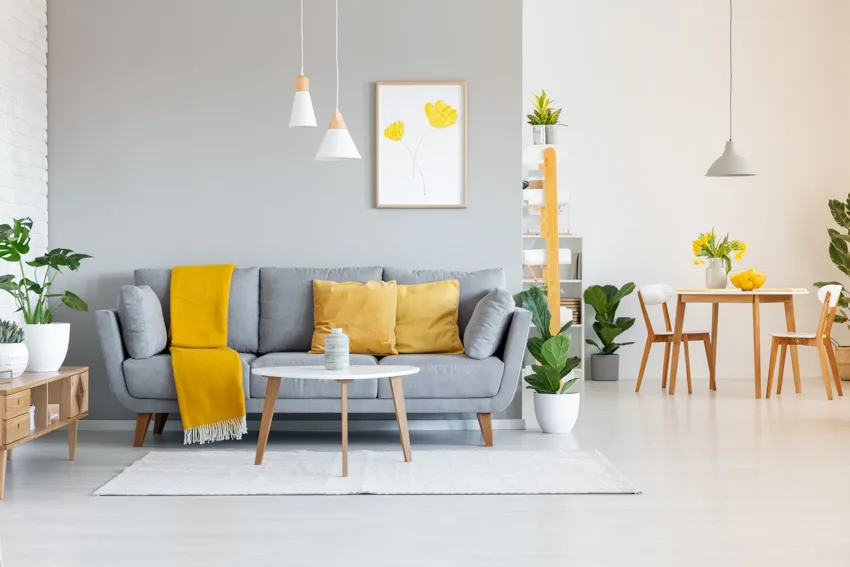 With light gray walls, you can go for colors with darker shades for your furnishings. Since there are many colors to choose from, though, which ones can work? Here are some of the colors that will work wonderfully with light shades.
You can even choose to go tone-on-tone, which means you will use different shades of gray. Different dark shades for furnishings will work with light-gray painted walls.
If you don't like this idea, though, here are some other colors you can match your light-gray walls with.
Dark Gray Furniture
When you use dark-gray furniture and match it with your light-gray walls, this is called a tone-on-tone technique. You use the same color in different shades, and this results in a more elegant and bold style.
Make sure also to include neutral or light-colored furnishings to avoid feeling monotonous with just one color. White and cream can be great pairs.
Navy Blue Furniture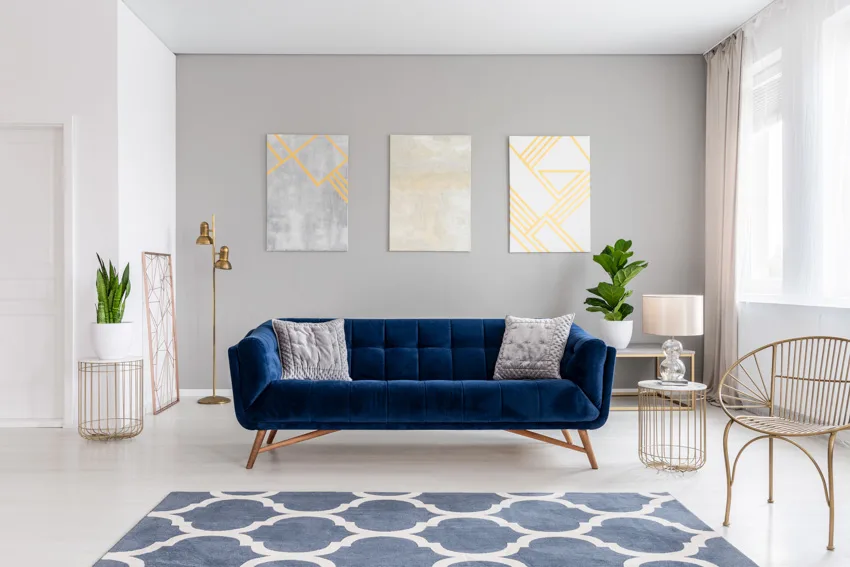 You may also want to try navy blue furnishings if you do have light-gray walls. Both paint colors, navy blue, and light gray-hues, are cool colors and offer a stylish and gorgeous combination.
Choosing a patterned navy blue decor is also recommended. For more ideas, see paint colors for a bedroom with dark furniture here.

Yellow Furniture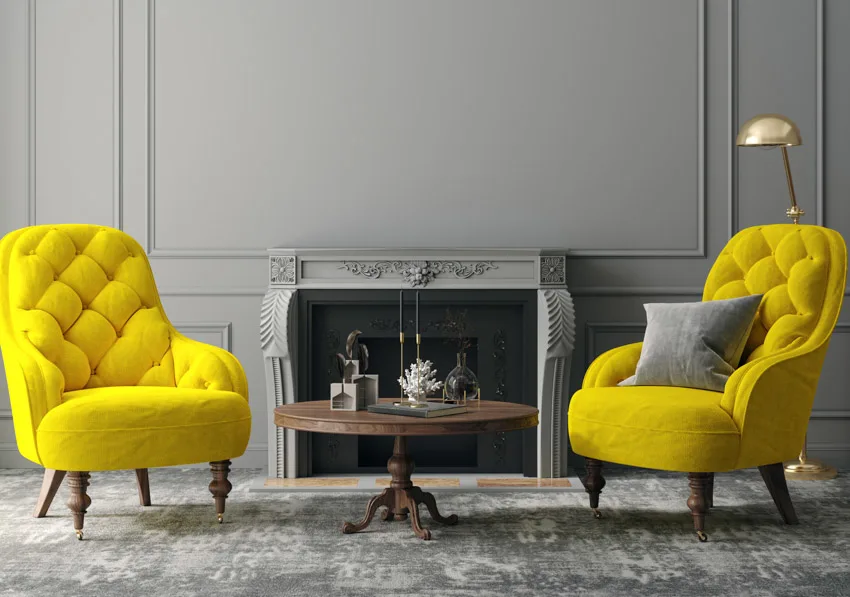 Yellow furnishings also match the light-gray walls. Gray and yellow are opposite because the former is cold while the latter is warm. The combination of these colors, though, offers a cool summer-style vibe.
What Color Furniture Goes with Dark Gray Walls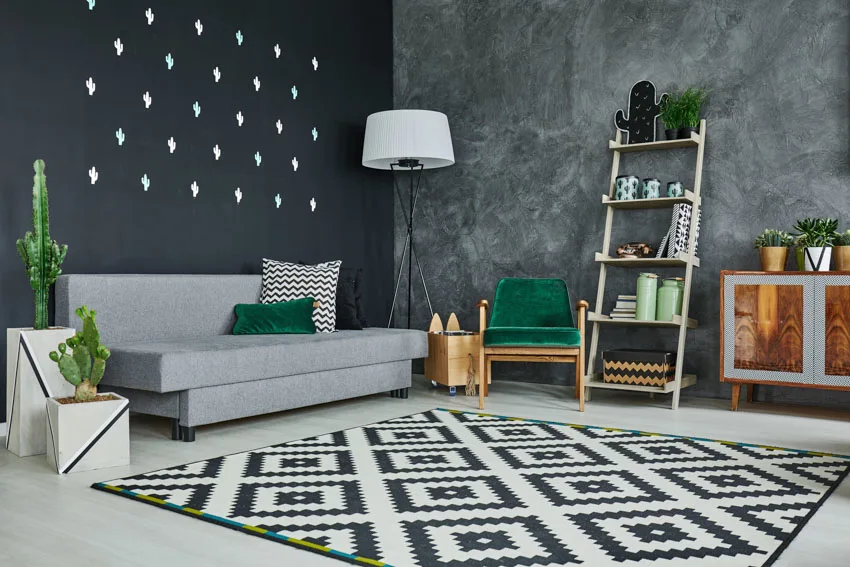 If you choose a darker shade of gray for your room, there are also a variety of colors you can play with. You can combine warm colors with your dark walls. Warm colors are different shades of red, orange, and yellow.
You can also try out the following colors:
Light Gray Furniture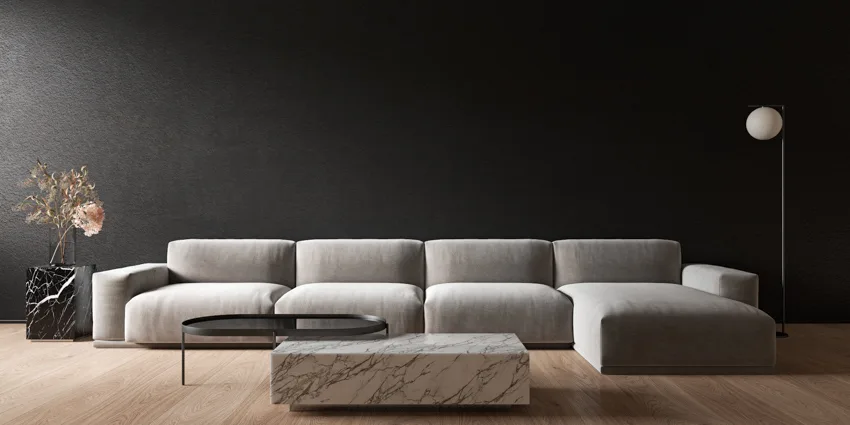 Following the tone-on-tone style, light grays work wonderfully with dark grays. You can integrate light-gray decor, accessories, and furnishings with your dark-gray room. You can always mix it with another color or stay with the monochromatic design.
If you want to pair gray walls with wood floors, we've written an article about that topic to create a harmonious design.
Light Blue Furniture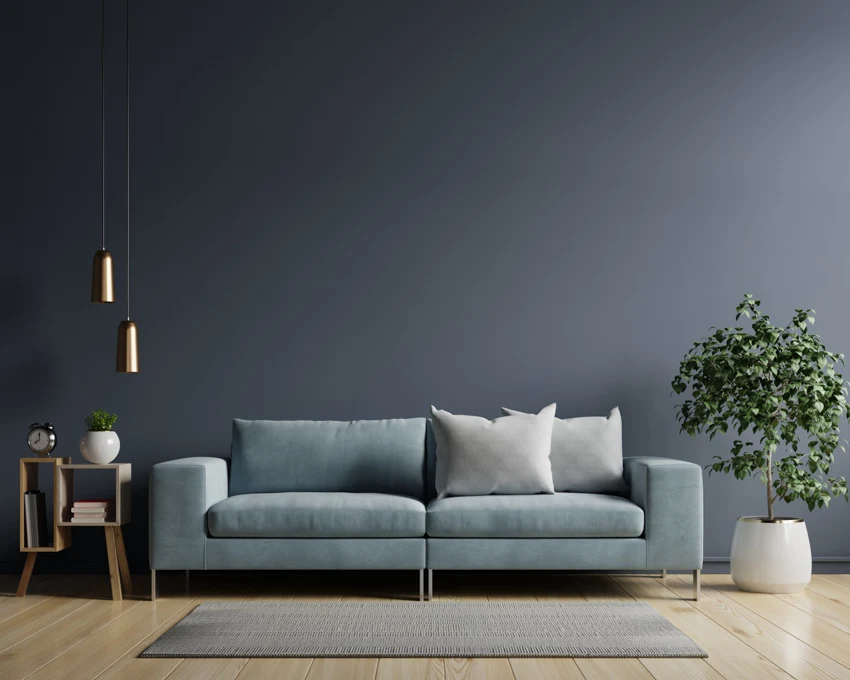 Both blue and gray are cool colors. Light blue types of furniture offer a bit of warmth in a room with dark gray walls.
It makes the room more lively and fresh. The addition of light blue also brightens the room and puts a more vibrant ambiance in general.
Cream Furniture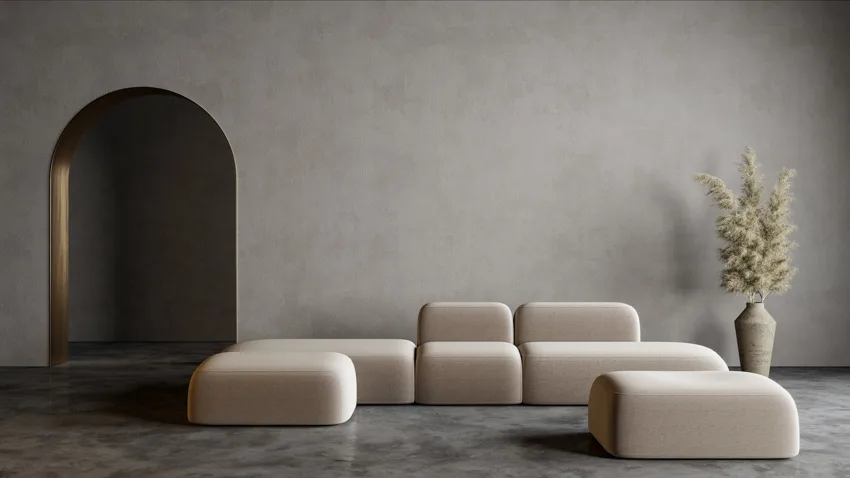 Cream combined with gray is an elegant and beautiful combination. Cream offers warmth in the cool-gray living room design, balancing the entire vibe.
With these two neutral colors, you can create a fresh and natural ambiance for your room. You can choose a comfy cream couch to match it with your dark-hued walls.
White Furniture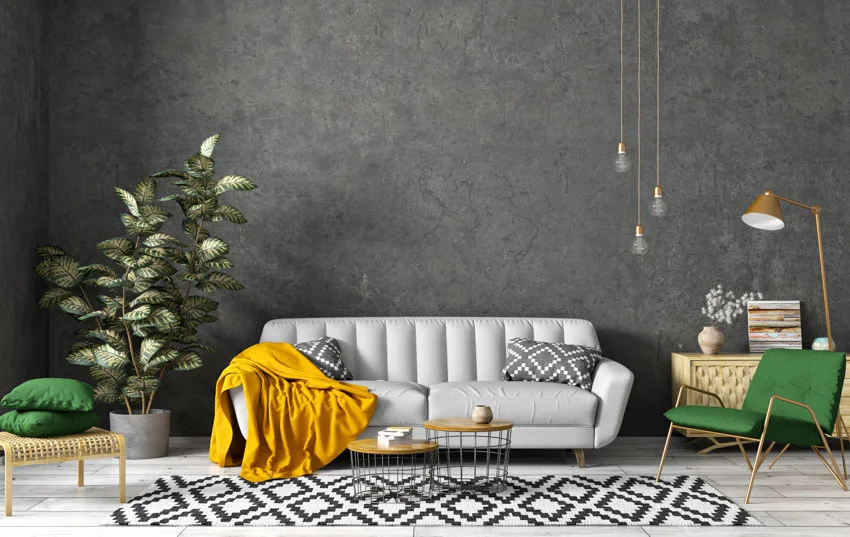 Another option to choose from are classic white furnishings, which is an easy and simple choice to consider.
White is compatible with any color, especially with a dark shade. This color brightens your dark walls and offers a more luxurious addition to your design. See our picks for carpet colors with gray walls here.

What Color Couch Goes with Gray Walls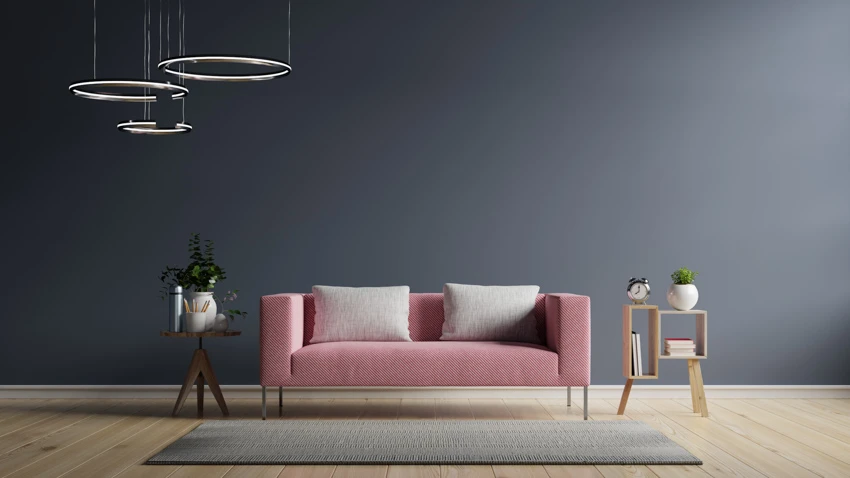 If you're thinking about more specific furnishings, like the couch for example, that you can match with gray walls, think of the style and color to choose.
When choosing a style of couch that can match your wall paint, consider patterns and a bold, modern look. Make sure to consider the guests you would want to entertain, too, so the size of the couch is important, too.
The color gray is versatile in pairing with different colors, primarily because it's neutral. If you choose a specific color for a couch to match your walls, here are the colors you can consider.
• Pink: offers a bold and popping look that warms up your gray-walled room
• Teal: looks vivid, enchanting, and brilliant paired with these hues
• Red: livens up your room and brightens your walls
Painting a wall inside your home shouldn't be hard when it comes to finding suitable furniture colors. By following these tips, you can make any space stand out.
See more related content in our article about the different colors that go with gray walls on this page.