In this types of stairs carpet runners guide you'll find the different carpet materials used, how much they cost, rug runner dimensions, and tips on how to install them.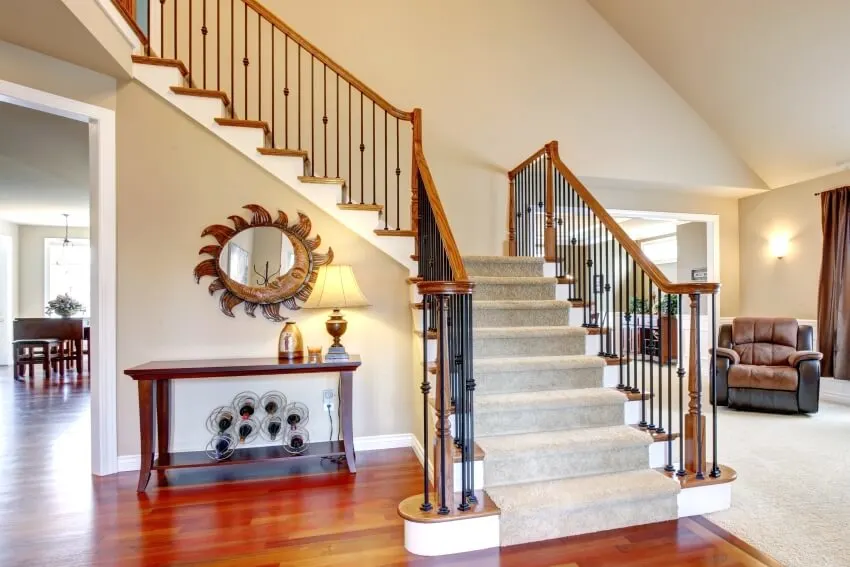 Stair carpet runners are pieces of carpet that don't really cover the full width of the stairs they accessorize. They are usually paired with tiled or hardwood surfaces for added traction. They can come in a wide variety of colors and designs.
They may also come in a varying number of widths and even lengths, as stairs vary greatly. In this article, we'll explore what the different types of stair carpet runners are out there.
Why Get A Stairs Runner?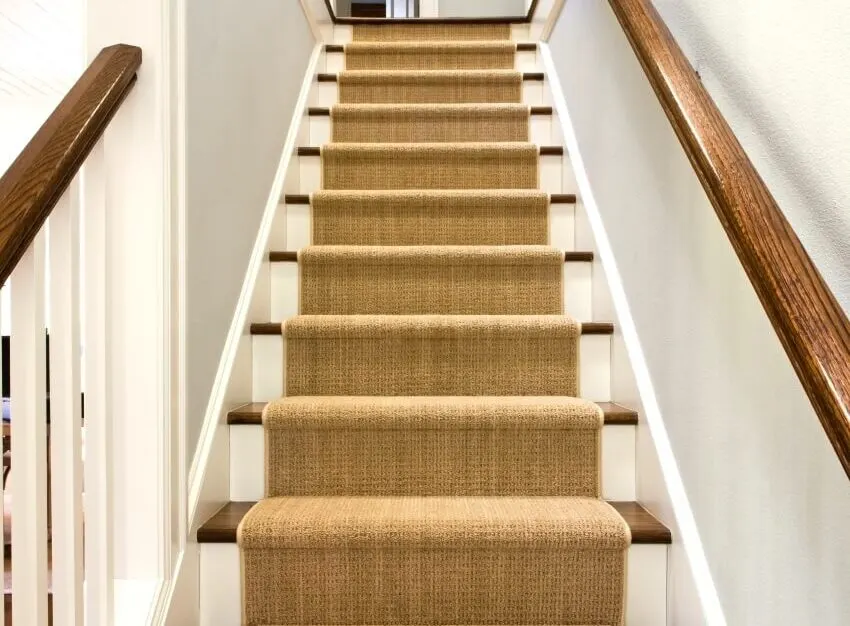 There are a lot of reasons why you ought to add getting a carpet runner for your stairs in your list of things to do for your home. One of the most common and obvious ones is that it ensures safety.
The thing with tiled or wooden staircases is that although they are quite aesthetic, they can also have very slippery surfaces. This can be dangerous to children, pets, or even just people in the household in general.
Adding a stairs carpet runner will reduce the danger by minimizing slippage. It's also a great way to add comfort as it's soft on the feet. In addition to all this, getting a stairs carpet running will also make your trips going up and down the stairs quieter.
It's a great way to adding style and an additional design element to your staircase. The carpet runner can easily be the focal piece of any staircase. This is why you have to be really selective of the carpet runner you pick.
There are two types of carpet runner styles. There's the custom-made one and the pre-made one. Pre-made carpet runners usually come with lots of patterns whereas most of the custom-made carpet runners are made out of broadloom or a similar specialty material.
Here's some of the most popular types of stairs carpet runners for the home.

Wool Runner
Wool carpet runners are made from wool that's been shaved off of sheep. Although wool is basically considered as a high end product, it is anything but delicate. It is highly resilient and durable and can actually have a surprisingly long life span when properly maintained.
It has been said that wool can last for decades of use. Wool carpet runners can easily outlast other synthetic fiber carpet runners. It can sustain its original color well because wool's main structure locks dye in and accepts it very well.
It has a natural surface coating that can resist stains that are water-based so spills won't be that much of an issue. In the event that spillage does happen, the spot removal is uncomplicated.
Another benefit of a wool carpet stair runner is their noise reduction. This is especially true with high pile wool rugs. However, low pile or flatwoven rugs are the best for stairs.
It is also environmentally friendly. Not only is wool easy to sustain, it also acts as an effective insulator. It can reduce heat loss in your stairwells during the cold months and can moderate high indoor temperature and humidity during the hot summer months.
Wool Blends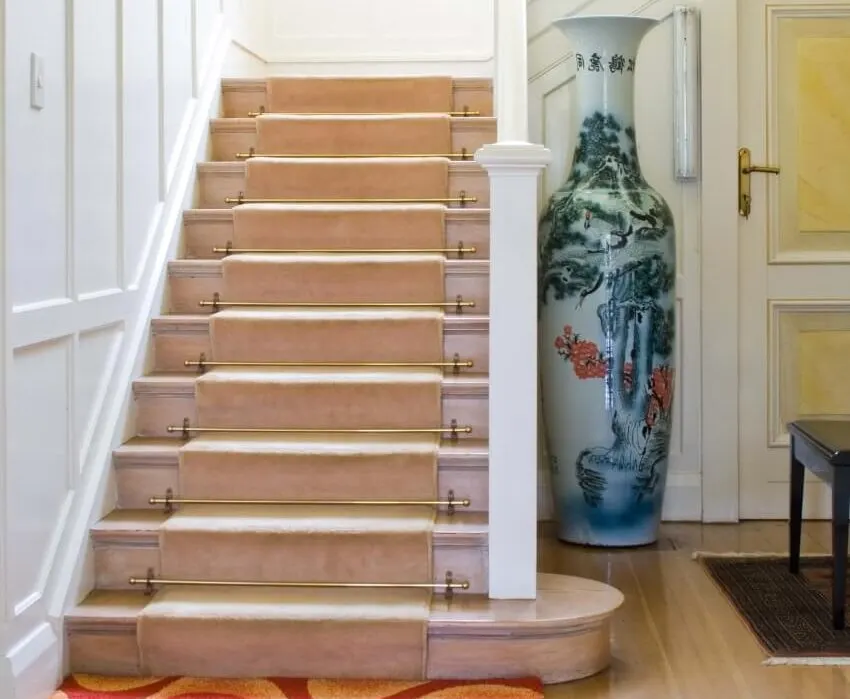 Wool blends carpet runners are warm but oftentimes not as warm as actual or real wool. It offers higher insulation than the other blended synthetic fabrics found in nylon and polyester rugs or compared to more natural fabrics such as silk and cotton.
If you want to get the look and feel of high end wool without the high price tag that usually goes along with it, wool blend carpet runners can be a pretty good substitute.
Wool blend carpet runners are particularly good at retaining the warmth-giving qualities of actual wool while at the same time, combine them with other fabric and fiber types that can improve the overall appearance as well as performance of pure wool at a far lower cost.
These types of rugs are a product of smart engineering and something that you should really take into consideration. It marries quality and affordable costing at the same time.
Plastic Runner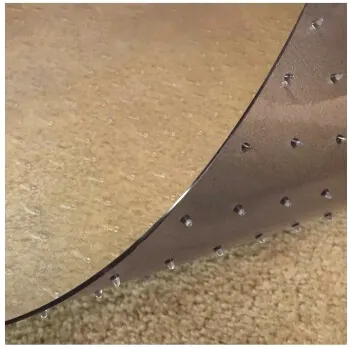 See this plastic carpet runner at Amazon [sponsored link]
If you've ever what a plastic carpet runner is, it's basically a pliable or malleable type of plastic that's being put on the carpet surfaces to more or less help protect them. They're great when used or put in high traffic areas such as your stairs.
Plastic carpet runners can also come in a wide variety of styles and colors. This means that you won't really have a hard time matching them with any of your décor at all.
They are meant to keep your stairway carpets from accumulating debris, dust, stains, and other things or elements that might make them dirty. This can cut down a lot of vacuuming and maintenance.
There are 2 types of plastic carpet runners, the permanent one and the temporary one. The permanent plastic carpet runner has a textured bottom that secures it in place and ensures there isn't any slippage whereas the temporary one is made out of rolled plastic laid out for very temporary use (24 hours or less).
Vinyl Runner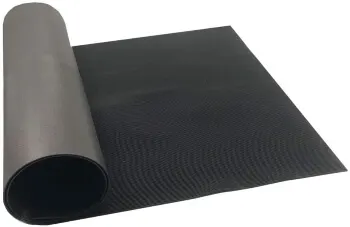 See this vinyl carpet runner at Amazon [sponsored link]
Vinyl carpet runners are easy to install. They are something that you can opt to do yourself as they can turn out to be very user friendly. They're usually made out of vinyl planks or tiles and can be easy to lay down and just peel off and stick. They don't really require to be nailed down during the installation process.
They come in click and lock systems that allow them to be installed as some sort of floating floor. If you're dealing with larger spaces, there may be a need for you to apply some kind of vinyl glue so that it can bond better with the subfloor.
For as long as the floor is level, there isn't any need for you to use any special tools for installation. Even a total beginner can get this job done. This is one of the easiest flooring options to install in the home. They can also be quite affordable, with the planks costing at around $1 to $10 per foot.
This can be quite cheap compared to the other carpet runner options. You can also completely opt out of hiring skilled work, which can also be quite expensive.
Vinyl can be made to look like wood, tile, or virtually anything you can possibly think of. For as long as it's offered in the market, this is pretty much doable. The pricing is quite friendly compared to other wood or carpentry options
Polypropylene Runner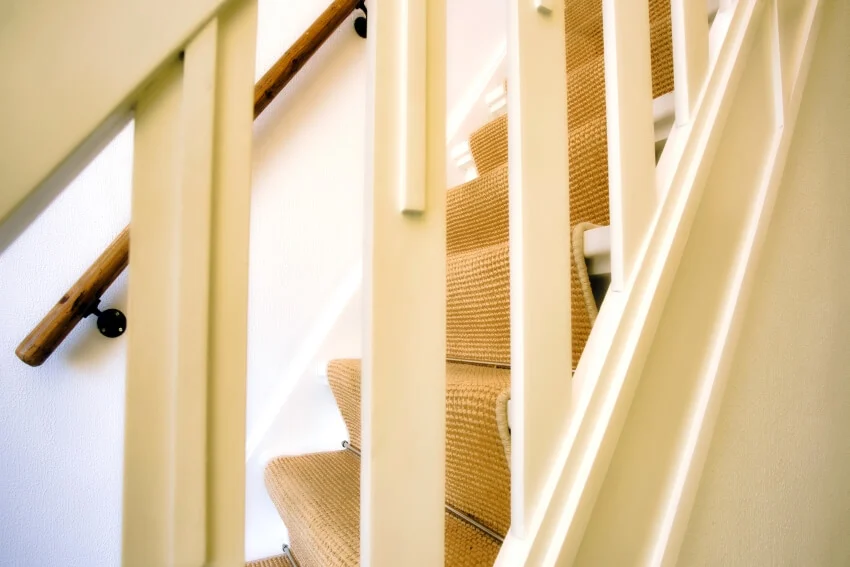 Polypropylene carpet runners look and feel natural. If you're looking for a more organic feel to your stairs area, then they're definitely ones that are worth considering. They will be able to give a soft feeling underfoot and have been said to feel very much like wool rugs without the price tag.
They can be easy to maintain as they are known to be quite resistant to stains so spilling some liquids every now and then won't be an issue as you'll be able to just easily wipe them up.
They are also affordable so if you're looking for something aesthetic without necessarily breaking the budget, polypropylene carpet runners can definitely give you a run for your money at the end of the day.
The only downside to this type of carpet runner though is that it isn't as durable as wool. It can end up fraying over time and can also get soiled with ongoing wear and tear.
As they said, you really get what you pay for. So even if it's fairly OK at first, it won't be as durable or will last as long as wool rug. Read more about polypropylene vs wool rugs here.

Nylon Runner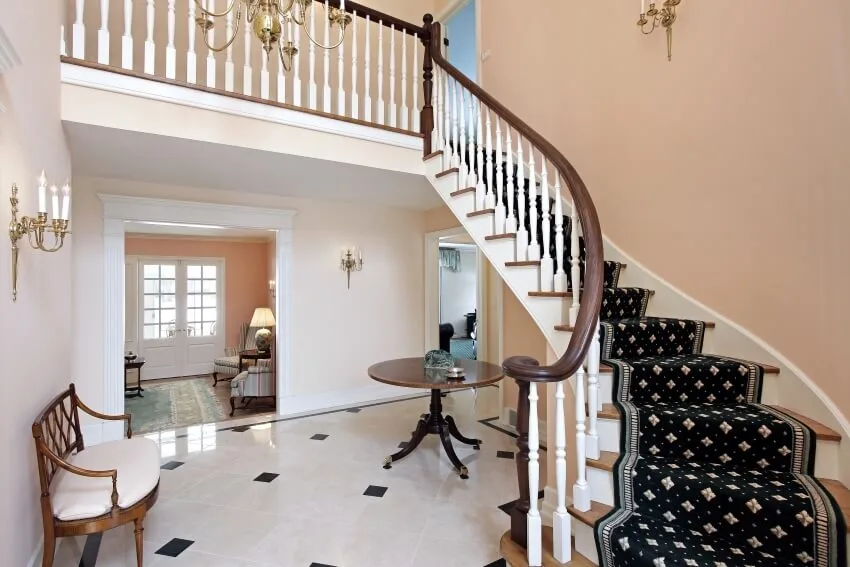 Nylon doesn't get the right amount of credit it deserves. If you've ever wondered if nylon carpet runners are worth the money, yes they are.
On top of all of this, they can also make for really great coverage for areas that have high foot traffic. They can also be incredibly soft on the feet so going up and down the stairs can make for a very comfortable experience if you have nylon carpet runners underfoot.
They also have the longest life span compared to any other carpet runner materials. This makes them a great investment to consider. However, this amount of strength and durability is bound to come with a certain cost.
Nylon carpet runners are known to be one of the most expensive materials out there. Another drawback to nylon carpet runners would have to be the environmental impact. They have zero natural materials and this can be harmful for the environment in the long run
Jute Runner
Jute carpet runners offer unique textures and a particular aesthetic that's unlike any other. They feel good on the feet and more than that, they can offer contrasts of softness and roughness form the rawness of the natural material, and so on. It makes for a very interesting overall look and feel.
More than that, a jute carpet runners offers neutrality and versatility on the design end of things. Because it normally has the natural brown color of dried reed or grass, it can work as a bridge to bring in your color schemes for the staircase altogether. This means that you can easily pair it with any design or color scheme or even materials.
Jude carpet runners look eclectic so if you want to get your stairways that extra sense of oomph, this is definitely something worth considering. They are made out of dried plant fibers so they're also sustainable and friendlier on the environment compared to other carpet fiber materials.
What Material Is Best For A Runner?
The best material for a carpet runner is synthetic nylon. It offers top notch safety as well as durability and strength.
One thing that you need to keep in mind all of the time is the fact that stairs are high traffic areas. This means that it's critical for you to pick a carpet runner that will not only look great, but will also be durable enough to withstand the amount of foot traffic it's getting, and also keep everyone safe while it's at it.
Although other high grade materials such as wool can offer warmth and a way to repel dirt and stains, they can also be quite expensive and might not fit into the budget of most households. Synthetic nylon still stands as the best stair carpet runner material in terms of function, form, and cost.
What is the Best Non-Slip Runner?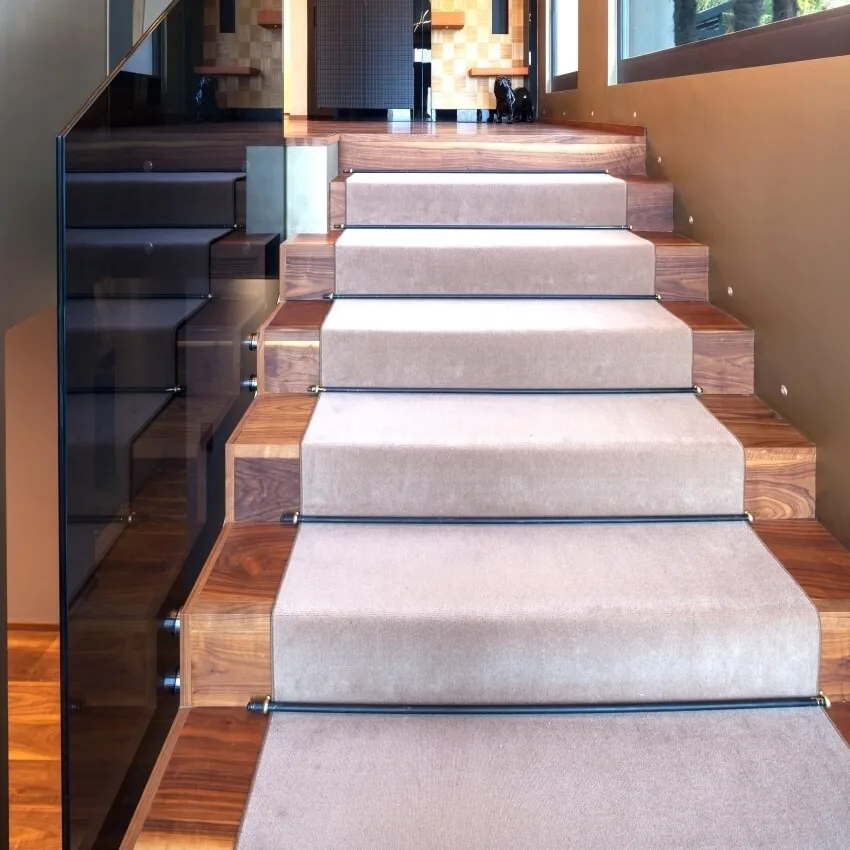 Literally any material out there can be a nonslip carpet runner. You just really need to take care of what happens to be underneath. The simplest solution to this particular type of challenge is to go for a high quality carpet pad.
Even if you have another type of carpeting under your stair carpet runner, you should always add in some pads under your rugs. These pads will protect both your carpet runner and your actual carpet.
Carpet pads are simple and incredibly smart when it comes to holding your stair carpet runner in place. This makes them so much safer and so much more comfortable underfoot.
If you are having problems with your carpet runner slipping there are several ways to help hold a runner in place besides a non-slip backing. You can use double sided carpet tape or a different rug gripper product that uses a layer of rubber underneath.
Stair Runner Dimensions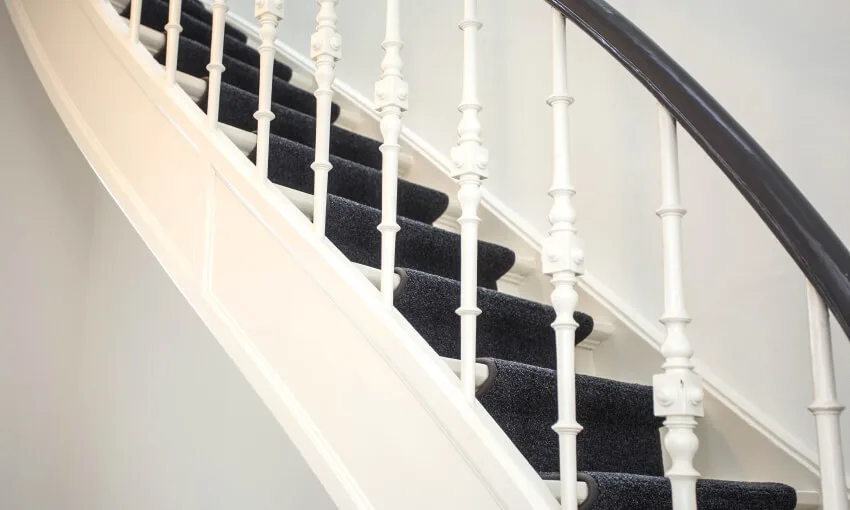 There are certain standards when it comes to the dimensions that need to be observed for stair carpet runners. A good rule of thumb to observe would be going for those with widths of 20 inches to 48 inches. The most common standard observed for carpet runner width is at 27 inches.
However, it's important to note that there are some instances wherein the stairs will have irregular measurements or dimensions.
If this happens to be the case for your home, what's recommended is that you have a minimum of 1.97 inches or 5cm in margins on either side of your runners versus the edge of the actual staircase. Read more about how to pick rugs sizes here.

Runner Installation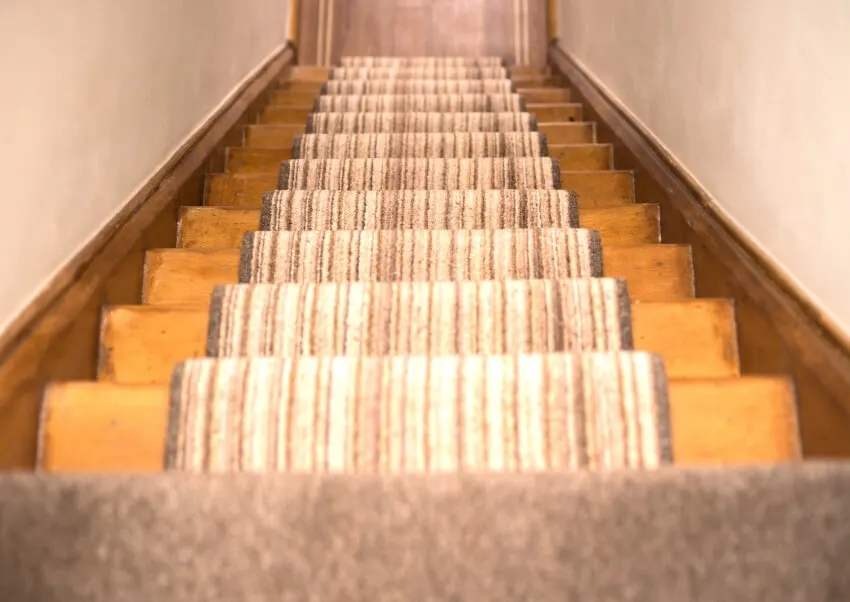 Although it looks a bit intimidating, installing carpet runners on your stairs isn't all that complicated at all. with nothing more than a few tools and some basic knowledge, this is definitely something that you can do yourself. You are going to need two main tools for this: a staple gun, and of course, your carpet runner.
You have the option to bring in a bolster chisel or something with a flat end that you can use as a scraper. The bolster chisel will ensure that you end up with a clean crease especially on the part where the treads meet the riser.
The simplest type of carpet runner installation is just needing to lay one end of the carpet runner at the top of your stairs, basically where you would like it to begin. With the use of a staple gun, staple it across in regular intervals. Go with what looks and feels good.
If you feel as if it's getting a bit bunched up, just tug the staples free with the use of a flat headed screwdriver and then start over again. You'll be surprised how easy it is to get the hang of it.
Keep going at it and use your bolster chisel to crease your runner into the stair corners. Make sure that you staple as close to the crease as you possibly can. Once you've secured the carpet runner over one stair, you can easy move on to the next one.
Once you're at the foot of the stairs and you happened to have some excess carpet runner material, you can easy cut it off with a pair of scissors.
Fold up the extra 2 inches or so and make sure that you hide the edge under the runner so that you're left with a nice and clean edge in the stairs. If you have wood flooring, extra rug runner material can be used for protecting under furniture.
How Much Runner For the Stairs?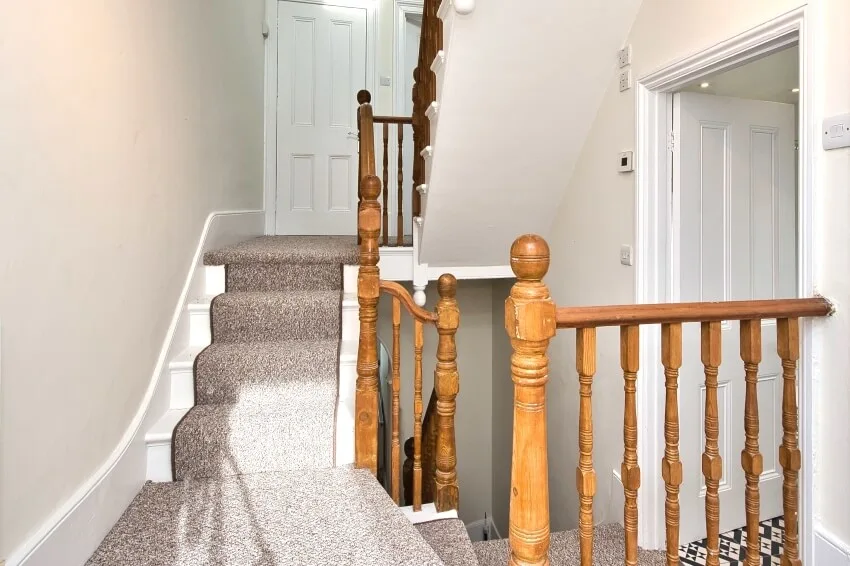 If you want to have a rough estimation of the amount of carpet runner you will actually need for your stairs, take note of this calculation. Count the number of steps your staircase has and then multiply to the total inches (in height) per stair.
Then divide it by 12 so that you will end up with the calculation of the total linear feet needed if your stairs with straight.
Add in an extra food of carpet runner length just in case. You can always cut off the excess if you don't have any need for it at the end. It's better to have a bit of extra to cut off instead of running totally short.
The usual allowance given for the treads in the stairs (treads are the flat parts you step on), can be anywhere from 10 inches onwards. The riser or the back of the stairs is typically at 8 inches, give or take.
This means that a good sample calculation would be this: 3 feet (width of the stairs) X 18 inches (10 inches for the tread and 8 inches for the riser). This is the amount of carpet runner you'll be needing.
Do You Need Padding Under Runners?
A proper stair runner installation is important. This can really elevate the look of the staircase you're adorning it with and it can also dramatically make the structure so much safer for you and for the rest of the people in your home. Adding some pads can help the carpet put on top of it so much longer.
The actual stair runners themselves do need patting. Unless you are opting for a stair runner material that has a built-in non-clip backing on it, you should always put in this extra safety measure.
It's great for ensuring that you get to keep your runner in place. It's also great for keeping a bit of cushion on the stairs. It can make your underfoot much softer and so much more comfortable at the end of the day.
What Is Needed To Order Runners?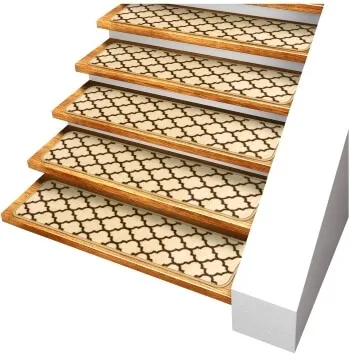 See this carpet stair treads at Amazon [sponsored link]
The first thing to consider when ordering a stairs carpet runner is the runner width. How wide should your stairs carpet runner be? The answer to this would depend on the width of your actual staircase as well. Here are some genera rules of thumb to check out:
If your stairs are about 3 feet wide, the recommended measurement of stairs carpet runner you need should be at a 27-inch width.
This amount of width is offers great coverage and is enough for you to not feel like you're walking on a narrow piece of carpet runner. It also isn't all that wide for it to overwhelm the stairs overall.
For stairs that are somewhat wider, let's say running at around 4 to 5 feet wide; we would recommend a stairs carpet runner that has a width of about 32 to 33 inches. This gives a good amount of bare floor on either side without diminishing the overall size and appearance of the stairs.
If you happen to have custom staircases that fall outside the standard sizes that don't fall within the measurements mentioned above, it would be best to just have a stairs carpet runner custom made. This way, you will be able to tailor fit it according to the specific measurements in order for it to be according to scale.
Do you have a favorite type of stair runner carpet? Please share your favorite products and their benefits in the comments. Visit our tips for the best way to clean carpet on stairs for more elated content.