Here's our guide to curtain rod sizes, including a hanging rod size chart, different pole support diameters, and how to measure for different window widths.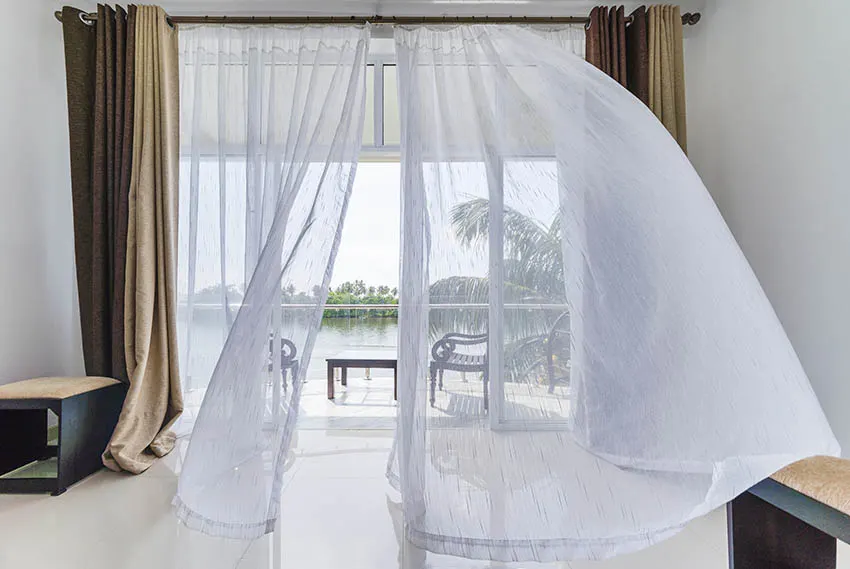 Among your last tasks when decorating your home is dressing your windows. The first thing that comes to mind is choosing the correct fabric for your curtains. And rightly so.
Curtains help keep your room private, prevent dust, dampen noise, and are decorative. But for your fabric to drape beautifully on your window, you must also decide on your curtain rods. Durability and design are points to consider when buying curtain rods, but having the right size also matters.
How you dress your window depends on its dimensions and the style you want to evoke. A long rod on a narrow window and vice versa can look disproportionate and distract from the overall beauty of your interiors.
We spotlight a window essential that's not getting as much attention as it should: curtain rods and their many sizes.
Standard Curtain Rod Dimensions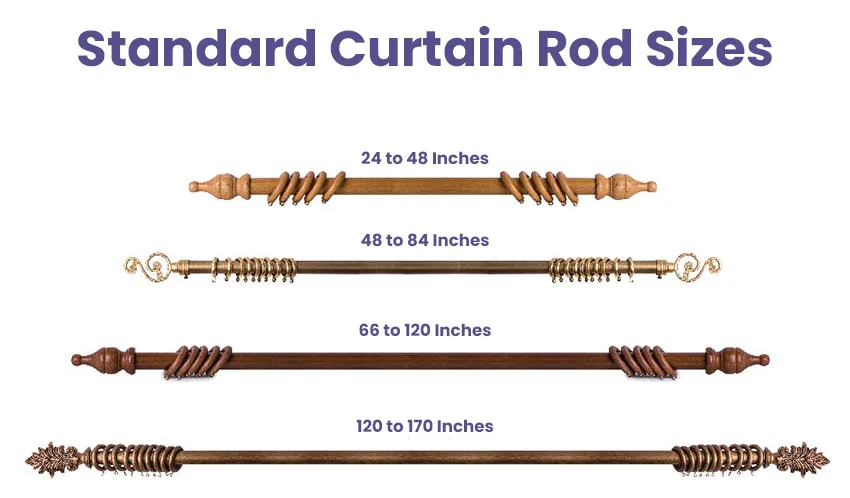 Curtain rod sizes differ from each other to match varying window sizes. By that logic, standard curtain rod sizes follow standard window sizes.
The advantage of having standard window sizes is that drapes and rods are widely available. There is no more second-guessing on what size to get or where to purchase them. In short, standard sizes are all-around convenient.
So, what are the standard sizes for each window type?
Windows are either single-hung, picture windows, sliding, and more. However, the most common is a double-hung window measuring 24 inches, 28 inches, 32 inches, and 40 inches wide.
Since standard window sizes cover a wide range, most holders on the market are adjustable. For each window treatment support size, there is a minimum and maximum length. You can read our article on standard window size for a complete guide.
Curtain Rod Maximum Size Chart
Below are the following popular curtain rod sizes according to different window widths:
| | |
| --- | --- |
| WINDOW WIDTH (Maximum) | CURTAIN ROD SIZE |
| 36 inches | 24 to 48 inches |
| 72 inches | 48 to 84 inches |
| 108 inches | 66 to 120 inches |
| 158 inches | 120 to 170 inches |
As a way of reinvention, modern homeowners customize more home elements, including their door and window openings.
That said, you can have your types of curtain rods personalized according to the material, design, and length you require. You can also combine two adjustable rods or splice two fixed rods using a connector.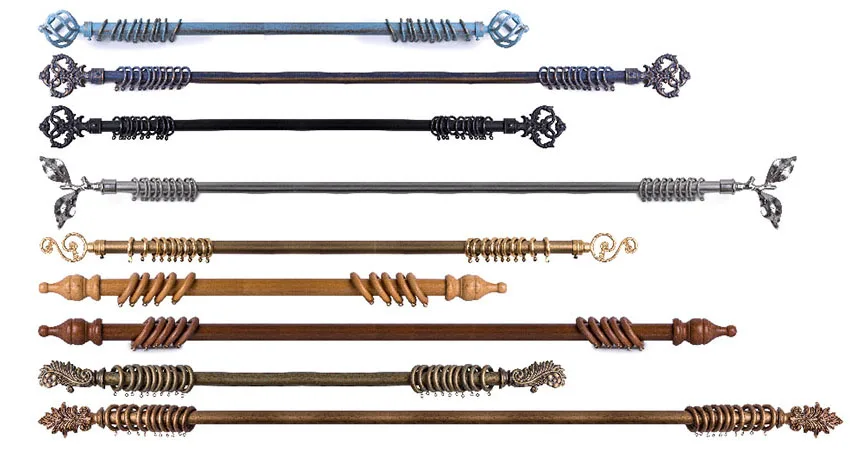 Here are the standard curtain rod sizes for different rooms.
• 24 to 48 inches: This length is appropriate for small windows in your laundry area, guest bathrooms, or narrow openings.

• 48 to 84 inches: If you have a picture window or a side-by-side double-hung window, you can order this size to hang your curtains.

• 66 to 120 inches: Got large windows to cover? Patio glass doors, French doors, and custom picture windows beyond 100 inches wide will benefit from a 66 to 120 inches of support.
• 120 to 170 inches: This is common in large interiors with high ceilings and expansive windows. Think of large picture windows, bay, and bow style, to name a few.
For longer support rods, install a bracket or two to hold the bar and prevent it from sagging.
Different Curtain Rod Diameters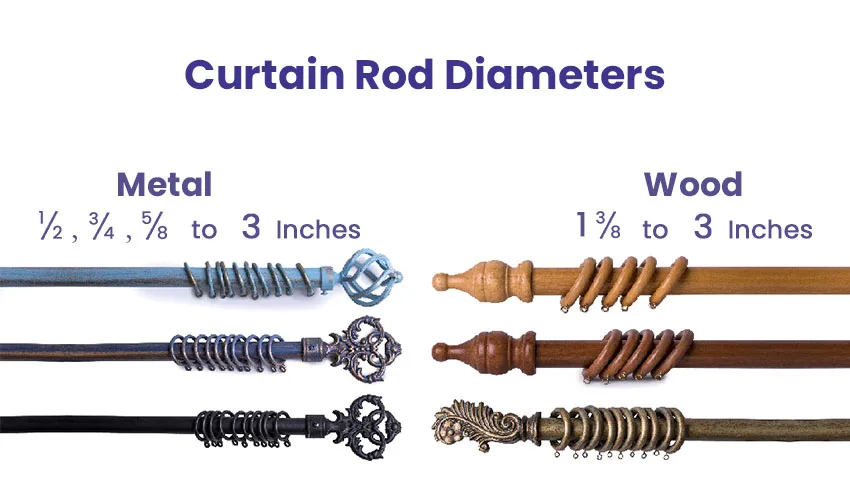 Similar to choosing the length of your curtain rods, their diameter is also crucial. Too thin, and it can be flimsy. Too thick, and it will look bulky.
Curtain rod diameter sizes range between a half-inch to three inches, varying according to its material and the weight of your fabric. Heavier fabrics need thicker rods and sturdy brackets.
For wood supports, the diameters available are between 1 ⅜ inch and three inches. Wrought iron, hollow, and other metal rods are more flexible and have thinner options than wood. Metal rail diameters include ½ inch, ¾ inch, ⅝ inch, all the way to three inches.
What Size of Curtain Support Rod Do I Need?
With all the window types, sizes, and other numbers mentioned above, you might think selecting a holder is complicated. But the process is far from it. The crucial part of choosing rods for curtains is for them to be proportionate to your windows.
How to Measure for Curtain Holder Rods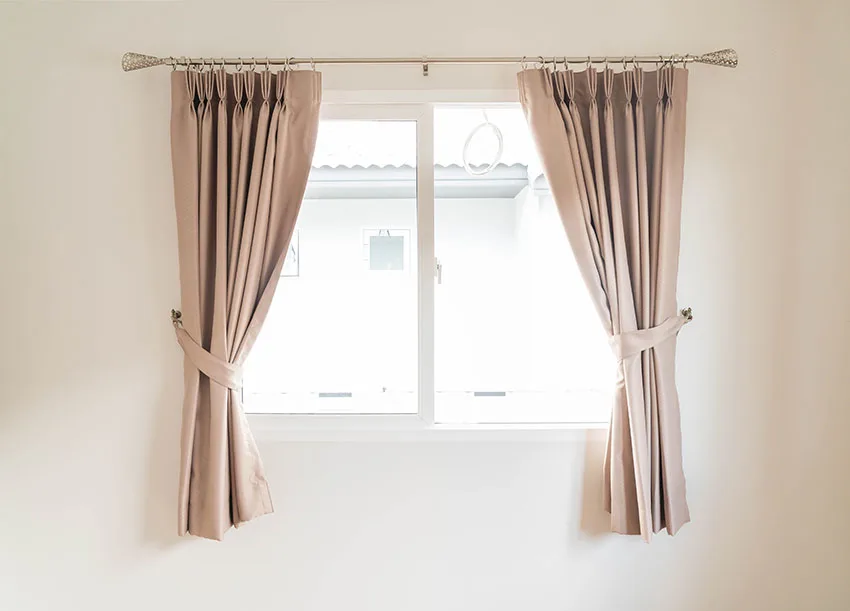 Start with your windows. If you put up curtains in multiple windows, it is best to measure each one twice. Better be precise to avoid inconveniences. Using a meter or a measuring tape, check the width from frame to frame or casement to casement.
If you want to open your curtains and end within the window opening, measure from frame to frame. For more sunlight to come in, you can take advantage of the window's width by measuring from casing to casing.
You can refer to the window treatment holder chart above to see which length you need.
TIP: Your curtain's rod should be at least 10 to 20 inches longer than the width of your window.
How Many Inches Should the Curtain Rod Be Away from the Window?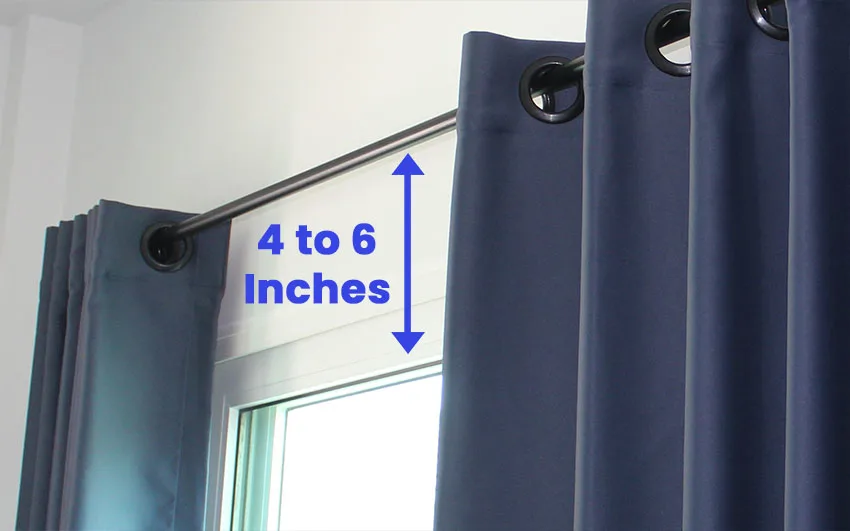 Installing blackout curtains and black rods.
Now that you have your correct holder size, it is time to install them above your window.
Your window treatments should appear balanced. To achieve this, ensure your support bar is centered and has the same excess length on both ends of the window opening.
Generally, affix your rod four to six inches above your window. This way, you avoid hanging your curtains too low or too high. Consider the type of bracket or rod support you'll be using, as they come in different shapes and sizes.
If you have a small space with more than enough ceiling height, you can raise your rods higher. Some even install them as high as three inches away from the ceiling.
A favorite interior design trick, doing this makes a small room appear large and your windows taller, drawing your eyes vertically.
Do you have questions about hanging support for window coverings, need more tips, or did we miss important products? Share your feedback and experience with hanging drapery panels and other window treatments below in the comments.
For more like this, browse our curtain-related article about how to choose the right curtain color on this page.