Here we share blackout curtains vs shades comparison guide including the differences for benefits, types, pleats styles, fabrics, mounting tips and ideas on how to get a total blockage from the sun.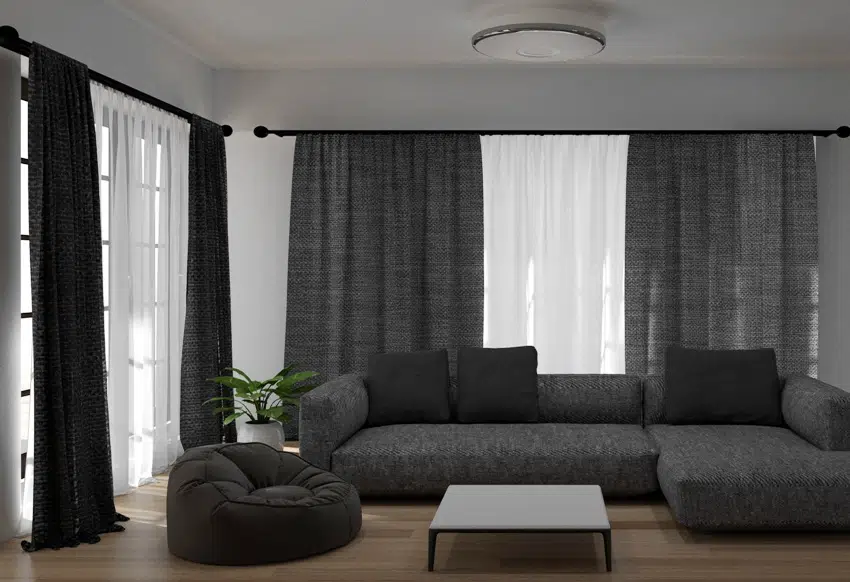 There are two things we love to do in complete darkness, sleeping and watching movies, and what better way to achieve that total darkness than by using blackout window treatments.
Research from the Defense Meteorological Satellite Program has found that people who had light exposure during sleep have about 10 minutes less sleep per night.
Fatigue, impaired function during the day, and excessive sleepiness are other serious effects for shift workers or those exposed to street lights. In short, the brighter the environment, the less sleep you get.
Blackout curtains or shades are a simple yet efficient way to keep away light when not needed. Blackout window treatments are also important in creating an overall cinematic experience when watching movies or for nursery rooms and conference spaces.
Benefits of Fabric Drapes for Windows
Completely darken a room.

Increase privacy.

Dampen ambient noise.

Provide insulation.

Decrease UV damage.

Lower energy bills
What Are Blackout Shades?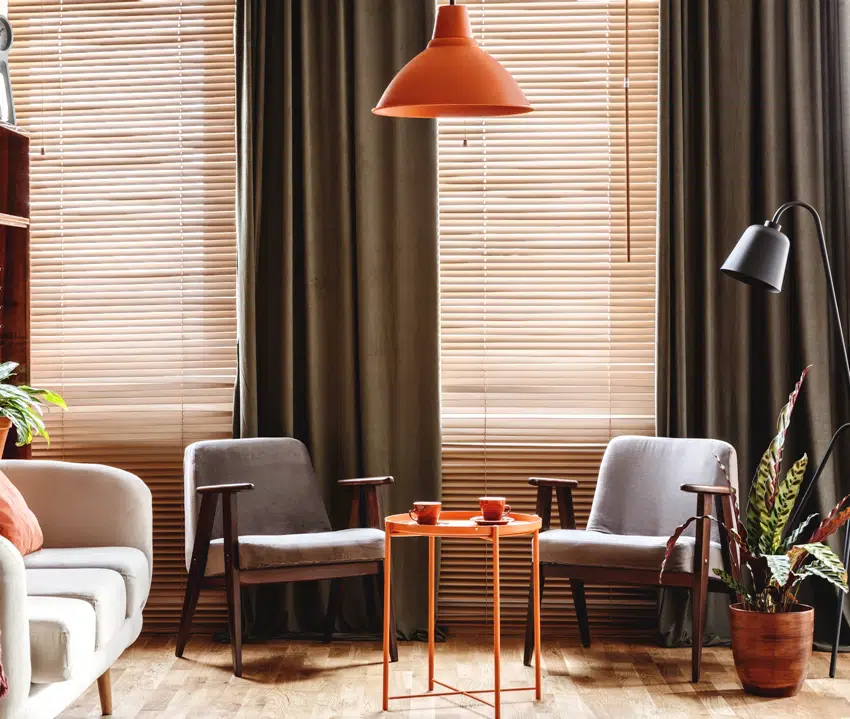 Blackout Shades is a type of window treatment built of solid or opaque fabric such as PVC, flax fabric, or mylar, with its function is to block out light from entering an enclosed space. Organic materials such as bamboo, organic cotton, and hemp are popular choices for a more breathable fabric.
There is a wide range of designs available. From fabric, color, thickness, and types to match your room aesthetic, window shape, and amount of light blocked.
Types Of Blackout Shades
You can either choose motorized blackout shades or manual blackout shades. There are motorized blackout shades where you can use your smartphone, remote controller, or are voice-controlled.
Manual blackout shades have a continuous loop cord or pull chains that pull up or down to control your window treatment's coverage. See different types of curtains here.
What Are Blackout Fabric Curtains?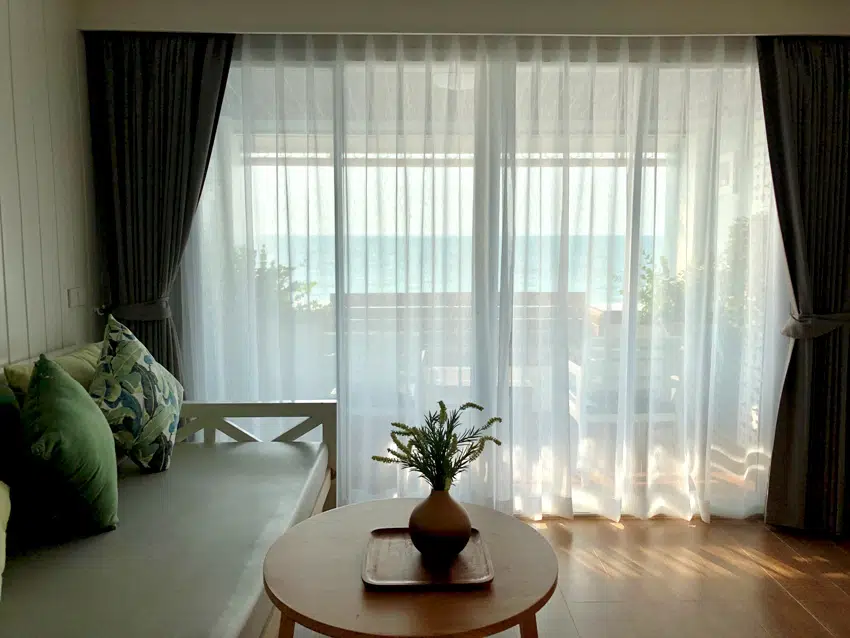 Blackout curtains are a type of window treatment that functions like Blackout Shades, made by loose fabric that freely drapes down across the window from the usual curtain rod.
Unlike your ordinary curtains, blackout curtains have built-in fabric that can prevent light from coming through. It is naturally thicker than your typical curtain but lighter than drapes.
The common fabric used for blackout curtains is suede, polyester, cotton, mineral wool, and velvet. Microfibers and fiberglass are excellent fabric choices for blackout curtains as it doubles as noise-canceling window treatments but can be pricier than your typical fabrics.
What to Choose: Blackout Curtains Versus Shades?
Blackout curtains and shades are both effective in blocking out light completely. But it has to have the correct installation and fabric choice. Determining which versions are better depends on your needs. Evaluate them by knowing these:
Blackout Style Shades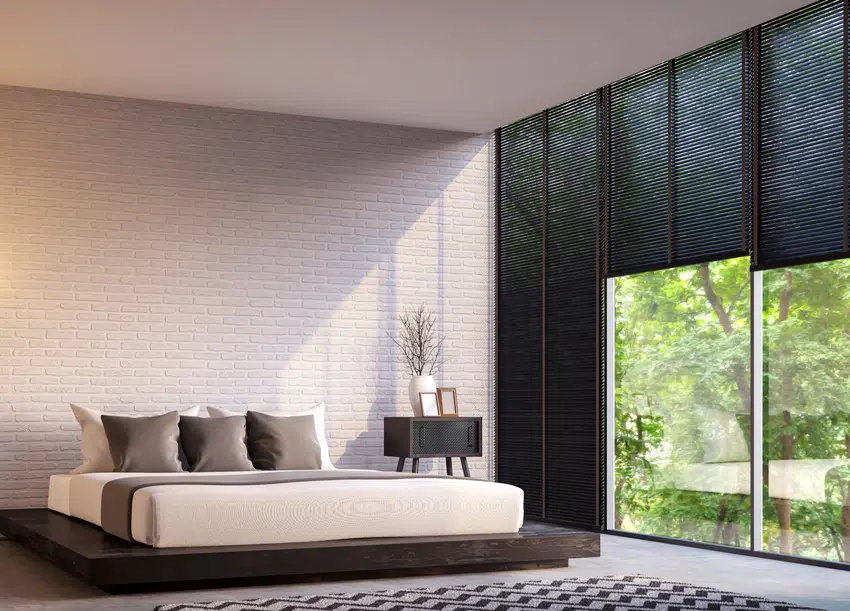 The clean and minimalist look of blackout shades makes it a suitable option for modern interiors. They also offer complete control with remote-controlled versions. Blackout shades completely cover your windows with the proper dimensions.
Conversely, blackout curtains can have the potential of having light coming from the top, bottom, and sides as the fabric freely flows and do not flash completely with your window frames. Add a valance on top of your blackout curtain and have a lower hem to prevent lighting from seeping through the bottom edge.
Best for Pet Owners. Get cordless versions or stick with roman blackout shades to prevent your pet from getting tangled with the loose strings. Roman blackout shades have been flashed perfectly on your window opening and do not have slats that a cat may paw through.
Best for Kids. It prevents your little ones from stumbling on curtain hems.
Best for Ceiling to Floor Windows. If you have window glass covering most of your entire wall, blackout shades are a more efficient choice and modern looking. Read more about Should curtains touch the floor here.
It is also easier to control with remote controllers or via smart devices. Blackout shades are installed even with a narrow gap between your top window sill and ceiling.
Blackout Window Curtains
The blackout curtains offer designs to choose from, unlike blackout shades where occasionally, there are limited color selections for a particular fabric or design.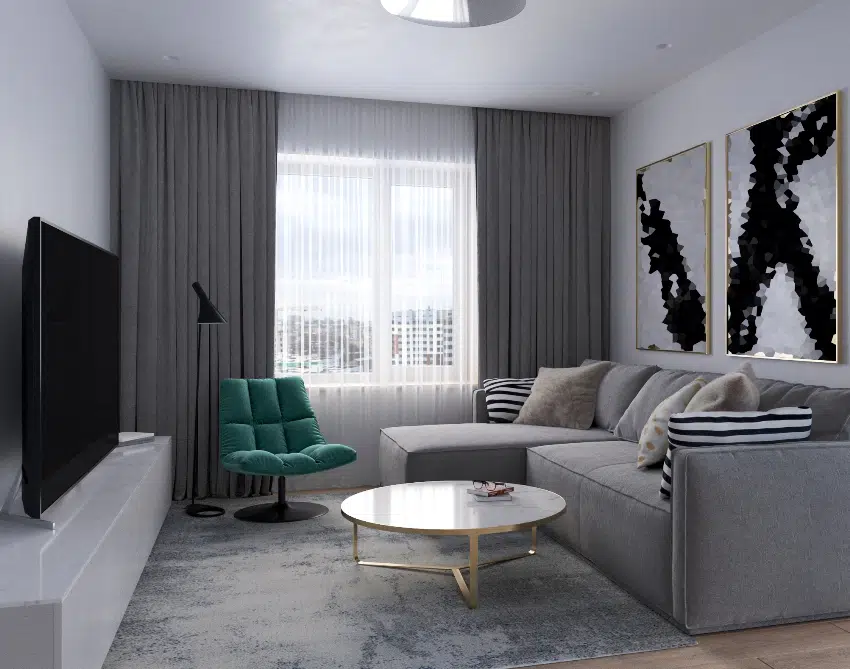 Best for Showcasing Windows. When your windows are your focal points in a room and at the same time want to block out light when needed, blackout curtains are a better option since they have a grander and more formal look.
You can add fabric layers since you can style your curtain fabric with pleats adding volume to the look.
Best for a Temperate Indoor Space. Most blackout curtains are lighter with a single fabric layer, allowing the room to breathe, especially during the hot months. Blackout shades meanwhile tend to be heavier and thicker which can obstruct the passive air from flowing through.
What Pleat Style Is Best For Blackout Style Curtains & Shades?
Making sure you've got a good-looking blackout curtain while it efficiently blocks off light can be tricky. Know the best pleats to use and which to avoid.
Best Pleats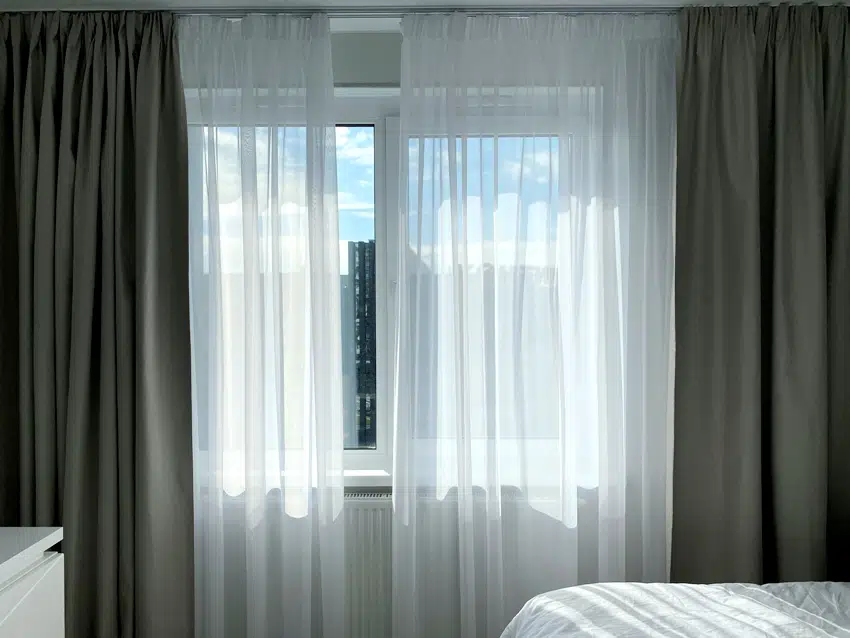 Pinch Pleat. Also known as French Pleat, is neat pleating that fits neatly above your upper window, giving an elegant, uniform, and classic look while giving full coverage. Though a variation of the pencil pleat, it has flat spaces between the pleats, which are a few millimeters apart.
Use pin hooks instead of curtain rings if you have a tight space above your window sill. Variations are double pleats, Dutch pleats, or single pleats.
Inverted Pleat. This is formed by bringing together the two folded edges to the center point, at the exterior of the material, which forms a box plot on the inside. The inverted pleat gives a contemporary look as the pleats neatly flatten against the top window sill. Typically, you will have a series of pleats with 5 inches in width.
Flat Panel Pleat. Also termed as Flat Drapery Pleat, which is the most basic pleat where the hooks are installed at the back of the panel that attaches to the eyelets of the curtain rings. When fully stretched, the flat pleats neatly flashes above the window sill.
Pleats to Avoid: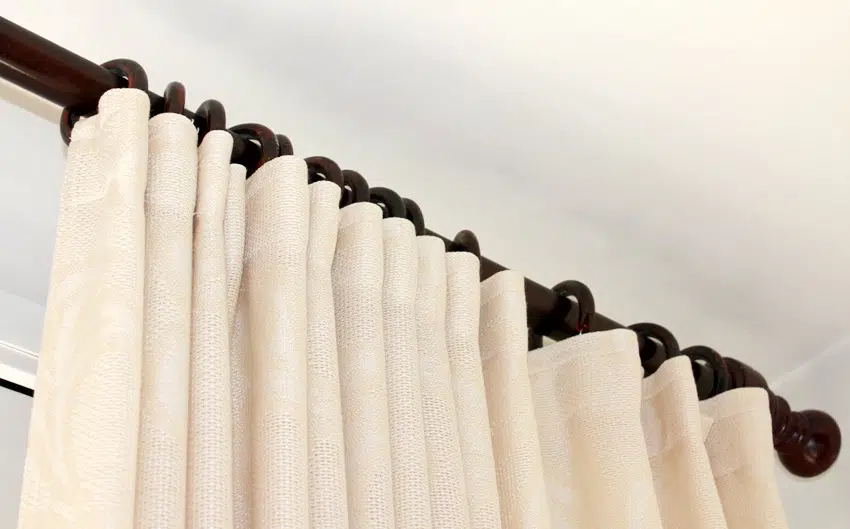 Pencil Pleat or A Wave Heading Curtains
Blackout curtains with pencil pleats have an irregular and unstructured profile, which means there are spaces where light can seep through.
Wave curtains give a softly curved profile. It gives a relaxed contemporary look but is not sufficient in containing sunlight from passing through.
Blackout Fabric To Choose
Types of Fabric
Most blackout curtains are commonly infused with polyester or a combination of polyester and cotton. These are excellent types of fabric as they are durable and low-cost. They are also unlikely to shrink or wrinkle.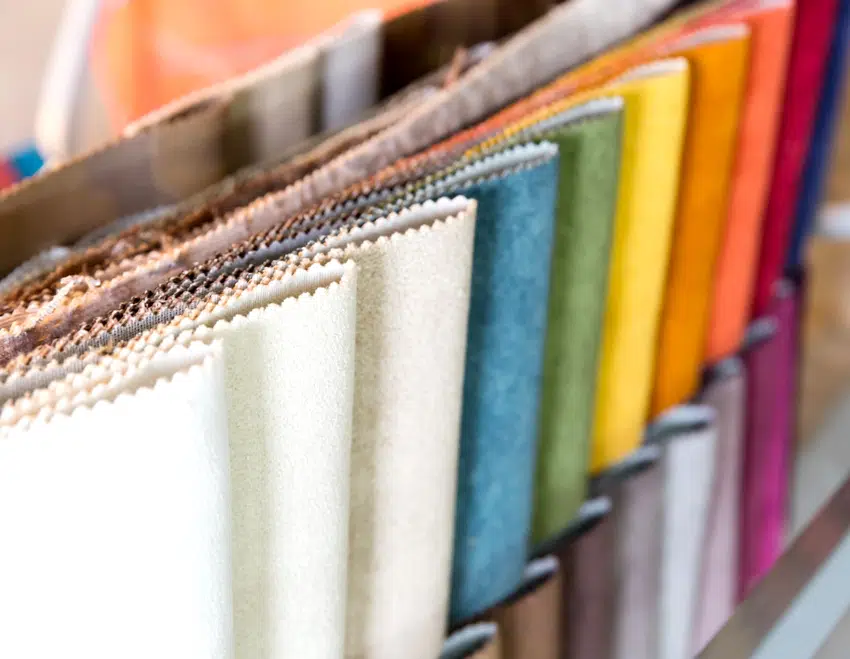 1. Best to Reduce Heat Transfer – Polyester and Cotton Based Fabrics. These are fabrics with the best thermal insulation properties, which means you get a room that keeps the heat off during the summer months and retains heat during the winter season.
Europatex Style: Anopsia

RocLon Blackout Drapery fabric

AbbeyShea Style
2. 3-Pass Lining. Passes refer to the measurement of its ability to blackout light. These fabrics have a final white layer. Lining options include unlined, self-lined, which is two layers of the same fabric and 3-pass blackout.
Minerva Crafts 3 Pass Blackout Thermal Curtain Lining Fabric Ivory

Hanes Drapery Lining

Eroica Blackout Drapery Fabric
3. Flame Retardant Fabric. Best fabric for blackout curtains for media rooms, hospitals, or nurseries. This is a wise choice for homes as well.
BS5867 for Flame Retardant fabrics

BEGOODTEX Flame Retardant Blackout Curtains
How To Get Total Blockage From The Sun?
Consider having blackout curtain header styles for blackout curtains to prevent light from entering at the top window seal, especially for low hanging rods.
Install a curtain pelmet on your top window sill. This serves as a barrier that prevents light and drafts. A pelmet can also contain hot air from transferring to the other parts of the room.
Use at least three pass blackout lining. A 3-pass fabric means it blocks light with a lining layer of white foam applied at the back of the fabric. The black layer prevents light and retains the heat from the outside.
Consider overlapping double rods. Having a double coverage of curtains ensures you can close the middle area fully, while the second layer prevents any leaks from passing through.
Although, this can increase heat build-up, especially for hot and humid locations. To mediate, you can install air-conditioning. Double coverage is great for home-theaters or media rooms.
Use blackout shades or if opting for blackout curtains, use a Valance to add coverage on the top sill.
Mounting Tips
Proper installation will get you to have the full potential of your blackout curtains and shades.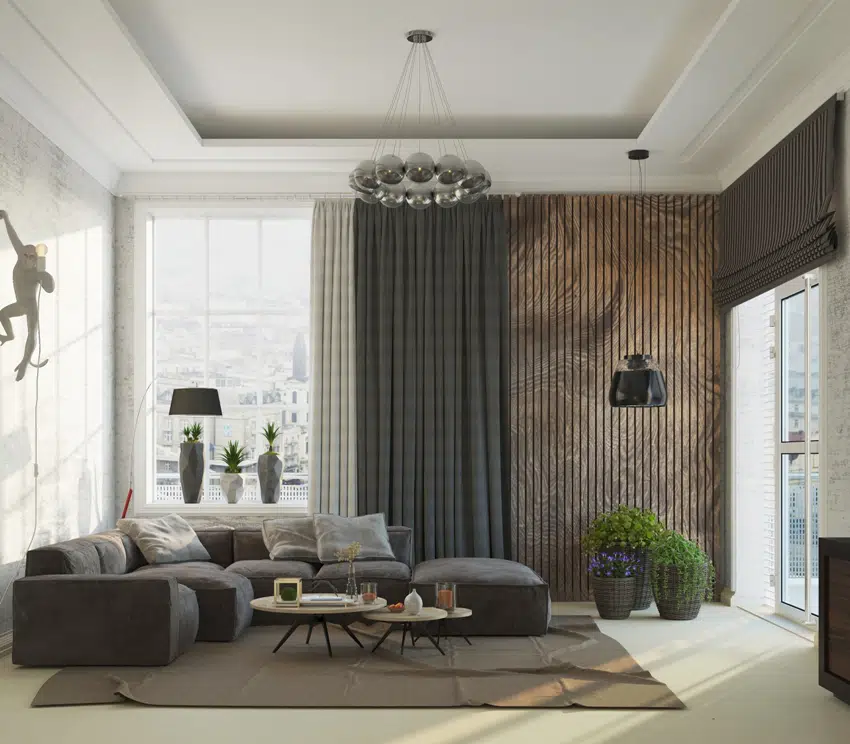 Use the Inside Mount. Though not as common, (and it will depend on the look you are going for) placing your curtain rods in the inside mount position provides the most light-blocking capability. It gives a streamlined appearance where the curtain is secured from the inside of your window frame.
Choose Curtain Rods with Protective Caps and Expandable Design. The inside mount rods with protective caps and extendable design will create a snug fit preventing light through.
Add around 6" allowance. Whatever type of mounting you use (outside or inside) as a rule of thumb, measure a couple of inches beyond the window frame on all sides, as your blackout curtains will look better. Read more about our guide on how high to hang curtains here.
Measure twice, cut once. Though it may be a worn-out adage, it's wise to always measure twice and prevent any room for errors.
Best get your blackout curtains and shades customized. Ready-made curtains usually come with eyelet or pencil-pleat, which means you have spaces at the upper portion where the light will come through.
Hire a professional curtain maker. If you are draping a spacious window area, it is best to hire a professional curtain maker. This saves you more on time and lessens expenses due to errors.
Choose simple fit pop-in shades. These are blackout shades that can be installed in seconds by just pushing down on the end of the shade and removing the adhesive. The shades are locked into place just above your window sill.
Though there are still limited fabrics available for the no-drill blackout shades and are mostly cellular shades in structure.
For more related ideas, visit our drapes vs curtains design guide page.